Can you imagine a business where you don't have to worry about having an inventory or traditional overhead fees? Well, you're in luck! Dropshipping marketplaces along with the dropshipping business model enable us to earn money from operating an online store. Essentially, there are three main parts of the dropshipping business model: 
A customer purchases a product from our dropshipping store. 

We (the dropshippers) place an order with the supplier.

The supplier ships the product directly to our customer, and we

earn a profit

from the sale. 
So, is the dropshipping business model truly profitable? According to Statista, the global dropshipping business market is reaching $196.78 billion and is rising exponentially. Given these statistics, we can see that the dropshipping model is gaining traction and is also a proven lucrative business venture.
As such, most B2B businesses are adapting to the dropshipping business model due to easy scalability and affordability. Now that we know the profit potential of dropshipping let's take a look at the top 10 B2B online dropshipping marketplaces.
The Top 10 B2B Online Marketplaces for Dropshipping In 2022
Before we dive into our list, let's define what a B2B online marketplace is. To start, an online marketplace is a platform where buyers and sellers join to purchase and sell goods to one another. In line with this, a B2B online marketplace caters explicitly to businesses selling and buying products from each other.
Thus, it's an excellent place for dropshipping businesses as we have access to a vast product catalog. With global suppliers and manufacturers, we're sure to find the perfect products for our online store.
While there are many benefits, choosing the right platform can be difficult. That's why we've created a list of the top online marketplaces for dropshipping.
With that said, let's get right into the action with our first B2B online marketplace.
1. eWorldTrade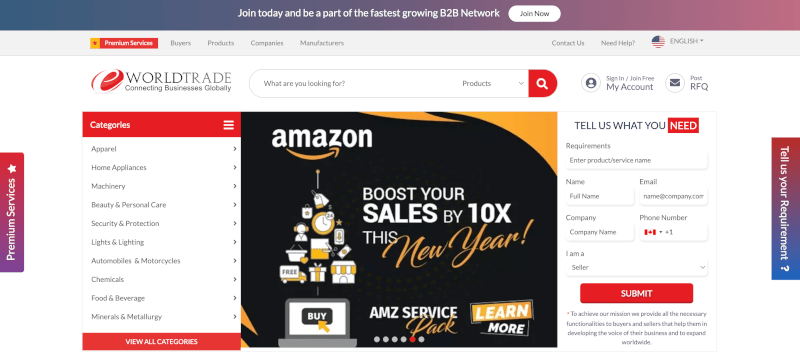 To start our list, we have eWorldTrade, a top-notch B2B platform selling thousands of products in bulk. They are a worldwide B2B platform that offers great dropshipping services. Critically known for its credibility and wide product range, eWorldTrade provides a hassle-free experience for dropshippers.
With this in mind, here are some excellent features of this online marketplace:
Easily connect with suppliers and manage your supply system.

The marketplace has

over 53,600 buyers

in its dropshipping section, including importers, manufacturers, and wholesalers worldwide.

A variety of

wholesale niches

, which means we can source low-cost products and scale our business.

A secure and fast delivery system

ensures our customer's fast shipping times at affordable rates.
Thus, we can rest assured that dropshipping from eWorldTrade will benefit our business. Not only can we competitively price our products, but we gain customer loyalty when we offer quick delivery times.
2. Alibaba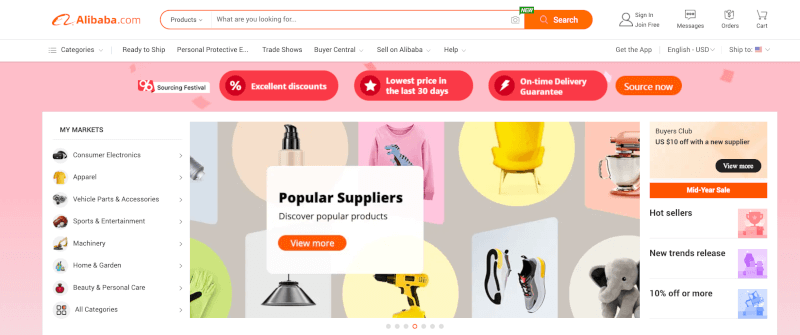 Alibaba is yet another popular and global platform for sourcing products. Moreover, Alibaba has expanded into the B2B marketplace by offering a dropshipping facility. From here, Alibaba provides many products at lower costs, enabling us to increase our profit margins. 
On top of that, here are some other great features of this B2B platform:
Alibaba has

5000+ different categories

of product offerings. 

We can sell to a

global audience

as they offer worldwide shipping to 190+ countries.

With its

private labeling service

, we can easily brand our products by customizing our logo onto items like t-shirts.
As such, we can expand our dropshipping business with a vast product range and reach a larger audience. Plus, with Alibaba, we can build our brand awareness, giving us a competitive advantage.
3. SaleHoo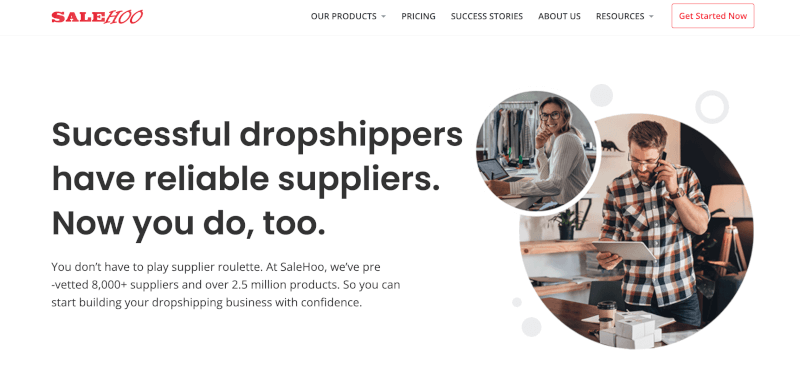 Next on our list is SaleHoo, a New Zealand-based B2B marketplace. Here, we can find an extensive wholesale dropshipping directory.
And with over 8000 product offerings, we can surely find best-sellers. With this in mind, here are the key features of SaleHoo:
SaleHoo members can enjoy

significant savings

by negotiating with suppliers. 

With live chat support, Facebook contact information, and 1-1 assistance, we can receive an

optimal customer experience

while searching for suppliers and products.

We can easily

discover product details

. 

The subscription rates are moderate compared to other B2B eCommerce marketplaces, meaning we can source

low to mid-cost items

.

All of the suppliers on SaleHoo are verified, which means we can ensure

security and reliability

for our dropshipping business

.
Not only can we obtain savings, but SaleHoo members also get access to exclusive insider deals. Therefore, this helps us scale our dropshipping venture. Plus, we gain direct access to key product information. For example, the product cost, sales volume, and supplier ratings. Ultimately, this will help us in our decision-making process when selecting which products to add to our store.
4. Worldwide Brands

Moving along on our list, we have Worldwide Brands. This wholesale dropship directory has been around for 20 years, providing us with a credible platform to source products. Along with that, Worldwide Brands offers 16 million verified products, which means we have plenty of niches to choose from.
Plus, the platform is cost-friendly without any hidden charges or recurring fees. And on top of that, Worldwide Brands consistently updates their supplier list so that we're always receiving the best service possible.
With that said, let's dive into some of the key features of Worldwide Brands:
This online marketplace has a

research staff

dedicated to searching for reliable and credible suppliers.

Worldwide Brands organizes

tradeshows

to connect dropshippers with new wholesalers.

There are

no restrictions on orders

, meaning we can source as many products as we want from day one.
With these features in mind, we can increase our profit margins by utilizing Worldwide Brands for our dropshipping business.
5. eBay

Next up is a renowned name in the eCommerce industry. eBay has grown into one of the largest eCommerce platforms over the years and an optimal B2B online marketplace. Plus, the marketplace has over 187 million users and offers an array of products. Correspondingly, every wholesaler, buyer, or supplier is certified and verified.
Furthermore, let's look into some exclusive features of eBay dropshipping:
We can create a free account as a new subscriber with

250 product listings

.

eBay has a

massive amount of traffic

, so we don't need to worry about investing in marketing for our store right away.

eBay sellers deliver products to customers

within 30 days

, thus ensuring customer satisfaction and repeat sales.

The platform provides a program for

buyer/seller protection,

ensuring security for our business.
With this in mind, eBay is an excellent place to source dropshipping products. Specifically highlighting the active user base, we can increase our sale potential with the large audience we have access to on eBay.
6. Wholesale2B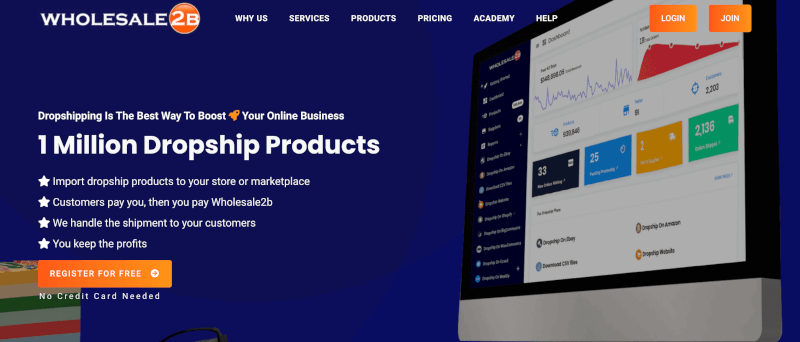 To continue our list, Wholesale2B is a marketplace that conducts both buying and shipping processes. Moreover, the platform has over 1 million dropshipping products that we can source from for our dropshipping venture.
So, let's explore the key features of Wholesale2B:
Wholesale2B is a

fully automated platform

to dropship products from around the world.

We can connect with various

e-commerce platforms

to expand our global reach.

This B2B online marketplace provides

multiple membership options

allowing us to obtain exclusive deals.
As such, we can easily dropship products from this B2B online marketplace to our customers worldwide.
7. National Dropshippers

National Dropshippers is a USA-based company that helps to connect manufacturers and suppliers to dropshippers. Along with this, they cater to their clients and extract a one-stop solution for them.
With that said, let's take a look at this B2B online marketplace's key features:
14 day free trial

for new clients.

We can easily search through different categories and sources from a

wide range of products

.

National dropshippers offer a

large directory of sellers

, including crucial information about their suppliers and other dropshipping partners.
It's always great to test a platform without paying right away. That's why National Dropshippers is another top B2B online marketplace for us to try out. 
8. Doba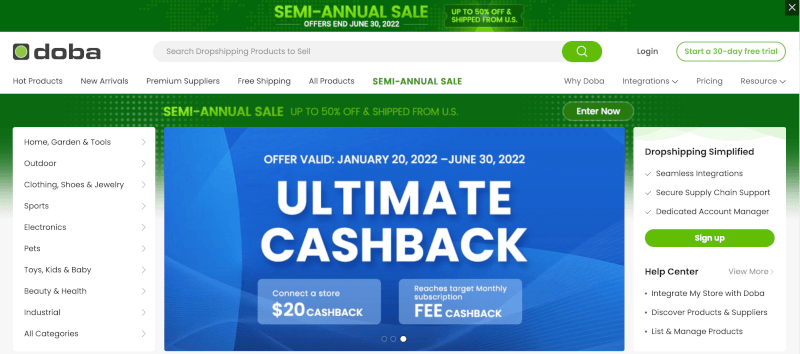 One of the greatest benefits of Doba is its free 30-day trial. As such, we can easily test this B2B online marketplace to discover its various dropshipping features. In addition, Doba caters to over 600,00 online stores. Besides its large user base, Doba also offers optimal customer support.
Now, let's take a look at Doba's dropshipping features:
Doba offers a

1-on-1 account manager

to supply and ensure high-quality products for our dropshipping business.

Multiple

integration options

with multiple eCommerce platforms.

We can also

save 3%

on every Doba product with Doba prepay.
For dropshipping businesses, it's always best to work with dropshipping-friendly suppliers. Thus, Doba is a great option as they offer a free trial, integration options, savings, and more.
9. AliExpress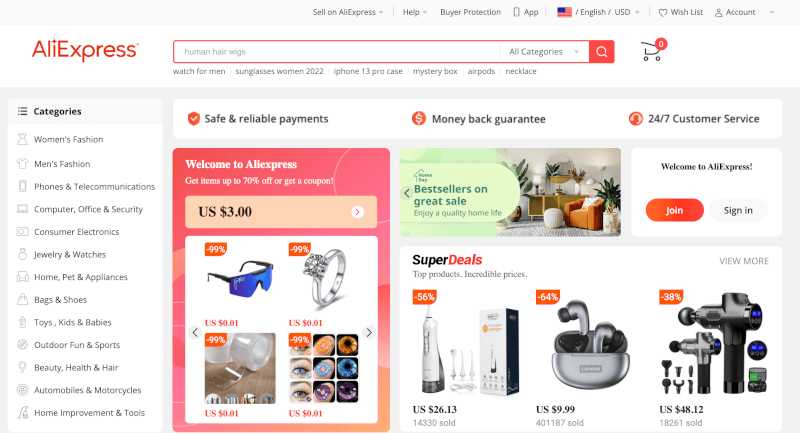 Dropshipping with AliExpress is one of the best ways to start an online business. The reason being is that AliExpress offers numerous products, enabling us to offer our customers a diverse product selection.
Next, let's take a look at the features of AliExpress:
AliExpress has

no hidden or upfront costs

, so you can start any transaction without worrying about financial strains. 

Multiple

dropshipping resources

such as articles and videos to improve our dropshipping business. 

Lots of

reviews from various buyers and sellers

to help us decide where to source products. 

AliExpress Premium Shipping

delivers products to our customer's doorsteps within 30 days.
From fashion to machinery to electronics, we can source almost anything from this B2B online marketplace. Plus, AliExpress is the ultimate dropshipping-friendly platform. With a specific dropship center on the platform, we can gain insight into trends and niches, efficiently scaling our online store.
10. Spocket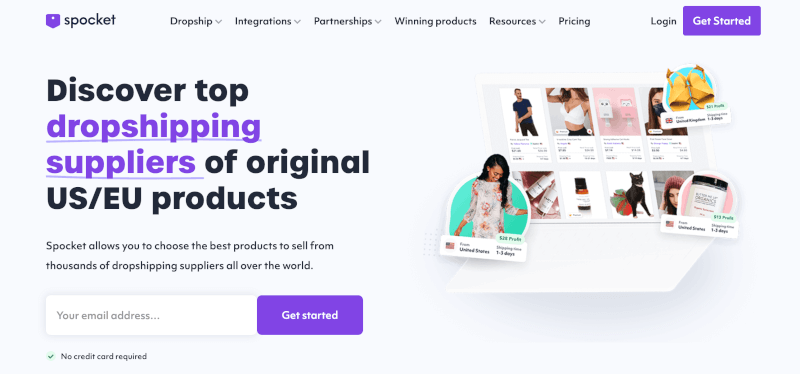 To end off our list, we have Spocket. From best-selling products in various categories, Spocket also allows us to order samples to test product quality. This is highly beneficial as, typically, when dropshipping, we can't test the product ourselves to ensure optimal quality for our customers.
With that said, here are the key features of Spocket:
14-day free trial

, so we can try it for free without any extra charge. 

Spocket offers

three types of plans

to ensure affordability but also to accustom to various dropshipping needs. 

Dropshipping

discounts for members

to continuously scale their businesses. 
Therefore, Spocket is yet another excellent B2B online marketplace for dropshipping. With a wide product range and product testing, we can't go wrong with choosing to work with Spocket.
Conclusion
And that's a wrap! You're now equipped with the top 10 B2B online marketplaces for dropshipping. Now, you can start with product research to see which niche is the best fit for your business.
And, without the need to store inventory, we can easily start dropshipping today. So, take advantage of this opportunity and scale your profits with these online marketplaces.