What is Chinabrands
A major global dropshipping/distributing powerhouse platform for e-commerce. Chinabrands cooperates with over 400 logistics channels covering more than 200 countries and regions. They make global sellers a priority and are committed to providing a quick and easy way to start your online business. Chinabrands are a "Top performer" in cross-border commerce, providing services to over 300,000+ global sellers. One of the few dropship friendly sources that are committed to seller success.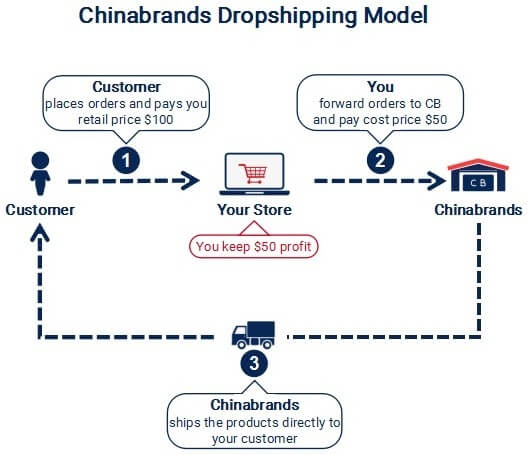 Warehouse Locations
Having 40+ worldwide warehouses makes it easy to get products to customers fast and easy.  Warehouses are located in the US, UK, ES, FR, CN, AU & RU. This enables you to ship to more than 250 countries with the "Fastest delivery times in the market". Below is a chart example (not a complete list) of the warehouse locations and shippable areas.
Chinabrands warehouse Locations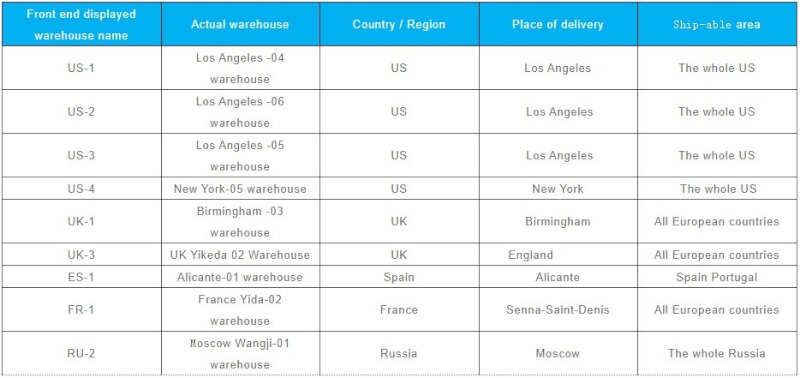 US – United States, UK – United Kingdom, ES – Spain, FR – France, CN – China, AU – Australia, RU – Russia
Dropshipping from 

Chinabrands Pros & Cons
Pros:
Fast delivery to customers with a 95% 24-Hour handling time.

Fully integrated with AutoDS software

Focused on Dropshipper success

Good quality products with great prices

Over 10,000 suppliers with 500,000+ SKUs

Multi-language descriptions

Available Dropshipping Agreement

Shipping is faster than most because of all the global warehouse location.
Cons:
Slow customer service response to emails

Refunds/Replacements take time

Pricing varies by warehouse
How to start using Chinabrands as a supplier?
AutoDS is an official Chinabrands partner. Signing up with Chinabrands could not be easier.  To start, the first step is signing up. Sign-up. Clicking the link will redirect you to the Chinabrands registration page and it will ask you for the following:
Email address

Preferred username

Password

Verification code (Code is on the same line to the right)
This is very important to use this link for the registration, as this way it will be easier for you to get the dropshipping contract
Then just click the "Join Now" button.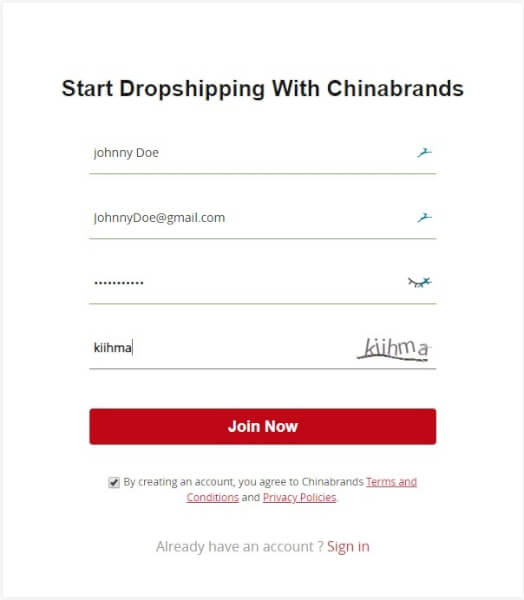 "Next" 

Complete Your Business Information
Phone Number

WhatsApp/Skype (optional).

Company Name

Business Type

Platforms
Then just click the "Submit" button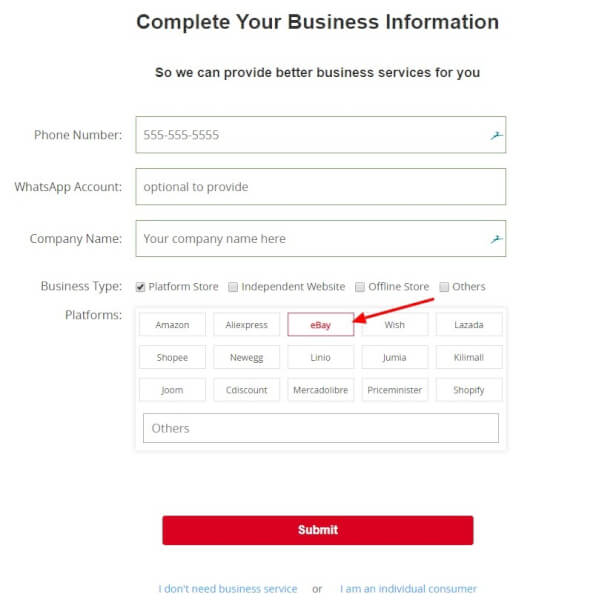 Dropshipping from Chinabrands special & unique things
The official partnership between AutoDS and Chinabrands!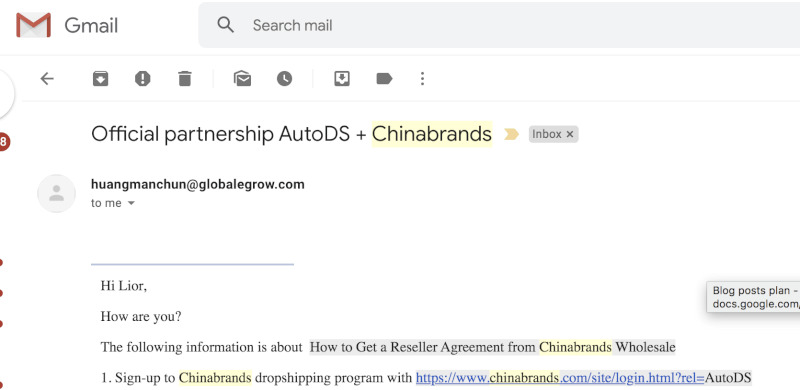 This official partnership will give you much better service, and a much easier option to get a dropshipping agreement.
Chinabrands dropshipping agreement
How to Get a Reseller Agreement from Chinabrands Wholesale?
Sign-up for the Chinabrands Dropshipping Program.

Connect/Authorize your eBay store in Chinabrands dropshipping account. 

Step-by-Step Guide

.

(Before you ask for the agreement) 

you must load at least $500 in your Chinabrands balance
Send an email to [email protected] using this format:
Dear Chinabrands team,
My name is Johnny Doe and I would like to apply for a reseller certification letter. Please review my application details below:
Registered email in Chinabrands: [email protected]
Full Name: Johnny Doe
Store Name: JohnDoeStore2019
Sales Confirmation: I confirm I have reached $500 in sales from ChinaBrands
Store Link: https://www.ebay.com/us/JohnnyDoeStore
Automation software: AutoDS
Thank you,
Johnny Doe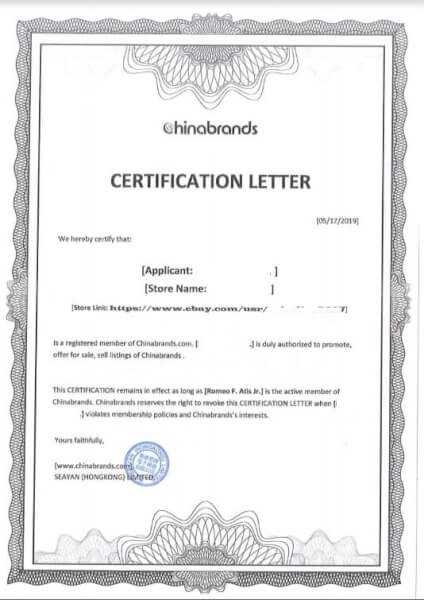 "For more information, refer to their Chinabrands Membership Rules Article about the advantages and benefits of joining."
Special Programs
VIP Membership
Not required, but taking advantage of the added VIP membership gives sellers special pricing discounts, unique product content, and CB points.  VIP membership has 3 levels Bronze, Silver, & Gold which are determined by monthly sales volume. receive CB points every time he or she renews its membership or buys a product.
VIP Membership Levels


CB Points
Available to VIP members is an amazing discount points program. Points are earned every time VIP membership renews and for each purchased product. Each CB Point is worth $0,01 and is used to discount product prices or even shipment costs, increasing the profit of every sale made. Points cannot be used to deduct the costs of clearance products or special offers
Policies & Recommendations
Return Policies
Returns can be at the cost of Chinabrands or customers depending on the reason for return and situation. A "Buyer Paid 30 day eBay Returns Policy" is recommended. If it is determined that a refund will be issued, refunds are within 3-14 days after receiving the returned package. RMA Return Form must be completed when returning products. Refunding or resending products can only be done after the warehouse confirms the return product receipt. Detailed return policy information

Recommended eBay Return Policy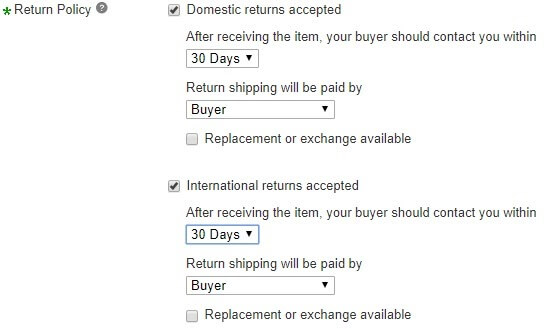 Shipping and Handling

 Poli

cies
The shipping methods available are flat-rate, standard shipping, and expedited shipping. Shipping costs are determined by item weight and dimensions. Shipping insurance is available "2% Fee." Chinabrands has a processing time promise of 24 hours from purchase. Shipping Policy
Shipping & Handling Reference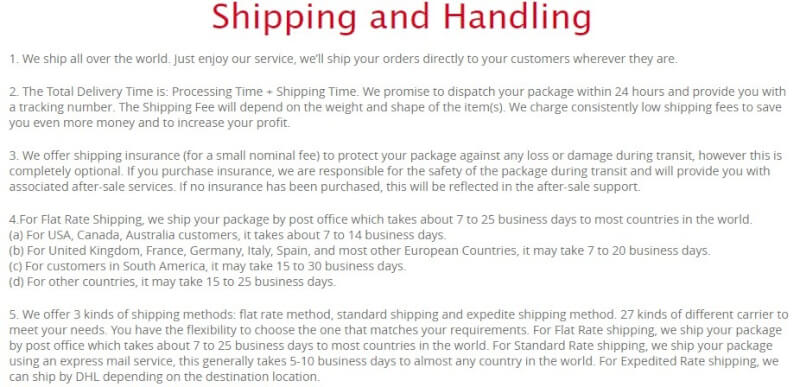 Recommended eBay Shipping Policy
Although Chinabrands has pretty reliable 24 hr handling, it is still recommended to have 2-3 days handling on your policy.
Shipping times can be set up in one of two ways.  You can set a blanket shipping time of up to 25 days or you can set up multiple shipping options based on where it will be shipping to.
You do have the option with the US warehouse locations that can be set up with a shorter shipping time of 1-5 business days while still using the 3 days handling.
US Warehouse Location Policy

Non-US Warehouse Location Policy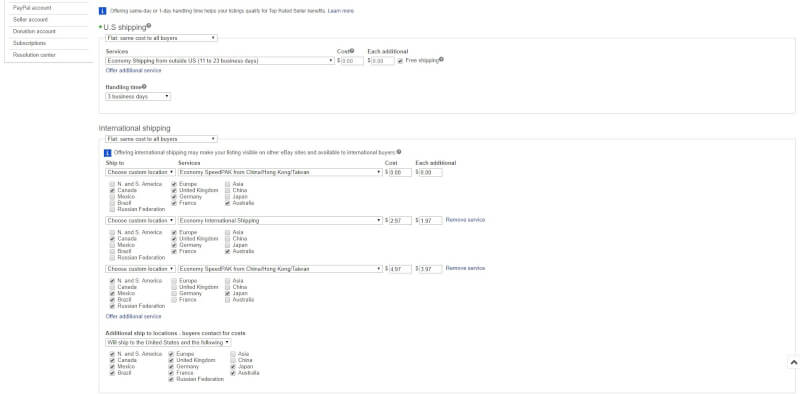 How to find products to dropship from Chinabrands
With the Chinabrands to eBay dropshipping tool, you can save time by automating your dropshipping business model easier and scale.  3 Great places to start your product search are Hot Selling, Clearance, and New Arrival item sections.
"

Hot Selling" items – These are products that ChinaBrands algorithm determined to be most likely to be hot selling.

"

Clearance" items – Section for limited supply deep discount items.

 

"

New Arrival" items – Can help you get the edge on newer items that don't have a lot of sellers yet. If you prefer certain categories you can select them once you have clicked one of these options to further narrow your results. No preference?  Then just select them 

ALL
Items can be easily grabbed from the pages with the " AutoDS Helper extension."  You are able to extract all products from a specific page at once to make it quick and easy to get your new products listed.
"Hot Selling" items feature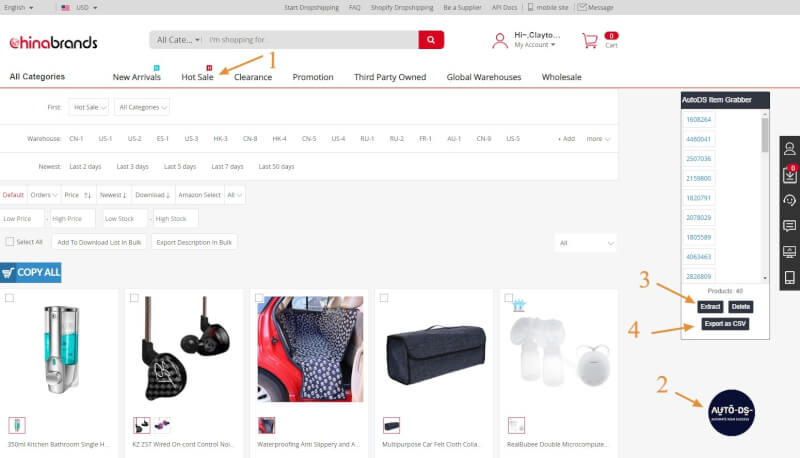 Customer Support
Support seems to very reliable and convenient for all dropshippers. Sellers can contact customer support by phone, email, or even Social media "Facebook" message. Which makes Chinabrands customer support very dropship friendly. Most can only be contacted by email.  Chinabrands even a section to choose "Pre or Post-sale Consultation." Contact Support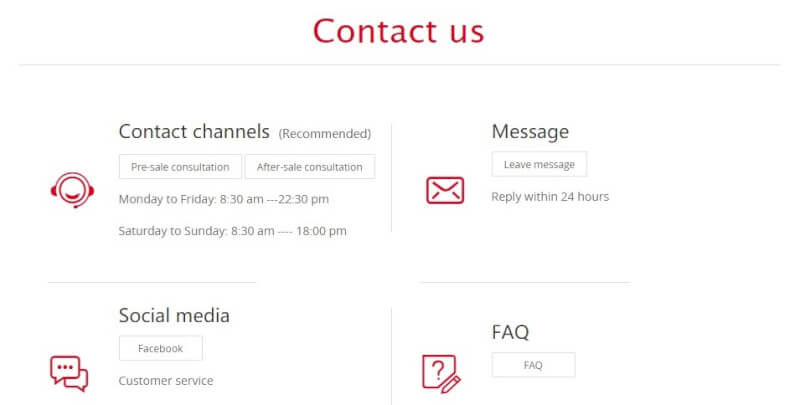 Payment Methods "

Details

"
PayPal
It can be used to add balance to sellers CB Wallet and regular check out.
Each prepaid balance cannot exceed $1,000 USD
Instant payment, instant arrival, safe and convenient
Payoneer
Only accepted to prepay CB Wallet

No limitation for each prepaid balance

Instant payment, instant arrival, safe and convenient
Wire transfer
Only accepted to prepay CB Wallet

Transaction fees will be deducted from prepaid balance and are determined by the policies of the bank used.

2% CB points can be given for prepaid
Example: prepaying $100 USD will give you 200 CB points
It's an offline transaction. You need to contact a customer service representative after prepaying. Usually takes 1 to 2 business days
CB Wallet
Prepaid by Paypal, Payoneer, or Wire transfer

CB points can only be used for a transaction on Chinabrands and cannot be used on other channels

Withdrawals are only returned to the original account
Dropshipping from Chinabrands with AutoDS
Chinabrands products are fully monitored with AutoDS for "Stock and Pricing." Products can be uploaded directly through AutoDS with the AutoDS Helper Tool and support item variations to maximize your listing potential.
Give us your thoughts below on the experiences you have had with Chinabrands. Have you used Chinabrands in the past?  Do you use them currently?  We want to know, so comment below.