AliExpress is one of the biggest online marketplaces that exist today. Not only do they sell to end consumers, but they also serve as a dropshipping supplier to thousands of dropshippers. With relatively low prices and millions of products on a user-friendly platform, they turned themselves into one of the most successful dropshipping suppliers available on the market.
Since AliExpress is full of thousands of Chinese agents and sellers who create and run their stores on their platform, it's easy to run into sellers that aren't service-oriented. There are no physical warehouses, as the sellers themselves source their products from other Chinese suppliers. Therefore, it's crucial to know how to locate, communicate, and create mutual-relationships with your suppliers for your store's long-term survivability.
This article will cover everything you need to know about choosing good and reliable suppliers on AliExpress. After reading this blog, you'll be able to find and work with the best suppliers that will help you both crush more sales and grow your online business with satisfied and returning customers.
The Importance Of Choosing A Reliable Dropshipping Supplier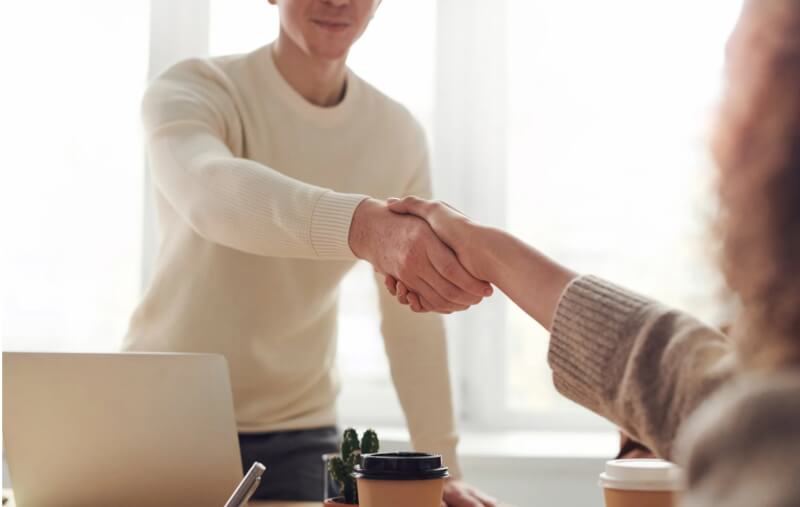 Building an online business from scratch is not a simple task. Your supplier is responsible for the product information, quality, delivery speed, and handling returns and refunds. And, your buyers are the ones who control whether your online business will prosper and succeed. 
Your job is to create a working connection between your suppliers and your customers. The products need to dispatch and arrive quickly. Their item description needs to be precise. And, if there are any problems with the product (arrived damaged, not as described, missing parts, etc.), your supplier should back you up during the return and refund/replacement process. 
Therefore, you can't just choose the supplier with the lowest price. At least, not if you want your business to succeed in the long run. Your suppliers' actions and performance (along with yours) will determine your buyers' overall satisfaction. And that is what will bring balance and profit to your online stores – no matter which selling platform you are dropshipping on.
Six Steps To Find The Best Suppliers on AliExpress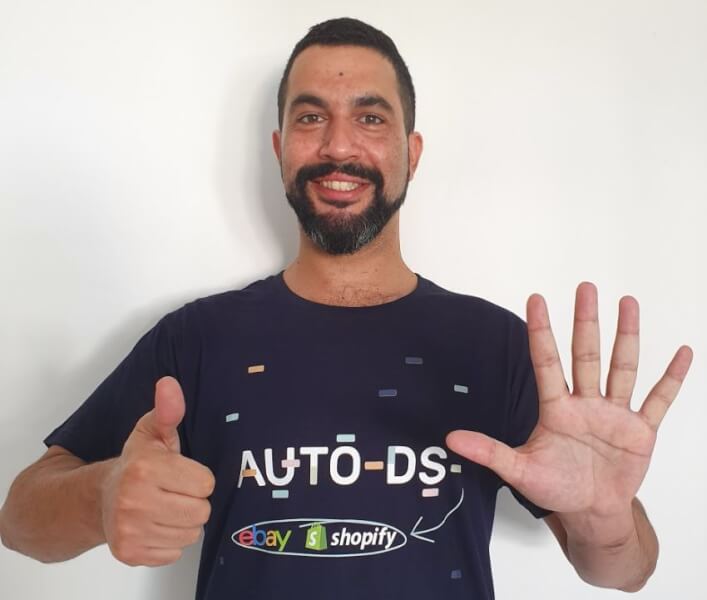 Now that you understand why it is essential to work only with high-quality and reliable suppliers, let's break down the six steps to locate them and what to do next.
1. Filter And Sort Your Search Results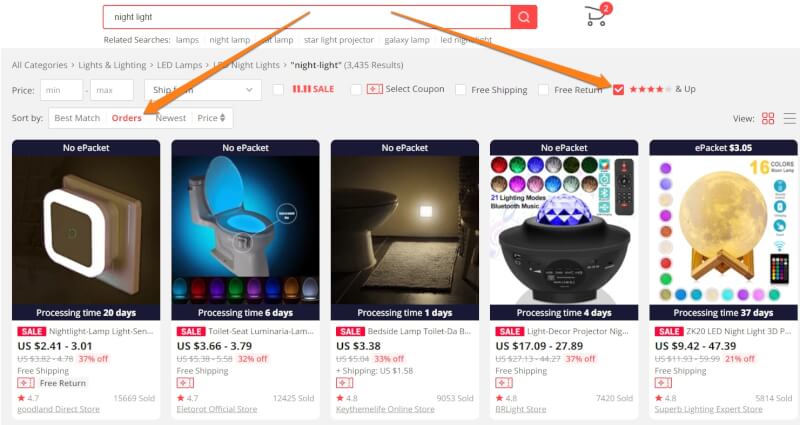 When searching for any product, you have several filtering and sorting options on the search results screen. The default sort setting is on 'Best Match.' Change that to 'Orders.' Also, click on the '4 stars and up' filter.
Now, you'll see the most successful products that have the biggest number of sales along with the highest customer feedback rating. Even if you're unsure which niche or product line you are going for yet, search for something general that other dropshippers are selling. You'll find your next best-seller with your next supplier.
By the way, notice that 'ePacket/No ePacket' frame around each product, along with the processing time? This excellent feature is available on the AutoDS Chrome Helper Extension. It will simply save you time by displaying the ePacket shipping price and processing time without entering each product listing manually.
2. Analyze Each Sellers' Performance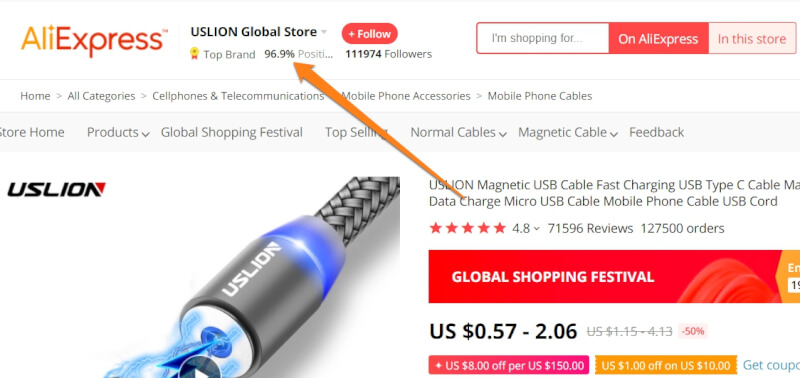 Once you enter the product listings from your search results, you can analyze the sellers' performance on the top. Next to the seller name, you'll notice a positive feedback percentage. 
The first parameter is that the seller must have at least a 95% overall rating and above. Anything below 95% can pose a risk to your overall customer satisfaction. 
Next, hover your mouse over the feedback percentage. Now you'll see how long the seller has been selling on AliExpress. You'll also see a detailed description of the seller rating – Item as described, communication, and shipping speed rating.
Once there, make sure that your seller has been active for at least one year on AliExpress. That's because many new sellers on AliExpress do not have enough experience providing high-quality products and delivering them quickly. That's why at least one year of experience minimizes the risk of working with new suppliers who are likely to make mistakes.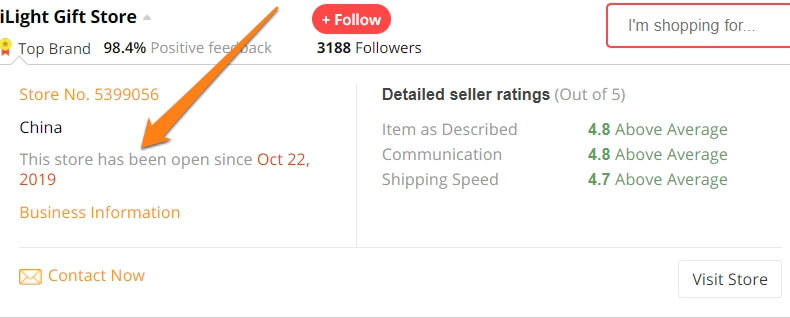 You can see that this supplier has been active for just over one year in the image above. Next, on the same hover window, check out the detailed seller ratings on the right (Item as described, communication, and shipping speed rating).  
The minimum rating for each parameter should be 4.6 and above. Seller ratings with 4.7 and above are shown in green. 4.6 and below are shown in orange/red. While it is better to go with green seller ratings, this shouldn't hold you back from going with an orange 4.6 rating. Many sellers with that rating still perform well.

In the example above, this seller has many more sales and followers than the one on top. But, does a more successful supplier mean that your customers will be well taken care of? Let's take a look at the statistics.
On the one hand, this seller is active for more than one year. So, they have good field experience. The 'Item as described' and 'Communication' ratings are standing on the edge at 4.6. However, their shipping speed has a 4.3 rating, which is a big no-no. The last thing that you want is buyers requesting order cancellations and refunds on products that are slowly on their way.
To sum it up, ensure that the seller has more than one year of experience selling on AliExpress. The seller rating parameters should all be 4.6 and above. Then, you can move on to the next step.
3. Check The Shipping And Delivery Time
The third step to finding a high-quality supplier is to check their shipping and delivery time. Scroll to the top of the page where you see the country/language/currency. Choose the country where your customers reside.

Next, on the product page, choose the product variation and which warehouse to ship from (if the option exists). Then, above the 'Buy Now' button, you'll notice a clickable shipping method link. Click on that to see your shipping prices and delivery dates: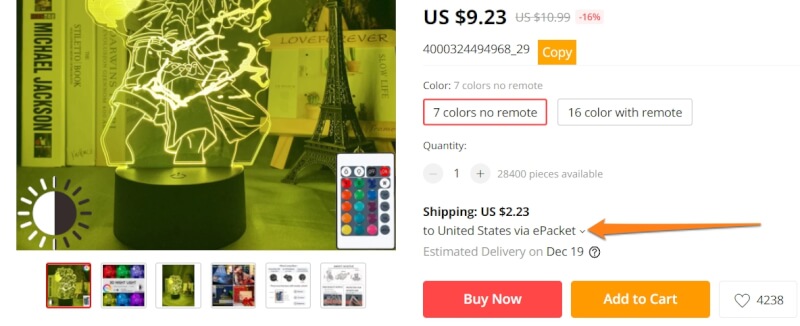 Once you click on the shipping link, a pop-up window will appear with the shipping options, prices, and delivery times. There, you can analyze the different options available and update your preferred shipping method. 
Make sure products shipping from Chinese warehouses don't take longer than 20 days to arrive. But don't stand on the edge – satisfied customers are more important than the specific product you are looking at.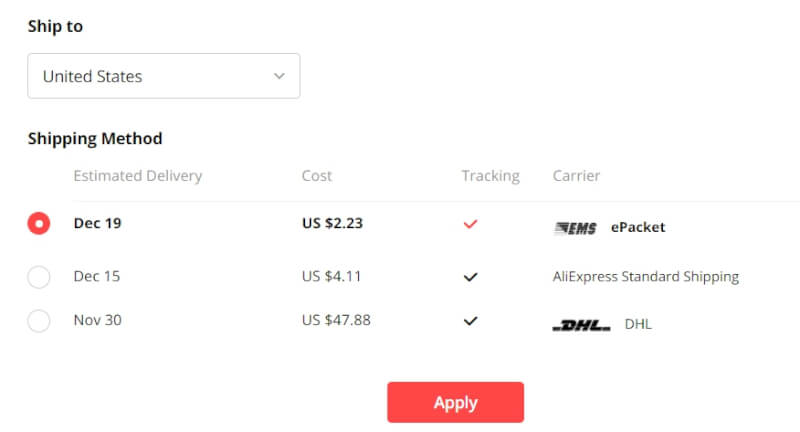 The optimal time from China to the USA should be around 2 weeks. Note that the estimated delivery time shown is usually the maximum delivery time. If it is a high-quality supplier, the chances are that the product will arrive before the estimated delivery time. 
Also, check to see which warehouses are available. In some cases, you'll find products in US warehouses that can ship much faster to US residents: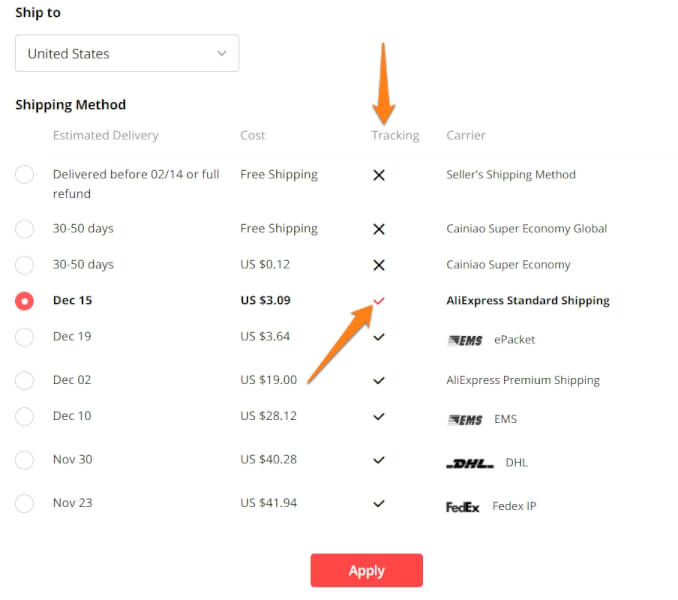 Providing tracking information protects you from having to refund your buyers in such cases without being reimbursed yourself by your supplier. 
4. Read Customer Reviews

Even though you activated the '4 stars and above' filter on the search, it is crucial to check customer reviews on the product that you're looking at. On the customer reviews section below the product description, you can find more details about the product from first-hand customer reviews. 
Not only that, but you can also see and download their photos and use them in your listing for better social proof.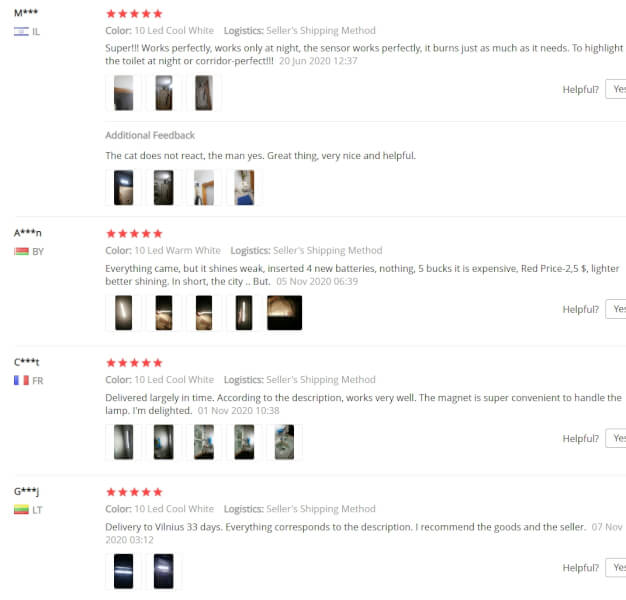 Reading the customer reviews will give you a better picture of how this seller performs when it comes to delivery times, item descriptions, and overall product quality. If you raised any questions while reading the product description, you would likely find your answer in the customer reviews.
5. Returns/Refunds, Money-Back Guarantee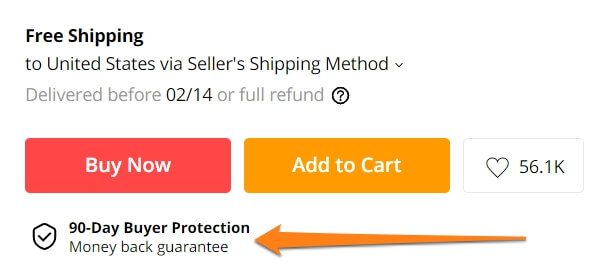 There is a buyer protection guarantee under the 'Buy Now' and 'Add To Cart' buttons on the product page. Clicking on it will show you the conditions under which you can get reimbursed for your purchase. 
For example, in 'item not received' or 'item not as described' cases, AliExpress will gladly jump in to assist you if your seller is not responsive. On the other hand, you shouldn't have many situations like this if you took the steps in this guide to finding a good and reliable supplier.
But it's always good to know that in any case, you are protected. Should there be any problems – you'll be able to act fast with your buyer to resolve any issues and maintain a high level of customer service and satisfaction.
6. Communicate With Your Supplier
So, you found a supplier that answers all of the requirements above? Great! Now it's time to reach out to them and check their communication speed and quality. Once again, hover your mouse over the seller's feedback rating on the top of the product page.
Below the seller history information, there is a 'Contact Now' link:

Click on it to open a message box between you and the seller. Use this opportunity to ask them a question about the product quality, shipping speed, or anything else that concerns you. The point of opening this communication protocol is simply to check if the supplier answers quickly and efficiently. 
If it takes the supplier longer than 24 hours to respond, you might want to consider moving to the next supplier. And that's because you don't want your buyers waiting 2-3 days or more to get replies from you. 
Furthermore, if you found high potential in a product that the supplier is selling, you can ask them to order a sample product to take better photos/videos and try the product out for yourself. Either way, as long as your supplier answers fast and their English is good enough to have a conversation with, you won't have to worry about non-responsive suppliers that can damage your sales and reputation. 
Another smart thing to do is ask the supplier for his best sellers. They will be happy to share them with you so that you can sell them, too. Plus, they can notify you about fresh new products so that you can start new trends.
Lastly, make sure that your supplier will ship the products to your customers without their logo or AliExpress' logo on the packaging. That' because you don't want your customers to know where you bought their product from. This can only be done through communication before and after placing your order. 
Bonus: A Time-Saving Chrome Extension For AliExpress

Time – our best friend and our worst enemy. When running a dropshipping business, it's crucial to know how to take full advantage of your time. You need to learn about and use every time-saving feature that will help you grow your business.
One way to save time while researching suppliers (which is also perfect for product-research) is by using a free Chrome extension called "Up Assistant." Once you install this extension, search for any product on AliExpress. 
Notice how there's a percentage display on each product thumbnail on the search results menu?

That percentage shows you the seller rating that the extension provides for you. Up Assistant have their own metrics to decide what each seller's rating should be. It has nothing to do with AliExpress's seller rating details but is rather an additional way to check seller performance.
This feature saves time from having to enter each product listing manually to check the seller ratings. Also, entering a product listing will explain why the seller received this specific rating from the extension. The information is under the 'Add to Cart' and 'Buy Now' buttons: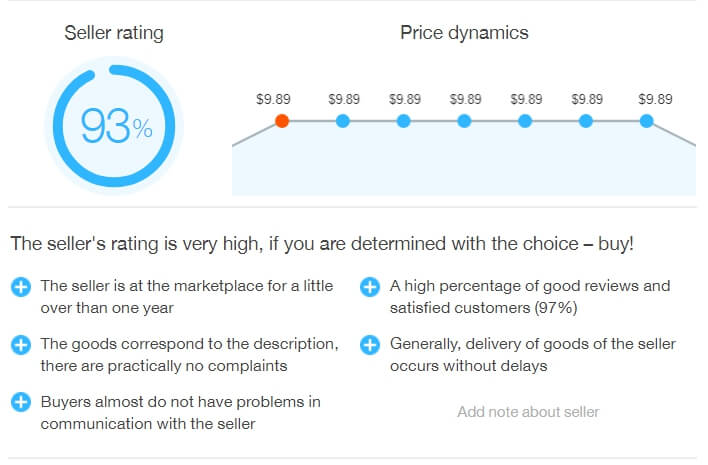 As you can see, there are also price dynamics showing you the price history and changes. And if that isn't enough, on the left side, you'll notice the extension icon. Click on it, and then on 'similar products' to see additional sellers on AliExpress selling the same or similar products to this one. This will help you with your product research and find more potential suppliers to work with.
Use this extension to save you much-needed time when researching new suppliers and products to sell.
In Conclusion
We hope that you enjoyed this detailed article on how to locate and start working with the best dropshipping suppliers available on AliExpress. By making it this far, you have all of the information you need to empower your online stores accordingly with the best of the best.
Don't miss out on our AliExpress blog on the 9 Must-Have Chrome Extensions For Dropshipping From AliExpress In 2022. You will learn about and how to work with the best AliExpress extensions to take your business to the next level.
Start implementing today to start a better tomorrow!