CJ Dropshipping quickly became a leading Chinese dropshipping supplier in the last years by expanding themselves. Offering 8 international warehouses is a key feature of theirs and a huge reason why dropshippers love using them.
Furthermore, their wide selection of products consists of over 400,000 items. 
Whatever niche or category of products you're selling, CJ Dropshipping will definitely supply what you're looking for.
Additionally, their multiple dropshipping integration tools keep them ahead in the game. User-friendliness is what they're about! 
If all that wasn't enough, they offer exclusive print-on-demand and white label services. Flexible, reliable, and lucrative are the words best used to describe this leading dropshipping platform. 
The Benefits Of Dropshipping From CJDropshipping
So let's dive into it. Here is why dropshippers are loving CJ Dropshipping for their dropshipping businesses. Learn how and why to use CJ Dropshipping for your dropshipping business. 
A Huge Variety Of Products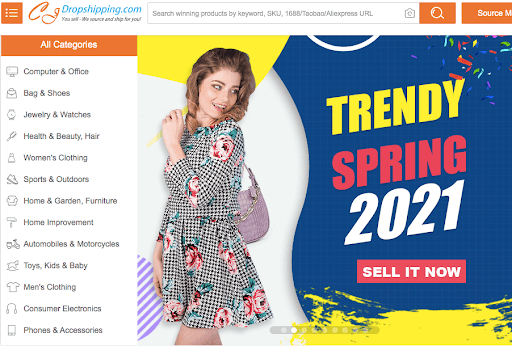 CJ Dropshipping cooperates with hundreds of factories and suppliers. This means you have an enormous selection of products from all the possible categories. 
With tons of different suppliers, you can find products for any niche you're looking for. Working with such broad options drastically lowers your competition too. 
Free US Warehouse Inventory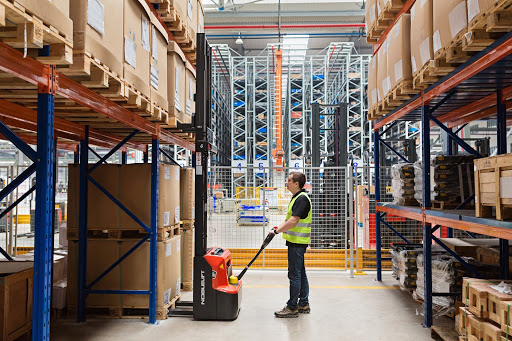 CJ Dropshipping offers USA warehouse fulfillment centers to ensure fast, secure, and reliable delivery to your buyers for free! This is crucial when dropshipping and is a huge advantage. 
You get great products and amazing competitive prices with storage and shipping from within the US. No more 30-day shipping from China!
Items are pre-stocked so that they can process orders the same day. From their US warehouse, they ship via USPS in 2-5 days. All you need to pay is the shipping cost. Click here to calculate shipping costs. 
Reliable Customer Support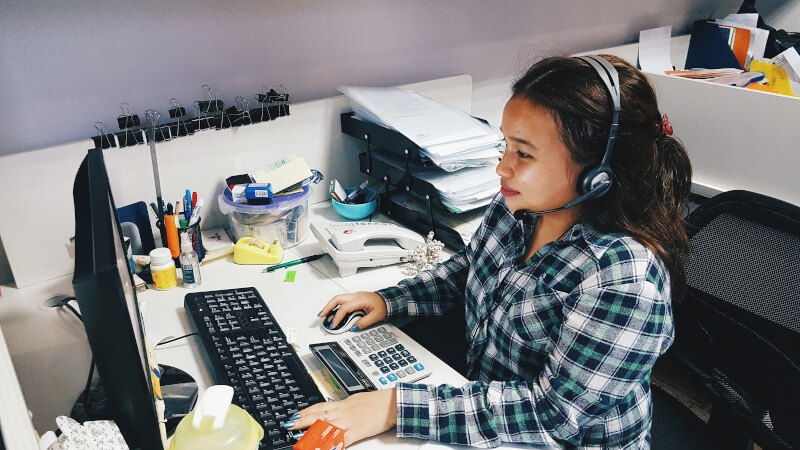 Getting good service is always a concern. When it's bad, it can really take a toll on your business and meddle with your ability to provide good service too. 
When it's good, it is great! CJ Dropshipping is known for superb service, fast and easy. They're available 24/7 and have an excellent 4.9 out of 5 score on Trustpilot. 
Sourcing & Negotiating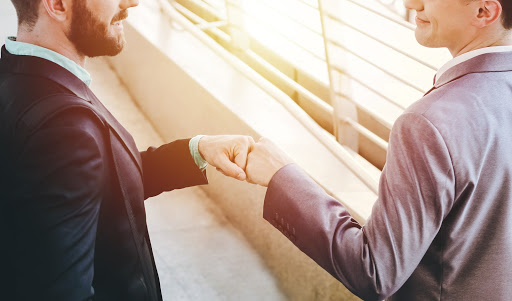 One of the biggest perks of working with CJDropshipping is providing the option of sourcing products for you per request for FREE. This goes a little like this: 
If there's a product you're looking for and can't find it through them, simply post a sourcing request to CJ APP, and you will get the quotation in 24 business hours. This means they do the work for you and save you time. 
Additionally, if they find it elsewhere, they will match the other offer or even beat it. Meaning, you get a good deal, you can offer a competitive price, and you're set to make a good profit margin. 
Several Products – One Package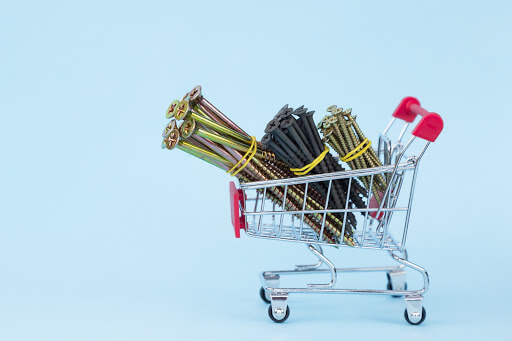 This next one is a lifesaver! This hassle is common, and CJ Dropshipping has outdone itself by eliminating this headache. When dropshipping multiple products from a supplier with such a large catalog of items, it is a big inconvenience if a buyer purchases more than one product. 
Why? Since with almost any supplier site you use, this means items will be packaged separately and sent out at different times, which will result in them arriving at your buyer's on different days too. 
With CJ Dropshipping, that is no longer a problem since all products will be shipped in the same package. No more worrying about separate packages and different arrival dates to buyers. 
White Label – Branding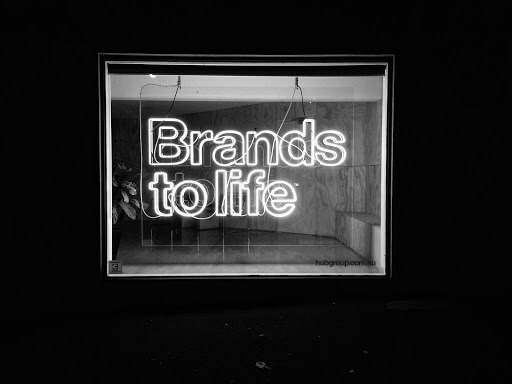 This is a huge advantage! CJ Dropshipping offers the option to brand packaging for the items you dropship from them. 
That means instead of just generic random packaging, your buyers can get nicely decorated and branded packaging when purchasing. 
This is key to raising your brand awareness and taking your dropshipping store from just another store to a branded business. Customization can go a long way and can push your business immensely, so definitely look into this. 
Return Policies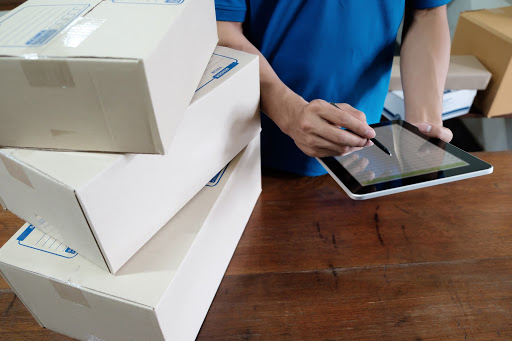 CJ Dropshipping's service is great all around. This is no different when it comes to their return process. CJ Dropshipping would offer a full refund or product replacement if the product arrived to your buyer damaged. 
The same can be done with an item that was not received within the stated shipping time. It's up to you if you'd like to pay for product returns or to have the return fees at your buyer's cost. 
In any case, make sure to state this in your business return policies, so it is clear to your customers. Learn all about returns here. 
Print-On-Demand For Thousands Of Products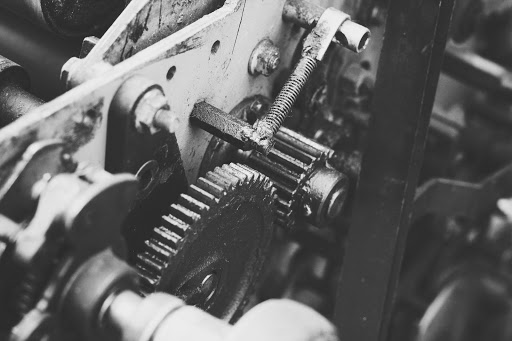 This next "feature" that CJ Dropshipping provides is a fan favorite. Print-on-demand has been on the rise, and now you have the perfect site for it. 
You can sell custom design products in your dropshipping store with their Printful print-on-demand solution. Thousands of printable products are supported. Make your designs come to life and/or provide design solutions to your buyers. 
Professional Videos & Images For Your Store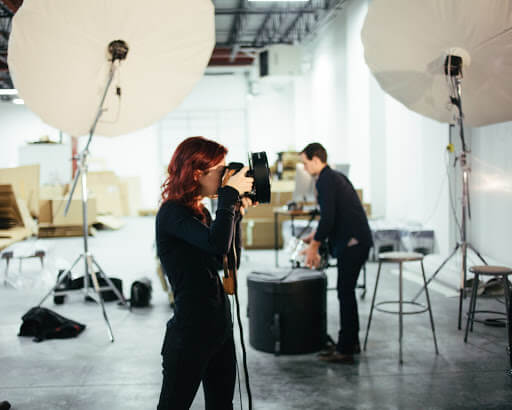 Last but not least, we have yet another perfect solution to a known dropshipper problem.  As a dropshipper, since you don't hold your own stock, getting good videos and pictures can be tough sometimes. 
Your products need great videos to get the message across to the audience. Plus, amazing product images & videos bring you more sales. CJDropshipping can fulfill that for you. 
You can message your supplier directly and even ask for a specific background color for the item's images. They will be more than happy to send them to you for you to use in your store. Stay ahead of your competitors and attract buyers!
Product Finding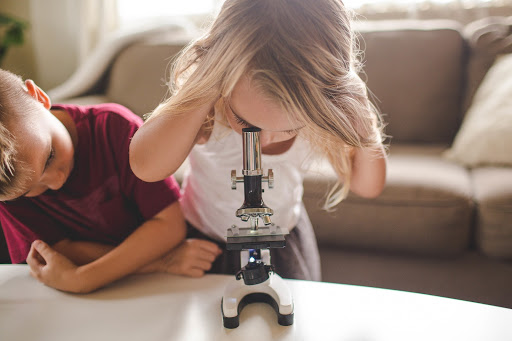 Now that you know the general features of dropshipping with CJ Dropshipping let's go over one of the most important steps in the process. Finding hot products to sell is made easy with 30 warehouses worldwide. 
Plus, an enormous selection of 13 categories with plenty of products from within each one will help you find your next best-sellers. Additionally, low prices allow big profit margins and help you outshine your competitors. Put those three together, and you have yourself the perfect supplier. 
Warehouses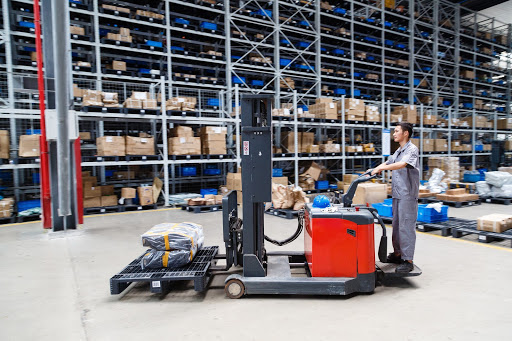 If you're dropshipping products to the US, you're in for a treat. US warehouses are free for you to use. That allows for quick shipping times. If you're selling to other countries, don't worry. 
Countries in which CJ Dropshipping offer warehouses include: China, Thailand, Germany, Australia, Britain, Canada, Spain, New Zealand, Italy, Chile, Indonesia, France, Czech Republic, Uganda, Romania, Pakistan, Japan, Mexico, India, Brazil, Russia, Singapore, Malaysia, Vietnam, Philippines, Laos, Cambodia, Saudi Arabia, and UAE. 
In short, no matter who and where you sell to, you're covered. 
Prices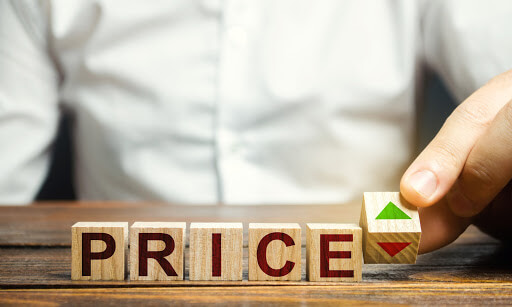 Low prices are expected with Chinese suppliers, but because CJ Dropshipping isn't your classic Chinese supplier, people often forget. Their great prices make you feel as if you're back on AliExpress or Chinabrands. 
With CJ Dropshipping, you get for your money's worth and so much more. Their features and all-around services put them up at the top of the list of Chinese suppliers. 
Product Types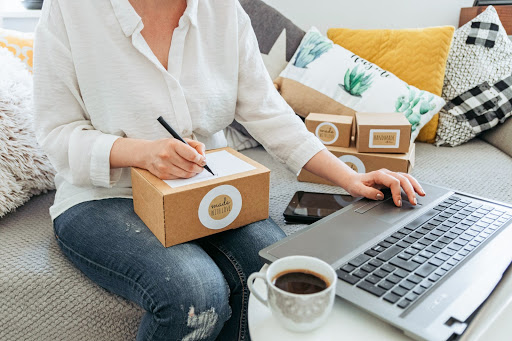 As for products, not only are you guaranteed good deals, selecting products from such a huge catalog is a huge advantage. Computer and office, bags and shoes, jewelry and watches, health and beauty, home and garden, and 8 more categories to choose from. 
You can have a general store filled with products from each category or a niche store with loads of products from just 1 of the 8 categories. Whatever it is you're looking for, chances are you'll find it on CJ Dropshipping. 
Easy Management & Automation For Your Dropshipping Business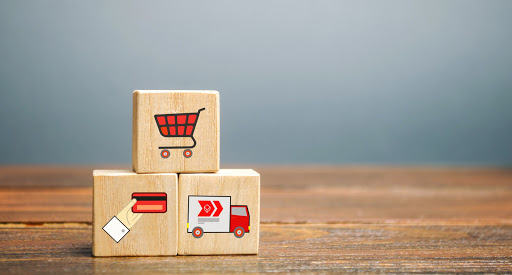 Now that you know the ins and outs of CJ Dropshipping, here is where the magic happens. Behind every successful dropshipping store, there is a dropshipping tool helping it run smoothly. From importing products, price and stock monitoring, store optimization to automating orders. 
Whether big or small, these tools are crucial for every dropshipping store to be able to scale properly.  Here is how to save time and simplify your dropshipping experience. 
Product Importing To Your Store
US vs. China Import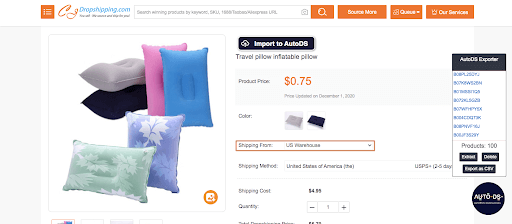 When selecting a product to sell from CJ Dropshipping, you will see the option to choose "Shipping From." You will have a dropdown menu present itself where you will need to click on either US or China.
If you want to choose products from US warehouses only, you can do so. Simply filter by clicking US Warehouse on the top menu, and you will see all your product options.
AutoDS Dropshipping Helper Extension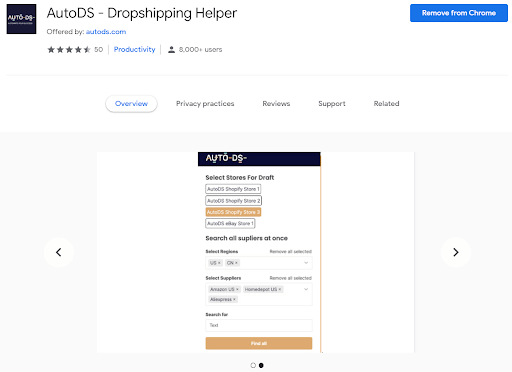 We've created our very own Helper Chrome extension to save you time. One of its functions is an item grabber to ease your daily work routine and help you increase your sales.
The Helper allows you to grab items from our supported suppliers' sites in just a few clicks of a button. 
Go to CJ Dropshipping, search for a keyword, click the extension's icon on the bottom right side of the page, and click "Extract" to extract all products from the current page into the grabber table.
Bulk Imports
Save time on importing products to your store—no more single imports and working on one product at a time. Bulk imports are easy and efficient. When adding products to your dropshipping store using AutoDS, you have two options for bulk importing.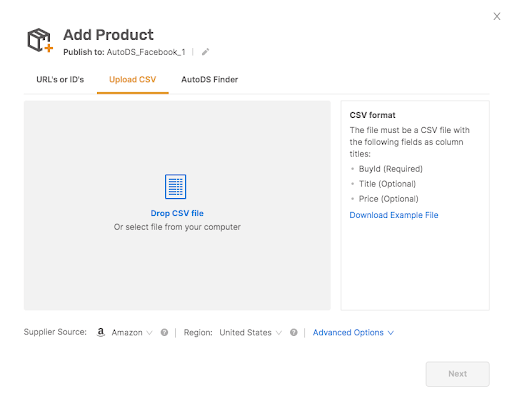 You can simultaneously take multiple product URLs or IDs and copy-paste them to the area shown in the image above. Or, using our Helper extension, if there is a product page on CJ Dropshipping you like, click the extensions "Export as CSV" button to download a CSV file immediately. 
Then, go to the ready file, select which items you want to import from the list, and upload the CSV file to AutoDS to start the import process.
Price & Stock Monitoring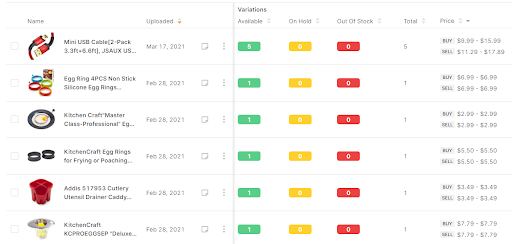 Once you're done importing, you need price and stock monitoring. This is an essential feature that is critical for your dropshipping store. Without price and stock monitoring, your store and its products are not safe. Let's give you an example of why. 
Let's say a product your selling suddenly goes out of stock. You aren't going to be stuck sitting in front of your computer all day checking each product to see their status. So, if the product slips out of stock and you have not updated that in your dropshipping store, that product can still be bought.
If you get a sale and the product is no longer available, you will need to cancel the order and lose a sale. That's not good! The same can happen with a price change. If your supplier decided to increase the price and the change was not automatically updated in your store, you will not necessarily lose your sale, but you will have a sale with no profit. No one wants that. 
The AutoDS platform conducts scans for all your products from the various suppliers every 60 minutes. That is the fastest scan option on the market, therefore keeping your store as safe as possible.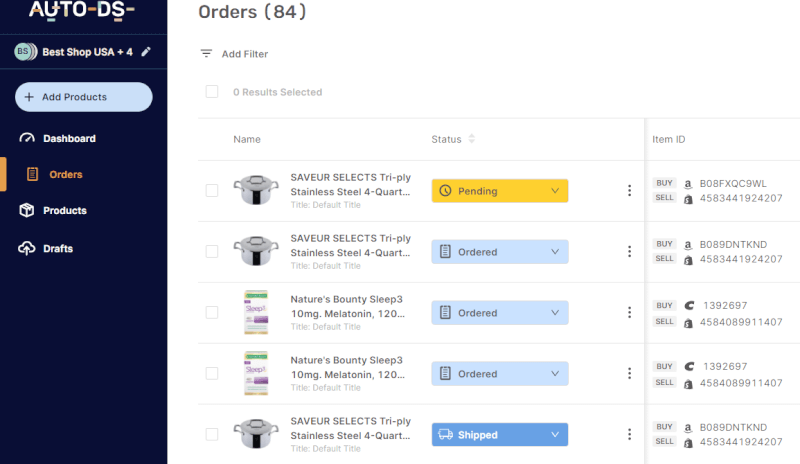 This is our favorite part! Orders. As soon as you make your first sale, you need to fulfill it for your buyer. That means going to your buyers' order in your dropshipping store, going to the supplier site, copying your buyer's name and their address, pasting it on the supplier site at checkout, and completing the payment for the order. When tracking information becomes available, you need to provide it to your customer. 
Long story short, this is a timely process. Whether you're a beginner or a long-time dropshipper, you don't need to waste your time like this. 
However, the more orders you get, the more detrimental this gets. Imagine you're getting multiple orders a day. Or multiple orders for multiple items a day. You will not be able to keep up. 
Here is where we come in. AutoDS offers 2 innovative and headache-eliminating solutions for dropshipping from CJ Dropshipping.
Address Copier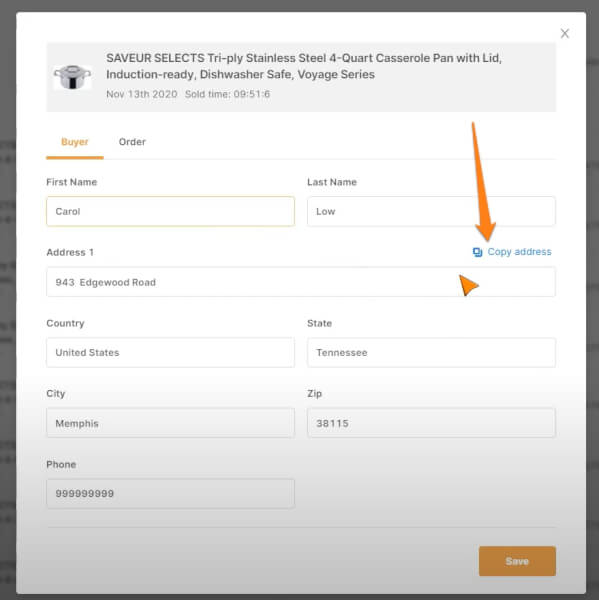 The Helper extension we introduced to you earlier has many functions. Besides grabbing items and helping you import, it can also greatly minimize the time you spend on manually fulfilling orders, and help search for products using multiple suppliers at once.
It will semi-automate the processing of your order by quickly copy-pasting your buyers' information. This has proven to be a priceless feature. 
Fulfilled by AutoDS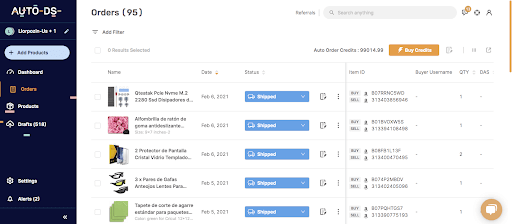 The Fulfilled By AutoDS Service automatically handles 100% of your orders.
This means you no longer need to deal with the source site's orders, cancellations, returns, or the fear of having your source account restricted. 
All you need to do is load the balance to your AutoDS account, and we will process everything for you. The entire life-span of the order will be handled for you: placing the order, updating tracking, and processing a return label when needed. 
This saves you from processing the order and then later getting the tracking information from the supplier to your buyer.
Additionally, not having to worry about locked buyer accounts, cancellations, and returns will allow you to focus your time and attention on scaling your business further or give you that extra time with family and friends. 
Gather & Implement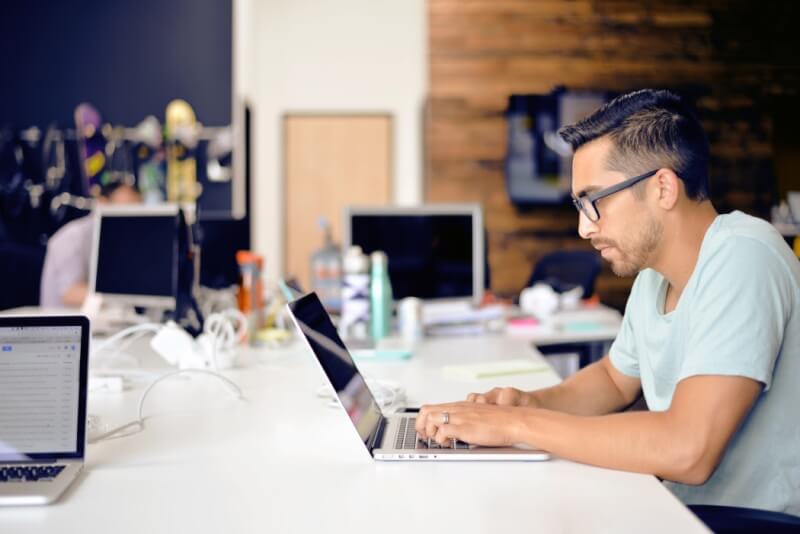 Well, folks, there you have it—the ultimate guide to dropshipping using CJ Dropshipping. We sincerely hope this article has been helpful to you.
We packed in all the most important details about CJ to send beginners on their way to a successful dropshipping journey while making sure that experienced dropshippers can learn a thing or two from this too. 
This is the time to take everything you've learned and put it to work. Start slow and take it day by day. For those of you using AutoDS, our platform offers a feature called "Tagging" to organize your store easily. Creating tags for niches is a great way to keep track of your products. 
Once you start adding products from CJ Dropshipping to your store, make sure to create tags according to niche or supplier. That way, you can analyze and optimize their performance in the future. 
We'd love to get your feedback in the comments section below. If there is another supplier you'd like a full guide to like this, let us know! We'd be more than happy to help. Happy dropshipping, everyone!