Have you wondered why so many dropshippers source products from Alibaba? Dropshipping from Alibaba is the most popular option if we want to establish a thriving business. As one of the largest online platforms, Alibaba connects Chinese wholesale suppliers to dropshippers worldwide.
To give you an estimate, there are more than 150,000 wholesale suppliers on Alibaba. And with this massive number of sellers, they offer an extensive product catalog. Thanks to the wide range of products and affordable prices, Alibaba is a go-to place for beginner dropshippers.
With that in mind, we will cover the pros and cons of Alibaba dropshipping. Moreover, we will learn how to spot suitable products and reliable suppliers and get acquainted with Alibaba terminology. And lastly, we will discover how to start dropshipping from Alibaba and scale. 
Is Dropshipping From Alibaba Legal?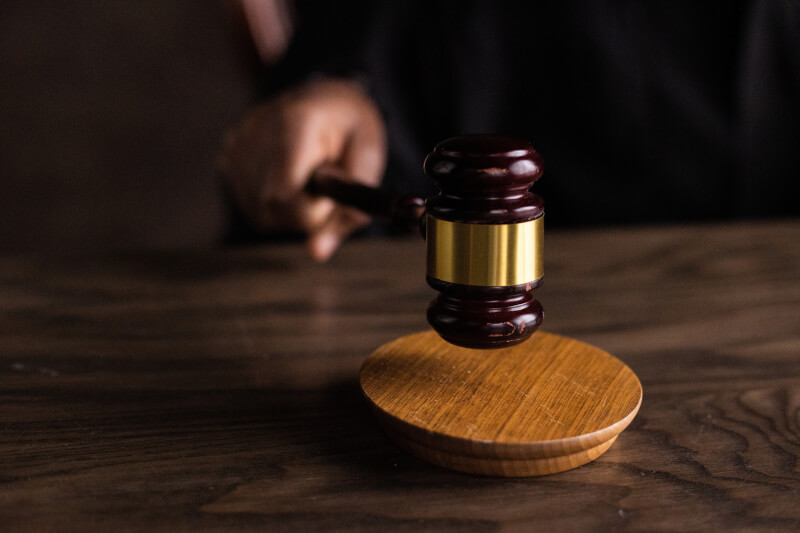 Before we learn about Alibaba dropshipping, it is essential to understand the legal regulations for our dropshipping business. In general, dropshipping is entirely legal, and with that, dropshipping from Alibaba is also legal.
However, there are a few categories we have to avoid selling, whether we are dropshipping from Alibaba or other suppliers.
These are the following products we should avoid dropshipping from Alibaba:
Let's go through each one to better understand why it's best to avoid dropshipping from these product lines.
Copyright And Trademark Products
First, the dropshipping of copyrighted or trademarked products is not allowed. To clarify, copyright and trademarked products are intellectual properties protected by their owners. For example, they can include patents or products manufactured by brands such as Nike, Adidas, and Rolex.
As such, violating copyright and trademark rules can result in account suspension and, in the worst case, legal action from companies. And, both of these negatively affect our business and reputation with our customers.
Therefore, we should check eBay's VeRO list to avoid dropshipping VeRO products. To elaborate, owners register with eBay to submit an intellectual property they wish to protect on eBay's Verified Rights Owner (VeRO) program. Thus, we should avoid dropshipping products that are on the VeRO list.
Age-restricted Products
Another category we must avoid selling are age-restricted products. As dropshippers have to promote products globally, age-restricted products are deemed unfit for marketing and selling. With that in mind, products such as consumables, including alcohol and tobacco, are completely illegal to resell.    
Dangerous Items
Also, selling dangerous products is highly prohibited. For example, products like weapons, ammunition, and hazardous material are seen as objects which can harm others. That's why we must avoid dangerous dropshipping products.
Overall, if we avoid dropshipping the above products, we can easily comply with the rules of selling channels. Additionally, we will have no legal issues since we are not violating regional or state laws and regulations.
Pros And Cons Of Alibaba Dropshipping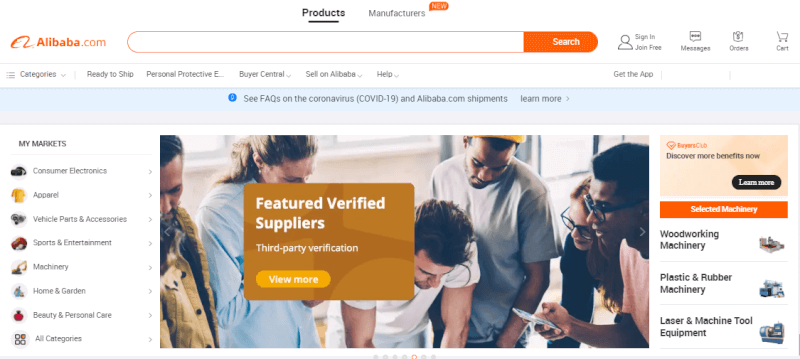 Now that we know what products to avoid, we are ready to dropship from Alibaba. But before we start dropshipping, let's see the benefits and drawbacks of Alibaba dropshipping.
Pros
Wide range of products

Wholesale pricing

Branding options

Worldwide shipping

Lots of deals & discounts

Buyer protection (trade assurance)

Product monitoring & inspection services
As we mentioned earlier, one of Alibaba's most significant advantages is its wide range of products. With more than 150,000 suppliers, we can find many products from every category, such as books, jewelry, electronics, clothing, and much more.
Along with that, Alibaba offers affordable pricing on all its products. That means we get products at some of the best rates in the market increasing our profit margins. Additionally, Alibaba provides branding options through its private labeling services. Essentially, private labeling helps us source specially made products under our brand name, ultimately increasing our credibility and reputation.
On top of that, Alibaba ships products to any corner of the world. This allows us to deliver to global customers. Plus, Alibaba offers different types of deals and discounts to dropshippers. As we can extend the same discounts to our customers, we can further increase our sales.
Not only will we earn more money from higher sales volumes, but we will also attain customer satisfaction resulting in customer loyalty and repeat purchases.
Furthermore, the buyer protection policy protects dropshippers when buying products from Alibaba. This feature ensures that buyers receive products of their expected quality within the specified shipping time as per the contract agreement. Also, it provides an extra layer of security when making payments, reducing the chances of payment-related issues and fraud.
Finally, Alibaba offers monitoring and inspection services. When we place an order, the Alibaba monitoring team will check if the total quantity matches our ordered quantity. Moreover, they will also inspect the quality of products. As a result, this increases customer satisfaction, builds trust, and a better reputation for our store.
Cons
Some sellers/items require an MOQ

Lower quality depending on the seller

Language barriers
On the downside, some Alibaba suppliers require a Minimum Order Quantity (MOQ). To clarify, MOQ is the minimum number of products dropshippers must buy from the suppliers.
In general, this doesn't follow the dropshipping business model. Dropshipping suppliers hold products in stock for us and deliver them individually. Plus, one of the advantages of dropshipping is not to pay for anything upfront.
However, we can negotiate with the suppliers to buy products without a MOQ if we have a proven track record. Alternatively, we can also source from the 'ready to ship' section, which offers lower MOQ requirements.
In addition, we can come across low-quality products. Therefore, we must conduct proper product and seller research before sourcing and purchasing items for our stores.
For instance, we can look at the product's material composition for product quality. Similarly, we can research suppliers' credibility by looking at their feedback and reviews.
Or, we can also use a dropshipping agent that works as a middleman between the suppliers and dropshippers. Since one of their responsibilities includes quality analysis of products, we can secure ourselves against unreliable suppliers.
On top of that, since Alibaba is mainly based in China, we can encounter language barriers with some Alibaba suppliers. As such, we may have difficulty communicating with these sellers.
However, Alibaba is a global brand, and most suppliers on Alibaba can communicate well in English. Plus, we must always read reviews before choosing an Alibaba supplier to ensure they're the best fit for our store.
Evidently, there are more pros than cons. And that means Alibaba is a reliable platform that we can rely on to source our products.
How To Analyze Sellers On Alibaba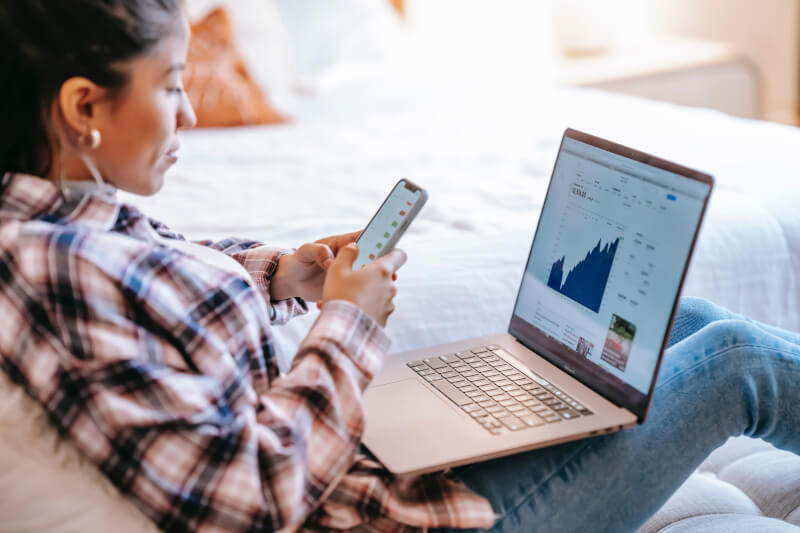 While Alibaba's platform is trustworthy, they don't supply our products themselves. Instead, we get our products from third-party sellers. So, how do we know whether or not the supplier we are buying from is trustworthy? To do so, we should ensure to check off the following factors: 
Select verified sellers 

Check seller's documentation

Verify contact details

Analyze supplier's feedback

Stay alert
Select Verified Sellers & Check Seller's Documentation
Since verified sellers comply with rules and regulations, they are trusted by Alibaba. Therefore there are very low chances of fraud or issues when sourcing from verified sellers.
Furthermore, Alibaba also provides trade assurance. This is Alibaba's built-in payment protection that safeguards our orders. As such, we can claim a refund with trade assurance if the supplier doesn't fulfill the contractual agreement.
Additionally, we need to inspect documents of our sellers, such as business licenses, compliance certificates, and photos of the factory or warehouse. While most documentation is shown on Alibaba when checking the seller's profile, we can also ask them for more documents by contacting them. This ensures the seller is legit and conducts their business lawfully.
Verify Contact Details & Analyze Supplier's Feedback
After checking the seller's documents, we need to verify their contact details. To verify contact information like business address and phone number, we can quickly run a search on Google.
Plus, we should analyze suppliers' reviews and feedback. Generally, customer reviews, ratings, and feedback give us an idea about how sellers serve their customers. With this information, we can better evaluate the sellers we are working with.
Stay Alert
Moreover, we must be wary of deals that seem too good to be true. For instance, we can come across a product for a much lower price than what other sellers are selling it for. In such cases, it's better to walk away. Alternatively, we should contact suppliers for as much information as possible before buying from them.
On that note, Alibaba has a buyer protection program for such instances. On top of that, seller reviews also help us filter out bad sellers.
All in all, one of the surefire ways to build a successful Alibaba dropshipping business is to find reliable suppliers. Therefore, we must look for suppliers that tick all the above boxes.
How To Find Trending Products To Sell On Alibaba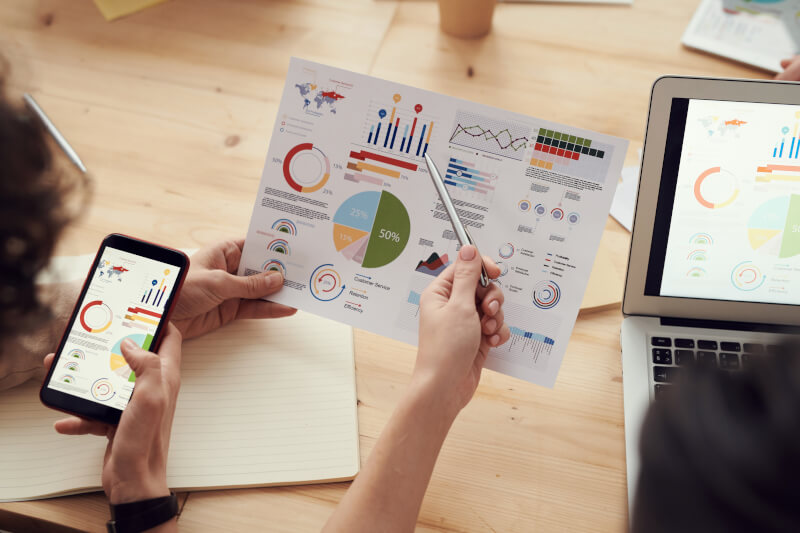 Our business cannot sustain itself without good products to sell. As such, we should list trending products with high sales potential in the market. And with product research, we can find best-selling products that will skyrocket our sales.
With that in mind, here are various methods to conduct product research:
AutoDS product research tool

Trending Hot Products Section

Google Trends   

Online trade shows 

Transactions processed 
Trending Hot Products Section & Google Trends
To help hundreds of dropshippers find worthy products, Alibaba has a trending product page on its website. By looking at Alibaba's Trending Hot Products Section, we can find in-demand products that other dropshippers buy from the suppliers.
Additionally, we can use Google Trends. To clarify, Google Trends is a tool that finds trending search queries and reveals the popularity of various keyword phrases. To find winning products, go to google trends and discover products with high search volumes. Afterward, we're more than likely to find the same products on Alibaba since Alibaba hosts a plethora of items.
Online Trade Shows & Transactions Processed 
Plus, online trade shows are a great place to find unique products where many businesses showcase their products. As such, we can find products with huge potential.
On top of that, we can find how many times the products have sold on the Alibaba platform itself. When we click on a product on Alibaba, we can see how many orders have gone through for that product. The higher the number of products sold, the more in-demand the product is.
AutoDS Product Research Tool
Besides the above methods, we can utilize an all-in-one dropshipping solution to search for products. To maximize our chances of finding excellent products, we can use the AutoDS product research tool. In essence, the AutoDS product research tool allows us to find products from US and Chinese suppliers.
This tool allows us to discover trending products with the help of search filters like shipping locations, shipping time, and suppliers. On top of that, this tool provides key information for winning products like source links, competitor pricing, and target audience metrics.
With these fantastic methods, we can find unlimited trending products to sell in our stores. Thus, we won't have to worry about what to sell or if our product will not perform well.
Understanding Alibaba Terminology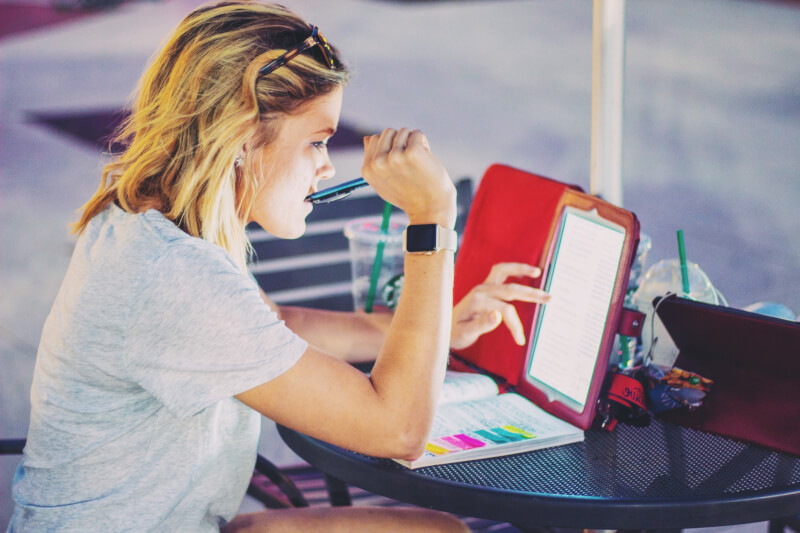 After finding trending products, we are all set to add products from Alibaba to our store. However, before we start importing products from Alibaba, learning about different terminologies used on the platform will be very helpful in the process. Therefore, let's look at some Alibaba trade terminologies:
So what do these terms mean? Below, we will look at them individually:
MOQ
The minimum order quantity(MOQ) is the lowest quantity of a specific product a supplier is willing to sell. Some Alibaba suppliers generally require a MOQ, which goes against the dropshipping model.
However, we can negotiate with the suppliers to get dropshipping services if we show a proven track record as dropshippers. In the same way, we can contact and negotiate with suppliers if we are beginners. Alternatively, Alibaba also has a 'ready to ship' category, which has a selection of products that do not require a MOQ. 
OEM
OEM stands for Original Equipment Manufacturing. The term refers to the process where we can hand over our product specifications and requirements to a supplier or manufacturer. Additionally, we can use this type of supplier if we want to source a custom product under our brand name. 
ODM
ODM stands for Original Design Manufacturing. Slightly different from OEM, ODM suppliers will instead give us product ideas if we don't have one. All we need to do is communicate the functionalities, expectations, and concept of the required product. Then, the ODM supplier will develop product ideas accordingly, which we can sell in our stores.
Trade Assurance
When we buy products from Alibaba, we are protected with Trade Assurance. If our supplier doesn't fulfill the contract's terms, Alibaba will listen to our complaints and resolve our issues. We are also eligible for a full refund if we have a valid case.
However, we can only get trade assurance if our sales agreement lists potential dispute reasons such as shipping times, product quality, and more. Therefore, it is essential to buy from suppliers that offer trade assurances.
Gold Supplier
If suppliers want to boost their position in the Alibaba search ranking, they can do so by paying for promotions. In return, Alibaba ranks them higher in their search results and gives them a Gold Supplier label. 
IQC
As quality control is something Alibaba takes seriously, Internal Quality Control (IQC) is the first type of quality check. To clarify, the IQC is responsible for the quality control of raw materials entering the factory. With this, they ensure everything is up to standard before Alibaba can place it into production.
QC & QA
QC stands for Quality Control, and QA stands for Quality Assurance. Both methods ensure that the manufactured products are of the same quality as the contractual agreement.
IPQC
In-Process Quality Control (IPQC) is the process of checking the quality of products during manufacturing, packaging, and testing. This includes the manufacturing process from start to finish and up until the final product leaves the factory.
FOB
If a supplier offers Free on Board or Freight on Board (FOB), they will deliver the goods to the nearest port at their own cost. After that, the buyer will have to bear all the costs of transporting the goods to their desired destination. 
CIF
Finally, CIF is the short form for Cost Insurance and Freight. Sellers providing CIF will cover the cost of delivering the shipment to the buyer's desired destination at their cost. Plus, they will also cover insurance costs.
Now that we know the terminologies, we can smoothly navigate through Alibaba without any confusion. On top of that, we can also analyze which seller is the most suitable dropshipping supplier depending on its services.
Alibaba Payment Options For Dropshipping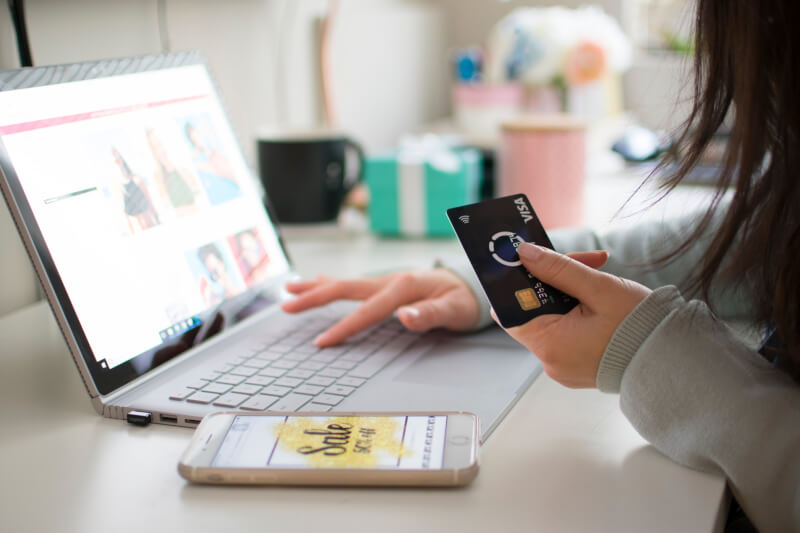 As one of the largest eCommerce platforms, Alibaba is a haven for e-commerce sellers and buyers who want to trade with each other. To make transactions between these two parties smoother, Alibaba has a variety of payment options, such as:
Alibaba Trade Assurance

Wire Transfer

Credit & Debit Cards

Online Transfer

Western Union/Boleto
Although there are various ways of making payments to Alibaba suppliers, Alibaba Trade Assurance is the best option for dropshippers. To elaborate, the Alibaba Trade Assurance is a payment method and buyer protection service.
Therefore, it adds an extra layer of security when dropshippers pay suppliers in China. When we pay for goods with trade assurance, Alibaba acts as a middleman between the buyer and the seller. Let's find out how it works.
First, we place an order on Alibaba and transfer the funds to a designated Alibaba bank account. Next, the supplier ships the products to our destination. Then, Alibaba releases the funds to the sellers once the goods pass the quality check and ship on time.
Nevertheless, in case of late shipping, Alibaba returns the money to buyers. Also, the buyers are eligible for a refund if the shipped products do not comply with the quality requirements.
Besides that, we can also make payments through other methods like Wire Transfers, Credit & Debit Cards, Online transfers, and Western Union or Boleto. Despite the various options, Trade Assurance allows us to efficiently start dropshipping from Alibaba without any worries.
How To Start Dropshipping From Alibaba
Once we sort out our payment methods, we can start a dropshipping business on Alibaba. To create and establish a successful dropshipping business, we need to follow these five steps:
Step 1: Find Your Winning Products
Step 2: Verify The Suppliers
Step 3: Choose A Selling Channel
Step 4: Import Products To Your Store
Step 5: Fulfill The Orders
Let's look at each of these steps in detail.
Step 1: Find Your Winning Products
Product research is the first and most crucial step to opening a dropshipping business. Moreover, we have mentioned the importance of product research and listed methods to find excellent products.
So, how about we learn from a live demo on finding a winning product? We will use the AutoDS product research tool for this demo to showcase its efficiency.
First, we need to register with AutoDS and log in. Once inside the platform, we will automatically see the Marketplace, which is the AutoDS product research tool. Then, we can see many popular products to choose from.

We can set various filters such as where the product ships to and from, the currency, price range, and the supplier. In the below search bar, we can type in a specific category, such as 'Pet'. Here, we will see best-selling pet products we can instantly import to our stores.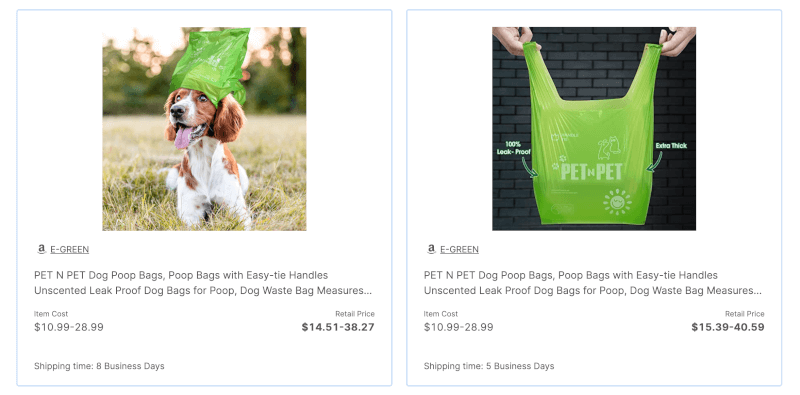 Furthermore, we'll have access to key metrics such as the item cost from the supplier, retail price on the market, shipping time, and more! For example, we can see that dog poop bags are in high demand.However, since we are using Alibaba, let's search for the same product on Alibaba.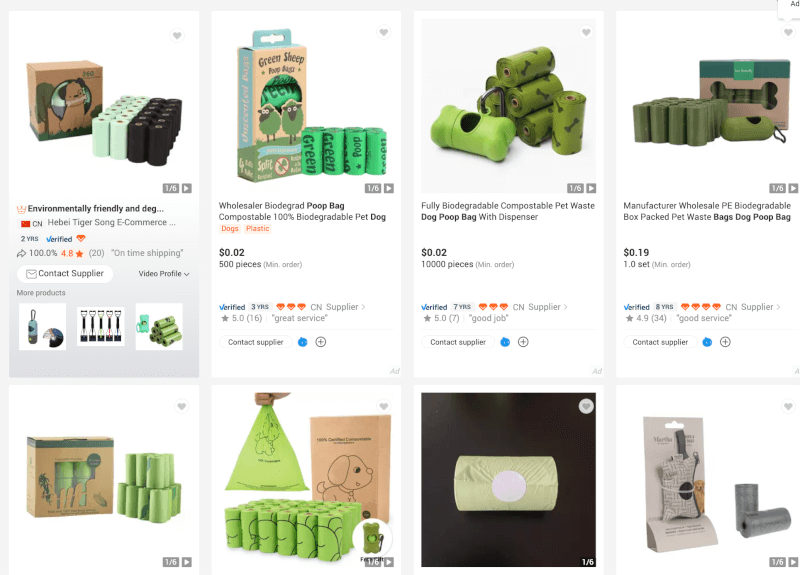 After typing 'dog poop bags' on the Alibaba search box, we can see many similar products. So, in a few minutes, we found an excellent product. That's why product research is one of the essential steps in starting a dropshipping business.
Step 2: Verify The Suppliers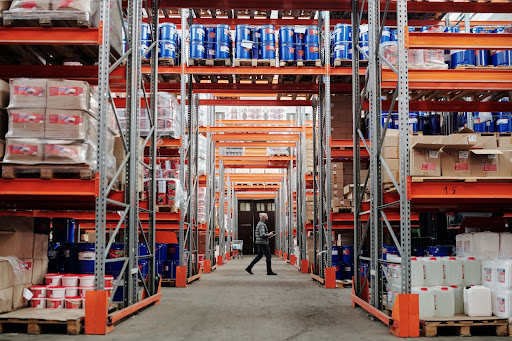 While good products can skyrocket our sales, partnering with the right supplier helps us to establish a successful dropshipping business. As excellent suppliers can help us build our business and increase our profit margins, we must only work with the best.
To find suitable suppliers, we should verify that the suppliers we are sourcing from are reliable. Below, we will demonstrate how to verify suppliers on Alibaba based on the factors mentioned above in 'How To Analyze Sellers On Alibaba.'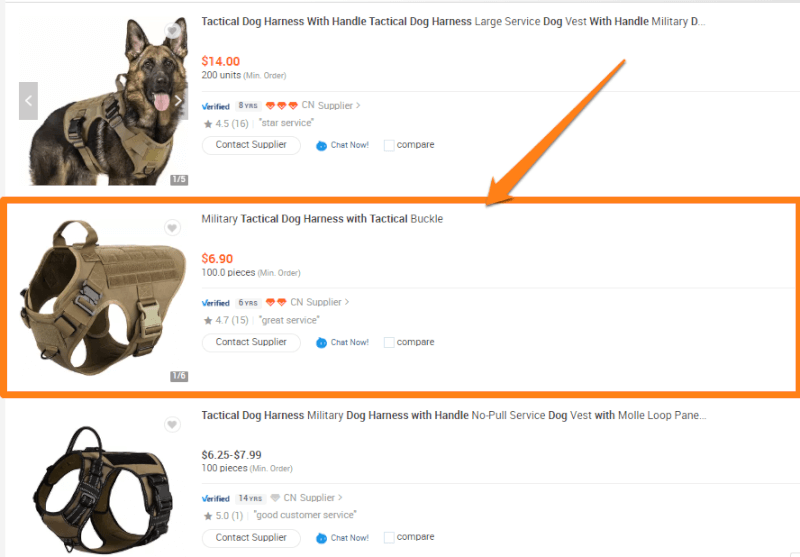 From the above image, we can see that the second product has more reviews; let's analyze it further. Comparatively, the second product has a lower price, lower MOQ, and a 4.7 rating. Therefore, we will take a look at its supplier.
Upon advancing with our analysis, the supplier of the product is Dongguan Running Pet Products Co. Limited. They are a verified seller, and we can see that through their Verified tag. Plus, they have added their factory information, trademark, and contact information to their supplier page on Alibaba.
As for their rating, the supplier has 15 reviews with an overall rating of 4.7/5 stars, meaning customers are generally satisfied with this supplier. Also, when we search for the supplier on Google, we can see that they have a business page and their contact details match. Therefore, we can confirm that the Alibaba supplier is credible and worth working with.
Step 3: Choose A Selling Channel

After finding trending products and trustworthy suppliers to source products from, we need a selling channel to list our products. On top of that, the selling channel is where we showcase our products to our customers.
With that in mind, let's look at the two types of selling channels: eCommerce marketplaces and customizable dropshipping stores. To clarify, marketplaces like eBay and Facebook Marketplace(FBMP) are trading channels that generate organic traffic due to their massive number of users.
In short, organic traffic is those visitors who land at our store without us investing in marketing. With active users and organic traffic, our store becomes more visible to the customers.
On the other hand, customizable eCommerce platforms such as Shopify and Wix allow us to create a dropshipping store with our custom domain. Additionally, we can personalize our dropshipping store with ready-made store templates, themes, images, logos, and more. Therefore, we can focus on branding our store to increase our customer base.
So, without further ado, let's look at the features of both selling channels to learn more about what these selling channels offer.
Features of Shopify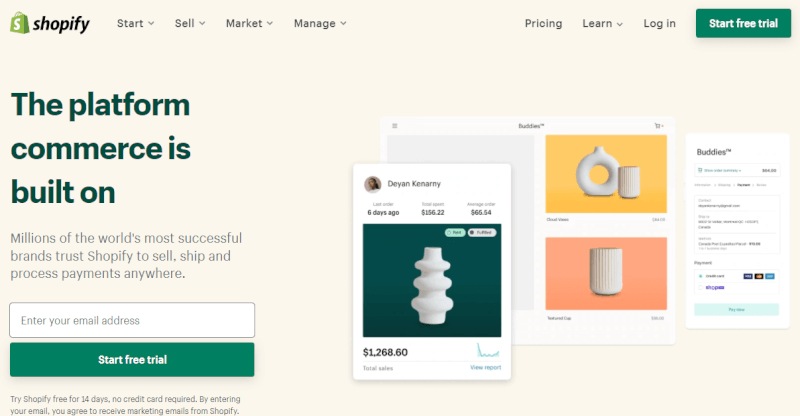 Professionally designed eCommerce templates

3000+ app integrations

24/7 customer service

Built-in blogging feature
As Shopify offers a reliable platform to eCommerce sellers, it has become one of the most popular selling channels. If we sell on Shopify, we can find many professionally designed templates for our online stores. With these beautiful templates, we can personalize our store to attract more customers.
Plus, when running a business on Shopify, we can benefit from multiple apps and dropshipping tools to make our operations more efficient. As such, Shopify has its own App Store with over 3000 apps that will take our dropshipping business to new heights.
Furthermore, Shopify has an excellent customer support system where customer service is available in all languages 24/7. Therefore, if we encounter any issues, we can rely on Shopify to solve them swiftly.
To top it off, Shopify has a built-in blogging feature that helps dropshippers enhance their website content with Search Engine Optimization (SEO). For example, blog posts enhanced with SEO are a powerful marketing tool that drives traffic to our website.
Features of Wix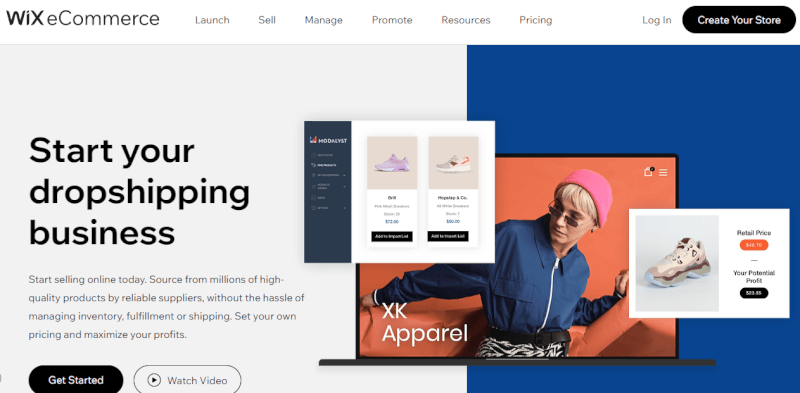 Fully customizable platform

Wix App Market

Easy-to-use interface
Another customizable platform suitable for dropshippers is Wix. With Wix, we can personalize our dropshipping store according to our requirements. Like Shopify, it also allows us to build a unique store with custom designs, templates, and logos.
Furthermore, the Wix App Market has a plethora of dropshipping apps and tools to help optimize our dropshipping business. Thus, selling on Wix allows us to take advantage of these tools, which help us scale our dropshipping stores quickly.
Plus, Wix is an easy-to-use platform that is great for beginners. With its drag-and-drop tool, we can manage our website's content and overall appearance without coding or designing skills.
Features of eBay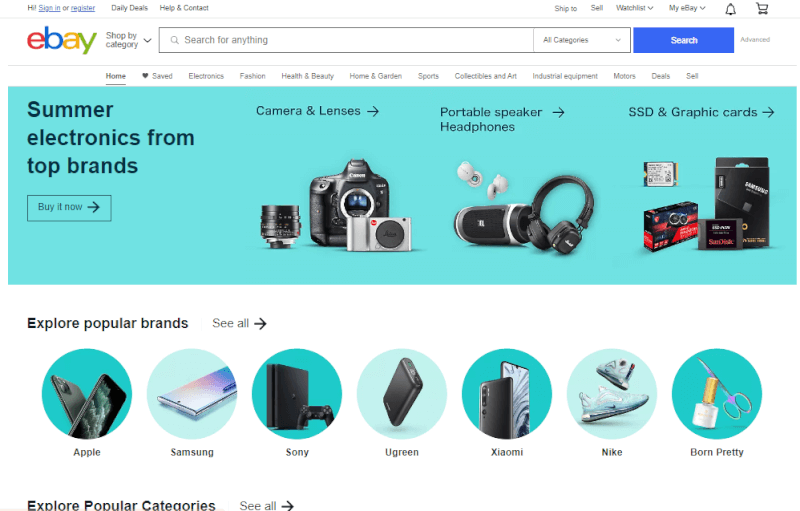 Free organic traffic 

Easy-to-use interface

Zero upfront investment 

Easy promotions
As an eCommerce giant connecting buyers and sellers, eBay is another selling channel where we can sell Alibaba products. As for its users, eBay attracts over 109 million visitors every month. With such a massive number of visitors, our eBay stores can generate huge organic traffic. Therefore, we can save on marketing costs.
Additionally, we can start selling on eBay as soon as we create an eBay account. Besides that, we can start selling on eBay with zero upfront investment.
Furthermore, we can promote our products on eBay to increase our sales and profits. To clarify, there are two ways to market our products on eBay: Promoted Listings Standard and Promoted Listings Advanced PPC. With the help of these promotion tools, we can rank our products higher on the eBay search results.
Features of FBMP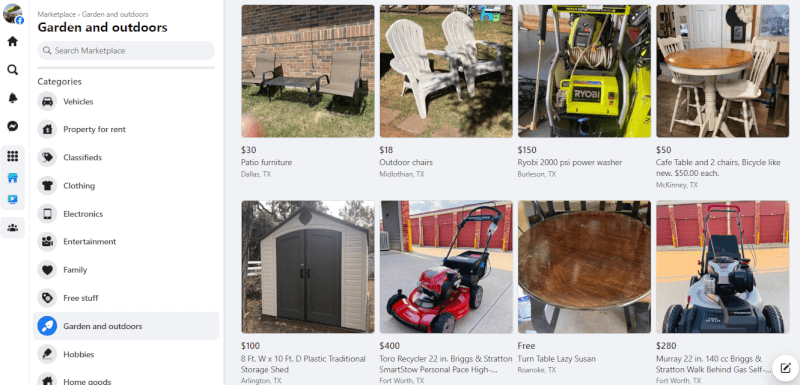 Free organic traffic  

No monthly subscription

Effortless buying & selling process

Low selling fees
Like eBay, Facebook Marketplace also has a massive number of monthly visitors. With this vast user base, our stores can generate free organic traffic. This allows us to expand our audience reach and gain even more sales.
Additionally, FBMP doesn't have subscription fees, meaning we don't have to pay in advance. Thus, we can start dropshipping on FBMP with zero investment upfront.
Furthermore, buying and selling on FBMP is very simple. To list products, we must upload a product image, write a description, and set the selling price. So, even if we are beginner dropshippers, we can easily dropship on FBMP.
Besides that, FBMP is an inexpensive selling channel. The only cost of selling products is a 5% selling fee or a flat fee of $0.40, whichever is higher. But, we only pay the fees after we sell products.
Whether we choose a marketplace or a customizable platform, we must select a suitable selling channel according to our products and strategy. All in all, we can achieve dropshipping success with all of these selling channels.
Step 4: Import Products To Your Store
Once we choose a selling channel, the next step is to import products to our store. Regarding product importing, there are two ways to add products to our store from Alibaba: manually and automatically.
To clarify, the manual importing method includes adding product titles, descriptions, images, and variations one at a time. In short, manual dropshipping is suitable for beginner dropshippers.
Nevertheless, manually importing each item to our stores can take 5-20 minutes per product. So, it is a time-consuming and tedious process if we have to import multiple products per day.
On the other hand, we can use the automatic method, saving us a lot of time and effort. With that in mind, let's look at the AutoDS product importing tool, one of the best product importing tools in the market. The AutoDS automatic importing tool provides the following features:
One-click Importer

Single Product Importer

Multiple Product Importer

Bulk Upload with a CSV file
Single Product Importer
To demonstrate, we will look at the Single Product Importing feature. The single product importer enables us to import trending products from Alibaba in just a few steps. Before we begin the importing process, install the AutoDS Dropshipping Helper Extension. Then, we can begin importing products into the AutoDS platform. 
First, head over to the product page on Alibaba. When you open the product page, copy the product link from the Google search bar.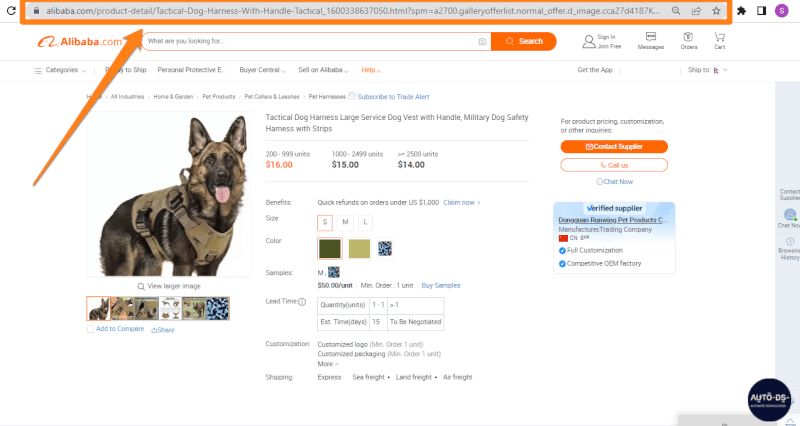 Then, head to the AutoDS platform and click the 'Add Products' button on the top left. Select "Single Product Uploader" from the dropdown menu since we are uploading just one product.

When we do so, a dialog box will appear where we can paste the link. Finally, click "Publish to Store" to complete the importing process. Then, the AutoDS tool gathers the product's images, titles, descriptions, and variants. Afterward, the tool uploads the information directly to our selling channel.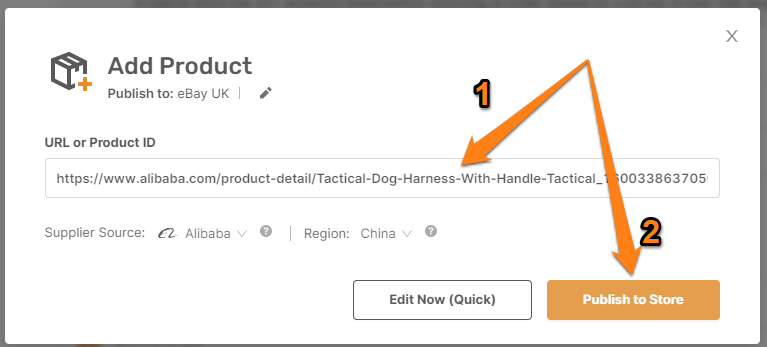 However, we can select the "Edit Now" button if we want to optimize our listing. This allows us to import the tactical dog harness to our draft page. To clarify, the draft page is where we edit the product's details before listing them.
For instance, we can optimize the product's images to ensure we use unique and high-quality images to attract more website traffic. Once we finish editing, we can publish it in our dropshipping stores. Overall, the automatic importer saves us a lot of time and allows us to focus on other vital aspects such as marketing and customer service.
Step 5: Fulfill The Orders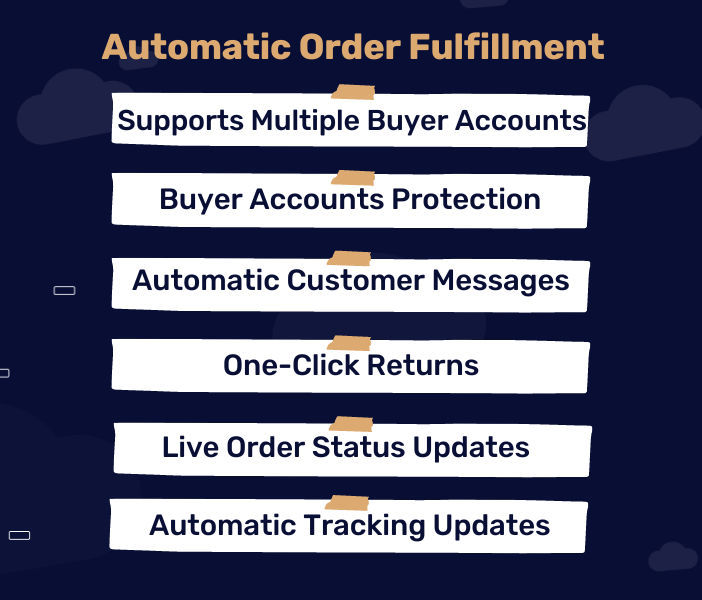 Great! Now, we have a dropshipping store ready for our customers. As orders start coming in, we need to fulfill orders swiftly. That's because efficiently fulfilling orders increases customer satisfaction and builds customer trust.
Therefore, we can use two different ways to fulfill orders: manual and automatic. Generally, manual fulfillment means going to the supplier's website, filling in customer details, and placing the order. Plus, every time a customer places a new order, we have to repeat this process. Since the manual fulfillment process is time-consuming and repetitive, using it is not the best option.
In contrast, the automatic method provides an effective solution for order fulfillment. With automatic order fulfillment, we can save time and labor by letting software fulfill orders on our behalf.
Since automatic order fulfillment is the way to go, the AutoDS order fulfillment tool is one of the best-automated solutions. With AutoDS' automatic order fulfillment, we can fulfill our orders in two ways: Automatic Orders and Fulfilled By AutoDS.
Automatic Orders
We can use AutoDS' automatic ordering tool to fulfill our customer's orders automatically. With automatic orders, the supplier ships the product to our customers with accurate tracking information.
While fulfilling orders, this tool uses our buyer accounts to order from our Alibaba supplier. In short, buyer accounts on the supplier's website are linked with our preferred payment options, such as Paypal. 
Fulfilled By AutoDS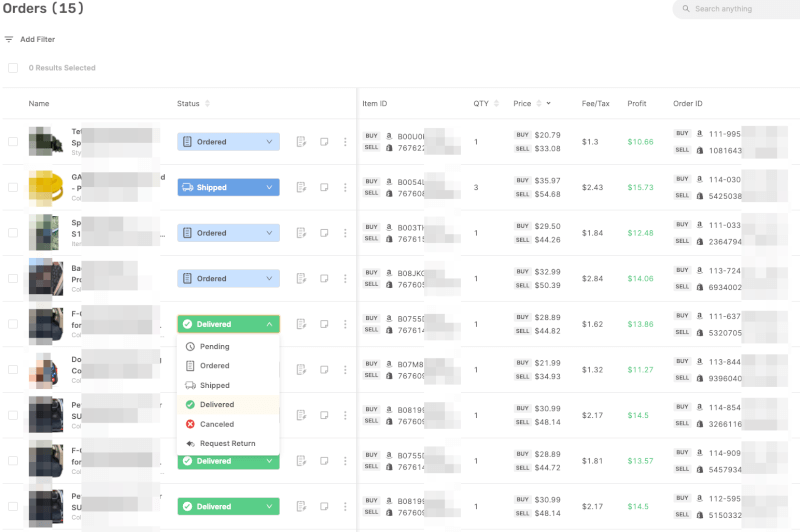 On the other hand, Fulfilled by AutoDS is another service that provides an advanced automatic solution, including order fulfillment, tracking information updates, and one-click returns.
Compared to the Automatic Orders tool, Fulfilled by AutoDS doesn't use our buyer accounts and payment details to fulfill our customer's orders. Therefore, we don't have to worry about our buyer accounts getting locked. Instead, Fulfilled by AutoDS will automatically process all our customer's orders once we load the balance into our AutoDS account.
Moreover, Fulfilled by AutoDS automatically sends tracking information updates to our customers after they place an order. As a result, customers can quickly track their products without contacting us. On top of that, Fulfilled by AutoDS offers one-click returns.
With these features, the AutoDS order fulfillment tool can efficiently handle our dropshipping operations. Overall, it helps us build a long-lasting relationship with our customers and enhances our reputation.
Scale Your Dropshipping Business With Automation Tools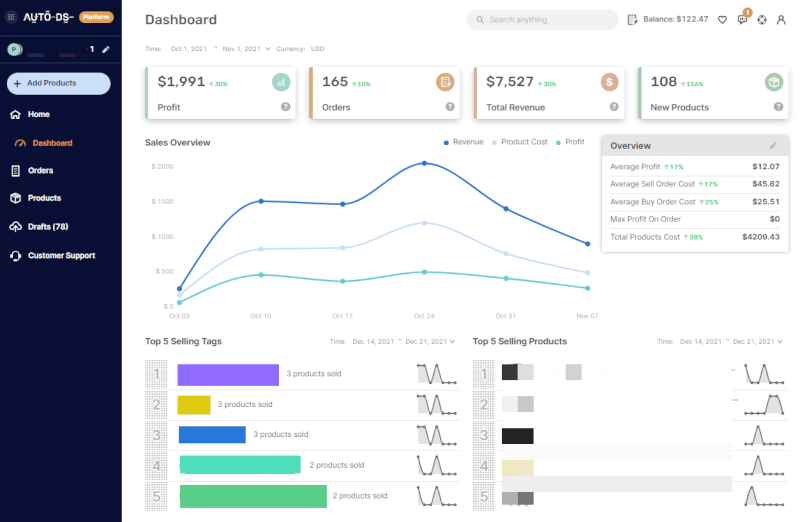 After we perform the above steps, we will generate consistent sales. But there is no reason to stop there. We can further scale our business to increase our profits even more. And we can do so by automating our business processes with dropshipping automation software.
With that in mind, we can operate our dropshipping business manually or automatically. To elaborate, manually operating a dropshipping business is very time-consuming. Plus, it is a tiresome process that takes much of our time.
In contrast, automatic dropshipping allows us to avoid the time-consuming process of dropshipping manually. Additionally, dropshipping automation will enable us to reduce human errors such as shipping to the wrong address. 
Benefits of Dropshipping Automation
With that said, AutoDS is an all-in-one dropshipping automation solution for our businesses. As one of the best dropshipping automation softwares, here are some of AutoDS' key features:
Price and Stock Monitoring 

Price Optimization

Tracking Number Updates

Inventory Management 

Image Editor
Using these automatic features, we can take a shortcut to dropshipping success. For instance, the AutoDS Price and Stock Monitoring tool updates us about product price changes and stock availability. As a result, we can protect ourselves from potential loss and unhappy customers.
Additionally, the Price Optimization tool optimizes the profit margins of our stores by automatically increasing the price of best sellers or products in high demand. Plus, it also decreases the price of products that are not selling well.
On top of that, the Automatic Tracking Number Updates feature automatically sends tracking information to our customers. This tool informs them about the whereabouts of their purchases, increasing customer satisfaction.
Furthermore, the Inventory Management tool enables us to bulk edit and manage multiple stores. Most importantly, we can manage all our stores and inventory from a single dashboard.
To top it off, AutoDS also has a built-in image editor. Generally, most dropshippers use supplier's product images without editing them. However, we should differentiate ourselves from the competition using an image editor.
With these excellent benefits, we can use the automation features of any 25+ dropshipping suppliers, including Alibaba. So, we can rely on AutoDS to do all the heavy lifting while we relax.
Multiply Your Sales With Recommended Products
Besides having the best automation tools in the industry, AutoDS also offers unparalleled dropshipping support. For instance, AutoDS has a dedicated blog page where we can find new product ideas. Similarly, their Youtube Playlist is also regularly updated with best-sellers. Hence, we will never run out of products for dropshipping.
As we now know, Alibaba provides a massive product catalog. When we combine it with the product ideas, we have an extensive selection of trending products. With this technique, we can easily earn profits and scale our business.
Best Dropshipping Alibaba Extensions
Undoubtedly, dropshipping business automation gives us a competitive edge. However, many other tools are specially designed to help us dropship from Alibaba. With that in mind, here are five extensions that will help us when dropshipping from Alibaba:
Let's look at them individually to learn the functions of these extensions.
Alibaba Search By Image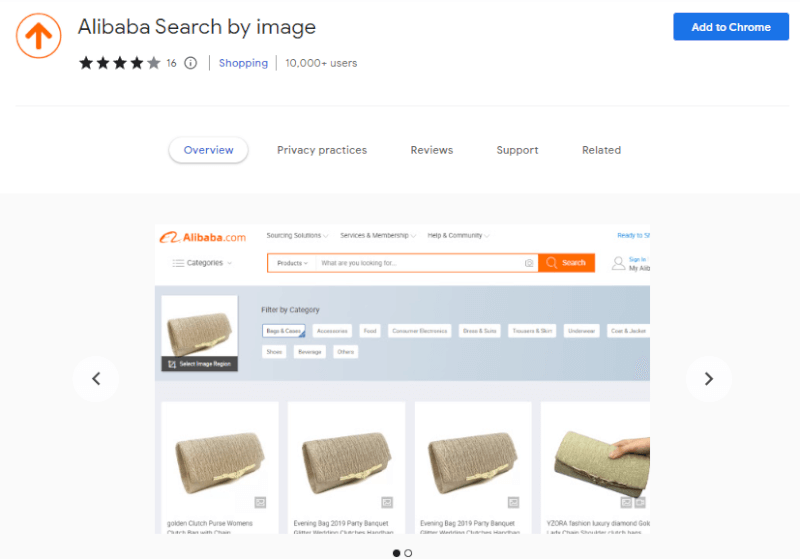 It may take a while if you come across a product and want to find its price on Alibaba. That's because you have to open the Alibaba page, type in relevant keywords, and scroll until you find a similar product.
With that said, the Alibaba Search By Image extension lets dropshippers know the product's price in a single click. Therefore, this tool saves us a lot of time.
Aliprice Price Tracker
When we find a product on Alibaba, we can see that similar products are available for different prices on the platform. As such, we often question if we are getting the product for the right price.
That's where we can use AliPrice Price Tracker to track product price history. This extension displays a price history chart which gives us access to product prices ranging from 3 to 6 months. Moreover, we can also add products to our favorites and receive an alert when the product's price drops.
Alibaba Image Downloader & Editor
With the help of Alibaba Image Downloader & Editor, we can download product images and descriptions from Alibaba with a single click. Also, this extension allows us to edit the images and descriptions to enhance them further.
ALI Tracker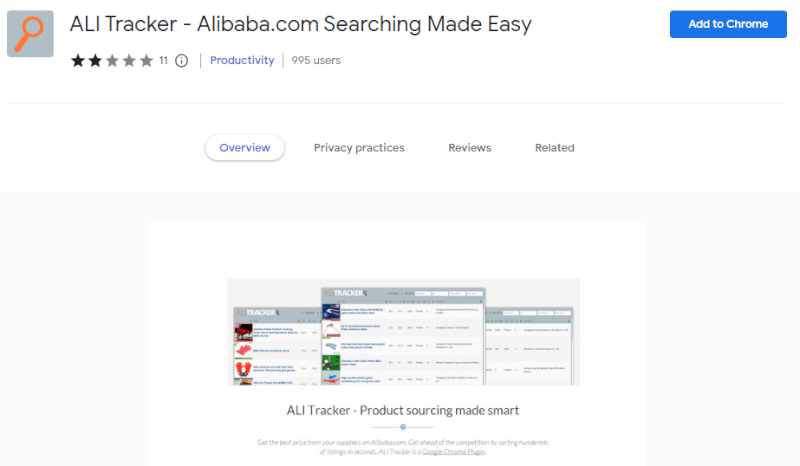 There are multiple suppliers on Alibaba who sell similar products but at differing prices. The ALI Tracker extension helps us source products at the best possible prices. This extension saves our search time and spots products at relatively affordable prices.
Alibaba RFQ Sourcing Tool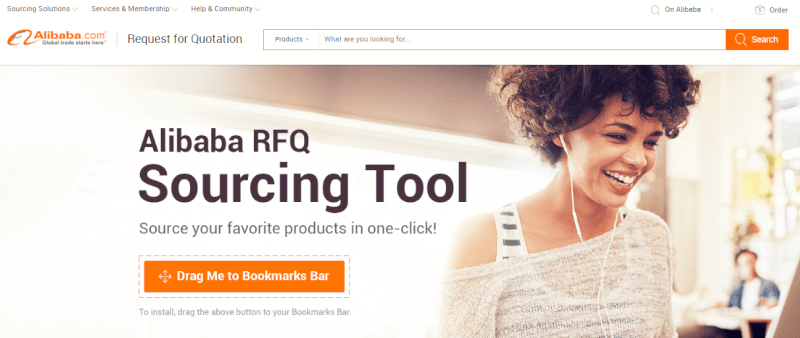 As RFQ stands for Request For Quotation, let's understand what quotation means. 
A quotation is a document a supplier provides us to offer goods at a stated price and under specific conditions such as MOQ and shipping time.
So this is where the Alibaba RFQ Sourcing Tool comes in handy. Instead of contacting each supplier and asking them for quotations, this tool allows us to receive quotations from multiple suppliers with a single click.
Frequently Asked Questions
Can I Dropship From Alibaba?
Absolutely, in fact, anyone can start dropshipping from Alibaba. Although there's a common misconception that Alibaba requires a MOQ for each product, this isn't true. We just have to ensure the Alibaba seller we work with provides us with clear business policies.  
Is Dropshipping From Alibaba Safe?
Dropshipping from Alibaba is 100% safe. However, we must ensure that we are not selling prohibited products like VeRO products, alcohol, tobacco, and dangerous weapons. 
How Can I Dropship From Alibaba?
To dropship from Alibaba, first, we need to find excellent products through product research. Then, we should find reliable suppliers from Alibaba. Next, we must create our dropshipping store. Finally, we should add products and start fulfilling customers' orders.
Can I Dropship In Smaller Quantities From Alibaba?
Yes, we can dropship in smaller quantities from Alibaba. Although Alibaba provides wholesale deals for bulk quantities, we have to spot a suitable supplier to dropship small quantities. Therefore, we can either apply a search filter for suppliers with lower MOQ or import products from the 'ready to ship' category.
What Is The Best Shipping Method For Alibaba?
Generally, sellers ship products through Regular Post, AirExpress, Air Freight, and Sea Freight. Furthermore, we can contact suppliers directly and negotiate a better shipping arrangement that is faster and more reliable.
Conclusion
Congratulations! You've made it to the end. Now, we can start dropshipping from Alibaba and attain high-profit margins. After all, we have covered everything we need to know to thrive in our dropshipping endeavors. With this knowledge of Alibaba dropshipping, we already have a significant advantage over the competition.
So, it's time to put that knowledge to use and create a dropshipping store to start dropshipping products from Alibaba. Moreover, we can use AutoDS' multiple automation features to scale our profits to ensure business success.
Overall, we must continue learning to maintain our top position. With that said, here are some articles that will expand your dropshipping expertise: