Flagged accounts are one of the hottest topics in the eBay dropshipping community these days. The question is – can eBay dropshipping still be profitable, or everything is over?
In this article, you will understand exactly why people say that eBay dropshipping is dead. You will also gain all the knowledge you need to really succeed in eBay dropshipping. You will learn the exact same strategies that helped Ron, a professional Amazon to eBay dropshipper to increase his sales by over 600% in one month.
So, let's dive into the subject.
Contents:
Is eBay dropshipping dead?
I am personally doing dropshipping for the last 10 years, and I can say with full confidence, that eBay dropshipping was never so easy, and profitable as it is these days.
It became so easy and profitable that people are struggling to process all these orders, instead of struggling with how to receive them.
Crazy, right?
In this article, we will understand what are the differences between eBay sellers who fail, and people who upload posts like this one: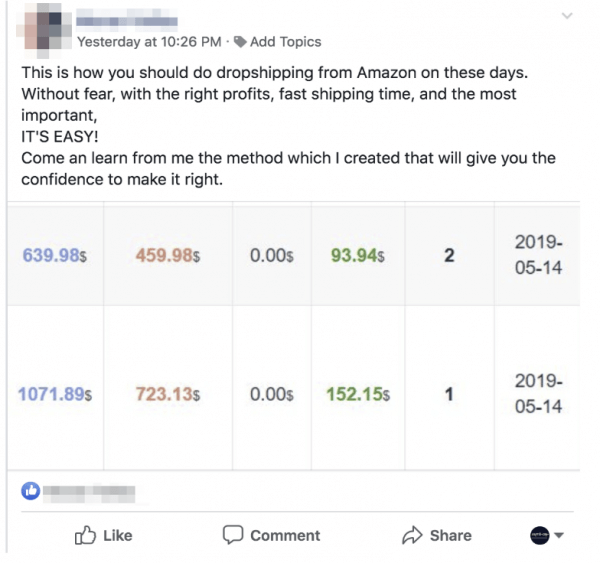 So what really happened to eBay dropshipping in 2019?
What happened is that dropshipping has changed, the game rules have changed and those who will not adapt to those new rules, will not be able to make any profits.
One thing that we have learned in AutoDS after we talked with hundreds of dropshippers, is that the difference between a successful dropshipper, and a not successful one, is that successful dropshippers always adapt themselves to the market.
So, the first question is, why people say that eBay dropshipping is not profitable anymore?
eBay flagged accounts –  What is this and how does it affect us?
The common assumption says that in April 2018, eBay flagged dropshippers' accounts and decreased the traffic to these dropshipping stores.
It means that eBay listings of dropshipping stores will be displayed lower in the search results of eBay and they will have fewer sales.
Was this sales' decrease that big?
The answer is yes – sales decreased by around 60%
Why should eBay hurt dropshippers sales?
The thing is, that not only dropshippers were affected by this action, but any eBay seller who didn't provide a great customer experience on eBay had a sales decrease.
Usually, dropshippers provide exceptional customer experience or at least trying to do so, using Amazon to eBay dropshipping method, but still – they don't owe their inventory, and in many cases, they have to cancel orders or make numerous returns.
By the end of this article, you will know exactly how to get your sales back and gain even more.
We will also explain exactly how can we improve our buyer's experience and get more traffic.
How to avoid being flagged on eBay?
This is one of the most asked questions when it comes to eBay flagged accounts. And we are pretty sure that you would want to hear the answer.
What you need to understand is that dropshipping on eBay is like any other business in the world; you should invest time and do things right.
eBay makes money when you make money, and what they want you is to give the best user experience for your customers by answering customers' questions in time, and handle returns as well as cases before eBay agents interfere. This is why eBay has the selling metrics in the first place, so you can also track how your eBay store is doing and adjust accordingly.
Here in AutoDS, we always try new strategies in our eBay accounts to see what is the best working strategy when it comes to dropshipping on eBay so we can share the latest strategies with the dropshipping community.
What we found after testing multiple strategies is that yes, when your account gets flagged, you will notice a small decrease in traffic coming to your store, but when you list more products, it doesn't really matter as you increase your overall store traffic, which means more sales.
This strategy that we are talking about is the big numbers rule where you upload products in bulk in your eBay dropshipping stores, and then you start optimizing from there.
After applying this strategy to your eBay stores, you will notice a dramatic increase in sales – your work starts from here.
Now, you just need to continue giving the best user experience to your buyers, and you will forget about something called eBay flagged accounts.
Can I "unflag" my eBay account?
Your eBay account can't be unflagged, but you can learn how to work with a flagged account, and make your dropshipping business profitable.
And that is what you will learn in this article.
Here is an example of a flagged account that started to use the methods that we will discuss in this article: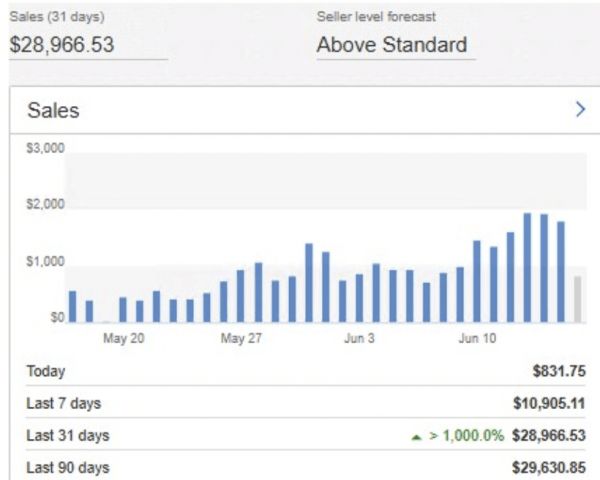 How long does it take for eBay to flag my account?
eBay usually flags an account after approximately three weeks to one month. 
Top Rated seller with eBay flagged accounts?
Some dropshippers got the following message: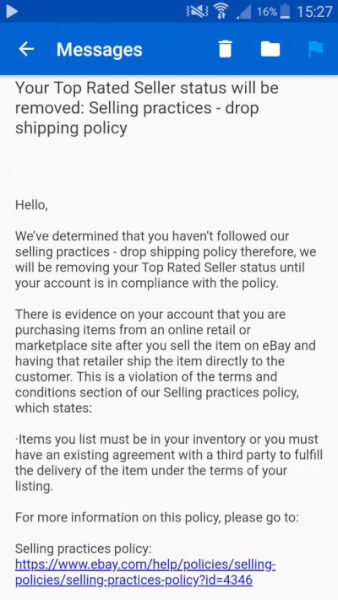 This indicates that their Top Rated seller status has been removed, so the question is, what can we do in this case, and how to get it back?
Now I want to share with you an interesting fact that we noticed.
100% of the dropshippers who received this message a few months ago, got their Top Rated seller status back upon the next evaluation.
All that you need to do for this, is to comply with the parameters that eBay asks for this status.
eBay does not, really, care if you are a dropshipper or not. Thus, if you have a low eBay returns rate, a great statistic of tracking numbers that are updated on time, and everything else works as it should, you will get your Top-Rated status back within a short period of time.
What profits can I expect with a flagged account?
Our statistics show that people who work with flagged accounts and apply the methods that I will reveal in this article, reach between 1000-2000$ in profits per eBay store.
So.. the main question is:
What have we done to improve our eBay dropshipping stores' sales, and what was the solution?
Before we answer this question, let me say one thing,
I have tested everything, for over one year, and I want to explain to you exactly which strategies and techniques I have tested before I found the real solution.
One of the first things that I decided to try was to work with market research tools, optimize the titles and item specifics of my products.
I thought that if I had put the right keywords, my listings would appear higher in the search results, and I would get more sales.
But there was one problem that made me skip this approach; eBay is flooded by dropshippers and has millions of listed products.
I couldn't really compete just with keyword optimization. Either way, most of the winning titles were already used by professional sellers with big sales history and great prices, so why would the buyer choose our store?
Private dropshipping suppliers
Another solution could be that maybe I should upload unique products from private dropshipping suppliers like Banggood.
Maybe this way I would not have competition.
This was a nice idea, apart from the fact that Amazon counts over 600 million products, and most of the products of any small dropshipping supplier, already exist on Amazon, which means that they also exist on eBay.
Not only that, but the keywords for the products are very common, even if the products are completely different, which brings us again to the same problem with the titles optimization solution.
Creating new eBay accounts every month
This was the most profitable and practical strategy, that actually worked fine!
It was an extremely easy-open new eBay account, and when it gets flagged – just replace it with another one. Seems simple, right?
The obstacle here is that you can't legally open a new eBay account every month.
Also, this strategy demands too much time and energy, while we have a much safer and simpler solution which we will point out later in this article.
What eBay really wants from their sellers to increase the traffic to their store?
eBay wants the sellers to comply in four main factors:
Good shipping time – for this reason, we will use Amazon as our dropshipping supplier (1-2 days shipping using Amazon prime)

Competitive prices –

and this is the most significant point here

– because the first three points are easy to get when we are using 

Amazon to eBay dropshipping
Think about yourself as a customer, what is the first thing that you are checking in any product you want to buy?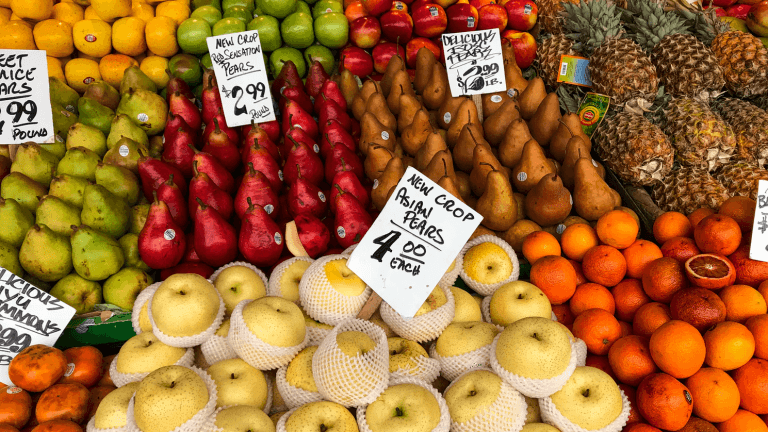 The price!!!
If we could be cheaper than our competitors, gave the same customer service and customer experience and still be profitable, we would get more traffic, more sales, and more profits.
But how can we do it and still remain profitable?
The 6 steps that will generate you sales with flagged accounts in eBay Dropshipping 2019 (6 steps to 10K$ per month):
Step #1 backend profits
As we discussed in the previous paragraph, one of the most important parameters for eBay's search results is the pricing of our products.
The good news is that we are going through a great time where we can sell at very low prices, and still, make lots of profits. There are two methods to achieve it:
Backend profits #1: Amazon coupon products

One of the strategies that we discovered and increased our sales profits by 20-30%, is Amazon coupons products.
There are products that Amazon/ Amazon sellers want to promote, so they offer you a discount for the purchase.
The only problem with this type of product is, how to find these Amazon coupon products?
Here is a full explanation of the simplest way to do it:
And for sure, you can also go to Amazon, and search for these products manually.
Don't be a grocery store – Become a Mall!
I keep saying this for years, but until two years ago it was still possible to make profits with a few hundred optimized products.
As we discussed in the previous paragraph, currently it is not possible and therefore not an option anymore.
Too much competition in each niche, in every product, and every keyword, make it impossible to work with a low number of products.
When we list thousands of products, we get many advantages that make our dropshipping business much more profitable:
We spread out many other keywords

We get more traffic that drives buyers to our store – sometimes these buyers will buy more than one product; they will check other products in our store

As we grow and get more sales, we will get better rates for everything!

Better dropshipping monitor prices

Lower eBay fees (check the next point)
I have to say that this one is the key point for dropshipping in 2019. Without it, you will not be able to reach high volumes and profits.
No matter how much you will work, and regardless of the number of products you will upload to your eBay store.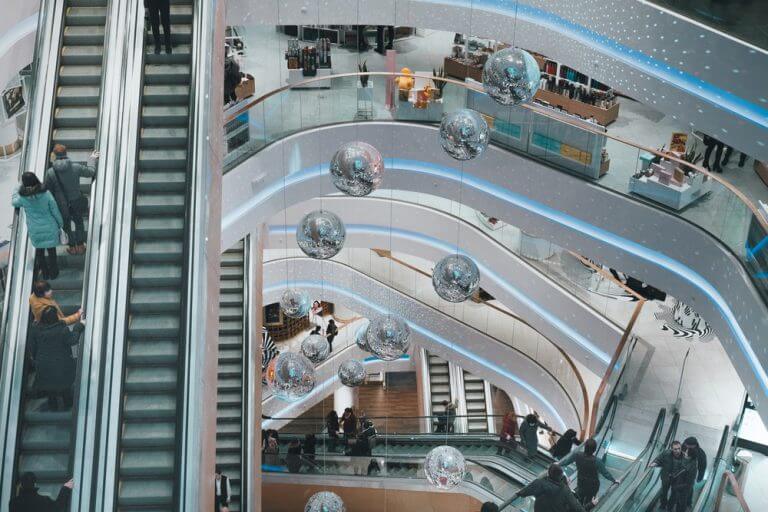 Step #3 eBay fees decrease
We talked about two different methods to get your profits increased, and we learned that to be able to make real profits with eBay dropshipping business, you have to work with the big numbers rule.
But, what about the fees? We will pay too many fees to AutoDS for price & stock monitoring and to eBay for the store subscription, right?
The good news, and one of the most important things that you need  to understand before you follow the big numbers rule:
The cheapest state for any dropshipping store is when the store has between 8,000-10,000 listings.
We created a table for each eBay's store subscription plan, and how to cover the fees of 1,000 products, with each type of store, and here are the results: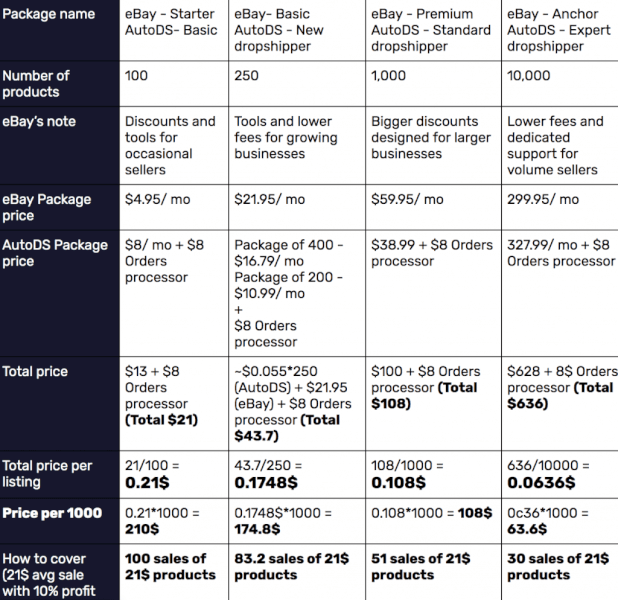 As you can see, the differences are critical!
Using eBay's Anchor store subscription you need only 30 sales to cover AutoDS' and eBay's fees for 1,000 products, while if you'll use the basic store subscription you would need 83.2 sales to cover the same amount of products, it's more than double!!!
Step #4 Accurate profit calculations (2 methods)
Accurate profit calculations method #1 – purchase amount on the dashboard page
In the "backend profits" method, we mentioned that most of your profits should come from the backend. Thus, can be the cheapest seller in the market.
In AutoDS we have added one feature specifically for that reason and for accurate calculation.
In the dashboard page you can check the amount of the purchases that you made from all of your eBay accounts:

Using this table you can see the total purchase amount of all of your stores.
Accurate profit calculations method #2 – Dropshipping Fees field
If you are using AutoDS as your dropshipping monitor, you can go to "Settings" > Store Settings > Pricing > Fees field.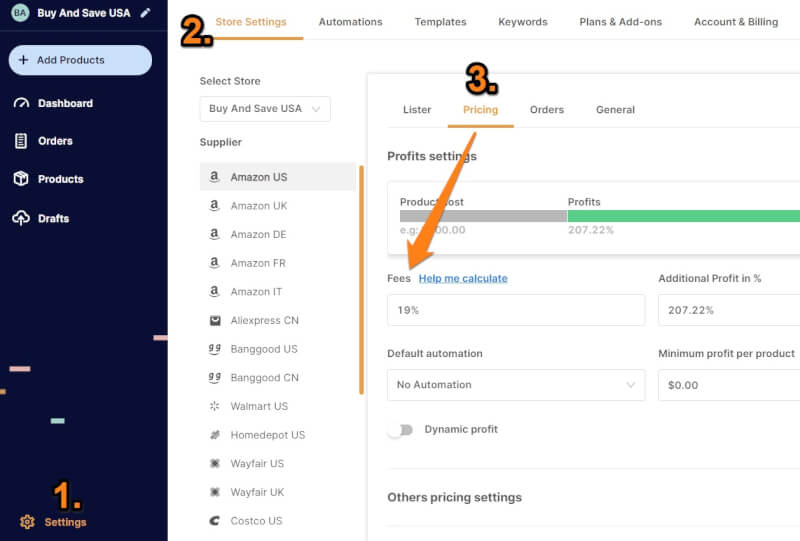 This field is responsible for the calculation of your profit in AutoDS.
And here is the approx formula to enter the right value:
eBay fees (approximately 9.15% if you have store subscription) + PP fees (around 4%, depending on the country) + 2% (The average difference between the fees from buy price, and sale price)
So the final value will be 9.15+4.4+2 = 15.5%
If we put this amount in the fees field, our profits calculation will go very close to our actual profits.
Here is an example of a student from the dropshipping mentorship program student of AutoDS who adapted the right settings: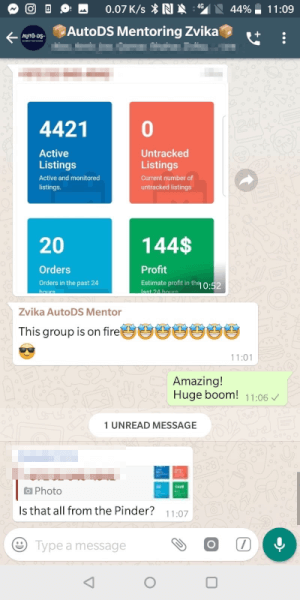 Step #5 Sales and Profits optimization + Buyers psychology (3 methods)
There are 3 additional methods that will increase your profits and sales by over 15%
Sales optimization #1 – Round prices to .99 (2-3% additional sales)
I'm sure that you have seen on many stores that the prices end in .99 / .97 cents, for example, 9.99.
There are many reasons why odd pricing (.99) can lead to a profitable eBay dropshipping business
We recommend turning on this feature if your dropshipping tool includes it. Upon our research, we found out that prices ending in .99 lead to another additional 2-3% sales

Sales optimization #2 – Price Rise & Drop
We always upload our products with 0% profit to get some sales, as it affects our promotion on eBay,
But after getting these sales, we can increase our profits per product. After all, we already gained some promotion on eBay.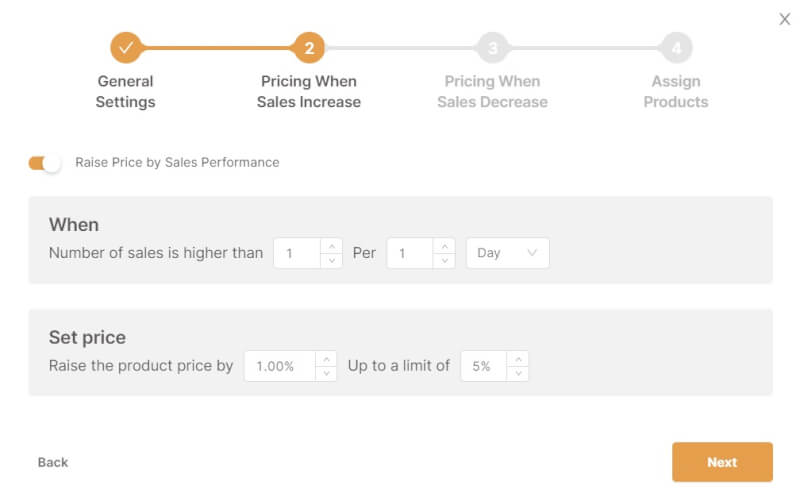 Sales optimization #3 – International sales (10% additional sales)
There is a huge market that many dropshippers forget when they upload their products.
You can use eBay's GSP program or Hipshipper, to increase your international sales and sell worldwide.

Step #6 The success multiplier
At the beginning of this article, we stated that people who use the methods that we presented today, earn 1000-2000$ in profit per eBay store.
The question is, how to gain even more profit?
And the solution is easy: use the success multiplier.
This can be done by using eBay stealth accounts or just by creating more eBay linked accounts.
While each account can bring you 1000-2000$, using multiple accounts can bring you to 10,000-30,000$ in profit per month.
eBay Flagged Accounts – The best times for eBay Dropshipping
Dropshipping never was so profitable and easy as it is these days.
People are struggling with problems and try to find methods on how to fulfill all these orders. It really became quite hard with these high volumes!
I hope that this article will help you continue and take your dropshipping business many steps forward.
Now it's the best time, do not miss it.
Comment on this article and I promise to answer any of your questions,
You can ask me anything down below 👇👇👇.