Opening an eBay store is simple, and takes just a couple of minutes.
Let's go over the store subscription differences to understand the benefits and which plan fits us best.
Keep in mind that the prices and/or package benefits may change from time to time, so keep an eye out for the differences.
1) Ebay Standard Account Or eBay Store?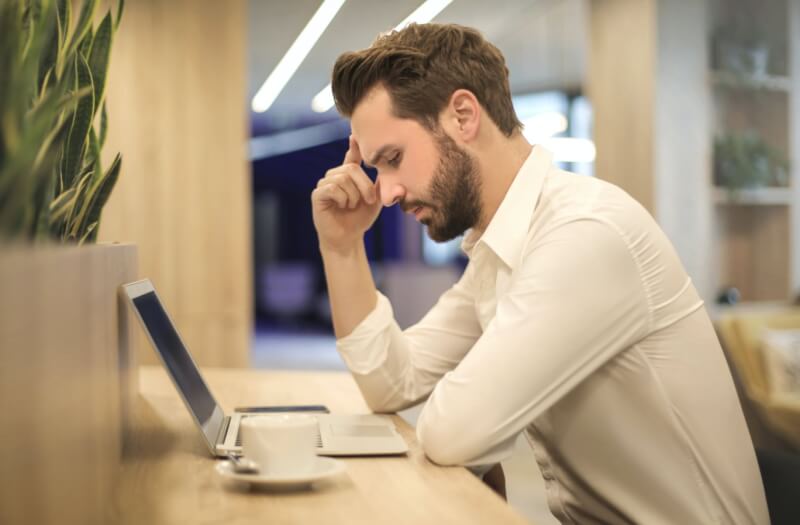 On eBay, you have standard accounts and eBay stores.
Creating an eBay standard account is completely free, and you can list 50 listings. These listings are zero insertion fee listings which means that you are not going to pay any fees to list them.
These free 50 insertion fee listings are renewed once every month. From time to time, eBay may offer promotions with more free listings for starters. Although, the default is 50 free listings.
So you only pay approximately 10% (depending on the category, and which store subscription you have) only when a listing sells. This fee is called the final value fee.
If you want to list more than the 50 free insertion listings, you will pay a $0.35 fee for every extra listing. Or, you can pay for a store subscription and get more listings in the package.
The eBay store subscription is a monthly fee that you pay to get more benefits. Starting a store subscription means you are opening a store on eBay.
Each store level comes with its benefits, though what we should take into consideration is how many free insertion fees listings each store has.
So by opening an eBay store, you can save money and get access to a lot of other benefits than a normal eBay account provides.
1) How To Create An eBay Account

In order to open an eBay store and start selling, you need first to register for a regular eBay account. Registering is completely free.
Here are the easy steps of how to open an eBay account:
First,  head over to eBay.com, and in the top left corner, click on "register".
You'll then get redirected to the eBay login and registration page. 
Here, you can select to either sign up using the traditional method by entering your first and last name, email address, and password, or you can use the Facebook/Google/Apple sign-up methods.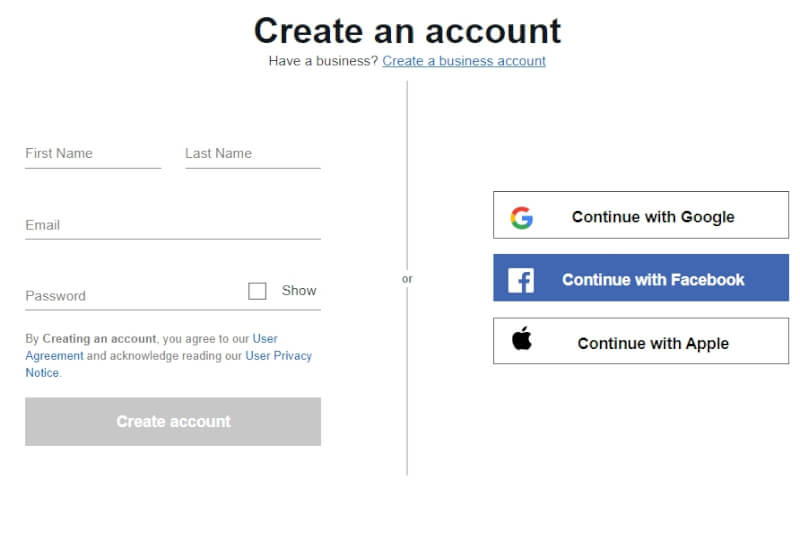 Once you sign up, you are free to go! 
Now you can start listing your products and place them in front of millions of buyers.
2) Why Should You Consider Opening An eBay Store?

As mentioned, when you open an eBay account, you get to list 50 items for free. That's great to test profitable niches in the market without paying anything. Millions of customers will be able to see and buy your products.
But, at some point, you'll want to scale up to 100, 250, 500, 1000, 10000 listings on your eBay account. And, you don't want to pay $0.35 for every listing exceeding your 50 free listings.
That's why eBay introduced the eBay store subscriptions. eBay already provides you with different store plans for different store sizes. 
Stores also grant access to additional tools for business management, along with lower fees and more free listings per month.
There are currently 5 eBay store subscriptions; the Starter, Basic, Premium, Anchor, and Enterprise plans.
For each of these store's subscriptions, you can select to be charged either monthly or yearly (the yearly comes with an additional discount).
If you're already logged in to eBay, check out their Store Subscriptions page to go over the differences.
For example, if you are looking to list 1000 listings, and you subscribe to the monthly premium store, it will cost you $74.95 a month. On the other hand, it will only cost you $59.95 a month with the annual subscription.
Each store subscription offers a certain number of free insertion fee listings.

Also, the higher your subscription, the less you will pay for each additional listing that exceeds your free insertion package.
Additionally, before subscribing to any plans, the final value fee (after each sale) is usually 10% of the sale price. But, with store subscriptions, you'll pay a lower final value fee.
Therefore, you will have a competitive edge over the regular sellers that don't have an eBay store.
3) Upgrade To An Ebay Store Subscription / How Much Does It Cost?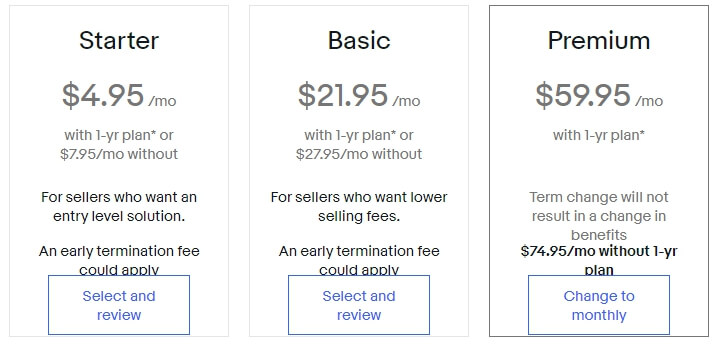 Once you're ready to break new barriers, head to the eBay Store Subscriptions page to go over your options. 
Beginners usually start with the Starter / Basic / Premium stores. Scroll down to read what each package includes.
The main differences between them are the number of free listings you get per month, and their monthly/annual prices.
Click 'Select and review' to review your order, and submit once you are ready. 
If you're not sure which store is right for you, start with the starter package, and work your way up.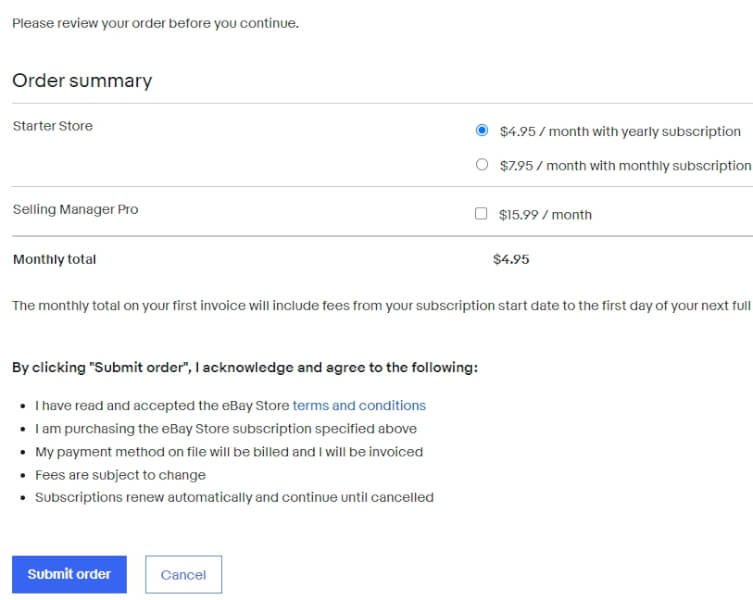 Once you submit the order, your new eBay store will be ready to roll. You can begin listing products with your new listings package instantly. 
And that's how simple it is to sign up for an eBay store subscription. Good luck with your sales!
Continue empowering your knowledge with these dropshipping articles: