The Facebook Marketplace possesses the benefits of being both an untapped market and a very profitable one. Newcomers and seasoned veterans alike can draw from this endless well with plenty of sales to go around.  However, on a unique platform like Facebook, a separate set of rules and norms comes with the territory.
In this article, we go through the requirements to begin dropshipping on Facebook. In the end, you'll know exactly what to do before starting to ensure a smooth and profitable dropshipping experience on the Facebook Marketplace.
What is Facebook Marketplace Dropshipping?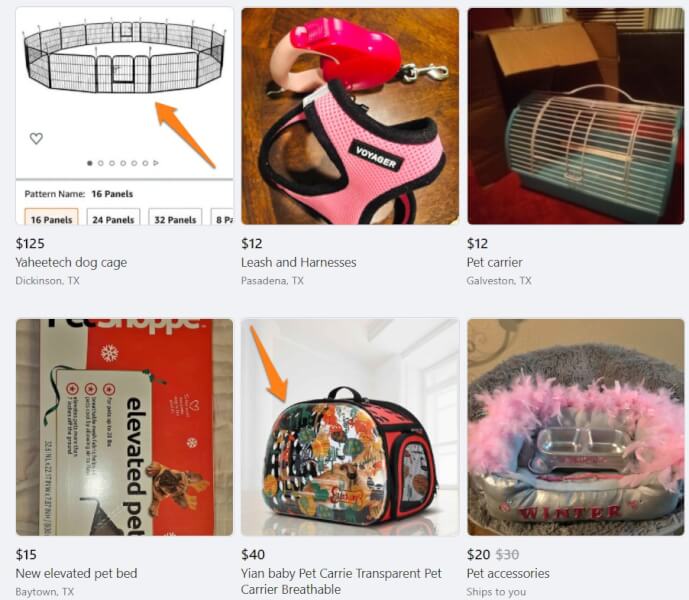 We know the basics of dropshipping. Whether on eBay, Shopify, or any other selling channel, this business model allows us to sell goods for a profit without holding physical stock. Dropshippers essentially act as middle-persons between the buyer and the supplier. 
When a customer purchases an item from our store, we give their shipping information to the supplier and purchase the item for them. The difference in price between the supplier and us becomes our profit.
What's New With Facebook Dropshipping?
Traditionally Facebook Marketplace operated as a place for local communities to barter for goods, often used ones. 
However, in 2022 the stage is set for Facebook Marketplace to become one of the most popular e-commerce platforms in the world.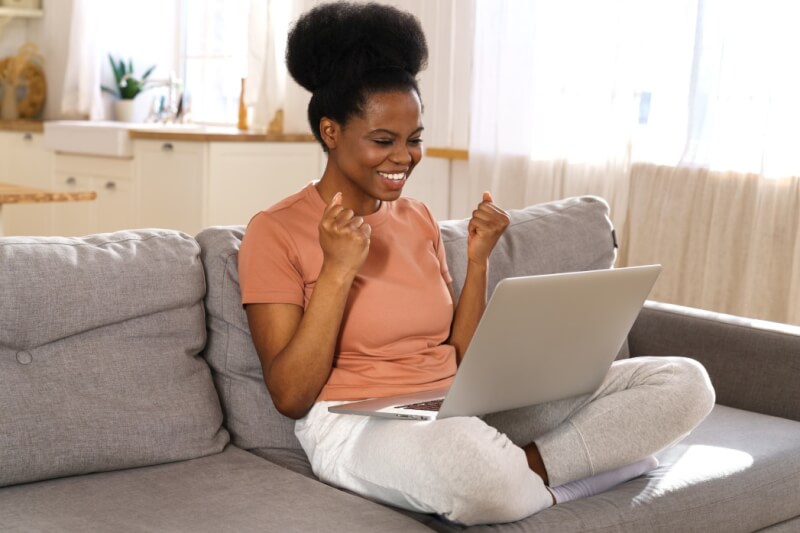 The level of traffic on Facebook is every seller's dream. With over 2.8 billion users on the site, it is no surprise that dropshippers already see four or five times the amount of views per product than they would on eBay or other platforms. 
With little competition from other dropshippers, we are one of few sellers listing a given item. This gives us the advantage of selling hot and profitable items because other dropshippers are not selling on Facebook Marketplace (yet).  
So right before you begin with your new selling channel, let's familiarize ourselves with all of the requirements to start the right way. 
What Are The Requirements To Dropship On The Facebook Marketplace?
Almost anyone with an existing account can begin dropshipping on Facebook. However, given the nature of Facebook as a social media site, a different set of rules applies. 
Additionally, to ship nationally across the United States, Facebook requires that the seller hold US citizenship. We cannot bypass these rules given Facebook's thoroughly built-in verification process. 
US Citizenship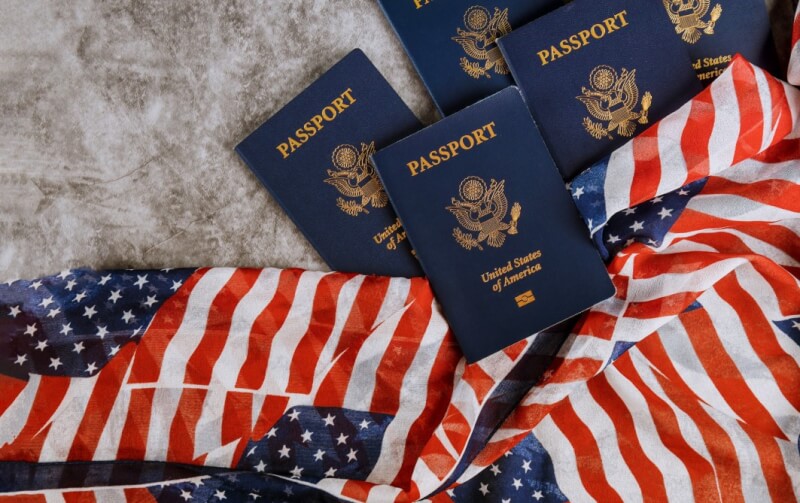 Facebook confirms American citizenship by asking sellers to verify their Social Security Number. At first, we can sell items without verification. However, once we hit the $500 sales benchmark, Facebook requires SSN verification. 
Without verification, dropshippers cannot list more items, and Facebook places payouts on hold. 
Furthermore, Facebook requires American citizens to connect a US bank account to their Facebook account. Facebook also accepts Payoneer or Transferwise as bank accounts.
Can Non-US Citizens Dropship On Facebook?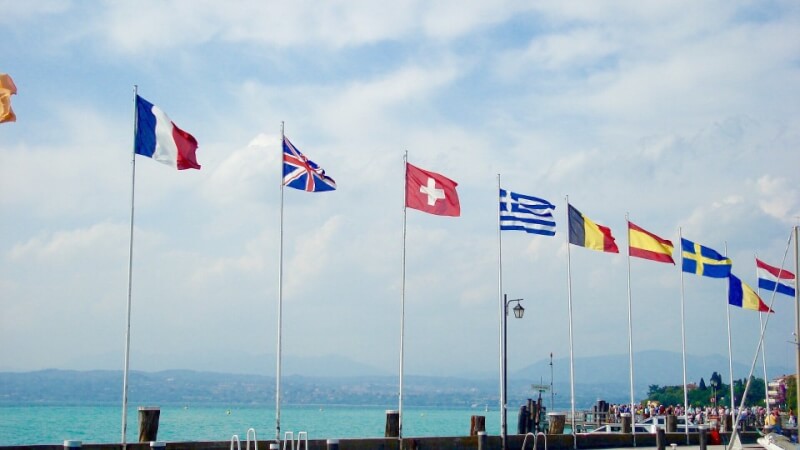 What should non-US citizens do if they want to reap the rewards of the Facebook marketplace? Unfortunately, the platform limits international sellers from selling on Facebook. 
The "non-US citizens" among us can only list items in a single location compared to the shipping options available to US citizens, which alternatively brings heavy organic traffic and sales.
For now, Facebook does not present a lucrative option for non-US dropshippers. With several restrictions in place, international dropshippers benefit more from utilizing other platforms.
Nevertheless, international dropshippers can sell on Facebook as a bonus supplement to a robust eBay or Shopify store. 
In fact, several non-US dropshippers already reported selling items at a profit via Facebook Marketplace. Still, it remains to be seen how scalable and profitable such an operation can be.
Starting Budget For Facebook Marketplace Dropshipping
While not an official requirement, we should consider setting aside a budget of $100-$300 for our Facebook store before we begin listing.
That's because Facebook delays payment for every order until a couple of days after the buyer receives their product. 
Therefore, start with a small budget to pay for these orders until receiving payment will ensure a smooth cash flow experience.
Why Don't I Have The Shipping Option On The Facebook Marketplace?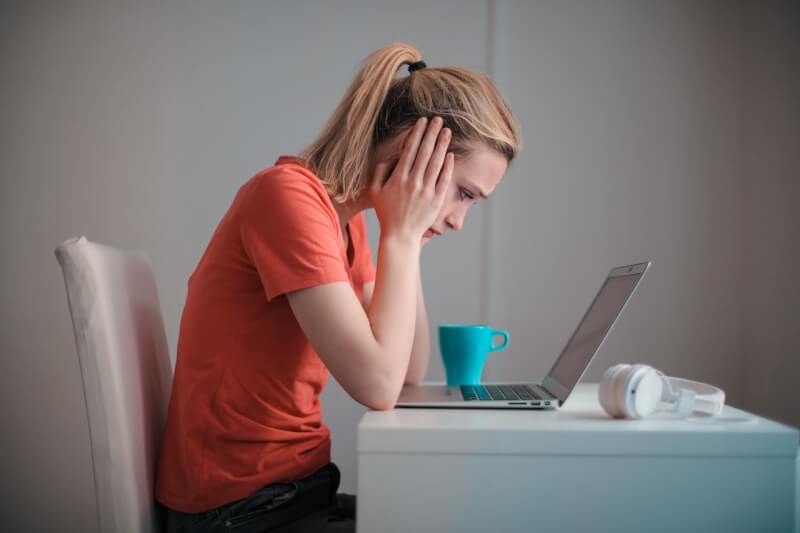 Now that we know the requirements to sell on Facebook Marketplace, it is important to understand the rules that govern the shipping option on the platform.
Generally, the shipping option (i.e., the ability to ship items nationwide in the United States) is reserved for US citizens. Those residing outside of the US do not see the shipping option when listing items on Facebook.  
Additionally, American dropshippers cannot sell items on a new Facebook account until several months into their membership. The best option for current dropshippers with a new Facebook account is to wait a few months until Facebook Marketplace becomes available to them.   
Aside from being a US citizen, Facebook also limits the shipping option to specific categories and items. 
For example, assume we want to sell a bookshelf under the category of 'Living Room Furniture.'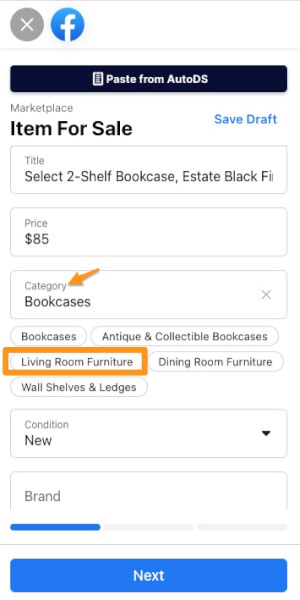 When we click next, it will show only the local pick-up option and not the shipping option.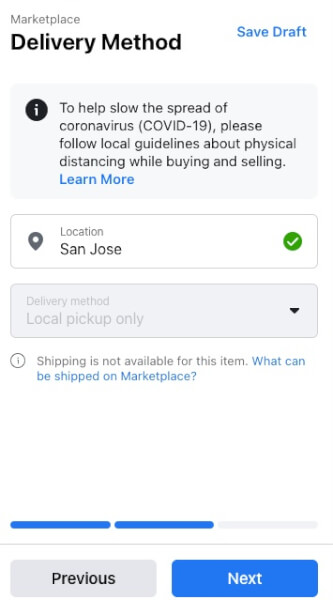 However, if we choose to list a product that falls under the 'Cat Apparel' category, Facebook provides us the option to ship.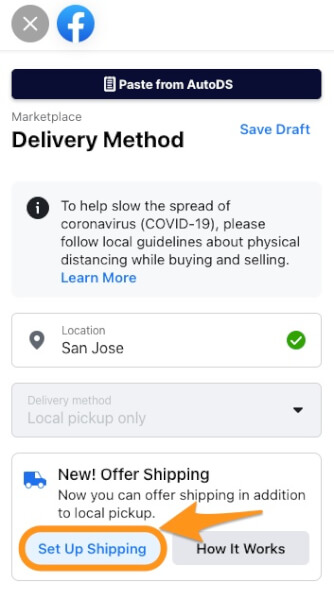 Furthermore, sometimes Facebook disables shipping for sellers without us knowing why. In such cases, it is best to contact Facebook directly.
Tips On Facebook Marketplace Dropshipping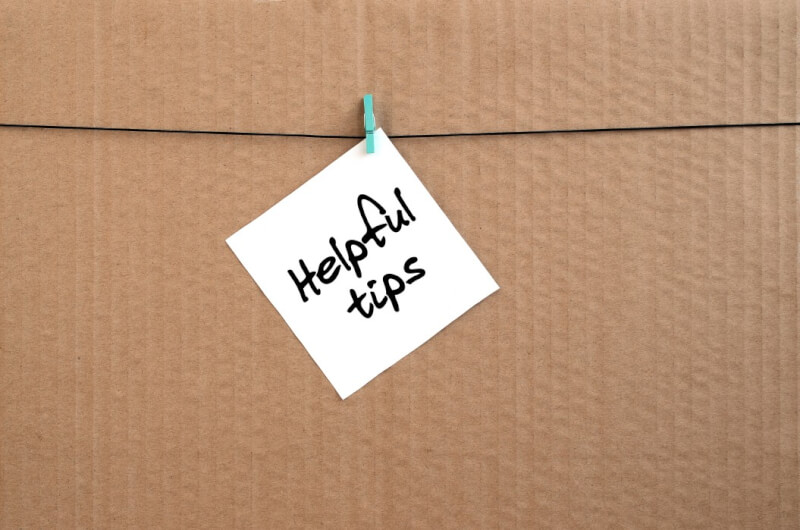 Now that we're aware of the requirements and rules about dropshipping on Facebook let us look at some tips and strategies that help us maintain and scale a winning Facebook store.
Dispatch Time
Facebook requires us to ship out items within 2-3 days of order placement and does not allow for slower fulfillment. Therefore, as dropshippers, we should only list products on Facebook from suppliers that ship items swiftly. 
Therefore, we suggest dropshipping from US suppliers with fast shipping times. This way, our orders will ship out on time, and we'll gain customer satisfaction. 
How To Check For Shipping Options Eligibility
Since we rely on the shipping option to send products, how can we determine whether the item can be shipped? 
The most straightforward method involves listing the item, and when we get to the 'Delivery Method' window to see whether Facebook offers the shipping option. 
If the item does not offer the shipping option, we can go to the Facebook help page. Dropshippers can learn the exact categories that are eligible for shipping. Additionally, the help page will automatically notify us if our account is eligible for shipping. 
For example, a non-US based dropshipper will see the following message:

Shipping and checkout on Marketplace isn't available in your location right now.
In this case, we will not see shipping options on our Facebook Marketplace accounts. This means that we can only ship to one state, which greatly decreases the listing's visibility.
Therefore, only those who live in the US meet the Facebook Marketplace requirements for dropshipping.
Adding Semi-Automation for Scalability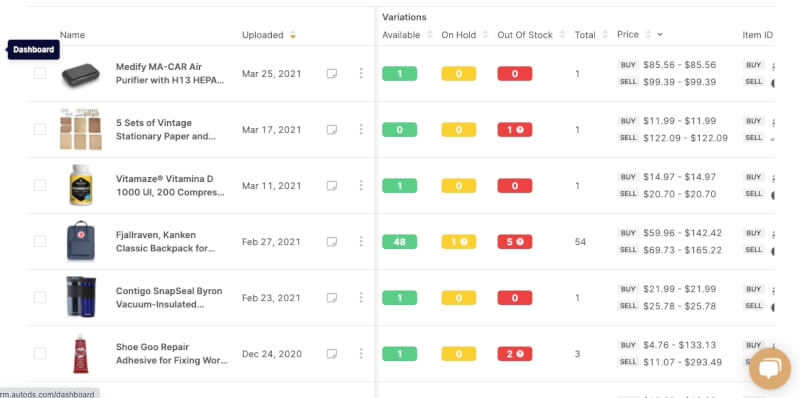 Dropshippers sometimes encounter roadblocks to their goal of scalability. We often get bogged down by time-consuming tasks that keep our hands full. 
Instead of spending time messaging clients or updating stock and prices, we can automate as many tasks as possible to free up our time for growing our store. 
Therefore,  automating our Facebook store is a must for anyone who wants to scale their stores to big numbers.
By now, dropshippers know how to automate many aspects of their store.
One-Click Importer
For example, dropshippers can utilize the AutoDS chrome extension to add products to Facebook Marketplace in one click.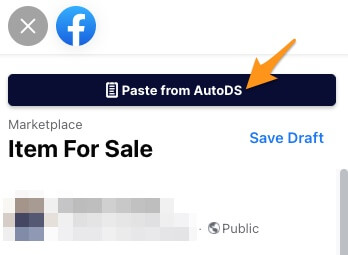 If you want to learn how to save time importing products with the help of the AutoDS helper extension, read our full step-by-step guide.
Price/Stock Monitoring
In a time considered the dawn of the Facebook Dropshipping era, no technology can automate our store completely. However, AutoDS stands ready to assist with the first-of-its-kind semi-automation for Facebook Marketplace. 
The price and stock monitoring option is the big prize here. This feature sends us instant notifications with every movement of stock or price on the supplier's end. 
To receive monitoring notifications, add the Facebook store to the AutoDS platform and then enable the notifications. 
Here are the basic steps:
First, on the AutoDS platform, go to 'Settings' at the bottom left and click 'Plans and Add-Ons' at the top bar. 
Then under 'Facebook Marketplace Plan', we click 'Buy Plan' and finalize our purchase.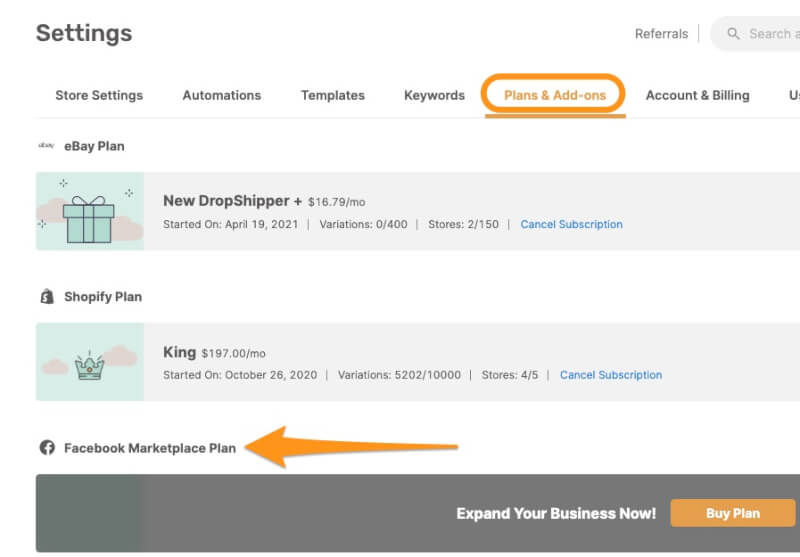 Next, at the top left of our screen, click on the 'View Stores' tab, and in the popup window that appears,  click on 'Add Store'.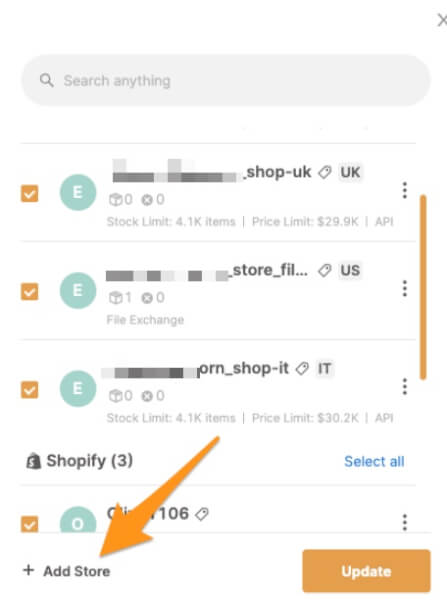 Next, select 'Facebook', and the store is now on our platform.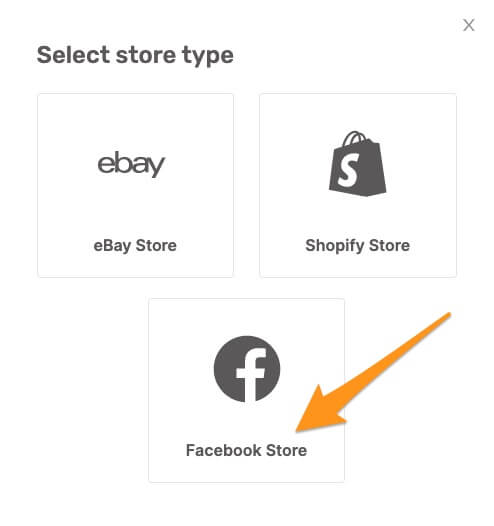 To configure the monitoring notifications, simply go to 'Settings', toggle on both stock and price notifications, and add an email address at the bottom.
Finally, click 'Save'.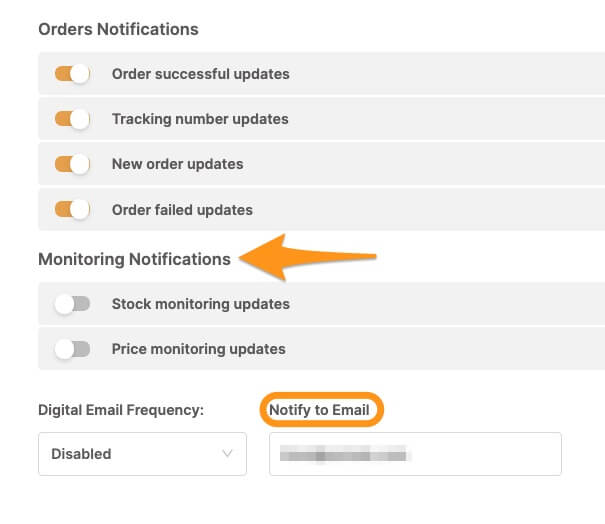 Now that we integrated our Facebook store with the AutoDS platform, all that is left is to add products to the store and watch our profits grow. 
To learn about the best Facebook Marketplace categories for dropshipping along with what products to sell, check out the Best Facebook Marketplace Categories for Dropshipping 2022.
Wrapping It Up
Dropshipping on the Facebook Marketplace is considered a best-kept secret in our community. Even as dropshippers begin to sell on Facebook, there is enough traffic to accommodate many more. 
Facebook is a unique platform with its own set of benefits. With high traffic, little competition, and friendlier customers, there is no reason that any dropshipper should not already start picking this low-hanging fruit. 
Aside from Facebook's rules, we should remember to treat our Facebook store like any business and plan accordingly. This includes shipping out orders on time, handling customer service, and ensuring we have the necessary tools for scalability. 
Semi-Automating our Facebook store is the only way to scale our business to new heights and hit big numbers on our store.
Therefore, by utilizing AutoDS's unparalleled stock and price monitoring system combined with the AutoDS chrome extension, we can take our Facebook store hobby and turn it into a consistently profitable income stream.