There's more than one good reason why dropshipping from Walmart to Shopify works. Walmart is the world's largest company by revenue since 2014. As of April 2021, Walmart has over 10,000 stores that offer thousands of products from various niches.
This has made them a huge provider of goods, and a household name across America for decades. Their success and popularity have a lot to do with their discounts and year-round deals.
Besides appealing to the retail consumer market, seniority, prices, and a vast selection of products. It continues to be a great choice as a supplier for dropshippers.
Other benefits that make Walmart a favorite supplier among dropshippers are their fast and reliable shipping, price match policy, and superb customer support.
So, if you've been thinking about dropshipping from Walmart to your Shopify dropshipping business, keep reading.
This article gives a complete guide on the fastest and easiest ways to import products from Walmart to your Shopify dropshipping store. Start saving time, increase sales, and focus on scaling your Shopify dropshipping business further.
Walmart to Shopify Dropshipping – How To Import Products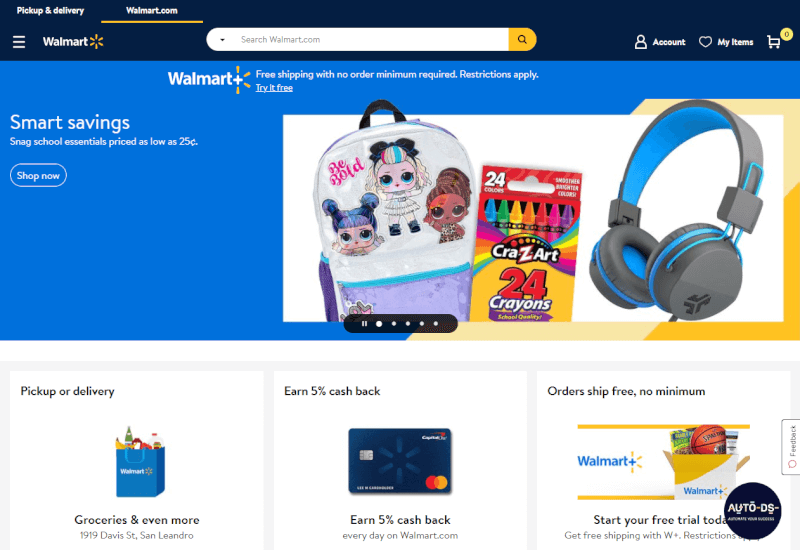 Our AutoDS platform offers three options for importing dropshipping products from Walmart to your Shopify store. Using these import solutions not only saves you time but also helps edit and optimize your outcomes.
Additionally, AutoDS has a massive list of brands that are well known for copyright violations. 
This will help keep your dropshipping business safe and avoid any unnecessary problems down the line.
Now that we covered why Walmart is such a hot Shopify dropshipping supplier, let's show you how AutoDS will drastically upgrade your dropshipping experience. Here's how to import products from Walmart to your Shopify dropshipping store.
Import Items Using URL Or ID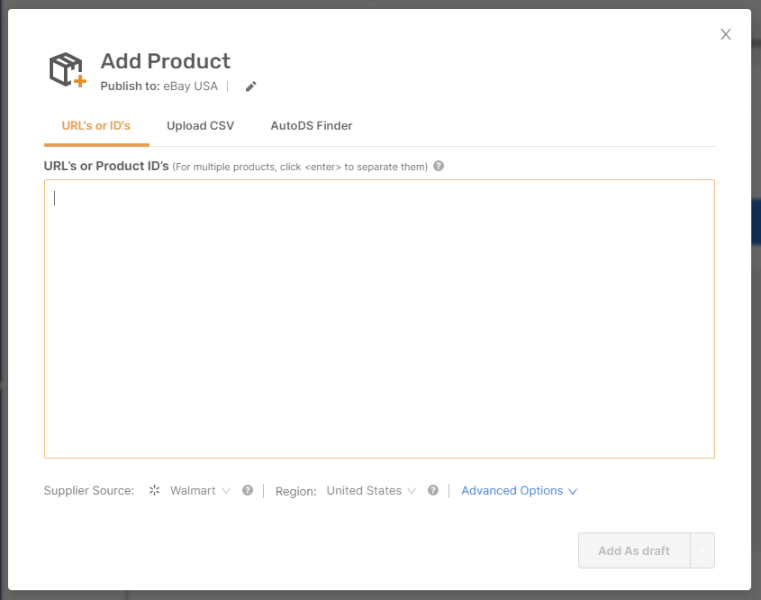 The first way to import dropshipping products from Walmart to Shopify using AutoDS is through our classic products lister.
With this option, you can import products by copying the URL or ID of the product you want from Walmart and pasting it to the AutoDS product lister. 
To begin the process, start by finding a product from Walmart to add to your store. Head to Walmart's website, click on the product, and copy the URL.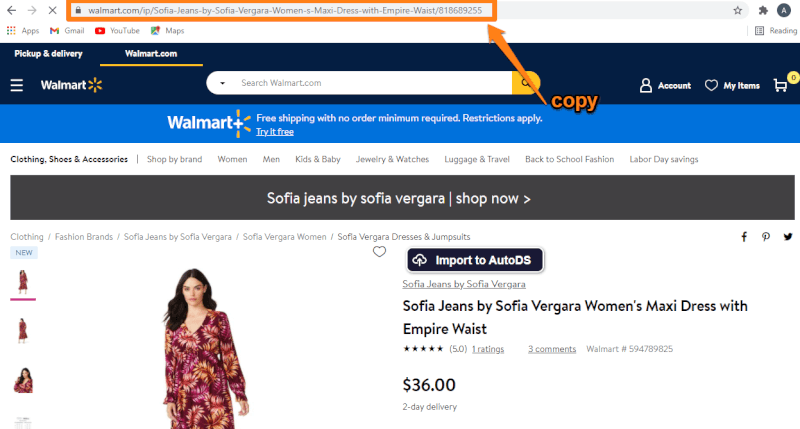 After saving the product URL (or product ID), go to AutoDS platform and click on 'Add Products' located on the left menu.

From here, you will have the following options:
Add as a draft
This enables you to add the product as a draft to edit and optimize it before publishing it to your store.
Create and Publish
If you want to import the product as it is, this option enables you to skip the drafts step and go straight to publishing.
Schedule for later
When you choose a product that you don't want to import just yet, this option will let you schedule the import for a future time and/or date that you select.
Edit upload settings
This button lets you configure your import settings before saving it as a draft or importing it to your store—features, and settings such as tags, collections, price automation, policies, etc.
Additionally, any of these four URL or ID product importing methods can be used for multiple Walmart dropshipping product imports. Simply copy and paste multiple product IDs or URLs and follow the same process to bulk import products.
Import Items In Bulk Using CSV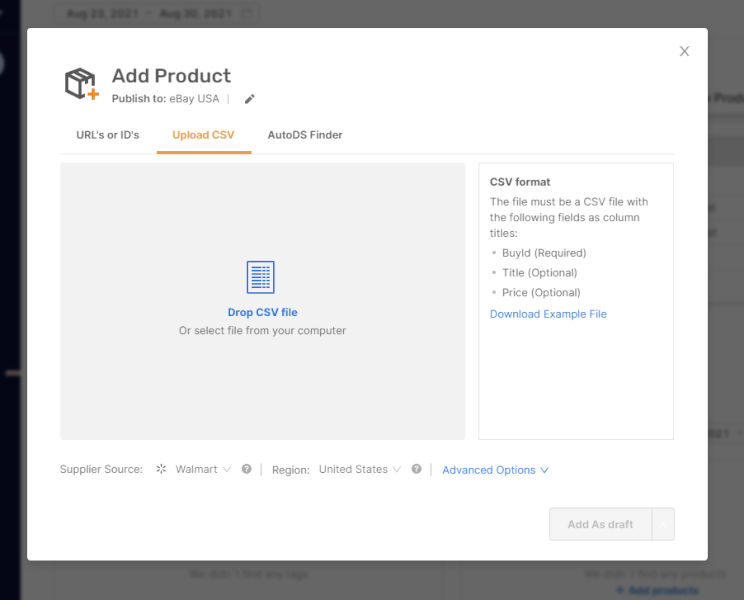 Moving on to the second option, we have a quicker solution for bulk imports from Walmart to Shopify. If you have a CSV file ready to import, you can upload it here.
You will still be able to take advantage of all our editing and optimizing tools. If you don't have a CSV file, don't worry. We got you covered.
We have our very own AutoDS Helper Extension, which offers many benefits. One of which is creating a CSV file for you in seconds.
You can import tens, hundreds, or even thousands of products from Walmart to your Shopify store with a click of a button.
Install the AutoDS Helper, head to Walmart's site, and go to any product or niche page.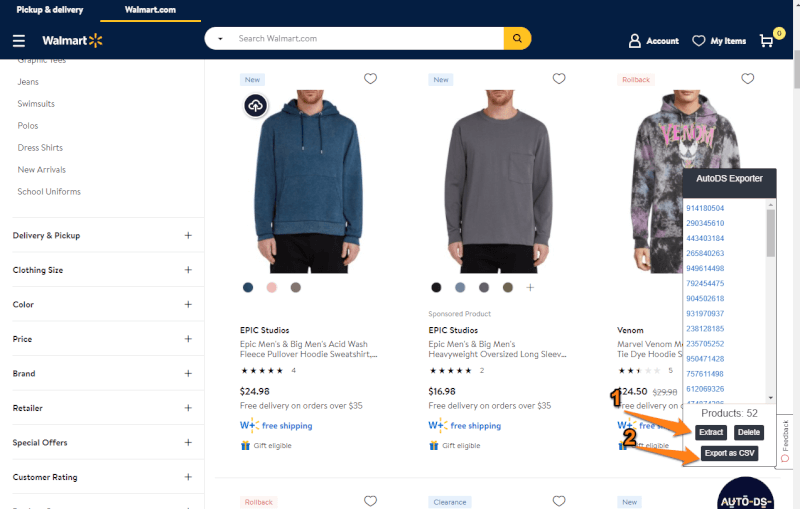 Click the extension icon and click 'Extract.' Then click 'Export as CSV'. This will activate the extension, and it will automatically create and download a CSV file for you to upload.
Now that you have the CSV file ready go to AutoDS and select the CSV file import option.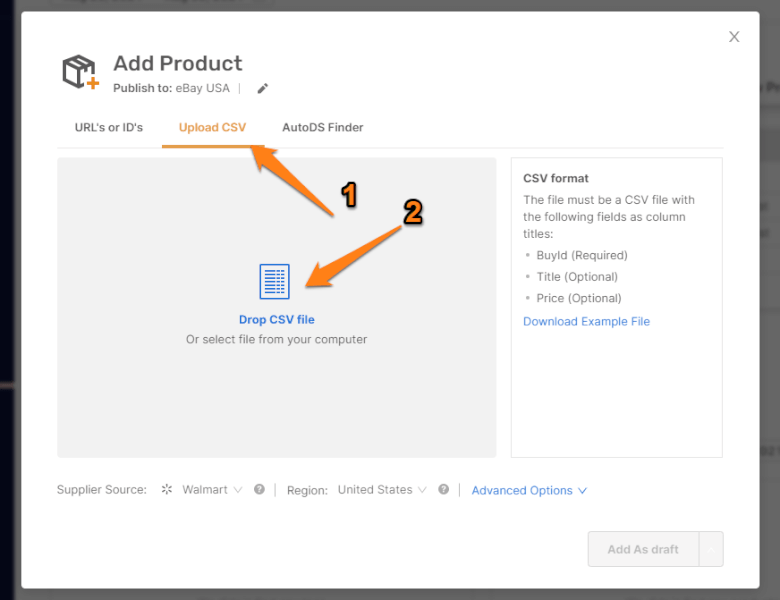 Upload your new CSV file and select which method you want to go with for your upload and bulk import products with a click of a button. 
Import with the One-Click Importer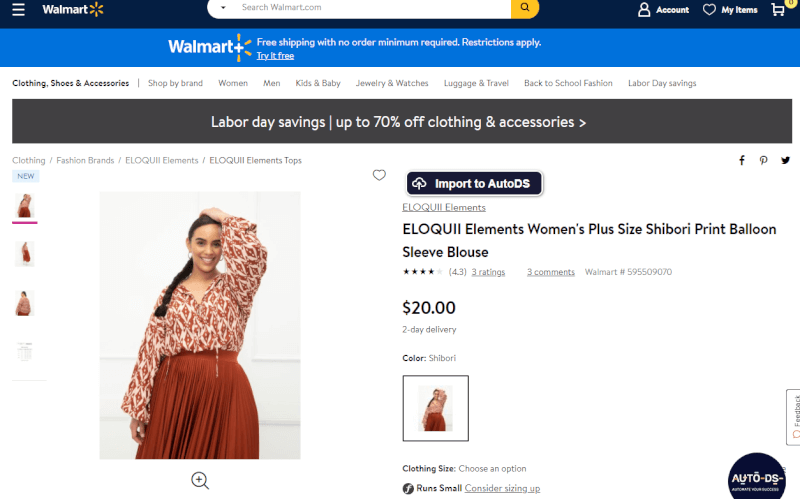 Last but not least, we have our one-click importer. This method is also through our AutoDS Helper Extension.
Once you have browsed and found a product you want to add to your dropshipping store, use the quickest way for single product imports to your Shopify store.
Click on the product you want to import, and the 'Import to AutoDS' button will appear on top of the product's title on the supplier's page. Click it to start the import process.
The button will stop blinking to indicate your import has finished.
Once it is done blinking, head over to your AutoDS account and open the 'Drafts' page, as we can see, our new product appears on the top of our drafts page.

Click on the product to view all the editing options. You can now edit the title, images, and more. Additionally, you can create a new tag or collection or add to an existing identification or collection.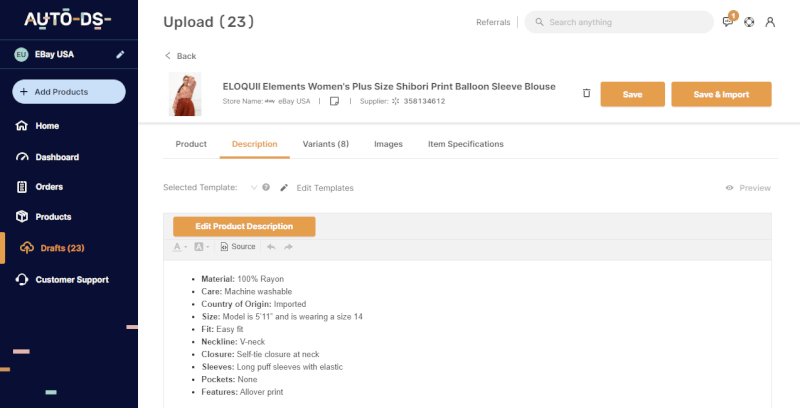 Furthermore, you can set the item's automation/monitoring settings, images, variants, item specifications, and more.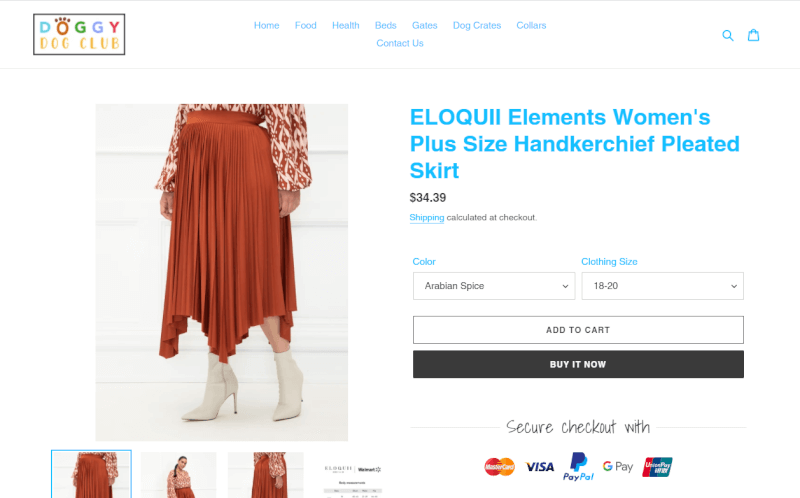 Once you are done optimizing, finalize the product import by clicking 'Import.' In just a few seconds, the product will go live in your Shopify store for customers to buy.
Conclusion
We hope this article shows how much time and thought went into designing and creating AutoDS for our dropshipping family. Use any of these three importing solutions to save yourself the headache of manual management.
We take pride in knowing how much our software helps dropshippers save time and money. Our most excellent satisfaction is being able to help people become successful dropshippers, and long-time guide dropshippers to scale their businesses even further.
If you want to learn more about dropshipping from Walmart, check our Walmart To Shopify Dropshipping Full Overview.
For more how-to videos on importing products from dropshipping suppliers to Shopify, head over to our AutoDS Tutorials for Shopify YouTube playlist.