The holiday season is here, and now it's money time for any e-commerce seller. 
Now it's time to maximize your profits, increase the number of products that you sell, and improve your business.
The statistic says that during the holiday season, e-commerce sellers should expect a 21% increase in their online sales.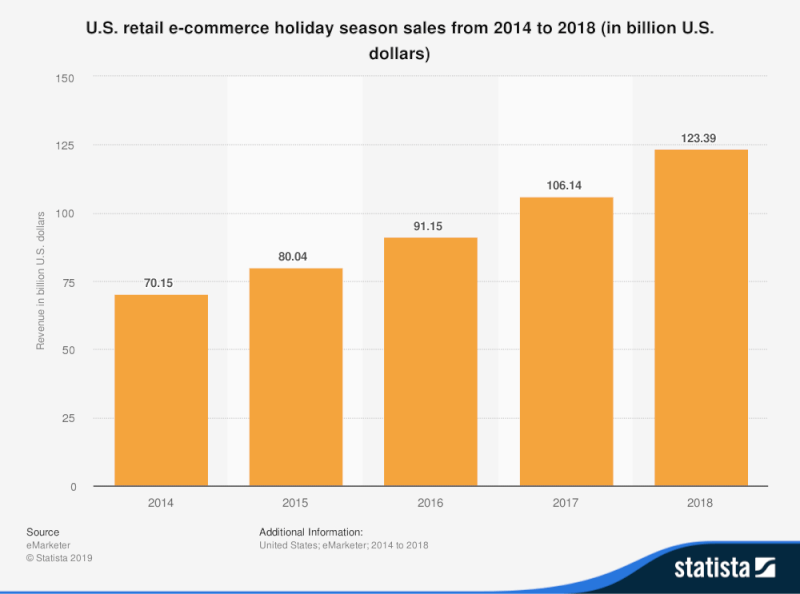 $123.39 billion dollars (16.25 growth from 2017 to 2018) were spent online during the holiday season in 2018. Source: Statista
In this article, we will summarize ten exciting facts of the holiday season
1. When will most of the buyers do their shopping?
Most of the buyers will do 48% of their shopping on the dates between Thanksgiving until the end of the year
In 2019 this period starts from November 28th until the end of December.
2. Where will most of the buyers do their shopping?
77% of the buyers will buy from the same retailer as they did the last year,
it means that the statistics on your stores should be similar to what you got in the previous year.
3. Until when will the holiday sales continue?
Last-minute shoppers – 61% of the buyers will buy their last gifts during the week that ends on December 25th. 
It means that you have to be aware of this situation and know that you should keep your holiday gift products at least until this week.
4. Do people always know what they are planning to buy?
49% of what people buy during this period is influenced by the stores that they are buying from.
This why we recommend adding to your automated messages to buyers some links to selected products that you would like to sell and make.
This tactic called "up-sale" and it will help you gain much more profit from your sales and existing customers.
5. How do the sales during the holiday season look like?
In most of the sectors, over 20% of the annual sales occur during the holiday season, which is over 200% of what is expected during a non-holiday season (from a "regular" month).
If we look into e-commerce sales statistics, we expect over 20% sales increase in this holiday season.
6. When will the "mess" begin?
40% of the buyers will start their holiday shopping by November 1st.
As e-commerce sellers, we should be ready before this date,  with the right products and beautiful listing templates designs.
In AutoDS we already prepared for you special templates for all the holidays – Black Friday, Christmas and Halloween.
7. How many of the sales are done online?
Over 55% of the holiday purchases will take place online.
This statistic is AMAZING for us as e-commerce sellers, because it means that now it's our real money time.
8. What will people buy during Thanksgiving?
38% of the buyers will purchase clothing

24% will buy small electronics and jewelry

20% will buy perfume or cologne.

Tools, shoes, accessories, video games, music, and personal products all saw the same percentage of buyers at 17%.

16% of consumers will be going to buy large electronics.

14% will take advantage of sales for beauty gifts.

10% will purchase items for the kitchen.

4% will buy children, books or games.
9. How much money do people spend during holiday sales?
During the five days between the Thanksgiving day and Cyber Monday (in 2019, it's between November 28th and December 2nd), Americans aged 24 to 35 spend an average of $419.52. On average Americans spend $335 per person.
10. How do people make their decisions about what to buy?
Over 66% of buyers use their phones to make purchases decisions. During the 2018 Thanksgiving period, over 44% of all holiday e-commerce sales were made using mobile phones.
Make sure that your store is mobile-optimized and that your eBay templates are mobile adapted.
Now it's the time
E-commerce is the right place and niche to be, especially during the holiday season.
According to digitalcommerce360, during the holiday season of 2019 the e-commerce sales expected to hit $144-$149 billion sales during the holiday season, which is over $20 billion more than in 2018, that was $126.4 billion.