When purchasing products on AliExpress, you may notice that there are several AliExpress shipping methods available. That's because several shipping companies can fulfill the delivery process.
Each shipping carrier has its logistics and estimated delivery dates, and it's up to you – the seller – to choose the best shipping method for the buyers to get their packages on time. All while maintaining a decent profit margin throughout the way.
In this article, you will learn all about the different AliExpress shipping methods, delivery times, and how to choose which option is best for your online business and customers alike.
What Type Of Shipping Options Are Available On AliExpress?
Aside from the shipping services, which we will get to soon, there are a few shipping options: free shipping, paid shipping and shipping with and without tracking information.
Let's go over the pros and cons of each option.
1. Free & Paid Shipping

Some shipping methods are free, while others can set you back a few bucks (or more). And just because shipping is free, that doesn't necessarily mean that paid shipping is better. In some cases, you'll go for free shipping, while in other cases, you'll go for paid shipping. 
It mainly depends on the delivery time and your overall profit margin. You want the customers to get their packages as soon as possible but not at the expense of losing money on your order. Don't worry; we'll get to those options soon.
2. Shipping With and Without Tracking Information

Needless to say, you should provide tracking information for every one of your orders. That's because tracking information gives you protection, as well as your buyer. Tracking information shows the delivery status at every stage. 
Therefore, if there are any problems with the delivery, you will have proof when contacting the seller on AliExpress or dealing with your payment provider (for example – if a buyer opens an 'item not received' case on PayPal).
If you choose to ship without providing tracking information and your buyers claim that the item wasn't received, you will have to reimburse the buyer for the transaction. Since there' no way to prove if the buyer received the package or not, it will be on you.
That's why you should always choose shipping services that provide tracking information, even if it sets you back a few bucks.
Which Shipping Companies Are Available On AliExpress?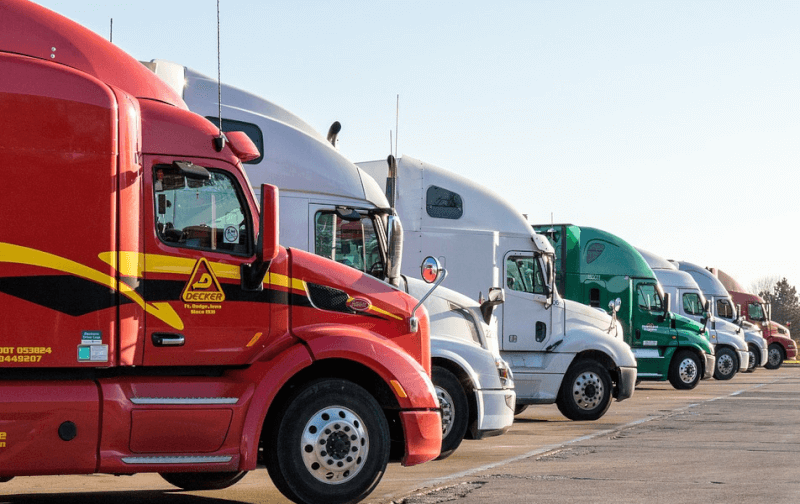 As mentioned, on AliExpress, there are several shipping companies available. Each with its advantages and disadvantages regarding delivery time, tracking information, and pricing points.
Each seller decides which shipping companies he wants to work with. Thus, you will see different shipping options for different products.
Here's the updated list of shipping services available today on AliExpress and what they have to offer:
AliExpress Standard Shipping – Tracking available. Paid + Free Shipping.
AliExpress Premium Shipping – Tracking available. Paid Shipping.
DHL – Tracking available. Paid Shipping.
EMS – Tracking available. Paid Shipping.
ePacket – Tracking available. Paid + Free Shipping.
Seller's Shipping Method – Paid/Free Shipping and tracking information depends on the seller.
FedEx – Tracking available. Paid Shipping.
Cainiao Super Economy – Cainiao is a Logistics company that belongs to AliExpress. Tracking is available through its Global Order Tracking website. Paid + Free Shipping.
Cainiao Super Economy Global – Tracking unavailable. Paid + Free Shipping.
China Post Air Parcel – Worldwide shipping. Tracking available. 
Each shipping method has a different delivery time. These factors depend on the seller and the product's location. The delivery time can be seen on the product page when you click on where you're shipping to, just above the 'Buy Now / Add To Cart' buttons.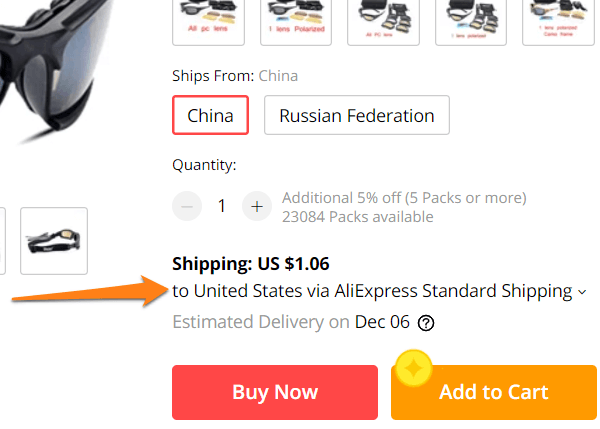 Once you click on it, you'll see a full list of shipping carriers with their shipping prices and delivery times. There, you can choose which shipping method suits you best. 
You can also choose different 'ships from' locations (see the image above) to check shipping and delivery options from warehouses in different countries. In some cases, you'll be able to find cheaper and faster shipping options.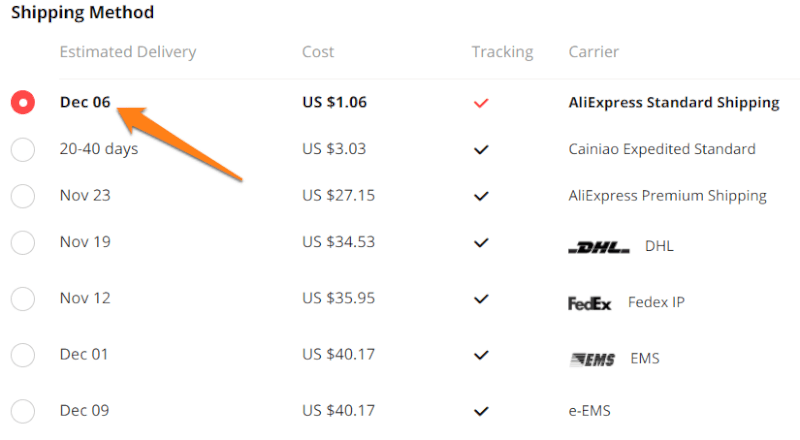 Keep in mind that each product has different shipping options, prices, and delivery times. So if you see a product with high-selling potential but with slow shipping – try the next product in the line. Each seller sells his products with different shipping options and will be different from the next product.
What Are The Top AliExpress Shipping Methods?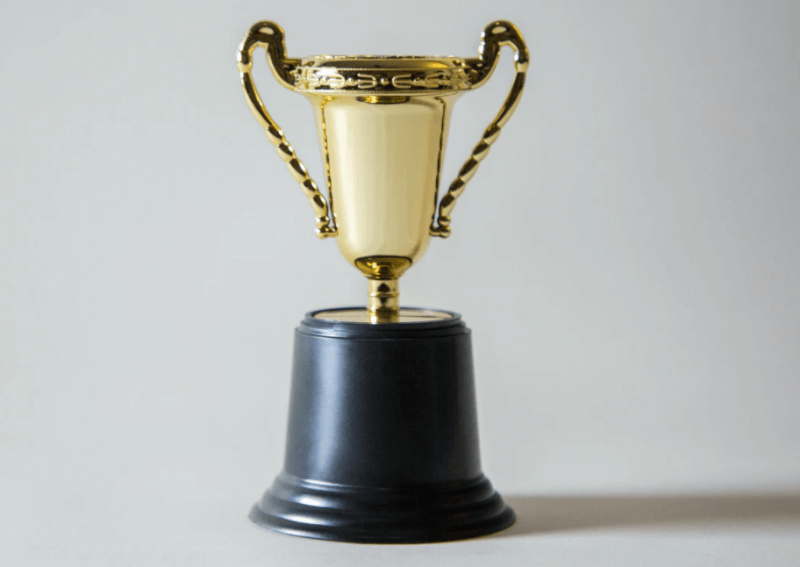 Out of all of the available shipping options and after extensive research, we have a winner on the best shipping services to use on AliExpress. The two winners are AliExpress Standard Shipping and ePacket. They are both relatively cheap (sometimes free), fast delivery times, and available tracking information.
Therefore, if you have one of those two options available, you're most likely to choose between one of them. Go for the fastest delivery time – even if it costs a little more than the next option with slower shipping. A satisfied customer is likely to return to buy from you again or refer a friend. That's worth more than another dollar.
Filtering AliExpress Products Based On Shipping Methods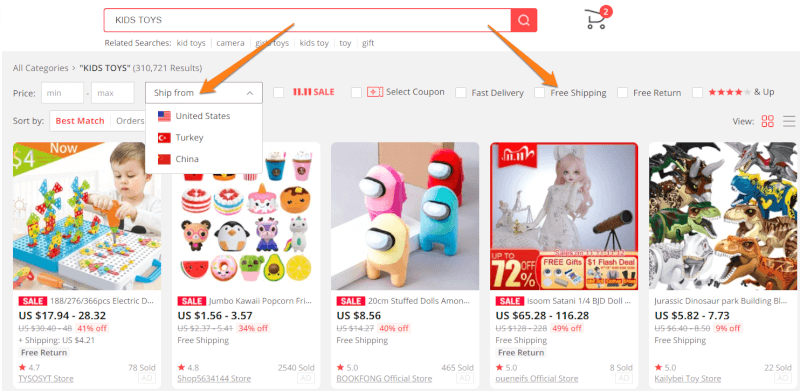 To make your search results more relevant with shipping options, you can filter your searches. For example, you can choose which country you want to ship from. China and the United States are the two most popular options.
There are more warehouse locations, like Turkey and the Russian Federation, which can be found in other search results. 
Furthermore, you can filter products that have free shipping. This way, you won't run into any cheap products with outrageous shipping prices. Some sellers on AliExpress like to show a cheap price for their products.
But once you choose your variation and where to ship from, you'll notice a high shipping cost to make up for the cheap product price. That's where this option can especially come in handy.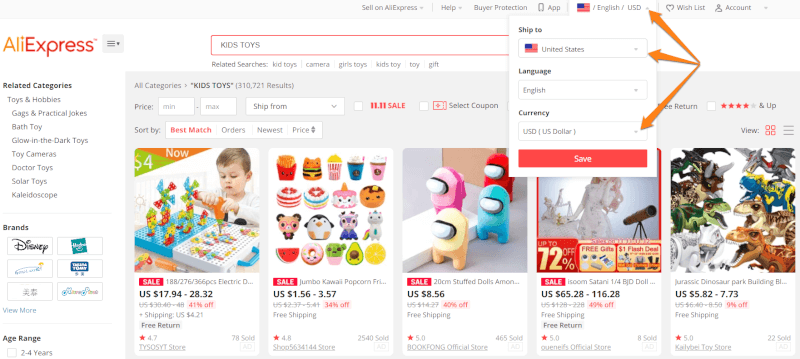 You can also easily change your 'ship to' location on the top bar (see the image above). This way, your search results will only show you products that can ship to that specific location. In other words, if you're targeting a US audience, the 'ship to' should be on the United States option. 
In addition, you can change the currency you wish to be displayed on the search results page. And, if English isn't your native language, the option to change the display language is there, too.
How Can I Track My AliExpress Orders?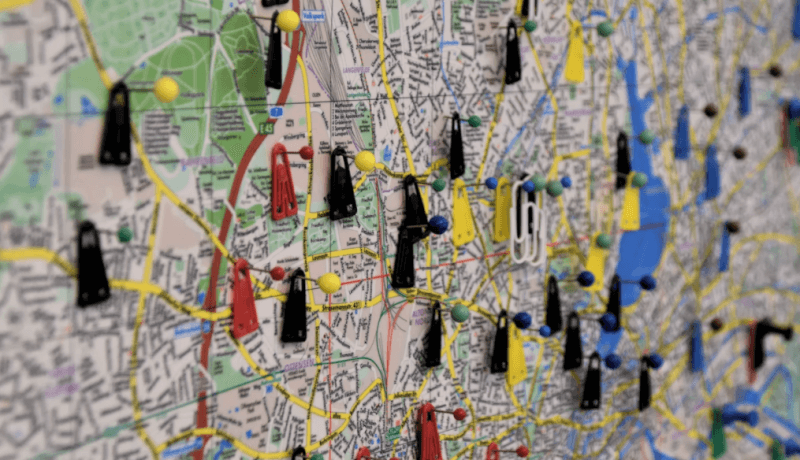 Tracking your orders is a simple process. Most of your orders with tracking information can be tracked directly through AliExpress's orders page. 
First, head over to the 'My orders' section. Then, on the right, you'll notice the 'track order' button. Click on it to see all of the tracking events for that order.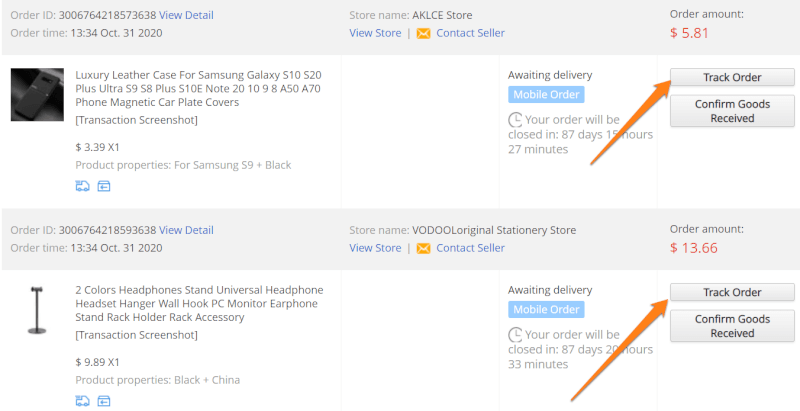 The tracking information will display each tracking event that relates to the particular order. In other words, you'll have the date, time, and action that occurred in that event. 
Additionally, if there are any problems with the delivery process, you will also see it in the tracking events. This will save you the time and effort to reach out to the buyer and ask about the delivery status.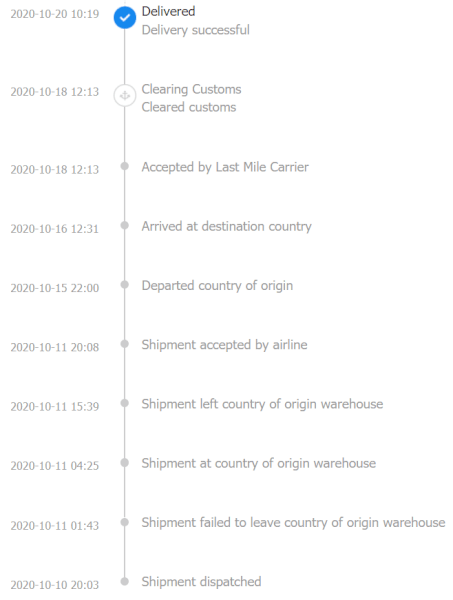 Another way to track your packages is through a website called 17TRACK. They are one of the best tracking websites available for all packages leaving China anywhere globally. 
Sometimes, you'll find more detailed information on the tracking events than you'll find on AliExpress. In other cases, shipping information isn't available through AliExpress, even if you choose a shipping service with tracking information. In both cases, 17TRACK is your answer.
All you have to do is copy your tracking number from the AliExpress tracking page on the right side:

Paste it onto the text field on the main page of 17TRACK. Click 'Track,' and in a few seconds, you'll see the tracking events: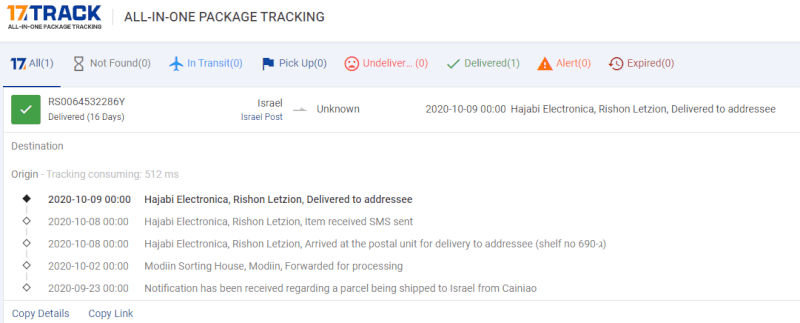 Furthermore, for orders using the 'Cainiao' shipping method (AliExpress's logistics company), you might notice that tracking is unavailable through AliExpress. In this scenario, you can use Cainiao's tracking website to track their packages.
Remember that providing tracking information is for your own benefit. It protects against claims that the product didn't arrive at its destination as it provides proof of delivery. A few dollars more for shipping with tracking information are worth your financial security.
To make things easier, AutoDS can automatically update your tracking information as soon as it's available on all of your orders. Once you automate the tracking update process, your buyers will be able to track their packages sooner than they'd expect.
At the end of the day, you will gain more customer satisfaction and more returning customers. Therefore, be sure to take advantage of automatic tracking updates.
Raise Quantity, Get Free Shipping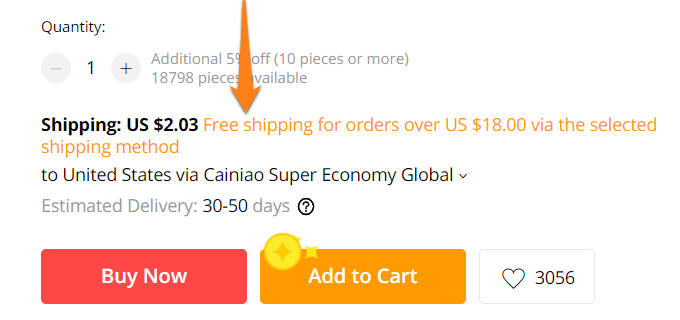 On AliExpress, some products are eligible for free shipping if you reach a certain order price. But if you buy just one unit, you won't reach that order price. Usually, 2 or 3 units will get you to the price where shipping will be free. 
Hence, raise your product quantity from one unit to two or three on every product in your store. This way, you'll increase your overall revenue since many buyers buy more than one unit (and not just for AliExpress products). And you will benefit from free shipping, which will raise your profits even more. Try this out for one month and see the difference that it makes.
Wrapping It Up
In conclusion, learning about the different shipping methods available on AliExpress will help you lower prices on shipping costs, and deliver your products quicker. Don't forget that each product that you add to your stores should have tracking information. It's for your own protection against false claims.
We truly hope that you've enriched your knowledge with this article. For more valuable tips on this supplier, check out our articles on the 9 Must-Have Chrome Extensions For Dropshipping From AliExpress In 2022.
Also, don't miss out on the  9 Things you Need to Succeed in AliExpress Dropshipping to eBay. Both of these articles will take you to the next level when working with AliExpress, and will place you one more step ahead of your competition.