Q4 is finally here, and the celebrations are about to start! The internet's hottest end-of-the-year online sale events are coming – Black Friday (November 27th) and Cyber Monday (November 30th).
These two shopping events center around giving huge discounts and savings for the consumer while setting new sales records year by year for the sellers.
The main idea behind Cyber Monday and Black Friday is for retailers to get rid of their inventory and restock for the new year. The sale events are a retailer's way to encourage the consumer to take action. They don't point to a specific product or niche. Everything is relevant, and buyers anticipate these two sale events all year. 
Now let us see in-depth why we should take advantage of Black Friday and Cyber Monday and what products to dropship during these two holidays.
Why Should We Take Advantage of Black Friday & Cyber Monday?
Anyone who owns an eCommerce business notices the rise in sales during Black Friday and Cyber Monday. That is because consumers are hyped, searching online for the next deal. Check out the crazy increase in eCommerce revenue over the past three years on Black Friday and Cyber Monday, according to Statista: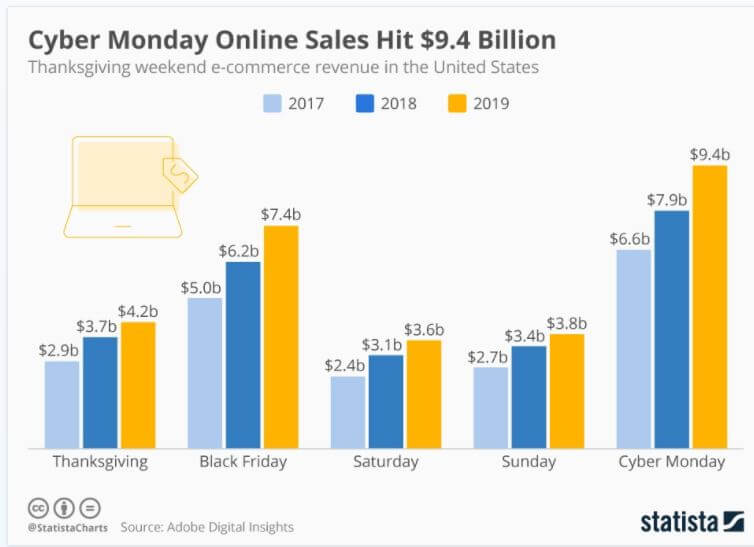 Plus, with eCommerce booming this year more than any previous year, more people are shopping online. Physical storefronts are continuing to close down due to COVID-19. 
eCommerce, on the other hand, is continuing to grow and set new records every year. The same can happen for your eCommerce business with the right preparations.
So it's our great opportunity as dropshippers to use these two holidays and list as many products as possible to catch up on the sales right at the start.
Adding More Dropshipping Suppliers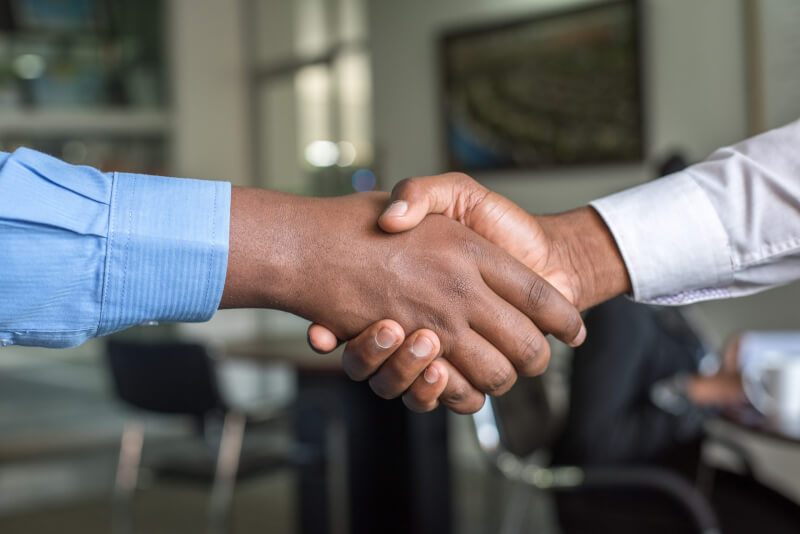 Working with only one dropshipping supplier might be more comfortable, but limiting yourself to reach your store's selling potential. Having a reach to fewer products and niches is also tightening your competition, no matter how big the supplier. 
Therefore, if you only have one dropshipping supplier on your list, add another one or two. You should be working with at least two-three dropshipping suppliers. This way, you will discover new trends, have a broader reach to products and separate yourself from the competition even more.
If you're just getting started with your dropshipping business, now is a perfect time. Q4 is a great time to experience your first sales and start growing your eCommerce business. Start with two suppliers. Some good examples are AliExpress, Costway, Walmart, Banggood, Amazon, Homedepot, Wayfair, Costco, Overstock, and Chinabrands. 
Whether you are experienced or just starting, make sure that you are working with more than one supplier. More flexibility will give you more space to grow. Three suppliers should be enough to take advantage of all of them without it being stressful or time-consuming. 
You may want to check our article about the top 5 dropshipping suppliers for 2020.
Specialized Store Themes & Templates
Nothing screams Black Friday or Cyber Monday sales like an excellent dedicated store theme or template. When you enter a shopping website which is themed for Black Friday or Cyber Monday – you know that discounts and sales are happening here. Having a dedicated Cyber Monday / Black Friday store theme is a must to catch the consumer's eyes.
It doesn't matter which platform you're selling on. Store themes and templates can easily be changed and edited. If you have graphic design experience and are familiar with size requirements for your selling platform, start working on them now.
Otherwise, use freelancer websites like Fiverr to hire people to do it for you. For as low as $5, you can get your customized store template for eBay or Shopify. Just ask for Black Friday / Cyber Monday themes, and you'll have them within a day or two: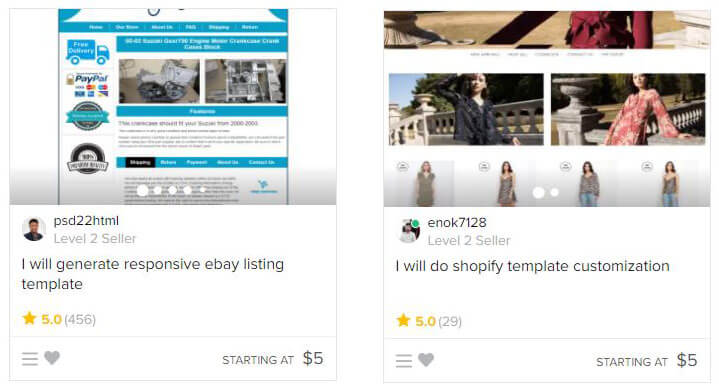 Tagging Your Listings
Use the "tag" feature on your listings to track your product performance during the Q4 season. For example, tag products that you upload for Black Friday "BF" or "Black Friday" Tag products for Cyber Monday "CM" or "Cyber Monday"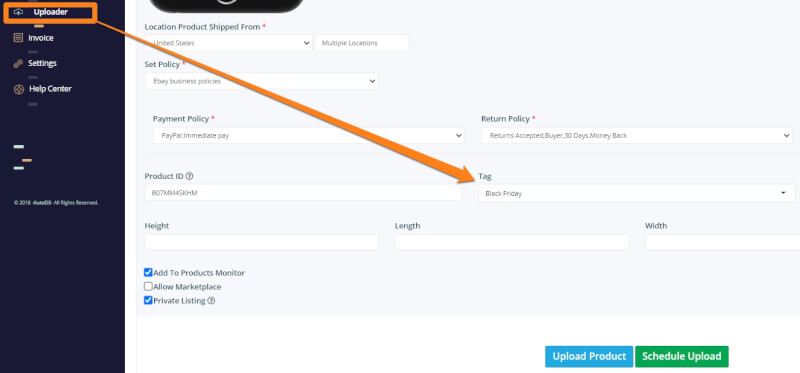 When Cyber Monday ends by the beginning of October, open up the tags that you created for Black Friday and Cyber Monday. Analyze all of the performance of your products during the events.
Delete the ones that didn't perform well. Keep the data for the products that sold well to make it even bigger next year!
Stay Competitive – Don't Be Greedy!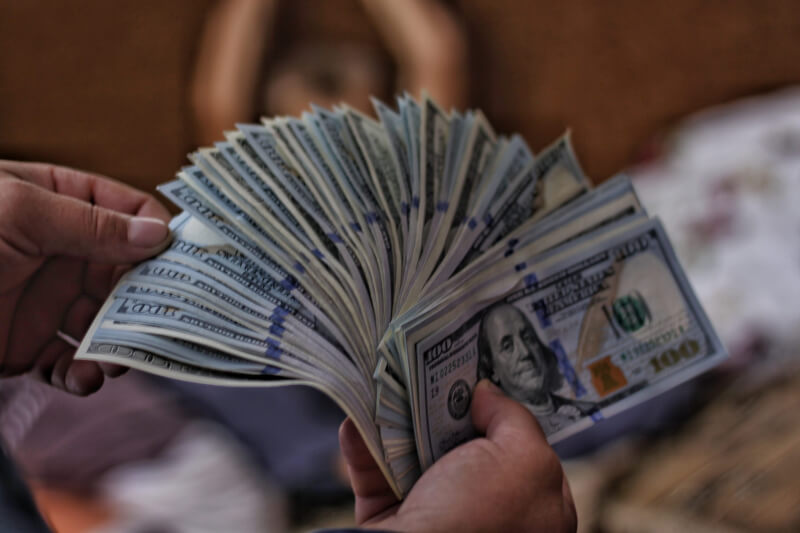 Consumers are always fishing for the best deals on Black Friday and Cyber Monday. Aside from diversifying your supplier list, you'll need to stay competitive with your price tags. You need to give a little to get a lot. Lower your prices enough to maintain a steady profit. 
All of your competitors are trying to make their best Black Friday and Cyber Monday deals, so don't try to get too greedy. It's better to have more sales with slightly less profit than fewer sales. Now you are two steps ahead of your competition.
After the events, use your tags to quickly open your Black Friday and Cyber Monday listings and increase the prices back to your standard profit settings. 
How to Create Discounts On Your eBay and Shopify Stores?
On Black Friday and Cyber Monday, consumers want to see the discounts. They want to feel the deal. There are ways for you to create discounts for the buyer to view and apply, which motivates them to proceed to check out and buy. It doesn't matter whether you are dropshipping on eBay or Shopify, as both platforms support applying buyer discounts.
eBay Discounts
On eBay, create offer volume price discounts that apply a discount percentage to the buyer when the buying quantity is more than one. For example: Buy two hats and save 5%, buy three hats and save 10%, and so forth. You can choose the discount percentage for each quantity on each listing or all of them.

Send Offers To Watchers
Also, you can send offers to eBay watchers. To do it, click on "listings" in your seller hub. Then, click on "Send offers-eligible" You'll be able to view all of the listings that are eligible for sending offers, and you'll be able to do it from there.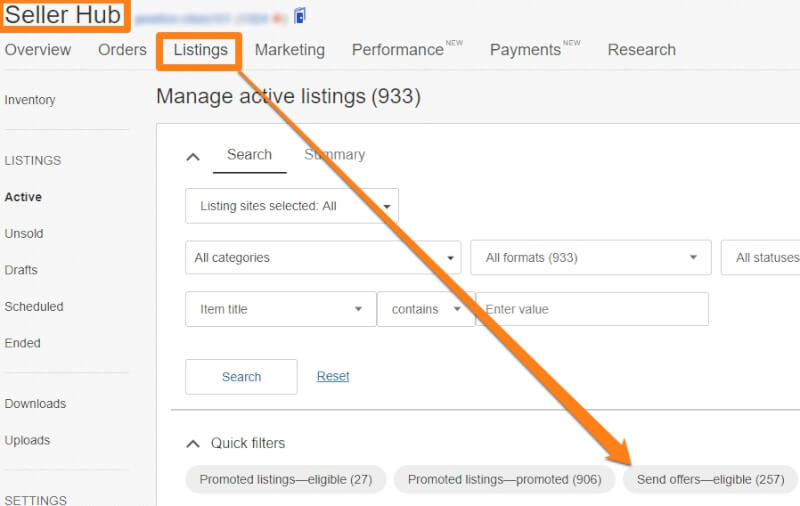 Shopify Discounts
On Shopify, create automatic discounts that apply during checkout. You can set the discount type, conditions, and amounts in a creative way. For example, buy two products and get $5 off your total value. Or, purchase $100 worth of products and get 10% off the total. Use this tool to make an impression on the buyer. It will trigger his impulse to buy, and make an upsell on the way.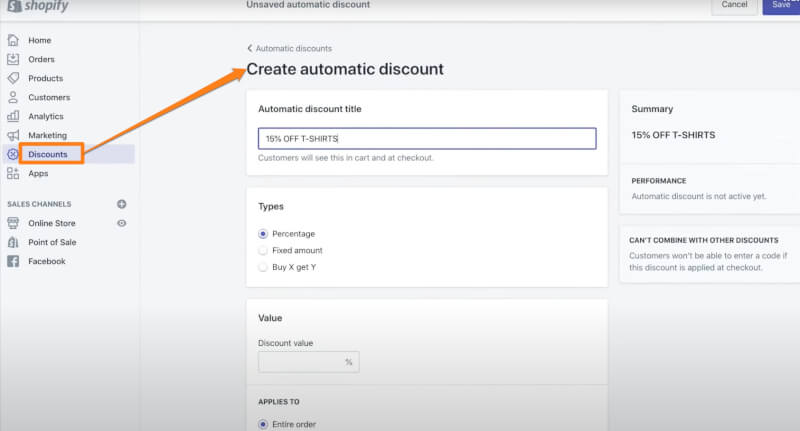 Another smart marketing strategy is using pop-up apps to get those discounts right in front of the buyer's face. But not the annoying pop-ups that nobody wants to see. Some are very creative and cause the buyer to engage and take action. 
For example, the Spin to Win is a popular app that lets you put a spinning discount wheel on your Shopify store. Modify it to a Black Friday or Cyber Monday theme to create the full effect.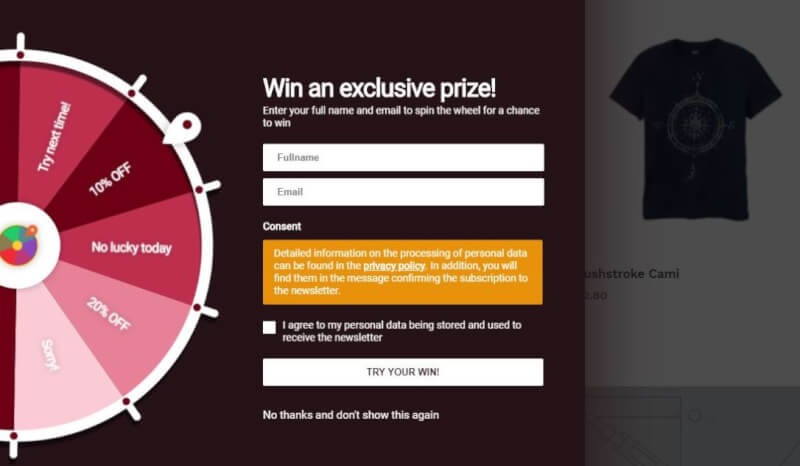 Email Marketing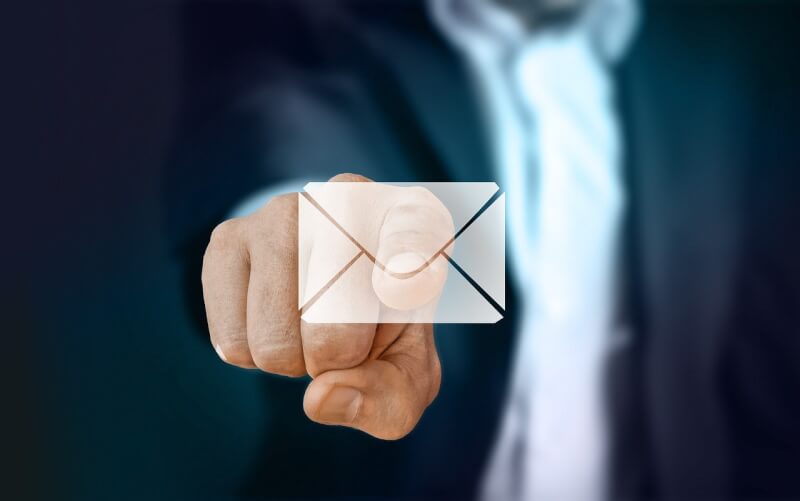 Having an email list is a powerful tool to retain your store traffic by giving your customers a reason to stay in touch. Email marketing builds long term relationships with your buyers, helps drive more sales, and is controlled by you and only you. 
And if you're the one creating the email campaigns, you're not paying some ad agency to do it for you. Many established stores do not rely on paid advertising once they build a big enough emailing list. If you don't have one, start making one now. It doesn't matter which platform you are dropshipping on.
Shopify Email Marketing
To build your email list on Shopify, create personal subscriber discount codes to get potential customers to send you their email address. With apps like Personal Discount, the customer will get a discount code sent to his email address once they subscribe. It is a proven method to push the buyer to action. That is why this is a great way to start building up your email list. 
Once you have a few hundred email subscribers, use Shopify's email marketing tools to create your first email campaign. They have different templates to choose from, and tools to analyze the effectiveness of your campaign—these marketing tools are a great way to start and evolve around email marketing.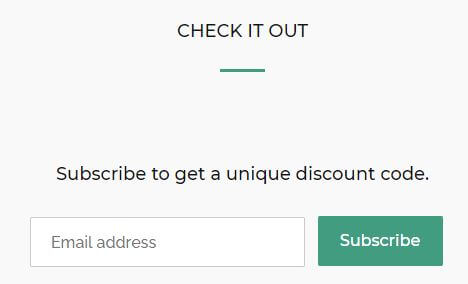 eBay Email Marketing
On eBay, you can add a "Sign Up for Store Newsletter" link that will appear in your store header. You can also create a signup link on your listings and store pages. Click "Create a link to a Store page" in the HTML Builder page (from the "Manage My Store" section," and select the "Sign Up for Store Newsletter" option from the pull-down menu.
You can manage your email list and send emails through eBay's platform without any third-party applications. Head to My eBay → Marketing Tools → Email Marketing to get started.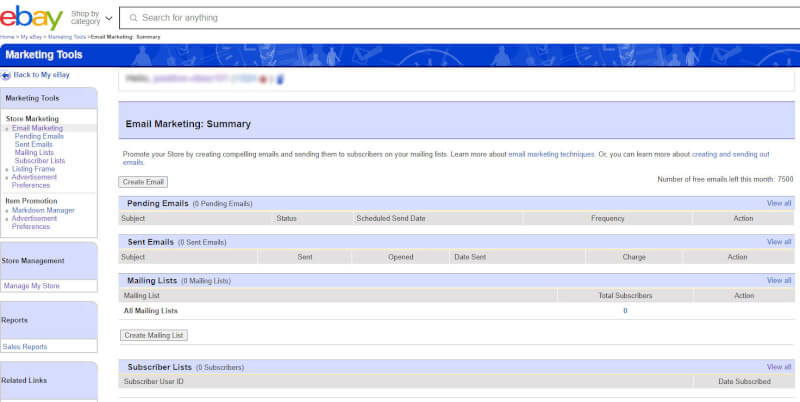 Also, in case you are not using the automated messages to buyers, then now is the time to do it. It will help you send messages automatically to your customers and increase your feedback score by over 60%.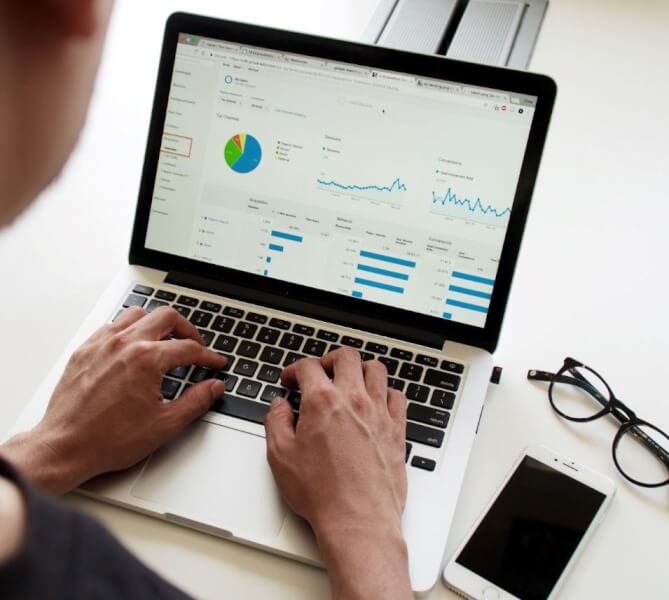 The difference between a successful store and one that doesn't sell is the amount of product research invested. The more you work on product research, the better your results. There are paid tools to do the job for you, but they won't get the same results, and will never find the real gems the way your brain can.
The trick is seeing what's going well for other sellers. Use websites like AliExpress, eBay, Amazon, etc. to see the hot and trending products.
Upload those products along with products that are similar to them. Finding variants like different colors or sizes from current trending products can turn into winners.
Test your products, and analyze their performance after one month. Delete the ones that didn't perform well. Keep the ones that sold well, and upload more products that are similar to them.
Building a successful store is based on conducting thorough and ongoing product research. This research phase requires a lot of hard work, which pays off in the end.
What To Sell During Black Friday and Cyber Monday?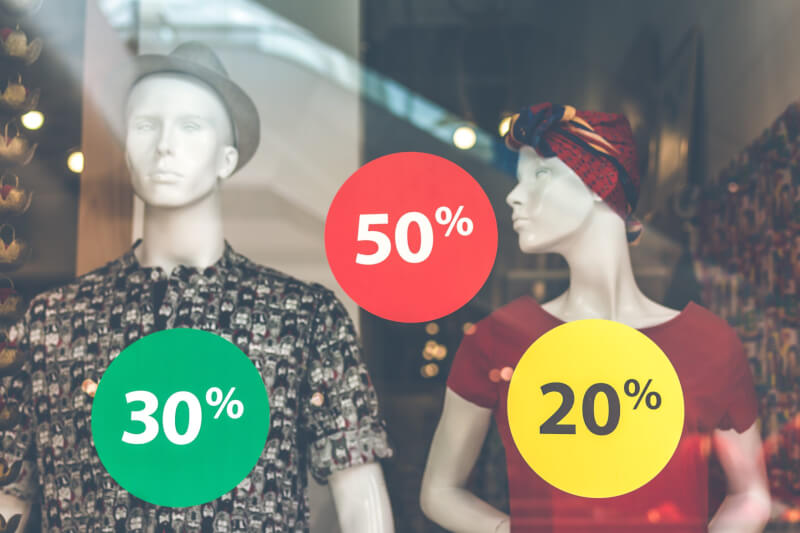 Since these two events don't point to a specific product category or niche the way other holidays do, you don't need to worry about having a niche-specific store. Buyers are looking for one thing and one thing only – a good bargain for their transaction. Therefore, as mentioned above, product research is the key to making it during these events, just as it is the key to a successful store in general.
To help you with this, let's go over the best selling product niches for 2020. Use them to create new ideas on products that are similar and fall under the same or similar categories. That is the heart of successful product research, and where you will find your next winner.
1. Couch Covers
Since most of the world population is at home, some have kids and pets running around making a mess around the house. Others are just looking for a decorative touch to their sofa. Either way, couch covers are a rising trend this year. They have tons of different colors and variations which you can choose. Your product research practice starts here.
Check out the growing interest in couch covers this year, according to Google Trends:

2. Minimalist Jewelry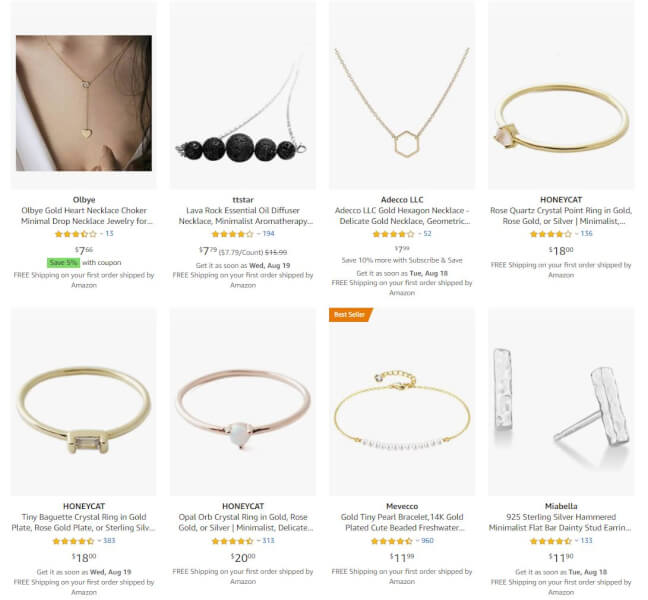 Being a minimalist has become a new trend this year. Minimalist products have a lighter, more elegant look and feel. Being a minimalist is not just for jewelry – but in our case, it's a rising trend this year. 
While jewelry is a very general niche, adding 'minimalism' already helps break it down to a micro-niche. Break it down even further to the type of jewelry, such as necklace, earring, bracelet, etc. And further down to sizes and colors to nail your next winning product. The more you break it down into pieces, the higher your chances are of finding a gem.
3. Athleisure
Home fitness is on the rise since the start of the COVID19 pandemic. People want to keep their bodies healthy since they are mostly sitting at home and not getting enough exercise. Because of this, the athletic clothing category is experiencing a spike in sales this year.
The Google Trends graph shows the rising interest in home fitness. Check out the increased rate since March (the beginning of the worldwide Coronavirus):

Remember, this is a general category. Although it is highly trending this year to spot the winners, you will need to work on your product research. Break it down to its subcategories – Running clothes, workout clothes, yoga clothes, training shirts, training pants, socks, men, women, etc.
See what is working well for other sellers, imitate it, and search for similar products to upload to your store.
4. Portable Car Vacuum Cleaner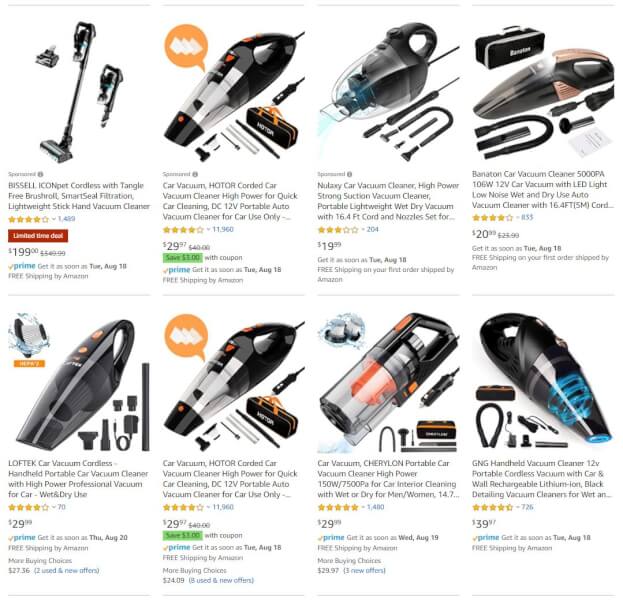 Another rising trend this year is portable car vacuum cleaners. Since people have more spare time on their hands, many turn to clean their homes and cars. Because of this, many portable vacuum cleaners are selling a lot more this year. Check out the drop in March according to Google Trends, and the rise since then has already passed last year's numbers:

Use your suppliers to search for the different variations and forms of portable car vacuums, and upload them to your store. Once your store starts to fill up with trending products in demand, you will begin to notice the increase in sales.
5. Baby Nail Trimmers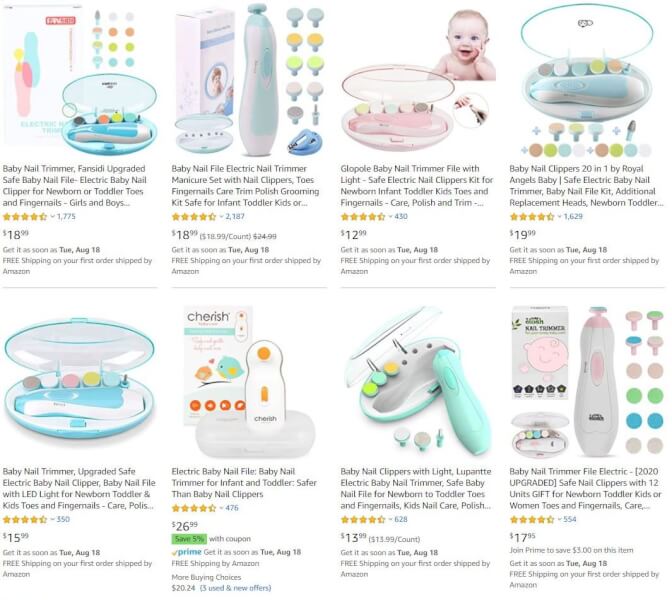 Last year, baby nail trimmers were not a popular product. Besides a spike in sales in December, they weren't so popular before and shortly after. But since March (the start of COVID19), many things have changed in the consumer's behavior, including this niche.
Parents are taking more care of their children's hygiene, which is easier to notice since they are around them more during the day. Check out how this niche rose in popularity this year, according to Google Trends:

Add them to your arsenal of hot products to sell this Black Friday and Cyber Monday. Continue your product research to find products and micro-niches, similar to the products recommended here.
 Also, try finding new trending product categories on your own. Remember – the more work you put on product research, the more successful you will become in finding hot products that will sell. Plus, the process becomes more comfortable the more you work on it.
Automate Your Uploads And Save Countless Work Hours

It is no secret that uploading a lot of products to your store is very time-consuming. On the other hand, the more in-demand products you have in your store, the more sales you generate, which means more profit. And that's what we're all here for.
Therefore, if you want to make it to the big numbers, time won't be on your side, even when using a dropshipping tool to automate the upload process. Your store will still sell, but much less than it could have if you had time to upload more listings. 
That is why we have the AutoDS Helper chrome extension. Its primary purpose is to turn hours of work into minutes, and that's what it does. Use it to grab all of the products on the supplier's page and upload them to your store. Better than having to upload them one by one, isn't it?
The process is simple. First, download the AutoDS helper extension.  Then, open the supplier page with all of the products that you want to upload. Click on the AutoDS icon on the bottom right, then click "Extract." The list of product ids should show up: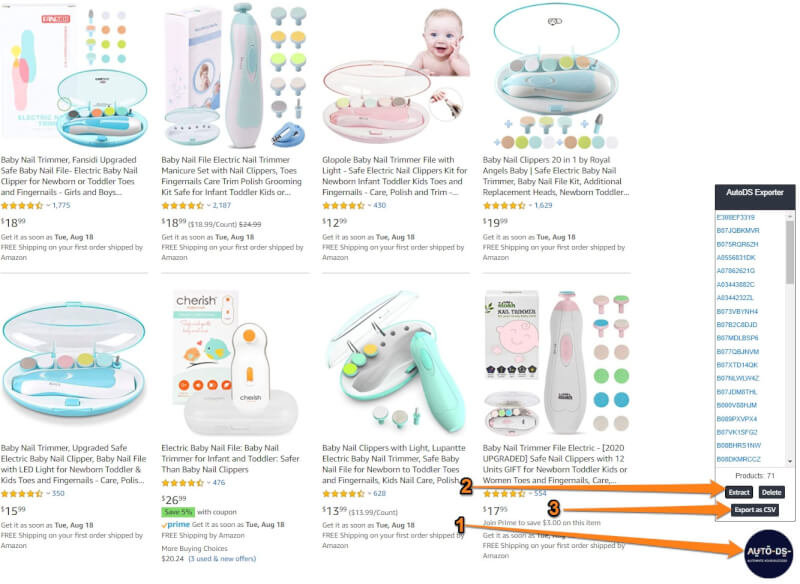 Click on "Export As CSV" and download the file onto your computer. Then, head over to the Uploader section on AutoDS. On the bulk upload section, click "Upload Bulk From CSV". On the browser pop-up, choose the CSV file you downloaded: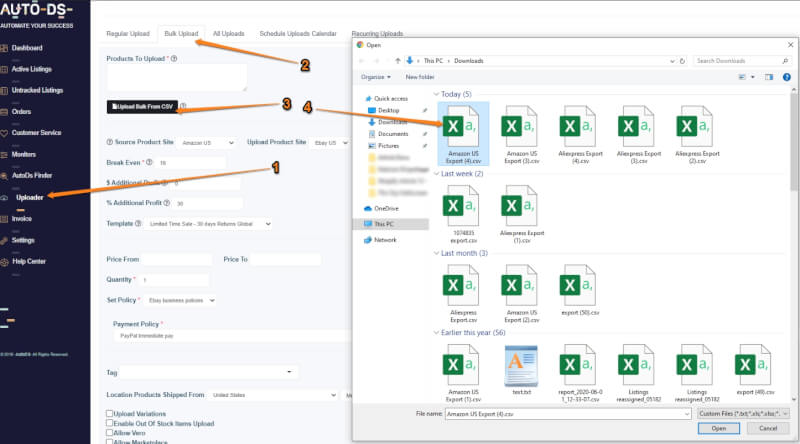 Configure your upload settings – break-even/profit, template, business policies, etc. Use the "tag" feature to create a tag called "Black Friday/Cyber Monday"
After the events are over, you will be able to use the tag to see how the products performed. Multiply your success by uploading similar products to those that perform well, while deleting the ones who didn't generate any sales or interest.
In Conclusion
Black Friday and Cyber Monday are the two main events that every consumer and online store owner anticipates during the year. It marks the highest sales record for Q4, our favorite sales time of the year. Implement the strategies in this guide to prepare your store accordingly. Your business will grow more significantly compared to the year before and will continue to grow every year.
And if you haven't started yet, now is the perfect timing to do so. Your store will start with a boost, and climbing will be easier than starting at any other time of the year. 
Happy Black Friday and Cyber Monday! Enjoy the growth, sales, and profit!