Learn how to use the AutoDS coupons finder. It's the best method to increase your profit margins by up to 50%.
Grab coupons on the automated orders feature in AutoDS
Around 8 months ago we released the grab coupons on the automated orders feature in AutoDS. After we released this feature we noticed that people are making a lot of money only from these coupon products. The only difference in these products is that they have coupons on Amazon. In this way, our system grabbed the coupon from Amazon automatically, and our users made much more money.
The profit on these products can go from $2 extra profit and up to 50%. We also noticed the same thing happened with expensive products (the products that are more than $200).
What is the coupon products and how it looks on Amazon?
Before, I want to share with you another reason why we see that this is the most profitable way to do dropshipping from Amazon to eBay.
We added this information on the orders page "money saved by AutoDS", this only includes profit from the coupons!

This is one example of a coupon product on Amazon, as you can see we have an extra 40% off coupon for this product, which means around 8$ extra profit.

Another example from the Whatsapp group of one of our mentors Clayton. He shared with us a student who made $80 profit only because he uploaded one Coupon Product.

Here is another example of a client whose name is David. He made 30% extra with a product which he uploaded automatically using AutoDS Coupons Finder.

So David made another extra 34$ only by clicking on the Coupon, without mentioning the regular profit he made from this product.
How we can get hundreds or thousands of products with coupons fully automatically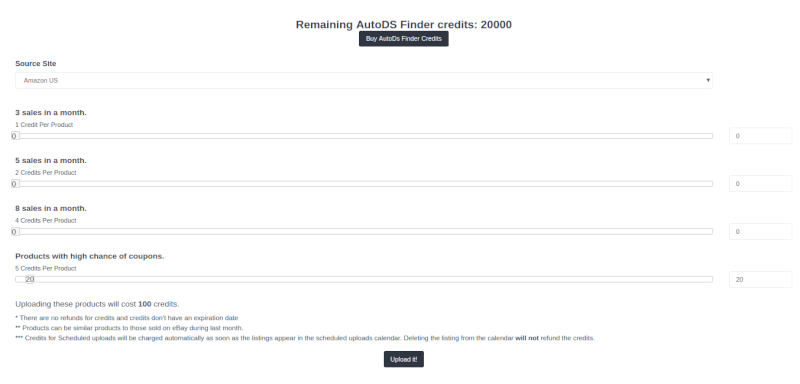 If we go to AutoDS Finder, we can see a new category. A category of products with a high chance of coupons. These are products that we Scan from Amazon. We scan Amazon every day to search and define all of the coupons products in Amazon. When we find the coupon products, we add them to our database. Then, with one click, you can upload as many products as you want to your eBay Store.
For example, we want to upload 20 products that have coupons on them. All we have to do is to type 20 and then click upload. Afterward, you will be sent to the bulk page, in this page, you can just upload these coupons products by clicking upload products, or you can create a recurring upload.

and then every day at the same time, 20 coupons products will be uploaded for you totally automatically.

We recommend you upload between 10% and 20% of all of your products as coupons products because these are not the best selling products, but when they sell you can make much more profit on them. The profit can be up to 50% – Crazy right?
Also, you must upload coupons products on a daily basis, because the coupons are changing frequently. This way we have a higher chance of selling products that still have coupons on them.
Conclusion
Overall, this is one of the most profitable way to make profits for Amazon to eBay Dropshipping. As the profit margins are much higher and most of the tools do not support coupons on their auto ordering systems, with the AutoDS coupon finder, we'll have a huge edge over our competitors.
But wait, it doesn't stop there! Since the dropshipping industry is filled with competition, we need to continue to differentiate ourselves to ensure our dropshipping business is successful. As such, we need to learn about the best marketing practices. Therefore, here are some great articles outlining the best ways to market our stores: