One of the most talked-about subjects today in the world of worldwide shipping (needless to say, dropshipping), is the expected increase in tariffs for parcels from China. 
Each dropshipper has felt the delays and increased shipping times while dropshipping from China due to COVID-19. But now there's another issue on the rise that will affect shipping rates from China and also other countries, and it is happening as we speak.
Why Are The Shipping Tariffs From China Going Up?
Why is this happening, you ask? There are two main factors – one which has already started and one which will begin soon. COVID-19 and The Universal Postal Union. Let's learn the facts:
COVID-19 (a.k.a CoronaVirus)

COVID-19 has already affected shipping prices in the last few months. Long-haul flights are barely available. As a result, there is a considerable reduction in the number of flights, which caused an increased price of air freight from China.
We're talking a 10X price difference from 0.75 dollars per kilo to 7.5 dollars! Can you believe these numbers?
The Chinese, in many cases, use commercial ground services such as UPS to get discounts when filling up their vans. But due to the first months of the pandemic, e-commerce had boosted, causing capacity problems for the shipping companies, resulting in no extra discounts.
If you want to learn about the best items to sell during COVID19, we already created an article about the best products to sell during the Coronavirus.
Universal Postal Union

The second and most important factor is the Universal Postal Union, or UPU, which formed 146 years ago. 
In October 2018, President Trump threatened to withdraw from the UPU if postal rates were not increased (a result of the Chinese-American trade war).
In 1960, A list of developing countries received lower tariffs to help them stimulate exports to other countries. China was on this list and had since then been receiving an export discount from UPU. 
The main idea behind this list is to give developing countries the benefit of getting lower prices for shipping so they can increase their exporting. On the other side, we find the rich countries that have to pay higher shipping prices.
Today, even though they are a fully developed country, the tariffs have not been updated.
That's right, China is still receiving third-world country discounts, and the USA wants to put an end to this. 
In September 2019, UPU approved that starting from July 2020, countries that import more than 75,000 metric tons of parcels and mail will be able to set their shipping rates. 
The USA and Europe fall under this category and will take advantage of this approval.
What Are The Shipping Prices From China After July 1st, 2020?
On April 6, U.S. Postal Regulatory Commission posted their updated rates for small packets, which came into effect July 1, 2020.
Here's the chart showing their updated shipping rates:

That's correct – $2.868 for any item under 1kg or $3.953 per kg. Can you believe these rates?!
While not all selling platforms have adjusted themselves yet to the updated rates, some selling platforms have already added the shipping price to their product price but still offer free shipping. 
How Shipping Prices Will Affect Cheap Chinese Products
These scrapbooking stickers weigh in at 0.01kg cost just $0.01 per piece with free shipping to the United States from AliExpress (Chinese warehouses).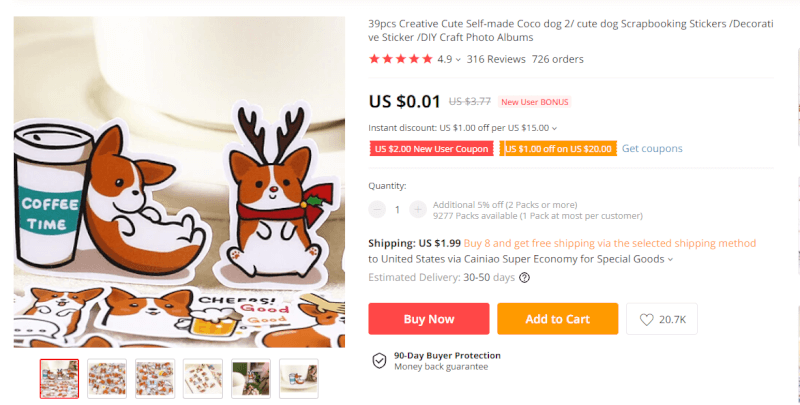 According to the U.S. Postal Regulatory Commission's updated rates, even cheap packages such as these will carry a shipping price tag of $2.8. That's a deal-breaker from the eyes of an average consumer.
How Shipping Prices Will Affect Expensive Chinese Products
This Electric Waffle Maker machine weighs in at 2kg and costs $43 with free shipping to the US. Those 2 kilos will increase shipping costs by no less than $7.9.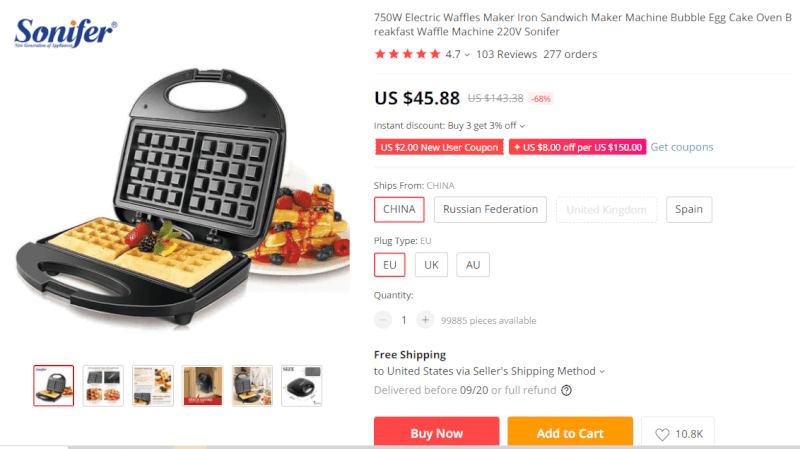 Can you imagine how this can affect your overall profits at the end of the month? Worry not, as we can assure you that e-Commerce, let alone dropshipping, will continue to be the leading horse in the race.
How Will These New Shipping Rates Affect Dropshipping?
We know that COVID-19 and UPU are leaving their marks on the way that global shipping works. But any experienced dropshipper with a few years in the field can tell you that within every bump on the road, new windows of opportunity appear.
The Chinese have already adapted to the new shipping rates by setting up distribution centers in North America in Europe. This way, they can escape the increased shipping prices that will affect the competition and overall export in the Chinese market, and dropshippers can keep a higher profit margin.
On top of everything, increased shipping prices should not be an overall problem for dropshippers. Yes, there will always be competition, and it may seem to be fierce at times, but as long as you are doing your product research the right way and taking advantage of the big numbers rule, you will learn that you don't always need to be the cheapest or work with tight margins to close the sale.
So while you might not be selling stickers or other cheap items that will not be worth their shipping price, keep in mind that there are millions of different products and not just from Chinese warehouses. Dropshipping has never been stronger in 2020, and it's continuing to multiply.
Also, the shipping prices will get increased for everyone, which means that the competition will stay the same. So we can confidently say that as dropshippers, we will not get affected by these new changes regarding the shipping rates as any other dropshipper will have the same conditions.
We hope that this explanation helps you get a grasp on the new shipping rates and how to deal with it in the dropshipping world as its effects will increase while we reach 2021.
Do not be afraid to crank up your margins and enjoy extra profits at the end of the month.