This article has been updated! Check it out here:
25+ Christmas Product Ideas To Boost Your Holiday Sales
Christmas is just around the corner! Friday, 25 December marks Christmas 2020, and this year will definitely be an exciting one. It is no secret that eCommerce is booming this year, and Christmas is the perfect time to be in the dropshipping business. 
Christians worldwide celebrate Christmas to commemorate the birth of Jesus Christ. For children, the holiday's icon is Santa Claus, who flies in on reindeers with presents from the chilly North Pole.
For kids and adults, Christmas is a beautiful, decorative holiday symbolized by the Christmas tree. Filled with ornaments, stocking, and Christmas presents under the tree.
Christmas is celebrated through family dinners, parties, events, and buying many gifts for the beloved. That's why Americans spend a lot of money before Christmas. And this year, most of the holiday spending will be online, since less physical storefronts are available due to the coronavirus. 
In this article, we will share with you the complete Christmas dropshipping products ideas to sell on your dropshipping store, along with many tips and tricks to make the most out of the Christmas holiday.
How To Leverage Christmas to Spike Sales During Q4
Americans spend millions of dollars on Christmas related products and gifts for their family and friends. Get a grasp on the numbers shown on Statista's chart displaying the average spending on Christmas gifts in the U.S.: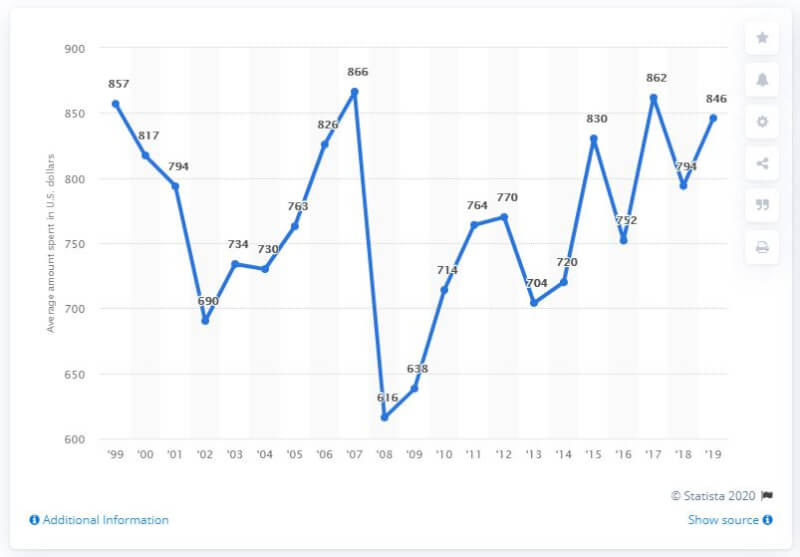 To maximize your profits this Christmas holiday, you will need to prepare your store accordingly. While it is essential, there's more to it than just uploading Christmas products to your store. This article will point you in the right direction with tons of product ideas and tips for the upcoming Christmas, making it much more successful than it ever was. 
Dropshipping Suppliers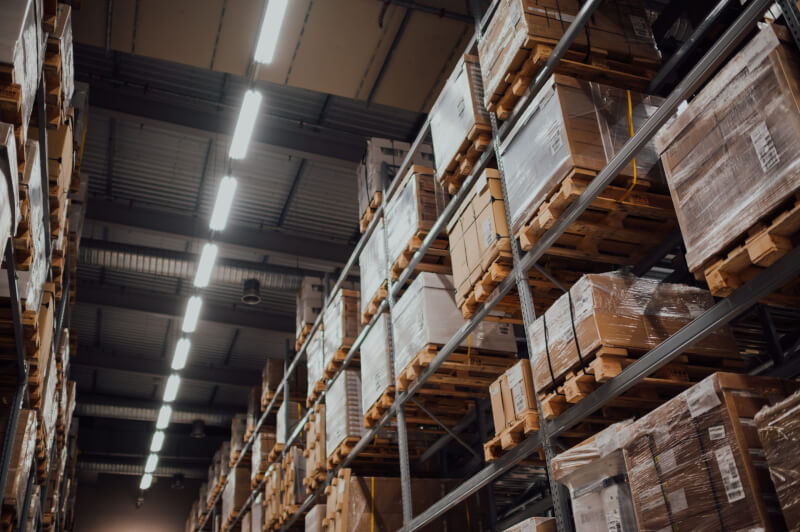 To start, you need to know that you have to work with more than one dropshipping supplier. Otherwise, you are limited to fewer product categories and niches, which is also tightening your competition. Even if you're working with a huge supplier, you need to add more suppliers to grow.
So, if you only have one dropshipping supplier on your list, add another one or two. It will help differentiate you from your competitors while adding a broad range of hot selling items – Christmas dropshipping products you never thought to add. Every successful dropshipper is working with more than one supplier. 
Now is the best time to start a dropshipping business, if you haven't done so yet. We are entering Q4, which is the best time of the year to be a seller. Starting now will help boost your first sales, and start growing your new eCommerce business. 
Start with two suppliers. Some good examples are AliExpress, Costway, Walmart, Banggood, Amazon, Homedepot, Wayfair, Costco, Overstock, and Chinabrands. 
Having more suppliers gives you more flexibility. Being flexible allows you to grow your business. Working with three suppliers is enough to gain flexibility without being too time-consuming or stressful.
If you want to learn more about multiple suppliers, we recommend you to check this article about the top 5 dropshipping suppliers for 2020.
10 Dropshipping Products To Sell During Christmas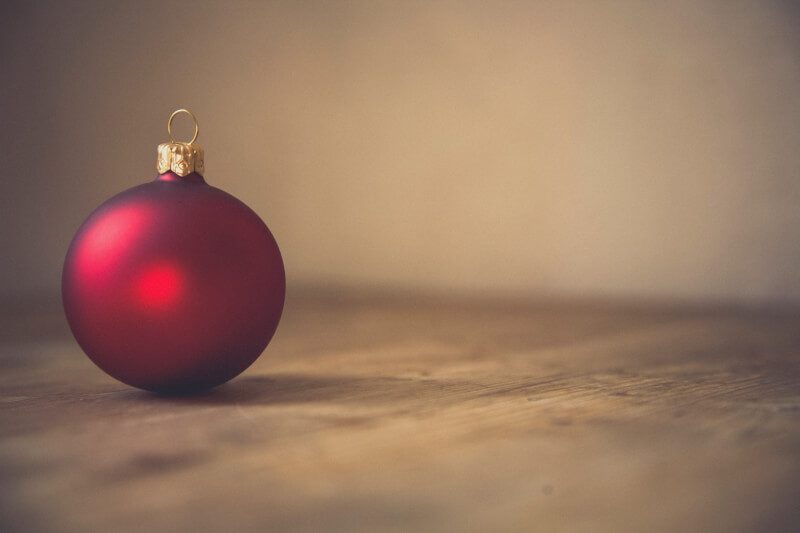 Christmas products can be made specifically for Christmas (for example, Christmas tree, stockings, ornaments, etc.). On the other hand, they can also be general products, products that aren't made for Christmas, but they still spike in sales before the holiday. That is mainly because they are bought as Christmas gifts.
To help make Christmas successful this year, we've arranged a list of ten handpicked Christmas product ideas. From items that have proven themselves year after year to new trends this year, following this list will maximize your profits during this holiday season.
1. Couples Bracelet
Couple bracelets are making a comeback this year and are a must for this Christmas. What's great about selling bracelets is that it's hard to put a price tag on it. As a buyer, it's hard to know what the exact price of a bracelet should be. If it looks good, they're going to buy it. Meaning, you can allow yourself to rake in higher profits by selling them. 
People buy couple bracelets as a Christmas gift for their significant other. While it is not Christmas themed, it still makes for a great gift. And this year, it is expected to break new records.

According to Google Trends, couple bracelets are at their peak right now since the beginning of the year:

There are a ton of different variations on "couple bracelets" Use selling platforms to see what's working well for other sellers, then use your supplier list to upload those items to your store. Remember to always look for items that are similar to those that sell.
2. Christmas Clothes
People want to dress up the best that they can to feel the holiday spirit. Especially children, who wait all year for Christmas to arrive. Christmas clothes include everything you can think of, all themed with the Christmas colors and spirit.
You will need to break it down to micro-niches to find the hidden gems which will become bestsellers. Product research is the key, to see what's selling well for others, and looking for similar products. Here are some examples of which clothes and apparel you can find and sell for Christmas:
2.1. Christmas Sweaters
Christmas sweaters sell in all different sizes and can be fit for the whole family. Get them in all of their variants from your suppliers.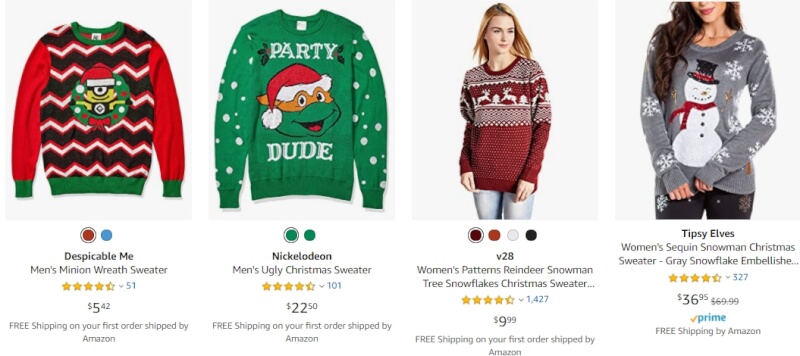 2.2. Christmas Socks
Socks sell a lot during the winter season. Christmas style socks sell even more right before the holiday, so be sure to add them.

2.3. Christmas Leggings
Christmas leggings for women add to the Christmas holiday feeling. They usually come in different variations. Upload them in all of their variants to increase the chance of selling more than one variation.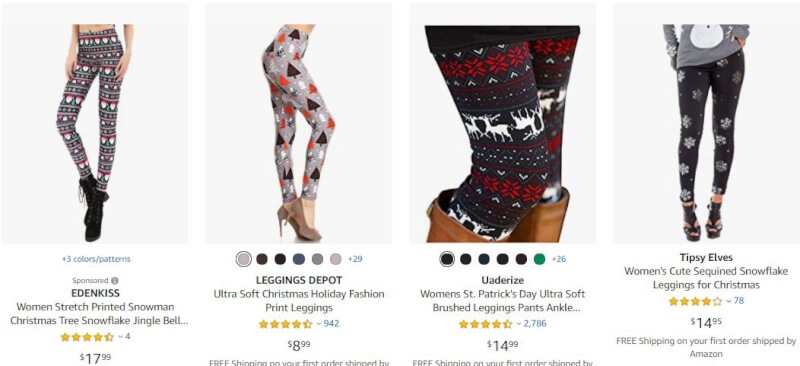 2.4. Christmas Family Pajamas Matching Sets
Matching Christmas pajamas sets for the family are a creative way for everyone to feel a part of the holiday celebration. Some sets include something for the pet, as they are also a part of the family.

2.5. Santa Claus Outfit
Many people dress up as Santa Claus to surprise their kids. Santa Claus is the icon of today's traditional Christmas. He flies over chimneys and drops presents for all of the kids who behave well during the year. So this is one of the best Christmas dropshipping products to sell on your dropshipping store.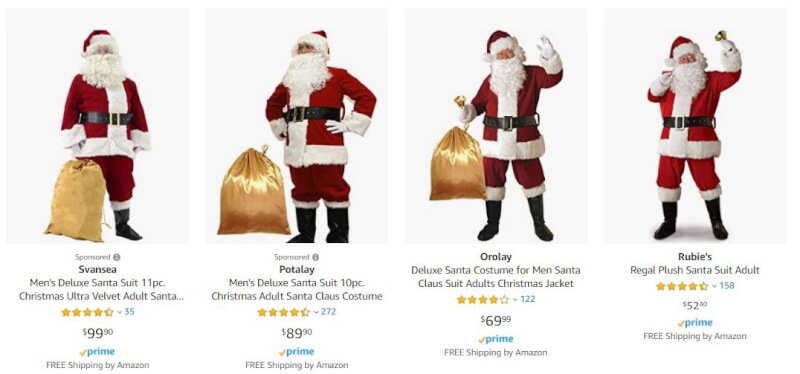 2.6. Warm Slippers
Even though they don't have a Christmas theme, they spike in sales during the winter season. Many buy them as a gift for Christmas, which raises their demand even more during this time.

2.7. Christmas Hats/Beanies
Different types of hats can be worn for Christmas. Some come in singles while others are sold in bundles. Add them to your collection of Christmas clothes.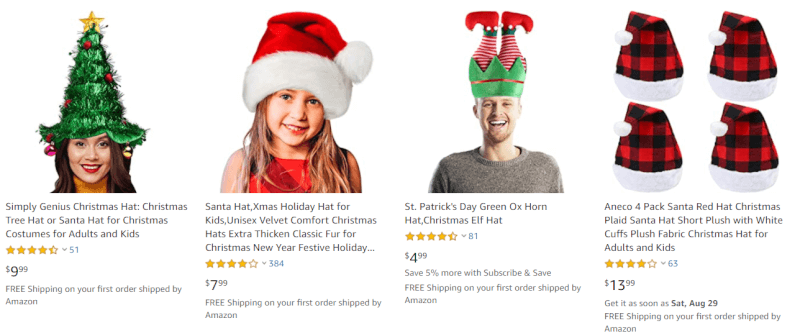 3. Christmas Party Decorations
This party starter sells in millions before Christmas. Christmas party decorations can be either indoor or outdoor. Once again, it is a general niche that needs to be broken down into micro-niches. Then, you will start finding the hidden gems. 
Here's a list of Christmas party decorations that you need to get you started. Remember to search for them using more than one supplier to make the most out of your profits:
3.1. Christmas LED String Lights
LED string lights are bright, shiny, and help light up the Christmas party vibe. The lights come in a variety of colors and forms, so be sure to check all of your suppliers.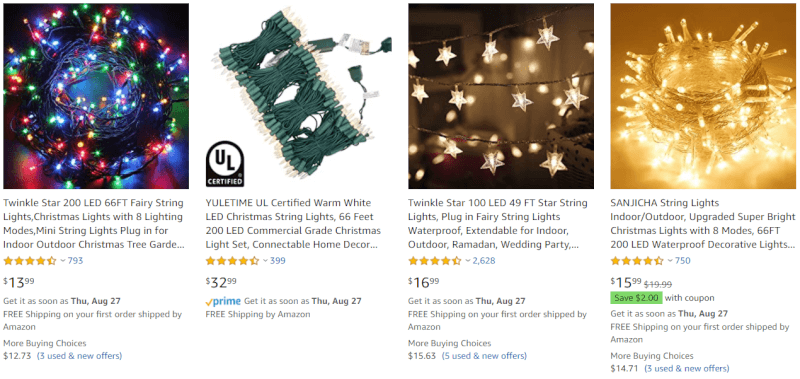 3.2. Christmas Wall/Door Sign
Decorate Christmas with festive door signs, banners, and wall plaques. You can find both indoor and outdoor variations.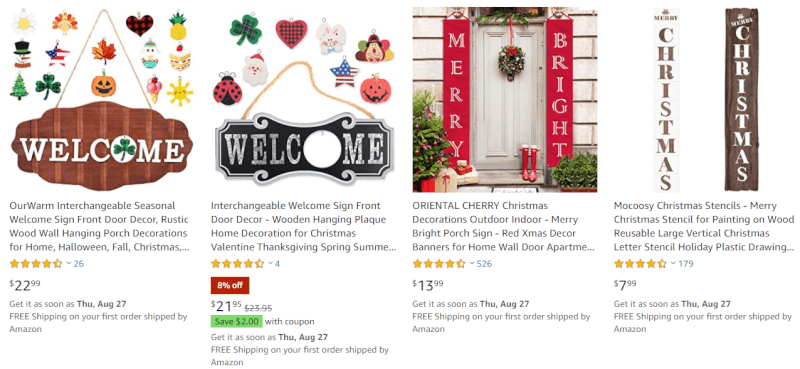 3.3 Christmas Party Supplies
Christmas party supplies range from hanging decorations to plastic plates/cups/utensils, and more. They are essential in every household celebrating Christmas.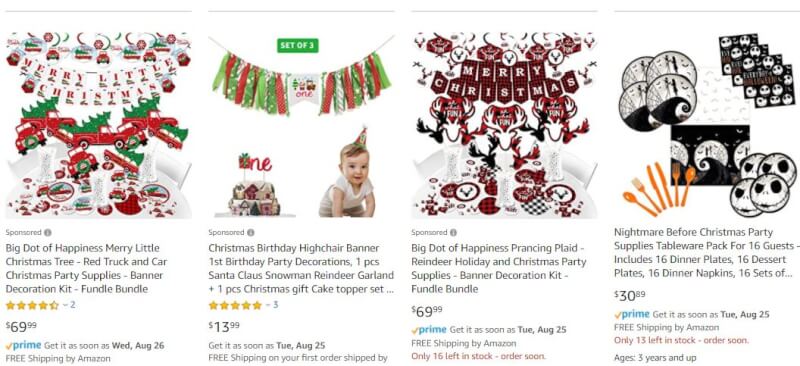 3.4. Christmas Photo Booth Props
Photo booth props take Christmas selfies to the next level. Have a quantity of two to three per listing, since they come cheap. You will have a higher chance of selling more at once, increasing your revenue. Don't miss this fantastic Christmas dropshipping product.

3.5. Christmas Stocking
Christmas stockings are a decorative addition that usually hangs around chimneys. Some fill them with small gifts inside.

3.6. Christmas Trees
Did you know that you can also dropship Christmas trees? They sell at a high price tag, which makes them one of the unique high ticket and very profitable niche to sell before Christmas.

3.7. Christmas Pillow Covers
Christmas pillow covers help decorate the beds, sofas, and couches with a holiday touch. There are many different variations and different bundle packs to sell. 

4. Mini Projectors
Christmas Eve is family time. After dinner, families gather around their living room to spend quality time together. They use projectors to make the "wow" effect while watching holiday flicks. Mini projectors, also known as portable projectors, always make a huge hit in sales before the holiday. 
Also, due to the Coronavirus pandemic, more people are going to stay in their homes and want to watch movies without going to the Cinema. This is the right time to sell mini projectors. Without mentioning that they are lightweight.

5. Home Fitness Products
Home fitness has become a trend this year since everyone is home due to COVID19. Many people are exercising in their homes. That is why fitness products are booming this year, and many people will buy them as Christmas gifts for their beloved or for themselves.
Fitness products are a general niche that needs to be broken down. Take these examples while generating your own ideas to find your next hot sellers:
5.1. Resistance Bands

5.2. Bike Pedaler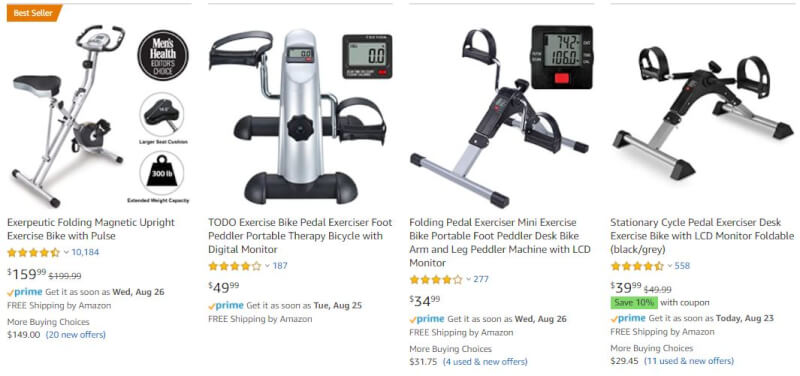 5.3. Cardio Stair Stepper

5.4. Abs Roller

5.5. Abs Toner EMS Muscle Stimulation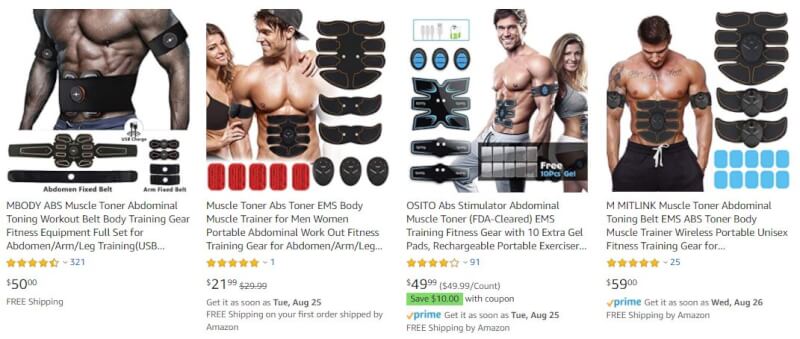 6. Christmas Wine Products
Wine is at every dinner table to celebrate the holiday. There are several ways to decorate wine bottles and glasses with the Christmas spirit. 
6.1. Christmas Wine Glass Charms
Christmas wine glass charms are made to decorate wine glasses at Christmas-themed parties, gatherings, get-togethers, and family holiday moments.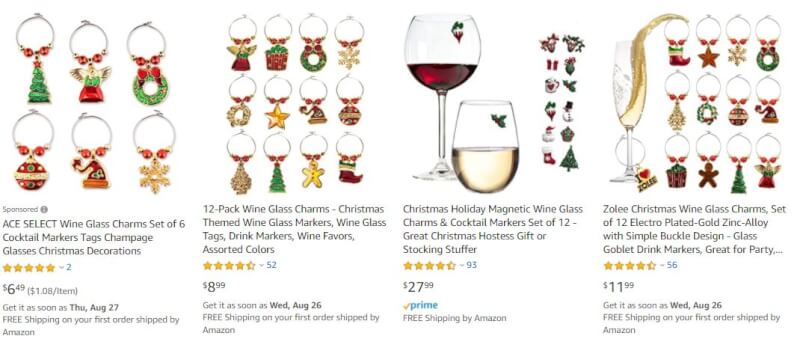 6.2. Christmas Wine Bottle Covers
Dressing up wine bottles with a Christmas theme. Another wonderful Xmas decoration for the festive dinner table.

6.3. Christmas Wine Bottle Stoppers
Replaces the standard wine bottle caps with a cute decorative Christmas theme.

6.4. Christmas Wine Glasses
Wine glasses are also available in Christmas theme sets. Search for their different variations with your suppliers to get the most out of it.

6.5. Christmas Wine Bottle Labels
These are labels that stick on wine bottles, all decorative with the Christmas theme. A perfect add-on to the XMAS wine list.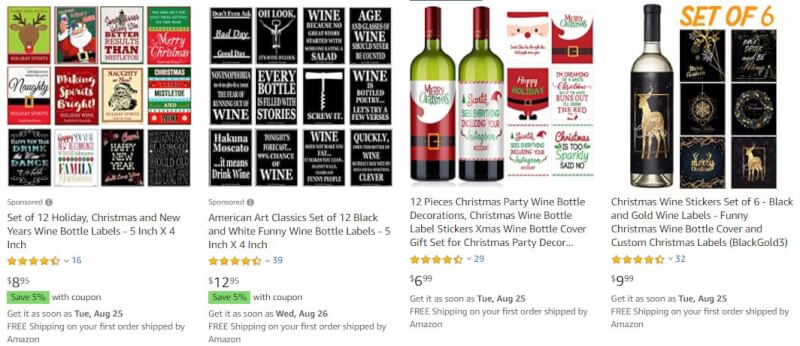 7. Toys
Toys are not usually Christmas themed, since kids like playing with all kinds of toys. Kids are now more at home than ever before, and toys are essential to keep them busy. 
Parents buy toys for their children as Christmas presents. Therefore, we've collected some of the most trending toys from this year and others that peaked last year before Christmas.
7.1. RC Helicopter
Toy RC helicopters are a great gift for kids and are always in demand. This category peaked last December right before Christmas. Upload them now to your store, and stay ahead of everyone else.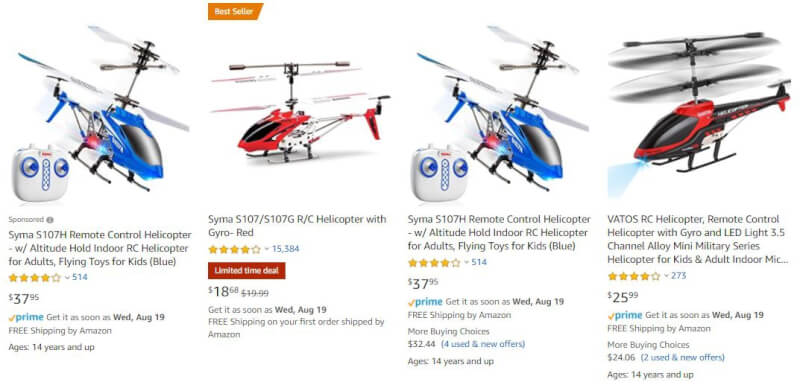 Check out how they peaked in interest and demand last year, according to Google Trends,  right before this time:

7.2. Plush Dolls
Plush dolls are a general niche that needs to be broken down into specific dolls. There are so many different types and forms of plush dolls. A little product research will get you to the hot sellers. There are also Christmas themed plush dolls.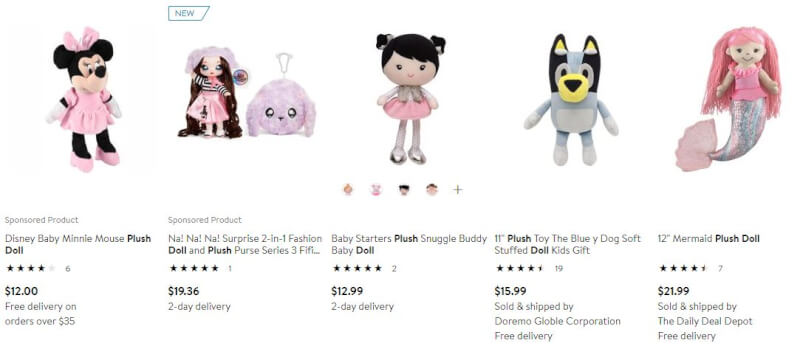 A glance at Google Trends will show you that now is the time to upload them to your store:

7.3. Toy Robots
Another significant rise in demand before December is the Toy Robots category. Kids love them and spend countless hours playing with them. There are different types of robots with different abilities, all which make for wonderful Christmas presents:

7.4. Construction Toy Sets
Children love using their creative minds. Construction toy sets fill in their creativity. Kids spend hours on construction building sets, which is a must-have add-on to the Christmas toys list.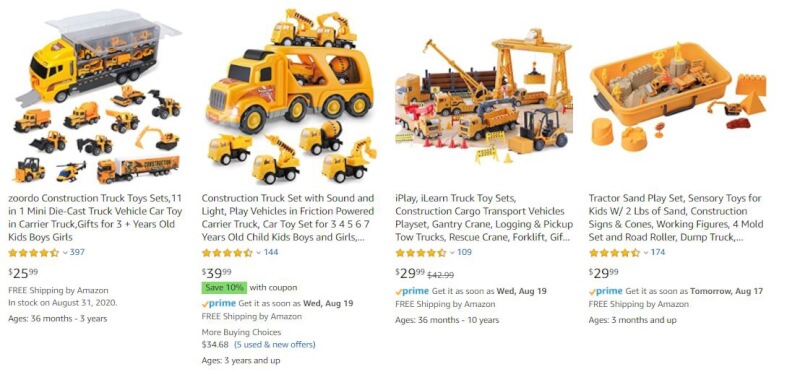 7.5. Kids Play Tent Party Clubhouse
A rising trend just before Christmas. Play tents, or clubhouses, are playhouses for children to have their own little private spaces. These products usually range from $25 and up, which makes them a profitable product to sell. Add them to your list of Xmas toys.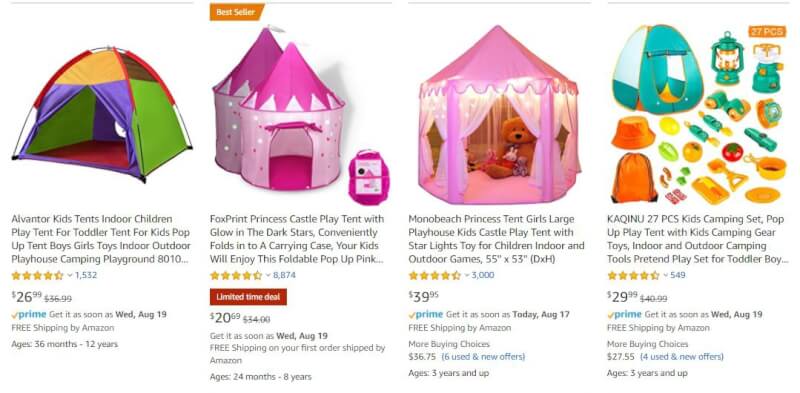 8. Christmas Pet Products
It's always good to take care of your pet, just like how they care for you. Christmas is a perfect time to show them your love and appreciation for them. Let's break down the Christmas pet products niche to some of it's best selling sub-niches:
8.1. Christmas Dog Bandana
There's no denying that Christmas themed dog bandanas are super cute. Get them in all of their variants. They sell a lot before the holiday.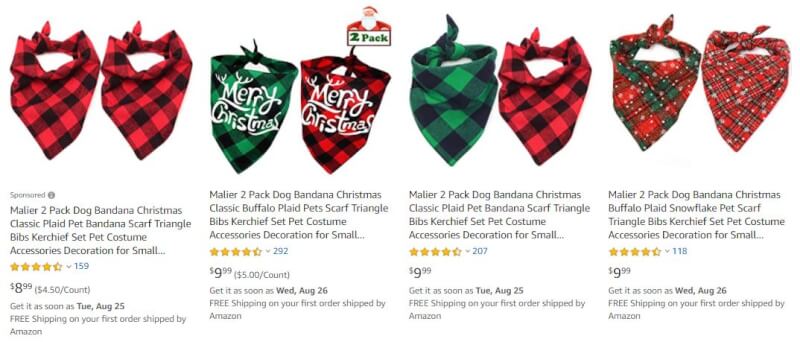 8.2. Christmas Pet Sweater
Christmas pet sweaters are available for cats and dogs alike. These sweatshirts are comfortable and help keep pets warm during the winter.

8.3. Christmas Pet Costume
Christmas themed pet costumes are also available for both cats and dogs. They are funny, cute, and add to the decorative look and feel of the holiday.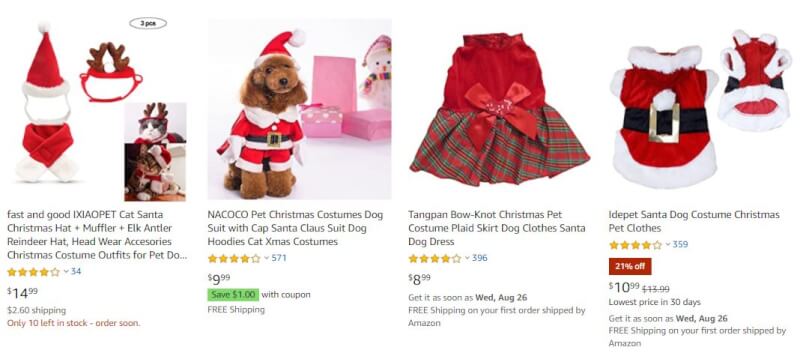 8.4. Christmas Pet Hat
Christmas themed pet hats are available for cats, dogs, and even bunnies. Add these cute Christmas add-ons to your store. Don't forget to search from multiple suppliers to broaden the range and variety of products.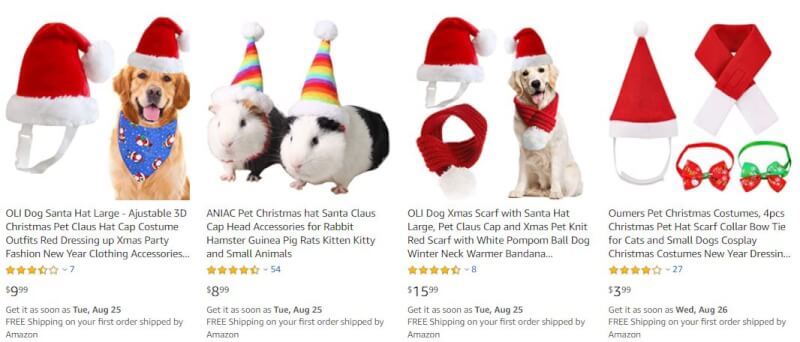 8.5. Christmas Pet Hair Bows
Christmas themed hair bows come in bundles, and are available for cats and dogs. They add a colorful and joyful feeling to the holiday and are simply adorable.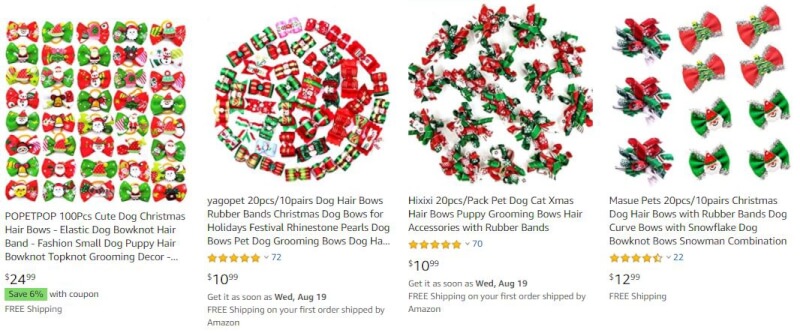 8.6. Christmas Pet Collars
Another bestseller before the holiday is Christmas Pet Collars, available to both cats and dogs. Mix them with the rest of the Christmas pet products recommended above, and imagine bringing your buyers a full holiday experience for their pets.

9. Christmas Kitchen Products
The kitchen is full of room for Christmas decorations. Search for them on your supplier's pages to see how the variety that they have to offer. Here are some of the best selling Christmas kitchen products:
9.1. Christmas Wooden Rolling Pin
These Christmas themed embossing rolling pins cut cookie dough in Christmas symbol patterns. Grab them in all of their varieties from your suppliers.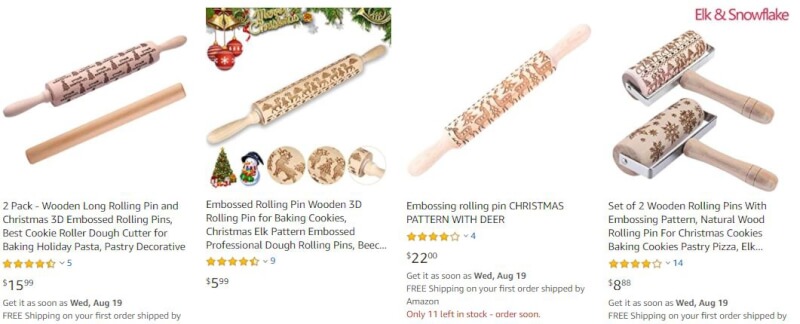 9.2. Christmas Coffee Mug
For the coffee of Christmas morning. Christmas style mugs are sold in singles and bundles. They are a joyful addition to the Christmas kitchen vibe.

9.3 Christmas Apron
Christmas style aprons are a kitchen favorite for cookers, bakers, and chefs.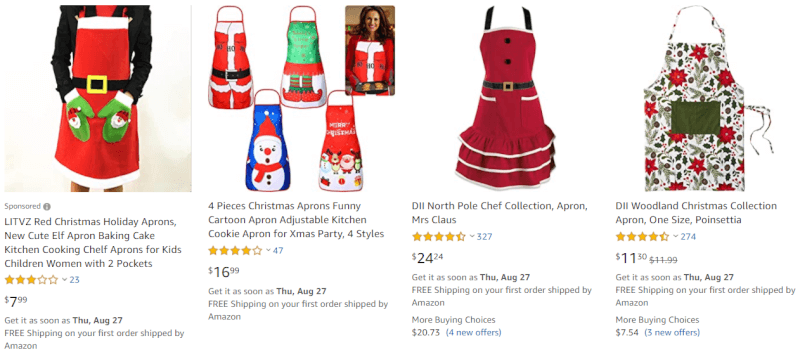 9.4. Christmas Table Runner
Christmas table runners are a creative way to decorate the table during the holiday. 

9.5. Christmas Towel/Dish Towels
Christmas style kitchen towels and dish towels add more to the kitchen Christmas feel. They sell in singles or bundle packs.

10. Christmas Blankets
Christmas blankets are a festive warming touch to the cold winter outside. They sell as bed blankets, as well as throw blankets for the sofa or couch.

Automate Your Uploads – Stay Ahead Of Time
So many Christmas dropshipping products to upload – so little time. Time is a problem we all face when trying to grow and expand. Without more of it, there is only so much work that can be done. But at the end of the day, lack of time is limiting the growing capacity.
To make the best use of your time, the AutoDS helper chrome extension automates your uploads in singles and bulk. You can grab a whole page full of products from your source site, and upload them to your eBay or Shopify store with just a few clicks. 
Use the helper tool to get your store ready with as many Christmas products as possible. This way, you will be able to maximize your profits effectively and efficiently, like the rest of the successful dropshippers.
First, download the AutoDS helper extension. Then, open the supplier page with all of the products that you want to upload to your store. Click on the AutoDS icon on the bottom right, then click "Extract." The list of product ids will show up: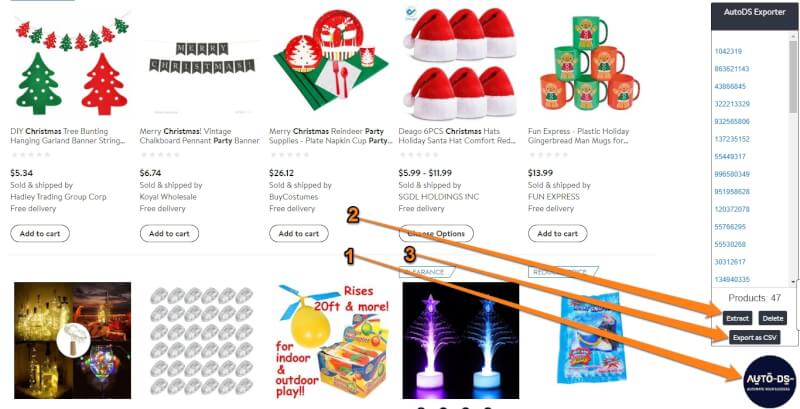 Click on "Export As CSV" and download the file onto your computer. Then, head over to the uploader section on AutoDS. On the bulk upload section, click "Upload Bulk From CSV" On the browser pop-up, choose the CSV file that you downloaded: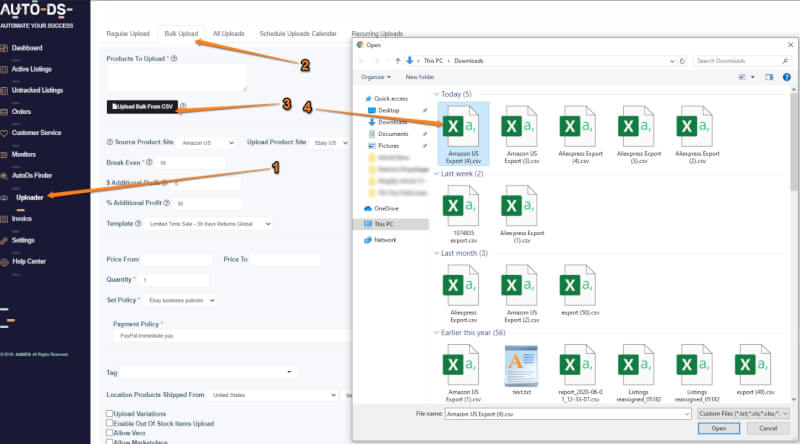 Configure your upload settings – break-even/profit, template, business policies, etc. Use the "tag" feature to create a tag called "Christmas" After Christmas is over, you will be able to search the tag to analyze how the products performed. 
When Christmas is over, you can remove your listings as they will have a low probability of selling. But not before you keep your winners for next year to multiply your success!
Wrapping It Up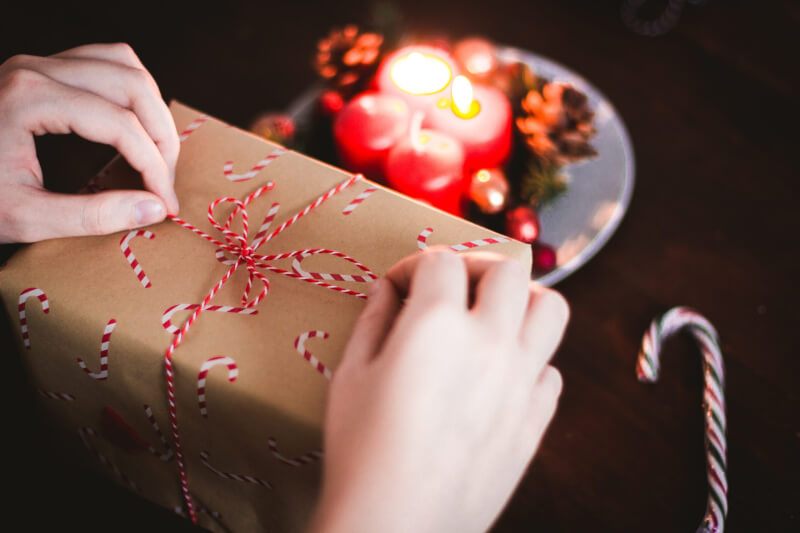 Now you have more than enough hand-picked Christmas dropshipping products ideas to make this Christmas the merriest and most profitable from any previous year. This coming Q4 holiday season is going to be eCommerce's biggest one yet. 
Make sure to have as many listings up as possible to maximize your success. Do it by automating the process using the bulk uploader from the AutoDS helper. Begin now to start raking the early sales before your competitors. Merry Christmas, and see you on the other side!