Do you think it's possible for an eBay Dropshipping business to have faithful and returning customers? Well, yes it is!
We will share with you some important tips that will help you build and strengthen relations with your customers. They will help them remember you and understand that they are important to you.
These essential tips will upgrade your customers' experience and make them come back and buy from you again.  What's great about them is that these are just simple things to do. They will lead to outstanding results and increase your value to the customer. And they are also included with the AutoDS eBay Dropshipping platform.
When we ship an order to a customer, it's very important to make sure that the customer receives the item on time and in good condition. We also hope and expect them to leave us positive feedback. However, most of us don't emphasize the customer's user experience or the creation of a relationship between us. Their experience will help them decide whether they will or will not buy from us again.
1. Increase Communication Feedback
In order to make sure that our customers are satisfied with our services, we need to communicate with them. The communication part is extremely important for eBay. Whenever we exchange messages with our customers, eBay increases our communication ratings. The rating is a result of the speed and the quality of our communication.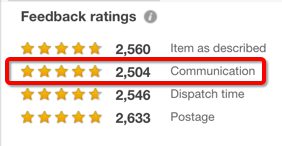 For this reason, we in the AutoDS Dropshipping Platform, have created the option to send out 3 automatic messages to your buyers.
Here is how these messages work:
So, first of all, we need to confirm we received the order and thank the customer for buying from us. They always appreciate receiving these personalized messages, and in many cases, they even reply to them. This really tells us a lot about their importance. With this first message, we initialize the communication with our customers. It's a very important message since here we can provide important information, ie. delivery estimation. Try to keep this as simple and personalized as possible, to be easily read, and make the customer believe it's human written and not a bot message
Then, we should follow-up with our customers and inform them of the tracking number and the shipping company that will deliver their order. This way we continue building this relationship and give them the feeling that we are fully available, and they have someone to refer to regarding their order.
When the process is done, it's very critical to send our customers a 3rd  message asking if all went as expected and of course and above all, ask them to leave us positive feedback with a direct link to do so. This way, we complete the process with the customers and remind them of the seller (us) they made the purchase from. At the same time, we will also receive feedback that will improve our rating, and make many other customers decide to buy from us.
We prepared these professional 3 messages for you.
You can get it directly to your Facebook messenger here:
2. Increase our positive feedbacks
You must realize the importance of this communication for our eBay Dropshipping business. These actions turn the sale process from being shallow and meaningless,  to a real relationship. They are meaningful and distinctly increase the customer's satisfaction with the transaction. This process increases the chance to purchase from you again in the future. And most importantly, it increases our positive feedbacks up to 60 %!
3. Getting more returning customers
So till now, we learned that communication with our customers will bring us :
a) a significant increase in our communication ratings
b) a very important increase up to 60% in our positive feedbacks.
These will result in one thing: Returning customers.
Many of you ask, how is it possible for an eBay Dropshipping business to have returning customers since the competition is too high.
Well, the answer is this:  It can really happen! Here is an example of how communication with our customers, can bring them back to buy from us again.


In this example, we have set the 3rd message (the feedback message) to be sent 10 days after the sale. This makes the customer remember that he liked the item and our service, and he decided to rebuy it again and again.
Deal with the Angry Customers
However, sometimes, you will have to deal with cases where the customer is not happy with his experience. And not only that but he can even get really angry. But there are some simple tactics to help you deal with the angry customers of your dropshipping business. Just make sure to follow them and deal with these customers in the most efficient way.
Using the AutoDS Dropshipping platform you can do it automatically!
So, as you know, our goal is to make your life easier.  Therefore these actions are automated in AutoDS and will help you to become superb dropshippers and increase your income and reputation. In addition to our other amazing dropshipping tools and features, like automated orders, automatic tracking updates, and many more, AutoDS provides you the option to send these messages automatically and full customer support systems for eBay business. This can really free your time and offers the opportunity to do other things you enjoy.