One of the best ways to stay ahead of the competition when dropshipping is by spying on our competitors' dropshipping websites. Learning from our competitors gives us an insight into what's working well for them.
Now it is easier than ever to spy on our competition with the help of various dropshipping tools. We can find winning strategies, improve them even more, and adapt them in our stores to earn as much profit as possible.
Taking that into account, let's go over nine winning dropshipping websites to learn their secrets so you can build a successful store too. Furthermore, this article will also cover the best platforms to build your website and top spying tools to analyze your competitors.
What Is A Dropshipping Website?
Dropshipping is a business model where we can sell our products without holding inventory. When it comes to shipping, the delivery of products is done via the supplier, who holds the inventory of the product.
Besides the logistics, the dropshipping model requires a selling channel where we list our products. As such, here are different selling channels with which we can build our store and list our products:
While the above selling channels allow us to build our dropshipping website efficiently, we need to differentiate our store and stay ahead of the competition. As such, branding our store is the best way to thrive in the fiercely competitive dropshipping industry.
In essence, branding determines how the customers perceive the company (our store) and its products. When we focus on brand recognition, our sales will skyrocket. Therefore, we need to communicate our brand image to our target audience and cater to their unique needs.
Ultimately, building an effective dropshipping website is crucial for attracting customers and generating sales. So, it is essential to look at examples of other dropshipping websites to learn what strategies are working best.
9 Winning Dropshipping Websites & Their Secrets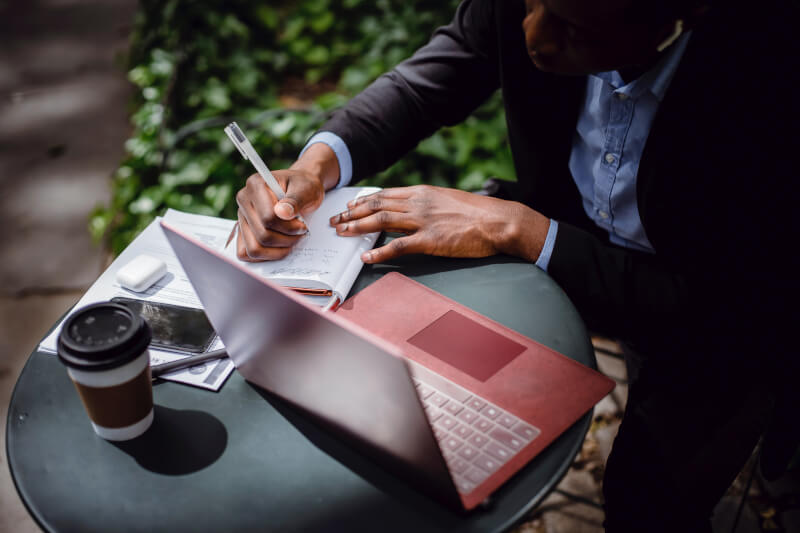 Now that we know the importance of branding, let's take a look at nine winning dropshipping websites to understand why they are successful:
Without further ado, let's dive straight into the action. Below, we'll find secrets that have helped these websites succeed.
1. 5econds.net
Kicking off the list, we have 5econds.net. It is a general dropshipping store selling the most popular and trending products worldwide.
The first thing that we see when we enter the website is the clean and professional look of the website. With a plain white background and easy navigation, 5econds provides an excellent user experience.

As for 5econds' product variety, they have plenty of selections from categories like home goods, toys, jewelry, and consumer electronics. In addition, they have a best-seller section, where the most popular products are listed.
Currently, they ship to more than 200 countries. Since their products come from Chinese warehouses, they have an average shipping time of 10-20 business days in the US, Europe, UK, Canada, and Asia.
Additionally, 5econds offers free returns if customers do not want the product or if there is too much delay in shipping. Also, they provide contact details on their website so that customers can easily reach out to them.
Moreover, the website has a live chat option where customers can instantly talk to them. Therefore, the live chat option allows their customers to contact someone to solve their queries or problems instantly. So, providing the same feature to our customers can result in higher customer satisfaction.
For marketing, 5econds has a separate section for blog articles. These search engine optimized (SEO) blog articles help 5econds.net rank well on search pages. As a result, it drives more traffic to our sites.
Plus, they update customers about coupons and promotions through email marketing. Email marketing can be a great way to reach out to existing customers or spread the word about our product or service through email. We can send information about sales, events, products, or services directly to clients who opt into our email marketing campaigns.
Dropshipping Apps
Besides email marketing, this dropshipping website uses various dropshipping apps such as Chimp, Rank Math, and Tidio. As customer feedback and survey gives us an insight into customer behavior, Chimp is a tool that enables us to automate this process.
Another tool they use is RankMath, a WordPress Plugin that allows store owners to optimize their content using built-in suggestions. They also use Tidio, a marketing automation tool with live chat features.
 As you can see, 5econds.net is a general dropshipping store that provides a wide range of products. As such, if we are a beginner dropshipper, we should also offer products from wide categories, enabling us to test more products from the get-go.
2. Dog Pawty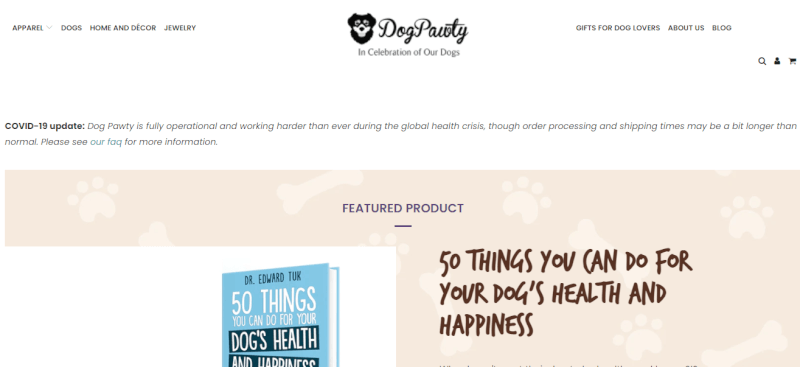 Next on the list, we have DogPawty, a dropshipping niche store catering to customers who need unique dog merchandise. The store has a wide variety of dog-related merchandise beyond just toys and leashes, including t-shirts, mugs, and home decor.
Right off the bat, Dog Pawty's beautiful logo and the message "In celebration of our dogs" communicate that the company cares about their customer's furry friends. And, with a simple user interface, it is easy to navigate through their website. 
While they ship most products within 4-14 days, some can take 1-3 weeks to reach customers in the US and Canada. For customers outside of the US and Canada, it usually takes 2-3 weeks. On the same note, they offer free shipping for orders above $50, and all orders are trackable via their national shipping couriers (USPS, Australia Post, Canada Post, etc.)
Furthermore, DogPawty has a separate FAQ page that provides purchases, returns, and shipping information. Besides that, customers can directly contact the company if they have queries or complaints through email, phone, or mail.  
When it comes to marketing, Dog Pawty does it with perfection. With over 300,000 likes on Facebook and a few viral videos, the company is active on its social media pages. With their online presence, they have successfully created a community for dog lovers. 
On the same note, they have also been highly effective at getting customers to upload pictures of themselves with their product. Therefore, they consistently market to their social media followers resulting in extra sales.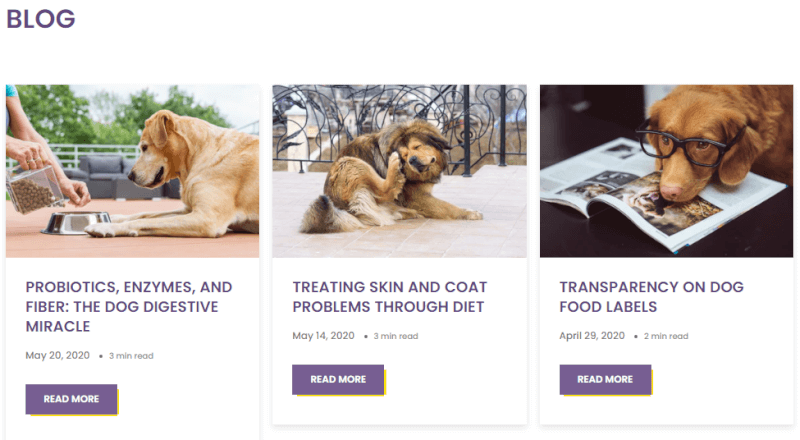 Additionally, Dog Pawty has built a friendly and informative blog that addresses some of the frequently asked questions about dogs. Its main objective is to attract traffic with engaging text and content. Moreover, it also generates revenue through ads or affiliate programs run by other dog-friendly sites.
Dropshipping Apps
Now, let's find out the dropshipping apps that Dog Pawty uses. To ease their operations, they use different dropshipping applications such as Quantity Discount, Product Customizer, and McAfee SECURE. As dropshippers, it's easier to convert customers when we offer discounts in our store. For that reason, Dog Pawty uses the Quantity Discount app for customers who want to buy more than one product.
In terms of the other apps, they use McAfee SECURE, a tool that websites use to certify that their stores are credible. Another app they use is Product Customizer, which we can use to add options, variants & customizations to our products easily.
Overall, Dog Pawty has successfully created its brand in the pet category. In the same way, we can also promote our brand via our niche dropshipping store and reap the same benefits.
3. Warmly Decor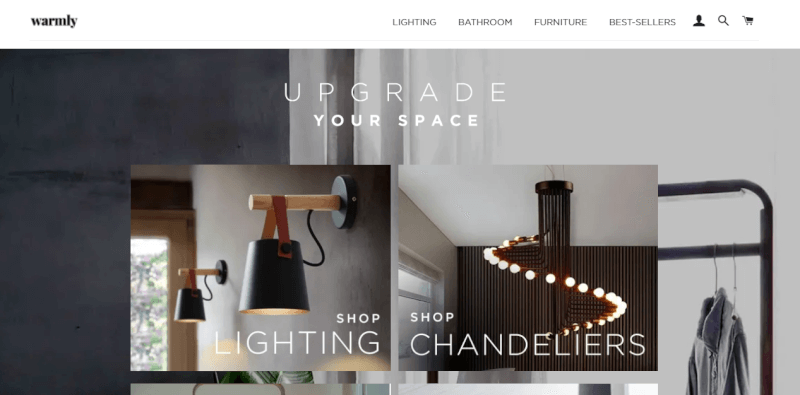 As home decor products are getting more and more popular, Warmly Decor is one of the dropshipping websites catering to this growing demand. Their product range includes items from the lighting, bathroom, and furniture categories.
In general, Warmly Decor's branding and theme are designed to promote high-end home decor items. Adapting an elegant look for its website, Warmly Decor provides an upscale feel to its customers.
While they have products from various price ranges, the average cost of products is around $300. It means they are utilizing the high ticket dropshipping model. Essentially, high ticket dropshipping focuses on selling premium products for more than $100, which allows us to earn a higher profit. Besides that, the website displays a sale end countdown, a timer that shop owners can use to employ scarcity, and a bullet point product description for clarity and conciseness.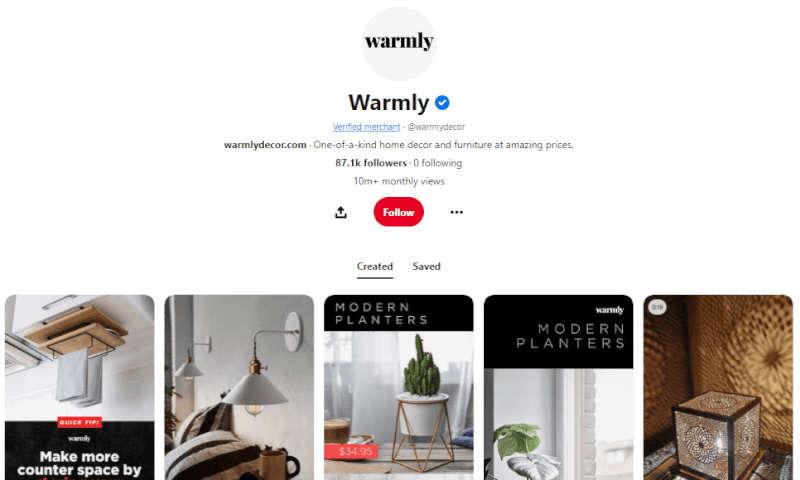 Plus, in terms of marketing, the company primarily generates website traffic from advertisements on Pinterest, an ideal social media platform for lifestyle products. It has over 87,000 followers and generates around 10 million views on its Pinterest posts. Similarly, they also run Facebook ads with the tagline "modern home decor designed to make your neighbors jealous."
Facebook ads are one of the most popular marketing tools for dropshippers as it helps us reach a massive audience. Also, we can see that the ad's wording is catchy, which attracts viewers.
Moreover, Warmly Decor provides worldwide shipping and has an easy return policy where customers can return products within a 30-day window. Most importantly, they pay for the return shipping of the products.
Dropshipping Apps
Warmly Decor uses dropshipping apps like Push Owl notifications, Currency Convertor, and Trusted Site-trust badges to automate their dropshipping store. Push Owl notifications help retain customers who have previously visited the store by sending web push notifications. Plus, it doesn't require customers' email and phone numbers.
Another Shopify app they use is TrustedSite. The app provides trust badges that help customers discover the credibility of dropshipping stores when they shop online.
In a nutshell, Warmly Decor focuses on making a sophisticated website with its high-end products. Similarly, we, too, can design our stores so that it promotes high-ticket products while maintaining trust with our audience.
4. Inspire Uplift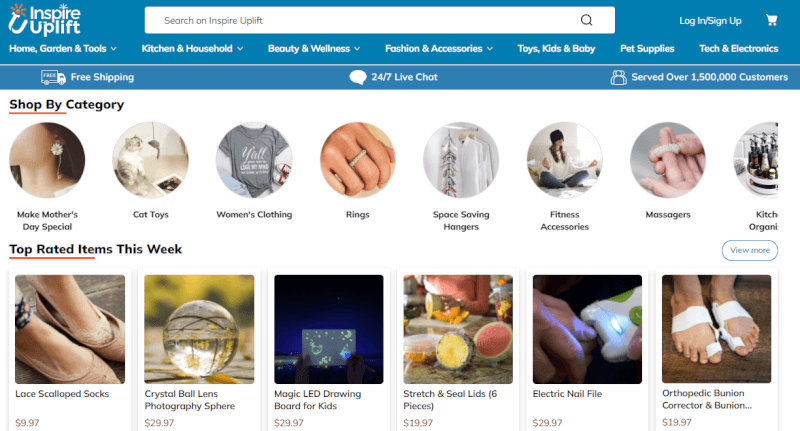 If a store generates nearly one million visitors per month, it must be doing something right. It is the case for Inspire Uplift, a general dropshipping store that is excellent at generating traffic on its website. Its product category consists of home and garden tools, kitchen products, beauty and wellness products, pet supplies, etc.
Let's start analyzing why Inspire Uplift is successful. Inspire Uplift provides all the information to the customer right away. Generally, when a company keeps its website transparent and straightforward, customers easily trust those dropshipping stores.
For instance, their website displays a banner with information such as free shipping, 24/7 live chat options, and the number of customers it has served. Furthermore, their product page is relatively simple and features detailed descriptions, high-quality images, and photo reviews.

Talking about customer service, Inspire Uplift is an excellent example of a customer-oriented dropshipping store. With a 24/7 live chat feature, they're able to answer customer queries any day, anytime. Plus, the product pages are filled with product reviews and feedback, including images, which helps to gain customers' trust.
Besides that, they provide a comprehensive customer support system through FAQ pages and the Help Center. With the help of the FAQ page and the Help Center, customers can find answers to their queries about orders, shipping, returns, and more.
On top of that, the company is active on popular social media platforms. They mainly advertise their products through Pinterest and Facebook, where they have around 2.5 million Pinterest followers and over 6 million Facebook likes.
In addition to marketing through social media, Inspire Uplift has a blog page where it frequently uploads articles on relevant topics. Similarly, they have an affiliate influencer program that compensates influencers for each sale they generate for the company.
Dropshipping Apps
As for dropshipping apps, they use tools like Klaviyo and Just Uno. Klaviyo helps websites automate marketing campaigns and optimize conversions. On the other hand, Just Uno allows websites to increase sales with data insights to optimize marketing campaigns.
Furthermore, Inspire Uplift focuses on building a vast customer base rather than earning a high profit on each sale. With an affordable pricing strategy, they can attract new customers while beating their competition.
5. Materiol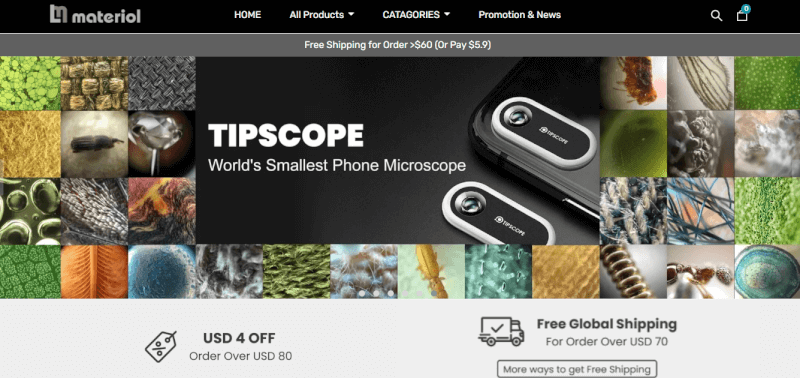 Let's continue the list with another excellent example of a dropshipping store called Materiol. Materiol is a dropshipping store that mainly specializes in electronic gadgets.
Additionally, their product range includes gadgets for various purposes, such as phone accessories, printers, and humidifiers. There are around 138 products in total, with an average price of $23.
However, one feature that makes Materiol stand out is its impeccable product pages. They have in-depth product pages which include images and videos which are visually appealing. Plus, all the product information is managed so that customers can easily find out about the product.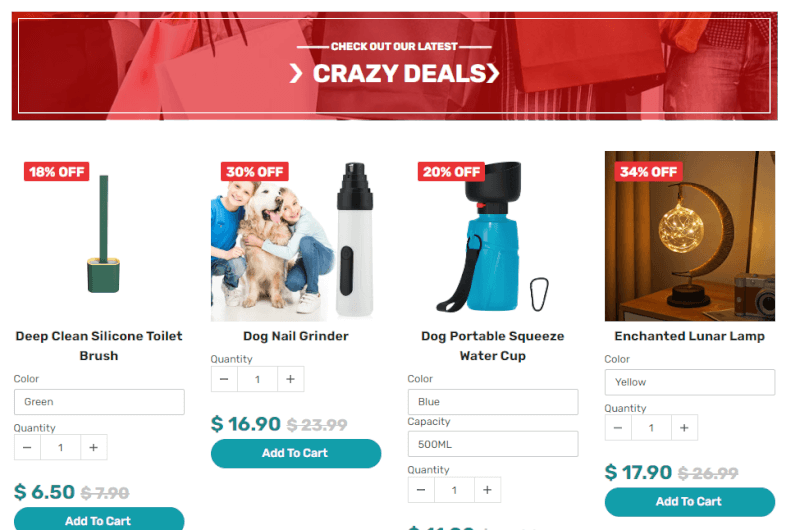 Moreover, Materiol has a "crazy deal" section. In this section, Materiol lists products with hefty discounts that can reach 50%. Therefore, this technique gains our website extra traffic since many customers come to check exclusive deals.
Materiol's "promotion and news" section is equally remarkable, where customers can explore various product discounts. In this section, they provide information on offers, their starting date, and how long they will last. When it comes to shipping products, they offer free shipping for orders above $60 and deliver within 1-3 weeks.
Dropshipping Apps
Besides these converting factors, the website also uses dropshipping apps such as Geo Locations and Lucky Orange. Geo-Location tracks our customer's IP addresses, allowing us to know where our customers are located.
On the other hand, Lucky Orange helps us increase our website conversion by allowing us to review visitors' sessions. All in all, with the help of dropshipping apps, Materiol is able to convert its viewers into buyers.
6. Until Gone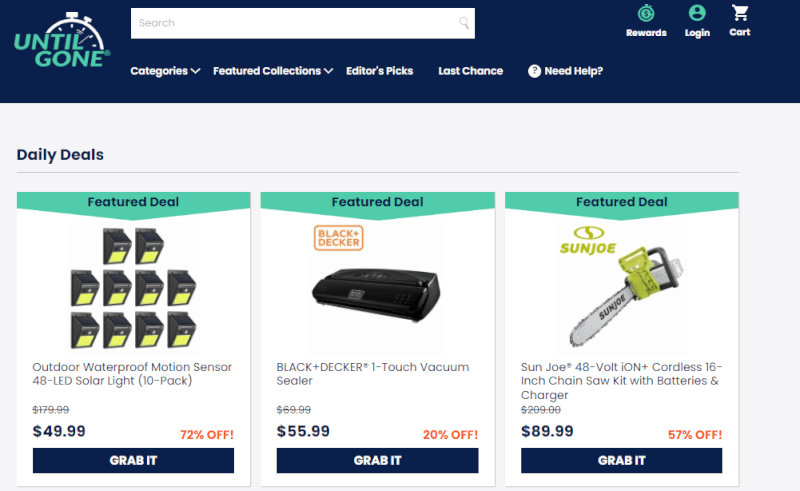 Next up on our list is Until Gone, an emerging dropshipping site for customers looking for great deals. It is a general dropshipping store that offers the best deals on innovative and quality products such as electronics, fashion, and office supplies at affordable prices.
As for their website design, Until Gone has a simple design and layout. The basic idea behind Until Gone is that it markets itself as the last one standing, the last opportunity to grab something before it's gone forever.
If that's not enough, some items are marked as "Bargain" products. This gets people into a real-time frame of mind, making them feel like they need to speed over to their computer and purchase quickly before someone else grabs it from them.
Another popular feature of Until Gone is that they offer exclusive deals and up to 3% cashback. Promotional offers like these help to reward loyal customers and retain them.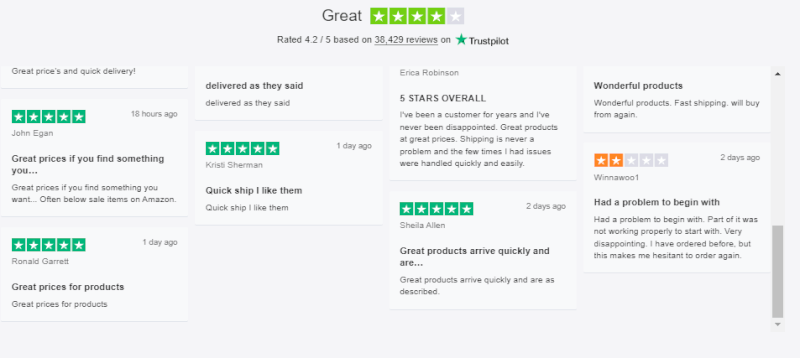 Plus, they offer warranties on all their products. Furthermore, it has a 4-star rating on Trustpilot with approximately 38,000 reviews, indicating that customers trust the website.
As for their shipping policy, they only ship to US locations, and shipping usually takes between 5-10 days, with order tracking available on its website. In addition, Until Gone offers free shipping for orders above $25. However, it charges a $1.95 fee for orders below $25.
While Until Gone has a clever selling strategy, they are also doing their utmost to make customers feel safe buying from their website. They have a dedicated page that guarantees stress-free buying and returns.
Furthermore, their "About Us" page also communicates that they provide secure shopping, easy returns, and low prices. Thus, not only does Until Gone offer a vast product catalog, but they also have a high focus on building trust between the brand and its customers.
7. Plushie Depot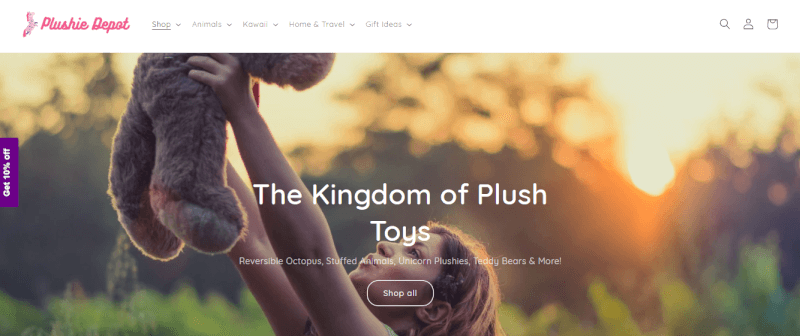 Catering to the enormous market for plush toys, Plushie Depot is an excellent example of a successful dropshipping website. Looking at the categories, you can see they have taken a tremendous amount of time to ensure they have a good variety of products. They are a niche store selling over 2,000 different plush toys.
Starting with their store design, Plushie Depot has an appealing website with many large colorful pictures of the products, ensuring their customers remain interested. Built on Shopify, their website is extremely user-friendly because they know their target audiences are kids and teenagers.

Furthermore, all information regarding shipping, returns, order tracking, and cancellation is displayed on the website. While they ship their products worldwide, most of their audience is from the United States, Canada, and Hong Kong.
Also, they provide free domestic and international shipping. Additionally, they are one of the few dropshippers that don't have a minimum order quantity requirement.
Additionally, they generate plenty of organic traffic on their website. A whopping 78% of the total audience comes from relevant keyword searches.
Dropshipping Apps
As for the dropshipping apps, Plushie Depot uses Geo-Location and Automizely messages to ease their business operations. While we already talked about Geo-Location, let's see how Automizely works.
Automizely is a tool that helps us generate leads, automate email marketing, and drive more conversions. Overall, Plushie Depot is an excellent example of a niche dropshipping website.
8. Aesthentials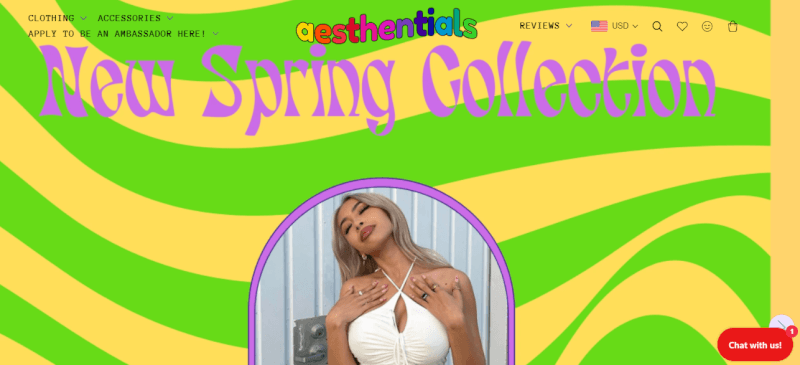 If fashion is your forte, you will love how Aesthentials makes a name for itself in the niche market. It is a popular website for unique fashion apparel and K-pop style accessories, mainly attracting young teens.
Moreover, they incorporate a self-made logo with custom fonts. With these features, they are creating a unique identity as a brand and providing an optimal customer experience.
Their average product pricing is around $28, which is relatively affordable for the fashion niche. On top of that, they offer free shipping worldwide. While they ship without minimum order requirements, they usually ship within 2-3 weeks.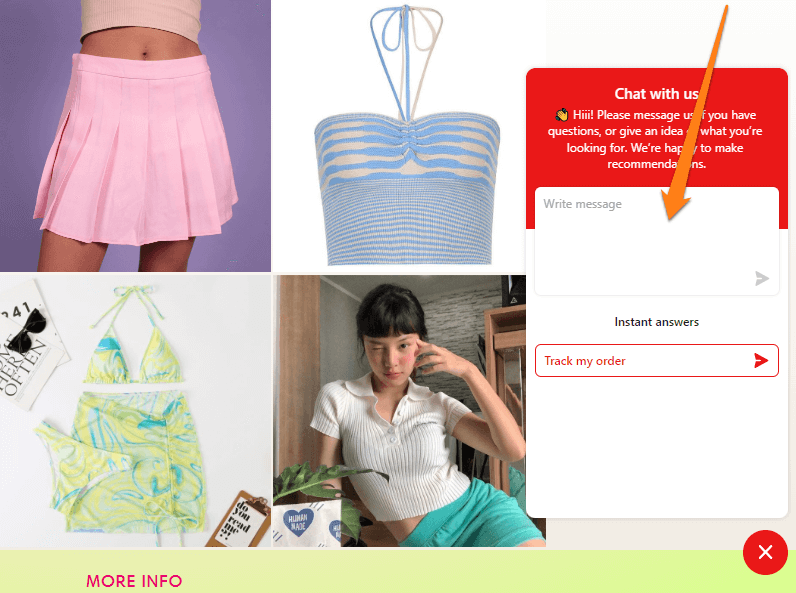 If there are any queries, customers can contact them easily. We can contact them through their email address, phone number, or the live chat option on the website.
For marketing, they mainly use social media, with 400,000 followers on Facebook. On top of that, they get referrals from Youtube, which is also their top traffic source.
In general, Youtube video influencers work great for their target market. In addition, they have a separate Review page that has all the social proofs of their happy customers, which helps them build credibility.
Dropshipping Apps
Let's move on to which dropshipping apps they use. Generally, they use a lot of Shopify integration tools such as Sendin Blue Email Marketing, Also Bought, Abandoned Cart Recovery, and Best Currency Converter. Sendin Blue is an email marketing app that markets our products by automatically sending promotional emails to our customers.
To clarify further, Also Bought allows dropshippers to offer other products customers usually buy in their stores. This upselling technique encourages our customers to buy more and increases our average order value.
Ultimately, it increases our overall profits. Finally, Abandoned Cart Recovery helps us retain customers who left the website without checking out products in their shopping carts.
On the downside, new visitors may find the website too cluttered with many pop-ups. While pop-ups help us promote products, it's best to limit our store to having one pop-up.
Having more than one pop-up increases our bounce rate. This means the visitors have a high chance of leaving our website without taking any action.
All in all, Aesthentials has gone above and beyond to attract its target audience. With a perfect store design for their targeted audience, Aesthentials is optimizing their dropshipping venture.
9. Commonlee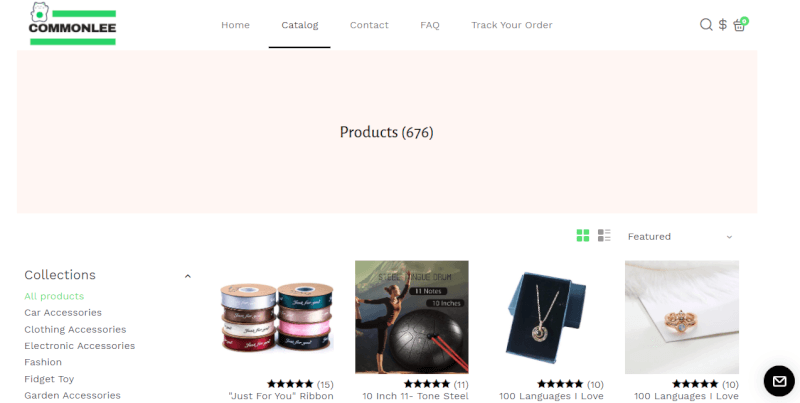 The final dropshipping website on our list is Commonlee, a general dropshipping store. Commonlee sells products from almost all categories like jewelry, clothing, pets, home decor, electronic accessories, and more.
Commonlee is dedicated to providing clients with unique products not readily available on the market. Currently, they have around 677 products on their website with an average price of $28. 
 Plus, it promises its customers a hassle-free shopping experience and affordable products.
Additionally, they have a clean and intuitive website design based on Shopify, and they use a custom theme. Besides that, it promises its customers a hassle-free shopping experience and affordable products. 

One of the unique features of its website is it displays a pop-up that informs customers what other customers are buying from them. This allows us to analyze which products are trending to optimize our store further.
While Commonlee is based in China, it caters to customers worldwide, primarily focusing on US customers. The dropshipping website currently has more than 70,000 monthly views from countries like the US, India, China, the UK, and Brazil. On the same note, Youtube generates more than 60% of the total traffic for Commonlee.com, where it advertises its products.
In addition, they offer free shipping for orders above $75, and shipping usually takes 7-30 days. Plus, customers can easily track their orders through their website. As for returns and exchanges, they have a 30-day return policy that allows free returns and replacements.
Dropshipping Apps
For dropshipping operations, the company uses Loox Product Reviews, a review collection and display tool that dropshippers can use for social proof, increasing our conversion rates. Lastly, Commonlee uses a Countdown Timer Bar which helps sellers leverage buyer impulsivity by displaying how long the sale lasts.
Key Takeaway
And there we go! The above list of successful dropshipping websites provides us with excellent examples of how we should operate our dropshipping business. With that said, there are an infinite amount of growth strategies with relatively minimal costs. Some include optimizing search engine visibility, leveraging social media, and incorporating email marketing conversion strategies.
With these critical metrics in mind, we can learn and adopt the winning strategies that these high-performing dropshipping websites are utilizing. Then, we will be able to take our dropshipping business to the next level. 
The Top Website Builders For Your Dropshipping Store
Now that we learned how dropshipping stores become successful, we can start building our dropshipping website. To do so, we need dropshipping website builders. Before diving into the list of top website builders, let's find out what website builders are.
Website builders are tools that allow us to create and build dropshipping websites from scratch without requiring any coding experience. With the help of their in-built features, the website builders enable us to create, design, and manage our websites.
With that in mind, let's find out why website builders are essential for dropshipping. Furthermore, Website builders allow us to focus on customer service and marketing, as we can efficiently utilize templates to create an aesthetically pleasing storefront.
Second, we can brand our store as we please by customizing our store with designs and templates. Third, by using plugins and integrated apps, we can optimize our listing performance, analyze buyer behavior and test different listings to increase sales.
Given these benefits, we should choose a suitable website builder to start creating our dropshipping store. As such, here is the list of top website builders to choose from:
Let's go over them one by one. Understanding each website builder in detail will allow us to optimize their unique features.
1. Shopify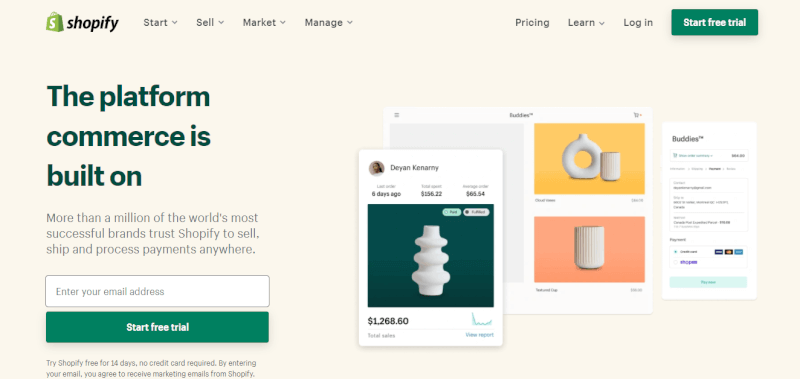 Shopify is one of the most popular website builders. With its advanced features, Shopify is a complete solution for anyone looking to create a multi-functional dropshipping website.
Pros
70+ eCommerce store templates

Shopify app store 

24/7 customer service

Built-in blogging feature

No selling limits
One of the major factors that attract customers to our dropshipping store is how it looks visually. With over 70 premium and free eCommerce templates, Shopify allows us to build attractive websites that fit our brand. On top of that, Shopify has an entire ecosystem of dropshipping apps that enables us to manage and optimize our dropshipping website.
When it comes to customer service, Shopify provides 24/7 customer support to its customers. As such, we get round-the-clock customer support via email, phone, or live chat if we have a problem.
Furthermore, Shopify's built-in blogging feature is one of the unique tools it provides. In essence, we can upload and manage blogs to market our store. Therefore, our Shopify store is more likely to appear on the search results when customers search for keywords relevant to our blog posts.
Last but not least, there are no selling limits on stores built with Shopify. Therefore, we can list and sell products without any restrictions.
Cons
No organic traffic

Requires a budget for marketing

Monthly subscription, selling fees, and app costs
On the downside, it is difficult to generate organic traffic in our store. Therefore, we have to utilize external sources like running Facebook ads to generate traffic in our store. Although this incurs more expenses, it produces positive results in the long term, allowing us to scale our store.
Moreover, Shopify is an expensive website builder when compared to other alternatives. Our expenses can run comparatively higher with subscription fees, selling fees, and additional costs for integrated apps. Nevertheless, the advanced features of Shopify are worth the price. 
2. Wix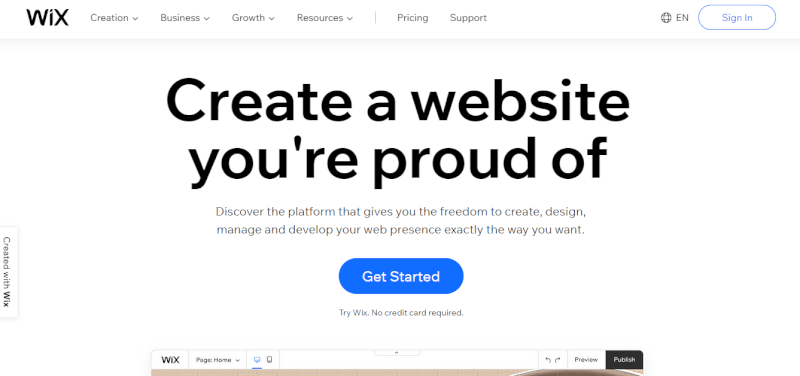 Wix is one of the best options for building a dropshipping website if we are new to dropshipping. Similar to Shopify, Wix is a customizable eCommerce platform, which allows us to customize our website with professional themes and designs. 
Pros
Easy to use interface and great for beginners

Drag and drop features

Integrated eCommerce tools

No seller limits

Low startup investment
First, setting up a dropshipping website is very easy with Wix. With its drag and drop editor, we can simply drag and drop components like images, products, and logos on our website. Like Shopify, there are no limits on product listings. Moreover, various eCommerce tools integrate with Wix to optimize our dropshipping website.
While it offers plenty of features, building a dropshipping website on Wix doesn't cost a lot. That's because the Wix account is free, and we only have to pay its subscription costs when we are entirely ready to launch our business.
Cons
No organic traffic & marketing costs 

Monthly subscription fees to unlock full features 

Requires time and patience to learn
On the other hand, Wix does not have readily available organic traffic. Hence, it requires a separate budget for marketing our store. Plus, we need to subscribe to Wix on a monthly/yearly paid plan to unlock all the features. Although Wix offers a free plan, it has limitations on several features.
For instance, the Wix logo is present on our websites with the free plan, and we cannot remove it. Similarly, we cannot post our product videos without the Wix logo or connect a custom domain to our Wix stores. Thus, it's a worthwhile investment to opt in for a paid Wix plan.
Moreover, it takes time to learn how to build a website on Wix due to the availability of so many features. Therefore, we need to be patient with our approach to create a Wix store successfully.
3. eBay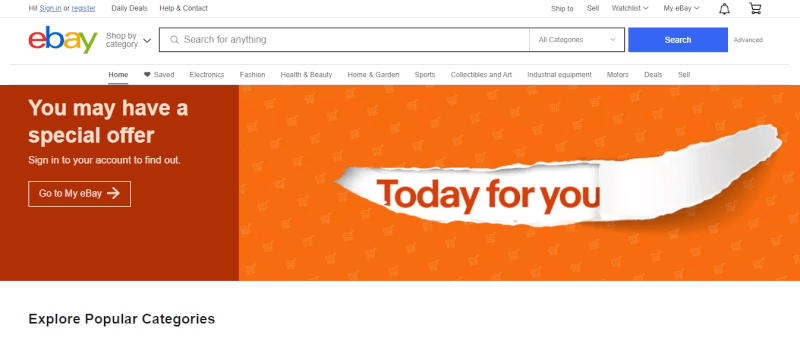 While Shopify and Wix are customizable platforms, eBay is an eCommerce marketplace where we can list our products. As a highly appealing e-commerce marketplace to new sellers, eBay does not require upfront investments and has a great business growth potential.
Pros
Free organic traffic

Promoted listings

Professional templates

Zero upfront investment
One of the significant benefits of using eBay as a dropshipping website is the readily available free organic traffic. With more than 180 million eBay users, we'll be able to benefit from large amounts of organic traffic to generate sales.
If that's not enough, we can market our store using eBay's promoted listings. Promoted listings increase the visibility of our products across eBay. Another perk of eBay is its wide selection of professional templates. As we build our store on eBay, we can further enhance the store's look with their ready-made templates.
Moreover, dropshipping on eBay doesn't require an initial investment. Therefore, we can start selling for free.
Cons
Low entry barrier

High competition

Selling limits

Limited customization options
However, there are some drawbacks to using eBay. Since selling on eBay is free, there is a high level of competition. Plus, eBay restricts our store with selling limits. For instance, we can only sell ten products up to $500 if we are a new eBay seller.
Furthermore, eBay is not a customizable platform like Shopify and Wix. Therefore, we will encounter limited customization options when building our store. Nonetheless, eBay has a plethora of ready-made templates that we can use to differentiate our store from others.
4. Woocommerce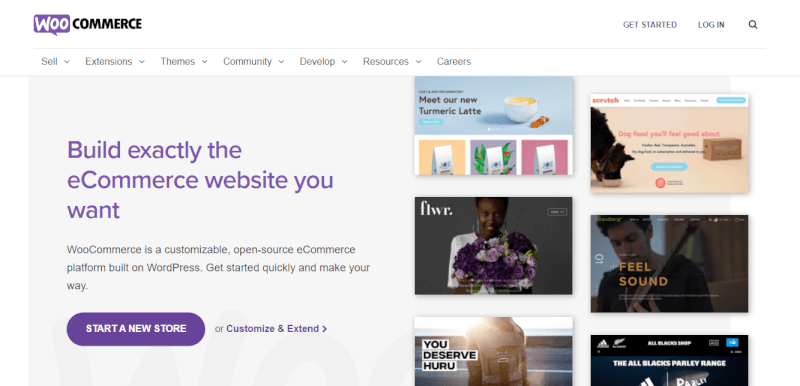 Up next, we have Woocommerce, a free eCommerce plugin for WordPress. Woocommerce has everything we need to build our store online. For instance, they have eCommerce shopping carts and customizable payment options. 
Pros
Specially built for WordPress integration

Free to install

An active community of website builders

Unlimited customization options
Built for WordPress, WooCommerce gives us complete control of creating a dropshipping website. If you have a dropshipping site built on WordPress, then Woocommerce is the best dropshipping website builder for you.
Most importantly, Woocommerce is available freely on WordPress. Another major perk is that WooCommerce has a vibrant community of website builders, developers, and designers who constantly add free plugins.
Furthermore, WooCommerce has plenty of customization options that let us easily customize our store according to our specifications. For example, it has many paid extensions apps that offer advanced features like integration with payment gateways and speed optimization.
Cons
WordPress based platform

Slow performance with additional plugins 

Hidden expenses
Although Woocommerce is best suited for dropshipping websites built on WordPress, we cannot use it without WordPress. Additionally, integrating additional apps with Woocommerce tends to slow down the platform's overall performance.
Additionally, some of its extensions are not free. Therefore, we have to pay extra to optimize our dropshipping website. Nonetheless, if you're looking to create your website on WordPress, then WooCommerce is a great option.
5. AutoDS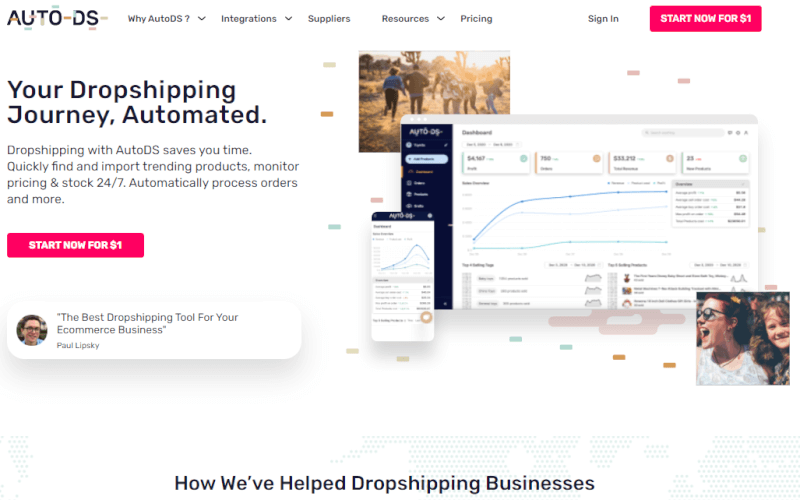 Finally, we have AutoDS, a software that integrates with our dropshipping websites and adds business automation. With business automation, we can dropship efficiently and save time and effort. 
Key Features
Customizable product templates
Advanced image editor 
To enhance product pages, we can use AutoDS to customize product templates and make them look more appealing. With features such as the image editor and text editor, we can design our product page to fit our brand. For instance, we can optimize our images with an image editor and stand out from the competition.
Furthermore, AutoDS allows us to dropship efficiently with its dropshipping automation features. Some of the automation features of AutoDS are product importing, automatic order fulfillment, price/stock monitoring, order tracking, and price optimization. All in all, it is a software that does all the heavy lifting for us while saving us loads of time and allowing us to scale our business easily.
Alternative Solutions
While the five platforms listed above provide an excellent solution for building websites, they are not the only way we can have great dropshipping websites. Alternatively, we can also build a personalized dropshipping website with the help of website developers. Although that comes at a higher cost, we can outsource our dropshipping website to designers based on freelancing platforms such as Fiverr and Upwork.
Moreover, we can also buy a pre-built dropshipping website and tweak it to our preferences. For example, we can buy existing stores on trading platforms like Flippa. On the other hand, Shopify has its marketplace called Exchange, where buyers and sellers can trade Shopify stores. With these marketplaces, we can have a dropshipping website in minutes.
Spy Tools To Analyze Your Dropshipping Competition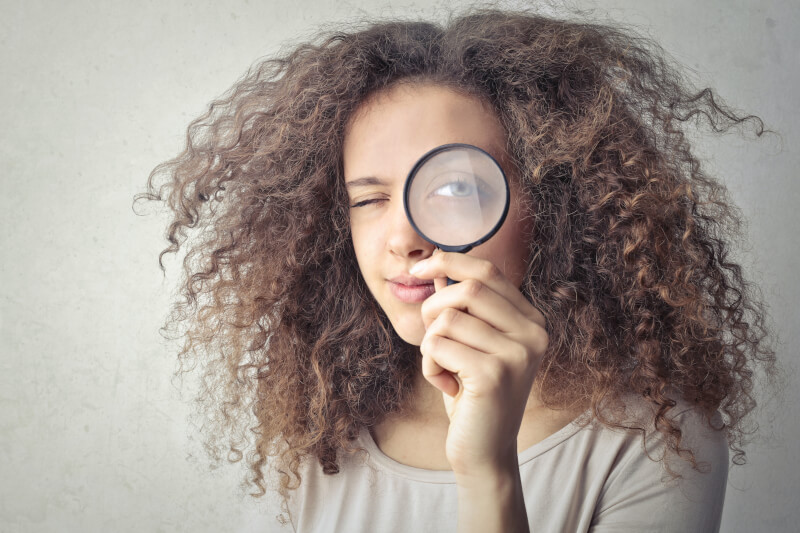 While the website builders help us build a dropshipping website from scratch, we need to optimize our dropshipping stores using various tools. With this in mind, it is vital to use spy tools to keep tabs on other dropshipping websites.
With this in mind, let's take a look at some of the spy tools that help analyze our competitors:
Let's get the ball rolling with an in-depth analysis of these tools. By the end, we will learn about their key features and what selling channels they're adaptable to.
1. Koala Inspector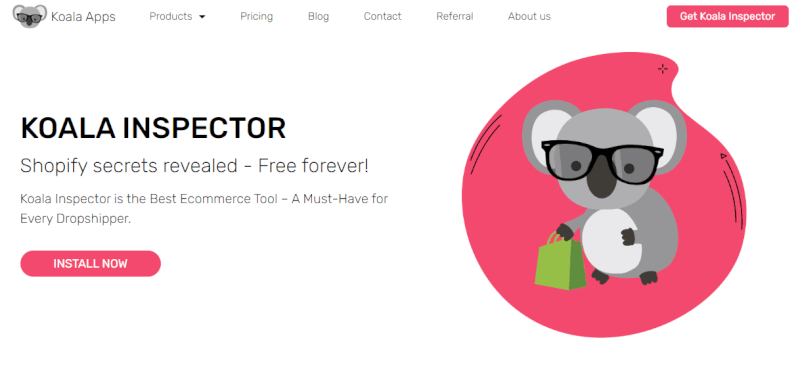 If you want to spy on your competitors whose stores are built on Shopify, there is no better spy tool than Koala Inspector. It is the most famous spy tool that helps us analyze successful stores and identify opportunities while allowing us to build a winning dropshipping website.
Features 
It helps us find new suppliers

Displays popular products to sell

It aids us in optimizing ads

Reveals information on Shopify integration tools

Provides data on competitor site's traffic
Using Koala Inspector, we can find new suppliers who have products we want to sell. Even if we don't find the exact match, we can find similar products to sell. Additionally, it helps us find best-selling products and niches from our competitors. Therefore, we can directly add the exact product or similar one in our store, saving us time and effort.
Furthermore, Koala Inspector lets us know what ad campaigns work well for our competitors. With this feature, we can learn from them and optimize our ad to increase sales. Another feature of the tool is that it allows us to see the Shopify integration apps the dropshipping website uses.
Similarly, Koala Inspector also gives us access to our competitors' traffic data. This means we can analyze the other website's traffic data to learn how they generate traffic. As a result, we can re-focus our target audience to attain higher sales. Overall, this all-in-one Shopify competitor spy tool reveals hot products, themes, apps, and more in just one click.
2. Dropship Spy Tool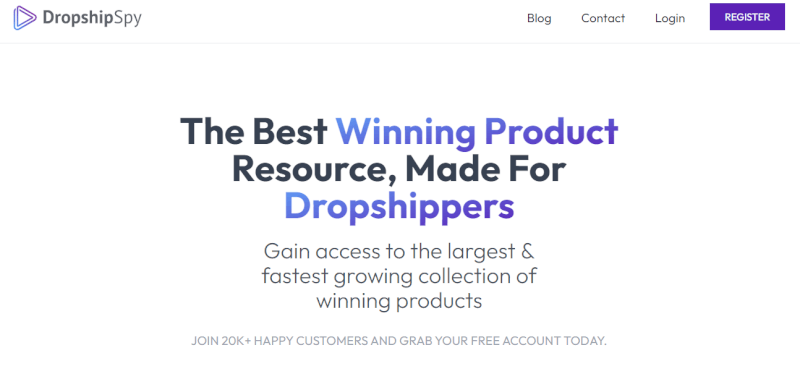 Another spy tool on the list is Dropship Spy, a popular product research tool. It provides shop owners with the best product ideas to sell in our dropshipping stores. Dropship Spy also has additional features that help us manage our dropshipping website.
Features 
Provides winning products 

Dropship Spy Forum

Provides data for Instagram Influencer Marketing

Facebook Ads optimization
One of the major perks of the Dropship Spy tool is it helps us to find winning products that can generate high sales in our store. Furthermore, the Dropship Spy tool has a popular forum page where dropshippers can communicate, share and learn new things.
On top of that, the tool shows all the available Instagram influencers for the niche we are catering to. Therefore, we can easily find influencers to market our dropshipping stores if we want to utilize influencer marketing.
Additionally, it enables us to uncover Facebook ads of our competitors and provides essential insights such as likes, shares, and comments on the ads. With that in mind, we can optimize our Facebook ads by retargeting ads to specific groups of customers. Overall, it is an excellent tool designed to help find the hottest products for our dropshipping stores.
3. AutoDS Product Research Tool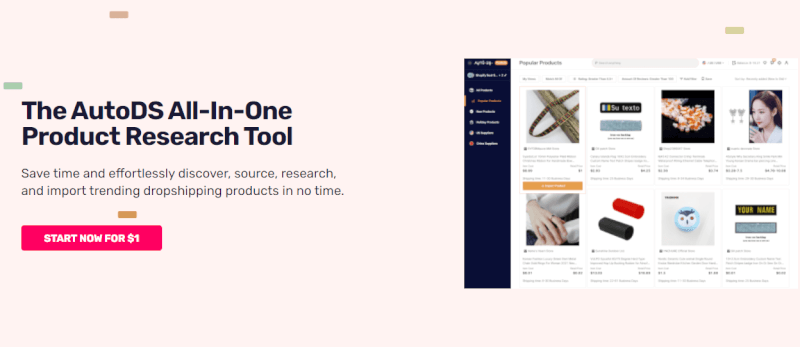 Up next, we have the AutoDS Product Research Tool. The AutoDS platform works equally well as a product research tool by helping us find high-potential products to add to our stores.
Features
Find high potential products

Full product overview

Various filter options
AutoDS' Product Research tool enables us to find in-demand products from our suppliers. Using this feature, we can find products by applying different search filters such as price, suppliers, rating, shipping time, and more.
Besides that, we can get a complete product page for each product, including item specifications, policies and variations, and more, from within the system. Then, we can add the most popular products and build a customer base that keeps coming back for more. 
4. Dropispy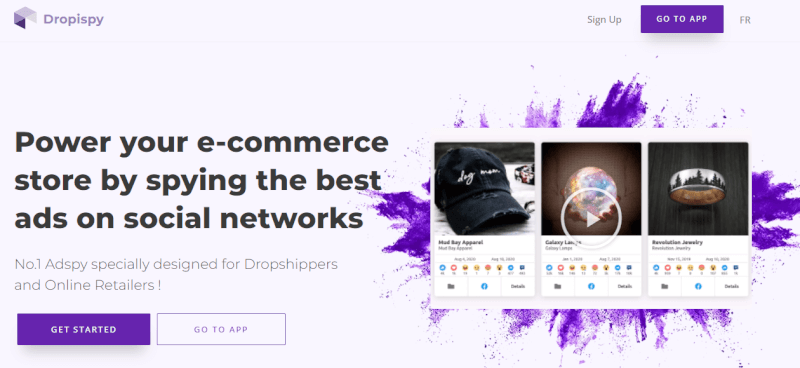 Dropispy is one of the advertising spy tools for dropshippers that lets them analyze dropshipping ads on social media platforms. With its advanced technology, Dropispy provides instant access to a massive depository of social media ads. 
Features
Massive database for ads

Successful ads insight

Search filters

It helps us find winning products
As we mentioned, Dropispy has a massive database of ads. Their database contains millions of ads, with an additional one thousand ads being added per day. As such, they have all the statistics, real-time data, and insights related to the trending ads, which helps us analyze what's working well.
For instance, we may have searched for products using various search filters, but have you searched for ads using search filters? Dropispy enables us to filter through the ad platform by setting our preferred filters, such as the number of likes, shares, countries targeted, and so on. On top of that, Dropispy gives us access to the most prominent and fastest-growing collection of unique products to sell in our stores. 
5. Zik Analytics
If you are dropshipping on eBay, you should definitely check out Zik Analytics. It is an eBay market research tool that allows us to find and analyze the most popular eBay products.
Features
Advanced product research

Competitor research

eBay store analysis 

Discover the best item categories and keywords
Zik Analytics provides unique insights into the critical metrics of our eBay competitors. With the tool, we can research products throughout the eBay platform.
Plus, it shows us what strategies our competitors are using to succeed. For instance, we can determine what types of products our competitors are selling well and what products they have added in the past.
With Zik Analytics, we can analyze all the products on eBay to discover trending products. It allows us to see how fast products are sold, the number of competitors, and their average selling price. Also, it shows what percentage of eBay ads are successful for the product.
Similarly, Zik Analytics helps sellers set and achieve their sales goals by tracking their store performance. It does so with the help of a visual display of their sales from the last 30 days. With this feature, dropshippers can decide when to list products to get optimal results. All in all, Zik Analytics is a great product research tool. 
6. Sell The Trend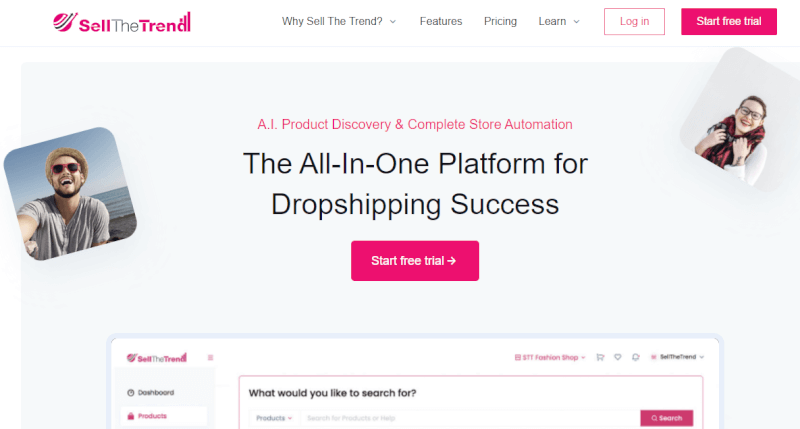 Let's continue the list with "Sell The Trend," another excellent product research tool. With this tool, we can find winning products for our dropshipping store. It collects and analyzes data from AliExpress, Amazon, CJdropshipping, and other Shopify stores.
Features
Shopify store analysis

Filter products by videos

It helps us find winning products
Essentially, Sell The Trend allows us to analyze any Shopify store thoroughly. Its Store Intelligence feature reveals the stores' monthly traffic, orders, and revenues. In addition, we can also discover the stores' best-sellers and how much it has spent on Shopify apps.
On top of that, we can filter products by product videos provided by AliExpress sellers along with its sales trend chart. Therefore, if we find a unique product with good sales that has high potential, we can test that product on our Shopify stores.
Furthermore, Sell The Trend has all the data we need to find winning features. That's because it collects and analyzes information from major suppliers. We can find trending products from significant suppliers' websites with this feature.
7. eComhunt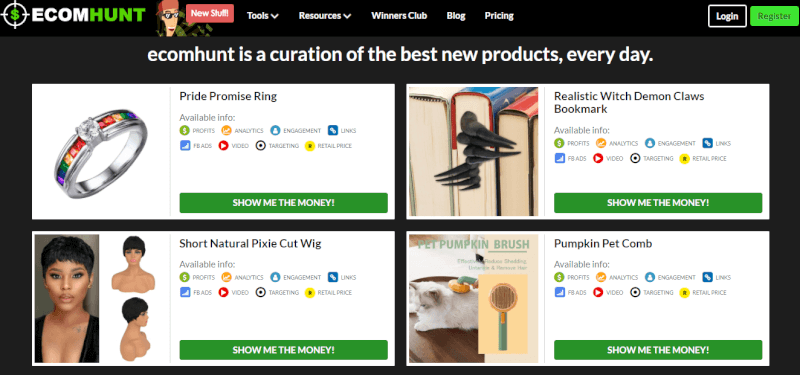 Another excellent spying tool for Shopify stores is the eComhunt app. It is an advanced market research and competitor analysis tool which includes a massive database of winning dropshipping products.
Features
Analyze critical metrics of products before buying

Identify trending products

Research competitors ads

Explore advertising and marketing strategies
Generally, it is crucial to analyze products before listing them in our store. As such, eComhunt allows us to identify critical metrics such as total sales, orders, potential profits, and competitors. Therefore, we can estimate our profits and plan our marketing costs accordingly.
On the same note, when we can learn about who else is selling competitive products, we can research our competitors' stores and find more best-sellers. Similarly, it enables us to research our competitors' ads. With this feature, we can identify the best marketing strategy and adapt it to our advertising.
With the help of these dropshipping spy tools, we'll never run out of ideas and products that sell well in our dropshipping store. Moreover, these tools ensure we are updated with new trends, strategies, and in-demand products resulting in significant sales.
Increase Your Dropshipping Profits With Business Automation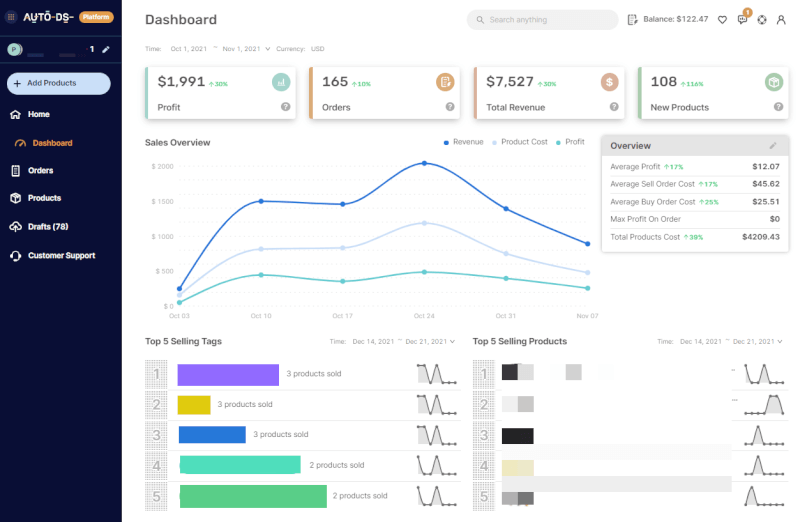 Spy tools are only the starting point of scaling our business. To optimize our dropshipping store and stay ahead of our competition, we need to automate our dropshipping business operations. There are two ways to perform our dropshipping operations: manual and automatic.
Manual dropshipping requires us to perform repetitive tasks such as importing products from our suppliers one by one and filling in customers' details for order processing. In contrast, with dropshipping automation, we can let AutoDS' software do it for us while we focus on our customers and scaling our stores.
With this in mind, here are some automated tools that help us make our dropshipping operations efficient:
To demonstrate, let's take the price and stock monitoring tool, which keeps track of stock and price. When the tool detects any stock levels and price changes on our supplier's site, it notifies us. With its help, we can update our store's stock and price accordingly to prevent loss and customer dissatisfaction.
With the amount of time we'll save using AutoDS' tools, we can allow ourselves to enjoy the freedom that comes with business automation. Therefore, we can use our valuable time to continue growing and expanding our eCommerce empire.
Frequently Asked Questions
What Are The Most Successful Dropshipping Websites? 
Some of the most successful dropshipping websites are Inspire Uplift, Commonlee, and Aesthentials. If you want to find more, check out these Shopify-based dropshipping websites that are killing it in the industry.
Which Website Is Best For Dropshipping?
We can use eCommerce selling channels like eBay and Facebook Marketplace, where our stores can generate organic traffic for free. On the other hand, we can use customizable eCommerce platforms like Shopify and Wix with our domain which we can customize with our templates and designs.
How Do I Find Dropshipping Suppliers?
If you are a beginner, you can contact any of our 25+ reliable dropshipping suppliers. In addition, we have different articles if you are looking for suppliers in specific locations. For instance, if you want to dropship in Europe, look at Top 15 European Dropshipping Suppliers To Grow Your Business In 2022.
Is Dropshipping Still Worth It In 2022?
There's no doubt about it. Dropshipping is still a lucrative business in 2022 and will be in the coming years. Therefore, it is absolutely worth it in 2022.
Conclusion
Yay! Now you know the secrets of the nine best dropshipping websites. With this knowledge, you can take part in their success by adapting their techniques and strategies.
Also, don't forget that our competitors doing well is not necessarily a bad thing. We can benefit from it if we learn how to spy on our competitors. So, learn what is working for them and add your twist to it.
On a final note, always keep learning as you go. With proper knowledge, your store will end up on the top dropshipping website list soon enough. With that said, broaden your dropshipping knowledge with the following articles: