Whether you're looking to start your own business, escape the classic 9-5, or just a side hustle, dropshipping is a great business pursuit. The best part is that anyone can start a dropshipping business, and one of the easiest and fastest ways to do so is through Wix.
But without the proper knowledge and steps, we may find ourselves spending loads of time and money before we start seeing positive results. With that said, if you're looking for a step-by-step on how to get started with dropshipping on Wix, then you've come to the right place.
We'll cover all of the essential steps in creating a dropshipping store on Wix to help you get your store off the ground.
​​What Is Wix Dropshipping?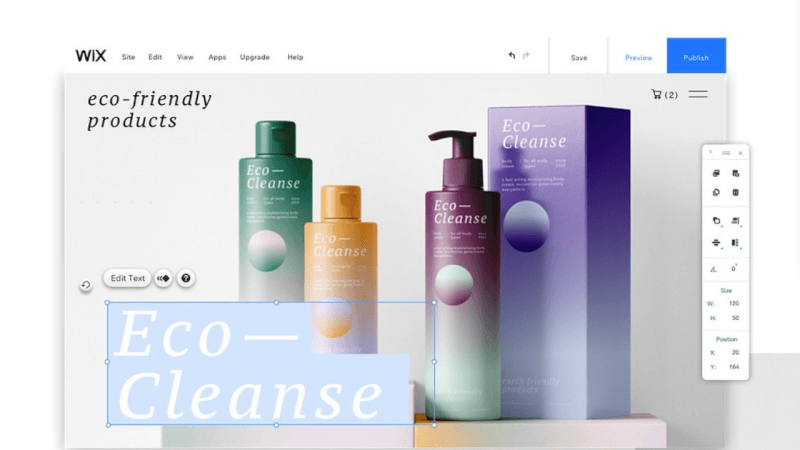 With so much growing popularity for dropshipping, it can be easy to get lost in all the technicalities. So, let's look at what exactly dropshipping and Wix are and how they connect.
Unlike traditional online retail, dropshipping allows us to sell products without the need to manage, store, or ship inventory. Instead, when a customer purchases a product from us, we contact a third-party supplier, and they ship the product to our customer directly.
The best part about dropshipping is the high-profit potential. As we don't have to invest in inventory, we can continuously test the global market with different products and niches until they start to sell. When dropshipping high-ticket products, the profits are exceptionally high.
Furthermore, it's easy to scale a dropshipping business once our stores start to sell. Especially when we start automating our daily tasks, which we will discuss further below.
Moreover, Wix is the platform we use to create our dropshipping website. With their all-in-one and easy-to-use interface, Wix allows us to build our business from the ground up. With a wide variety of online store templates and other dropshipping-friendly tools, we can easily create a website and start selling!
Is Dropshipping On Wix A Good Idea?
Let's look at the pros and cons of dropshipping on Wix.
Pros
No seller limits 

Global audience targeting 

Fully customizable 

Scalability

Low startup investment

The customer is yours!
As there are no seller limits imposed on us, we can list as many products as we want from day one. Not only this, but we have a tremendous amount of freedom with Wix dropshipping. With no restrictions on where we want to sell our products, along with the ability to customize our website to our liking, we can scale to no limits and reach new heights.
Besides this, creating a Wix account is free. We pay when we're ready to connect our domain and remove Wix ads from our website. Even then, the expenses are minimal compared to any other business.
Plus, once we retrieve contact information from our customers (email addresses), we can add them to our email list. When the email list has a couple of hundred subscribers, we can start sending email promotions for our products. Email marketing is an effective tool that businesses of all sizes use instead of/on top of paying other traffic sources to bring traffic to our website. 
Cons
No organic traffic 

Monthly fee

Requires time to learn 

Requires patience
On the downside, we need to pay and use traffic sources to bring people to our website as Wix doesn't have organic traffic. However, using the right marketing tools, we can grow our audience.
And as mentioned before, we'll need to pay a monthly fee to remove ads and make our store look professional. But without traditional overhead expenses, the investment is minimal.
With that said, the most significant investment will be our time. Wix requires time and patience for us to set up our website. Additionally, we'll need to research and test products before we start seeing results. However, the more we test, the faster the results will come.
How To Start A Wix Dropshipping Business
Now that we covered the essentials of dropshipping on Wix, let's start building our online store.
Step 1: Product Research – Find Your Niche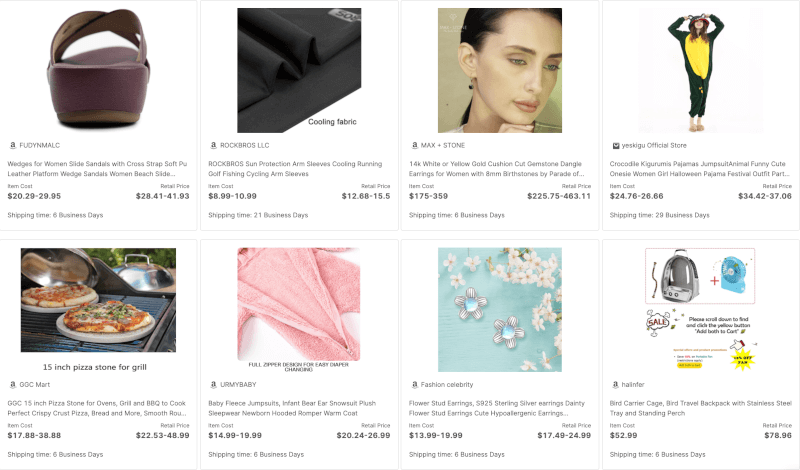 One of the most important elements of running a dropshipping business is product research. Without proper research on which products to sell, it doesn't matter how much we invest in marketing. We will struggle to sell the items or make any profit.
With that said, the first step is discovering your store's niche. A niche is a specific product segment within the market, such as jewelry. When you have a niche store, it's easier to find and target a specific audience that connects with that niche. How will you know what audience to target if it is a general store?
Also, a general store with lots of different categories won't appeal to a shopper looking for pet products (for example). The customer would rather buy from a pet niche store, knowing that they specialize in that niche.
Once we figure out a niche that we like, we need to follow the 6 criteria for choosing a good product to sell.
The 6 Criteria For A Good Product
Criteria #1: First, a product that's hard to find

in store will be easier for us to sell. Whoever is searching for a specific product will look online, and that's where we come in.

Criteria #2: Second, if our product is hard to find, the price

will also be hard to guess. When this is the case, we have an advantage because we can increase our profit potential.

Criteria #3: Third, the products we sell should solve a need

in the market. If our product isn't solving a problem for our customers, then no one will buy it. Therefore, if it makes life easier, it's a good product.

Criteria #4: Fourth, we need to have a supplier with fast shipping times

. We can guarantee quick delivery times and obtain satisfied customers with a fast supplier.

Criteria #5: Fifth, the products we sell should be bought on impulse

without the need for research. If the product is too complex, we risk losing customers.

Criteria #6: Lastly, our products shouldn't cost more than $30

to purchase from a supplier. If the product costs a lot for us, it will cost even more for our customers. Meaning it's likely it won't sell well.
By following each criterion above, we can ensure our products will sell, and we will make a profit.
Creating A Winning Products List
If our niche is also popular amongst other dropshippers, we need to continue narrowing down which products we're selling. Using a product research spreadsheet, we can narrow down our winning products list.
Furthermore, we can use many product research tools to find trending products. For example, Amazon has an area called "Movers and Shakers," which shows top-selling products and updates them every 24 hours. Movers and Shakers is a great place to get ideas for new product trends.
Beginner's Tip: It's best to choose a niche you like. When you connect with your niche, it's easier to research and build your store around it.
While there are many tools we can use, it can continue to be difficult for us to find the best products for our store. As trends are constantly changing, it's easiest for dropshippers to use automated tools for product research. With that said, AutoDS has an integrated product research tool as an additional method to find and add trending products to sell:
Step 2: Find A Dropshipping Supplier
A must-have is an excellent dropshipping supplier for our store. When choosing a supplier, we need to ensure they have domestic warehouses in the markets where we're selling our products, fast delivery times, and excellent customer service in case of product issues or returns.
These are some of the best suppliers to work with when running a dropshipping business:
Working with these suppliers means we can dropship their products to our Wix store, even from different regions. Meaning we don't only have to target the US audience with products from US suppliers, as the global market is open to us.
Moreover, we can use all of these suppliers with AutoDS to quickly import their products, automate price/stock changes, and more. This gives us a reach to tens of millions of products to dropship.
Lastly, if you're interested in running a print-on-demand (POD) business, then Printify is your go-to supplier for custom-made items.
Step 3: Create A Wix Dropshipping Website
We can finally start creating our Wix store now that we've covered the necessities!
Follow these next steps to build your website:
3.1 – Sign Up For Wix

First, we need to go to Wix to create an account or log in to our existing site. Just hit the 'Get Started' button and follow the instructions to register. Before we start building our website, Wix will prompt us with a few questions to help us customize our store.
3.2 – Pick a Professional Template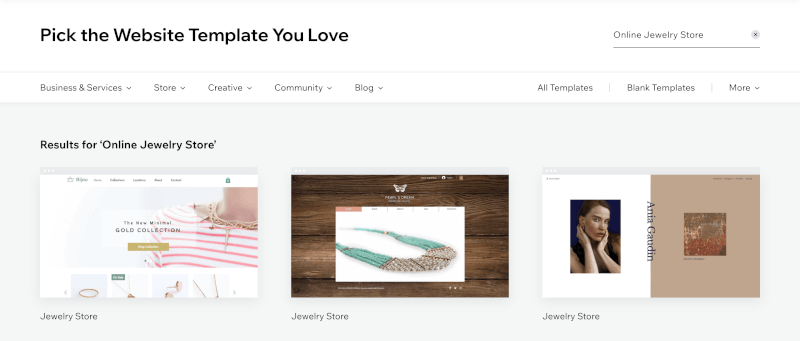 Wix provides us with 80+ online store templates to choose . With robust business tools built-in, we're sure to find the perfect one for our store. Here, something to keep in mind is selecting a template that goes well with our niche. For example, if our niche is jewelry, then we can search for "online jewelry store" templates.
Once we've chosen the template, we can proceed to the "Edit" button. However, it's better to preview the template before editing to make sure it's the right fit for our store.
3.3 – Customize Your Site Design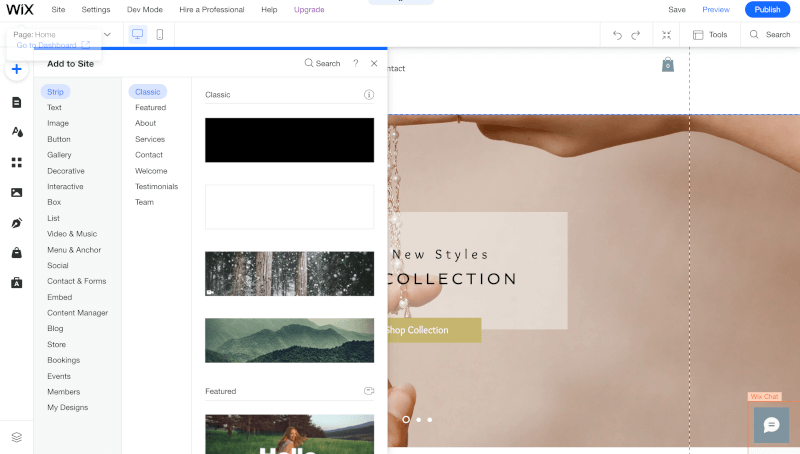 Once we've chosen our template, we can edit the site design to our liking. This means we can create a website that fits our business' brand with customized images, text, and videos to win over our customers.
Plus, customizing on Wix is super easy with their drag-and-drop editor. Whichever components we want to add to our site, we simply drag it and drop it where we want it. The editor allows us to alter page backgrounds, headings, font, color schemes, and more! All we need to customize and beautify our site is our lovely Wix editing navigation bar on the left-hand side.
And, if you want to customize even further, Wix has great features you can add to existing pages. For example, social media integrations, customer reviews, and newsletter sign-ups. This is especially optimal for dropshippers to establish connections with their customers.
Moreover, one of the best ways to build our brand image is by creating a unique logo. We can use the Free Wix Logo Maker to do so. Once we've completed this, we can start importing products to our store (more on this later).
3.4 – Connecting Your Domain

Next, we'll connect our domain to our Wix website. Doing so allows our website to appear online. When we enter our domain name into a web browser, our online store should pop up, and that's how we know our domain is connected.
We'll navigate to the "Settings" area to connect our domain by hovering over the top left corner. We then click on "Business Info" and "Website Settings." From here, we can further edit our website with our brand name, favicon image (the little icon on the top right of your browser tab), and domain (our website URL).
We have two choices when creating a domain. Either we edit the free domain or upgrade to a branded domain name. We recommend upgrading so you can customize your site address to fit your brand instead of having the generic one.
Wix offers various payment plans at a low cost. This initial investment takes us one step toward creating our own unique brand that customers will trust and love.
3.5 – Payment settings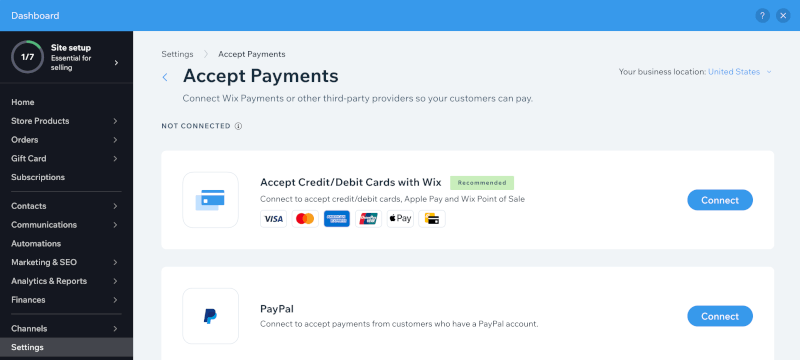 Now that we've configured the creative aspects, we need to set up the technical pieces of our Wix store. Meaning we're configuring payment settings so that customers can purchase our products.
Let's head over to settings and follow this process to set up payment methods:
Scroll down to the

"eCommerce & Finance"

section

Click the

Accept Payments tab

Select which payment methods you want to use

Click

Connect Me

and follow the steps
All that's left to do is publish our website. We can do this by clicking "Publish" at the top right of the editor. Next, we can click "View Site" to see how it looks, and lastly, we click "Done."
Now we can start selling and earning money!
Step 4: Wix Legal Pages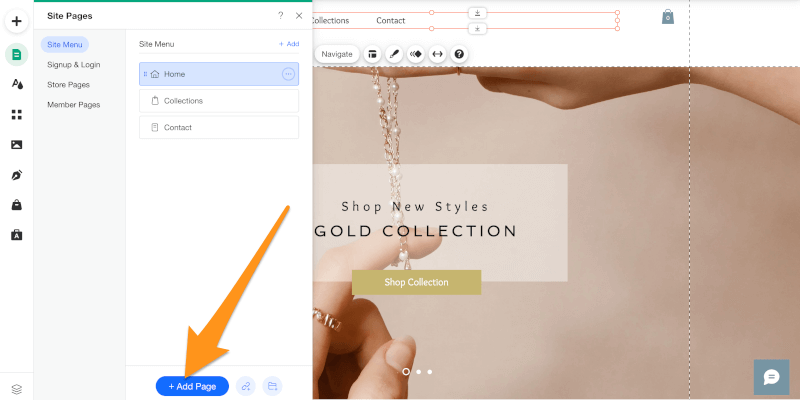 Your store policies and legal pages are a must-have. It may not be the most exciting part of building your online store, but it lets your buyers know who you are, what are your shipping and return policies, terms and conditions, and other essential information.
Store policies also give many buyers the confidence they need to trust your brand and continue with the checkout process.
We created ready-made templates for all your needed legal pages. Just fill in the brackets with the relevant information and upload the pages to your website.
Be sure to include them in your navigation menus so that the buyers can access the links to the pages on the top/bottom of your website.
Now that we've filled out the templates, we can add these pages to our menu bar. We can access this by going to "Site Menu" and clicking "Add Page."
Step 5: Dropshipping Automation
Great job making it this far! Now that creating and customizing our store is behind us, as well as the boring legal stuff, we can start importing products to our Wix stores.
We can do this process manually; however, it can take days to finish a process that can take minutes (or seconds). We can't spend all day importing several products to our stores because we'll never see the end of it. Instead, we can invest that time in growing our business. We can do so by using automation software to import products to our Wix store automatically.
In fact, to add products to our Wix store, it's best to use a dropshipping app. The most convenient option is to choose an app that also acts as an automation tool.
The key to succeeding in such a highly competitive environment is automating processes like:
This is a game-changer for us as prices are constantly shifting, and product trends are always changing. Plus, by fully automating order fulfillment, we don't have to worry about tracking information or entering addresses wrong. So instead of being glued to our computer screens for fear of losing customers, we can automate these processes and sit back and relax.
By adding our Wix store to AutoDS, we can benefit by automating our processes and ensuring we stay at the top of our game.
Step 6: Import Your Products On Wix
After registering with AutoDS, we can start importing our products on Wix. Before we begin, let's look at the difference between importing our products manually and the automatic method.
Automated dropshipping uses technology to handle mundane tasks so that store owners can focus on what matters most: growing and scaling your business . Whereas manual importing requires loads of time since nothing saves us any time. We need to manually copy and paste all of the product information on the supplier's page and paste it on our website. Also, we'll need to download all of the images and reupload them manually on Wix.
Doing this one by one for each product we wish to import will consume a great deal of time. Especially when we're aiming to scale our business and grow.
With AutoDS, we can automate all of these tedious tasks . With the draft importer, we can use various importing methods:
One-click Importer

Single Product Importer 

Multiple Product Importer

Bulk CSV (for hundreds or even thousands of products at once).
This importer tool automatically grabs all of the products' information from our supplier's website and imports it to our Wix dropshipping store within seconds. Correspondingly, saving us a great deal of time compared to manual uploads.
Before adding any products, we first need to go to our Wix marketplace and add the AutoDS Wix App. Afterward, we can use the draft importer tool to add products to our store.
With that said, the best way to learn is to do it ourselves. Let's look at an example of importing products to our Wix store using an AutoDS importer tool.
6.1 – Download and Install The AutoDS Helper Chrome Extension

With the AutoDS helper, a free chrome extension, we can use the one-click and Bulk CSV methods. In this example, we'll demonstrate with the one-click importer. 
6.2 – Add The AutoDS Wix App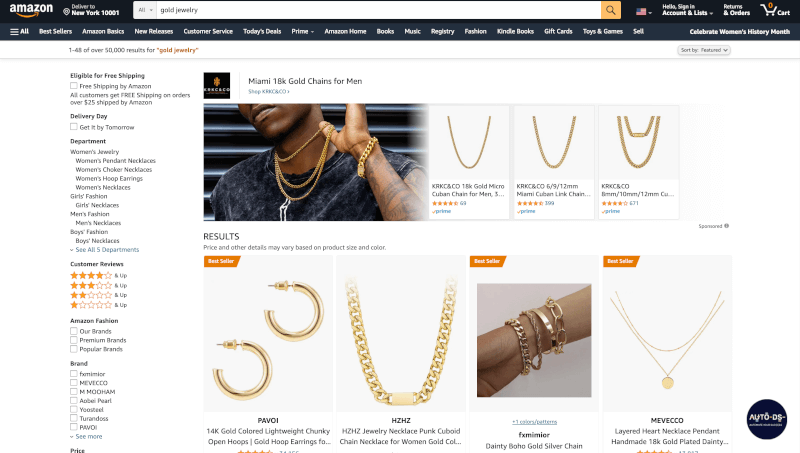 Now that we have the helper extension, we'll add the AutoDS Wix App to connect Wix with AutoDS. This is the first step to begin business automation (be sure to register for an AutoDS account first). 
6.3 Choose A Product To Sell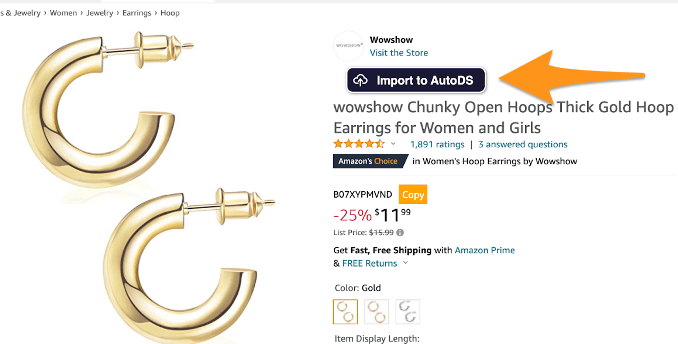 Next, we'll head to our suppliers' website and select the product to add to our store. Click on the product to open the product page and click the "Import to AutoDS" button, as shown in the image above.
The products get imported to the draft section of our store. This is crucial as we need to continue optimizing before publishing the product to our store (more on this later). Thus, the one-click importer means that the product will transfer to our stores in just one click. It's super-fast and easy to start earning a profit!
With the AutoDS tool, there's no need to do anything manually as all the information from the product listing imports automatically to our store.
However, let's say we want to import multiple products at once from the same supplier page as above. We can use the AutoDS helper and extract multiple product IDs. After extracting, we can click on the "Export as CSV" button, and the CSV file will be downloaded onto our computers.
After we have the downloaded file with all the product IDs inside, we head back to the AutoDS platform, click "Add Products," and simply upload the CSV.
On the other hand, if we aren't using the chrome extension, we can go to the AutoDS platform and directly import products using the single or multiple product importing options.
Just like the other methods, we go to the "Add Products" button, insert the URL or ID of the products, select our supplier, and we can start optimizing.
By using the AutoDS automated dropshipping tool, we save ourselves time and use that time to really scale and grow our business.
Step 7: Optimize Your Wix Product Pages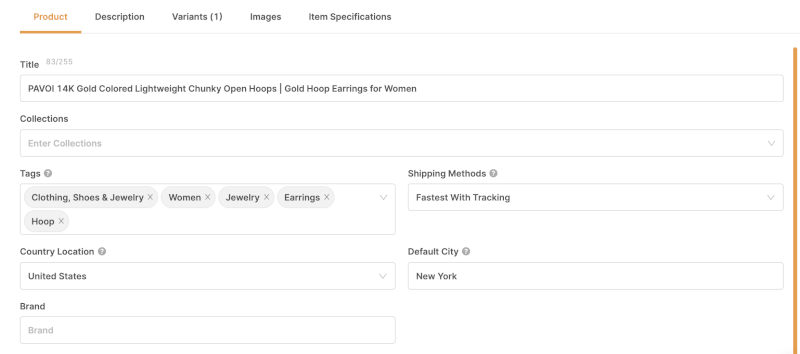 As we saw earlier, if we focus our efforts on optimization instead of importing products and monitoring prices, we can increase our sales. An optimized product page is essential for our Wix store as this is the page most of our buyers will land on after clicking on our ad.
Once a potential customer is on our product page, we need to convert them from a viewer into a buyer. Therefore, we have to make an excellent product page.
We need to make sure our product pages look professional with product titles, descriptions, specifications, images, and videos/gifs. This solves a need for our buyers. For example, if we don't add images of the products or the descriptions aren't clear, it's likely no one will buy the product.
As we're running an online business, customers have many options on the market and can be more diligent when shopping online as they don't have the physical product in front of them. By optimizing our product page, we can build trust with our customers and ultimately convince them to buy our products rather than our competitors.
We can optimize everything through AutoDS to ensure we always stay on top of our niche market.
Step 8: Setting Up Shipping Options
As we know now, one of the greatest advantages of Wix dropshipping is the global markets we have access to. We can choose to sell our products domestically or internationally or both!
To do so, we need to set up our shipping options. All we need to do is follow three simple steps: 
8.1: Set Up Shipping Regions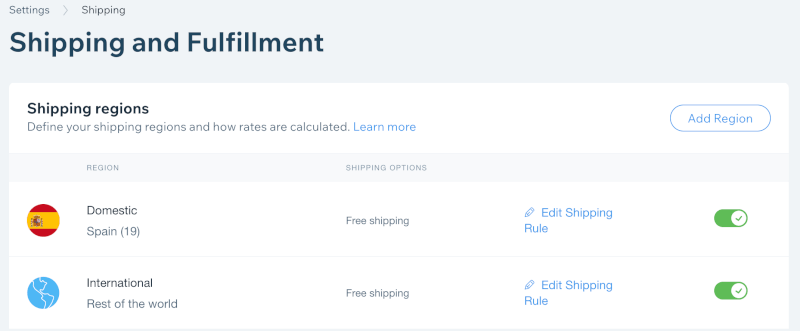 First, let's navigate to Settings. From here, we scroll down to the "Shipping and Fulfillment" tab.
We can see that our stores have two regions already set up for us. One is for our domestic region (where we're located), and the other is for international regions. The default is free shipping, no matter the region.
From here, we can pick and choose which region we want to ship to. Remember that we'll need to set up shipping rules for each region, which brings us to the next step. 
8.2: Select Shipping Rules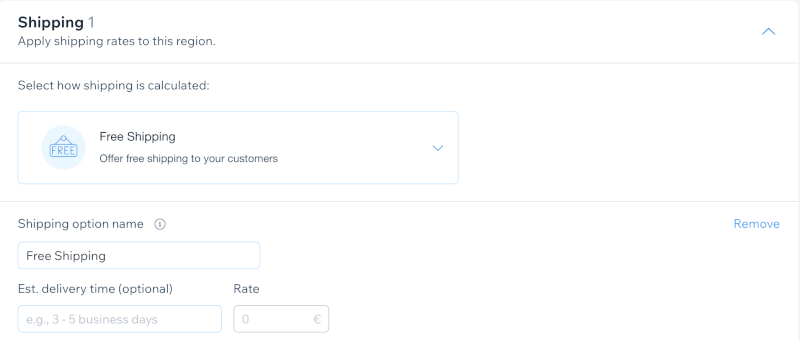 Shipping rules allow us to set up different shipping rates for each region. To set these up, we click on the small pencil icon next to each region to edit the shipping rule.
We can keep the default free shipping option, or we can choose one of the following options:
Flat rate

Rate by weight

Rate by price

Rate by product
Also, each region can have a different rule. So, for example, we can apply free shipping domestically and charge a flat rate for international orders. Now, we can move on to the last step for shipping.
8.3: Offer Multiple Shipping Options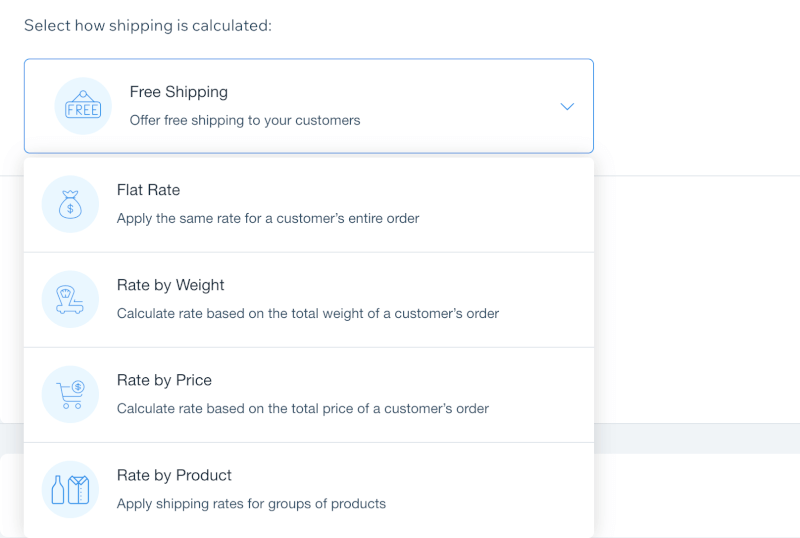 By offering various shipping options, there's a better chance our customers will be pleased with our service. With Wix, we can give our customers the option of faster shipping for a higher rate.
We can create additional shipping options by clicking the "Add Another Shipping Option" button. Afterward, our customers can select the shipping option they prefer when it comes time to check out.
There we have it! We're almost ready to start selling and shipping our products. 
Step 9: Wix Online Marketing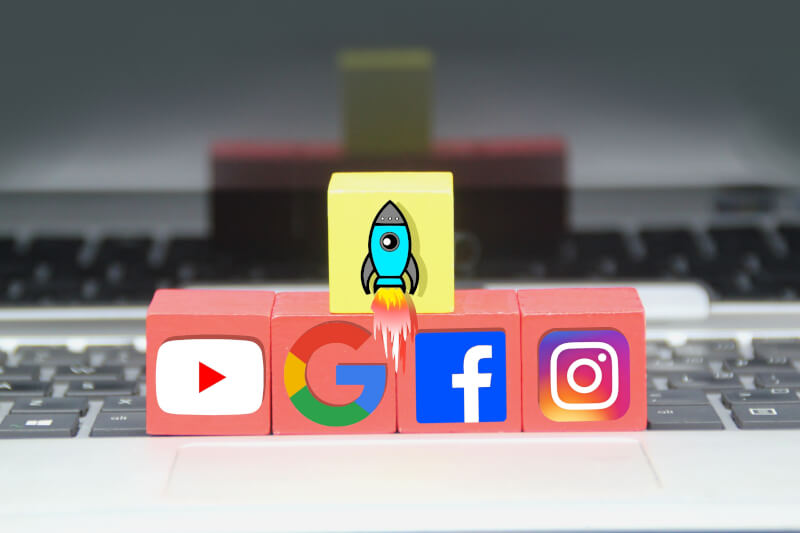 Now our Wix store is ready to be published, and it's time for us to start selling. But, as we now know, Wix doesn't receive organic traffic, which means we need to invest in online marketing to bring customers to our store.
With that said, here are some useful marketing methods for Wix dropshippers:
Facebook Ads

Google Ads

YouTube Ads

Influencer Marketing Platforms

Email Marketing

Blog
9.1 – PPC Ads
Facebook, Google, and YouTube Ads are different types of pay-per-click (PPC) ads that are run on their respective platforms. PPC means we're paying for the ad each time a user clicks on it. However, we can see a great return on investment once the sales start rolling in.
With the mentioned PPC ad platforms, we're able to get ahead of our competition by promoting our products. All three platforms have large amounts of organic traffic, which means we have access to a large-scale audience.
Facebook, Google, and YouTube Ads will help us gain more visibility and boost traffic to our store. Although, it's necessary to optimize and analyze the ads to ensure your investment is worthwhile.
To learn how to create and run a successful Facebook Ads PPC campaign, check out:
While the eBook above says it's for Shopify stores, it works just as well for Wix, too.
Moreover, when creating ads, we have to ensure that the content is engaging. Without this, viewers will continue scrolling to the next ad on their feed. Especially with the rising popularity of video content, we need to optimize the video ad and make it as engaging as possible.
That's why using a company like Waving Pandas will save us loads of time. They create videos for our store products that are engaging and will bring users to our website.
Use this referral link and get a 10% discount on your first order:
9.2 – Influencer Marketing
Besides this, we can also utilize influencer marketing. Influencers have their own audience, and we can work with them to promote our products on their social media platforms . Once again, gaining access to more potential customers.
9.3 – Email Marketing
Next, we have email marketing. This is another great marketing method to generate sales on our online store. Email marketing uses email to communicate with our current or potential customers in various ways.
There are a few ways to obtain a list of email addresses for your product/niche.
For example, through newsletter subscriptions, promotion discounts, or the check-out page on our website. When someone subscribes to our newsletter, we automatically gain an email address.
Moreover, we can use apps that offer promotions in return for the customers' email addresses. Lastly, we also gain email addresses after the buyer checks out their items from our website.
Once we have this list, we can optimize email marketing to convert our leads into customers.
9.4 – Blog
Lastly, we can create a blog section on our website to generate organic traffic. Meaning we won't be paying to market our content. Instead, we'll be using search engine optimization (SEO). We do so by writing valuable articles revolving around our niche.
Then, people searching for keywords related to our articles can get to our website directly from Google search. Ultimately, this increases our free organic traffic and thus generates more sales.
Step 10: Fulfill Your Dropshipping Orders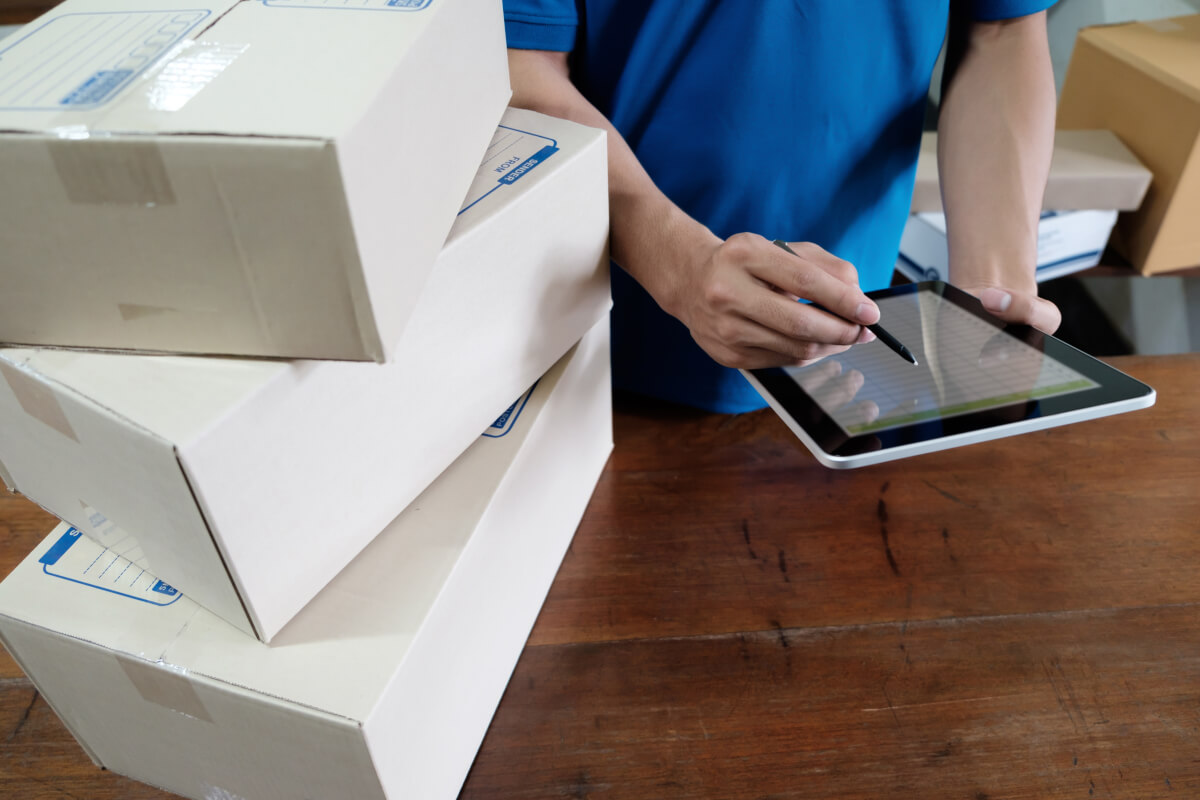 Congratulations, you got your first sale! Wondering what to do next? Don't worry, we got your back.
When it comes time to fulfill orders, dropshipping store owners have three ways to do so. Either by manual orders, automatic orders, or complete fulfillment by AutoDS.
10.1 – Manual Orders
First, let's look at manual orders. We've imported our products to our Wix store using dropshipping automation, and now we have to ship the products to our customers. 
By using the manual order method, we need to process all of the orders from our suppliers manually. Meaning we purchase the product from our suppliers' websites and ship it directly to our buyers. Then, we have to consistently check if any information needs to be updated, such as adding tracking numbers and making sure that the shipments reach their destinations.
This can be time-consuming and tedious, but we can save time and scale our store using an automated tool.
10.2 – Automated Orders
AutoDS offers a complete fulfillment solution. The Fulfilled by AutoDS service automatically handles 100% of your orders (from supported suppliers). This means there's no need to deal with the orders on the source site, cancellations, returns, or account restrictions. All we need to do is load the balance on our AutoDS account, and all of our incoming orders and tracking information will process automatically to our buyers- even while we sleep.
Additionally, there's an AutoDS automatic ordering system that requires a buyer account, unlike the complete AutoDS fulfillment solution. A buyer account means we're using our own payment methods (like credit cards) with our suppliers to process our automatic orders.
With this, we can benefit from automatic tracking updates and conversions. Meaning we don't have to worry about sending products to the wrong address or updating the wrong tracking information.
By automating our order fulfillments and tracking information, we can save time, ensure accuracy, customer satisfaction, and above all, freedom!
Step 11: Customer Service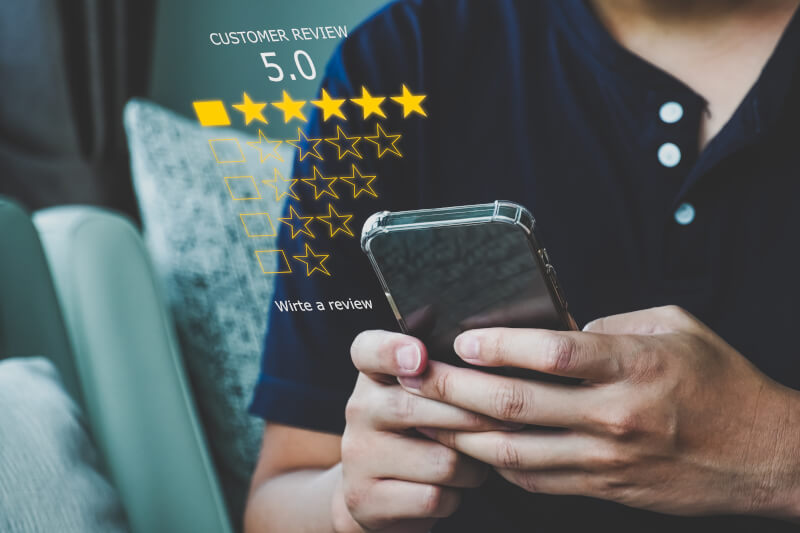 As we saw earlier, once we automate our dropshipping business, we can focus more on customer service. Having excellent customer service is integral for dropshippers not only to answer questions and concerns but also to maintain loyalty and build trust.
Through customer service, we can answer all of our buyers' inquiries and stay in touch with our customers through email marketing. Moreover, we can offer promotions and discounts and turn our buyers into repeat customers.
Therefore, we have to ensure we're offering the best possible customer service in order to stand out amongst the crowd.
Step 12: Scale & Grow Your Business

Now that our Wix dropshipping store is live and selling, we can start scaling and growing.
We can use the AutoDS dashboard and products page to see what products, tags, and categories are selling well. Through this, we can multiply our success by adding more products similar to those that are selling along with removing or replacing the slow movers.
Furthermore, we can continuously optimize our ads and see which ones are performing well. We can gradually increase our daily budget and find the sweet spot for our ROI (return on investment). Likewise, we can turn off the bad-performing ads to avoid spending money unnecessarily.
Through optimization and automation, our Wix dropshipping business will increasingly grow each day. To ensure success, we can utilize the Wix App Market to continue scaling our business to new heights. With so many different apps to choose from, such as:
Upselling and Cross-Selling

Cart Abandonment

Review Importers

Marketing

Social Proof 

…and more.
We'll benefit greatly and make sure our business is as optimized as possible, resulting in high-profit margins. 
The Benefits Of Working With Multiple Wix Suppliers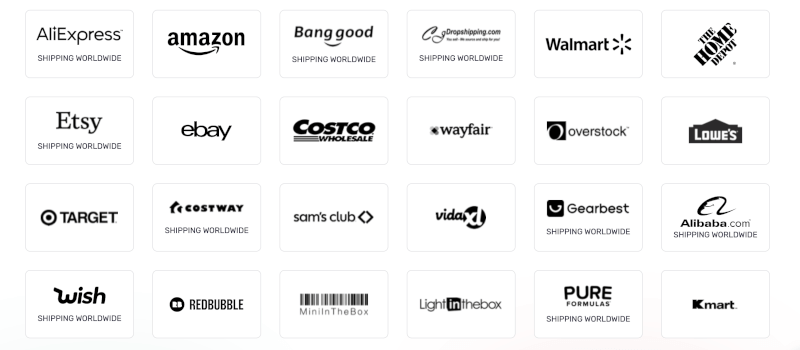 Now, we've gone through all of the steps for setting up our Wix online store, and we can look at another way to scale our business.
By working with multiple Wix suppliers, we can benefit in many ways that will allow us to beat our competition and stay on top. Working with multiple suppliers means we have access to millions of more products to sell. Additionally, we'll gain access to different regions to sell from/to.
For instance, if we're using AliExpress for the US market, we can also consider working with Amazon. Not only will we have a more expansive catalog of products, but also more domestic warehouses to ensure faster shipping times and, thus, more satisfied customers.
Also, if one supplier runs out of stock on a bestseller, we can always rely on the other suppliers to fill it in. Meaning we'll always have security for our dropshipping business. Not only for this, but when one supplier is unavailable, we can rely on additional suppliers to ship the products without delays.
If we take the AliExpress example, as they're based in China, they will follow Chinese holidays. Whereas with Amazon, we can ensure product shipments when AliExpress is unavailable. That's why having multiple suppliers in multiple regions allows us to gain an advantage in the market.
To top it off, we can differentiate ourselves from our competitors even more by adding multiple variations from different suppliers under one product listing. With the help of AutoDS, creating these unique product bundles is a breeze, along with so much more. 
Final Thoughts
There we have it!
Now, you're ready to start a Wix dropshipping business. We looked at the technicalities, the process, and scaling tips and tricks.
Using your creativity mixed with automation tools means there are no limits to your success!
In conclusion, if you want to continue staying ahead of your competition, then here are some great resources to gain a competitive edge:
Frequently Asked Questions
Is Wix dropshipping legal?
Yes! Just make sure you aren't dropshipping copyrighted/patented products and following our advice from Step #4: Wix Legal Pages. While this isn't formal legal advice, it will help add a layer of protection to our stores.
Does it cost money to dropship on Wix?
There are three main costs to consider when starting a dropshipping business on Wix:
The

eCommerce platform plan

: ranges from $17-$35 per month with Wix.

The

website domain

: ranges from $5-$20 per year. With Wix, the domain is free for the first year if you upgrade to a Business and eCommerce Premium plan.

The

marketing

: This depends on your strategy. Each Wix Business and eCommerce Premium plan comes with built-in professional marketing tools. Be sure to refer to Step #8: Wix Online Marketing for further details.
How much money can you make dropshipping on Wix?
While it depends on the niche and audience we're targeting, average Wix dropshipping profits range from 20-60% . Although, in order to succeed, you'll need to do your research and use the resources at your disposal, like the product research spreadsheet mentioned in this article.
Suffice to say, the sky's the limit, and there's much potential to earn significant profits with Wix dropshipping!