Uploading products is one of the most important tasks when we are dropshipping on eBay. And, there are multiple eBay bulk uploading methods to upload products to your dropshipping stores.
In this article, we will be covering one of the best-known methods to upload products to your eBay dropshipping stores. Yes, we are going to talk about the bulk upload method.
What Is Bulk Upload?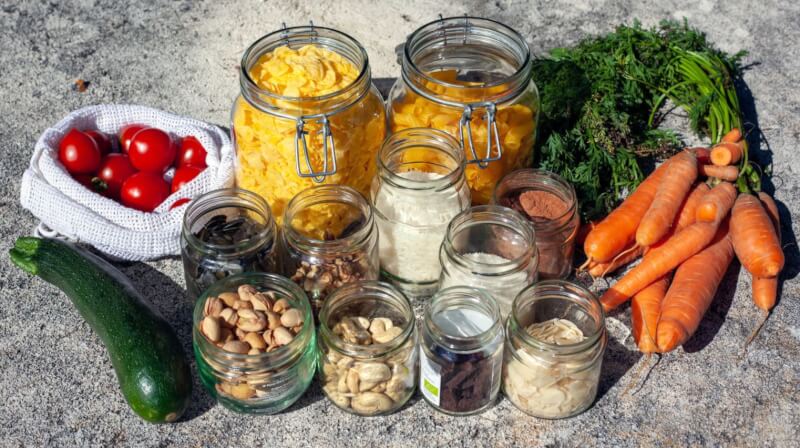 The eBay bulk upload method is where you automatically upload a large number of listings to your eBay dropshipping store. Instead of having to upload your products one by one, you can simply arrange a list and automatically upload them all to your eBay store.
There are several different types of bulk upload methods, each strategized for grabbing items in different ways.
The Benefits Of eBay Bulk Upload Method
Bulk uploading saves a significant amount of time compared to manually uploading. And we all know that time is money. A manual upload consumes an average of five minutes per listing. A bulk upload consumes the same amount for hundreds or even thousands of listings at once.
Using bulk uploads, you can finally grow and scale your store successfully using the proven big numbers rule strategy. This way, you can grow your online business, maximize your profits, and still have time to do what you love to do the most. 
Bulk Upload Methods For Sourcing Hot Products
There's more than one way to take advantage of bulk uploads, so you can have more flexibility while you work. Here are five types of eBay bulk uploading methods for grabbing and uploading tons of hot selling items to your eBay store:
1. Grab Hot Sellers From Other Dropshippers On eBay
See what other dropshippers are selling on eBay, and search for similar products on your sources' site. To do this, enter any seller listing on eBay. On the right side, click on "see other items":

Then, on the left side, click on "Sold Listings" then you will have a full view of every item sold by this seller, sorted however way you want it. Grab a list of similar items from your sources, and bulk upload them to your store.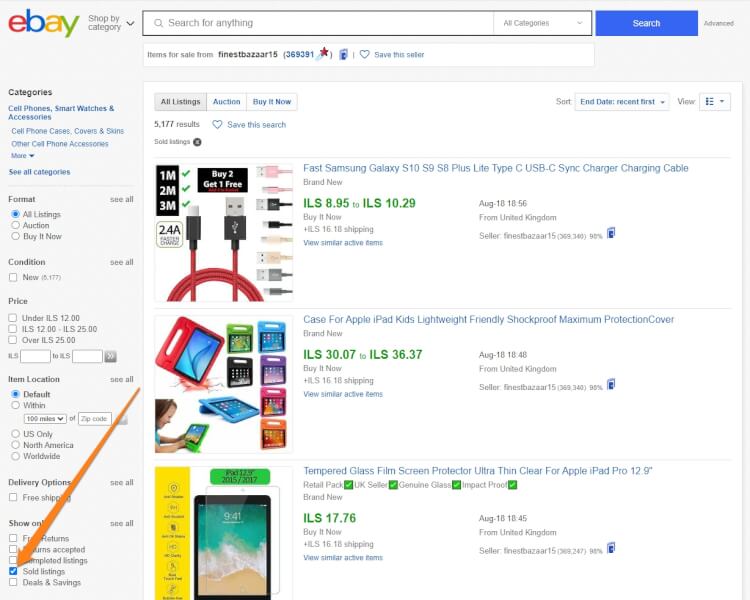 2.  Grab Hot Selling Products From Your Suppliers 
Use your suppliers' websites to view their best selling products. Most dropshipping suppliers have product ratings, so you can filter out the products that don't sell. Keep the best selling products for yourself to upload and analyze the trend.
Suppliers such as AliExpress – with their exclusive dropshipping center, Amazon, HomeDepot, Walmart, Banggood, and more, support product reviews. Grab a bunch of the best selling products, and bulk upload them to your store.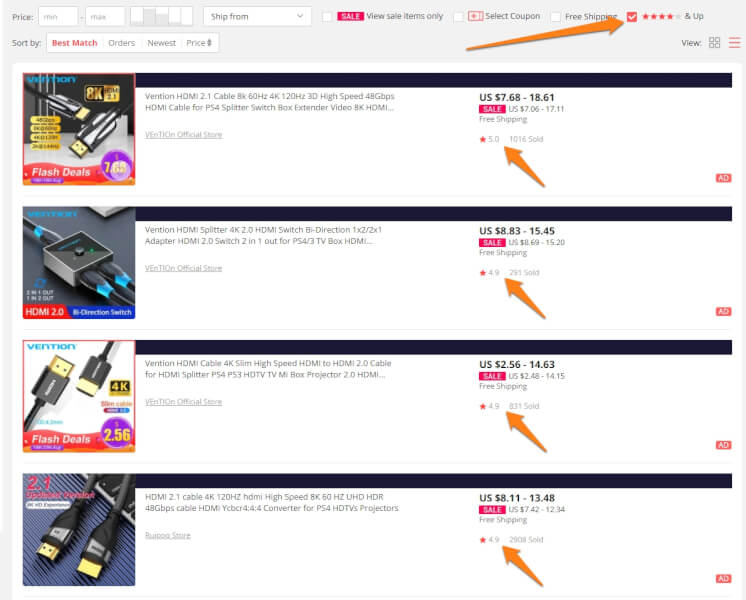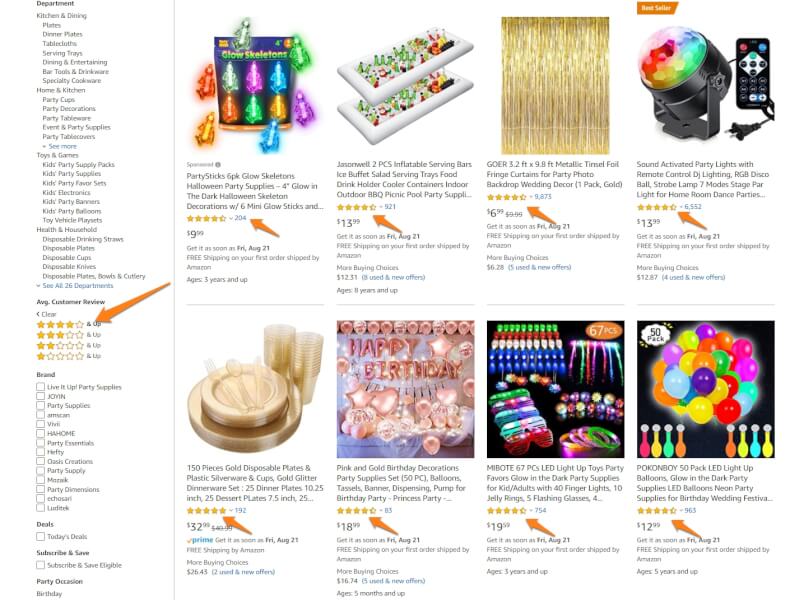 3. Grab Hot Selling Niches/Top Selling Categories
When you find a niche or category that's selling well for you or other dropshippers, you can bulk upload the whole category or niche. The method is almost the same as the above. Only that instead of searching for products in mixed categories, you will do it in hot categories, which contain a mix of sellers in it. 
Every supplier organizes products into different categories. All you have to do is enter a hot selling category, filter by the best product reviews, and upload them in bulk all onto your eBay store. Break down the category as much as possible to spot the hidden gems.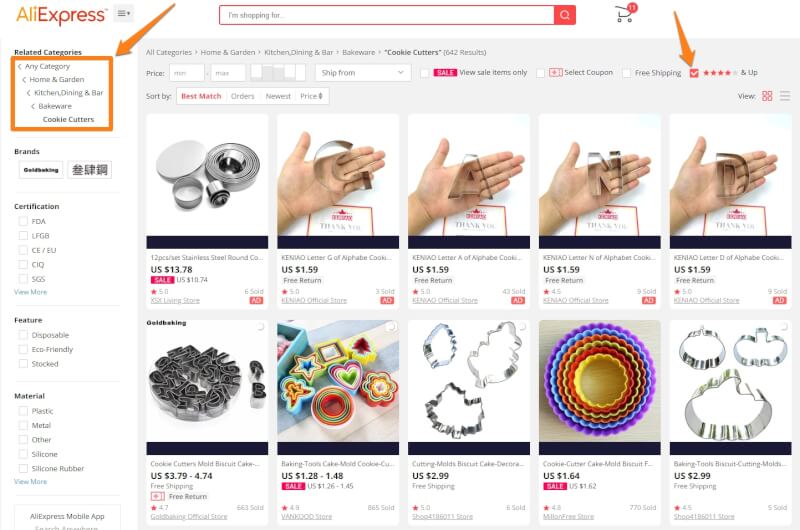 4. Grab Products From Hot Sellers
When you have a few good selling products that you're buying from the same seller, it's best to grab all of the seller's items in their store and upload them to your store. The eBay bulk upload method comes in handy here, too.
Now you can multiply your success in no time, while continuing your growth, and search for more best sellers.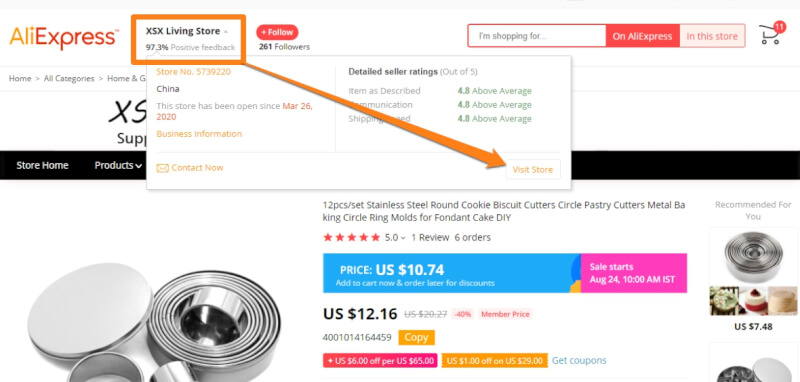 5. Multiply Your Success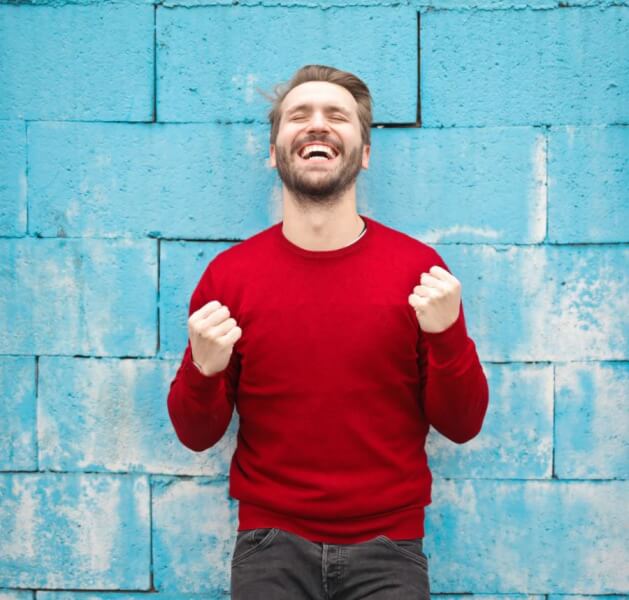 Once you start generating sales, analyze the products you are selling. What category or niche do they belong to? Which seller are you buying them from? When you start to notice a pattern, multiply your success by uploading all of the related products that you can find. 
Look for differences like colors, sizes, accessories that go with the winning products, and other similarities. Search multiple suppliers for related products to broaden your reach, making it harder for competitors to keep up with your pace. When your list is big enough, bulk upload them all and watch your store grow successfully.
AutoDS Helper Extension – The "Success Multiplier"
The AutoDS Helper Chrome Extension is the fastest and easiest solution for bulk uploading whole categories, niches, and supplier pages in a click of a button. It is a must for anyone looking to start bulk uploads the right way, with a few different working methods at hand.
Once you install the extension, simply head over to any niche, category, or supplier page that you want to upload. On the bottom right of your screen, click on the extension. Then, click on "Extract" and notice that the source product IDs load into the grabber. Click on "Export as CSV" and save the CSV file onto your computer: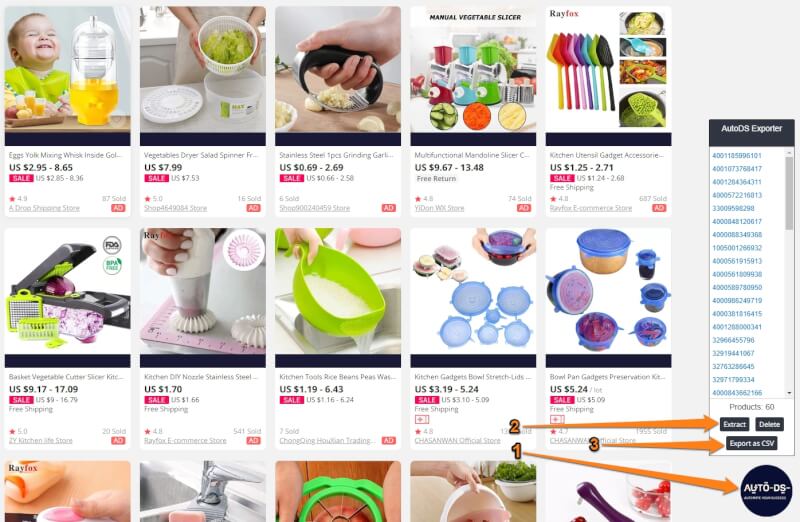 All that's left to do is upload the CSV file using the AutoDS Bulk Uploader by setting your upload conditions and fire away.
There are two ways to bulk upload. Both are in the "Uploader" section of AutoDS. Click on the "Bulk Upload" tab on the top. You will see the two upload methods: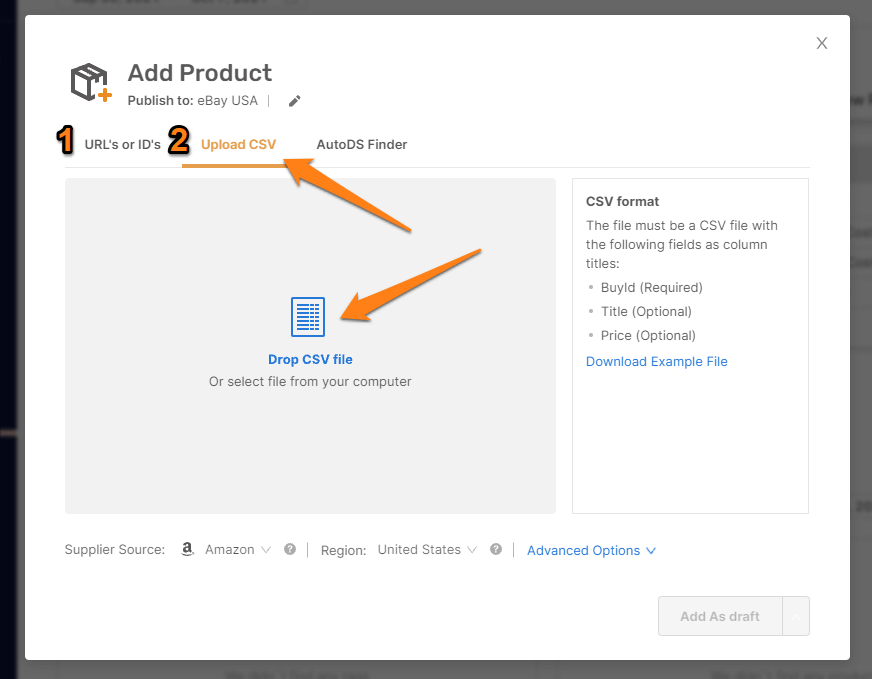 1. Products To Upload
Paste the item source IDs that you want to upload, each on a separate line. If you don't know where to find the product ID, use the AutoDS Helper to extract them from your supplier page.
2. Upload Bulk From CSV
Upload source products from a CSV file. The CSV file can have one column with the source IDs or two columns; One for source ID and the other for the product title. If you skip the title column, the listings will upload with the source ID titles. 
If you want to learn more about the different bulk upload methods, you can check our guide about how to use the bulk upload listings on AutoDS.
You can also use the AutoDS Helper to extract your source IDs into a CSV file, then import it using the "Upload Bulk from CSV" button. It's up to you if you want to do it yourself or let the extension automate it for you.
The Automatic Way To Find Products In Bulk – The AutoDS Finder
An additional way to use bulk uploading to your advantage is using the AutoDS Finder to find and upload the best selling products in bulk.
The AutoDS Finder uses a smart algorithm to scan the best selling products from over 40,000 eBay sellers daily. You can choose by the number of times the item sold in the last month, and items with a high chance of coupons. 
The more products you let the AutoDS Finder find and upload for you, the higher chance you'll have of exploring new niches and hot selling categories. That is why you should use it as an additional tool for eBay bulk uploading methods.
You can activate the AutoDS Finder's recurring uploads feature, enabling automatic Finder uploads to your store every day at any given hour. This way, you can automate one of the most important tasks, and invest your time on growing your dropshipping business.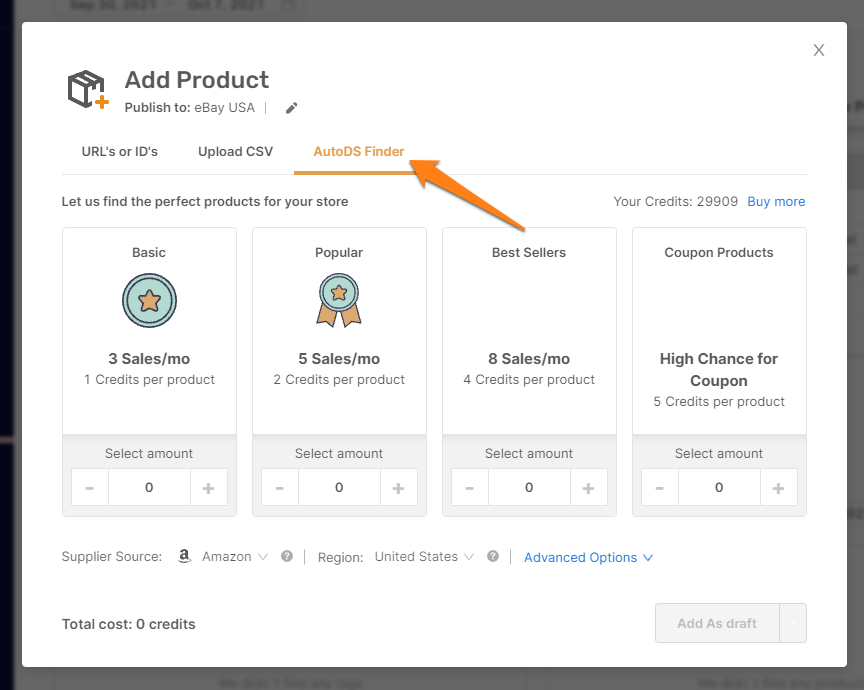 Tips For Working With The Bulk Uploads
Like anything else in dropshipping, there are some tips that you need to know when you are working with the bulk method, and that's what we are going to cover in the upcoming sections.
Price Optimization
The bulk price optimization feature in AutoDS allows you to optimize your listing prices to make more significant profits on all of your listings. There are two types of bulk price optimizers for your benefit:
1. Price Optimization By Sold / Non-Sold Products
Automatically increases the prices on items that sell and lowers prices on those that aren't performing well. You have the option to choose under which conditions the prices should change, and the type of change, either percentage or fixed amount. 
To do this, head over to the "Monitors" section and click on the "Orders Monitor" tab. Click on the pencil on the bottom left to begin editing the fields according to your conditions: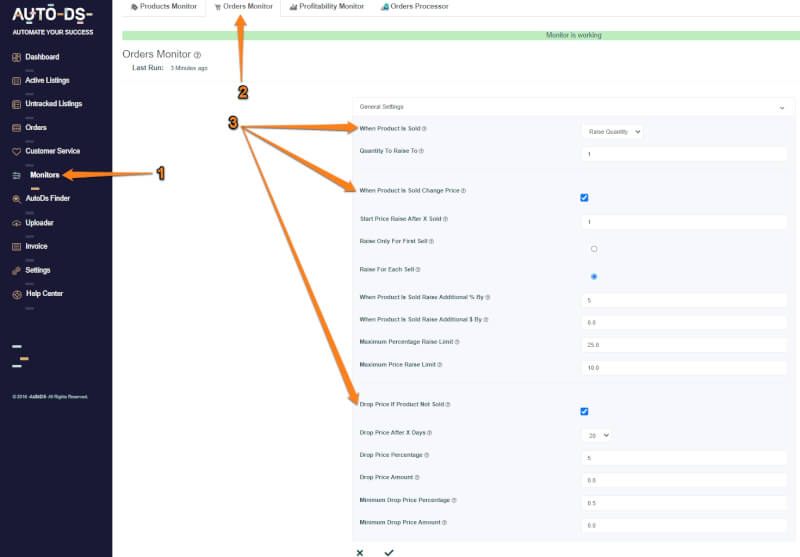 2. Round Price to $0.99
The price rounder feature rounds all of your prices to .99. For example, if a listing's price is $7.68, the system will round it to $7.99. Rounded prices look better to the human eye, and increases the chances of selling the listing.
To enable this feature, click on the "Monitors" section. Then click on the "Products Monitor" tab. Click on any of the supported suppliers, then on the pencil icon on the bottom left to edit the fields. Check the "Round Price To .99" checkbox, and apply your settings. Rinse and repeat on every supplier on your list.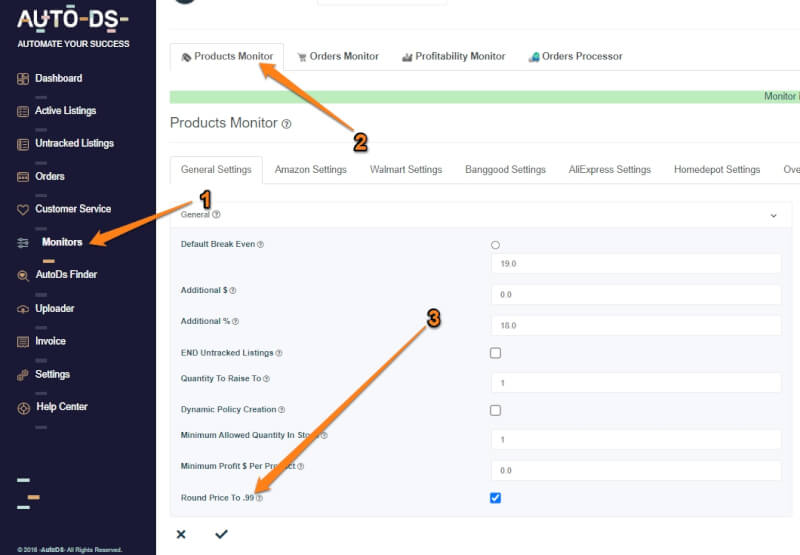 When bulk uploading, lots of products are being listed in your store. But not all products are fit for dropshippers. Some can be copyrighted, patented, or simply against eBay's selling policies. That is the definition of VERO products. Other items may contain keywords that you don't want in your store, even if they aren't against a policy or rule. 
There are a couple of ways to avoid uploading these irrelevant products. Use both methods to lower the chance of getting a warning (or even worse – suspension) by eBay when uploading VERO products.
1. Vero/Keywords Blacklist
The Vero/Keywords blacklist feature can remove specific words or block the upload of any listing if certain words appear in the listing title or description. You can choose your own words to blacklist and add as many new words as you want.
To set the words and conditions, head over to "Settings" Then click on the "Vero/Keywords Blacklist" button. 
2. Uncheck "Allow Vero" On Bulk Uploader
When uploading in bulk, there is an option below to allow uploading products that are listed as Vero in our database. It is not recommended to check this box unless you know what you are doing. 
When unchecked, AutoDS will not upload any listings that are listed as Vero. This option is available when using the bulk uploader, or the AutoDS Finder.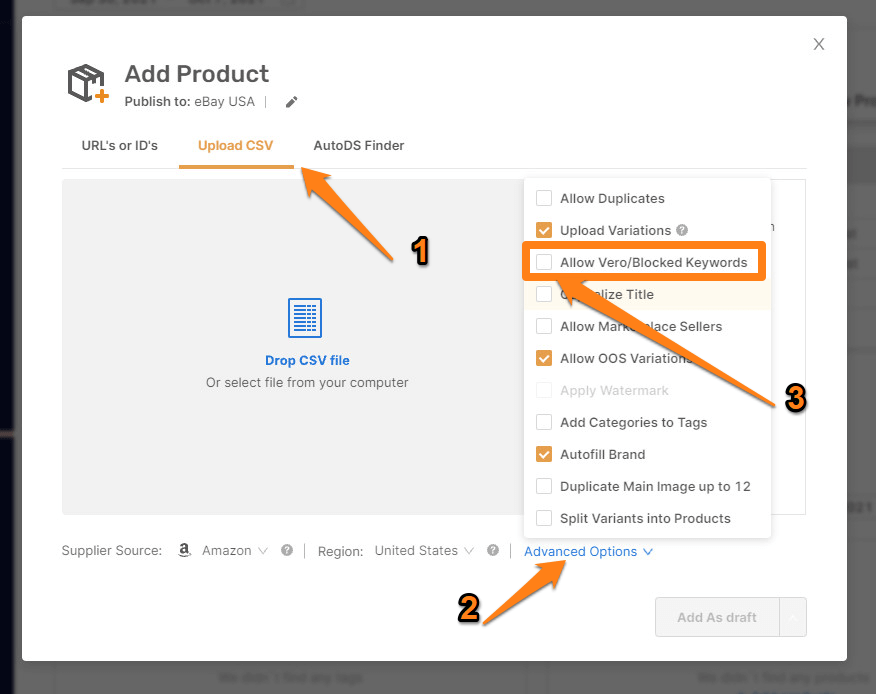 Bulk Title Changer
Changing your product titles in bulk saves a lot of time for those who want their own unique titles on their listings. Instead of having to enter your listings one by one to change them, use the bulk title changer feature to change them quickly in bulk. 
To do so, you must first upload listings in bulk to have a bunch of listings to edit. Then, click on "Active Listings." Highlight the listings that you want their titles edited. Click the "Change Titles" button on the top.
You can add words to all titles, delete words from all titles, and/or create brand new titles.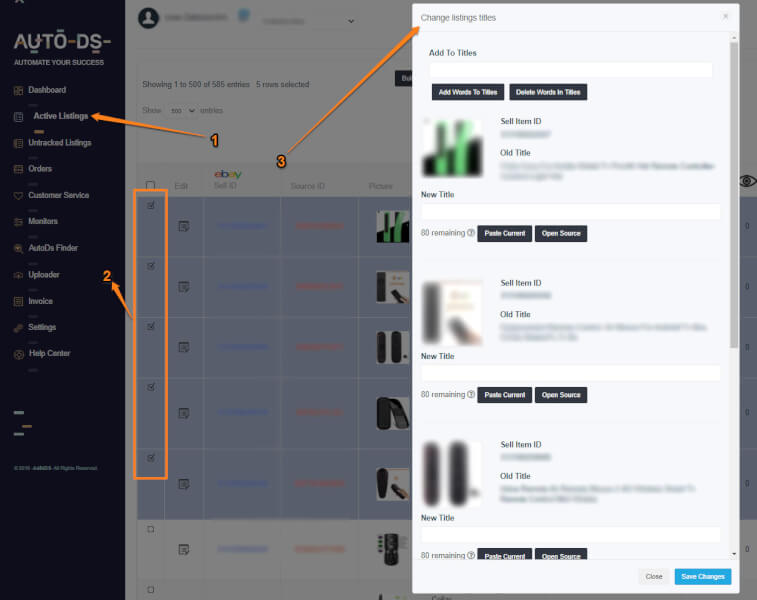 Non-API Bulk Delete Feature
There is a bulk delete option available even for Non-API connections. This feature enables ending listings in bulk, saving a lot of time from having to do it one by one. 
Read this helpful guide on how to use the 'Bulk delete' feature on your Non-API store. Also, don't forget to grab the AutoDS eBay Manual Dropshipping extension along the way. It automates your price and stock monitoring, bulk uploads, automatic orders, price optimization, and more when manual dropshipping.

Active Listings Bulk Changes
There are more powerful features to use in bulk to help automate your dropshipping business. On the "Active Listings" section, Use the "Filter" option to find the products that you want to highlight for bulk editing. Then, click on the "Bulk Change" button on the top. This will open up all of your options to change in bulk for the highlighted items. 
The bulk change options include editing your listings' break-even, profit percentage or fixed profit/price amount, item quantity, template, tags (add/remove), business policies, item location, stock/price monitoring, auto ordering, and more.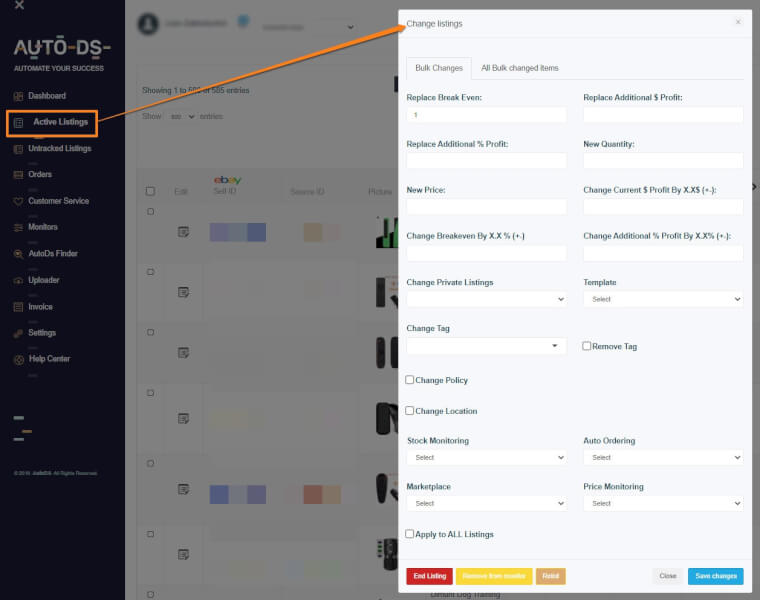 Check out how to bulk change your Listings article to learn more about all of the bulk change features available for your listings.
Easy Store Migration In Bulk
Migrating from a different dropshipping tool to AutoDS is a simple process, as it should be. Thanks to the AutoDS Helper chrome extension, which makes the process take minutes instead of hours (or days, depending on the number of listings that you have).
The migration process consists of exporting your current active listings in bulk to a CSV file (through the helper), then importing them to AutoDS using the bulk uploader.
If this option doesn't work for some reason, you can use eBay's File Exchange system to import your active listings. Find out how to do it on this help page: how to import your untracked listings to AutoDS.
In Conclusion
At the beginning of the dropshipping era, there were no bulk options available. Everything was done manually, one by one. As time progressed, dropshippers started to grow, and bulk automation became a must to expand sales and profits. 
If you haven't started uploading and working in bulk, we hope that this eBay bulk upload method article will motivate you. When you start seeing the results, you won't know how you ever managed without it.