When selling on eBay, we're faced with high competition. However, one of the best ways to stand out is by having a good title. With that said, we can use an eBay title builder to construct a title with optimal keywords. Before introducing the tools of eBay keywords for title optimization, let us first define what a good title is.
What Is a Good eBay Title?
A good eBay title is a title that contains keywords that a lot of people search for on eBay. The keywords should be relevant to the product and its description.
So when we are building a title for our product, it should contain keywords that people are typing on eBay's search bar. This way, more people will find our listings when they search using keywords that we included in our titles.
Now let's discover the 3 free tools to find the best keywords for our eBay titles.
1. eBay Title Builder
To start off our, we have the AutoDS' eBay Title Builder. This eBay title builder helps us create the most optimized product title for our listings to ensure we rank high in customer search results.
As such, the tool takes everything into account from keywords, competition for keywords, average search volume, and sales. The best part is that we have perfect keywords generated for us in mere seconds!

So, to use this eBay title builder, all we have to do is choose a marketplace and exclude any keywords we don't want in our title. Then, we search for the product we want to build a title for and from here, a list of results will pop up.
Next, we can click on the keywords to copy them to the title builder. And that's it! Now our title is ready and we can click on the 'copy' button to paste it to our product listing on eBay.
2. eBay Special Page
The first eBay title builder to find eBay keywords for title optimization is eBay itself, but not everyone knows this secret method that we are sharing. 
This method depends on eBay search suggestions, which represent what people are searching for on eBay. However, these suggestions don't appear when typing in the search bar on the home page.
For example, let's try typing "cell phone holder" in the home page's search bar.

As you can see, there are no suggestions related to the keywords we typed in. 
The secret to making eBay suggest some keywords is by going to the eBay security center page.

You can access the page by going to the bottom of the eBay home page; under tools and apps, you will find the security center, as shown in the screenshot. 
Only on this page, search suggestions start appearing when typing something. Let's use the same keywords we typed in the home page's search bar and see the difference.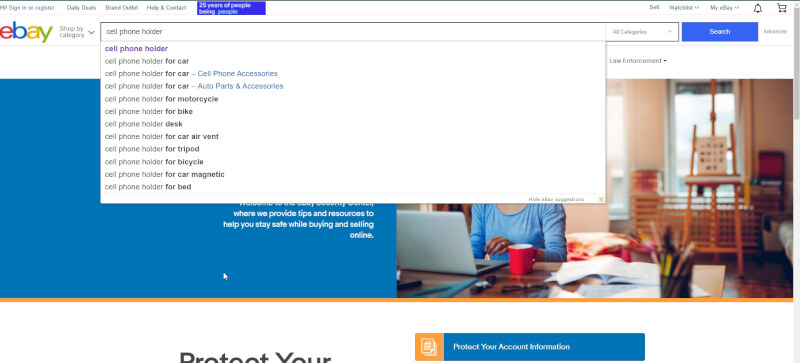 You can see eBay is suggesting keywords on this page. These keywords are what people search for, specifically on eBay.
From these suggestions, you can know the most searched keywords. You can also get ideas about niches or particular types of products you intend to find eBay keywords for their title optimization.
3. SeoStack Keyword Tool
And the last eBay title builder tool is an extension on google chrome that provides you with multiple keyword searching options.
The extension is called SEOstack Keyword Tool. To install it, enter the name in a google search then click the link that you can see in the screenshot below.

Then click add to chrome

This is the tool interface: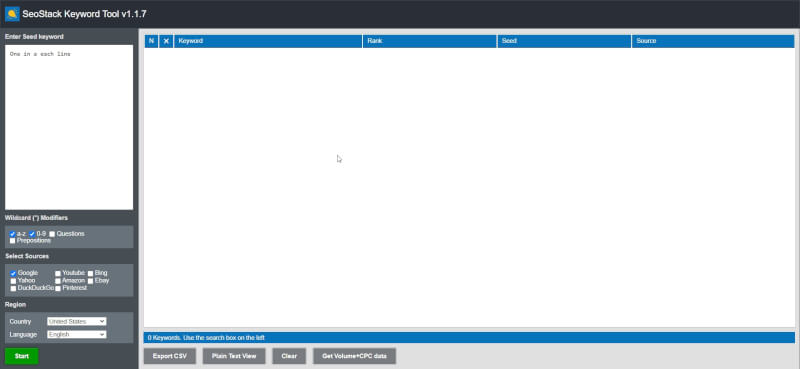 To begin searching for eBay keywords for title optimization, we need to set up some search preferences in the tool settings. So, let's discover how to use this eBay title builder.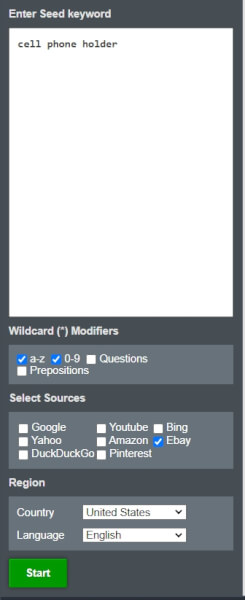 Start by entering your base keywords that will allow the tool to find more long-tail ones.
Then select the keywords extraction source. Although the tool allows the combination of multiple sources like Google, Amazon, Bing, etc., in our case, we want to get only the keywords that people are searching for on eBay. 
After that, select which country you want to target. Since we are selling on eBay US, we will choose the United States and choose English. 
By the way, it's a good idea to combine multiple search sources like Google, Amazon, and eBay, for example. Because in many cases, the first trend signs appear on Google because people start by searching there first and later on eBay. That makes Google able to identify demand before eBay does.
Now that we chose our settings and entered our seed keyword, "Cell Phone Holder." Let us click start and see the results.
After we chose our settings and entered our seed keyword, "Cell Phone Holder" Let us click start and see the results.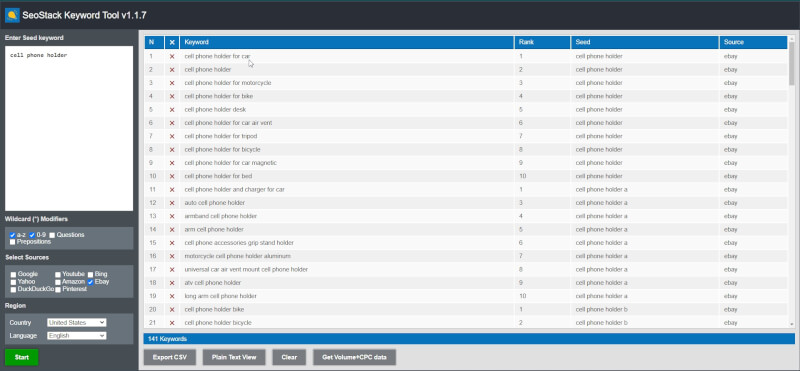 You can see that the tool has generated a lot of related keywords. From here, you can start getting ideas about the best eBay keywords for your title optimization.
Conclusion
To sum it all up, finding eBay keywords for title optimization is vital for your eBay listing's overall SEO, which will determine the ranking of your listings in search results. As you now know, eBay allows 80 characters in the product title. As such, we recommend that you make use of all those characters by using all the relevant keywords possible. 
This way, your product will have a higher chance to be found through a search using one or more of the title's keywords. But, remember not to use irrelevant keywords because that will negatively impact the rank of your listing. 
All in all, these tools are some of the best eBay title builder that will help you find the best titles for your listings. With that said, if you're interested in learning how to further optimize your eBay business and product listings, here are some insightful articles: