Did you know? AutoDS now integrates with Facebook Shops. Now, dropshippers can automate their online store on Facebook Shops to increase their profits even more. But how do we get started with Facebook Shops?
Don't worry! We got it covered. In this article, we will explore how to create a Facebook Shops Dropshipping Store. Furthermore, we will also go over how to automate it to scale our business to greater heights.
What Is Facebook Shops Dropshipping?
First, let's begin with the dropshipping model. Dropshipping allows us to sell products without holding any inventory. Instead, we work with a dropshipping supplier who holds the product inventory. Moreover, the same dropshipping supplier ships our products to the customer's address when they order in our stores.
Now, let's understand what Facebook Shops are. In a nutshell, Facebook Shops is a platform that allows us to host an online store on Facebook and Instagram. This platform allows users to browse and shop for products directly on Facebook and Instagram. Moreover, sellers can offer products and interact with customers through Messenger and WhatsApp.
When we combine the benefits of such huge organic traffic and the low risk of dropshipping,  Facebook Shops presents a highly rewarding business opportunity. 
What Are The Facebook Shops Requirements?
Essentially, the requirements for selling on Facebook Shops(FB Shops) are straightforward. In general, selling on FB shops is possible from anywhere in the world. However, sellers must reside in the US and have a US bank account to enable the checkout button on the Facebook Shops store. If we are not living in the US, Facebook Shops will redirect our customers to our online store.
Regarding the legal aspect of the business, we can start a dropshipping business on FB shops by simply creating an Employer Identification Number (EIN). Or, we can register for a Limited Liability Company (LLC).
The Pros And Cons Of Dropshipping On Facebook Shops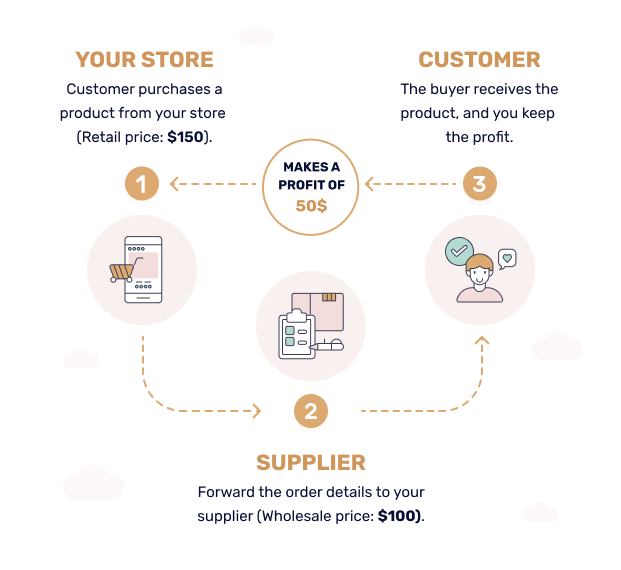 Now, let's move forward and find out more about Facebook Shops. With that in mind, here are some of its benefits and drawbacks: 
Pros
Free organic traffic

0% transaction fee until the end of December 

No subscription costs 

Easy to start 

Direct engagement with customers 

Access to data for better ad targeting
As Facebook hosts more than 1 billion users on its platform, we can generate organic traffic to our stores. However, we can still use different marketing strategies to boost our sales and increase our reach.
Plus, we don't have to pay any transaction fees until the end of December. Afterward, there is only a 5% transaction fee. Additionally, there are no subscription costs to use Facebook Shops. This means we can save up on costs helping us to increase our profit margins. As such, we can quickly start selling on Facebook shops.
Besides that, Facebook shops allow for direct engagement with our customers. For instance, customers can contact us with questions about specific products or tracking information. With Messenger, WhatsApp, and Instagram Direct as means of communication, we can cater to all our customer's queries. This helps build trust and better customer experiences.
Furthermore, the Facebook Business Manager allows us to access helpful information about Facebook users for better ad targeting. That means we can achieve higher conversion rates and scale our profits.
Cons
Must abide by Facebook's rules

High competition 

Limited branding
On the downside, selling on Facebook Shops requires us to abide by Facebook's eCommerce policies. For example, we cannot run ads on Facebook showing 'before and after' results. However, this is a standard regulation among various selling channels; thus, it's something to keep in mind when dropshipping.
Additionally, there is high competition on Facebook because of the low entry barrier. However, product research can help us beat our competition. With product research, we can find in-demand products with a high potential to sell.
Finally, Facebook Shops is not a customizable platform. Therefore, there are some limitations in branding opportunities. However, we can add our brand logo to the profile picture and replace the cover images to optimize our storefront further.
How To Create A Facebook Shops Dropshipping Store
In general, we can create a Facebook Shops Dropshipping Store in six easy steps:
Let's go over these steps to learn the process in detail.
Go Over The Compliance Overview
Before we start with Facebook Shops Dropshipping, we need to understand the ground rules of selling on Facebook. That means we must know what we can and cannot do as Facebook sellers. In general, there are two guidelines to follow: 
To elaborate, Facebook's merchant agreement refers to the terms and conditions we must abide by before selling on Facebook. This agreement includes terms of sale, data protection policy, piracy laws, and tax rules.
On the other hand, Facebook's eCommerce policies outline prohibited and restricted activities. This policy governs what we can sell and what activities are restricted.
Essentially, we must be aware of what to avoid selling on Facebook. That's because violating the eCommerce laws will result in our accounts getting suspended or banned. With that said, here are some products that we cannot sell on Facebook:
Adult products 

Alcohol or Tobacco products

Hazardous materials

Medical and Healthcare products

Products violating trademark laws

Weapons, Ammunitions, and Explosives
Create A Facebook Account & Business Page
Once we know the rules and regulations, we can start selling on Facebook Shops. So, let's go ahead and create our account. To begin, we need to open a business page and connect it with FB shops.
To open a business page, we must be admins on the FB business manager. In short, the Facebook business manager is a tool that helps us organize and manage our online business with various features such as an ads manager, insights, and more. Plus, features such as insights help us learn more about target audiences, including information about geography, demographics, purchasing behavior, and more.
So, let's start the process. First, log in to your Facebook profile. From the left-hand side, choose Menu. Then, click on 'Create' and select 'Page.' Now, name the business Page and add a category to describe the Page.
Next, enter business information, such as our business's address and contact information, and click on Continue. Adding business information is crucial for our business as it communicates what we are selling to customers. Plus, customers can also get in contact with us through business information.
Furthermore, we can add a profile picture and cover photo to the page. Then, add a profile photo relevant to your business and select Next. On top of that, when we add a profile photo, we can add our business logo. That's because an attractive logo is essential to building a brand. Once all the steps are complete, select 'Next' to navigate to your new Page.
Create & Configure Your Commerce Manager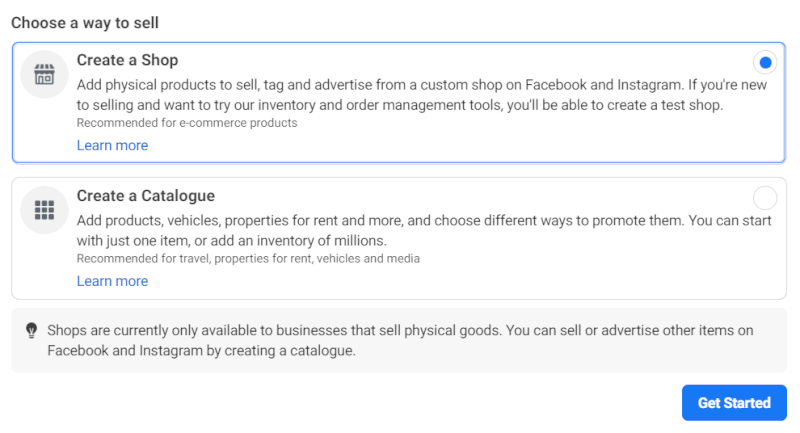 After we create a business page, we need to create and configure Facebook Commerce Manager. To clarify, Commerce Manager is a tool that allows us to manage and track our sales and promotions on Facebook. Additionally, Commerce Manager offers all the functions we need to sell and get paid directly through Facebook. In essence, this is where we create our Facebook shops store.
With that in mind, here is how to create a Facebook Shops Store. First, log in to the Facebook Commerce Manager. Then select 'create a shop.' Once we have created our online store, we can connect our business page to Facebook Shops. Doing so will automatically connect Facebook Shops to our business manager.
Next, choose a checkout option. Here, we can either checkout within Facebook or Instagram, the Messenger App, or redirect to our Shopify store website. Among them, the best option is to check out through FB shops for the best user experience.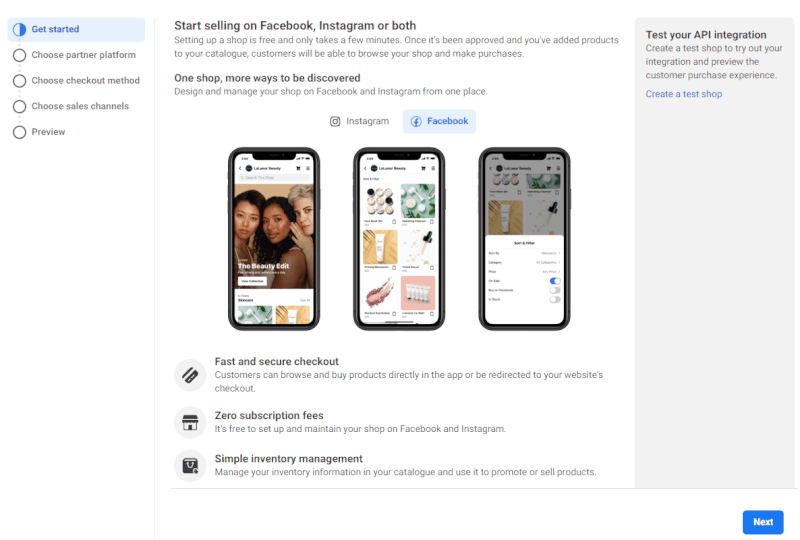 After integrating check-out options, we need to set up shipping and returns. Here, we can offer standard, expedited, and rush shipping. Similarly, for returns, we need to clarify the return window. On top of that, we should set up our business email and customer service email address. This helps customers to communicate with us quickly and get their queries and complaints resolved.
Great! The setup is complete. Now, our Facebook Shop will go through a verification process. The final step is to enter billing information, which will require us to fill in the following fields:
Business category & type

A business address in the US

US Bank account details for payouts

State Tax Registration Number for every state where the business operates

Federal Tax Identification Number

Business representative's personal or business identity information
For a more detailed guide, we can utilize AutoDS' free Shopify course to learn how to create an optimized shop.
Import Products To Your Facebook Shops Store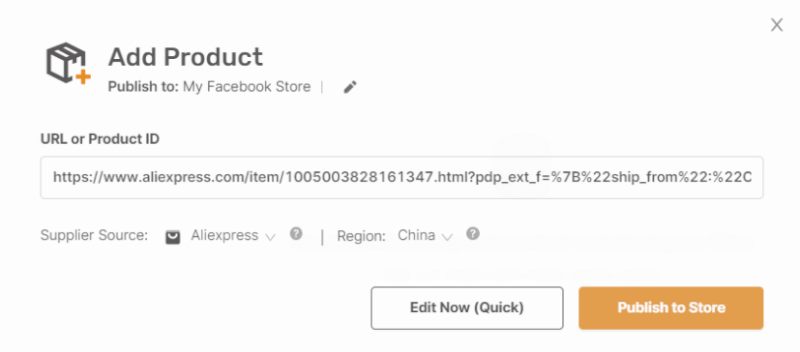 Next, we need to import products to our Facebook Shops Store. To begin importing, let's head to the FB main page. On the left-hand side, click on Pages. Here, we can see all the pages we manage. From here, select the relevant page.
On the page, click on 'Manage shop' from the left-hand navigation bar. Here, we can preview the shop, edit the shop and add products. Then, click on add products.
When we click on 'Edit Shop,' we have a left-hand navigation bar to customize our product listings further. For example, we can change images, and descriptions, add featured collections, add a 'suggested for you' collection, and more.
On the other hand, if we click on 'Add products,' Facebook directs us to our product catalog. From here, we can manually add products to our Facebook Shops store. To elaborate, manually importing products means copying product information, uploading images, filling in product descriptions, and more. Manually importing products can take up to 20 minutes per product. On top of that, we have to check prices and stock changes manually.
To save time and manual labor, we should use AutoDS, an all-in-one automation software. With AutoDS, we can import products in a matter of seconds. Furthermore, automatic importing minimizes human errors, such as filling in the wrong customer address.
Beginner's Tip: When we set up a Facebook shop, we can preview it to ensure everything looks optimized.
Fulfill Orders From Your Facebook Shop
Once we set up our store, customers will start purchasing from our stores. Therefore, we need to fulfill orders from our Facebook Shop. Notably, swiftly fulfilling orders satisfies our customers and increases our store's reliability.
To manually fulfill our customer's orders on FB shops, head over to the supplier's website. Then, write the customer's details, such as name and shipping address. Finally, place the order on the website and pay for the product. From here, suppliers will handle the rest of the process.
Communicate With Your Customers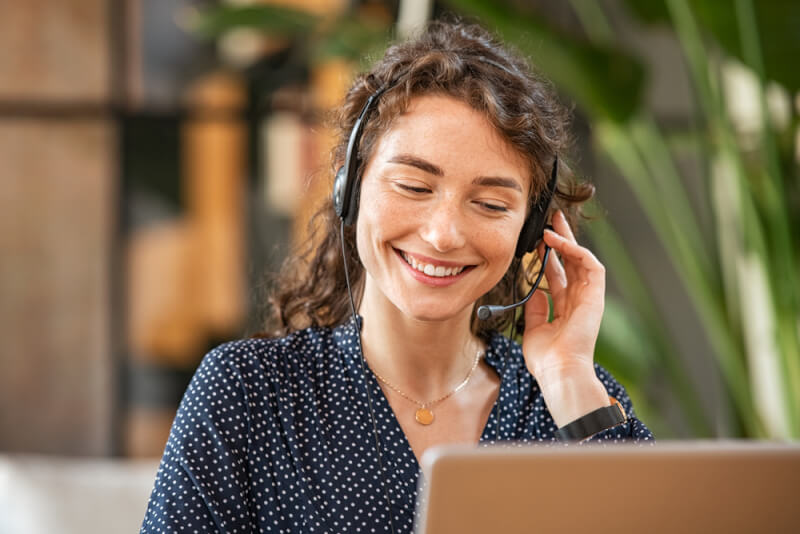 Last but not least, we need to communicate with our customers. As such, providing excellent customer service is crucial to the longevity of our business. If we care for our customers, we will get repeat purchases and more customer referrals.
In essence, there are different ways to communicate with our customers on Facebook Shops:
Facebook messages

Instagram messages

Whatsapp

Connecting email to FB business page
With these channels, we can keep our communication open with our customers and provide exceptional customer service.
How To Automate Your Facebook Shops Dropshipping Store & Scale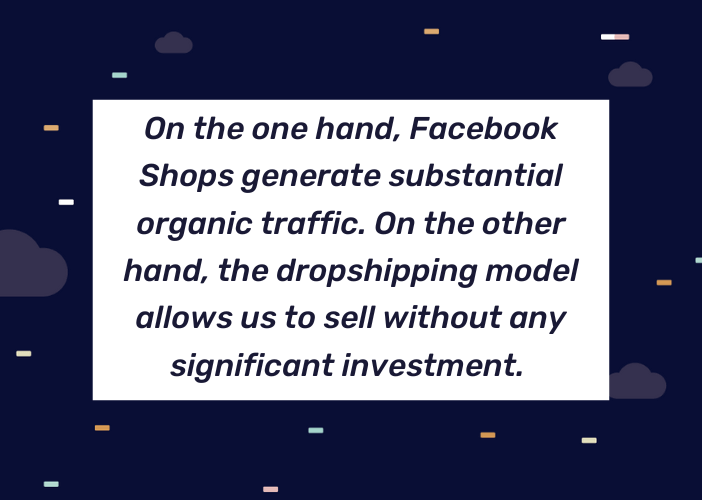 Congratulations! We have successfully set up our Facebook Shops Dropshipping Store. Now, we are ready to make sales and profits. But, if we want our Facebook Shops to reach their maximum potential, we should integrate business automation.
In general, we can dropship in two ways: manual and automatic. When dropshipping manually, we have to put in a lot of time and effort. For instance, the manual process of product importing requires filling in product details, images, variations, and more. As such, it is tedious and time-consuming.
On the other hand, automatic dropshipping saves time and labor by automating the manual process. And one of the most effective dropshipping automation software in the market is AutoDS. With AutoDS, we can easily automate our dropshipping operations and scale our business. With that in mind, here are six steps to integrate business automation into our Facebook Shop:
Let's further explore how to perform these steps in detail. 
Register For An AutoDS Account
To begin integrating our Facebook Shop with AutoDS, we must register for an AutoDS Account. The registration process is quick and easy. Go to the AutoDS website, and on the top right of the page, click on Start Now for $1. Then, enter your details, and you will have access to automate multiple dropshipping processes.
Since we need to automate our Facebook Shops store, ensure to choose Facebook subscriptions when registering. 
Add Your Facebook Shops Store To Your AutoDS Account
After registering for an AutoDS account, we have to link the Facebook Shops Store to our AutoDS account. To do so, go to the AutoDS platform and click on Stores on the top left. Then, click on 'Add Store.'
Next, ensure to be logged in to Facebook while performing these steps to make the connection process easier. From here, select store type, click on Facebook Store and then select Facebook Shops. Now, choose FB shop and click on 'Done.'
Afterward, choose a business account from the dropdown menu and select 'Next.' Then choose a relevant catalog from the dropdown menu and click on 'Add Store.' Now, our Facebook Shop is linked to our AutoDS account.
Add Automation To Your Facebook Shops Store

Since our Facebook Shop can now be automated, we can utilize business automation. Moreover, we can automate dropshipping processes like product importing and price & stock monitoring. Before starting the process, we need to download the AutoDS Marketplace Dropshipping Helper Extension. To easily access the extension, we can pin the extension in our Chrome browser.
Now, log in to your AutoDS account from the helper extension. With these steps, our Facebook Shop is now properly connected and configured to the AutoDS platform.
Find Winning Products For Your Facebook Shop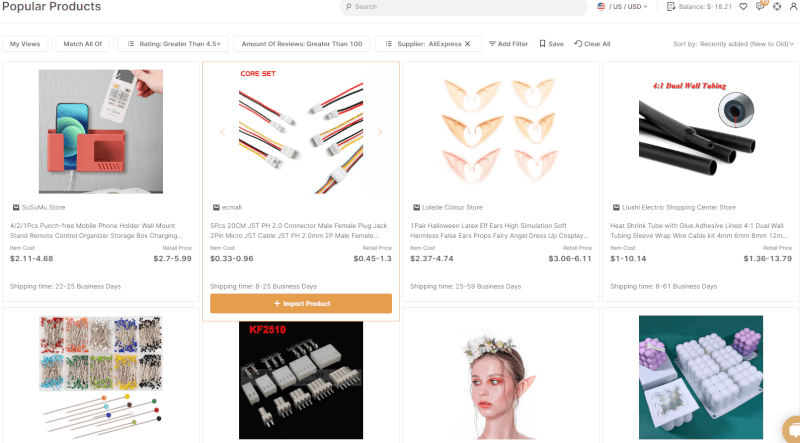 One of the first and most crucial steps to creating any dropshipping store is adequate product research. When we sell well-researched, in-demand, and trending products, we have a better chance of selling products and earning large profits.
So, how do we find products to sell? Here are some methods to find high-potential products:
Search supplier's best sellers

Spy on your competitors 

AutoDS Product Research tool 

AutoDS Blog & Youtube Playlist
As the supplier's website is our primary source of products, we can search the supplier's best sellers sections. For instance, Amazon has Amazon Best Sellers, where best-selling products from every category are updated every hour. Similarly, AliExpress has the AliExpress Dropship Center, which includes various search filters enabling us to filter out products and find winning items for our stores.
Additionally, we can spy on our competitors using Koala Inspector. To clarify, Koala Inspector helps us gain insights on best-selling products from competitors' Shopify stores. On top of that, it also reveals successful marketing strategies that the target stores are using.
Furthermore, we can use the AutoDS product research tool to find in-demand products from US and AliExpress suppliers. With different search filters, we can analyze products with high potential to sell in our Facebook Shops Store.
Besides being a product research tool, AutoDS' blog & YouTube playlist is a vast resource for products to sell. Essentially, the blog page has a lot of blog articles to assist us in finding suitable products to sell in our stores. On top of that, AutoDS' "Sell These Now" YouTube playlist has a depository of trending products from different categories to sell in our stores.  
Import Products Automatically To Your Facebook Shop
After finding suitable products, we need to import products automatically to our Facebook Shop. So, first head over to the AutoDS dashboard, select the relevant FB shop store, and click on 'Add product.'
To note, the AutoDS product importing tool has four different features: 
One-click Importer

Single Product Uploader

Adding Multiple Product URLs/IDs

Bulk Importer
For demonstration, we will look at the bulk importer. The bulk importer feature enables us to import tens of thousands of products using a CSV file in under a minute. So, head to the supplier's website and search for products to import. Generally, we can source products from any of AutoDS' supported global suppliers. 
To begin the importing process, click on the AutoDS helper chrome extension that we previously installed. Next, activate the extension by clicking on the logo in the bottom right corner. From there, click on 'Extract' and choose 'Export as CSV.'
This will create and download a CSV file, including all the items you can see on your search page. When the CSV file is ready, head to the AutoDS platform and click on 'Add Products.' Then, click on 'Upload CSV.' This will open a dialog box. After the dialog opens, drag and drop the CSV file you recently downloaded.
After the CSV file is uploaded, we can choose to add products as drafts or directly publish them in our Facebook Shop stores. If we add products to the drafts page, we can further optimize them before listing them.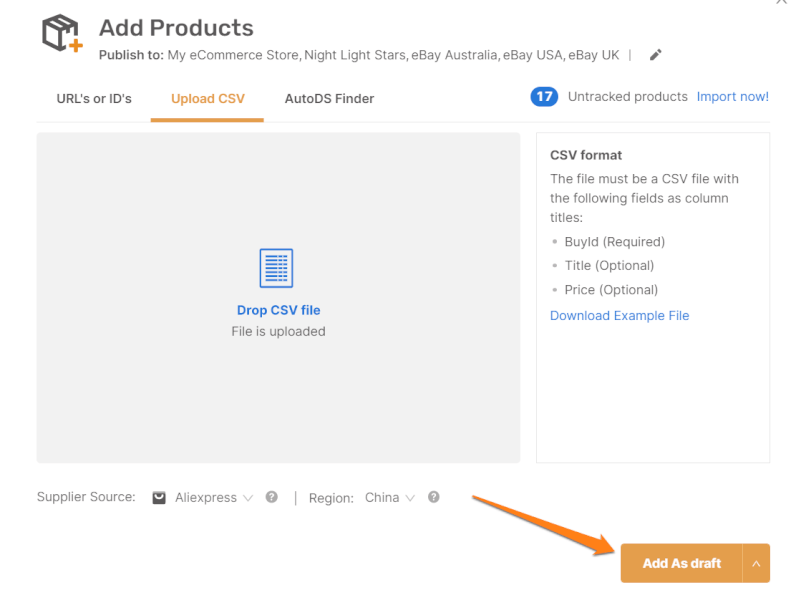 For instance, we can customize images and edit product descriptions to enhance the product. As such, it helps us to differentiate our products from the competition. All in all, bulk importing is the best method to import many products simultaneously, saving us loads of time. After we optimize the products, we can immediately publish them to our FB Shops dropshipping store.
Enhance Your Product Listings With More Automation Tools
Finally, we can enhance our product listings with even more automation features. With that said, here are some dropshipping automation features of AutoDS for FB Shops:
Price Optimization

Price & Stock Monitoring 
When we are dropshipping, some products will likely sell well while others will not. Therefore, the price optimization feature is designed to increase the price of in-demand products and decrease the price of products not selling well. This helps us find an optimal price for all products, maximizing our profit potential.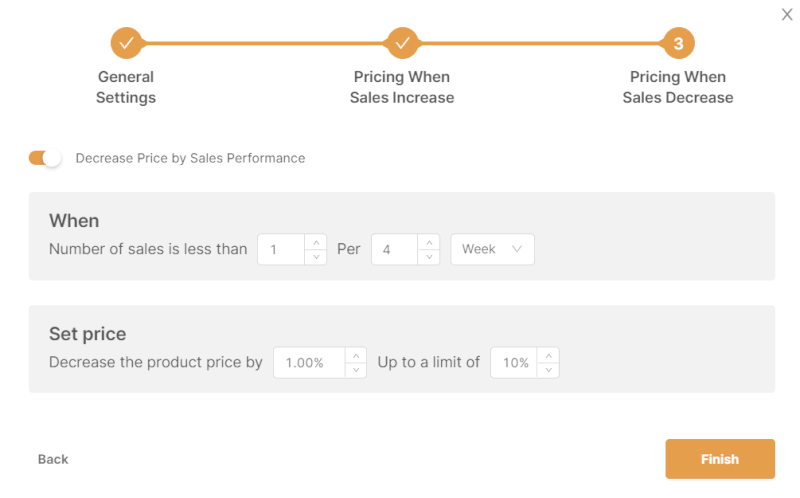 Furthermore, AutoDS' Price & Stock Monitoring feature allows us to keep track of price and stock fluctuations. It sends us notifications whenever there is a change in stock availability and price fluctuation from our supplier's end. This allows us to prevent customer dissatisfaction and maintain healthy profit margins.
With these features, AutoDS is an amazing tool that helps us perform multiple dropshipping operations efficiently. Overall, we can conclude that AutoDS dropshipping software is a one-stop Facebook Shops dropshipping solution.
Key Tips To Run A Successful Facebook Shops Dropshipping Store
As dropshippers, we need to optimize our business processes if we want to run a successful Facebook Shops Dropshipping Store. For instance, we must fulfill orders immediately. As such, fulfilling orders swiftly satisfies our customers and increases our reputation as a credible business.
Additionally, we should also provide exceptional customer service to increase our customer base. This will have a long-term positive effect on our store's sales. Essentially, we can provide excellent customer service in the following ways:
Solve customer queries and complaints as soon as possible

Process return and refund requests swiftly

Remain in touch with customers
In any business, retaining customers is crucial. That's why we should address customer's issues as soon as possible. Additionally, we need to process their returns and refunds swiftly. This enhances customers' experience with our store and increases customer satisfaction.
Furthermore, we should keep in touch with our customers at every step of the fulfillment process. For example, we should message our customers when they make a purchase, when we ship products, when we send tracking information, and finally, thank them for purchasing from us. This creates a strong customer bond and helps brand our store positively.
Finally, even though Facebook Shops Dropshipping comes with organic traffic, we can use different marketing strategies to promote our products. For instance, we can use Facebook's boosted listings. This feature helps our products remain visible in front of Facebook users. Additionally, we can use different buy & sell groups to promote our products. Furthermore, we can run Facebook Ads to promote our products on Facebook.   
Frequently Asked Questions
Can You Dropship On Facebook Shops? 
Absolutely! We can thrive dropshipping on Facebook Shops. All we need to do is follow FB's regulations, such as creating an Employer Identification Number (EIN) and registering for a Limited Liability Company (LLC).
Can You Make Money Dropshipping On Facebook Shops?
Of course! We can make money dropshipping on Facebook Shops. Moreover, dropshipping on Facebook Shops does not require any initial investment or significant selling fees until December. That means we have room for plenty of profits.
What Are The Differences Between Dropshipping On Facebook Marketplace To Facebook Shops? 
While Facebook Marketplace is a trading platform, Facebook Shops works like an independent online store. Additionally, we cannot pay through Facebook Marketplace, but Facebook Shop has an integrated checkout button.
Can I Automate My Facebook Shops Order Fulfillment?
Soon, AutoDS will also integrate order fulfillment with FB Shops. Then, we can benefit even further from dropshipping automation, enabling us to continue scaling our profits.
Conclusion
Awesome! Now, we know precisely how to dropship on Facebook Shops. Thus, we can quickly start our Facebook Shops dropshipping store and begin making profits.
Not only can we sell through Facebook Shops, but we can also gradually scale our business. With the right marketing strategy and dropshipping automation, we can take our business to new heights.
Overall, once we learn the basics, we can continue expanding our knowledge. With that in mind, here are great articles to learn more about products, suppliers, and key dropshipping strategies: