Entering the eCommerce industry is highly appealing, especially when it comes to running your own business. Operating an eCommerce business includes generating a high income, obtaining a global reach to expand your business, and the freedom to work from anywhere!
With this in mind, there are two different business models that most entrepreneurs take advantage of: Amazon FBA vs. dropshipping. As such, Amazon FBA and dropshipping are considered game-changers in the eCommerce industry. But how do you know which strategy is perfect for you?
To make it easy for you, this article will highlight the key differences between Amazon FBA and the dropshipping model. By going over the pros and cons, we'll help you make a successful business decision.
What Is Dropshipping?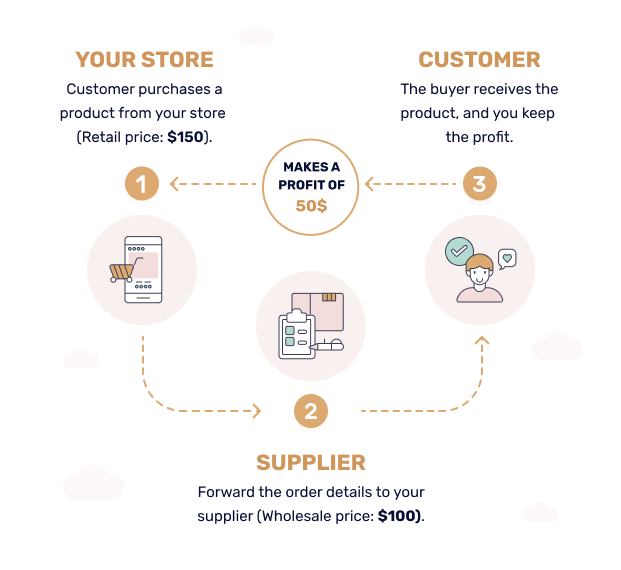 Before diving into the differences between Amazon FBA and dropshipping, it's crucial to understand both eCommerce business models. So, let's start with the dropshipping business model.
Dropshipping is an order fulfillment method where sellers don't buy the inventory they sell in their stores. Instead, they buy products from third-party suppliers after customers purchase products from the store. Then, the seller (the dropshipper) purchases the products from their supplier.
And the best part about this model is that the supplier ships the product directly to our customers. Meaning we don't have to handle the products we sell directly.
Since we only pay for the products after getting paid, we can start dropshipping with no upfront investments. To illustrate, here is how dropshipping works step-by-step:
First, we list products in our stores.

Then, a customer orders one of our products.

We receive payment for the product from the customer. 

Next, we order the product from our supplier and instruct them to deliver it to our customer.

Finally, we make a profit.
For example, let's assume we are a dropshipper selling a furniture item for $150. When customers order the furniture, they make a payment immediately.
Next, we need to order the furniture from one of our suppliers for a price of $100. Then, we instruct our supplier to deliver the furniture directly to our customer's address. Finally, the customer receives the furniture, and we have a substantial profit of $50.
As you can see, dropshipping allows us to make significant profits without high risk. But how is it different from Amazon FBA? Let's find out.
What Is Amazon FBA?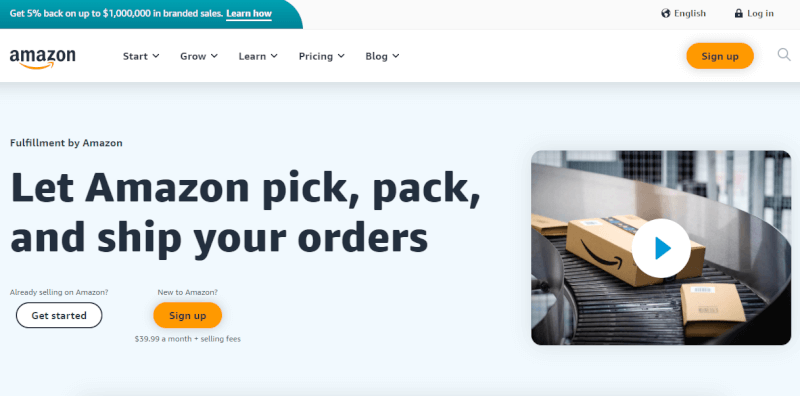 As an eCommerce giant, Amazon provides a platform where we can list and sell products. Moreover, it offers a plethora of services to sellers on the platform. One of these services is Amazon FBA, which stands for "Fulfillment By Amazon."
Fulfillment by Amazon is a program that allows us to sell products on Amazon without having to worry about warehousing, shipping, or customer service. Although seemingly similar to dropshipping, Amazon FBA differs from the dropshipping business model. Let's see how below.
First, we send our inventory to one of Amazon's warehouses. Second, we list our products on Amazon. Then, a customer orders, and Amazon retrieves the product from their warehouse. Afterward, Amazon packs and ships the product directly to our customers. Moreover, it also provides customer service and handles product returns on our behalf.
Much like dropshipping, we don't have to handle packaging and shipping. However, unlike dropshipping, Amazon FBA requires us to buy inventory in advance. Therefore, we have to invest money upfront before we can begin selling.
Overall, if we are selling on Amazon, the Fulfillment by Amazon (FBA) service enables us to benefit from the company's fulfillment service. With Amazon's massive network of fulfillment centers worldwide, we can ship the products to our customers quickly and efficiently. Plus, we don't have to worry about the hassles of the return process.
Amazon FBA Vs. Dropshipping- Which Is Better?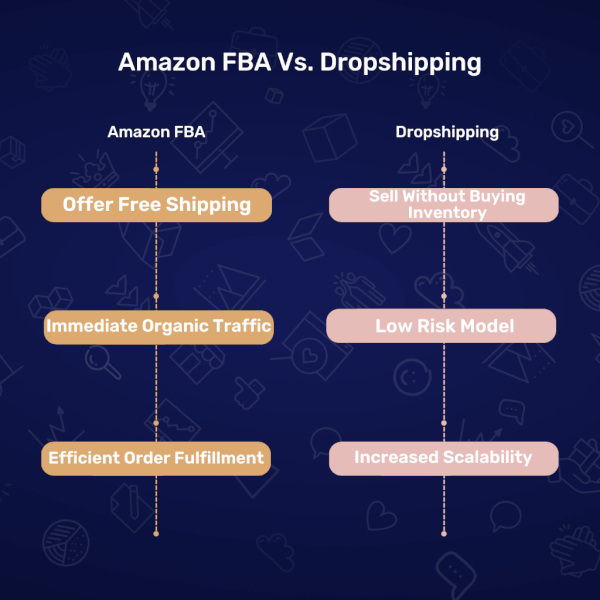 Now that we know about dropshipping and Amazon FBA, let's cover their pros and cons. The pros and cons of each business model allow us to analyze the better option among the two.
Pros of Amazon FBA
Reliable and trustworthy brand

Lots of organic traffic

Efficient order fulfillment

Free shipping
The first benefit of Amazon FBA is the competitive edge Amazon provides our business. As Amazon is a global brand, people worldwide recognize and trust the company. This can be a differentiating factor when customers decide to purchase from us or someone else.
Furthermore, Amazon has around 300 million users as a large eCommerce marketplace. With such a massive user base, we can get readily available organic traffic to our stores. Organic traffic refers to those visitors who land on our stores through organic search rather than paid ads. As a result, we don't have to pay to get customers to visit our stores.
Furthermore, we don't have to worry about storage location, providing customer service, handling returns, packing, and shipping. With that said, Amazon FBA allows us to fulfill orders efficiently without these inconveniences. Hence, we will be able to focus on selling more products.
Since Amazon FBA listings are automatically eligible for Amazon Prime, we can offer free and fast shipping to our customers. As customers enjoy free shipping, it is a significant advantage over other sellers on Amazon who does not offer the same.
Cons of Amazon FBA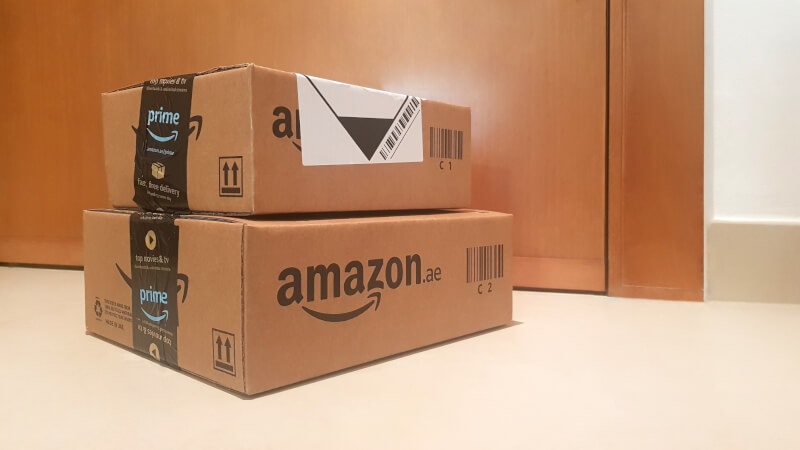 Upfront investment for product catalog

Strict rules and regulations

Amazon's packaging

Seller fees and FBA fee
Now, let's learn about the drawbacks of Amazon. The first disadvantage of Amazon FBA is that we cannot sell products without buying them ourselves. As such, we need to invest upfront in order to purchase the inventory we'll be selling to our customers.
Therefore, buying inventory in advance is a riskier business model. To elaborate, if our products don't sell, then we lose the money we initially invested into the eCommerce venture.
Another downside is that Amazon has strict rules and regulations that sellers must follow. Otherwise, they can fine or suspend our account for improper packaging or incorrect listings. So, there is no guaranteed safety net when it comes to FBA.
Another drawback is Amazon's packaging on our products. Amazon packages all products in boxes with the Amazon logo. As a seller, we have no option to ship products with our brand logo or custom packaging. Therefore, we cannot connect with our customers as a brand. This means it will be difficult to sustain a loyal customer base and, thus, long-term success.
Amazon Selling Fees
One of the biggest drawbacks of Amazon is that we have to pay various types of selling fees. Starting with the Amazon subscription plan, individual plans cost $0.99 per unit sale, and a professional plan costs $39.99 a month. 
Once we start selling the product, Amazon charges us a referral fee between 5%-20% of a product's selling price. For instance, a camera accessory has a referral fee of 11%, whereas the furniture category is 15%, excluding taxes. 
Aside from this seller fee, Amazon FBA has inventory storage fees and fulfillment fees. Inventory storage fees are based on the size of the product and the length of time we store our products in Amazon's warehouse. 
Similarly, Amazon charges us fulfillment fees after each sale we make. Fulfillment fees are charges for Amazon to retrieve, pack and ship the products to our customers and vary according to the size and weight. 
If you thought the costs stop there, you have yet to learn about additional costs such as long-term inventory storage fees and product return fees. If customers choose to receive the product with Amazon Prime, they can return products without any costs. Instead, we will have to pay Amazon for the returns.
Next, if we stop using Amazon FBA, Amazon charges us to remove our inventory from the Amazon warehouse. As such, we must pay an inventory removal fee. As we can see, there are various fees associated with selling on Amazon, which means we have little room for profit.
Now that we know about the pros and cons of the Amazon FBA model, let's learn about the key benefits and drawbacks of the dropshipping business model. 
Pros of Dropshipping
Sell without buying inventory

Low upfront investment

Low risk

No storage and overhead costs

Scalability

Business automation
In the dropshipping model, there is no need to buy inventory in advance or store it. Instead of investing in an inventory, we can allocate the money for marketing our store or scaling our business. Since we don't have to buy inventory, we can start a dropshipping business with minimal upfront investment.
Additionally, we only pay for the products after we sell them. As such, the risks are low if we cannot sell the products. One of the additional benefits of dropshipping is no storage fees and other overhead costs. Hence, we can save on expenses without the traditional fees.
Meanwhile, we can list more products and fulfill more orders once we generate sales. Similarly, marketing and excellent customer service aid us in generating even more sales. This way, we can scale our dropshipping store quickly and achieve a higher profit.
Furthermore, one of the most significant advantages of dropshipping is business automation. Dropshipping automation tools help us automate our dropshipping business operations, saving us loads of time. Therefore, we can focus our time and efforts on continuously building our brand and ensuring long-term business success.
Cons of Dropshipping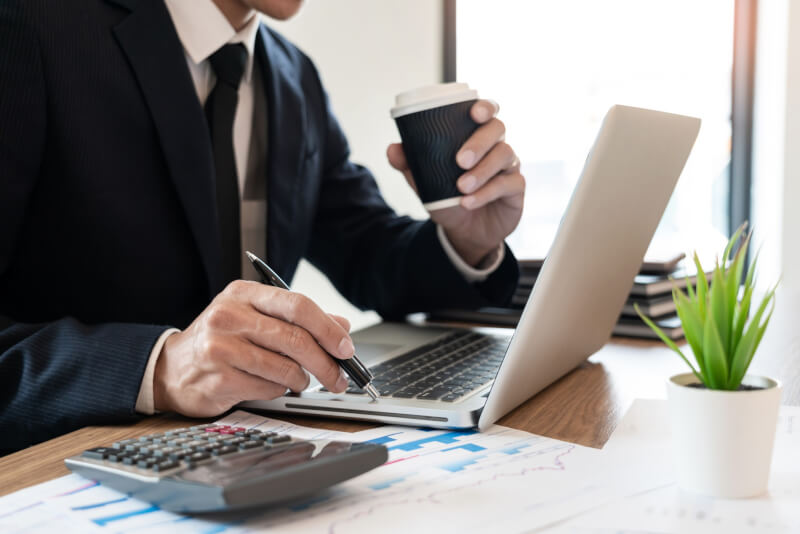 High competition

No control over stock availability and shipping times

Lack of control over product quality

Time and patience are required for website building
One of the downsides of dropshipping is that the entry barrier is low. Therefore, we have to face high competition because many people will be selling the same or similar items. However, we can stand out from the crowd with product research and focusing on a unique niche.
Another drawback is that we have no control over the supply chain. As stock and prices can fluctuate due to external factors like power outages and shortages of raw materials, the best thing we can do is monitor the changes. By doing so, we can update any fluctuations in-stock availability or price changes in our store accordingly.
Similarly, we have no control over the product quality we are selling since we do not handle the products ourselves. Consequently, if we ship out products that are not good quality, it will result in more returns and unsatisfied customers. With this in mind, we must research and find reliable dropshipping suppliers before working with them.
While we can use eCommerce marketplaces like Amazon for dropshipping, it has limited functionalities. For that reason, we need to build our website on a customizable platform.
While creating our websites costs money, customizable eCommerce platforms allow us to build our websites with our domains. With customizable platforms, we can build our brand with tailor-made templates, designs, and a customized user interface. Therefore, it results in satisfied customers and increased sales.
Amazon FBA Vs. Dropshipping Comparison
The Verdict: Amazon FBA Vs. Dropshipping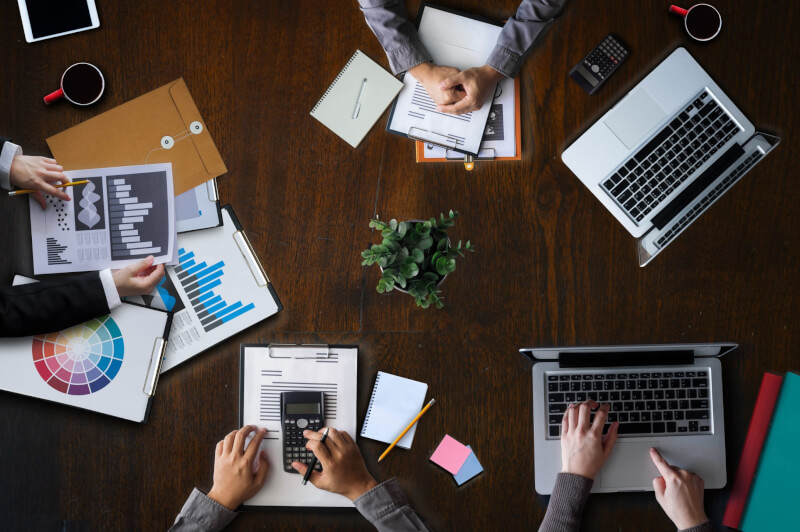 While analyzing the pros and cons, dropshipping is the clear winner. And here's why dropshipping is better than Amazon FBA:
Less investment required

Low risk and no storage fees

Easily build a brand and a customer base
Less Investment Required
To start, when comparing Amazon FBA vs. dropshipping, we can start by analyzing the investment required. As we now know, the dropshipping model requires little to no upfront investment, whereas the Amazon FBA model requires a significant starting capital as we have to pre-purchase our store's inventory.
Low Risk & No Storage Fees
Additionally, Amazon FBA has high risks because we pay upfront for inventory. We can incur losses if we cannot sell our products on time because, as we know, market demands shift constantly. In contrast, dropshipping has minimal risk as we only buy products already ordered and paid for by our customers.
Moreover, organic traffic is vital for eCommerce stores. As such, Amazon FBA gives us access to substantial organic traffic. However, we can also utilize this traffic by dropshipping on Amazon.
Furthermore, we can gain even higher organic traffic by dropshipping on other marketplaces like Facebook Marketplace (FBMP) and eBay.
Easily Build a Brand & A Customer Base
Finally, we cannot build our brand and customer base with Amazon FBA. That's because Amazon packs and ships the product with Amazon's logo on the box. Therefore, when customers receive their products, they perceive the items came from Amazon. In addition, we don't even have the option to deliver a personalized note to our customers.
That's one of the reasons dropshipping wins over Amazon FBA. With dropshipping, we can design a customizable platform with our brand story. In the same way, we can ship products in special packaging and send personal notes that align with our brand image. These methods help build our brand and a loyal clientele over time which helps us remain competitive in the market.
To conclude, dropshipping is low risk and high reward, whereas Amazon FBA is a high-risk eCommerce venture. Moreover, dropshipping is a versatile and flexible business model, which is beneficial, especially for beginners in the eCommerce industry. Therefore, the answer to the question: Amazon FBA vs. dropshipping is finally answered! The dropshipping business model is the clear winner.
Multiply Your Profits With Dropshipping Automation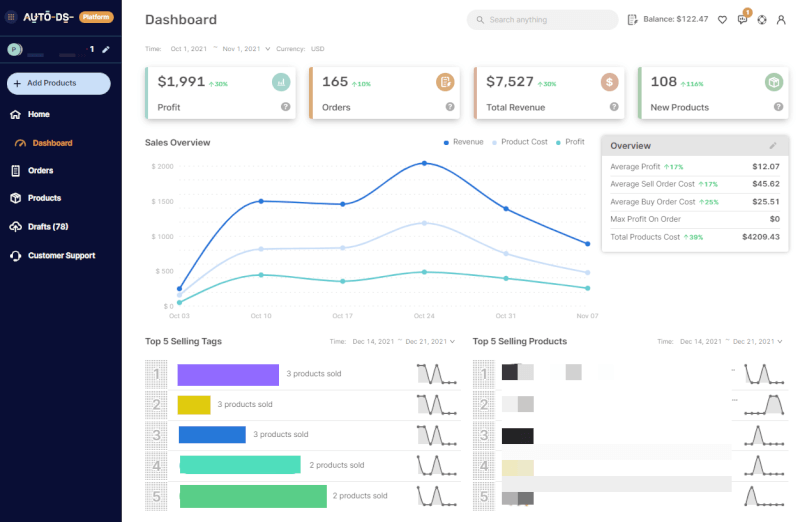 Once we choose to start dropshipping, there are various ways to multiply our profits with dropshipping automation. Dropshipping automation software automates our dropshipping business operations.
On the one hand, this saves us time and effort compared to manually dropshipping. On the other hand, they provide efficiency and accuracy.
With that in mind, AutoDS is one of the best dropshipping software that automatically handles our dropshipping operations. With this in mind, let's look at how AutoDS helps us make our dropshipping operations easy and efficient:
Product Research
Generally, product research is the first and critical step in starting and establishing our dropshipping business. Without good products, we cannot make healthy profits.
With this in mind, AutoDS' product research tool enables us to find in-demand items from our suppliers. Using this feature, we can filter products by various factors such as price, suppliers, rating, shipping time, etc. Consequently, we can add the most in-demand and trending products and build a customer base that keeps coming back for more. 
Price and Stock Monitoring
As store owners, we need to fulfill all orders. However, the stock and prices can fluctuate due to external factors. Consequently, it may disrupt our business operations and result in losses or unhappy customers.
That's why the price and stock monitoring tool keeps track of stock levels and price fluctuations. Then, the tool automatically informs us if there are any changes. Therefore, it helps us avoid loss due to price fluctuation and prevents customer dissatisfaction. 
Product Importer
Another dropshipping automation feature is the product importer tool. The product importer allows us to import products from our suppliers with the same product images, descriptions, and variations.
Similarly, the product importer helps us import tons of products while also saving us time to do it manually. With the bulk importing feature, we can import thousands of products to our store at once.
Complete Order Fulfillment
After importing products, we can use the automated order fulfillment tool, a complete order fulfillment solution for any dropshipping store. In the early days, our businesses may receive minimal orders, which we can fulfill manually.
Nevertheless, once we receive multiple orders per day, doing it manually takes a lot of time and effort. Thus, we can let the software automatically fulfill orders on our behalf rather than spending most of the time processing all orders and handling returns.
Automatic Tracking Number Updates
Once the software fulfills orders, it automatically updates tracking information to our customers. With automatic tracking updates, customers can check the status of their orders without the need to contact us.
Price Optimization
Finally, we have the price optimization tool. When we are dropshipping, there will be products that perform well and those that don't. The price optimization tool automatically raises the price for best-selling products and reduces the price for products that don't sell. Essentially, the goal is to maximize profit for our stores by finding an optimal pricing point.
In summary, the dropshipping automation tools help us run our business smoothly and enable us lots of freedom. So, sit back and relax while AutoDS takes care of your business operations. While your stores generate profit, you can focus on what you love doing the most, such as scaling your business or spending time with your family.
Conclusion 
Wow! Great job, you made it to the end. Most importantly, we hope you picked up all the critical information about Amazon FBA vs. dropshipping. With this information, you must be eager to start your online business swiftly.
In essence, starting an online store is just the beginning. Gradually, we can earn even higher profits with product research and dropshipping automation. So, keep learning and experimenting.
All in all, here are some articles that will finetune your skills and help you along your dropshipping journey.
FAQ
Is Amazon FBA The Same As Dropshipping?
Amazon FBA and dropshipping aren't the same eCommerce methods. While Amazon FBA requires us to buy inventory upfront, dropshipping allows us to sell without inventory. For an in-depth overview of Amazon FBA vs. dropshipping, check out the "Amazon FBA Vs. Dropshipping- Which Is Better?" section in this article.
Does Amazon FBA Really Work?
Yes, Amazon FBA does work in terms of profitability for some sellers. However, it is riskier than dropshipping because we can incur losses if we cannot sell products.
Does Amazon Approve Dropshipping?
Absolutely! Amazon approves dropshipping on its platform as long as we follow Amazon's dropshipping policy.
How Much Money Do You Need To Start Dropshipping On Amazon?
To start dropshipping on Amazon, we need very minimal investment. As the only upfront cost is the subscription fee. While the individual plan costs $0.99 per unit sold, the professional seller plan costs $39.99, no matter how many products we sell. Overall, the dropshipping business model is highly lucrative, and combining this with the massive user base on Amazon; we can easily scale our business to new heights. 
Is Dropshipping Worth It In 2022?
Without a doubt! Dropshipping is worth it in 2022 and beyond for the foreseeable future. According to the market data forecast, the dropshipping industry will top $500 billion by 2025 and grow by 8% yearly. Furthermore, the population growth in developing countries and increasing smartphone usage means dropshipping is here to stay for a long time. So, get ahead of the competition and start dropshipping today with AutoDS to grow your business and attain long-term success easily!