The Halloween holiday is celebrated each year on October 31, and the reason for the celebration goes back to the ancient Celtic festival of Samhain. Participants would wear costumes and light bonfires to ward off ghosts. Pretty spooky, right?
Over the years, it changed to the modern-day costumes, parties, jack-o-lanterns, and trick-or-treating for adults and kids, which means lots of preparation and money-spending on Halloween products. It is estimated that in 2019, Americans spent over $8.8 billion on buying Halloween products and accessories.
In this article, we will share with you the top Halloween products to sell on your dropshipping store, as well as why Halloween is a great opportunity for us as online sellers and dropshippers.
Leveraging Halloween To Spike Your Sales
Halloween is the first of a few end-of-the-year holidays where eCommerce sales are off the roof. It is the beginning of the best time of the year to skyrocket your sales. Check out this graph from Statista showing consumers' annual Halloween expenditure in the United States from 2006 to 2019 (in billions $):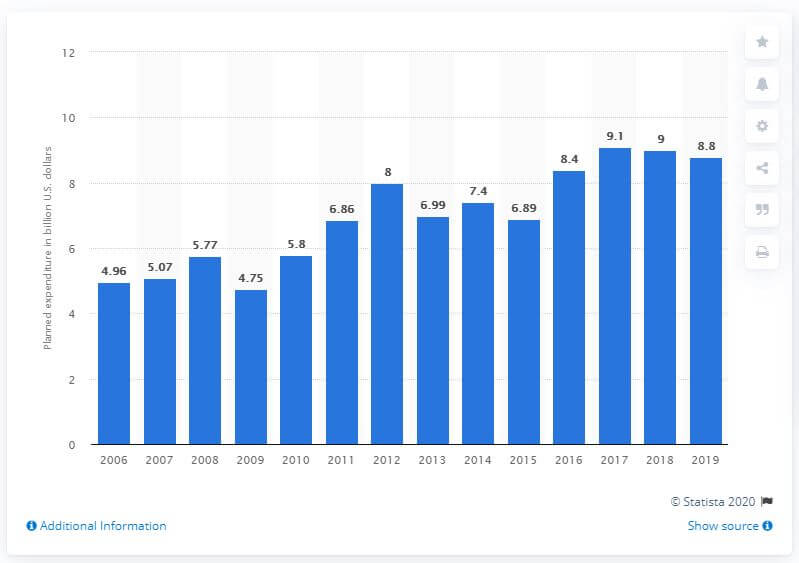 Plus, with eCommerce booming this year more than any previous year, more Americans are shopping online. Physical stores are closing down due to COVID-19. On the other hand, eCommerce is continuing to grow and break new records.

These are the reasons why with the coming of this Halloween, sales are again going spike. Those prepared their stores accordingly will get to pick their fruits. In this article, you will learn how to take advantage of this holiday to boost your sales and grow your online dropshipping business.
If you're still working with only one supplier, now is the time to add another or two to the list.

Working with more than one supplier will open up whole new categories, niches, and Halloween products to sell. Also, it will help separate you from your competition with a better variety of products.
If you're at the beginning of your dropshipping journey, jump in to start getting your first sales. The holidays are a great time to begin. Start with two suppliers. It will motivate you to continue learning and growing your eCommerce dropshipping business.
Suppliers such as Costway, Walmart, Banggood, Amazon, Homedepot, Wayfair, Costco, Overstock, and Chinabrands are several examples. Whether you are experienced or just starting, make sure that you are working with more than one supplier to enjoy more significant profits.
Which Products To Sell For Halloween?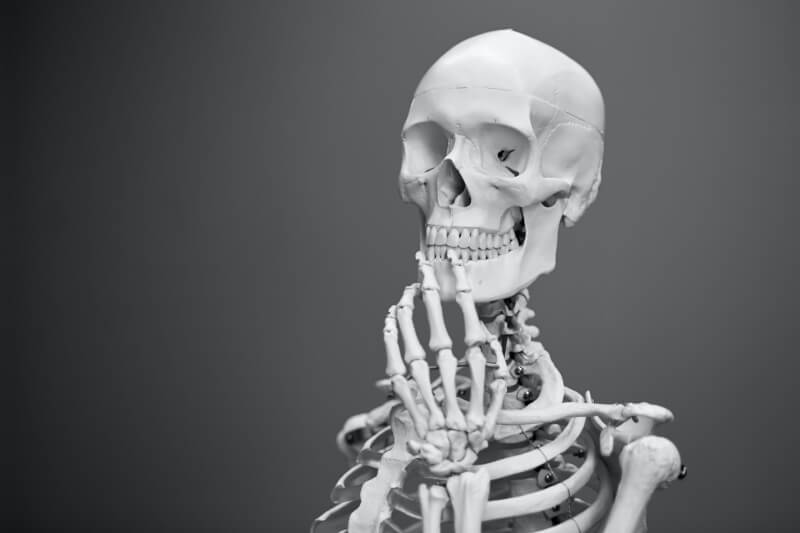 There are many hot sellers for Halloween, you just need to prepare your store in advance with many hot products to begin your rise in Q4 sales. Here's a list of hot selling products that will help you start your Halloween dropshipping preparations:
1. Halloween Costumes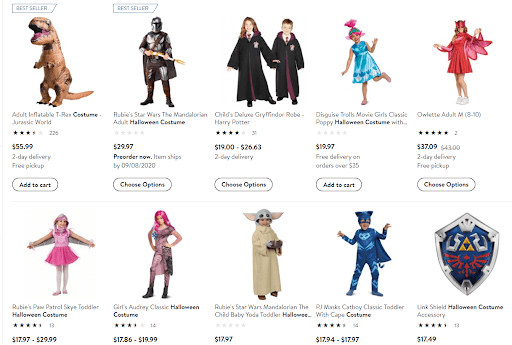 All age groups wear costumes, and everybody needs a costume for Halloween. This is the core of Halloween. Think of ideas on how you can stay fresh and unique with your products. 
For example, narrow down your costume niche to those related to the latest movies and TV series. Focus on shows that will hit theaters in the upcoming year or this year and already highly anticipated with product demand on the rise. Costumes are already available for you to sell on supplier sites.
Open up your mind to new ideas on new products and always stay one step ahead of your competitors.
2. Halloween Makeup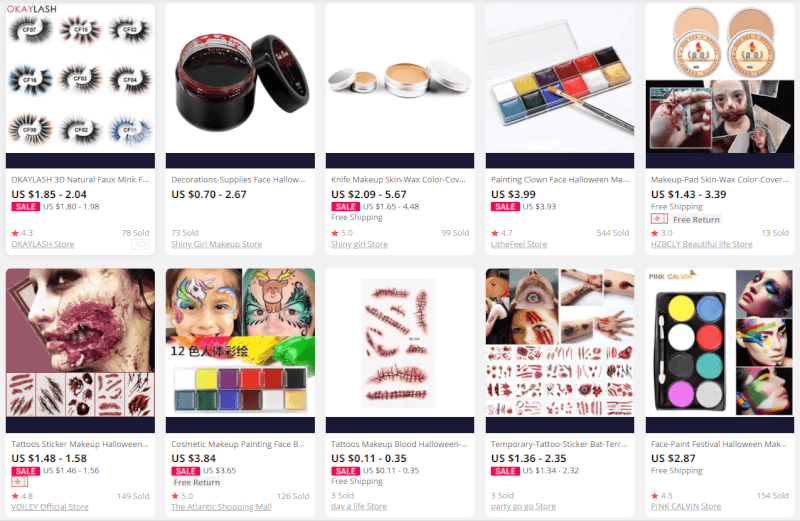 Makeup for Halloween costumes sells just as much as the costumes themselves. Everyone needs them for the scary holiday to complete their Halloween outfit.
Halloween makeup products are usually small, inexpensive items, so buyers typically buy more than one.
3. Halloween Decorations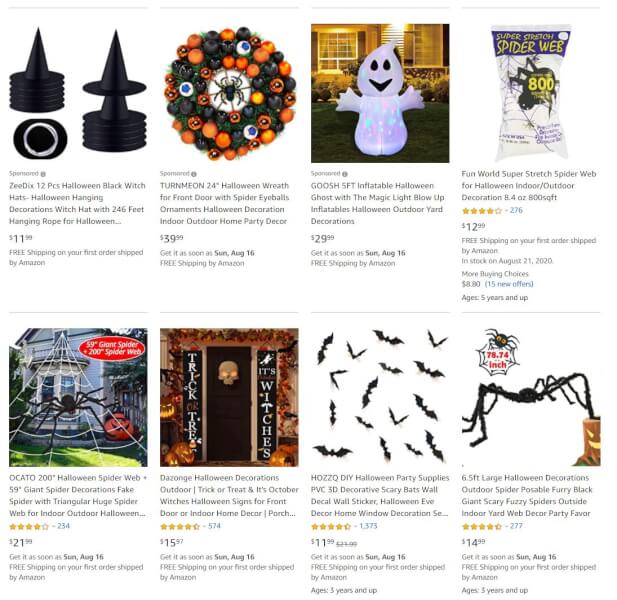 There is no Halloween without decorations, and that goes for indoor and outdoor.
Halloween decorations range from skeletons to LED lights to anything that you can imagine.
Since the varieties are endless, mix your products with best selling products from the previous years and new arrivals to make the best out of it. The more, the better.
4. Halloween Candy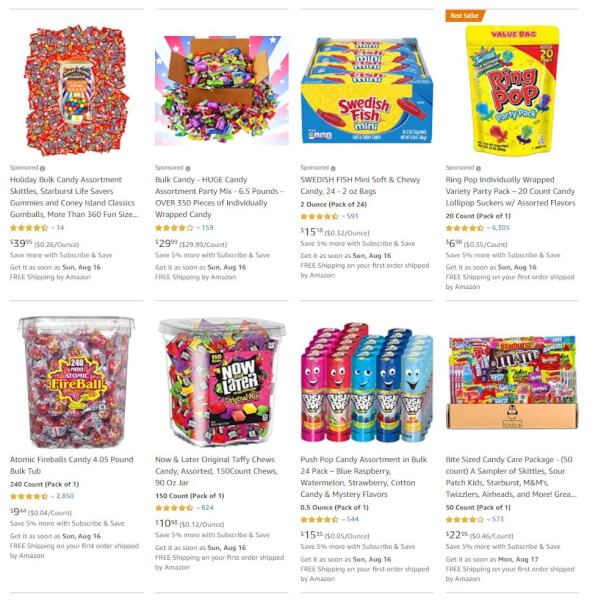 Have you ever seen a trick-or-treater without candy? The answer is obviously no. This makes Halloween candy one of the best Halloween products to sell during Halloween.
During Halloween, you need to sell Halloween candy in packs and bulk packages. They sell much more than singles or smaller boxes since each American household needs to distribute a lot of candy on the night of Halloween.
5. Halloween Baskets
Trick or treat! How would anyone collect candies without the need for a Halloween basket?
Halloween candy baskets and bags are also best sellers during the holiday.
Search your suppliers for their bestsellers, and add new releases for a healthy mix of good sales. The more you upload, the more you get to test and generate new ideas.
Remember, if your supplier doesn't sell a specific category, learn to use more suppliers, as mentioned above.
6. Halloween Party Supplies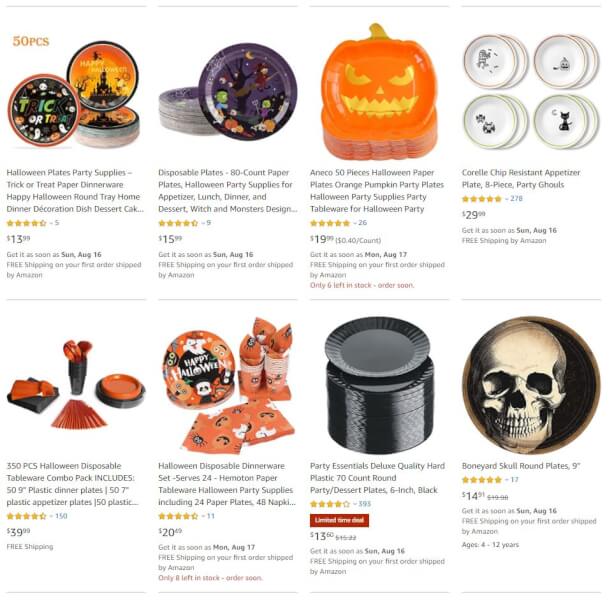 Halloween night is party night so party supplies are essential. Niches like dishware, serving bowls, cups, glasses, etc. are some examples of party supplies that buyers need to help them theme their Halloween party. Fill up your store with related holiday party essentials.
7. Halloween Greeting Cards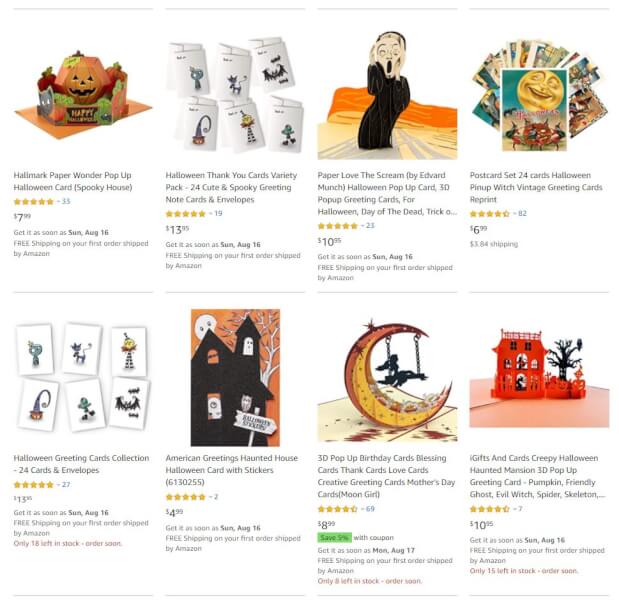 Everyone loves to receive greeting cards and holidays are the right time for this. Halloween greeting and pop up cards is a great niche to add to your Halloween preparation collection.
Use multiple suppliers to open your store up to creative and fresh ideas for this niche of products. 
8. Halloween Photo Booth Accessories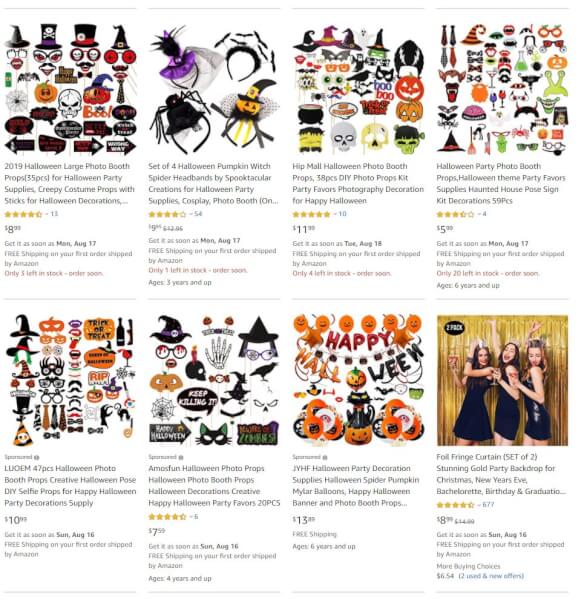 Photo booths accessories are a trending thing in parties, and Halloween parties are no exception. They bring fun at the party. Add related photo booth props to your store.
They also come in a variety of bundle packs and are hot sellers during the holiday season.
We highly encourage you to check also our video about what to sell during the Halloween holiday.
Save Time While Maximizing Your Profits
The more listings you upload in advance for Halloween, the more sales your store will convert.
Most dropshippers wait until the last minute and only get to enjoy the crumbs that remain. The time to start preparing is now.
Speaking of time – if you want to hit the big numbers, time won't be on your side. Uploading products one by one takes a significant amount of time, even when using a dropshipping tool to automate the process. You will still make sales, but much less than you could have if you had more time to upload more listings. 
For this problem, the AutoDS Helper chrome extension has the answer. Use it to grab all of the products on the supplier page and upload them to your store. This process will turn hours of work into minutes. 
Grabbing Halloween Products Using The AutoDS Helper
The process of grabbing all the products from a specific page of your supplier is simple. First, download the AutoDS Helper extension. Then, open the supplier page with all of the products that you want to upload to your store. Click on the AutoDS icon on the bottom right, then click "Extract." The list of product ids should show up: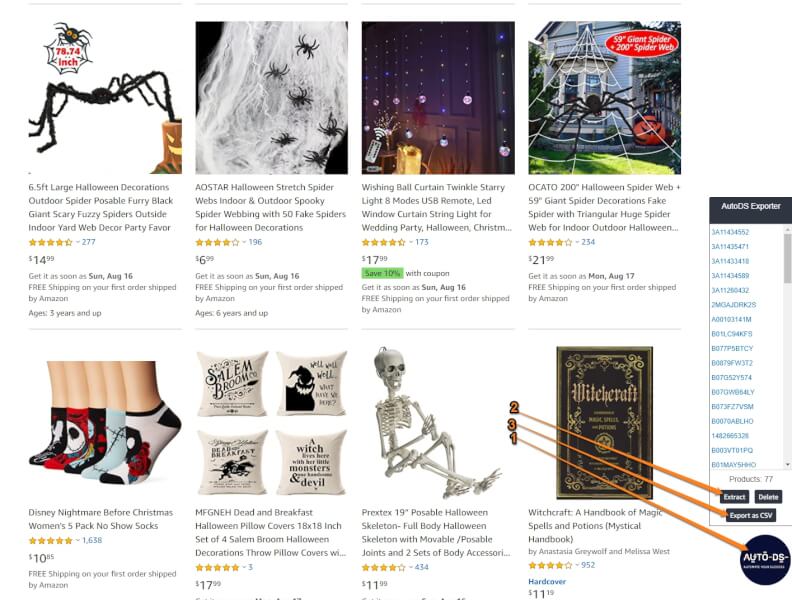 Click on "Export As CSV" and download the file onto your computer. Then, head over to the uploader section on AutoDS. On the bulk upload section, click "Upload Bulk From CSV" On the browser pop-up, choose the CSV file that you downloaded:
Configure your upload settings – break-even/profit, template, business policies, etc. and head on to uploading the products, or schedule upload to upload them at a later date.
Using The AutoDS "Tag" Feature
Use the tag feature to create a tag called "Halloween" and use it while uploading Halloween products.
Then, a few days before Halloween, from the Active Listings in AutoDS, filter the products based on the "Halloween" tag to get a list of all the Halloween products that you uploaded. After that, just add a note to all of the related product descriptions that the packages may arrive after the holiday.
This way, customers who wait until the last minute won't complain about receiving their products after the holiday.
After the holiday is over, bring up the Halloween tag again and you will be able to see how each product performed. Keep the results to raise next year's success further!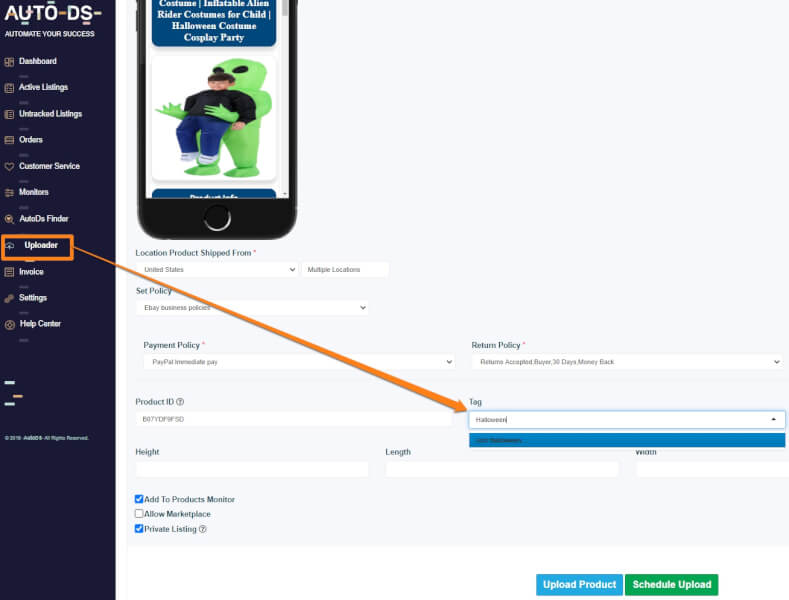 Finalizing The Spooky Holiday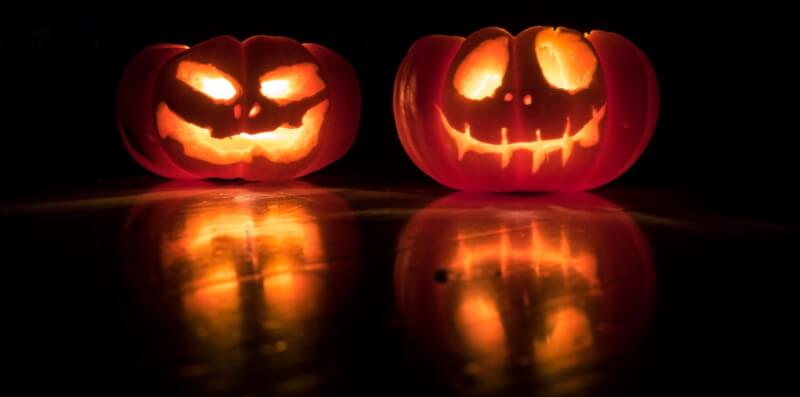 Halloween is one of the most favorite holidays of the year. It has a little bit of everything. The holiday is scary, funny, creative, and full of parties and festivities. Because of this, there is an endless amount of Halloween products that you can sell. 
Implement the methods in this article to start preparing now for the holiday season. The sooner you start, the more ahead you will be from your competitors. Add more suppliers for a better range of products to sell and stand out even more. Prepare well and watch your business grow well during Q4!
Since it's already 2022, we have curated a new product list for Halloween Dropshipping. So, what are you waiting for? Hurry up and add the new list of products to skyrocket your sales this Halloween.