You should start sending messages to your clients as soon as they purchase from you.
Also, we recommend you always to answer all questions from your buyers.
We know that a lot of dropshippers are doing only pre-sale customer support. 
In other words, they stop answering their buyers as soon as they purchase from them. It is a terrible mistake!
We, in AutoDS Drop shipping Platform, have created 3 messages that you can use to communicate with your buyers efficiently.
1. Received the Order
The first message is a message that you will be telling the buyer that you already started processing their order and that you will provide the tracking number soon.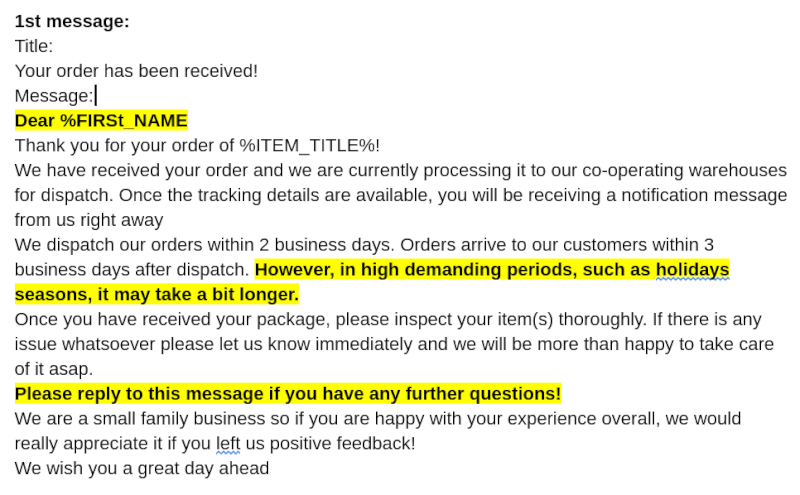 There are some interesting and essential things in this message.
1) Personalization:
You want to talk to your clients using their name.

Everybody likes their name and wants to get referred to using their names, and they don't like to b feel that they are talking to a bot.
2) Delays:
The second thing is you should tell the buyer that in high demanding periods such as holidays season, the dispatch time may take a bit longer.

You want to write this on your message because this way, your clients have an understanding when their package gets delayed.
3) Do you have any questions?
The third thing is you should tell your buyer to reply to your message if they have any further questions.

This technique will reduce the opened cases and negative feedback.
This part gives the clients a feeling that you care about them and that you are willing to solve their issues.
2. Uploaded Tracking Number
In the second message, you need to inform your buyer that you shipped their package, and provide them with the tracking number.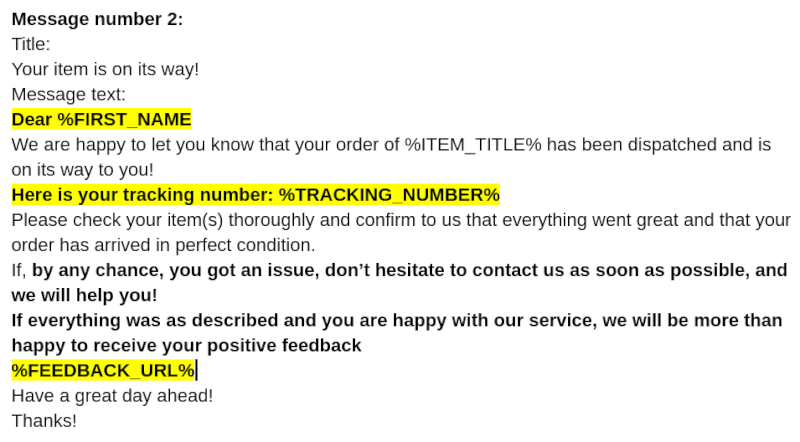 There are two critical things in this message, the first one is the tracking number, and the second thing is the feedback URL.
1) Tracking Number
It is vital to give the buyer the tracking number along with the shipping carrier.

Using this technique, you will reduce the number of messages asking for the status of the shipments.
2) Feedback URL:
You should always include the link where the buyers can give you their feedback.

Also, tell them to leave you positive feedback if they are happy with their purchase.
3. After Delivery
You have to send this message after the product gets delivered to your buyers.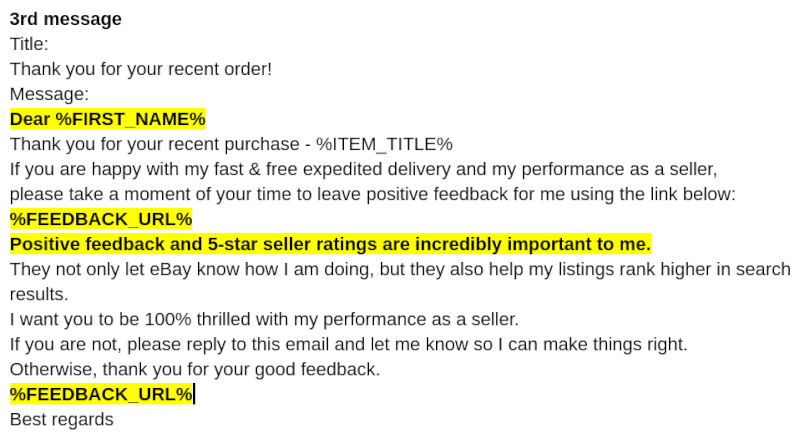 In this message, you need to remind your buyers of how important for you to receive positive feedback.
Case Study:
To better understand how important these messages are, here is an example:

In this example, we have set the 3rd message (the feedback message) to be sent 10 days after the sale. 
This message makes the customer remember that he liked the item and our service, and he decided to rebuy it again and again.

We managed to convert another three sales using this technique. So we made 4x more profit.
Now, you probably became aware of how important it is to give excellent customer support by sending three messages to your buyers.
Conclusion
To wrap it all up, providing exceptional customer service is integral for the success of our eBay dropshipping business. Besides providing excellent support, there are other ways to scale our eBay stores. As such, check out these articles for more information: