Whether beginners or established entrepreneurs, we've probably wondered how to become an eBay seller. As one of the eCommerce pioneers, eBay has been connecting buyers and sellers for over 20 years.
Even more so recently, with over 100 million active eBay users. And that number is only continuing to grow with the astonishing popularity and profitability of the marketplace. That said, eBay is a great place to start an online business and earn high-profit margins.
That's why in this article, we will cover all the steps that you need to become a successful eBay seller. 
Why Sell On eBay?
Before we go over the steps, let's find out why selling on eBay is beneficial. Here is what makes eBay an excellent selling channel:
Large audience 

Worldwide marketplace 

Lots of reliable suppliers

Promoted listings

Professional templates

Zero upfront investment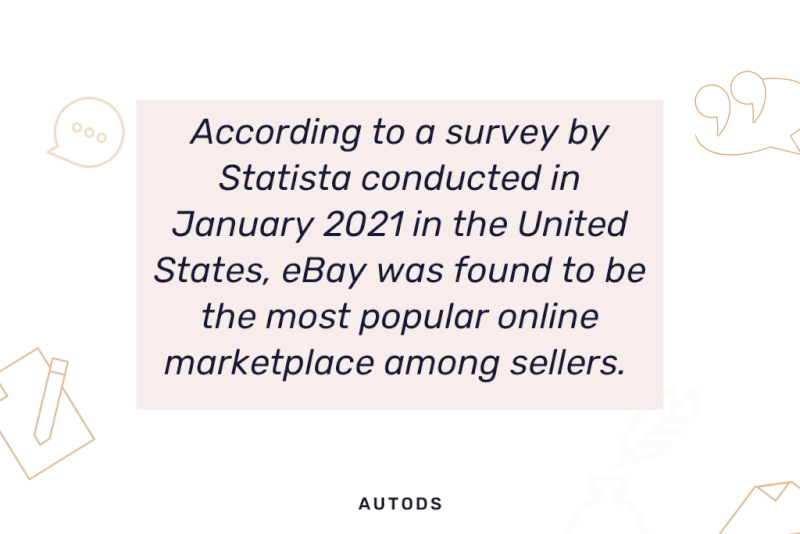 As eBay is one of the eCommerce giants, it has a massive user base, which means plenty of organic traffic is coming into our stores. To give you an estimate, Statista reports that eBay has 159 million active buyers worldwide, which was recorded in the second quarter of 2021.
And not only is there readily available organic traffic, but we can also reach customers worldwide. As a matter of fact, more than 57% of eBay's total revenue comes from global sales. To elaborate, we'll have access to 190 worldwide markets. Therefore, we can easily reach customers globally on eBay, wherever we may be.
Furthermore, since eBay is a selling channel, it has many verified suppliers. Although we can source from other marketplaces, sourcing from eBay is a reliable way to get products.
Additionally, we can market our products using eBay's promoted listings. As a marketing tool, promoted listings increase the visibility of our products across eBay. Moreover, eBay provides different professional templates for our stores. With the help of these ready-made templates, we can enhance our store's look.
Most importantly, we can start selling on eBay with zero upfront investment. So, we don't have to worry about monthly subscriptions or setup fees. All in all, with these excellent benefits, eBay is a perfect channel for selling and profiting. 
How To Become An eBay Seller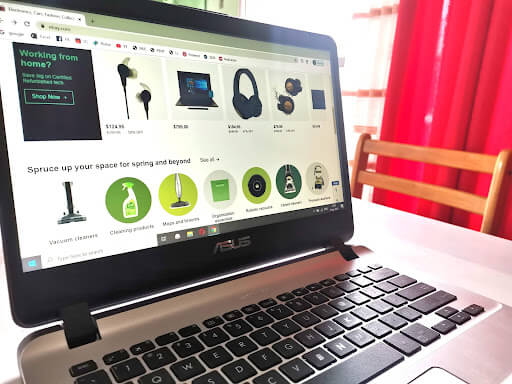 Now that we know the benefits of selling on eBay, let's go over the steps of how to become an eBay seller. With that said, here are 13 steps to follow:
Let's get the ball rolling and find out how to perform these steps. With comprehensive knowledge, we can instantly create, set up, and start selling on eBay.
Step 1: Create An eBay Seller Account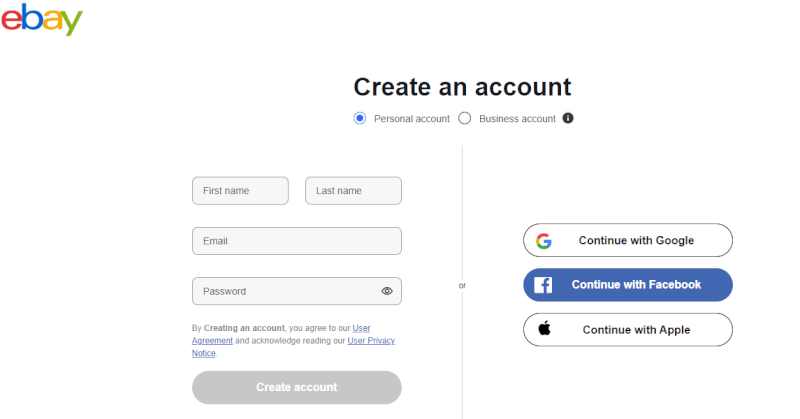 As we begin our process to become an eBay seller, the first step is to create an eBay seller account. To create an account, we have to register for an account on eBay. First, go to eBay and click on "My eBay." From the dropdown menu, choose "Selling," which will redirect you to the sign-in and sign-up page. Then, click on "create an account to register."
When you click on it, you'll have to choose between two options to continue: a personal account or a business account. If we are individual sellers, then we can choose a personal account. On the other hand, if we have a registered business, we should sign up for a business account.
After choosing our account type, we must fill in our personal information. Generally, if you select a private seller account, eBay asks for your full name, contact number, address, and date of birth. Once we submit that information, our seller account is ready.
Step 2: Understand Seller Limits
After our seller account is ready, we can immediately sell our products. However, new sellers on eBay have a selling limit in place.
To clarify, eBay requires all new sellers to start with a selling limit because they want sellers to gain more experience on the platform. That's because eBay doesn't want to risk upsetting their customers by giving complete freedom to new sellers. Due to this limitation, sellers will focus on providing better care to their customers, who will keep coming back to shop on eBay.
Consequently, we also need to follow the rules and take care of eBay's users before being allotted more product listings. For the new sellers, the selling limit is at most 10 items with a maximum value of $500 per month. That means we can sell up to 10 items, but their total sum shouldn't exceed $500. Additionally, we cannot list additional products after we reach our selling limit.
On the other hand, eBay charges us a monthly insertion fee for every item we list. For instance, if we add 100 products, we have to pay 0.30$ per listing for every product above our monthly free insertion listing. The monthly free insertion listing depends on our subscription plan.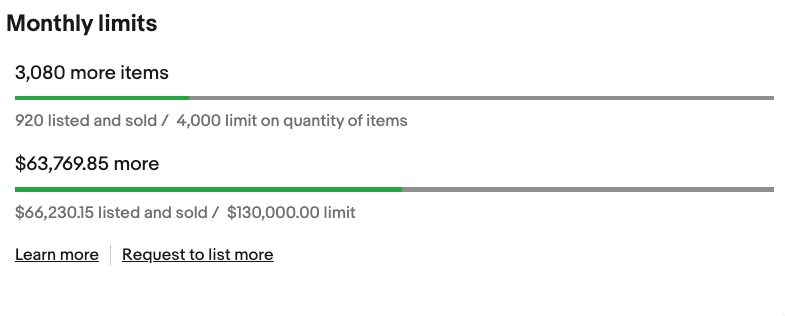 In the above picture, we can see that the account has a selling limit of 4000, totaling up to $130,000. But the account holder has only listed 920 products totaling $66,230.15. 
In this scenario, they can list an additional 3080 products totaling up to $63,769.85. However, it is essential to note that the shown limits are higher because the account holder is an experienced eBay seller. And, our limits can vary according to our eBay subscription plan.
Step 3: Choose A Store Subscription
Now that we know about selling limits, let's learn about another cost, eBay subscription fees. To clarify, we must pay a certain subscription fee for a business account on eBay. Currently, there are five different eBay store subscription plans, which are:
Starter

Basic

Premium

Anchor

Enterprise
These plans come with different selling limits and final value fees. For example, if you want to list 1000 listings and subscribe to the monthly premium store, it will cost you $74.95 a month. On the other hand, the annual subscription will only cost you $59.95 a month.
Each store subscription offers a certain number of free insertion fee listings. Also, the higher your subscription, the less you will pay for each additional listing that exceeds your free insertion package. Moreover, the subscription plan includes various costs depending on product categories, selling limits, and additional listing fees.
Additionally, the final value fees depend on what products we are selling. For instance, let's assume we have subscribed to a starter store selling Jewelry and Watches. As such, we have to pay 15% of the product's price if the sale amount is $5,000 and 9% if the total sales are over $5000.
Additionally, if we surpass our limits and sell well, we can upgrade to a better plan and sell more products. Therefore, AutoDS' eBay calculator can help us learn when it's a good time to upgrade our store subscription. With this tool, we can directly calculate how much additional fees we need to pay for extra products. So, if we don't have to pay extra, we can keep our current plan. Otherwise, we can upgrade the plan. 
Step 4: Set Up eBay Business Policies (US/China)
The next step is to set up business policies for our eBay store. The business policies serve as a guideline for our eBay customers. To clarify, business policies include payment, shipping, and return procedures. For example, we can show which shipping method we use and the payment method our store accepts.
Essentially, creating these policies enables us to inform our customers about our terms of sale. Furthermore, it prevents errors caused by misinformation which can lead to loss of sales or customer dissatisfaction. As such, let's look at some essential business policies we must prepare for our stores:
Shipping Policy

Return Policy

Payment Policy
These three policies are essential for our eBay dropshipping store. The shipping policy is prepared to inform customers about our shipping carriers, shipping time, and related delivery charges.
Similarly, the return policy communicates how the returns will be handled. Here, we have to include details such as the return window, return shipping charges, and return conditions. Finally, the payment policy includes information about payment methods and payment gateways.
However, business policies can differ depending on our supplier. So, we can use the following resource  to help us create eBay business policies:
All in all, business policies help us clarify our terms of sale to our customers. As such, we must add business policies to increase the credibility of our dropshipping stores.
Step 5: Configure Site & Shipping Preferences
One of the things we need to configure before we start to sell on eBay is the Site & Shipping Preferences. Let's start by configuring site preferences. To begin, navigate to your eBay account, hover over your name on the top left, and click on "Account Settings."
Then, go to selling and select selling preferences (formerly known as site preferences). From here, we can edit different selling settings. For instance, we can set up return preferences to indicate how returns will be handled on our website. Additionally, we can change the return address under the personal info tab.
Now, let's configure our shipping preferences, which allow us to offer worldwide shipping. First, click on the shipping preferences tab just above the selling preferences. On this page, we can enable eBay's Global Shipping Program by clicking on the edit button beside it.
Then, click on Start Now to start configuring the setting. With this option, eBay will open an international shipping policy for our listings. With this program, we can ship our customer's orders to eBay's US warehouse. Then, eBay will ship the product to our customers' addresses. 
Alternatively, we can also use HipShipper to offer international shipping. Similar to eBay's Global Shipping Program, we can simply ship the products to Hipshipper's warehouse. And, HipShipper will ship it to the buyer.
Step 6: Find Best-Selling Products
After setting up our business policies, we need to find best-selling products. In general, these products help us skyrocket our sales and increase our profit margins. 
Moreover, finding best-sellers can save us from listing unprofitable products. Plus, if we learn how to find them, there's no limit to our potential profits. Therefore, let's go over some product research methods to find out which products will bring us the most money:
Search through the eBay platform

Product research tool by AutoDS

AutoDS best sellers YouTube playlist

Product finding blog section by AutoDS

Search dropshipping suppliers' websites

AutoDS Finder
Let's go over each product research method. 
Search Through The eBay Platform
The first way to identify best-selling products is by manually searching on eBay. First, we can start by going over the trending categories and searching for different products.
When we search for products, we see multiple eBay sellers offering the same or similar products. This gives us an insight into what our competitors are selling and if the products are performing well. 
For instance, we can discover factors like the product's price, the number of sellers selling the item, and how many products were sold. In a nutshell, this shows us which products are in-demand and which are not.
Similarly, by manually searching, we can find what marketing techniques other sellers are using. Then, we can employ marketing strategies such as upselling, cross-selling, promoted listings, and more. 
Essentially, upselling is a technique used to increase our average order value (AOV) by encouraging customers to purchase higher-cost products, providing us with a higher profit margin. On the other hand, cross-selling means suggesting related products to purchase alongside the original product. Overall, manual research on eBay does take more time but remains an excellent option for product research.
Product Research Tool By AutoDS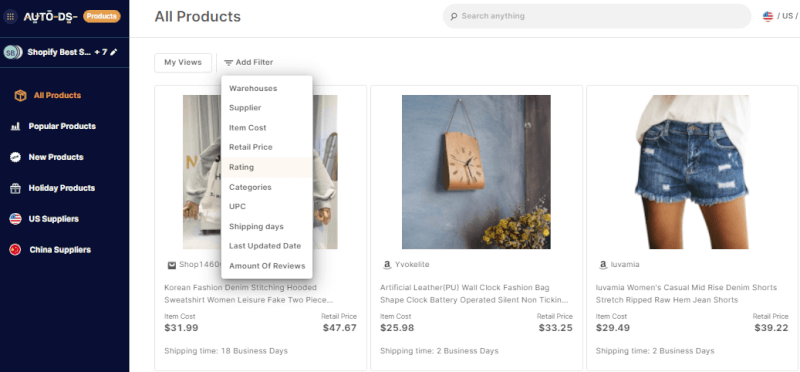 Another effective way to find trending products is by using AutoDS' product research tool. This tool allows us to find in-demand products from our suppliers. 
Using this feature, we don't have to manually go through each product, saving us loads of time.
To start searching, go to the AutoDS product research platform and sign up for an AutoDS account. Once we are inside the platform, click on "Add Filter." Here, we can filter products according to our supplier's location, shipping time, and more.
While the AutoDS product research tool works with only several suppliers, the feature will soon be updated. This will allow us to explore trending products from private wholesale dropshipping suppliers. As a result, it will increase the variety of products we can choose from.
AutoDS Best Sellers Youtube Playlist
Similarly, another resource to find best-selling products is AutoDS' Youtube channel. The AutoDS Youtube channel has a "Sell These Now" playlist which is regularly updated with top-selling product videos. For instance, AutoDS uploads product videos monthly so that we will never run out of products to sell.
Product Finding Blog Section By AutoDS
Like the Youtube playlist, AutoDS has a blog section dedicated to helping dropshippers succeed. With the sole purpose of educating dropshippers, the blog section contains product-finding tips and strategies. 
Furthermore, the blog also has many articles that reveal best-selling products from broad categories. As such, we have a massive depository of products that we can list in our stores.
Search Dropshipping Suppliers' Websites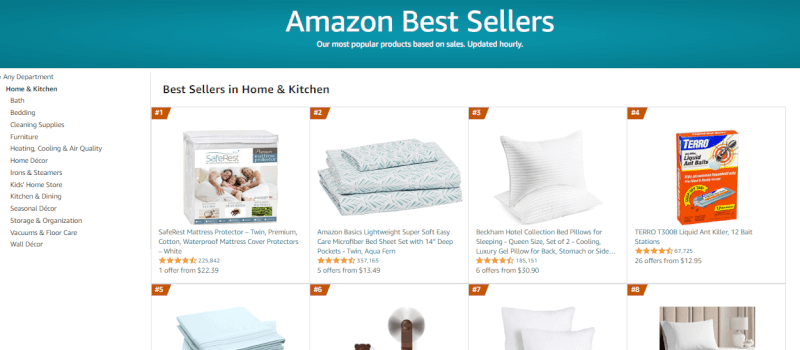 We can never go wrong with researching products on different suppliers' websites. The method involves searching suppliers' websites like Amazon and Walmart, which have their best seller sections. 
For instance, Amazon Best Sellers shows general trending products on Amazon. Additionally, we can explore different subcategories related to it. Then, we can identify products with high ratings and good reviews.
On the other hand, sites like AliExpress have a separate product-finding system. For example, if we search for watches to sell, the AliExpress Dropship Center shows all the top-selling watches that we can easily add to our eBay store.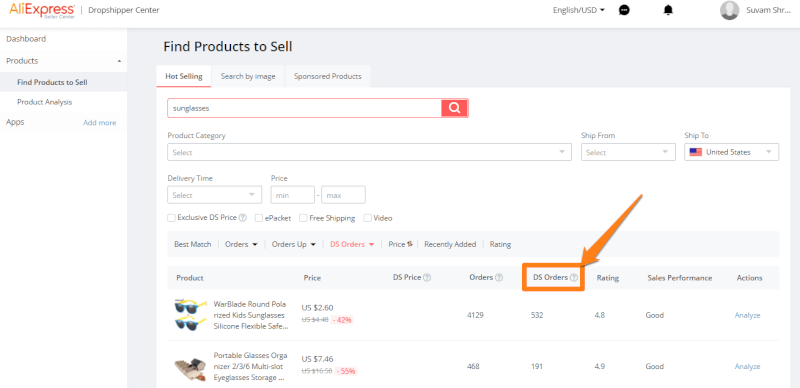 In addition, it shows the products' total orders, sales performance, and overall rating. Thus, we will get in-depth knowledge about the various products. In general, to use the AliExpress Dropship Center, we have to register for an account on the platform. Then, choose "find products to sell," allowing us to search for different products. 
Beginner's Tip: Look out for products with a high DS Order (dropshipping order) and high ratings. This means the product is trending and has the potential to sell well in our stores.
AutoDS Finder
Overall, the research methods above take some time and effort to find best-selling products. That's why the AutoDS Finder is for those who don't have time for product research. 
The AutoDS Finder scans over 40,000 dropshippers and more than 1 million products per day to find the best dropshipping products for us to sell. On top of that, it supports more than 20 dropshipping suppliers allowing us to have a comprehensive product catalog. And the best part is that we can find and list thousands of hot-selling products in under one minute. Hence, we can efficiently use our time to find the best products and scale our eBay store.
Step 7: Avoid Selling VeRO Products
Now that we know how to find best-sellers, let's discuss which products we should avoid selling, such as VeRO products. To clarify, eBay's Verified Rights Owner (VeRO) program protects owners' copyrights and trademarks. 
In return, eBay secures its property, such as brand names and logos, on its intellectual property database. The database has an extensive list of manufacturers who want to protect their copyrights and trademarks. 
Therefore, when we upload our products on eBay, their titles, images, and descriptions are scanned and compared to the VeRO list. If eBay finds that our listing violates their VeRO program, it removes our listings and sends us a copyright infringement warning.
Furthermore, eBay permanently disables the seller account if the account is repeatedly uploading such products. Some VeRO products are products like T-Shirts with popular brand names such as Nike and Adidas or electronic products from Samsung or LG. 
So, to protect ourselves from copyright infringement, we can use AutoDS' VeRO detector. It will notify us anytime we add a VeRO product to our eBay store.
Step 8: Select Suppliers To Source Their Products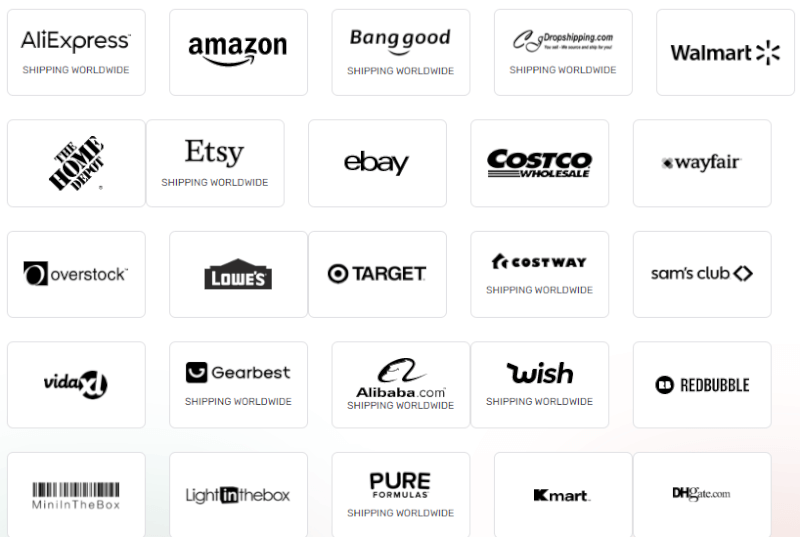 Once we choose our products, we need to find a reliable supplier to source from. But first, it is essential to understand how we identify a good and reliable supplier. To spot a good supplier, we should take a look at these criteria:
Product range

Niche

Business policies

Shipping carriers 

Pricing 

Communication 

Customer reviews
Product Range
To begin, we should first look at our suppliers' product range. Generally, the more products a dropshipping supplier has, the more options we can offer our customers. As such, with more products to sell increases our chance of generating higher sales.
Niche
In general, we should see if they are a general or niche dropshipping store. While a general dropshipping store has products from all categories, a niche dropshipping store focuses on a particular product category like jewelry. 
So, if we are dropshipping specific products, we can work with niche dropshipping suppliers. On the other hand, if we are beginners or want to offer our customers a wide selection of products, a general dropshipping supplier will suit us best.
Business Policies
Third, we have to look at suppliers' business policies such as returns, shipping, payments, and so on. These policies indicate how easy or hard it is to work with the supplier. 
Shipping Carriers
Essentially, we should ensure that your dropshipping supplier has a quick shipping time as customers love to receive products as soon as possible. Also, choose suppliers who send tracking information to customers. With tracking information, customers can easily track where their packages are.
Pricing 
Next, we should judge suppliers based on their pricing of the product. Essentially, we should always look for affordability to increase our profit margins. Plus, it's always a bonus if the supplier offers various discounts and wholesale pricing.
Communication
Another factor to look out for is their communication. So, we should see if the supplier is readily available and easy to get in contact with. Along with this, our supplier should have multiple ways to communicate with us.
For example, live chat, email, phone, etc. The better the communication is with our suppliers, the more reliable they are for our business.
Customer Reviews
Finally, the customer reviews of the product speak volumes about the supplier. Therefore, we should source products with good reviews. In contrast, we should avoid suppliers with poor product reviews. 
Once we analyze our suppliers based on these criteria, we can find a perfect supplier for our eBay business. In essence, there are different types of dropshipping suppliers to choose from. While dropshipping-friendly suppliers allow dropshippers to re-sell their products, retail suppliers don't support this method. 
With that in mind, let's take a look at some of the suppliers that are an excellent match for our eBay stores:
So, what makes these suppliers so great? Let's take a look at their features.
1. AliExpress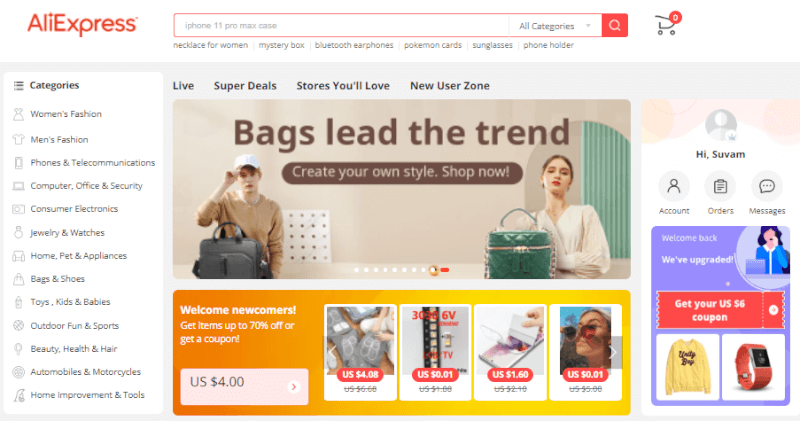 To start the list, let's begin with AliExpress, a Chinese general dropshipping supplier. To elaborate, AliExpress is an online retail platform that connects buyers with thousands of Chinese suppliers.
Main Features
General dropshipping supplier 

Large product catalog

Affordable products

AliExpress Dropship Center

Worldwide warehouses

Buyer/seller protection
AliExpress is renowned as one of the largest online platforms for sourcing products. As such, AliExpress offers more than 100 million products from almost all categories to dropshippers. Not only do they have an extensive product catalog, but the pricing of their products is also comparatively low. Thus, there is plenty of room for profit for us.
To sweeten the deal, we can find high potential and winning products from their Dropship Center. When dropshipping, we need to research products and list the best ones in our stores.
That's where the AliExpress Dropship Center comes into play. As a product-finding system, it shows products based on specifications such as price, amount sold, ratings, and more.
When it comes to global reach, AliExpress has multiple warehouses worldwide, which means we can optimize global audience targeting. On top of that, it offers buyer/seller protection so that we can always remain safe while dropshipping their products. Therefore, AliExpress is a great supplier to source a wide array of low-cost products.
2. Costway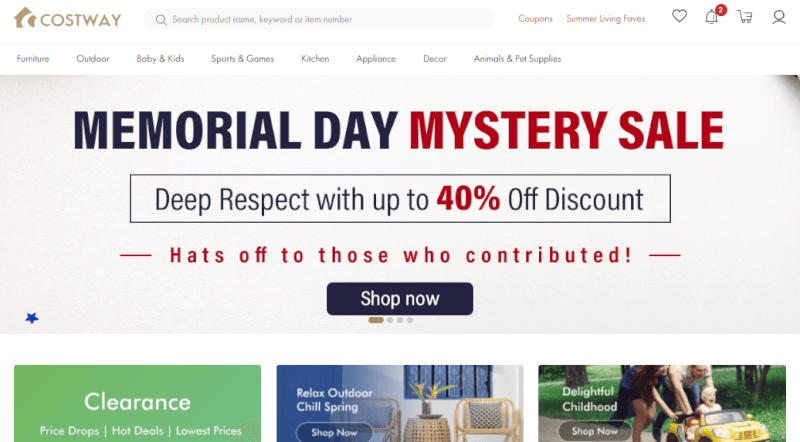 Next, we have Costway, one of the popular dropshipping suppliers in the American and European markets. It is a niche dropshipping supplier that offers excellent products from the home decor category.
Main Features
Home decor niche

High-quality products

Dropship program

Special deals and cashback

Global warehouses

Fast shipping times

Excellent customer service
Although Costway is a niche dropshipping supplier, it offers many high-quality home decor products. Moreover, the supplier is dropshipping-friendly, even providing us with a dropship program.
As the dropship program is meant to support dropshippers, Costway offers special deals. It includes discounts, promotional pricing, exclusive support, and cashback offers.
Furthermore, it has warehouses in major regions across the US and Europe. Hence, shipping times for products are relatively fast. As for their shipping time, they take 3-5 business days to ship products to our customers. And finally, they have a dedicated customer service team that works 24/7 to ensure that we don't have any problems.
3. CJDropshipping
Another dropshipping supplier on our list is CJDropshipping. This is yet again a dropshipping-friendly supplier with an excellent product catalog.
Main Features
Product sourcing

Private labeling service

Print-on-demand services

Dropshipping friendly

Multiple warehouses globally

Fast shipping
Finding unique products in the highly competitive dropshipping industry is difficult. However, there are different ways to find unique products that enable us to differentiate ourselves from the competition.
And, one such method is product sourcing. With this feature, we can request different products that CJDropshipping doesn't already provide on the platform. Hence, we can dropship those products with a higher profit margin since they are not readily available.
Additionally, CJDropshipping also provides private labeling services. With a private labeling feature, CJDropshipping will manufacture our products according to our specifications and under our brand name. Hence, we can personalize products and scale our business quickly with private labeling.
On top of that, with their print-on-demand feature, we can customize products such as t-shirts, mugs, and pillowcases with our designs. Therefore, we can increase our profit margins with privately labeled and print-on-demand products.
Furthermore, CJDropshipping is a dropshipping friendly supplier that offers special deals, discounts, and offers especially for dropshippers. Like AliExpress, CJDropshipping also has warehouses and fulfillment centers worldwide, enabling fast shipping. Overall, CJDropshipping offers a vast product catalog while also providing various features that we can benefit from.
4. Banggood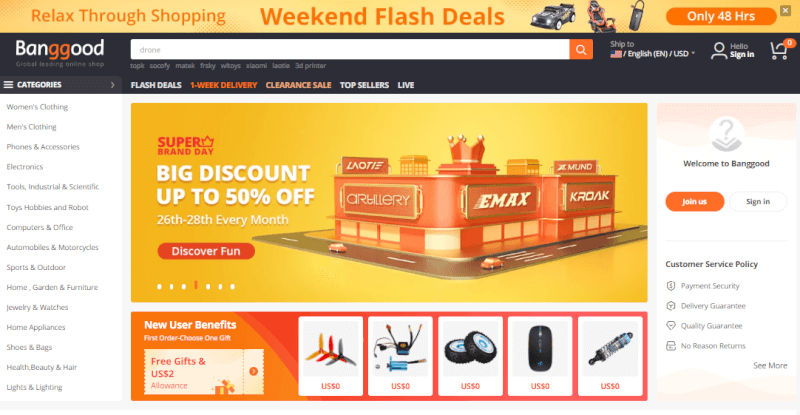 And, last but not least, we have Banggood. It is a Chinese online platform with a selection of more than 20 different product categories and over 1 million products.
Main Features
General dropshipping supplier

Over 100,000 suppliers

Wide range of product choices

Domestic warehouses

Dropshipping-friendly 

Exclusive membership perks
Banggood is another dropshipping supplier that offers products from diverse categories such as fashion, electronics, home decor, and more. Plus, Banggood offers over 1 million products from more than 100,000 suppliers. As such, we can offer a wide range of products in our eBay stores.
With its domestic warehouses located in different parts of the world, Bannggood ships products within 3-14 days. Similar to the suppliers mentioned above, Bangood is a dropshipping-friendly supplier. Meaning we receive support when dropshipping, which comes in the form of hot deals, rebates, special discounts, and comprehensive customer service.
While the suppliers mentioned above are well-renowned worldwide, there are thousands of private suppliers where we can find unique products to sell in our store. To find these suppliers, we can simply perform a Google search. Plus, trade associations are also a great way to find eBay suppliers.
However, the easiest way to work with reliable suppliers is to check out AutoDS' supported suppliers. In addition to being an easy way to find suppliers, all of AutoDS' suppliers are integrated with a dropshipping automation service. That means we can easily import products to our eBay store, fulfill multiple orders, and automatically get price and stock updates.
Step 9: Create Product Listings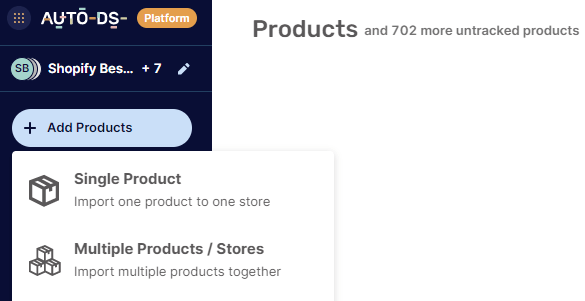 Up until this point, we've learned how to find suitable products, which products to avoid, and where to source our products from. So, the next step is to create product listings on eBay. With that said, there are two different methods to list our products: manual and automatic.
Manually listing our products means we find a product and copy its details, such as titles, descriptions, and variants. The entire process can take anywhere between 5-20 minutes.
As you can estimate, listing multiple products manually can take a considerable amount of time. Plus, it is tedious because we are repeating the same thing over and over again.
In contrast, automatic product listings save us time and effort by automating the listing process. With the automatic method, we can import products with all the necessary information in seconds.
Step 10: Promote & Market Your eBay Listings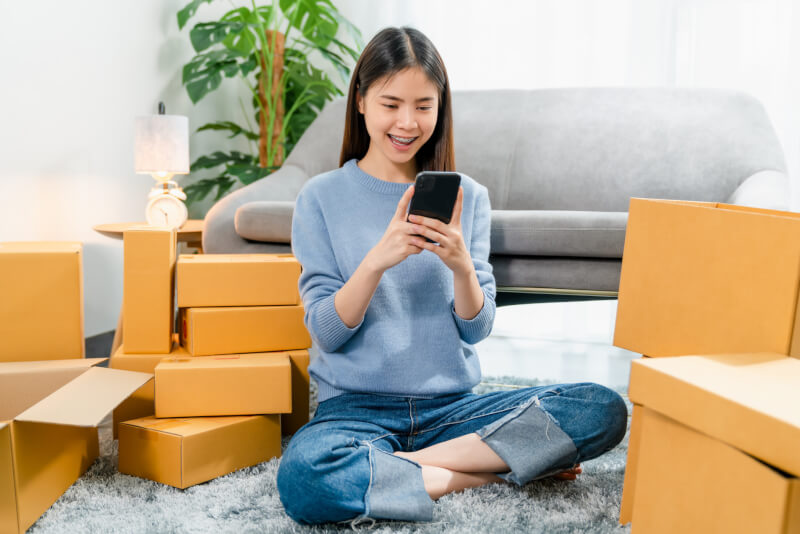 Once we have our product listings ready, we need to promote and market our listings. After all, effective marketing techniques lead to consistent sales. Over time, we can scale and build our brand awareness, ultimately leading to more sales.
As one of the largest eCommerce marketplaces, eBay has a massive user base that generates free organic traffic for our dropshipping stores. However, we can increase our eBay sales with the help of promoted listings.
Promoted Listings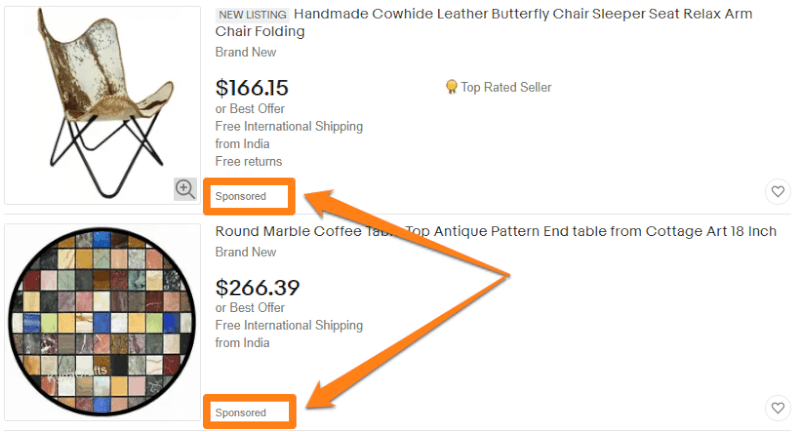 Promoted listings are a powerful marketing tool for our products on eBay. In essence, promoted listings increase the visibility of our products across eBay.
As sellers have a high level of competition, promoted listings allow us to get prominently featured on search result pages. To utilize this strategy, we have two different methods: promoted listings standard and advanced promoted listings (PPC).
Promoted Listings Standard

:

Promoted listings standard

is a method to market our eBay store to get more visibility across the platform. When our products have more visibility, they are more likely to sell.
As such, Promoted Listings Standard puts our listings in front of more buyers when they are searching for related products on eBay. Plus, when we use this method, we only pay for it after our products are sold.
In contrast to the promoted listing standard, eBay PPC allows us to target particular keywords to place products at the top of the search results page. As for the cost, we have to pay a certain fee to eBay whenever a customer clicks on our ad.
Ultimately, both types of promoted listings increase the overall views of our products. Thus, utilizing these eBay marketing methods allow us to stand out from the competition. Similarly, there are more marketing tools we can use to increase our sales, such as:
Coupons

Orders discounts

Volume pricing

Creating sales events
Overall, these marketing tools and strategies help us attract more customers and scale our businesses.
Step 11: Fulfill Your Orders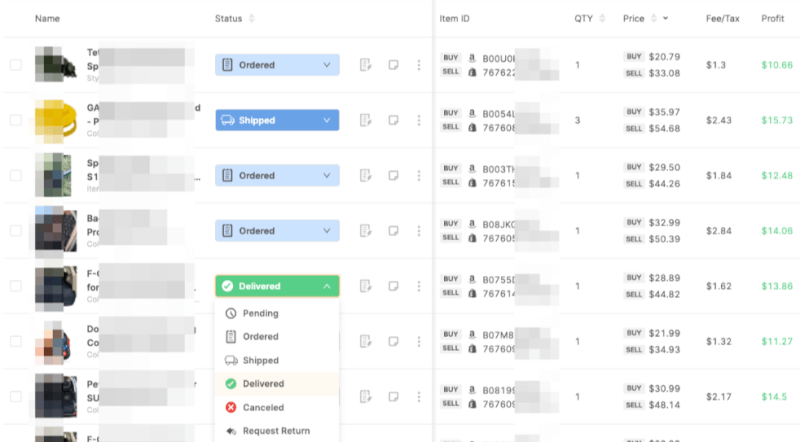 Now we've added trending products, and customers are ordering! With that in mind, we must start fulfilling our customers' orders immediately. Basically, there are two methods to fulfill orders: manual order fulfillment and automatic order fulfillment.
Manual order fulfillment requires us to fill in customers' details and place orders on our supplier's websites. As it is a time-consuming task, it is impossible to fulfill every order manually once we receive multiple orders per day. Plus, fulfilling manual orders can also result in human errors like shipping to the wrong address.
On the other hand, an automatic order fulfillment tool allows us to fulfill orders automatically. As such, we can save lots of time and instead focus on scaling our business through marketing and customer service.
Therefore, we need a dropshipping automation tool to perform the task to perfection. That's why AutoDS has got your back with two different automated order fulfillment tools.
Automatic orders

Fulfilled by AutoDS
Let's find out how they work. Generally, the AutoDS Automatic Orders tool uses our buyer accounts to fulfill our orders. Basically, buyer accounts are our accounts on the supplier's page that are integrated with our preferred payment methods. In addition, the tool also sends tracking information to our customers.
Unlike the automatic orders tool, Fulfilled By AutoDS uses our balance (AutoCredits) on the AutoDS platform to fulfill our orders. Thus, our accounts are safe from being locked on suppliers' websites, meaning we can easily continue dropshipping.
Furthermore, this tool automates the whole order fulfillment process, including tracking updates and easy one-click returns. With the Fulfilled by AutoDS feature, we can remain assured that all our orders will be fulfilled automatically, even while we sleep.
Step 12: Customer Service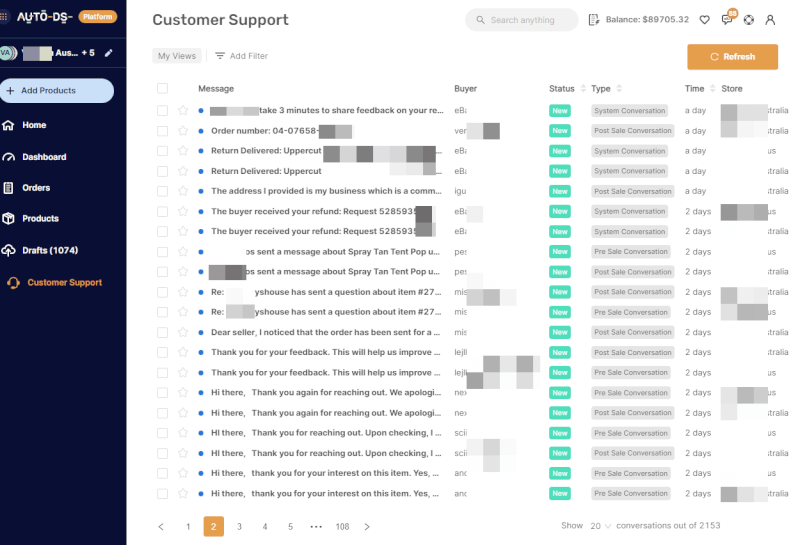 After fulfilling multiple orders, we'll be running a fully established store. At this point, we'll need to ensure to provide excellent customer service. In this modern age, every store needs to be customer-oriented because it helps us build trust and credibility.
Furthermore, eBay stores that provide excellent customer service can also improve their eBay feedback score along with a loyal customer base. Regarding the feedback scores, eBay has a seller rating system to let customers know more about the sellers.
Also, seller ratings are a great way to let customers know how a seller has performed in the past and which seller to buy from. Therefore, the higher the seller rating, the more sales we will obtain.
With that said, we need to provide excellent customer service to further optimize our customer experience on eBay. This is where the AutoDS eBay Customer Support Management System comes in handy.
As a customer support management tool, this feature manages customer queries, processes returns, and handles order cancellations. Most importantly, we can do so all under a single dashboard. All in all, with this customer support management system, we can easily take care of our customers and scale our eBay stores in no time.
Step 13: Scale Your eBay Store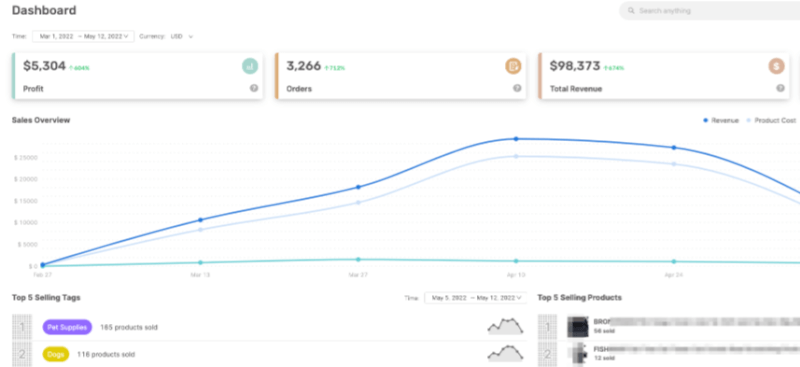 In the final step, we need to scale our eBay dropshipping stores. As such, business automation can help us run our daily business operations. While we can perform dropshipping operations manually, it can take ages to do so. Conversely, we can use business automation to dropship efficiently.
Not only does business automation help us speed up our daily operations, but it also helps us perform our tasks accurately. With this in mind, let's look at AutoDS, one of the best dropshipping software out there. With AutoDS, eBay sellers can enjoy various benefits. For one, let's begin with the AutoDS eBay VeRO Protection System.
Knowing how VeRO products can negatively impact our seller accounts, AutoDS has an eBay VeRO detection system that sends us a warning every time we upload VeRO products. With this feature, we can be assured that we comply with eBay's rules and regulations and that our seller account is not restricted. 
Furthermore, AutoDS has an eBay dropshipping tool that allows us to automate our dropshipping business fully. To increase our efficiency and save time dropshipping, AutoDS offers these automation features:
Price And Stock Monitoring Tool
To illustrate, let's explore the Price and Stock Monitoring tool. We know that the price and stock of a product are external factors that are out of our control and depend upon our suppliers. As stock and price fluctuate due to factors like production shortages or strikes, it can negatively impact our business.
Therefore, when a stock is unavailable or a product price changes on our supplier's end, we must update our store accordingly. If we fail to do so, we will risk upsetting our customers or incurring a loss.
That's why AutoDS automatically notifies us about any changes that occur on our supplier's end to prevent this from happening. Overall, with AutoDS as our dropshipping partner, we can keep running our business with increased efficiency.
Frequently Asked Questions
How Do Beginners Start Selling On eBay?
Beginners can start selling on eBay by creating a free eBay seller account. Afterward, we need to start importing products and scaling our store with marketing, customer service, and dropshipping automation.
Is It Worth It To Sell On eBay?
Absolutely! As of 2021, Statista reports that eBay has 159 million active buyers worldwide. So, not only is it worth it to sell on eBay, but we can thrive by taking advantage of this huge opportunity.
How Much Can I Make Selling On eBay?
Usually, profit margins are around 20-40% when selling on eBay. With the right marketing strategies, we can make even more. 
What Are The Best Products To Sell On eBay?
The best products to sell on eBay are products from trending categories. Currently, products from categories like automotive parts, clothing, health, and beauty are trending on eBay. Moreover, we can also find the best products from AutoDS' product research tool.
Conclusion
To sum up, there's a huge opportunity to sell on eBay because of the massive user base and ever-increasing popularity. Furthermore, you have all the information you need on how to become a successful eBay seller.
All you have to do now is find products and start taking action. With this comprehensive guide, you can create a flourishing eBay store. And remember, by utilizing dropshipping automation, you can scale your eBay business to new heights.
To conclude, check out these eBay-specific articles to learn more about how to increase your profits: