The first step to selling on eBay after creating and setting up our eBay account is to create our first eBay listing. Therefore, this guide will walk through how to list an item on eBay in two methods – manually, and the fast automatic method.
To list items on eBay, we need to get all of the product information from the source site and update it in our listing – the item title, pictures, item specifics, description, and all of the product details and information we can get.
To add item listings to our eBay store, we have two methods: Either list items directly from eBay's platform or use tools built specifically to help eBay dropshippers manage their dropshipping business. Like AutoDS, for example.
Let's take, for this demonstration, this item to list on our eBay store: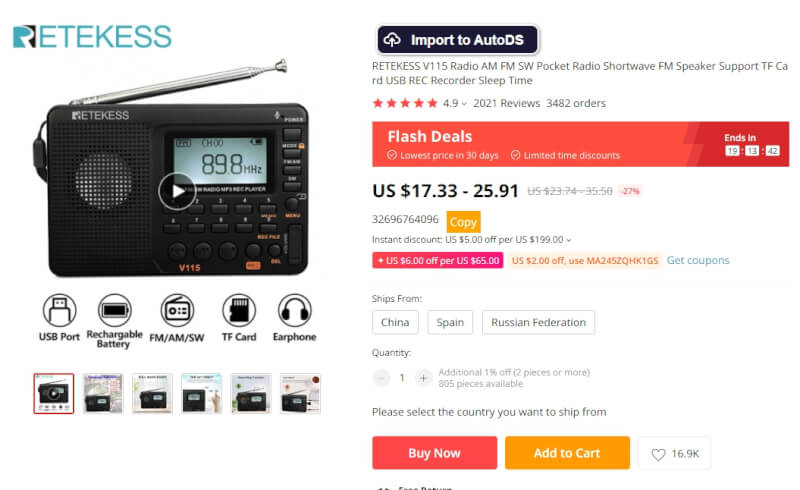 Ready to add your first product? Let's do it!
1) Create a Listing Manually On eBay
To list items directly from eBay, start by clicking on the 'Sell' link on the top right after logging in to your eBay account. This will take you to the following page, asking what it is that you're selling:

In the text field, you can enter a UPC (product identifier code), part number, product name, or anything that describes the product that you want to list. 
We'll put the item title or keywords from the source site. We won't copy & paste but instead use the main keywords that best describe the product – AM FM Pocket Radio:

As we can see, eBay is showing us category suggestions to list this item. We can choose the first option to start fresh or put it in the Portable AM/FM Radio.
For now, let's start fresh by choosing the first option.
Ebay will then create a draft page, and that is where we will start filling in all of the item details.
Let's walk through the process.
Listing Details
The listing details are where we will fill in all of the product details, beginning with the item title.
Item Title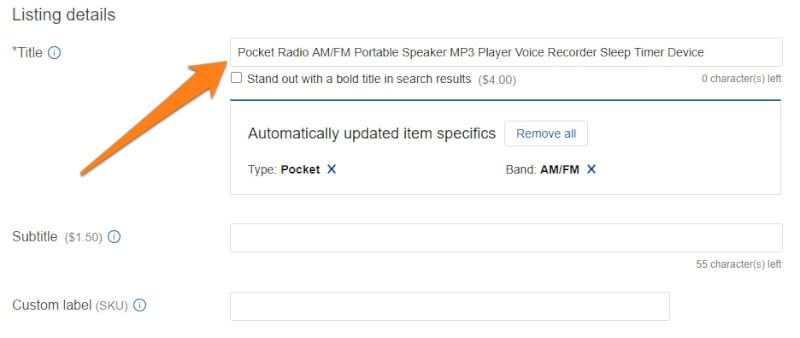 First, we have the item title. There is a maximum of 80 characters – so use them wisely. Copying the source's title is one way to do it, but it's always better to optimize eBay titles. 
That's because if more dropshippers are also listing this item without changing the source's title, we will find ourselves in tough competition with a lower chance of selling. Plus, Chinese sources might not always use the best keywords, as their English level is not too high.
A good tip here would be to take relevant strong keywords that other sellers are also using on eBay – especially the successful ones. Simply search for the item on eBay and pay attention to keywords you can also use in your title.
Also, add product features that people may include in their search.
Once we cook up a good product title, we'll fill in the relevant field. For this product, we filled in all of the 80 available characters: 
'Pocket Radio AM/FM Portable Speaker MP3 Player Voice Recorder Sleep Timer Device'
Notice how we started with what the product is, then filled the rest of the space with relevant keyword features? That is the backbone of a good product title.
In some cases, eBay will suggest recommended item specifics for this product under the title. We will get to the item-specifics soon, but you can leave them as they are or delete them if they are not related by clicking on the 'X' next to them.
Category Placement
Next, we have the category placement. We'll have to choose the specific eBay category list this item.

eBay will automatically suggest relevant categories based on the product title. In this scenario, we will place it in the suggested category, as it fits our product:
Consumer Electronics > Portable Audio & Headphones > Portable AM/FM Radios
If the relevant category is not shown, click on the 'Browse Categories' link and navigate to the right category:

Click on the right category, and eBay will place it there. There is also an option to add a second category, but this comes with a price and is not recommended at this point.
Then you have to select the condition of the item you're listing. Since we are selling products that are brand new, choose 'New' in the dropdown menu.

While we can dropship products that are not new, we'll usually have to put up with third-party sellers. This means slower shipping times and complicated return processes. 
Therefore, we prefer listing new products resulting in high customer satisfaction.
Item Photos/Images
After the item condition settings, we have the Photos section.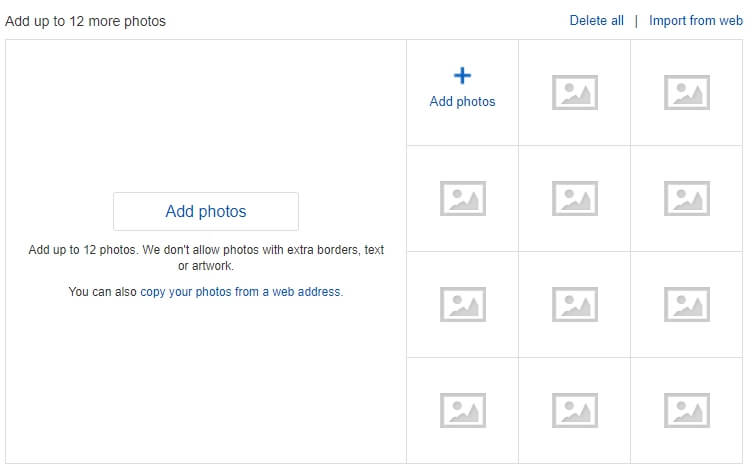 Here you can add up to 12 pictures that showcase the item that you are listing on eBay. The more pictures you add, the better.
We don't recommend copying your photos from a web address, but instead, download the images from your supplier and upload them to eBay by clicking on 'Add photos.' This way, they will load faster, and it will be harder to track your source.
Item Specifications
Next, we have the Item Specifics section.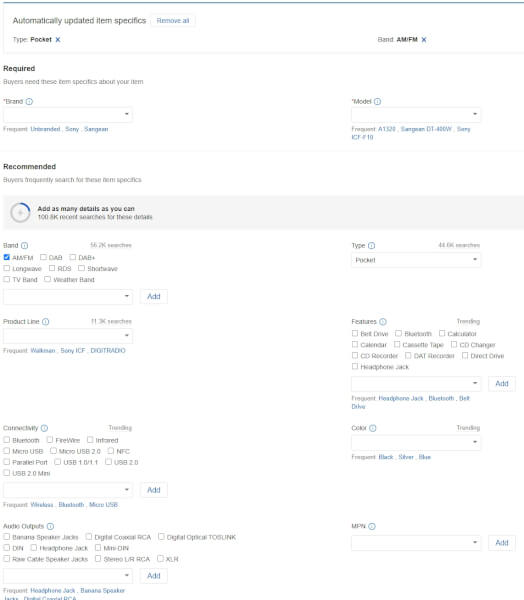 The item specifics help our buyers filter in what they are looking for when searching for products. Therefore, it is crucial to add as many item specifications as possible to help our listing stand out higher than our competitors. 
Things like the item type, size, color, style, and any other detail will help the potential buyers find your item on eBay. 
In some cases, eBay will add recommendations for your item specifics. If they fit, add them in. 
The more item specifics you add, the better chance we will get promoted on the search results. Just be sure that every item specification is correct. If there are any mistakes, the buyer will have a reason to open a case or return request.
All of our product's specifications can be found through our source.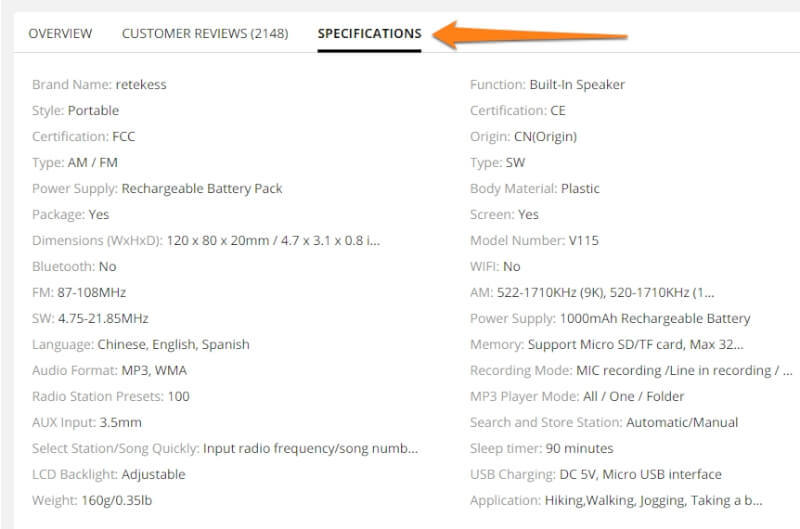 Grab as much information as possible and add them to your listing. You can even add new item specifications if what you're looking for is not available.
If a specific field is required and you don't have the information – for example, brand, or model, you can use 'branded' or 'does not apply.'
Item Description
Up next, we have the item description. This is where we will write everything about the item we are listing. 
Do your best to provide complete and accurate details on the item you are listing on eBay.
Also, use a format to keep your description mobile-friendly. There is also a mobile-friendly checker link on the top-right to ensure our product page fits mobile screens. 
As most shoppers are mobile-shoppers, mobile-friendliness product pages are a must!
Google can spot an original and clean product page to push forward. Therefore, use bullets or lists and even images to make a beautiful and engaging product page. Do not just copy & paste the description from your source – for best results, make your eBay item listing your own!
If you have HTML knowledge, you can use the 'HTML' tab to add your codes for your look & feel.
We recommend using a combination of text and pictures in your product description for optimal results. And, write your product description in your own words, after getting as much information as possible from your source.
Selling Details
Once we're done filling in the item description, we'll move on to the selling details. This is where we set the listing format, duration, price, quantity and make our listing private.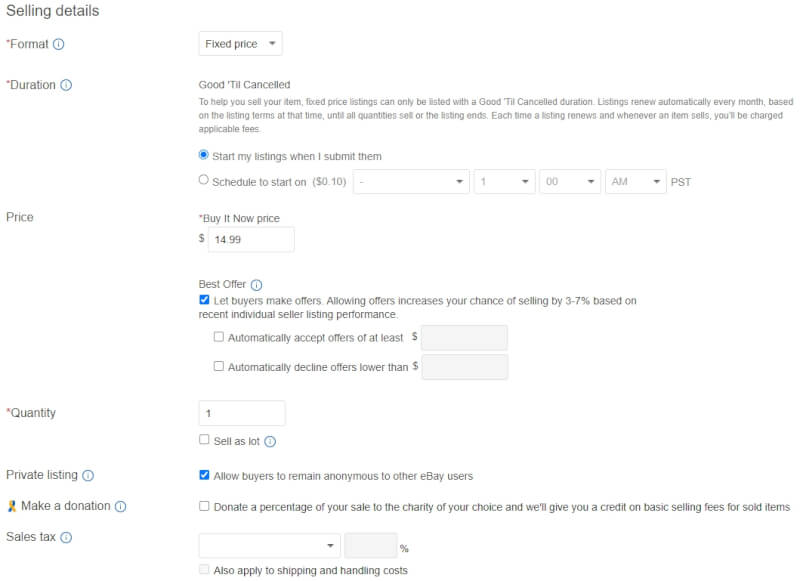 Format
On eBay, there are two types of listing formats: Auction-style or Fixed price. 
The auction-style type is where you offer the products in an auction, and anyone on eBay can place a bid. The listing can't go on for more than ten days, and the highest bidder is the winner by the time the clock runs out.
The auction-type listing works best for second-hand products, which isn't our case.
On the other hand, we have the fixed price format listing type. This option allows us to sell our eBay item listings at a fixed price, without the need for auctions and bidders.
The fixed price listings we are going to use to list our dropshipping products. 

Duration
Next, on the duration for the fixed price type of listings, choose "Good 'Til Cancelled."
This means that your listing will be listed for 30 days, then it will renew automatically until you end the listing.

Price & Best Offer
Then, we have our 'Buy it Now' price. Set the product price, and don't forget to take your break-even and added profit margin into consideration, as we've learned in the previous lessons.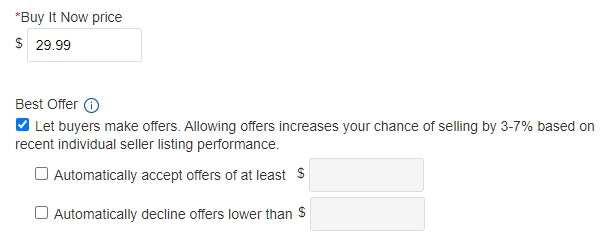 You can even use the Best Offer option that allows potential buyers to negotiate a price and lead to extra sales. As long as we're profiting, it's better to sell at a lower price than to not sell at all. 
Quantity & Private Listing
Up next, we have the item quantity. Since it's a new store with low item limits, we'll start with the quantity of one. 
Soon, when we start generating sales, we'll get higher product limits. Then, we can change the quantity to 2+. This will help us reach more sales, as many buyers are looking to buy two or more items at once.

Right below, choose 'Private listing.' This option will make it harder for your competitors to see what products you are selling through your seller feedback page, as your listings will be shown as private.
Shipping Details
The shipping details contain information about our shipping, payment, and return (business) policies, as well as item dimensions and location.
Business Policies
We'll begin by choosing the right business policies, which we configured in the previous lessons. Simply select them from the dropdown menu.

The payment policy should be the PayPal option with immediate payment. 
The shipping policy is what we configured for Chinese suppliers – 'Economy Shipping from outside the US (11 to 23 business days) with four handling days.
The same goes for the return policy, as we configured for AliExpress – 30-day returns paid by the buyer.
Package Weight & Dimensions
Now we have our package weight & dimensions. Grab the details from your source, and use converters if needed to get the right unit type.

It's crucial not to make any mistakes here; otherwise, our buyers can open cases/return requests stating 'item not as described.'
The package weight & dimensions are not mandatory, but they help save time and get more sales when we provide accurate product information.
Item Location
The item location specifies the location of our products before shipping out. 
Since we are dropshipping from China, where the product is located, we'll choose China in the 'Country/Region' dropdown menu.
In 'City, State,' type 'Shenzen,' since it is a very known shipping location in China. That's where most of the Chinese suppliers ship their products.
Under 'ZIP Code,' enter any zip code in Shenzen. A quick Google search will do the work.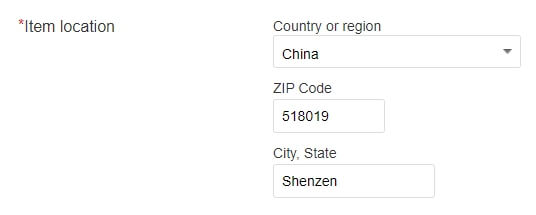 Sell It Faster
Under 'Sell it Faster,' we have a couple of marketing tools to help promote our product and… Well, sell it faster!
Promoted Listings
First, we have an option to boost listing visibility by enabling the Promoted listings marketing technique.

The promoted listings will boost traffic to our store by giving it a 'sponsored' visibility, placing it above our competitors when buyers search for products in our category.
There are no upfront costs for promoting our listings. We'll pay a set percentage only if the product sells from a buyer who clicked through the promoted listing to get to our product.
We can choose the percentage that we wish to share with eBay from the product price. The higher the percentage, the more eBay will prioritize us on top of our competitors.
Remember your total profit margin and consider this extra fee from your eBay listing price onto your break-even. This way, you'll always know how to price your product correctly and stay in profit.
Volume Pricing
Volume pricing is another marketing tool to rake in more sales that probably wouldn't come otherwise. 
Some buyers like to negotiate to get a better deal. Sometimes, a small discount is all we need to get another sale, and that is what we'll get with volume pricing.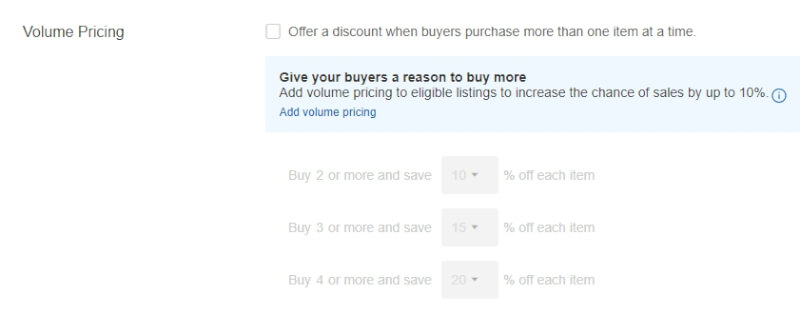 Enabling this feature allows buyers to get a set discount when buying more than one unit from the same item.
Once again, we'll have to consider this in our break-even calculations. But, since we aren't selling a higher quantity than one at this point, there's no reason to enable volume pricing now.
However, once we get higher selling limits, we'll update all of our quantities to 2 or more. Then, we can enable volume pricing and continue growing in sales volume.
List The Item
The final stage in the process is to list the item on eBay. But first, make sure the fees are set to $0.00. 

If there's a fee, scroll up and disable whatever feature is charging that fee. When we add new listings on eBay, we don't want to pay an added fee to list the product.
That's it! Now you can preview your product, save it as a draft, or – do what we came here to do – click on 'List item' and watch your product go live on eBay in seconds!
Phew! That was a lot of information grabbing, pasting, downloading, and re-writing—plenty of back and forth between eBay and our source. 
But hey, our product is live now. Now, we just need a few thousand of them to start raking in substantially high profits. Can you imagine how long that might take?
How To List eBay Items Faster
What if we told you that there are tools that can help us perform all of these steps automatically, in just a few clicks?
We're talking about dropshipping tools that help automate importing products to eBay from suppliers such as Amazon, Walmart, HomeDepot, AliExpress, CJdropshipping, and over 25 additional sources.
Furthermore, if the price changes the source's site, or if the item goes out of stock, the dropshipping tool will make the changes accordingly on your store. 
So, you won't have to refresh every item listing on your eBay store every day to check for changes – an impossible task when scaling to thousands of listings.
Combine that with complete order and returns automation, a customer service center, hot-selling product finder, and more. 
This is everything you need to scale and automate your dropshipping business at ease and make it to the high numbers more than enough time on your hands to continue growing.
You only need one tool to do it all. We are talking about none other than the AutoDS all-in-one dropshipping platform.
Listing eBay Items With AutoDS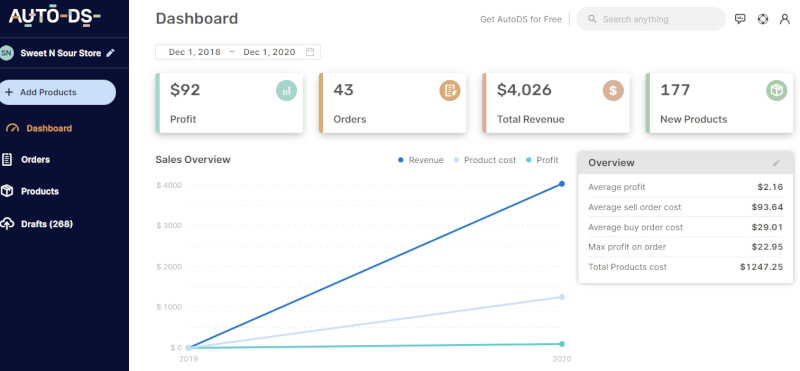 Let's see how fast and easy it is to import products using AutoDS. Since we already connected our AutoDS accounts with eBay, the hard work is already behind us.
Whether importing one, a hundred, or thousands of products at once, the process is the same. On the left menu, click on 'Add Products.'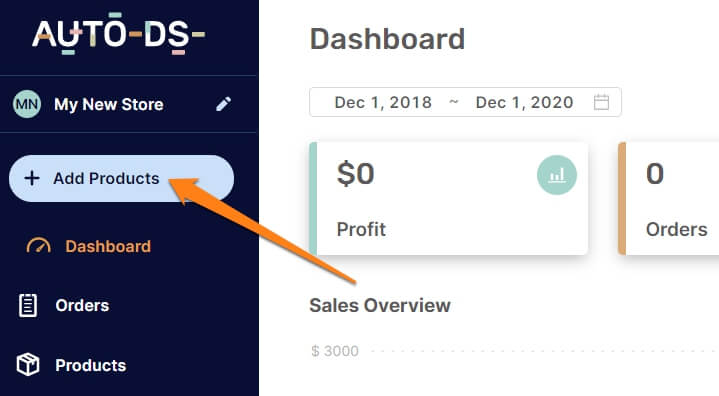 The next prompt will ask for the product URL/ID, which store to publish to, and supplier source information.
Let's go over the options step-by-step.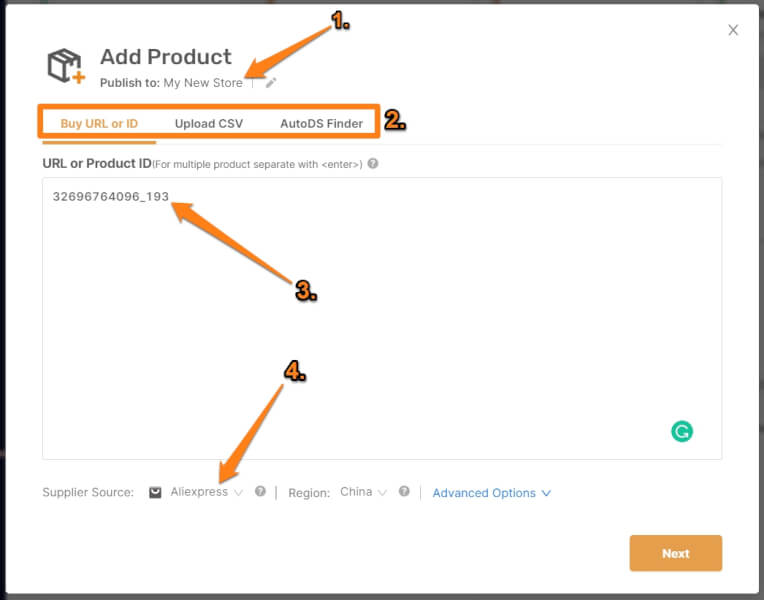 1. Publish to:
Ensure that your store is selected. If you have multiple stores, select which store(s) you wish to publish this product.
2. Buy URL/ID, Upload CSV, AutoDS Finder
These are the different options available to add products to our stores.
Buy URL/ID
Enter the product's source URL/ID. To add several products at once, separate each URL/ID with a line break. This is the method we will use for this example.
Upload CSV
Import as many products as you want by importing a CSV file. 
Get help from the AutoDS Chrome extension to easily extract CSV files containing all of the products you see on your supplier's page.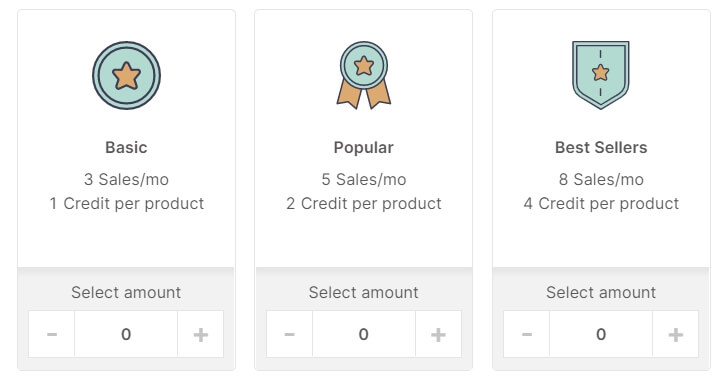 The AutoDS Finder does all of the product research for us by grabbing the hottest selling items from multiple source sites and adding them to our store.
This is a great technique to save time and get the work done for you while also learning to analyze the market.
3. Enter URL or Product ID
As mentioned, this is the method we will demonstrate for importing products. You can read our help center to learn about the additional techniques.

Enter the product's source URL/ID, and separate by line breaks if you wish to add more than one product.
4. Supplier Source
From the dropdown menu, we'll select the supplier from whom we're sourcing the product.

We're going with 'AliExpress', with the region being 'China.' 
Next, click on 'Advanced Options.'

Here, we want to ensure that the following options are not selected:
Allow

Duplicates

(allows importing duplicates to your store. Ebay doesn't allow them)

Allow

Vero/Blocked Keywords

(allows importing items with blacklisted keywords)

Allow

OOS Variations

(allows importing products that are out of stock on the source site)
However, we want to add variations and capitalize the first letter of each word on the title of our eBay listings. The variations are useful for offering a wider variety to our customers and getting a higher selling chance.
The capitalization is simply to make the title look better – although we do recommend optimizing the title anyway, to make our listings stand out more than our copy-paste competition.
Now that we're done with the basic import settings click on 'Next.'
General Settings – Template, Tags, Price Automation
Next are the general settings where we will configure which template to use, tags, price range, and automation preferences. 
Begin by unchecking the 'Use each supplier's default settings' box to begin editing our preferences.
(Note: You can configure default settings for each supplier in the 'Settings' tab.)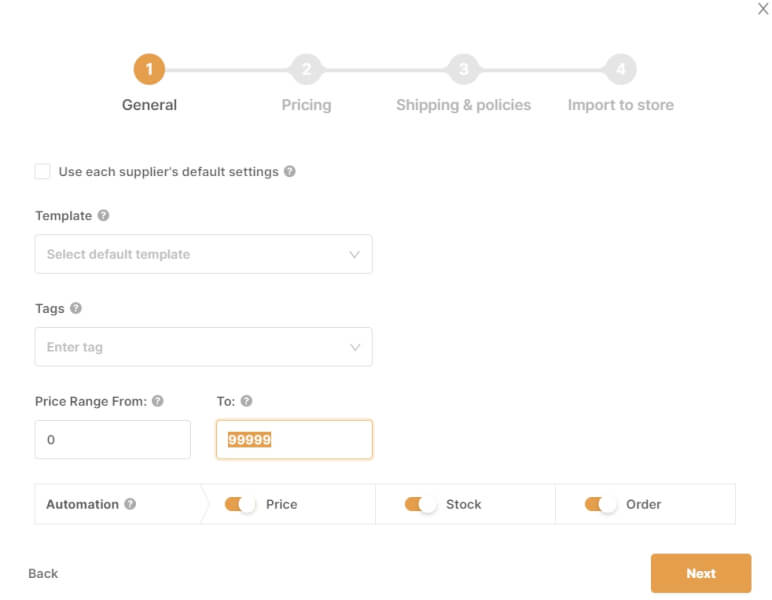 Template
First, we'll select a template for the product(s) in this import process. The template is the whole visualization effect surrounding the product – banners, trust badges, logos, etc.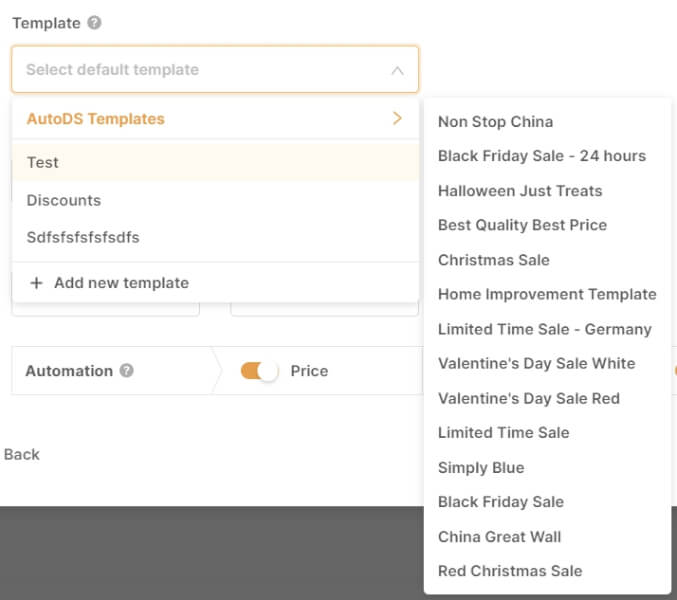 Oh, and don't worry if you don't have any professional templates – we got you covered! 
On the dropdown menu, choose 'AutoDS Templates.' You'll get a list of free templates built-in the system, which you can use freely. How neat is that?
Tags
Next, under 'Tags,' we'll give the product an internal tag to analyze its performance later. 

We created a tag called 'Radio.' In the future, when we add many products from the radio niche, we'll use the same tags on them. 
Then, in a month or two, when we want to analyze how the niche performed, we'll bring up the 'radio' tag, and only the relevant products will be shown. We can delete the bad performers and keep the products that performed well while trying to find more like them.
Price Range From/To
We can choose the minimum and maximum source price that we want to import to our stores on the price range.
For example, if we are adding 100 products, but in that list, we don't want products that cost us under $5 or over $1000 – this is how our setup should be configured:

With this example, the system will skip items with a source price of under $5 or over $1000. Use this if there are price ranges that you don't want in your store.
Automation
The automation settings allow us to enable or disable automation for the products we are importing. 
Price monitoring, stock monitoring, and order fulfillment are the three automation options that we can enable or disable for the products in this import process.

We recommend fully automating your store – not just for prices and stock, but also for order fulfillment. With full business automation, you'll be able to grow exponentially with more free time on your hands.
After configuring the automation settings, click on 'Next.'
Pricing
The pricing settings are where we will configure everything that has to do with pricing the products in this import process. 
We'll choose automation settings for our prices, calculate our fees, and add dynamic profiting for product cost ranges.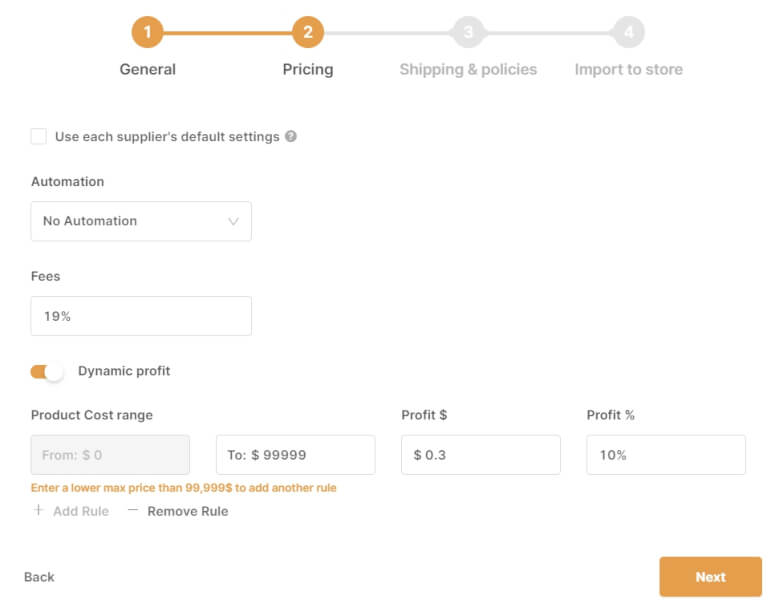 Automation
First, we have the 'Automation' dropdown menu, but it will be empty unless we add and save price automation settings from the Settings > Automation tab on AutoDS.
You can create price automation conditions to increase the chance of selling products that aren't selling or profit more from your bestsellers. 
For example, if a product didn't sell x units in y days, lower the price by z. Or, if a product sold x times in y days, raise the price by z.
Once you save your price automation settings, you'll have the option to choose it in the dropdown menu during the import process: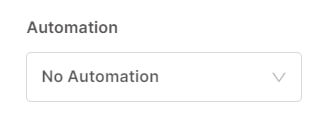 However, if you haven't created price automation, you can always come back and add it later to any product.
Fees
Under 'Fees,' we'll write down the fees % that we pay on top of the source price. 

We should have a clear idea of our fees from the previous lessons. 
For instance, let's say the source price of a product is $10. PayPal fees are 4.4% of our selling price, and eBay fees are 10% of our selling price.
If we want to sell the product for $20, we'll subtract the 14.4% fees from that selling price, plus another 5% in case we need to pay tax when shipping to certain countries. 
All in all, it comes to a 19.4% break-even. We can round it to 19% or 20%, as long as we know our fees. Round up your total fees and write them in the 'Fees' field.
Dynamic Profit
In the Dynamic Profit section, we can smartly price our listings according to their price range. 
For example, products with a source cost between x and y should generate a $ and % profit margin. Turn on dynamic profiting, click 'Add Rule,' and start creating your conditions. 
Let's take a look at the example below: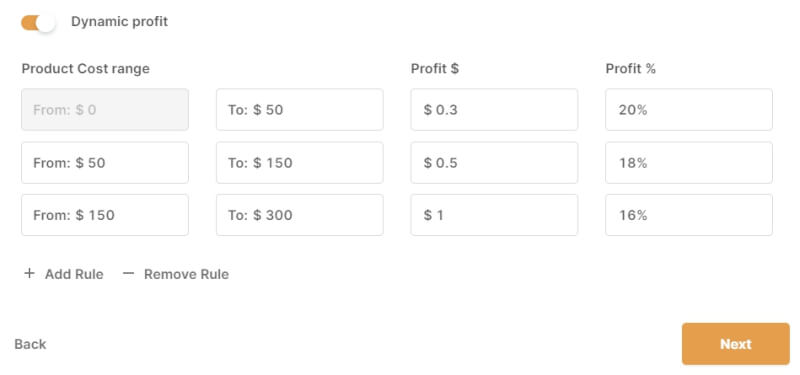 In the image above, three rules were created:
Products that cost between

$0

to

$50

– make a profit of

$0.30

and an additional

20%

.

Products that cost between

$5

to

$150

– make a profit of

$0.50

and an additional

18%

.

Products that cost between

$150

to

$300

– make a profit of

$1

and an additional

16%

.
There is no limit to the number of rules you can create. Keep testing out your product price ranges along with the different profit margins and see what works best for your store.
Once we're done setting up our dynamic profit for our eBay item listings, click on 'Next.'
Shipping & Policies
Right before we finish, we need to select our business policies for the product(s) in this import process.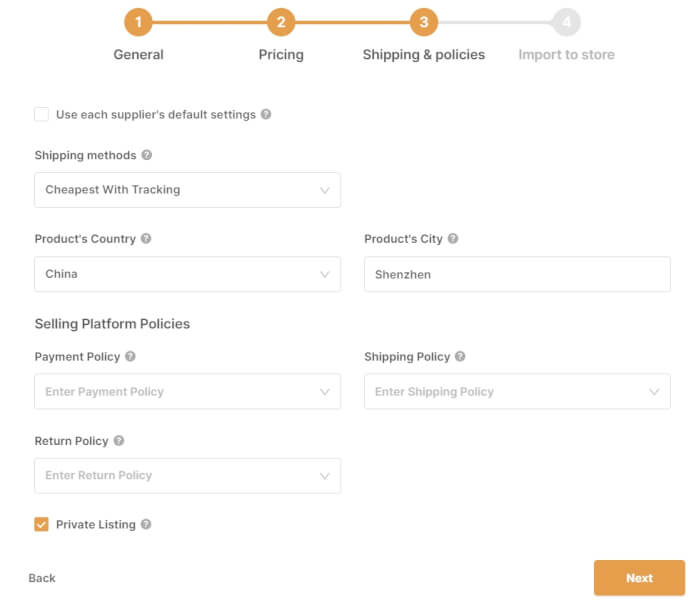 Shipping Methods
Under Shipping methods, we need to select which shipping method we want the system to consider when pricing our product.
Here, we have three options: Cheapest, cheapest with tracking, and fastest with tracking.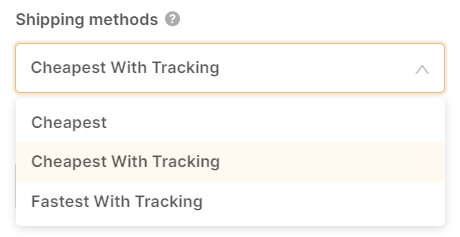 Cheapest – selects the cheapest shipping method, regardless of the shipping time or whether tracking information is available or not.
Cheapest With Tracking – selects the cheapest shipping method with tracking information, regardless of the shipping time.
Fastest With Tracking – selects the fastest shipping option available with tracking information, regardless of the shipping price.
For starters, we recommend going with the 'Cheapest With Tracking' method. This way, you won't be surprised with expensive shipping prices, and you won't risk shipping products with no tracking information.
Item Location
Just as explained above when we demonstrated how to add products manually to eBay, the item location here goes by the same rules:
The item location specifies the location of our products before shipping out. 
Since we are dropshipping products from China, we'll choose China in the 'Product's Country' dropdown menu.

In 'Product's City, type 'Shenzen,' as it is a very known shipping location in China. That's where most of the Chinese suppliers ship their items.
Selling Platform Policies
Last but not least is our business policies, which we already created earlier on our eBay stores.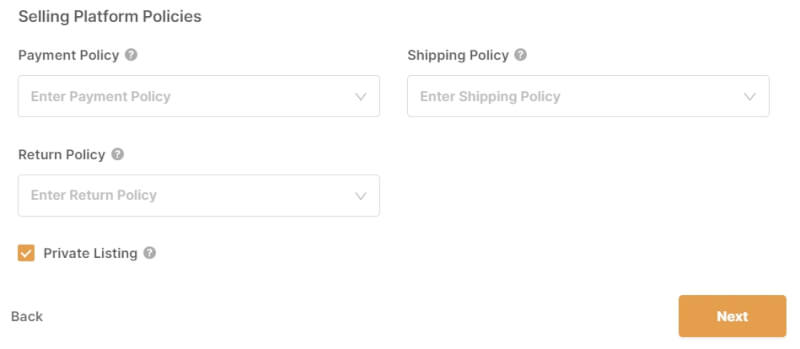 Just like the manual explanation above, you simply need to choose the correct shipping/return/payment policies when dealing with Chinese suppliers (in this case).
The

payment policy

should be the PayPal option with immediate payment. 

The

shipping policy

is what we configured for Chinese suppliers – 'Economy Shipping from outside the US

(11 to 23 business days)

with

four handling days

.

The same goes for the

return policy

, as we configured for AliExpress –

30-day

returns

paid by the buyer

.
Then, choose 'Private Listing' to make it harder for your competitors to copy your products, and click on 'Next.'
Import To Store
In the final stage, we need to tell the system where and when to add the product(s) in this import process.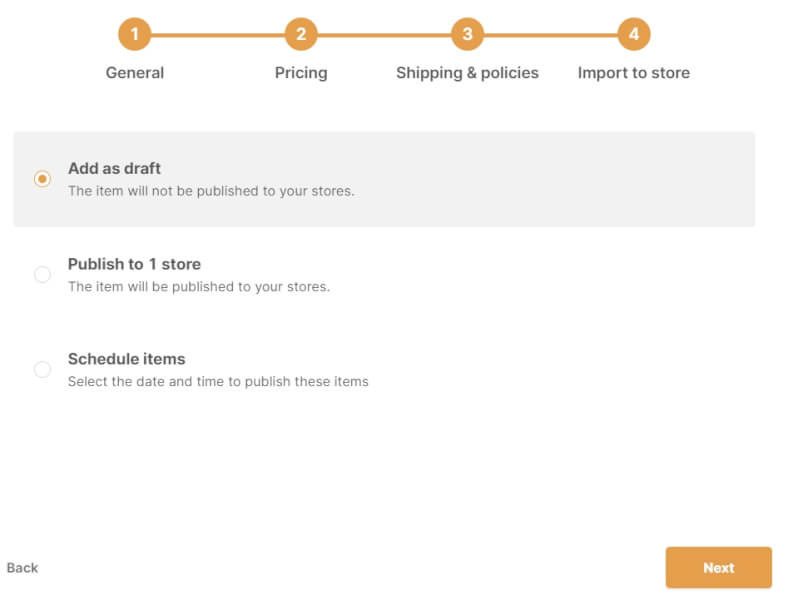 Add as draft
Our first option is to add the products as a draft. Meaning, they will not import to our store yet, and AutoDS will not start to monitor them yet.
Use this option if you wish to optimize the product before going live or for any other reason you don't want the product to go live yet.
Publish to…
The publish option will import the product to the store(s) of your choosing. The product will go live in your store(s), and anyone can buy it.
Schedule items
Our third option is 'Schedule items,' which allows us to import the product(s) in this import process at a later time and date.
This method is very effective on eBay, as eBay gives our new listings higher visibility for the first several hours. 
Therefore, we want to take advantage of that by scheduling our products to go live when our target audience is awake for maximum efficiency.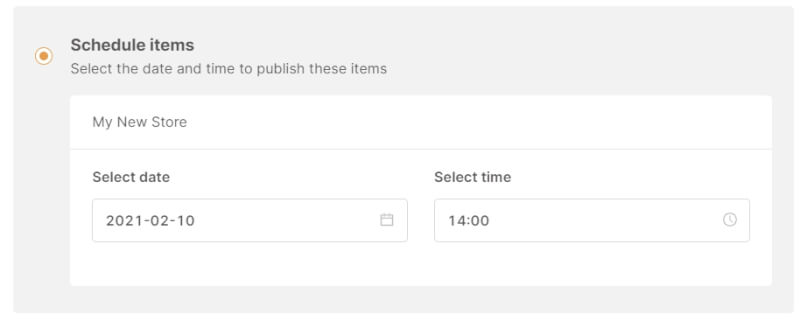 A good time to target the US audience, for example, is around 9 am-10 am their time. Check the time difference, and set when you want AutoDS to publish the product(s) in this import process.
Keep in mind that fields show your time and date and not your target audience.
Click on 'Next' – and that's it! That's how easy it is to add items to your store in just a few clicks! 
It doesn't matter whether you are importing one item or a few thousand at once – the process will take the same amount of time. That's another reason why we highly encourage using automation tools to save you a tremendous deal of time while helping you grow exponentially.
Rinse and repeat for each import process, and start enjoying the sales!