Positive feedback is good, but not as important as some eBay sellers think. You can generate thousands of sales while having only a couple of feedbacks.
Increasing eBay positive feedback on your eBay account to 95% is more than enough. If your feedback rating is below 95%, you are doing something wrong. You will need to read the reasons that your buyers are leaving you with negative feedback and make adjustments accordingly.
In this article, we will cover everything you need to know about how to increase your eBay positive feedback while you are dropshipping on eBay.
How to Increase Your eBay Positive Feedback?
There are multiple ways to increase ebay positive feedback. Use the methods in this guide if you have a new eBay account and need some positive feedback before you start selling, or if you need to raise your positive feedback percentage. 
Buying Products On eBay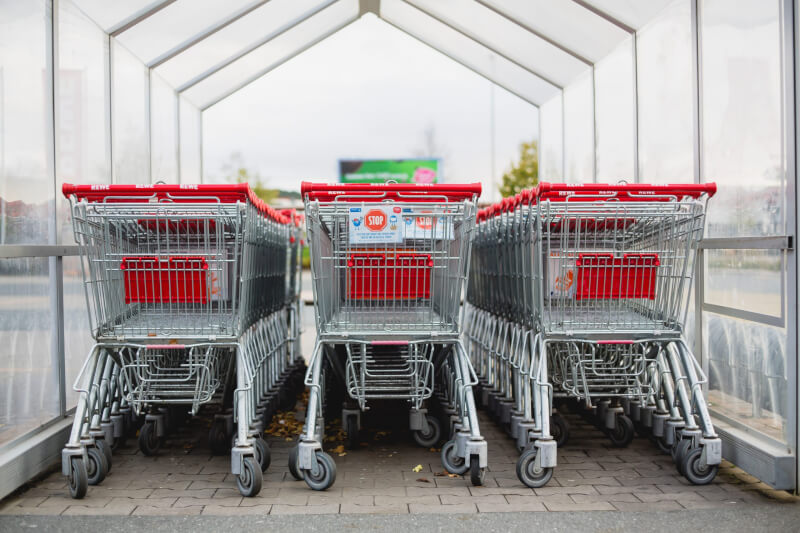 eBay treats feedback from buyers and sellers the same way. For example, receiving 100 feedbacks as a buyer looks the same as 100 feedbacks as a seller. 
If you have an eBay buyer account that you used to make purchases, notice that you already have positive feedback left for you by the sellers.
If your account is new with no purchase history and feedback, put in a few orders – even for cheap products—beads, stickers, cheap jewelry, etc. Search for auctions that are ending soon that didn't get any bids and make one yourself. You will find many items under $1 this way.

After you buy a few cheap items, you will notice that the sellers will start leaving you ratings, which will increase your ebay positive feedback. Some do it instantly, which helps you get on your way faster.
List and Sell Quality Products
To avoid negative feedback, you need to list high-quality products. If you're not checking the seller's feedback before uploading his products, his negative feedback will become your negative feedback. 
To identify high-quality products, use the filter option when searching to sort by the best sellers based on customer reviews: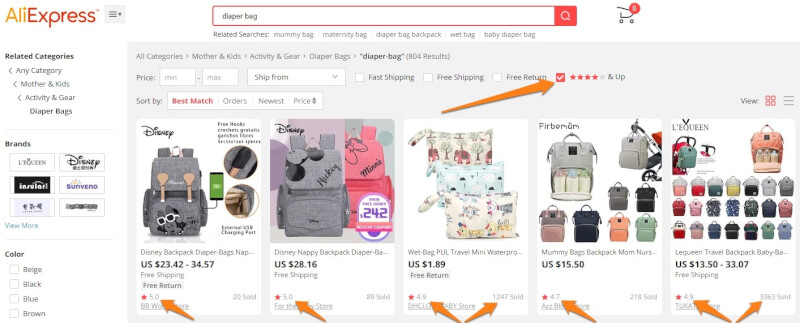 Selling these products will ensure a positive customer experience. Though uploading them one by one can be very time-consuming.
Thankfully, we have the AutoDS Helper chrome extension to quickly grab all of the products and upload them to our eBay store. 
Just click on the helper on the bottom right, click extract, and export the products to a CSV file.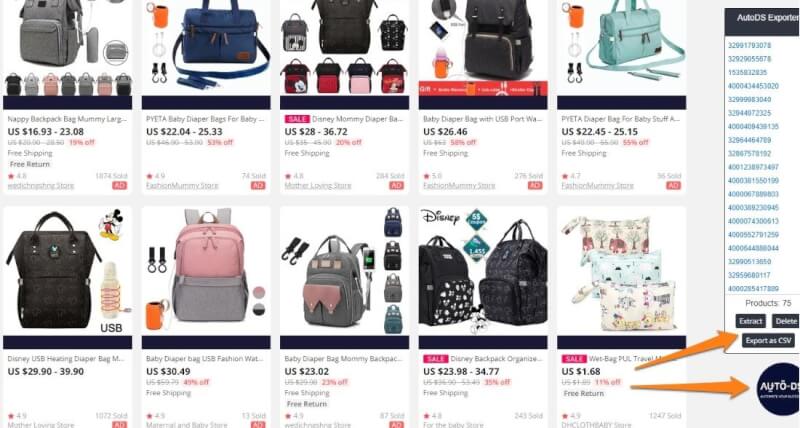 Then, upload the file using the bulk uploader.  Two minutes of work to save a few good hours:

eBay Automated Messages To Buyers
Another proven method to increase your positive feedback rate is sending messages to your buyers after they make a purchase. Online shoppers enjoy excellent communication with their sellers.
It offers them peace of mind knowing that someone on the other side is taking care of them and anything they might need.
To save you the time and the trouble of keeping track of multiple messages to buyers, AutoDS can take care of sending several different custom automated messages to your buyers. Here are three examples:
1) An "Order was placed" message after the buyer makes an order. 
2) A "Tracking number available" message after order tracking has been updated.
3) A "Thank you" message after "X" days reminding the buyer to leave positive feedback.
Set your custom messages by first selecting your eBay store. Then, Settings > Store Settings > Orders.
Take advantage of the automated messages to ensure a high customer service level and boost your positive feedback rating.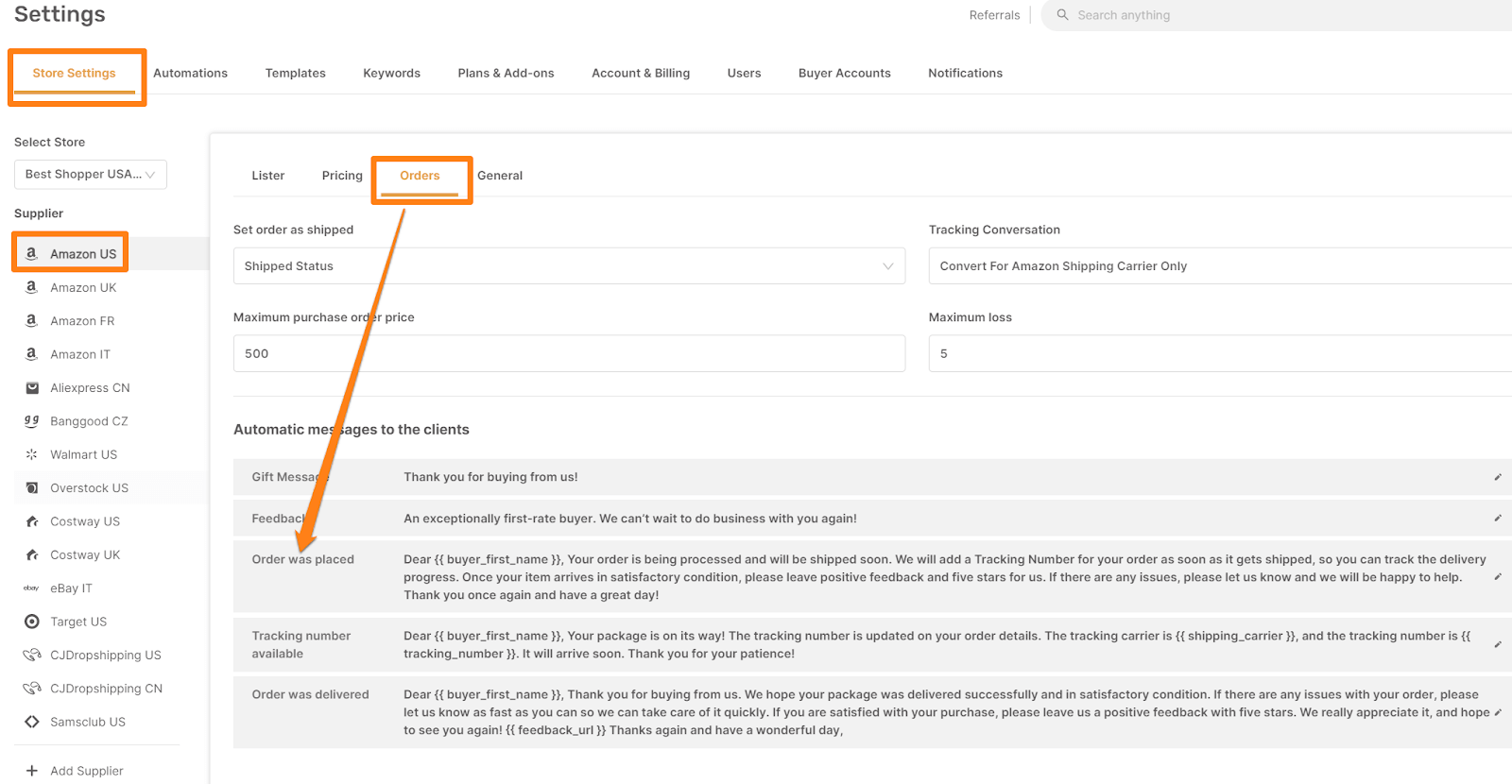 Leaving Automatic Positive Feedback for Buyers
A great way to encourage buyers to leave your positive feedback is by leaving them with positive feedback yourself. Use eBay's Store Manager to save your custom messages on the feedback field.
You can also use it to have eBay send automatic feedback to your buyers, which is our recommendation.
Provide Professional Customer Service
Your customers are eBay's number one priority, as they should be yours. The buyer's overall user experience paves the way and sets the difference between a successful long-term business to a failing downward spiral.

There are a few main factors that make up for your overall feedback score. Your buyers rank you on each of them – Shipping speed, shipping cost, communication, and accurate product description.
Here's how the detailed seller rating looks: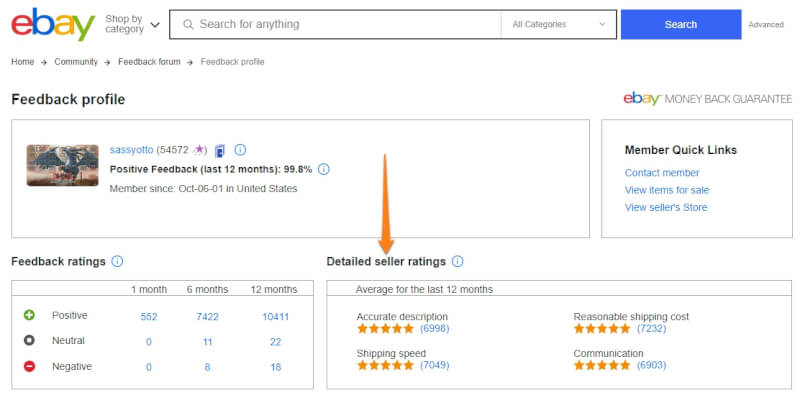 1. Stay in Touch

Check your messages every day to see if there are any new messages from buyers. Sometimes buyers just want to ask a question before purchasing. If a buyer is angry for whatever reason, keep a relaxed and professional attitude. No matter who's at fault.
As mentioned, some customers need reassurance that someone on the other side is listening and taking care of them.
Buyers who receive no (or bad) communication from their sellers tend to leave them with a negative review. 
2. Cases and Returns
Open cases and return requests need to be checked and maintained daily. As long as you respond in a timely and professional manner, there shouldn't be any problems.
If you are working with multiple stores, use an excel sheet to keep progress on all of your open cases/returns in an organized fashion.
3. Order Cancellations
If a buyer wishes to cancel an order before it's sent out, do not convince them otherwise. First, try canceling the order with the supplier. If it's too late, kindly explain to the customer that the order is already sent out and will arrive soon. If they still wish to cancel, send them a return label once the package arrives.
4. Dispatch Your Orders Quickly
Buyers appreciate fast delivery times. Issue out your pending orders as soon as possible to make sure they reach their destination on time. You will be rewarded with extra stars on your feedback rating and a good chance that the buyer will return to buy from you again.
Buyers appreciate fast delivery times. Issue out your pending orders as soon as possible to make sure they reach their destination on time. You will be rewarded with extra stars on your feedback rating and a good chance that the buyer will return to buy from you again.
How To Remove eBay Negative Feedback?
Some negative feedback can be false, inappropriate, or just written out of anger. These types of negative feedback are removable. You can use freelancer sites like fiverr.com to remove them for a few bucks, or you can learn how to do it yourself here.
There are a few methods to remove negative feedback, here are some of them:
1. Feedback Revision Request
If you feel the buyer has left you unfair feedback, reach out to him and try to understand the problem and come up with a solution. Once the buyer is satisfied, send him a feedback revision request. As soon as he accepts it, the negative feedback will remove itself.
You are limited to five feedback revision requests a year, so don't send it out before you know that the buyer has an intention to remove the feedback.
2. Feedback Extortion Policy
eBay has strict policies regarding using feedback as leverage. These policies apply to buyers and sellers alike. For example, buyers are not allowed to threaten to provide negative feedback to force the seller into giving discounts/refunds or goods that are not mentioned in the listing.
If this is the case, you can report buyer feedback extortion to eBay. After reviewing the case, they will remove the negative feedback if it fits the scenario.
3. Contact eBay Via Phone, Chat, Or Email
Sometimes buyers leave negative feedback even if you are in full compliance with your stated policies. For example, a buyer may leave feedback that the order was late when in fact it was delivered in the stated time frame.
In these situations, you can contact an eBay representative via phone, email, or chat to review the facts. If your case is correct, they often remove the negative feedback.
The most common way to contact eBay is through the help articles section. Go to 'Help&Contact' at the top of the home page. Then, scroll all the way to the bottom and click on the 'Contact us' link.

On the next page, click on a topic of your choice, and you'll see a link on the left to reach eBay.
Note that many articles in the help section offer contact options of chat or phone. It varies by article and help topic. 
However, eBay does not usually record calls or look back at the log. Therefore, it's better to contact them by phone, so that if you fail once, you can try again.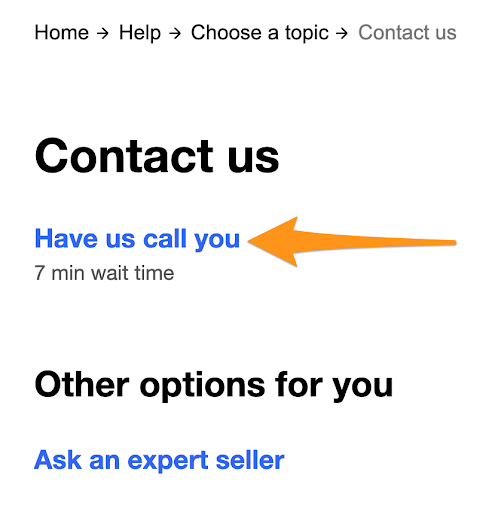 On the other hand, eBay keeps detailed logs of chat and email support messages, so only use this option if you are confident that eBay will take your side. Once eBay makes a decision via chat they are unlikely to reverse it.
Case Study: Successful Removal Of Negative Feedback
The following case study demonstrates how Liran, an experienced and accomplished dropshipper, managed to remove negative feedback from his eBay store. 
In short, a buyer purchased an item that has a thirty-day return policy. However, the customer came back after thirty days requesting a return because the item size did not fit. 
Liran declined the request, so the buyer decided to open a return case. When that option was declined as well, the customer left negative feedback.

Knowing he was right in this case, Liran contacted eBay via chat to appeal. He explained to the representative in detail what had happened and how the customer requested a return past the allowed deadline.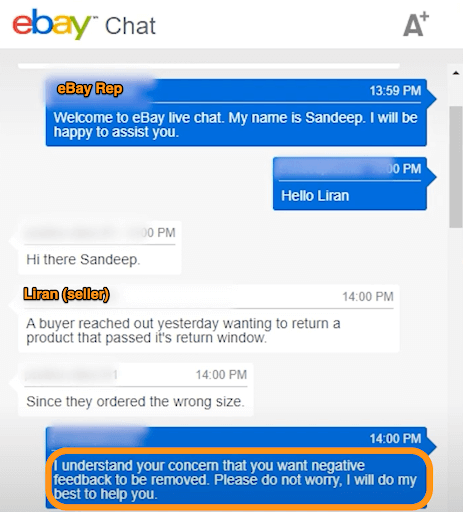 The eBay representative looked into the case, and once the facts were corroborated, the negative feedback was removed.

Learn straight from the source all about removing negative feedback and get the inside scoop on what happened with Liran's eBay account in the following video:
How to Avoid Negative Feedback?
You learned about the importance of selling high-quality products from trusted sellers and providing professional customer service. But there are a few more things you need to know and implement to avoid receiving negative feedback, and it has to do with your store settings.
Use the Right Shipping Policy
Make sure you are using the correct shipping method in your business policies. Your handling time is the time it takes to upload tracking information after receiving an order. Keep it on three business days or less for optimal results. Just make sure your supplier can supply a tracking number by then.
Under Shipping Services, do not choose a specific carrier (UPS, USPS, FedEx, etc.) if you do not know which shipping carrier will ship it. Keep it under a setting which corresponds with the days it will take to reach the buyer without mentioning any specific carrier.
For example, use Standard Shipping or Expedited Shipping if your supplier delivers quickly: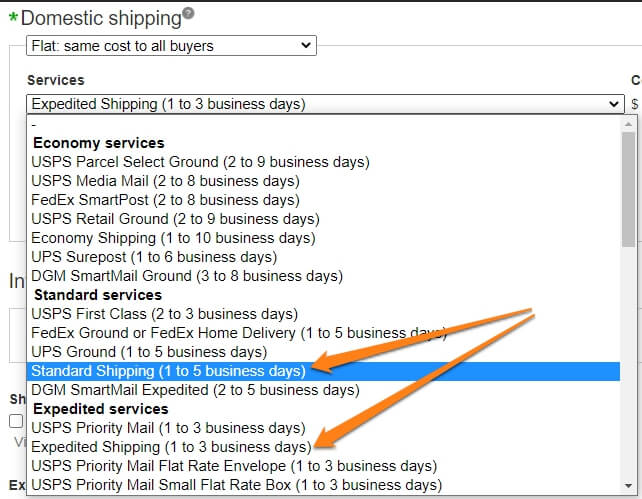 If the product ships from China, use the "Economy Shipping From China" option: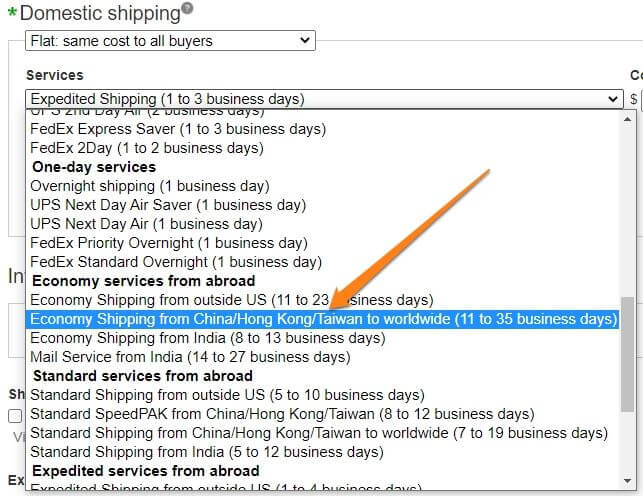 Note how these options don't have shipping carrier's names on them. Buyers who notice a different carrier than those shown in the listing are likely to leave you with negative feedback.
Use the Correct "Item Location"
Each listing shows its item's location. If the product ships from the US, use only a US item location. If the product ships from China, use only a China item location. Do not mix between the two.
Offer Excellent Customer Support
At the end of the day, your buyers are looking for a positive customer experience. Check your eBay messages and make sure you answered all of your customer's messages.
Also, utilize AutoDS' automatic messages to buyers (with Automatic Orders), which helps increase the overall customer experience and your positive feedback rating.
In Conclusion
You can't convince all of the buyers to leave you with a positive feedback rating. But if you follow the steps above, you won't find yourself drowning in negative feedback from poor customer experience, which can ultimately lead to account suspension.
Follow and implement these tips to keep yourself above the 95% mark, which is more than enough. Besides, excellent customer service will have customers returning to buy from you.