You can sit back and relax while AutoDS will help you run your dropshipping business, in the most automated way, without eBay API connection (Manual dropshipping)
A few weeks ago, we launched our manual dropshipping new feature. Within a few days, our manual solution was a great success, and thousands of users joined us.
So, here is a full review of our new feature: Learn how to manage your dropshipping business with AutoDS Manual dropshipping Solution.
Who are we? – AutoDS
AutoDS is a leading All-In-One eBay drop-shipping platform with over 4,000 customers and managing over 5 million active products.
You still don't use AutoDS? Try our one-week trial for $1 — Click Here.
What does "Manual Dropshipping" mean?
Manual dropshipping is a method that you can use with eBay, without linking any software to your eBay account.
When you link AutoDS to your eBay account with the API way, eBay will be able to find out that you have made this connection. For that reason, many people claim that eBay has flagged dropshipping accounts.
We decided to develop this feature because of the repeated requests of some AutoDS users. We always listen to our customers.
Read more about eBay flagged accounts – What to do?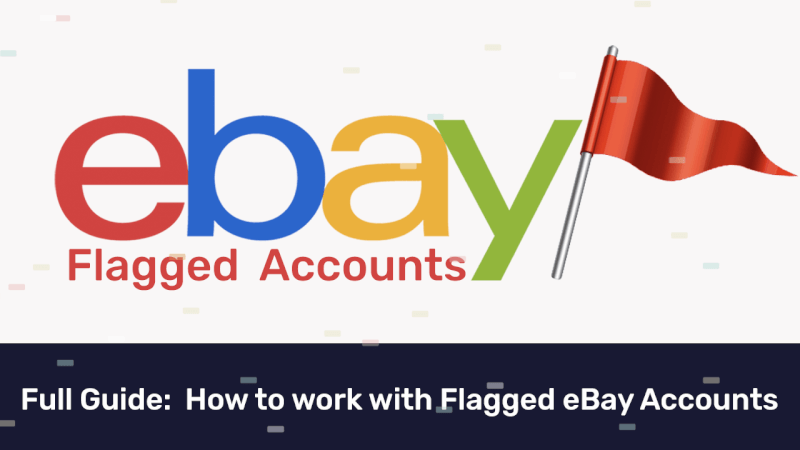 What do people mean when they say manual shipping?
There are 2 main definitions about what people refer to as "manual dropshipping".
Work without software –  Not recommended at all and a waste of time. We recommend focusing on the important tasks of your business. Working without a monitor can cause problems in supply tracking and slow uploading products to eBay (which means slow growth). Consequently, working without software can cause financial damage to your dropshipping business. Without monitoring prices, you have no chance to follow changes in supplier prices. If your product is sold and the supplier decides to raise prices, you will lose a lot of money.
Non-API solution – Even if you do not link AutoDS to your eBay store via API, you can still get the most automated and time-saving solution. Products uploading, Automated orders, Price & Stock monitoring, and more features.
Read more about eBay Non-API dropshipping solution.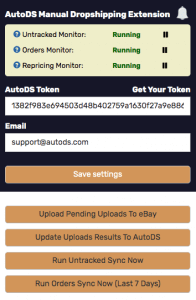 "The most automatic manual dropshipping" – Why?
Our main goal is to automate the dropshippers' daily tasks as much as possible, so we decided to create the most automatic manual dropshipping solution.
Regular + Bulk listers (including draft uploads)
Automatic price & stock monitoring
Automated price optimization
Filters + bulk updates supported
Supporting all suppliers of AutoDS
✅Regular + Bulk listers (including draft uploads) – You can schedule your upload yourself, or give access to your account to a VA, who can schedule and work on all of your listings. Then you can add everything to your store with only one click.
✅Automatic price & stock monitoring – Instead of getting to the monitor, to download files and upload them to eBay to show that everything is done manually, AutoDS makes it easy for you! Full automation. All you need to do is to just keep your Chrome browser open.
✅AUTOMATED ORDERS! Yes! The Non-Api stores also support auto-orders. The process will also be fully automatic, without needing to download/upload files.
✅Automated price optimization – If a product does not sell, the system can decrease the price automatically to make it more competitive in its market, while when it sells it increases the price automatically to make it even more profitable.
✅Filters + bulk updates supported – You can filter your items by many factors like sold amount, views, watchers, stock, tag, supplier, etc. and you can also make changes in several listings at the same time.
✅The AutoDS manual solution is available for all our supported suppliers.
AutoDS finder for manual dropshipping users
**Update** – From now on, even manual dropshipping users can use our Finder to find the best dropshipping products.
Read more about AutoDS finder – Best dropshipping products with AutoDS finder.
How to Get Started with the AutoDS Manual Dropshipping Solution (Video tutorial 📹)
Join AutoDS manual solution trial for $1 – Get all the features that AutoDS offers, in a Non-API solution, for $1.
Below you can check the live event we launched. It is a full tutorial on how to work with our manual dropshipping solution.
If you have decided to work without API then AutoDS Manual Dropshipping is definitely for you. Save time, money and unnecessary hassles. Comment down below👇, and share with us if you are already working with the manual dropshipping solution of AutoDS, or if you still continue working with the API solution.