1) Requirements:
This trick will help anyone who sells at least one exciting product, has at least one sale a day or more. 

It will be better if you have a niche store, a store that sells only specific products related to one niche, but this is not a requirement.
After you sell a product, you will have a direct communication channel with your buyer.
Everyone knows that you can send your client a message telling them that you already shipped their order, and ask them to leave you positive feedback.
A lot of dropshippers do that, but what we can do more with these messages?
Well, you can go to your eBay store upload there few trending products or something that will suit everyone. 
It's much easier if you have a niche store because you can easily find the right product.
After you have the products uploaded to your store, you should start sending messages to your buyers.
As usual, tell your buyer at what stage is their item at, if it is in the processing stage, already shipped, or already delivered.
Here comes the trick, add three links for unique products that you uploaded to your store at the end of the message.
These products should be cheap because this is a kind of upsell; they have to be products that are usable by most of the people.
For example, if your store is a general store, you should try to find something that is a worldwide trend, not related to a specific niche.
The Email Open Rate is high because most of the buyers want to know what is going on with their purchase.
2) Example:
You can write something like:
"Because you are one of our valuable clients we want to share with you something amazing that a lot of people asked us to add to our store and this has a discount at the moment."
Then add the links of your products.
We are using this technique with our stores, and our clients are using to boost sales and raise the average order value.
This way, the more sales you have, the more extra sales you will get from this technique.
3) Automation:
If you are working with AutoDS, we recommend you to add this as an automatic message.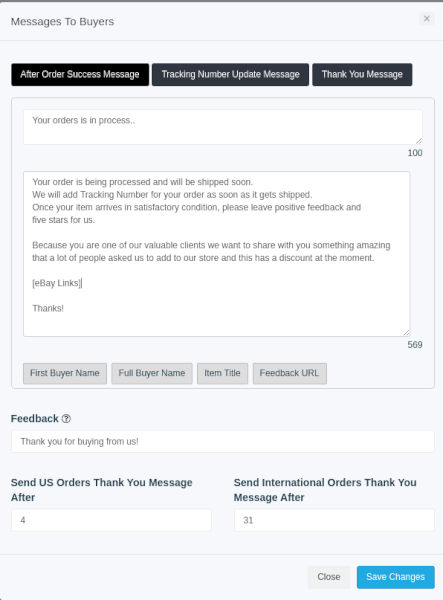 AutoDS can send Automatic Messages for you when you do automatic orders or when you are using the automated tracking numbers upload.
So add your customized text along with the product links at the end of the message template. You can also do it manually.
Conclusion:
To conclude, one important thing here is that you can only send links that are eBay links. It's crucial not to post links pointing to your Shopify store or something like this, as it is against eBay policies.
Nevertheless, now we know the key to attaining higher profit margins. To continue achieving more and more sales, use information from these insightful articles: