It's common practice for eBay dropshippers to have multiple accounts these days. Having more than one store allows them to diversify their offerings and increase their income.
Until now, managing the finances for such stores was a hassle. Dropshippers needed to open a separate PayPal account for each new store and verify every single one of them.
eBay's recent integration with Payoneer is a game-changer. You'll be able to link multiple eBay accounts into one Payoneer account, and you'll only have to verify it once! Furthermore, payments from buyers arrive in your Payoneer account instantly.
In this article, we'll learn how to manage multiple eBay accounts with Payoneer. Additionally, we'll go over the steps required to connect your eBay accounts with your Payoneer and complete the verification process.
Multiple eBay Accounts vs. One eBay Account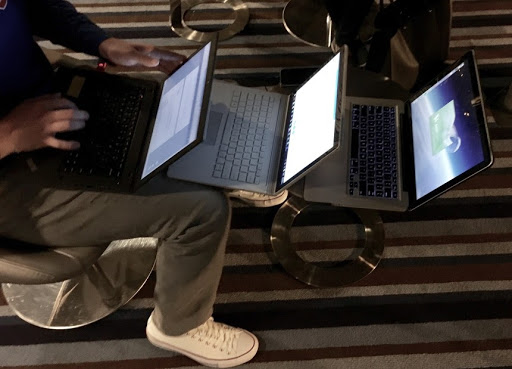 It's important to understand the difference between having one and multiple eBay accounts. After all, why should anyone create more than one account if they can list all their products in one place?
The truth is that you can technically put all products in one store, but that would not be a good idea. For example, if your store has 10,000 items from multiple niches, it will look disorganized and unprofessional.
On the other hand, imagine if you split your items into five niches with 2000 products in each store. This allows you to build a loyal base of customers who enjoy visiting an organized store where they can find what they're looking for.
Furthermore, having a few different stores allows you to keep track of each store's performance. You may find that three stores are doing well, but the other two are lagging. It allows you to make the necessary adjustments. 
Multiple eBay Accounts: PayPal vs. Payoneer
The process of linking each eBay store to a different PayPal account will soon be obsolete. With eBay switching to a managed payment system, all of your stores will be tied to a single Payoneer account.
You'll just need to make sure to list all of your eBay accounts under one business entity that matches the business name in Payoneer.
While It is possible to have a separate Payoneer account for each eBay store you own, it's not recommended. For one, it defeated the purpose of simplifying your payments.
Moreover, creating multiple Payoneer accounts will require you to go through the verification process each time you connect an eBay account. So instead of simplifying your payments, you'll waste precious time.
Can I Use One Bank Account For Two Payoneer Accounts?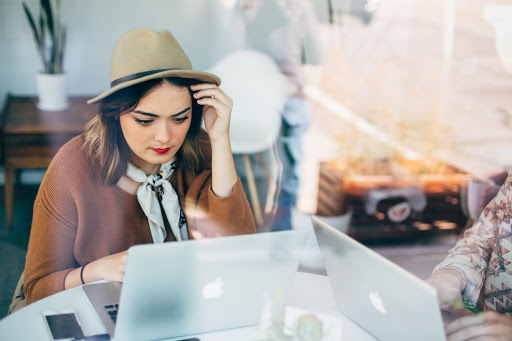 It isn't possible to connect one bank account to two Payoneer accounts since that's not how Payoneer works.
The platform acts as a virtual hub tied to a single bank account where all funds are transferred to. Additionally, Payoneer allows you to withdraw funds from your original bank account through its platform.
Thus, Payoneer is more of a portal that lets you do much more with your money anywhere in the world. The benefit you gain from it is connecting multiple eBay accounts or other parts of your business into one place, hassle-free.
Using your Payoneer to connect multiple eBay accounts is a feature supported by eBay and Payoneer and is the correct way to make the most of both. 
How To Connect Multiple eBay Accounts To Payoneer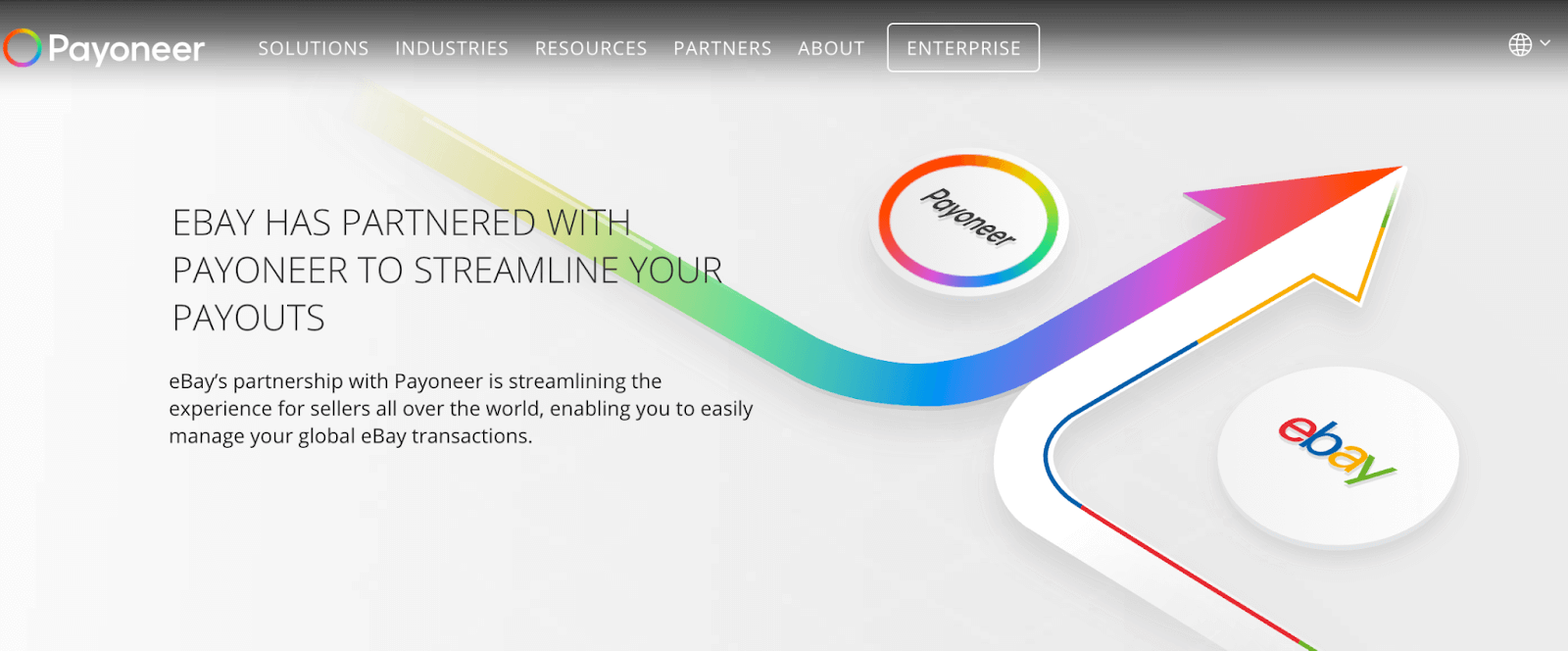 We talked much about the benefits of utilizing multiple eBay accounts and connecting them to a single Payoneer account. However, because the system is relatively new, it's important to know how to go through this process.
Step By Step Instructions
The steps are straightforward, except that they vary slightly depending on if you have a new or existing Payoneer account. Either way, make sure all of your eBay accounts are registered under the same business. 
   1. Create A Payoneer Account
Those without a Payoneer account will first need to create one. Not to worry, signing up is quite simple. If you do so with this link, Payoneer grants you a $25 gift once you've transferred $1000 to your account.
Additionally, signing up with our link waives all fees on transferring funds from your PayPal to Payoneer! 
Either way, remember to provide Payoneer with whatever verification they request. Typically, for new accounts, they require a government-issued photo ID.    
  2. Use Your Email Link To Register For eBay Managed Payments 
Once you have a Payoneer set up and verified, you'll need to register for the eBay managed payments system.
eBay is in the middle of rolling out managed payments for international sellers. By now, many of you have in your inbox an email with an invitation link to connect your eBay account to Payoneer.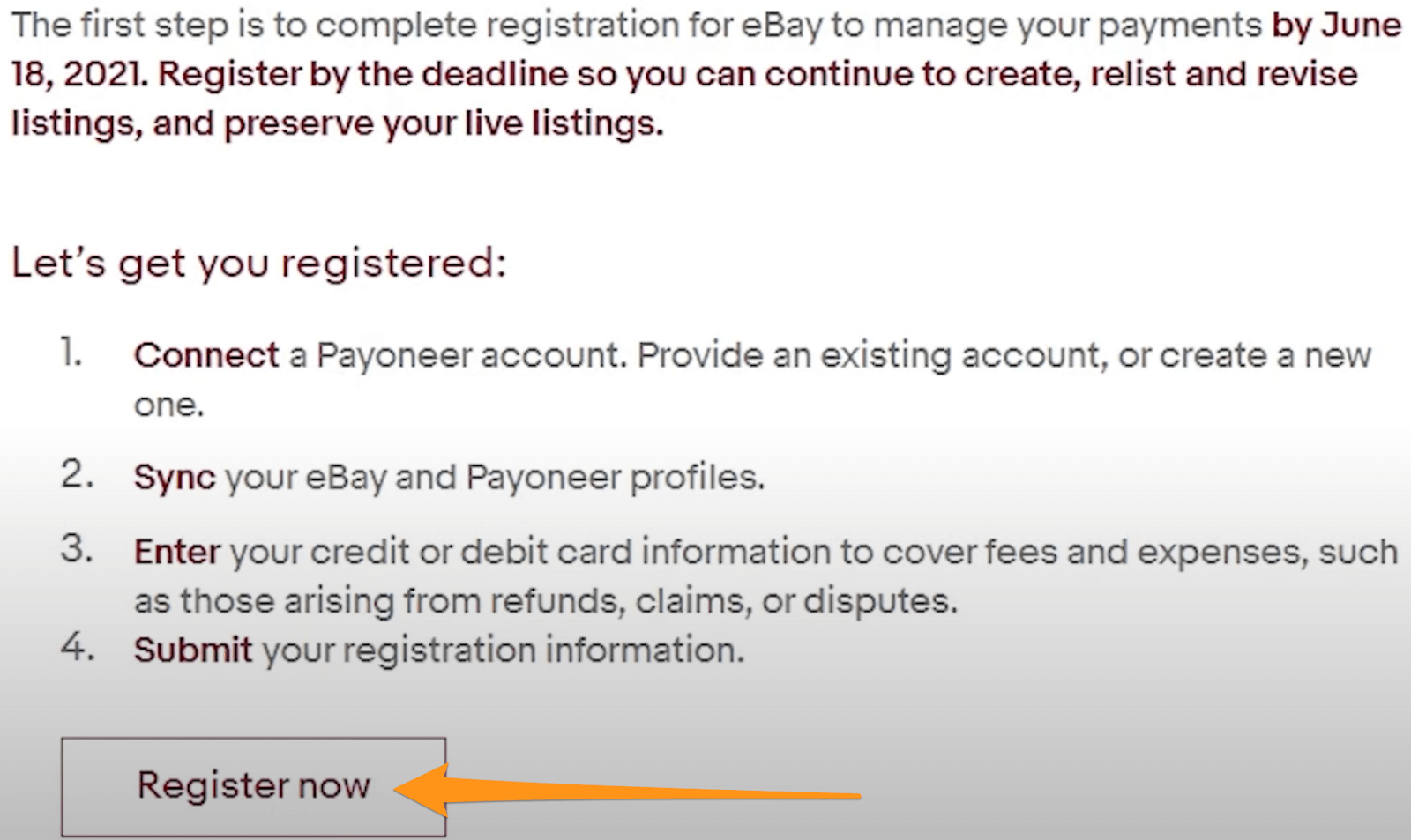 Assuming you've received the email, go ahead and click on 'Register now.' This will take you to eBay, where you can register by following four steps:
     A. Connect a Payoneer Account
First, click on 'Yes, Sign In.' Then, a small window will pop up where you can enter your Payoneer information. 
Enter your info and click 'SIGN IN.'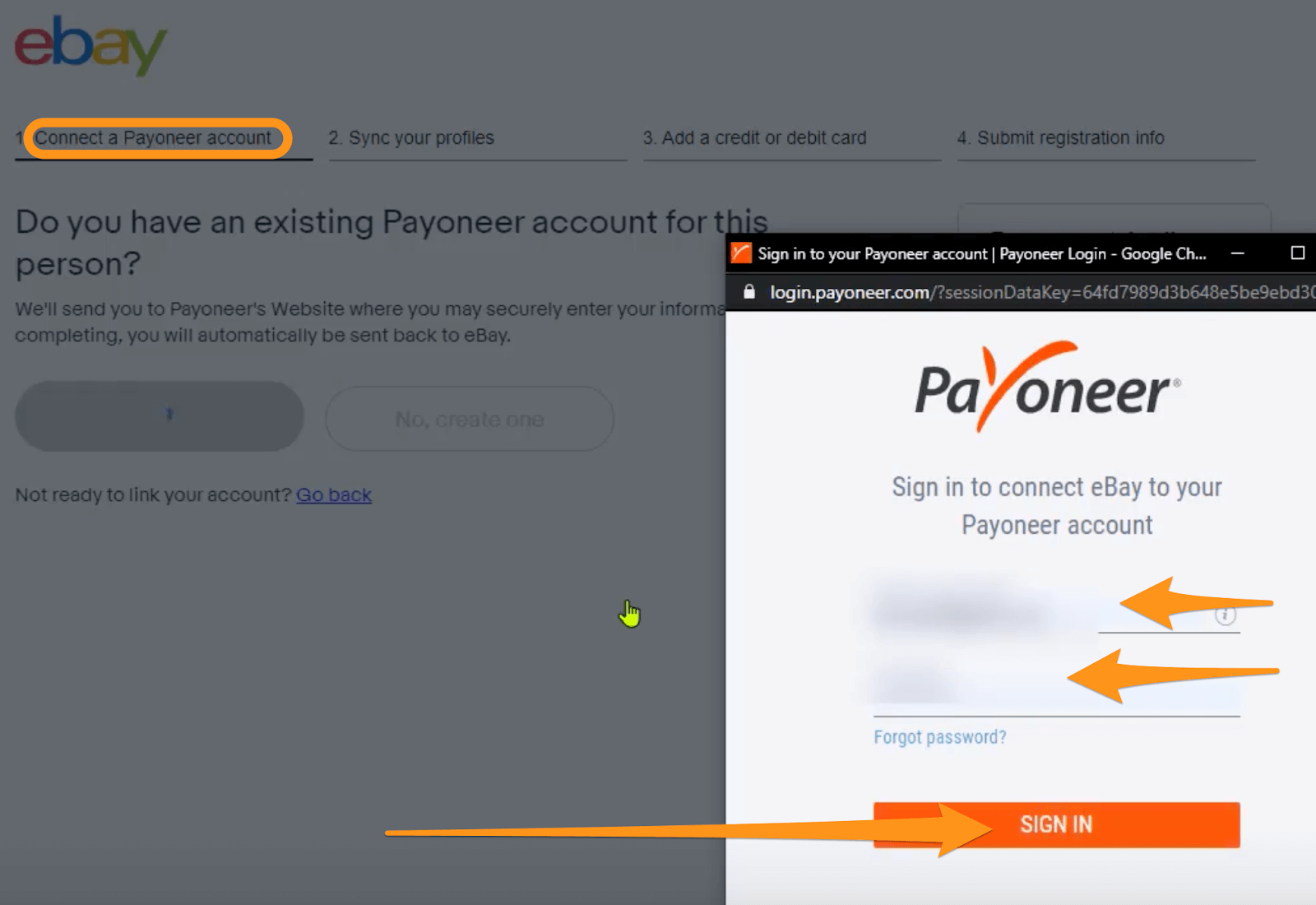 Next, Payoneer lets you know that until everything is confirmed, you'll continue receiving payments as usual. Click 'LOGIN,' and the Payoneer window closes. 
      B. Sync Your Profiles 
eBay needs to confirm all the information is correct. Review your Payoneer details. If everything checks out, click 'Continue.'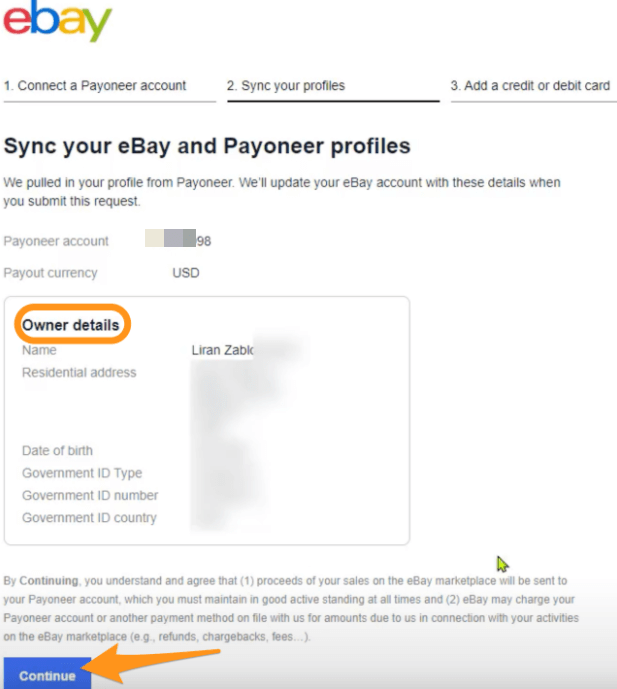 C. Add A Credit Or Debit Card
Since our Payoneer account is connected to a bank account, eBay relies on us having enough funds in the account to pay selling fees. 
Therefore, eBay requests a debit or credit card as a backup payment method for situations where your bank account has insufficient funds.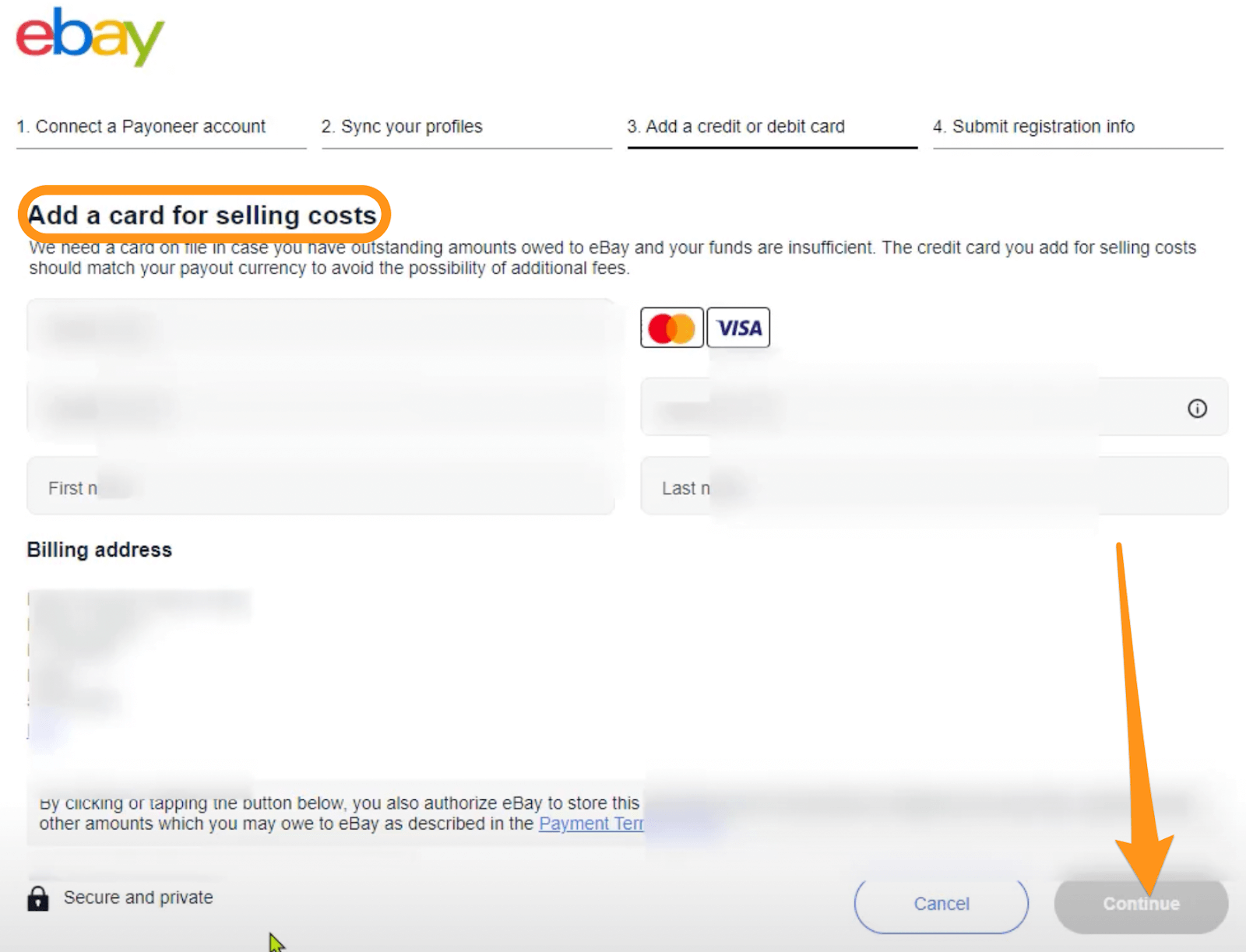 Go ahead and fill in your card information and click 'Continue.' 
  D. Submit Registration Info 
At this point, all that is left is to have your request verified by Payoneer. Click on 'Submit request' and wait until you hear from eBay.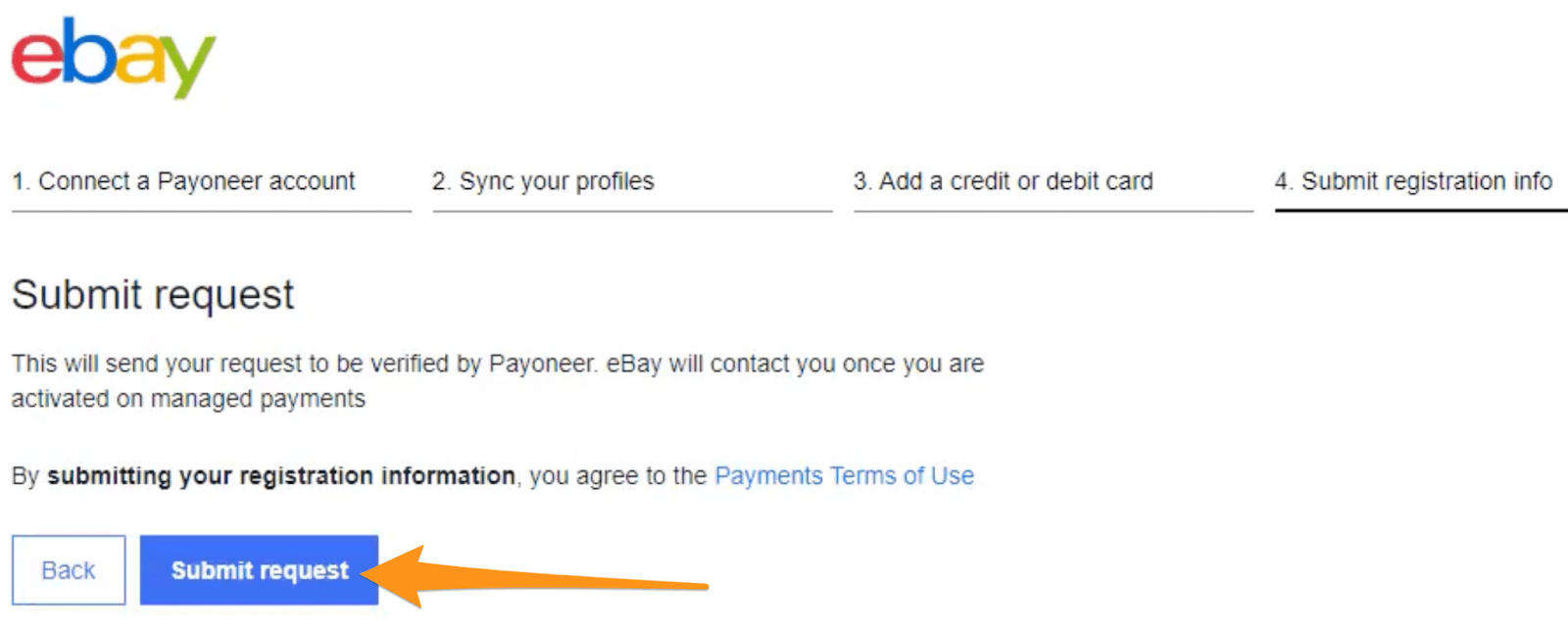 Because you're linking multiple eBay accounts, repeat all of these steps for each store. Just remember to sign into the same Payoneer account for all of them.  
3. Submit Additional Payoneer Verification 
Now that you've completed the linking steps on eBay, Payoneer may require additional verification. They want to know that you are the person who requested to link an eBay account to the specific Payoneer. 
In the event of further required verification, you'll receive the following email: 
To get to the verification center on Payoneer, go to the homepage and on the top right click 'Settings.' Then, from the drop-down menu, select 'Verification Center.' 
You'll see two tabs, one for required documents and one with the history of those you've provided. Make sure to submit to Payoneer whatever documentation they need.
In general, Payoneer looks for three verifications:
First, when you create your account, they ask for a National ID.
The other two are requested when you link your eBay and Payoneers accounts. Payoneer asks for a bank document and confirms that your eBay and Payoneer are listed as the same type of account.
When one account is listed as personal and the other as business, it triggers a verification.
In the verification center, you'll be able to track your submitted proofs and see whether they were approved yet.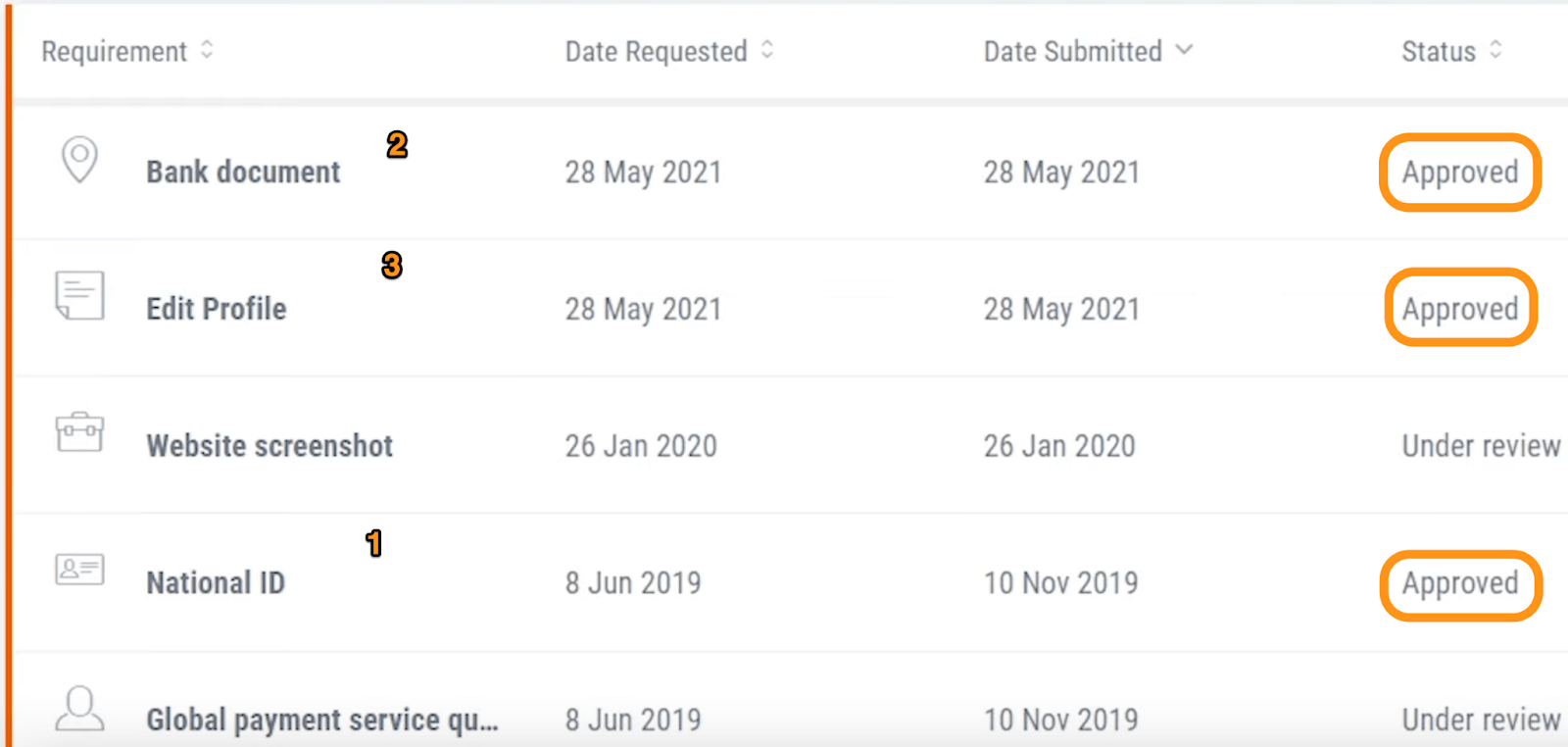 After Payoneer approves all of your documents, they'll send you an email notifying you. All you have to do is wait for eBay to finalize the process.
Finally, when eBay approves you for managed payments, they'll email you a congratulations letter. Receiving this email is the last step and the end of complicated payments. Congrats!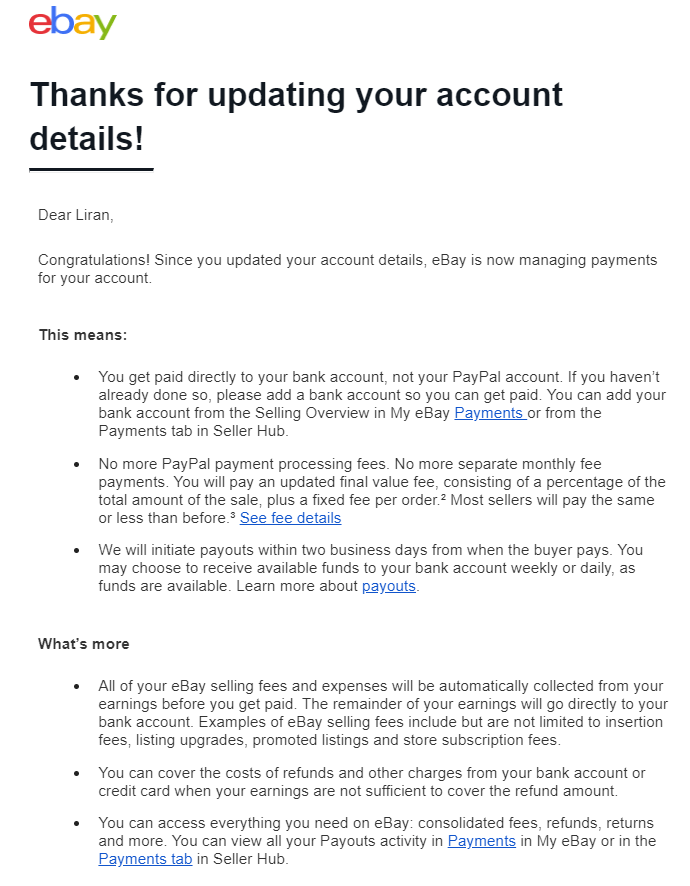 Add Multiple eBay Accounts To Payoneer
To add multiple eBay stores to your Payoneer account, when registering for eBay to manage your payments (you can use the invitation email link again), choose the option to sign in to an existing account. Rinse and repeat the same process for any eBay account that is registered under the same entity.
The best part is, you won't have to pass the whole verification process again. It's that simple!
In Summary
The new eBay-Payoneer partnership is good news for us in the dropshipping community. With all the time and energy we spend keeping track of our profits and eBay fees, having everything managed through one account is a huge relief.
We can use the extra time to research more products, optimize our listings and open a new store with the hottest niche on the market. And since we have managed payments all set up, all we have to do is connect the new store to Payoneer, and we're set. 
To better understand the benefits of eBay's managed payment system with Payoneer, check out AutoDS's article and video on the topic: