Are you looking for Oberlo alternatives for dropshipping? You're not alone. Many of us dropshippers feel too restricted by Oberlo or that we aren't getting a good bang for the buck. Furthermore, being strictly a Shopify app, we cannot use eBay and Facebook Marketplace platforms.
The good news is that there is plenty of quality alternative dropshipping software on the market to Oberlo. Regardless of the selling channel you use, there is something for you. Here's what an industry-leading dropshipper recommends on what tools to use as an alternative to Oberlo.
Plus, in this article, we'll cover the top 12 Oberlo alternatives so you can scale your dropshipping businesses with confidence and ease.
What is Oberlo?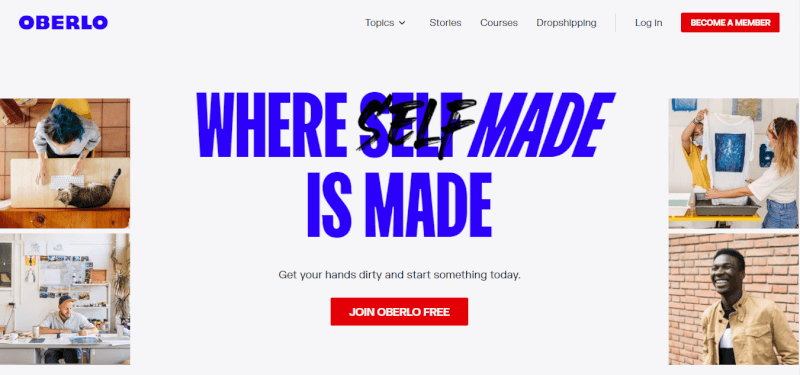 Before talking about the top 12 Oberlo alternatives, we must understand how Oberlo works. Oberlo is a dropshipping automation platform that facilitates dropshipping from AliExpress to Shopify. The three main features for dropshipping from AliExpress to Shopify using Oberlo include:
Product importing

Price and stock monitoring

Bulk order fulfillment
At first, Oberlo allows us to import products from AliExpress and sell them to our customers on Shopify.
Once imported, Oberlo updates our Shopify store's product prices and stock levels. Lastly, Oberlo offers individual and bulk order fulfillment services. However, Oberlo uses our personal buyer account for automatic orders, unlike its alternatives.
Further below, we'll talk about the benefits of other dropshipping automation software. We can manage and scale our Shopify dropshipping business with more features and better options.
Why You Should Seek An Alternative To Oberlo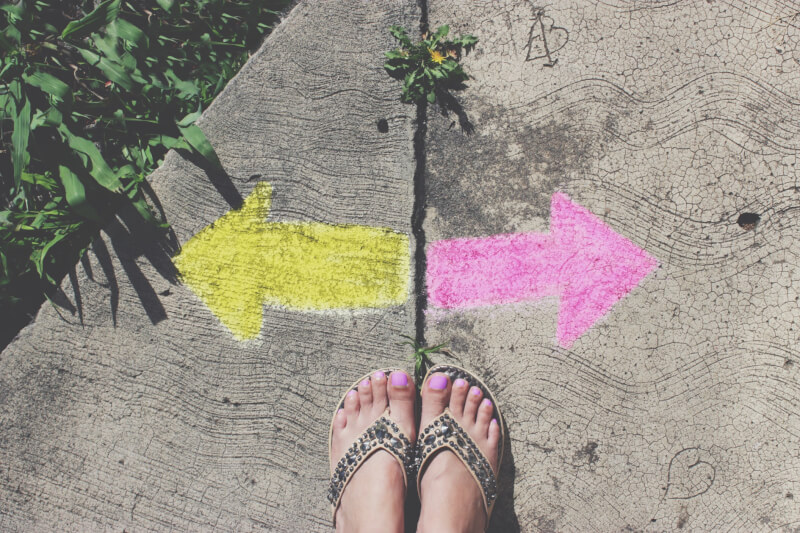 While Oberlo is widely used in the dropshipping world, it is not a perfect tool. In fact, Oberlo has several flaws, and we're going to identify some of them:
Only supports AliExpress suppliers

Only compatible on Shopify platform

Limited functionality
One of the main shortcomings of Oberlo is that it only supports a single supplier, which is AliExpress. Unfortunately, that means we can only access a limited selection of products and contend with slower shipping from China.
On the other hand, using an Oberlo alternative opens the door to selling a greater variety of products that we can ship to customers at domestic speeds.
In addition to sourcing constraints, Oberlo restricts its services to a single sales channel: Shopify. In this growing market, selling on just a single channel prevents us from reaching more significant audiences that visit popular marketplaces.
While Oberlo can place orders for us, the services are not as automated as we'd expect. Its limited functionality compels us to perform several steps manually. Additionally, we have to use our buyer accounts and credit line to process the orders.
Finally, placing multiple orders is slow and tiring, requiring us to process them one at a time. That's because the bulk ordering feature is only available for premium users.
Can I Dropship Without Using Oberlo?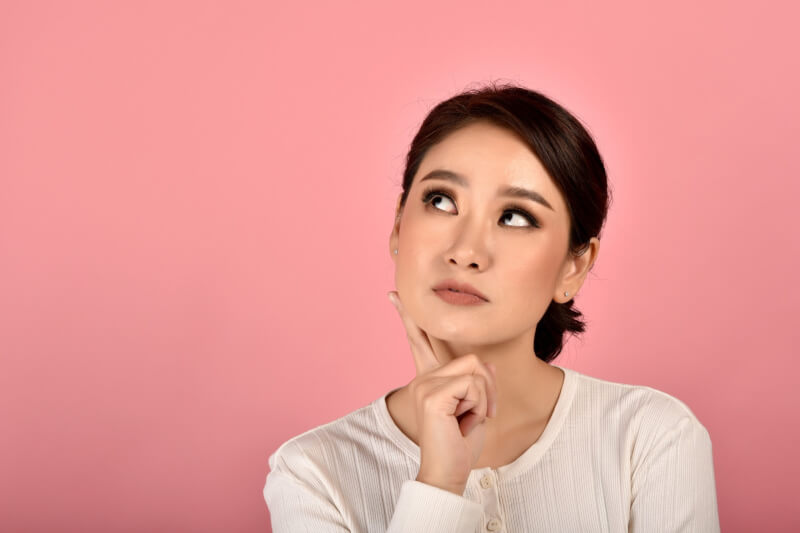 With the above restrictions, we might as well think of dropshipping without Oberlo. Going down the manual dropshipping route is an option. However, manual dropshipping is tiring, time-consuming, and non-lucrative.
To save valuable time and automate our business, we can choose from many Oberlo alternatives.
Here are some of the features that Oberlo alternative tools can help us with:
Fully automated order fulfillment

Multiple suppliers

Multiple selling channels

Price and stock monitoring

Private label on demand

Excellent dropshipping support

Low prices
Most importantly, many Oberlo alternatives offer all of these features, allowing us to run our business smoothly without Oberlo.
What Are The Top 12 Oberlo Alternatives?
Here are the top 12 Oberlo alternatives for dropshipping that will make switching from Oberlo a smooth process:
Let's take a deeper look at all of the above alternatives to learn what each automation software offers.
      1. AutoDS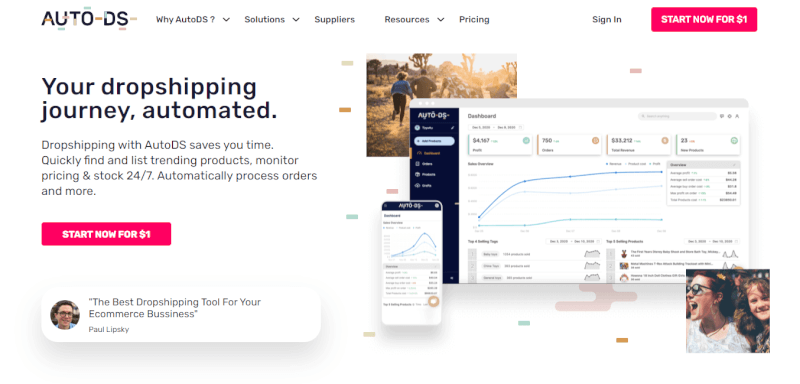 From our list of top 12 Oberlo alternatives, AutoDS takes the number 1 spot as an all-in-one dropshipping automation software. AutoDS enables dropshippers to run a fully automatic business with minimal effort while saving us time.
Here are some key benefits that make AutoDS one of the best in the industry:
Multiple suppliers, regions, and selling channels

Automatic and bulk product importing

Integrated Product Research tools

Full order automation

Price and stock monitoring

Dropshipping support (blogs, videos, courses, etc.)

$1 trial period
Key Features & Benefits:
AutoDS connects us with 25+ suppliers like Amazon, AliExpress, and Target. Additionally, it supports multiple regions like the US, EU, FR, UK, CN, CAN, AUS, and more. Furthermore, AutoDS facilitates dropshipping to selling channels like Shopify, eBay, and Facebook.
After choosing our suppliers and selling channels, AutoDS enables us to import tons of products automatically. Its product importing feature helps us save significant time when adding products manually one by one.
Also, researching for products couldn't be easier. With the newly integrated Product Research tool and AutoDS Finder, you'll find trending products to sell within seconds.
Likewise, Fulfilled by AutoDS is a complete solution to automate and manage orders and returns. Importantly, with the Fulfilled By AutoDS service, we don't need to use our buyer account.
Instead, AutoDS uses its internal accounts to process our orders and returns, so we don't have to use our credit line at the bank. Tracking updates automatically, along with conversions to keep our seller accounts safe.
Additionally, AutoDS' Price and stock monitoring feature automatically monitors price and stock movements on our supplier's website. Then it updates the information accordingly in our store.
Aside from the features offered, joining AutoDS comes with many perks and benefits. The company provides everlasting support to dropshippers in courses, mentorship programs, and ebooks.
To top it all off, anyone can take advantage of the seven-day trial option and start for just $1! As such, we can always try before we buy and get our business running with a low initial investment.
      2. Spocket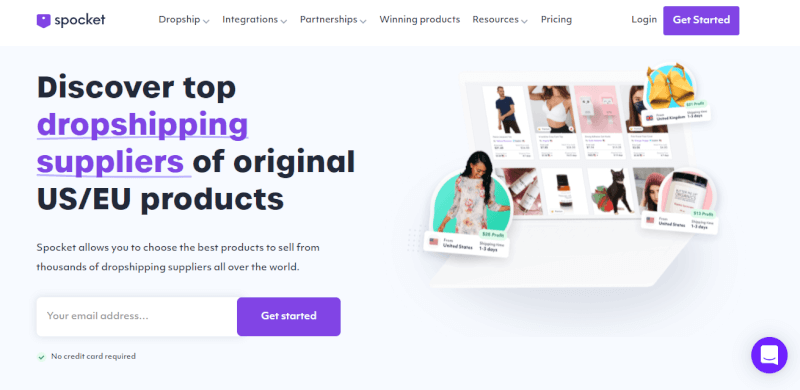 Second, on the list, we have Spocket, an automation tool that partners with multiple suppliers to source products. Here are some of the features that Spocket can offer:
Find products on the platform for your store

Supports multiple domestic suppliers in the EU and the US

Dedicated extension for AliExpress users

Individual/Bulk order automation

Multiple selling channels
Instead of logging on to supplier websites, Spocket allows us to find products to add to our store directly on its platform. In addition, Spocket supports product sourcing from multiple domestic suppliers in the EU and the US.
Besides allowing us to find products, it also has a dedicated extension for those buyers who prefer products from AliExpress.
Furthermore, Spocket enables us to process orders individually and in bulk. Then, we can sell them on multiple selling channels like BigCommerce, Shopify, Wix, etc.
      3. Modalyst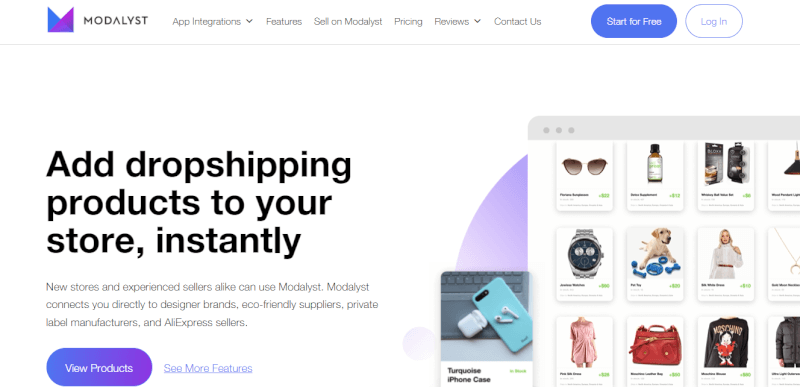 The third best option to consider is Modalyst, which lets us import products from private suppliers and designer brands. Modalyst also supports AliExpress and offers additional features mentioned below:
10 Million dropshipping products

Integrates with Shopify, Wix, and Bigcommerce

Free pricing plan
Modalyst offers around 10 million products for us to dropship.
Modalyst allows you to optimize conversions by testing different prices or add-ons. Also, it is compatible with most popular e-commerce platforms such as Shopify, Wix, and BigCommerce. Moreover, Modalyst offers a non-premium plan, which allows us to import up to 25 products. The 5% fee per purchase charge is only applicable if we make a sale.
      4. Importify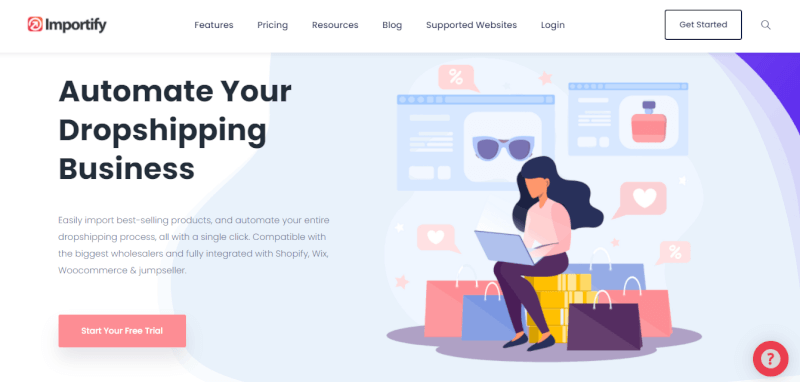 Another decent substitute on the list is Importify. This software lets us import dropshipping products from many suppliers to our Shopify and WooCommerce stores.
Importify is still popular because of the following features:
Supports 45 different suppliers

Change product vendor

Supports multiple platforms

One-click importing
Importify offers its customers access to process orders from 45 different suppliers. With the help of the supplier database, we can find a better supplier and replace our product vendor in a few simple steps.
Similarly, Importify also supports multiple selling channels like Shopify, Wix, WooCommerce, and Jumpseller. The only drawback is that it doesn't support many selling channels, including eBay, one of the most proven selling platforms.
Like other Oberlo alternatives, Importify allows us to import bulk products with its one-click importing feature.
While Importify is slightly similar to AutoDS, the latter is the clear winner if compared. This is because Importify lacks fully automated fulfillment and bulk importing.
      5. AliDropship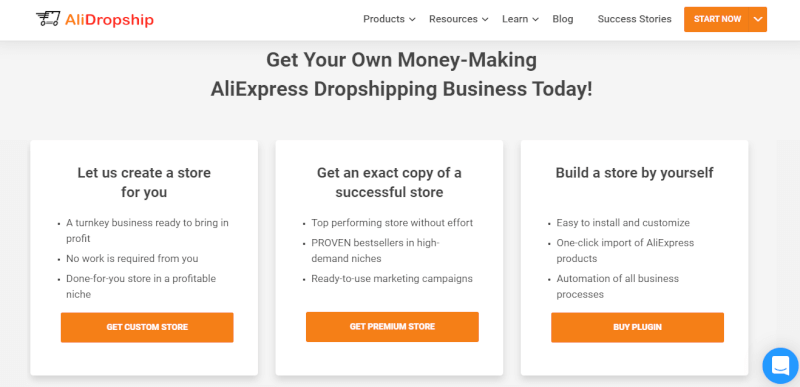 Grabbing the number 5 spot is an automation plugin specializing in sourcing products from AliExpress, AliDropship.
Although it works only on WordPress and WooCommerce, here are the main features that help AliDropship stand out:
One-click importing of AliExpress products

One time payment plan

Integrated marketing tools
The AliDropship plugin allows one-click importing of multiple products at once. Aside from that, AliDropship is one of the few dropshippers that charge no recurring fees. In a nutshell, we pay $89 once and get lifetime support and unlimited use of their services.
On top of that, Alidropship provides digital marketing tools to improve conversion rates. It offers tools such as abandoned cart recovery, customer reviews importing, and discount coupons.
      6. Dropified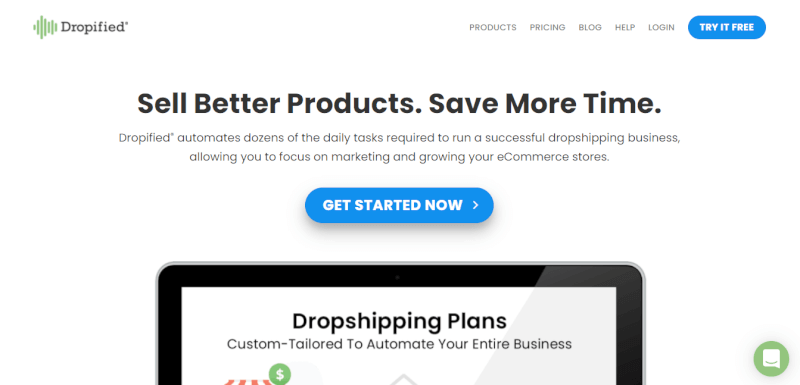 Sixth on our list of top Oberlo alternatives is Dropified. Dropified is an automation platform that enables us to research, import, fulfill, and keep track of ordered products.
Here are some of the advantages of the Dropified automation tool:
Advanced product research

A private label on demand

Product customization

Integration with multiple selling channels
Dropified's AliExtractor research tool is an advanced feature that helps us find winning products on AliExpress.
In addition to easy product finding, Dropified also offers the option to brand and sell our products like coffee and skincare. With its integrated customization options, Dropified allows us to edit product titles, descriptions, etc., so that our products stand out from the crowd.
Furthermore, Dropified supports multiple selling platforms like Shopify, CommerceHQ, WooCommerce, and BigCommerce.
However, it still lacks a lot of features compared to AutoDS. Unlike AutoDS, Dropified does not import products in bulk or automatically update tracking numbers. Also, AutoDS has the upper hand because Dropified doesn't have one-click importing to multiple stores.
      7. DSers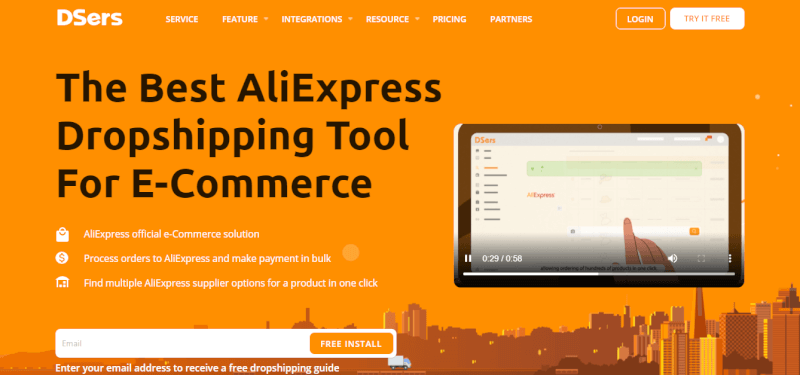 The number 7 position in the list is DSers, an official dropshipping partner of AliExpress. DSers has automation features like auto-updating order status and stock management.
Some additional benefits of DSers as an automation tool are as follows:
Individual/Bulk orders

Supplier optimization 

Integrates with major eCommerce platforms

Product bundling
Firstly, DSers save our time by automating individual and bulk orders. Secondly, DSers enables us to search vendors with better ratings and lower prices with the Supplier optimizer feature.
As the official partner of AliExpress, it does not support dropshipping from any other suppliers. However, DSers currently integrate with more than one eCommerce platform in terms of selling channels. Shopify, Wix, and WooCommerce are some platforms it supports.
After getting products from reputable vendors, the DSers' 'Orders section' allows us to bundle products together. The product bundle attracts customers with attractive offers and discounts, allowing us to sell more products than usual.
Like DSers, AutoDS also supports bundling items together, even from different suppliers. For example, we can import a product from AliExpress and add more variants from other suppliers or even from different regions.
      8. Salehoo Dropship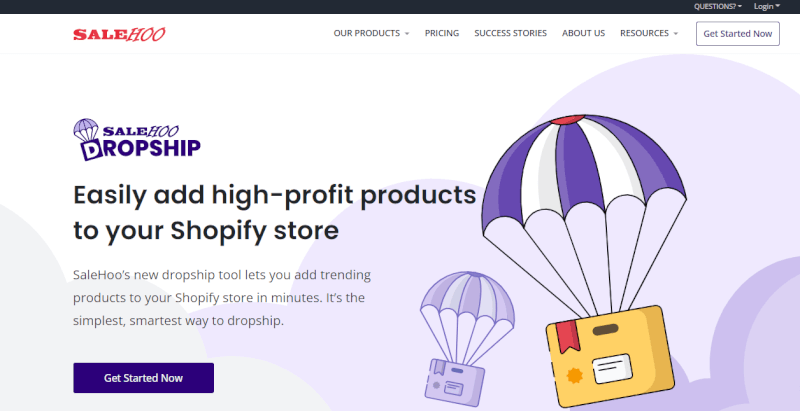 Salehoo, a platform with a massive directory of wholesalers, makes it to the eighth position on this list of Oberlo alternatives. The software helps online sellers find profitable products from qualified and low-cost suppliers.
Here are the significant benefits that Salehoo provides while dropshipping:
Powerful product research tool

Massive supplier directory

Automatic product importing from AliExpress

Seller training
Salehoo enables us to analyze products with high-profit margins and demand. Once we find the right product, Salehoo's verified list of 8000+ global and local suppliers gives us an edge in negotiating the best deals.
Besides its supplier directory service, Salehoo also prides itself on automating product importing from AliExpress to Shopify.
Furthermore, if we need help, Salehoo provides dropshipping training. The training is in the form of video tutorials and online guides to find products and search for suitable suppliers.
Similar to Salehoo, AutoDS has also implemented a powerful product research feature. 25+ suppliers from multiple regions worldwide and private suppliers will be available soon on the AutoDS product research platform.
      9. Printful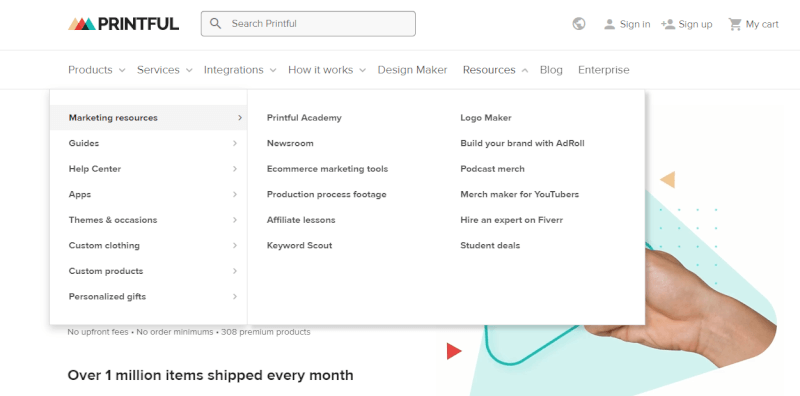 Grabbing the number 9 spot in the list is Printful. It is a unique automation platform specially developed for Print-on-demand businesses.
Printful has become one of the most widely used Oberlo alternatives due to several benefits. Let's check some of them out:
Specializes in Print-on-demand products

No subscription fees

Bulk ordering

Monthly discounts

Integrates with different eCommerce platforms
Printful is the best platform for print-on-demand dropshipping. We can use it to pick products, create unique designs and set the pricing. Then, we can list our chosen products on any of Printful's 17 supported eCommerce platforms, including Shopify, Ecwid, Magento, etc.
Afterward, Printful takes care of the rest, from processing customer orders to printing in one of its warehouses and shipping the items to our customers. Furthermore, Printful offers both individual and bulk ordering options to help save time. 
Moreover, Printful is entirely risk-free to try. There are zero subscription fees attached, and we only pay for product and fulfillment charges after making a sale.
Finally, Printful users enjoy discounts based on each account's monthly total sales, which means the more we sell, the more discount we get. Additionally, it provides discounts of up to 30% for bulk orders.
      10. WooDropship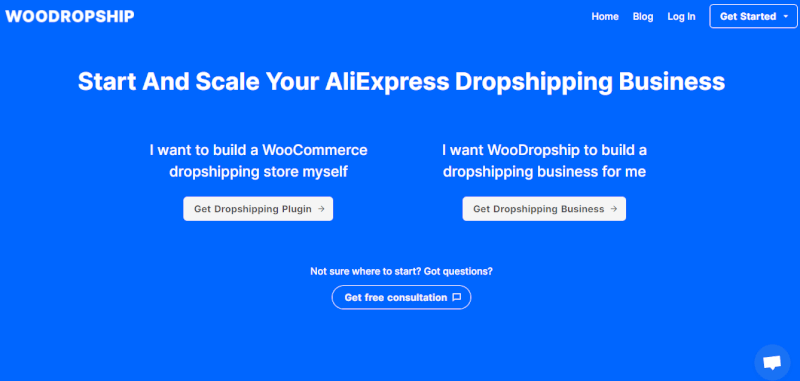 WooDropship is an automation plugin for WordPress and WooCommerce stores. With this plugin, we can quickly sell products from AliExpress on our site and handle payments and shipping.
Here are some advantages of using WooDropship as an Oberlo alternative for dropshipping:
Unlimited number of product imports

Stock and price syncing

Free plans to lifetime membership
Unlike some dropshipping software, WooDropship does not restrict the number of imported products. Therefore, we can import unlimited products from AliExpress to our WooCommerce stores and increase our profit potential.
Then, WooDropship's stock and price sync feature allows us to change the product's price to reflect the price changes. Additionally, it also provides direct updates when a product goes out of stock. 
The first plan is free of charge and comes with a 14 day trial, while we can also upgrade to premium plans. WooDropship has various paid plans for additional features for $14, $29, and $49 per month.
In the grand scheme of things, WooDropship might not be an ideal alternative for Oberlo. While it does support more selling channels, it is limited to AliExpress products. 
      11. Syncee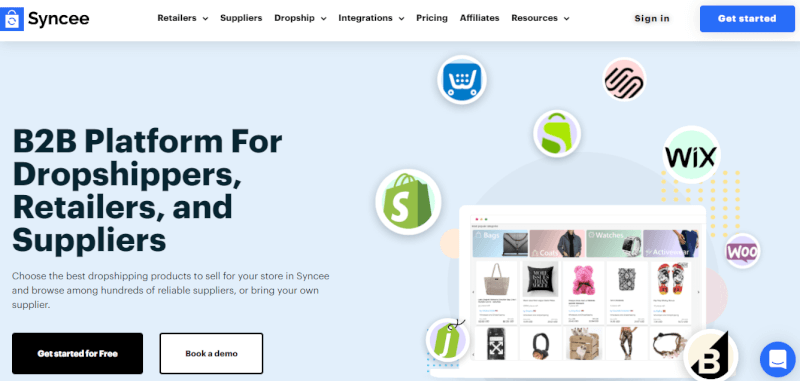 Although we are nearly at the end of the list, Syncee is one of the Oberlo alternatives not to be missed. The program connects retailers worldwide with suppliers that offer high-quality and newly released products.
Here are some of the reasons why Syncee is one of the best Oberlo alternatives:
Millions of Products

Price and profit margin customization

Integrates with different eCommerce platforms
With Syncee, we can find millions of products sourced from reliable suppliers. Furthermore, we can quickly create special pricing for each item in our store. It allows us to customize price margins based on the vendor, brand, or category.
Also, Syncee supports ten different eCommerce platforms like Shopify, Jumpseller, Squarespace, Ecwid, etc.
Despite these features, Syncee has a lot of catching up to match the level of AutoDS. For example, Syncee doesn't have a lot of automation features that AutoDS has, like stock and price monitoring and bulk editing feature.
      12. Zendrop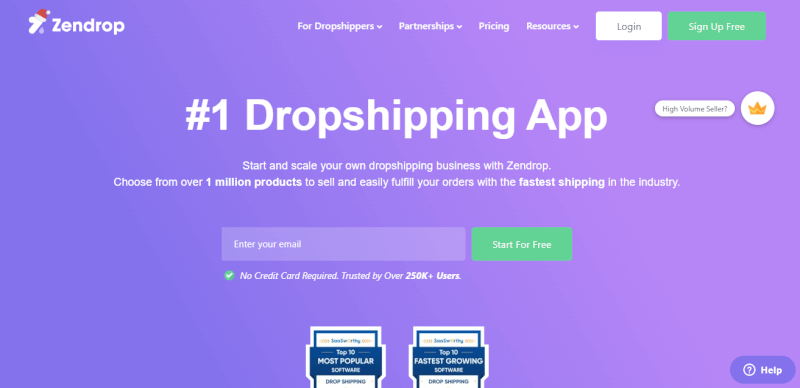 The final platform on the list of top 12 Oberlo alternatives is Zendrop. It is a dropshipping software that can help us find among 1 million products to sell.
Moreover, these significant benefits make Zendrop a popular option among dropshippers:
Individual/Bulk orders

Automatic order fulfillment

Quick shipping time

Private labeling
Zendrop offers its users various tools and facilities to accept, manage, and fulfill individual and bulk orders. In addition to fulfilling bulk orders, Zendrop provides fully automatic order fulfillment. It works with suppliers in an automated sequence to place and fulfills orders.
Once our orders are processed, Zendrop proceeds to the shipping stage. While the standard shipping Zendrop provides is quicker than the industry standards, it offers exceptionally swift shipping to its Zendrop Pro users.
Like Dropified and Printful, Zendrop also enables us to label our branded product privately. We simply choose a winning product from their catalog, fill in a few details about our branding, and have it shipped to our customers.
Nevertheless, Zendrop still has to add many features to its platform before calling it a complete automation solution. One of the main drawbacks is that it does not support selling on eBay and Facebook, two massive selling platforms. Additionally, the Zendrop app uses our own buyer accounts to fulfill customer orders.
How to Choose An Automation Software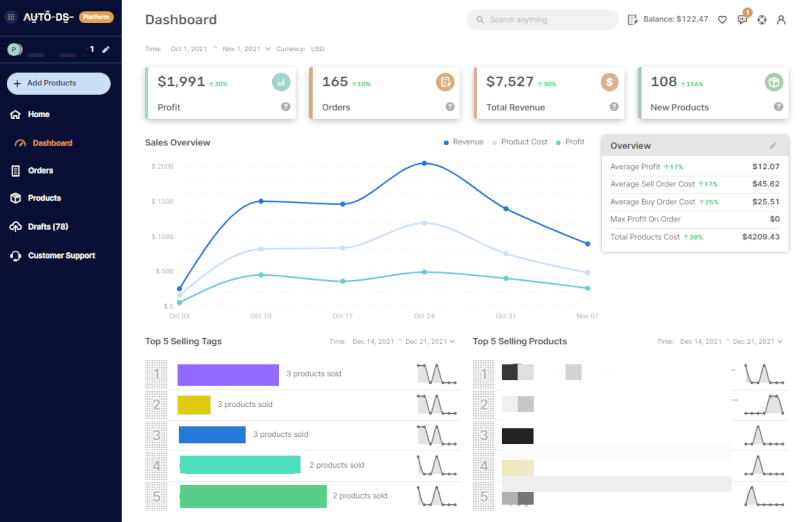 And there we have it, the top 12 dropshipping software that are excellent alternatives to Oberlo.
But how do we choose among so many options available? It's simple! We have to look at the bigger picture. And by the bigger picture, we mean, availability of features.
Here are the features that are very important to consider while choosing:
Supported suppliers and regions

Product research features

Selling channels

Pricing plans 

Order automation

Product importing 

Price and stock monitoring

Customer service
While some dropshippers are happy to work with AliExpress, it is ideal to have software that supports a variety of dropshipping suppliers. This way, we can source products from multiple regions and deliver them to customers wherever they may be.
Similarly, consider the automation software that supports selling channels you are currently using.
Third, the right automation software should offer product research features. That's because product research is fundamental to dropshipping success.
The next point to consider is the type of pricing plan of the software. We want to pick the best possible program that works for our budget and offers excellent value for our money. Furthermore, it would be best to select an Oberlo alternative that provides a trial period.
The ideal dropshipping software should provide automated order fulfillment and product importing options. Without full order automation and product importing, our success will always have a limit. Likewise, any good dropshipping automation software should update price and stock levels.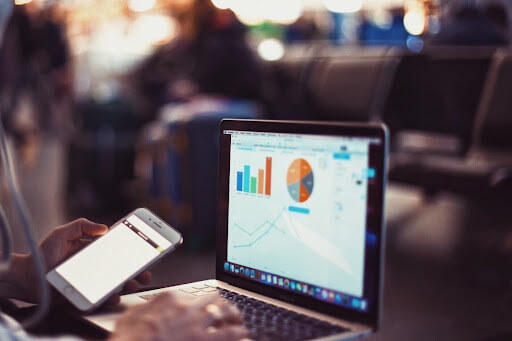 Finally, it's an additional benefit if the automation software has good customer service as we need lots of support along the way.
To be precise, we want an automation platform that has as many essential features as possible. That's because it helps us adapt quickly if we make changes to our business model in the future.
Which Oberlo Alternative Is The Best?
Undoubtedly, the best alternative to Oberlo has to be the software that performs well overall in these areas. Taking the requirements into account, AutoDS takes all the plaudits here. That's because it possesses all the mentioned features and proves to be a cut above the rest.
You don't have to take our word for it. Here are some success stories from dropshippers who use AutoDS to build, scale, and maintain their success:
Conclusion
Now that we are fully aware of the top Oberlo alternatives, we can choose the best one according to our needs. Also, if we play our cards right, leaving Oberlo behind will be nothing but smooth sailing.
Propel your business forward by making the switch and remain a step ahead of your competitors. Finding the perfect automation platform may take some time but can be a game-changer for your dropshipping business. You can enjoy time with your family while the competitors grind with the wrong automation software.
To make things easier, you can try out the world's #1 dropshipping automation software for just $1.