Our online store's products require optimization to improve our sale conversions. Optimizing our eBay listings will make our products stand out on eBay's search engine. Our target audience will see our products in front of our competitors, and, simply put, we'll get more sales.
We will start to optimize our eBay listings by editing general product settings, descriptions, variants, images, and end with the item specifications.
In the end, we'll have a powerful and engaging product page that will have a direct impact on visibility within the buyer's search.
To begin, click on 'Products' or 'Drafts' on the left menu and select the product you wish to optimize by clicking on its image: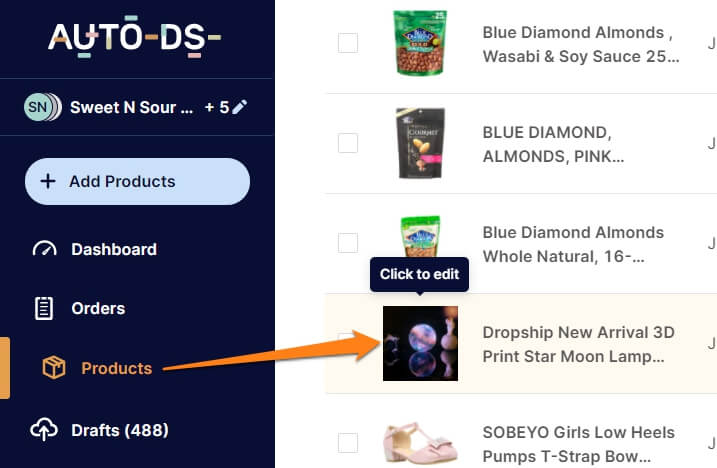 Once we click on the image to edit, the full item editor will appear, and we can begin the optimization process. 
First, we have the general product settings column. 
We'll optimize the item title, tag, location, shipping method, and brand under this column. In the end, we will choose which automation methods to enable/disable for this product.
Item Title
The eBay product title is critical – the better we write it, the higher the chance that our listing will get more exposure and sell. Optimize the eBay listing title by writing what our target audience will search for on eBay when trying to find this product.

Keep in mind that there is a maximum of 80 characters – so use them wisely. Here are a few more tips to make it your best:
We don't recommend copying the source's title or other seller's titles as they are. That's because if more dropshippers are selling this product with the same title, we will find ourselves in tough competition with a lower chance of selling. 

Take relevant

strong keywords

that other sellers use on similar products on eBay – especially from successful sellers. Filter out weak or irrelevant words and take only a few of the best.

Use

keyword search tools

to help find relevant keywords that your audience is searching. Tools like

Keyword Tool

or

Google Trends

are some of our favorites.
Also, read the product description and try to find additional product features that your audience might include in their search.
Tags
Like the previous lesson when we added a new product to our store, we can give the product an internal tag to make it easier to analyze its performance later.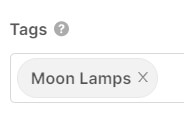 For our product, we created a tag called 'Moon Lamps.' In the future, when we add many products from the same niche, we'll use the same product tag on them. 
Then, in a month or two, when we want to analyze how the niche performed, we'll bring up the 'moon lamps' tag, and only the product with that tag will show. 
Then we begin the optimization process by deleting the bad performers and keeping the products that performed well while trying to find more like them.
Shipping Methods
The shipping method is an additional way to optimize our eBay listings. Offering free shipping will help us stand in front of our competitors who are charging extra for shipping.
Under Shipping methods, we need to select which shipping method we want the system to consider when pricing our product. 
We went through these steps previously when adding a product to our store. Here's a recap:
In the shipping methods dropdown menu, we have three options: Cheapest, cheapest with tracking, and fastest with tracking information.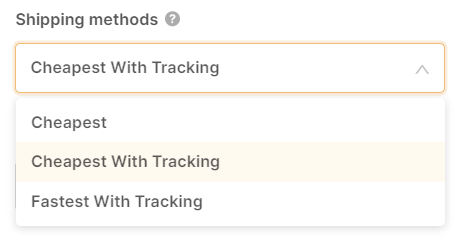 Cheapest – selects the most affordable shipping method, regardless of the shipping time or whether tracking information is available or not.
Cheapest With Tracking – selects the cheapest shipping method with tracking information, regardless of the shipping time.
Fastest With Tracking – selects the fastest shipping option available with tracking information, regardless of the shipping price.
For starters, we recommend going with the 'Cheapest With Tracking' method. This way, you won't be surprised with expensive shipping prices, and you won't risk shipping products with no tracking information.
Item Location
The item location specifies the location of our products before they ship out. 
Since we are dropshipping products from China, we'll choose China in the 'Product's Country' dropdown menu.

In 'Product's City, type 'Shenzen,' as it is a very known shipping location in China. That's where most of the Chinese suppliers ship their items.
Brand
The brand's name should show up in the brand field.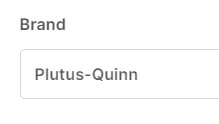 You can choose whether keep it there or rename it to 'branded,' which is general. 
On the one hand, keeping the brand name keeps it transparent for the viewers. On the other hand, it will make it easier for your competitors to find your source product through the brand name.
Monitoring (Automation)
The automation settings allow us to enable or disable automation for the products we are importing. 
Price monitoring, stock monitoring, and order fulfillment are the three automation options that we can choose to enable or disable.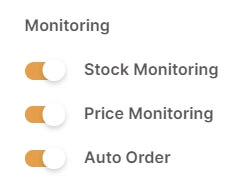 We recommend fully automating your store – not just for prices and stock, but also for order fulfillment. 
With full business automation, you'll be able to grow exponentially with more free time on your hands.
Description
The next column to optimize on our eBay listing is the product description. 
First, we'll select a template to use if we didn't do so while importing the product from our

Template
The template is usually the first thing our buyers notice when entering our product page. 
In other words, it's the whole visualization effect surrounding the product – banners, trust badges, logos, etc.

Right under the description column link, you'll notice the 'Selected Template' dropdown. Clicking on the arrow will allow us to choose existing templates or create new ones.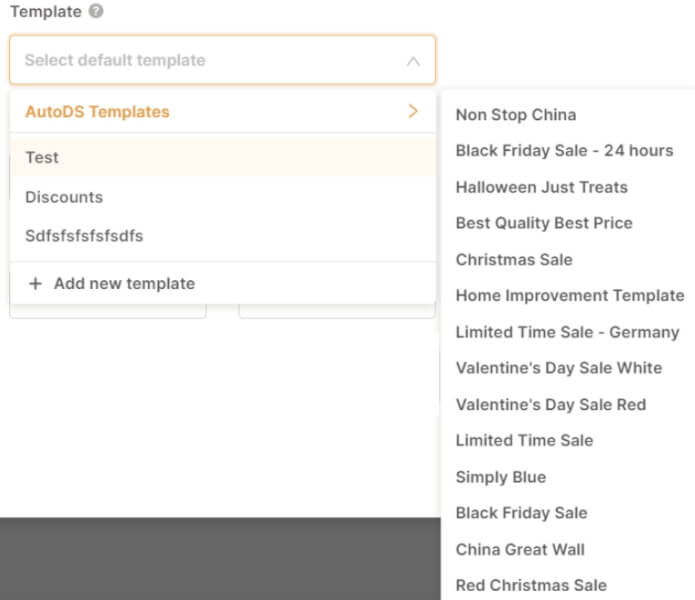 Oh, and don't worry if you don't have any professional templates – we got you covered. 
On the dropdown menu, choose 'AutoDS Templates.' You'll get a list of free templates built-in the system, which you can use freely. 
If you already have a template and just want to make some changes, click on the 'Edit templates' with the pencil icon instead of the dropdown menu. 
From there, you will be able to manage all of your templates – even the freebies:

Product Description
Next, we'll take care of what we came here to do. Creating a unique product description and stand out from the rest.
Begin by clicking on the 'Edit Product Description' button to open up the online text editor.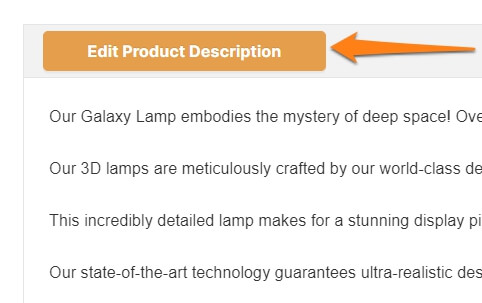 Now we have a full, rich text editor to create a converting product page. 
Begin by rewriting the product description in your words, considering all of the product features, dimensions, and every piece of relevant information you have on the product.
Use bullet points, line breaks, bold, underlining, and other special features to make your description stand out. You can even add images, emojis, tables, and more.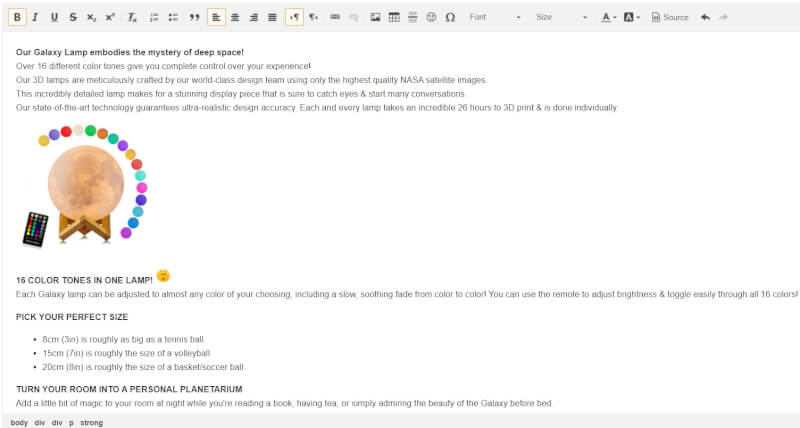 Variants
The next column to optimize on our eBay listing is the product's 'Variants.' 
While some products are stand-alone, others have variants that differ in shapes, sizes, and colors. Our chosen product, for example, has a few variations available: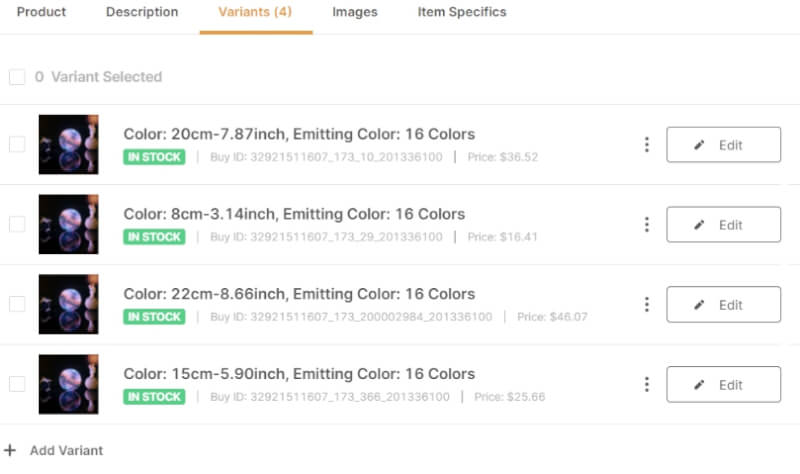 In this case, the differences between them are the sizes (and prices). 
We can select if we want to edit them by clicking on a variant image or the 'Edit' button on the right to open the signal variation editor.
As you can see, there are several options that we can edit. 
For instance, we can change the variant's properties, quantity, fees, dimensions, profit margin, automation settings, and more.
Additionally, we can edit (or delete) the variations in bulk to save time. Simply click on the top checkbox to select them all, then click on the edit pencil icon next to it.
Now we have the option to change the quantity, fees, profit margin, and sell price for all of the variants selected.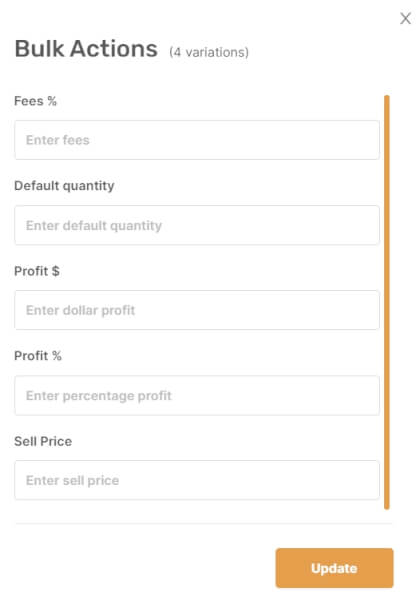 Take advantage of bulk actions to save time when optimizing your inventory and managing your stores in general. 
Lastly, in the variants, we have the option to add new variants to the product. Navigate to the 'Add Variant' link towards the bottom.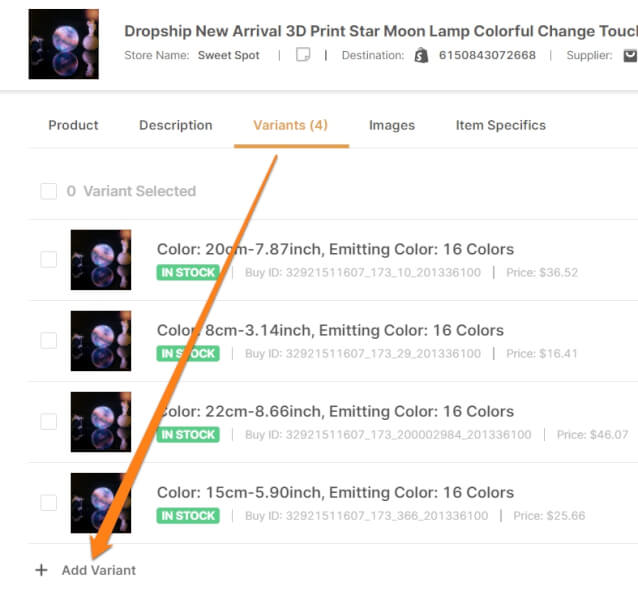 After clicking on 'Add Variant,' select the supplier, enter their product ID/URL and region.
It can even be a variant from another product and a different source!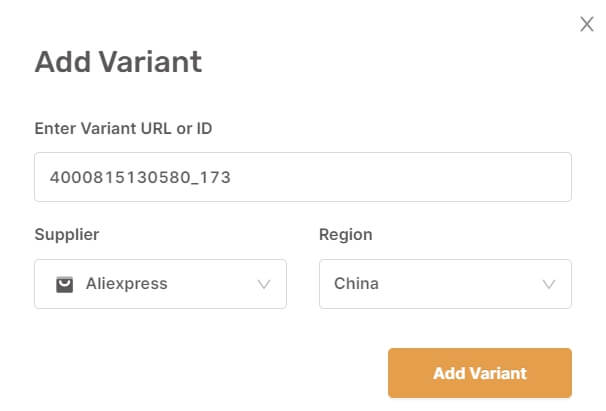 Then, click on 'Add Variant.' In a few seconds, you will see the new variant added to the list.
Remember that you are using the same business policies for all variants, so don't mix between regions (like China + U.S) under the same product.
Also, ensure that the variant you're adding relates to the product in your listing. The variant may have a different name, but the product title stays the same.
Images

The next column is the product images. Our images can help optimize our eBay listings, especially when they stand out apart from our competitors.
As we can see, all of the source's photos appear on our product page.
Hovering over each image will give us editing options: Remove, copy, rotate, flip, add watermark, download, resize, and set as the main image.
After the images, on the right, we have the option to add more pictures. Either by providing an image URL or uploading from your computer. 
In some cases, we can get more pictures from the same product when browsing different sellers. That's one way to stand out from others and creatively use this feature.
Item Specifics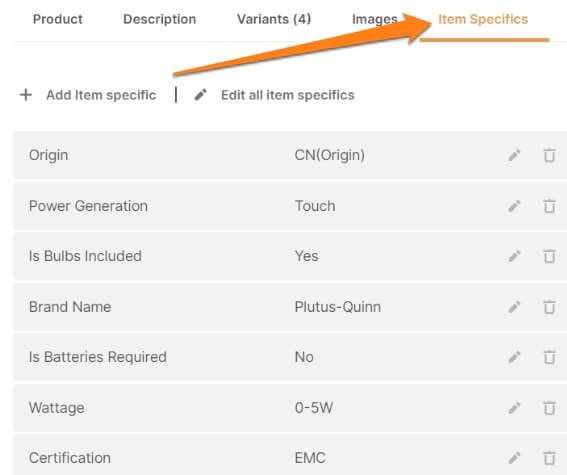 The item specifications provide buyers specific keywords that describe your product—for example, the product type, material, size, color, and more.
Additionally, these keywords have a direct impact on visibility when buyers search for our product. And we all know that more visibility means more sales. 
Therefore, it's wise to add as many item specifications as possible to increase our selling chances. Just make sure that they are correct, as buyers pay attention to the specifics.
Add Item Specification
While AutoDS automatically imports all of the item specifications from our source, we can sometimes find additional specs through other sellers. 
Thus, we can add a new specification by clicking on 'Add Item specific.'

Write down the specific name and description, and click on 'Add' to add it to the list. 
Edit Item Specification
Another option we have is editing our item specifications. 
Clicking on the pencil icon on the right of each item specific will open up the editor. (The trash icon will delete the item specific.)

Here, just like adding them, we can edit the name and description of the item-specific. Click on the check box when you're done.
Also, we can edit all of the item specifics at the same time by clicking on 'Edit all item specifics.'

Now we have text boxes that we can edit for all of the item specifications for this product. 
For items with a handful of item specifications, this feature will save us a lot of time. Make whatever changes you want, and click on 'Finish editing' to save your changes.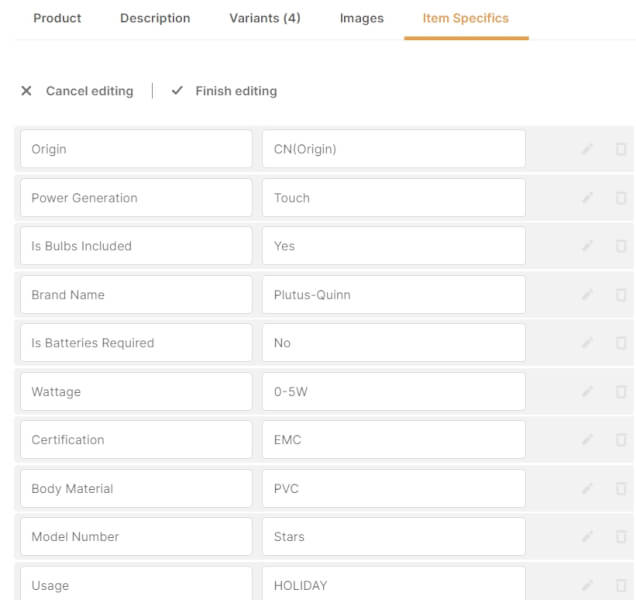 That's all we need when creating a powerful product page to optimize our eBay listings, bring more traffic and more sales to our store.
Keep in mind that most dropshippers who fail in this business don't take the time to optimize their product pages. They rely on copying and pasting, no optimizing, and mostly luck. 
However, this isn't the case for you, as you're taking the time to learn and implement these strategies to differentiate yourself and help your business grow. Good luck with your product pages, and don't stop learning!
Empower your knowledge with these related articles: