Many dropshippers give up when they face an eBay suspension because they don't know how to reinstate a suspended eBay account. Others may pay some individuals to try and reinstate their eBay accounts.
In this article, we will teach you how to reinstate a suspended eBay account by successfully persuading eBay to lift the suspension. After this article, you will not need to call eBay or pay someone to do so.
The eBay suspension starts with a message like this: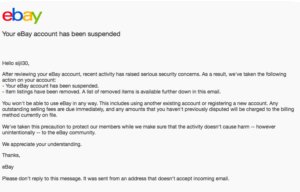 It surely feels overwhelming when you are new to eBay, and you get this message that says your eBay account has been suspended, especially if you intend to make eBay as an income source. But don't worry, you can reinstate your suspended eBay account by following these steps:
Start by searching for "eBay contact" on Google.

Then, click on the eBay Customer Service result. Scroll down on the page, and click "Contact Us".

When this page loads up choose "Account".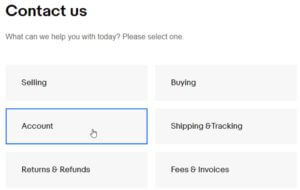 Then click "Account holds, restrictions, and suspensions"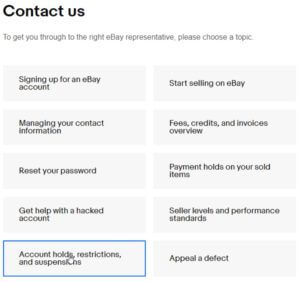 On the next page, scroll down to find "Email us" and click it 

After that, you will be redirected to fill this email form.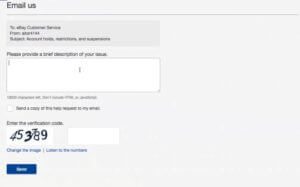 This is where you have to contact eBay and convince them to reinstate your suspended eBay account. You have to speak in a way that shows them you are a total beginner and that you are surprised how your account got suspended without you doing anything wrong. Do not mention anything refer to dropshipping or that you intend to dropship on this email. Even if you are a dropshipper.
Check this example of a simple email which one of our VAs used to reinstate a suspended eBay account.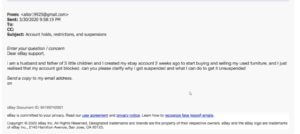 As you can see, it is a straightforward yet smart email. It is indirectly showing eBay that we do not intend to do anything risky. We need to tell the customer service representatives that we will only use eBay to buy and also sell our used furniture.
In our example, after 24 hours of sending this email, we received a follow-up email from eBay. This email contains questions that eBay wants us to answer.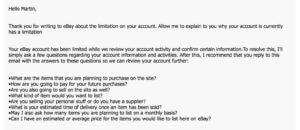 By receiving this email, we understand that we are not in danger and that we can reinstate this suspended eBay account. As long as we answer the questions the way eBay wants.
As we mentioned before, you need to act like a total eBay beginner. A simple customer that entends to use eBay for buying and maybe selling some used items. Then you have to answer eBay's questions accordingly.
You can check our reply below to better understand how you should answer the questions.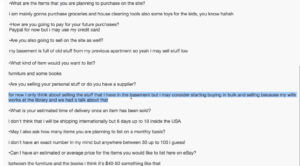 Since all the answers are in line with eBay policies and requirements, eBay reinstated the suspended account, and here is the email they sent us.

Conclusion
By now, you know the secret of how to reinstate your eBay suspended account. And the best part is that you do not need to pay thousands of dollars to do it.
And as they say, prevention is better than cure; it is better to prevent your account from suspension than trying to unsuspend it. That is why you need to be aware of how to avoid eBay suspensions. Plus, if you're eager to stay at the top of your game and keep your accounts safe, be sure to read these articles: