One of the challenges to successfully selling on Shopify is the lack of organic traffic. Unlike eBay or Facebook, where the site's popularity brings people to our stores, on Shopify, it is up to us to make it happen. 
That is why we invest so much time in advertising or other marketing activities. 
But what happens when customers start to visit our store? How do we get them to stay and make a purchase?
Selling high-quality items is a starting point, but we also need to earn our clients' trust. In this article, we'll go over everything you need to know about  Shopify Trust Badges and how they greatly improve our chances of converting visits into profit while also building our customer base. 
Do Trust Badges Work?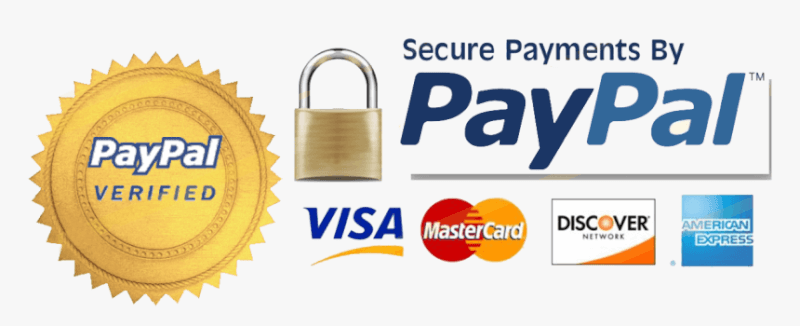 Trust badges are an effective marketing tool used on products, seen on TV, and added to advertisements. We've all come across a badge that says "Satisfaction Guaranteed" or "Expert Seal of Approval". The use of badges is common throughout the world of commerce and e-commerce. 
Just as in any place, placing trust badges in our store can help us gain the trust of our visitors. This is especially true for those new to online shopping, hesitant to try a new method.
Badges are psychologically proven to work as long as they are used correctly. They give an online store or product the appearance of authenticity and legitimacy. For example, for a new online shopper, a payment badge gives them peace of mind that they can trust the payment process. 
Where To Place Trust Badges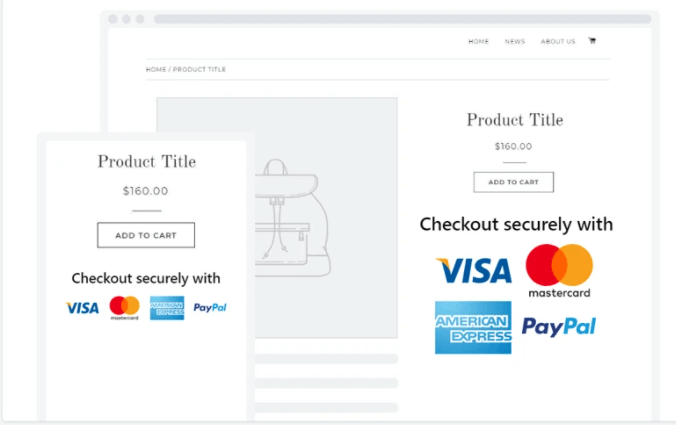 There are many places where you can place a trust badge in your dropshipping Shopify store. It can be the store's front page to help draw customers in or on a particular product page to help the purchase move along. 
For example, a "money-back guarantee" badge can convince a customer to make the purchase when they aren't sure they'll enjoy the product. I can always return it. 
Shopify Product Page Trust Badges 
There is great value in adding trust badges to product pages. As customers begin to browse your store and come across your products, you want to build trust. 
After all, you would hate to see customers skip on high-quality items. A simple "satisfaction guaranteed" or "easy returns" badge can make all the difference between them hitting the 'Add To Cart' button or leaving your store.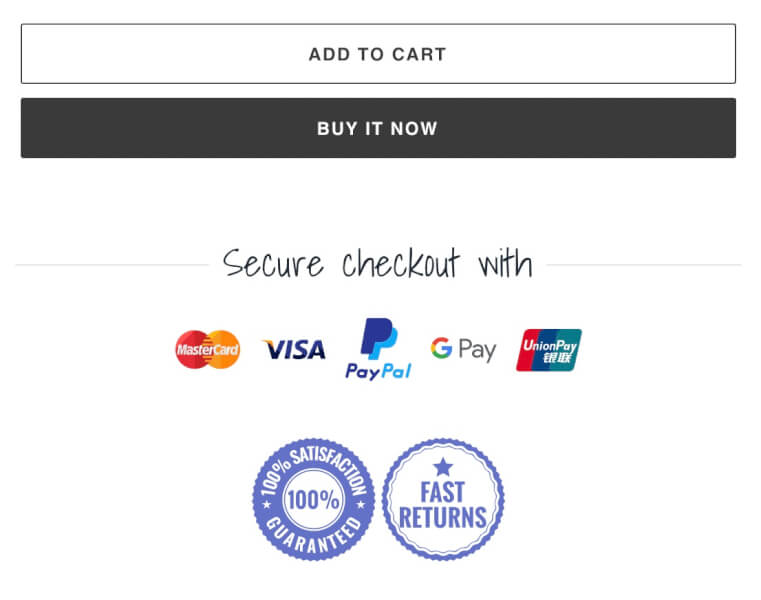 Similarly, for customers worried about specific issues like animal testing, trust badges can help you stand out and gain that sale. 
Trust Badges Apps on Shopify
There is a simple way to find trust badges for your product pages. Plenty of Shopify Apps offer various ways to outfit your store with trust badges of all sizes and colors. 
Starting from a premade template, you can customize your product pages with trust badges from almost every category. 
Install Trust Badges Apps from Shopify
Without further ado, let's take a look at the process of adding a Shopify app to your store and configuring your product trust badges. 
As a first step, head over to the Shopify App Store and search for 'Trust Badges'.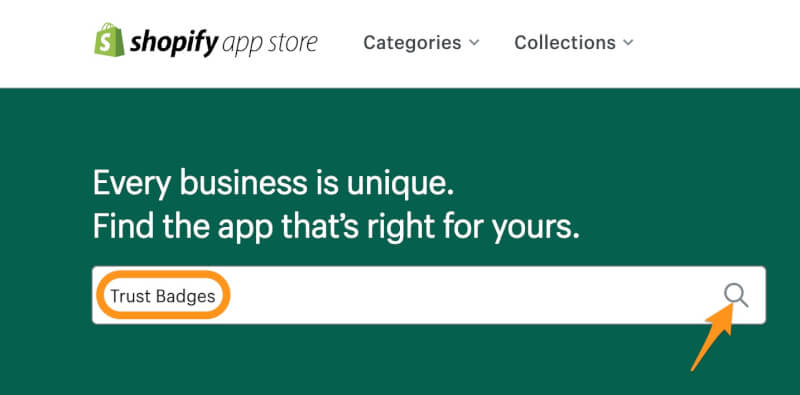 The page shows plenty of results. 
Luckily, with so many apps and options for trust badges, we can sort by free vs. paid. Simply scroll down, and on the left column, click on the 'free' circle.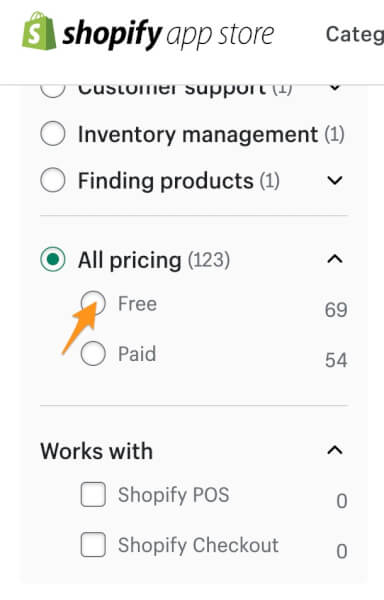 To begin with, let's disregard any apps with low ratings. With so many options in the store, we get to be picky and select only the best trust badge apps for our store.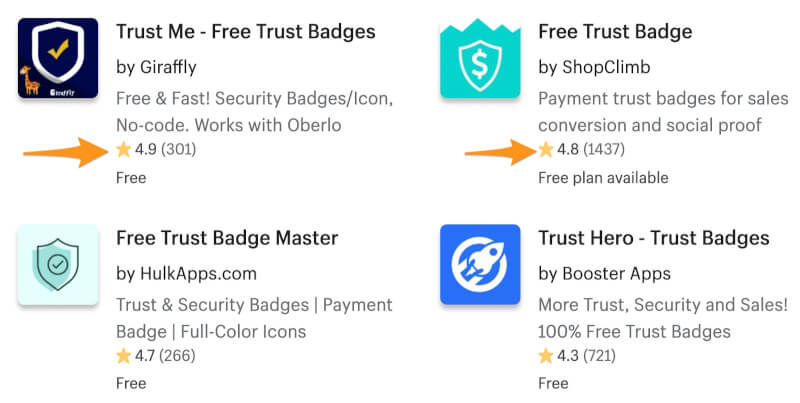 As you can see in the screenshot above, two of the apps have close to five stars. This serves as an indicator that they would perform well in our shop. 
Aside from ratings, it is also a good idea to look for more details about the app. Click on apps with high ratings, and find out what kinds of trust badges and configurations they offer. 
Once you've picked an app, it's time to install it so that you can display trust badges in your store. 
In this example, we've picked 'Ultimate Product Icons'. The app offers solid product guarantee badges to post in our store and convert sales. 
Click on the selected app from the search results. Make sure you are signed in to your store, then click on 'Add app'.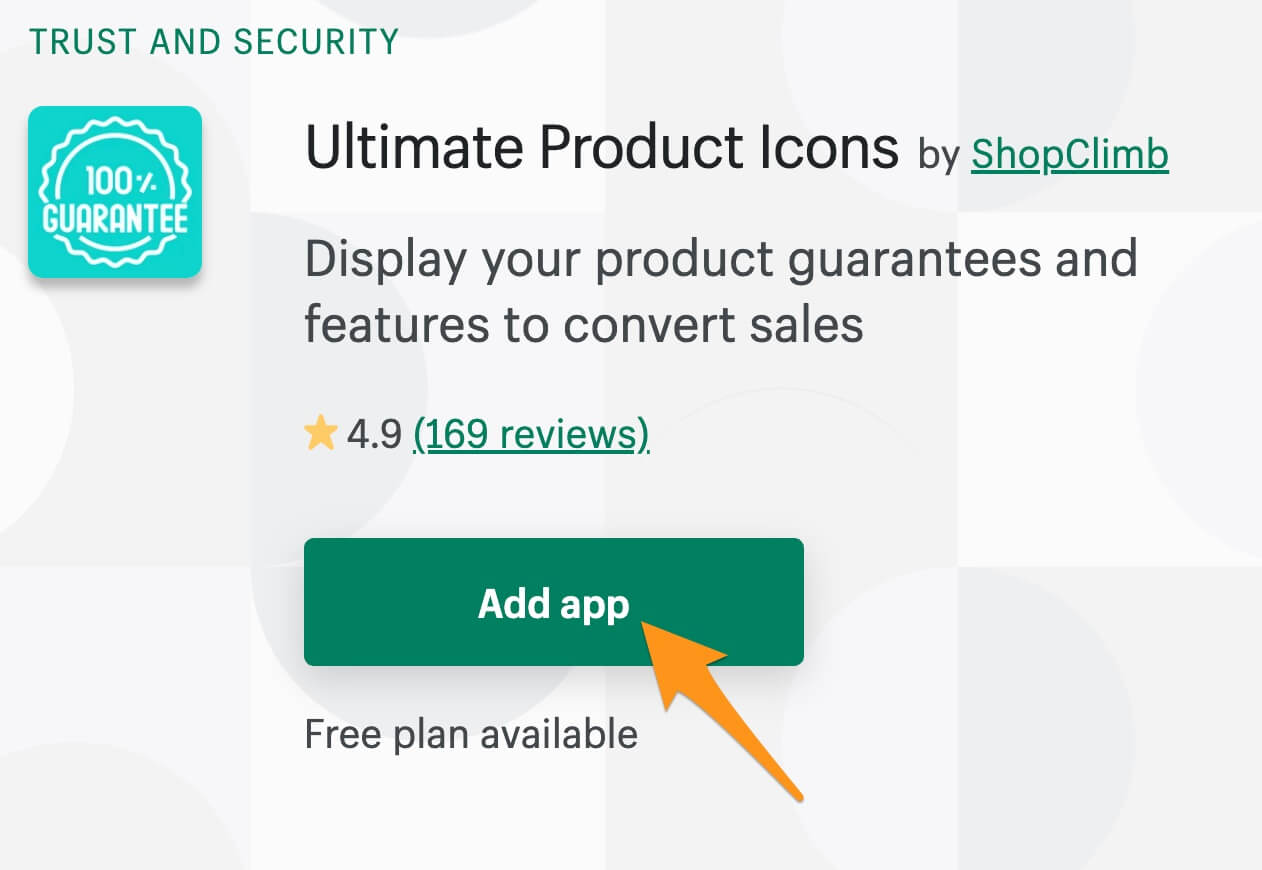 You're almost done! Simply confirm that you are adding the right app, then click 'Install app'.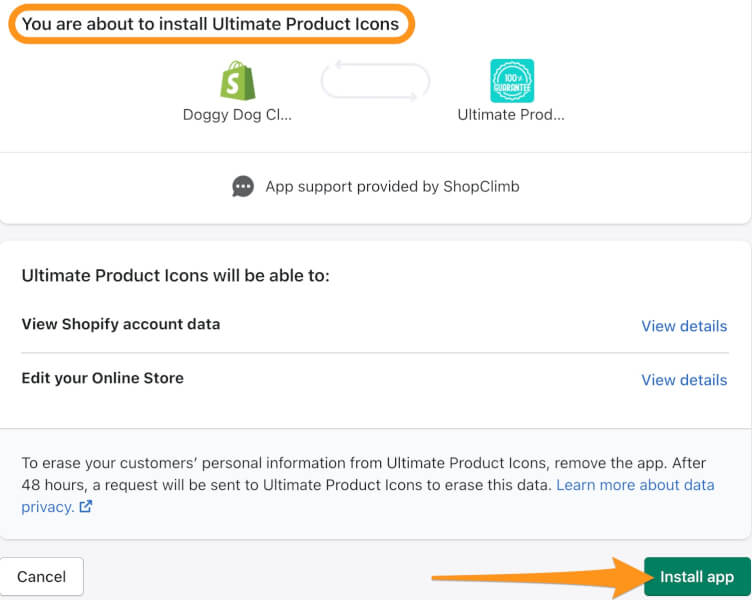 Add Trust Badges To Product Pages
After installation, Shopify directs you to the app setup page. Here we can configure which icons we want to use and where to activate them. 
Numerous apps, including Ultimate Product Icons, give us step-by-step setup instructions:

First, we choose the icons we want to use. In this case, we select five, but we always have the option to add more.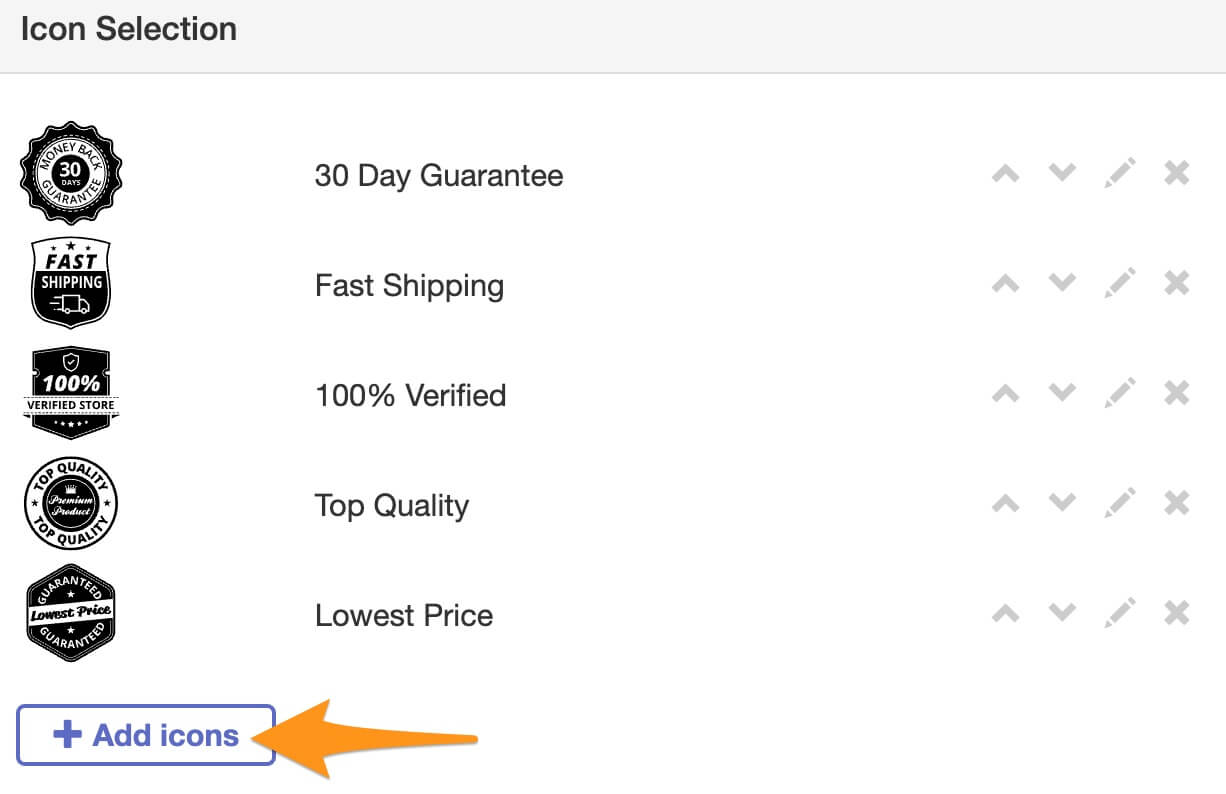 Next, choose your design settings. This gives you the option to customize the colors or sizes of the icon. Additionally, we can add a link to the icons.
In this case, we choose red and white as our icon colors. For easy customization, the app shows you a preview for every change you make to the size or color of the icon.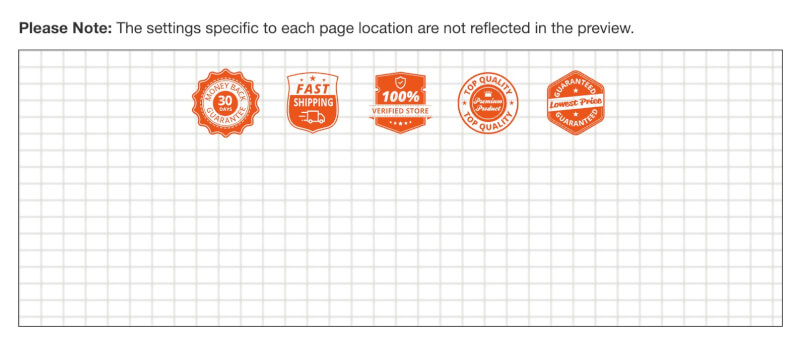 Do you like how they look? If so, save your changes. This is done by scrolling down and clicking 'Save'.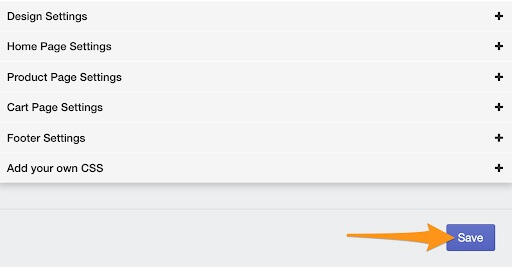 Our last step is to activate product icons. At the top of the settings section, toggle the 'Activate icons?' button to the 'on' position. 

Once activated, the badges get displayed on each product page. In this example, below the 'Add To Cart' and 'Buy It Now' options, we can find the exquisite product badges we designed earlier.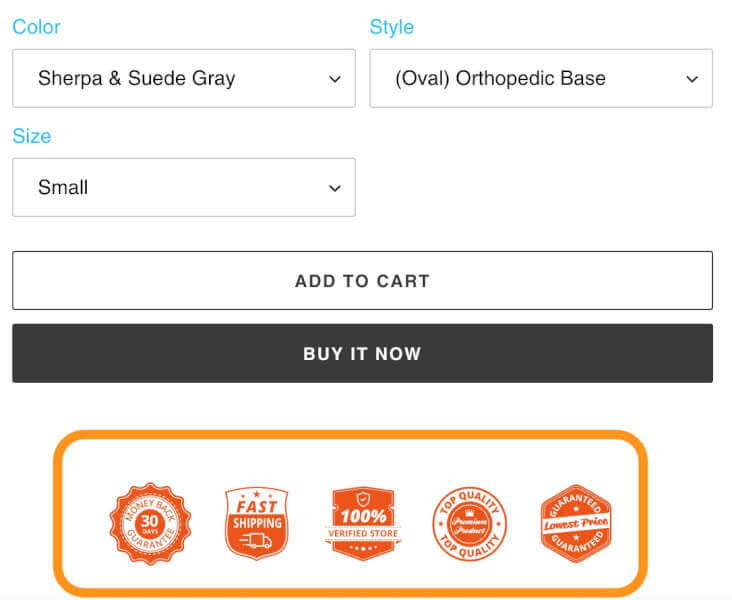 Keep in mind that most Shopify trust badges apps have similar configuration options.
The Best Shopify Trust Badges Apps
Now that you know how to install Shopify trust badges on your website, let's take a look at some of the best Shopify trust badges apps on the app store: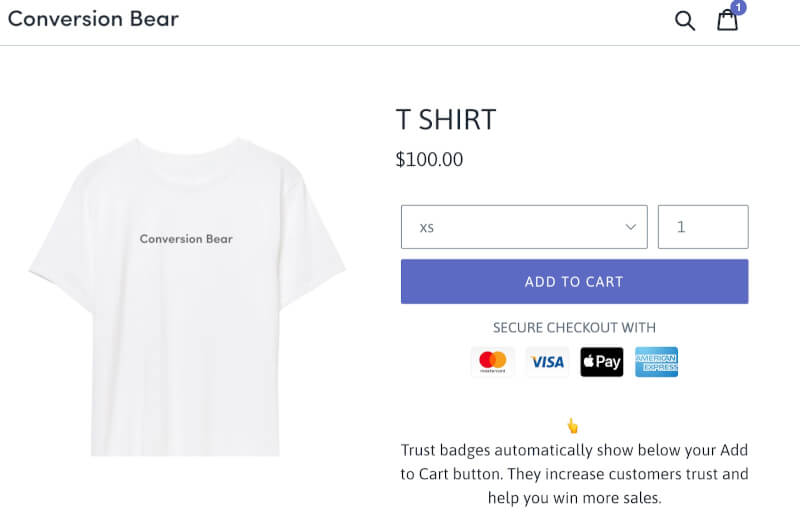 Ultimate Trust Badges is a comprehensive addition to your Shopify store. This app allows you to choose from a large selection of all types of badges. 
Dropshippers can customize their product page with any type of trust badges. Additionally, sellers can set up an animation. For example, you can set the badges to slide in when a prospect enters the page.  
The badges themselves are also quite customizable. You can decide between small, medium, and large for the badge size and whether to align them left, right, or center. Additionally, they come in four different designs. 
Finally, we can choose the text and size of the header. For example, you may want to write at the top 'Checkout Securely With' and then fill in the appropriate badges.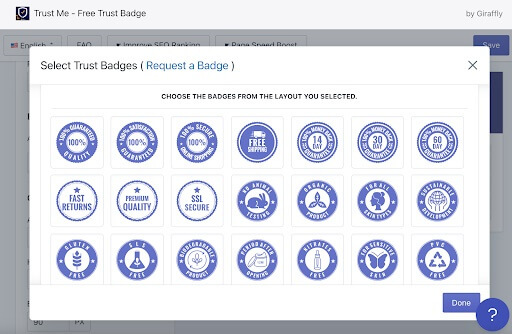 Trust Me offers most of the benefits of the Ultimate Trust Badges app, with additional badges and customization options.  
It has a huge library of badges that cover an international array of payment options in addition to special badges like "24/7 Customer Support". 
Trust Me distinguishes itself from other apps by splitting badges into three fully customizable categories. The three categories are Payment, Trust, and Special ('special' includes badges like "eco-friendly", "no animal testing", etc.). Each can be turned on or off at the setup stage. 
Sellers can modify the size and fonts of each heading. Badges from each category can get their own color which allows customers to distinguish between them clearly. 
Furthermore, each badge category can be stretched and sized beyond small, medium, and large. When you've finished customizing, you can publish it to your store in one click.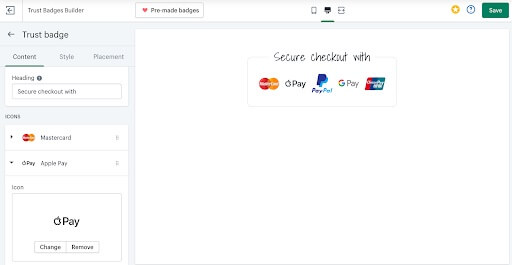 For a fully customizable experience, go with Trust Badges Builder. This app gives you many options to customize every trust badge. Furthermore, unlike other apps, you can place the badges almost anywhere on a given page without code.
Think of Trust Badges Builder as a user-friendly do-it-yourself project app for badges. 
Dropshippers can open the builder page, select any number of trust badges, and customize them by color, design, and font size. Additionally, they can add a line break at any point. 
Compared with the other two apps we covered, the builder page offers the most detailed preview of our trust badges. Aside from customizations like alignment or style, you can preview the badges from a mobile or desktop perspective at any time in the building stage. 
Shopify Checkout Page Trust Badges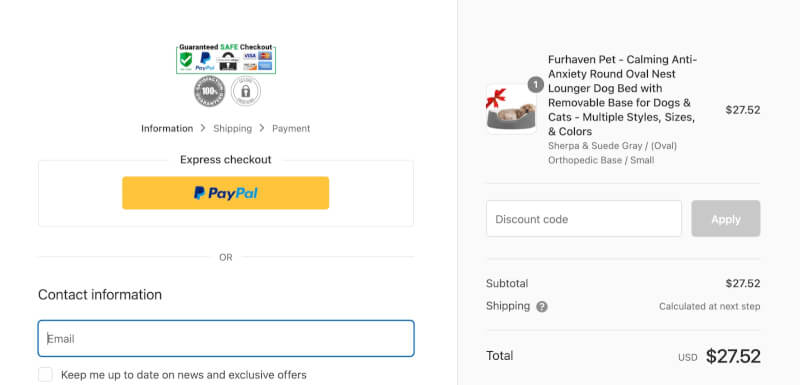 So far, we've seen how to add trust badges on product pages. However, we cannot emphasize enough the importance of trust badges on the checkout page. This is where customers often have the strongest doubts, right before finalizing the purchase. 
They know they want the product, but questions start coming up. Customers may wonder how fast the product ships or what payment options are available. Similarly, they want to be sure the product is of high quality and be given the option to return it if it isn't.  
Checkout page trust badges are a super-effective method to seal the deal. In fact, it is the most crucial part of trust badges to nail down. Think about it; this is the time the customer makes their final decisions about the purchase. 
A trustworthy checkout page can be the difference between a sale and an abandoned cart. Therefore, we should place a special emphasis on adding trust badges to the checkout page.
Transparent Trust Badges

While it is vital to add trust badges to the checkout page, most Shopify Apps do not offer a simple way to get it done. They specialize in product page trust badges. 
Nevertheless, we are fortunate that several sites have free collections of transparent trust badges to add to the checkout page. These badges are PNG files with a transparent background so that they can match your store's design and color scheme.
Configuring these trust badges on your checkout page is pretty simple. But before we do that, let's get our hands on a few quality transparent trust badges. 
The following three websites are the top sources for great and free transparent trust badges:

This community-based website contains over one million icons and images uploaded by people all over the world. You can select featured keywords or just search for anything that comes to mind. 
pngkey offers many styles and types of icons. Other than checkout trust badges, you can create a unique combination for your store's niche using HTML. For example, you can place a Twitter or Instagram icon under the "satisfaction guaranteed" badge.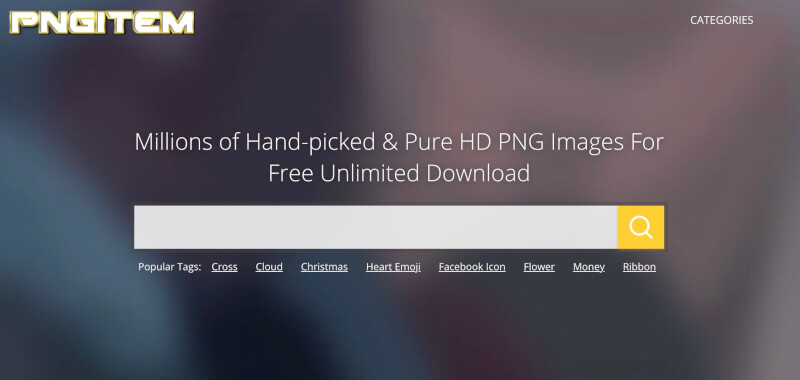 PNGitem contains millions of handpicked HD images and icons. It is the icon equivalent of a stock photo website. Dropshippers can find what they are looking for by selecting a category or a tag. Or, they can just search for anything in the search bar. 
For example, if you want to start a holiday sale, you can pick a couple of Christmas badges for items included in a sale. 
The site also gives us popular keyword tags to choose from. Dropshippers can use this feature to add unique trust badges they haven't thought of.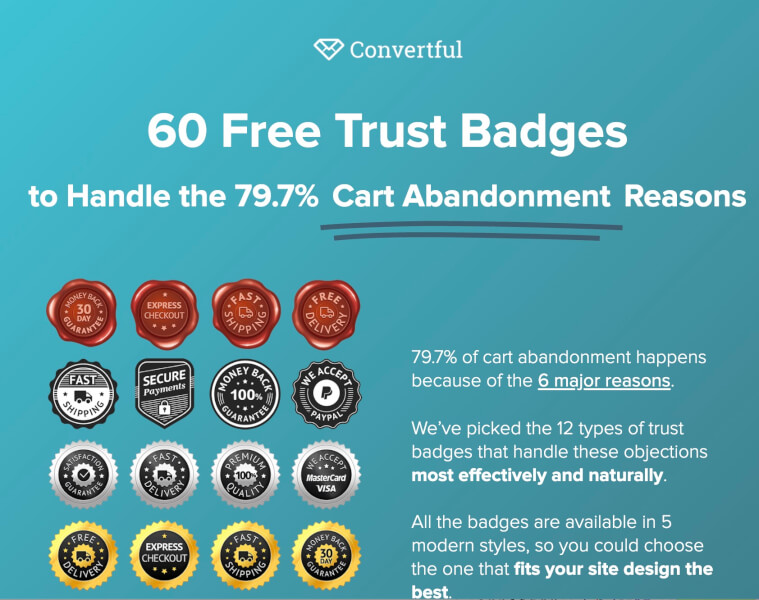 Convertful offers sixty free trust badges to anyone who visits their site. The badges are beautifully designed and come in five folders, each containing twelve of a particular style. 
Dropshippers can choose the style that best suits their store niche and design. 
Convertful also offers cart abandonment trust badges to help gain the trust of customers who added items to their carts but haven't made the purchase yet. 
Add Trust Badges To Your Checkout Page
Now that you've picked out your favorite transparent trust badges, here is a step-by-step guide to adding them on the checkout page. 
Steps: 'Settings' > 'Checkout' > 'Customize checkout' > 'Theme Settings' > 'Checkout'
First, go ahead and sign in to your Shopify store. Next, on the bottom right corner, click on 'Setting'. 
Then, from the options on your screen, select 'Checkout'.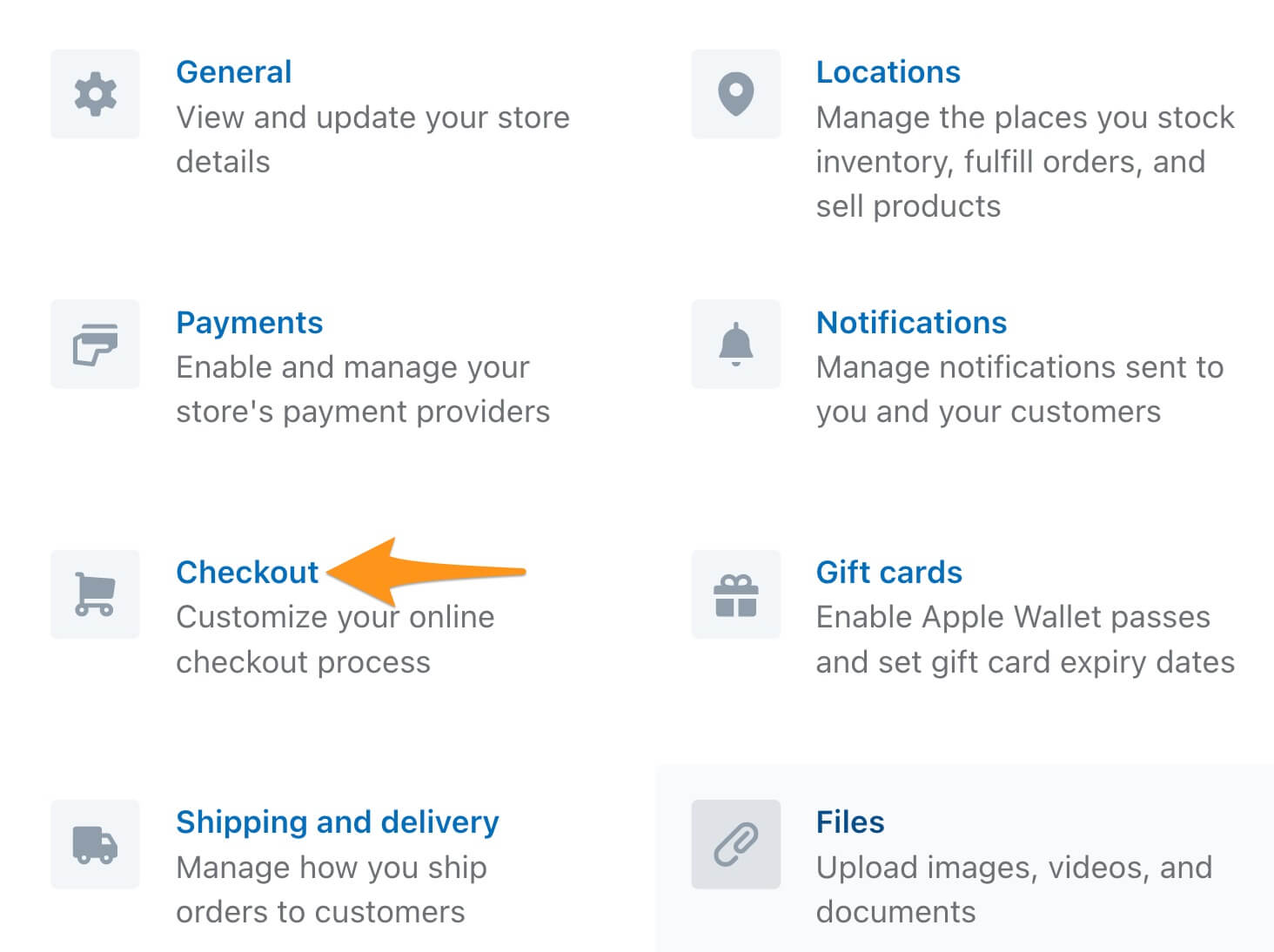 You've reached the page where you can customize many aspects of the checkout process. Go ahead and click on 'Customize checkout' in the 'Style' section.

You'll reach a page where you can change the themes and add background images. Most importantly, here's where you can add a trust badge. 
We're almost there. Click on 'Theme settings' located at the bottom left.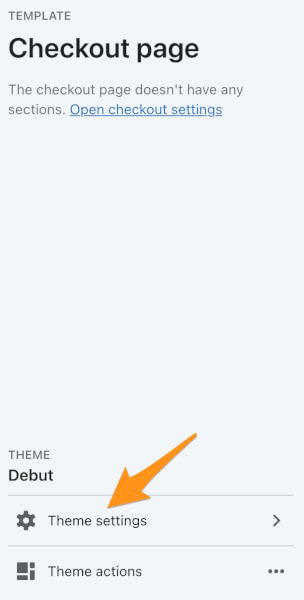 Now, select 'Checkout'.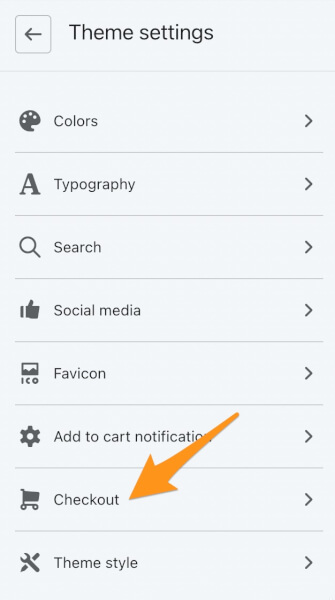 You'll see a menu with several options to add images. Scroll down to the one that says 'Logo'. From here, it's smooth sailing. 
Simply drag and drop your transparent trust image into the correct area, choose a size, and going forward, every customer sees the trust badge!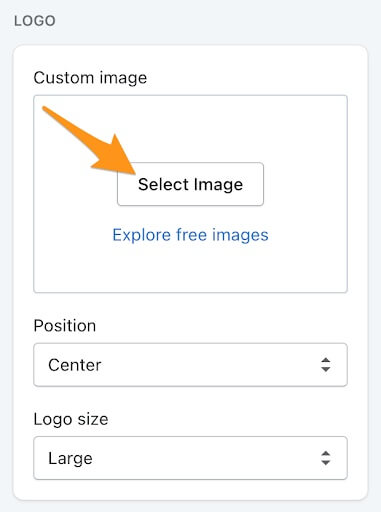 Adding Trust Badges With HTML Code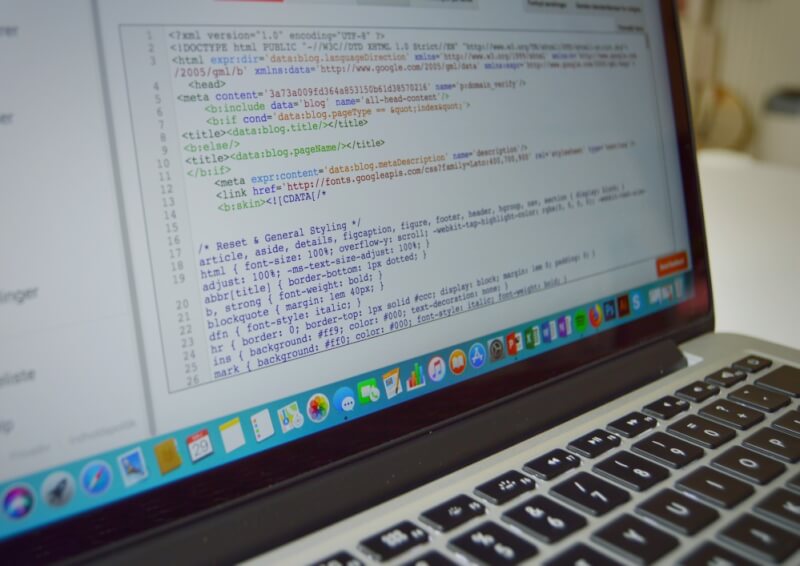 We now know how to display trust badges on both checkout and product pages. Dropshippers can do this without any code. We can add PNG badges to the checkout page and trust badges from Shopify apps to products. 
However, a technologically savvy dropshipper can take advantage of their coding knowledge to stand out from traditional Trust Badge apps. 
Utilizing HTML, we can add PNG trust badges to any product page. Similarly, If we go the Shopify trust badges app route, we can paste a line of code in the site's Ruby template. This way, we can add trust badges from apps directly on the checkout page. 
Regardless of code, there are multiple ways for dropshippers to display trust badges and increase their sales. So if coding is not your thing, don't stress it.
Dropshipping Orders Fulfillment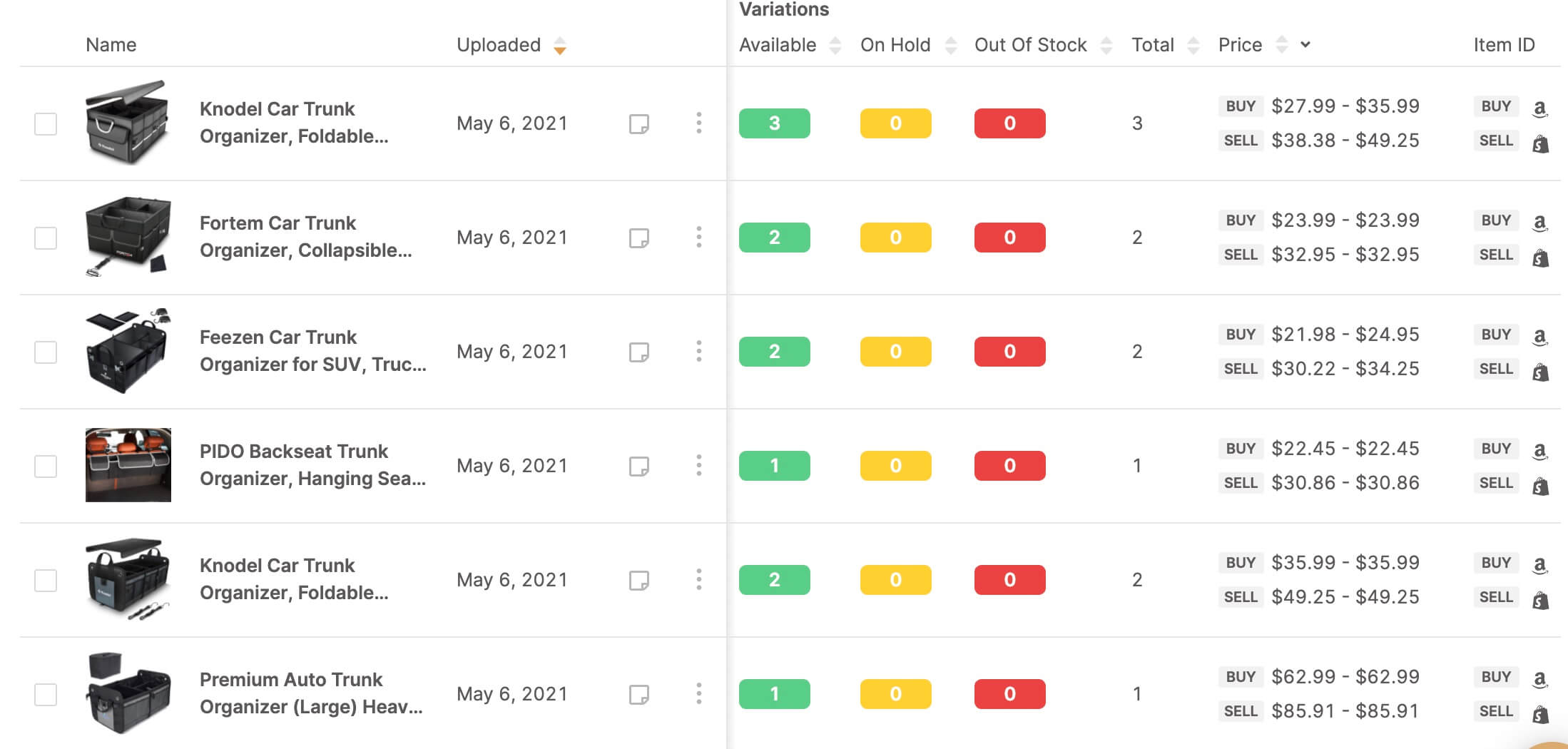 When it's all said and done, trust badges are one important part of a larger scaling plan. If our badges operate as they should, we expect to see more orders coming in. You want to ensure you have the capacity to handle it, especially with tracking and return processing. 
What if there was a tool to manage all of our orders and help us scale our business with peace of mind?
In fact, AutoDS does just that! With Fulfilled By AutoDS, you'll rarely need to process a return or an order again. You can install trust badges, and AutoDS will take care of the workload. 
The dropshipping platform takes care of every step from product finding all the way to placing orders and processing returns—an all-in-one automation tool like no other on the market. Fulfilled by AutoDS saves us the extra work by acting as our automated virtual assistant.
Now you can sit back and watch the profits roll in while you are free to take care of the things that matter in life. 
In Conclusion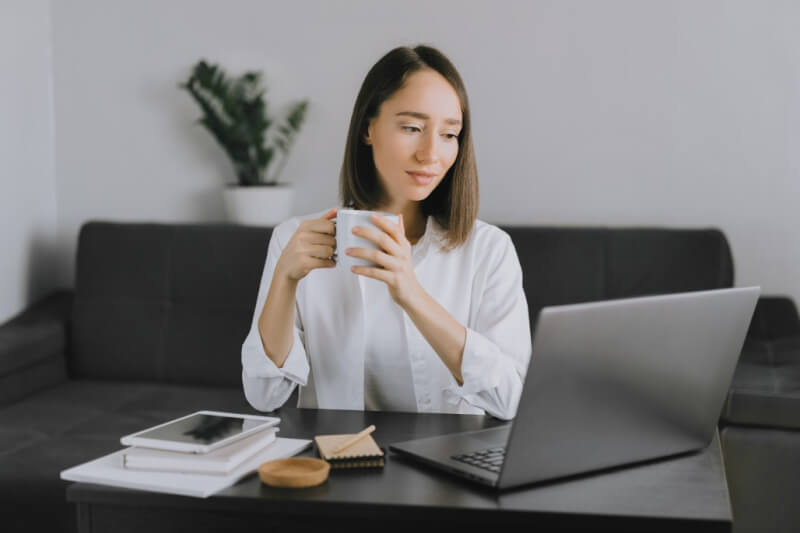 We've come a long way in learning all about Shopify trust badges, why they work, and how to install them. The amount of information may seem overwhelming. However, once you begin configuring your trust badges, it will be like a breeze. 
Many sellers and dropshippers underestimate the importance of building trust. We now have a powerful tool to build credibility amongst our customer base and convert that into higher sales and happier customers. 
Trust badges are one of the most powerful marketing tools at our disposal. As a proven device that has worked in many industries over the years, it's an essential piece of scaling our store and growing our profits. 
You have an added toolbox to help scale your Shopify dropshipping store. Regardless of how you go about it, don't forget that here at AutoDS, we can help you every step of the way. Whether you decide to join our mentorship program or subscribe to Fulfilled By AutoDS, we've got your back. 
As you automate your scaling plan, you'll be able to sit back and watch your profits grow. Then, you can spend the extra time creating more passive income and enjoying a free lifestyle. 
Learn more ways to increase your Shopify dropshipping sales with the following articles and video: