Have you ever thought about opening an online store but were deterred from it because of the need to hold inventory? Well, you're in luck because you've landed on the right page to gain some insightful information.
Whether we are aspiring entrepreneurs or someone who wants to escape the 9-5 grind, owning an eCommerce business is the quickest way to reach our goals. There are different business models when selling online. Some people like to work with inventory, whereas others prefer no inventory models.
While many people know the perks of running an online store, some have yet to figure out how to sell without inventory. This article will guide you through the benefits of not holding an inventory and the steps to start an online store without inventory.
Inventory Vs. Dropshipping – Which Is Better?
As an eCommerce store owner, an inventory model means products are bought in advance. Then, the store owners list them in their online store to sell them.
In contrast, dropshipping is a fulfillment method where retailers do not keep the products they sell in stock. Instead, when a retailer receives an order, they purchase the item from a third party that ships it directly to the customer. Let's take a look at both their pros and cons to find out which one is better.
Pros Of Inventory Model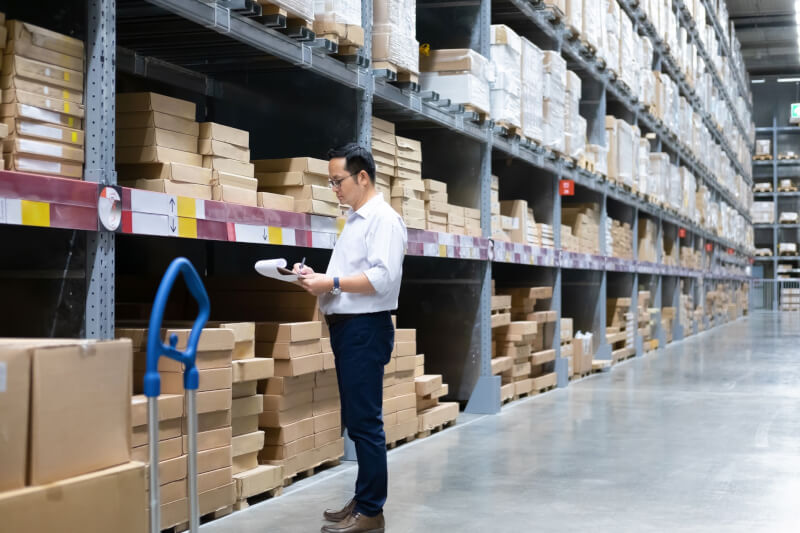 Faster Order Fulfillment

Reduces risk of shortages

Bulk discounts
The first advantage of holding an inventory is that we can fulfill orders faster. That's because we have the products and can directly ship them from our warehouses. As a result, customers are more likely to buy from us again.
Furthermore, our suppliers can experience stock shortages in peak seasons. A stock shortage is an inconvenience for our customers, but it also ruins our reputation among customers. As such, the inventory model can help prevent these stock shortages from occurring.
Finally, the inventory model enables us to get bulk discounts. One of the ways that we can increase our profits and gain a competitive advantage is by purchasing large product quantities. When we buy products in bulk, our suppliers will be able to offer us discounts. Hence, we will be able to buy products at a lower price, allowing us to earn more money on each sale.
Cons Of Inventory Model
Storage costs

Outdated inventory

Reduced cash flow
On the downside, the biggest drawback for inventory-based businesses is the storage cost. When store owners purchase an item, they must pay for the space to store the products.
Similarly, another risk that we face when holding inventory is that the products can go out of style and, thus, have no demand. When items have no demand, we have to sell them at low prices or write them off entirely.
With the inventory model, most businesses purchase goods in bulk to get a better price. While we may get better prices, we are also investing a lot of money into a vast inventory. Therefore, it reduces our cash flow to cover expenses such as marketing.
Pros Of Dropshipping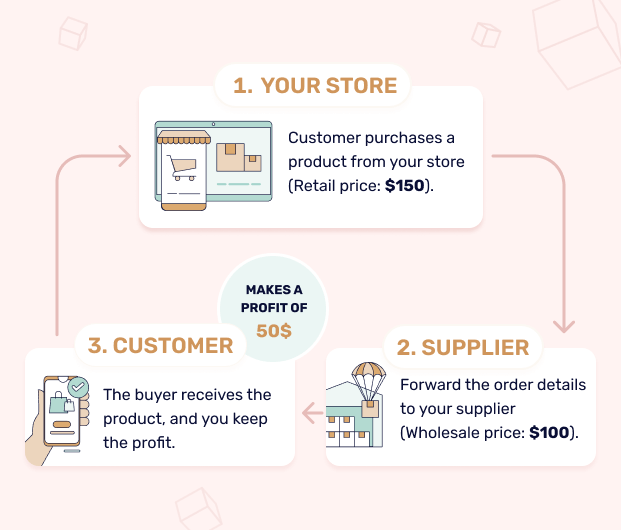 Lower startup budget

Low risk

Test products without buying in bulk

Flexibility

Scalability
The first advantage of dropshipping is that we can start with a low startup budget. Also, there is low risk because we don't have to pay in advance for products or store inventory.
Moreover, traditional eCommerce stores have to buy the products in bulk before testing them on the market. On the other hand, dropshipping allows us to test products without buying them in bulk. Instead, we just list various products in our store, optimize the best sellers and replace the poor performers.
Additionally, we have the flexibility to work on our business from anywhere in the world and at any time. Plus, we have more freedom without managing and shipping inventory ourselves.
Eventually, we can scale our business by adding more products and automating our dropshipping business.
Cons Of Dropshipping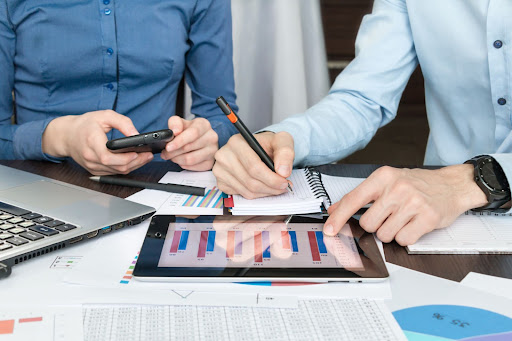 High competition

No control over stock and shipping
Although there are a lot of advantages, dropshipping has a couple of drawbacks. First, there is a high amount of competition within the industry as the entry barrier is low. Nevertheless, researching products thoroughly and finding a unique niche to dropship in helps us overcome the problem.
Second, we have no control over the availability of products and shipping. Availability of stock and shipping times can fluctuate due to external factors. With this in mind, we need to choose reliable suppliers for our dropshipping business to ensure these factors have minimal impact on our store.
Undoubtedly, dropshipping is the better option in comparison to the inventory model. Since dropshipping doesn't require us to have an initial investment, we can focus on marketing and scaling our store.
 Plus, unlike the inventory business model, we don't need to worry about holding inventory when dropshipping. Overall, the dropshipping business model has lower risk factors and higher profit potential than the inventory model.
How To Start An Online Store Without Inventory
Now that we know the advantages and disadvantages of dropshipping let's see how we can create an online store without inventory.
These ten steps help us create, establish and run a successful online store that doesn't require inventory. Let's go over each step in detail.
Step 1: Product Research: Find Products To Sell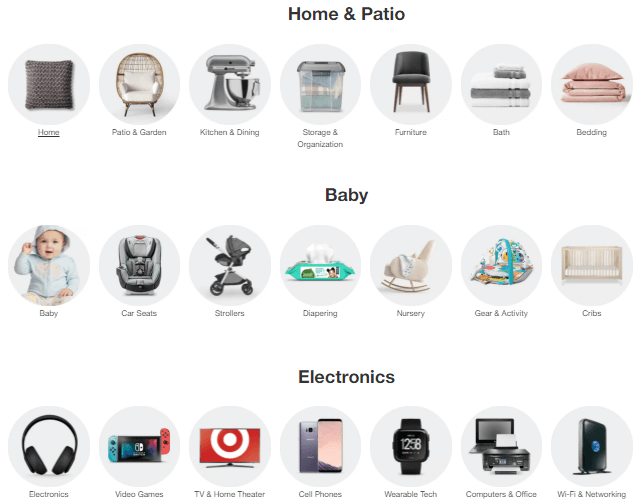 The first and arguably most crucial step is product research. By conducting product research, we can find the best in-demand products to add to our store. With that said, here are some of the best ways to perform product research:
AliExpress Dropshipping Center

Supplier Product Research

Competitor Product Research

AutoDS Product Research Tool
Let's find out about these methods in detail. With this information, we can instantly find hundreds of products to dropship in our stores.
AliExpress Dropshipping Center
As we know, AliExpress is one of the leading dropshipping suppliers worldwide. As such, the AliExpress Dropshipping Center is a powerful product research tool provided by the supplier. It helps dropshippers connect with reliable suppliers and find the hottest products. By using this tool, we can find trending products for our stores.
Since it allows us to analyze the products before listing them in our store, we can be sure to find products with good potential. Most importantly, it is a free platform. So, even if we use selling channels other than AliExpress, we don't have to pay to use the dropship center.
Supplier Product Research
One of the fastest ways to find trending products is to check out suppliers' websites. Suppliers' websites have trending or best sellers sections where we can view what's in demand. For example, Amazon's best sellers provide us with top product ideas updated each hour.
Competitor Product Research
The third method to research products is to spy on our competitors. Spying on what our competitors are doing and selling successfully gives us further insight into what's working for them. From this, we can adapt our own product categories to ensure we're selling what's in demand on the market. With that said, here are some ways to perform competitor product research:
Competitor Research on eBay

: We can search for our desired niche and see what's selling successfully. Then, we can sort products by '

sold items' on the left side, which will show how many products have been sold in total.
Competitor Research on Shopify and Wix

: Spying tools and software is another method to perform competitor research. Spying software like

Koala Inspector

checks a product's performance on our competitors' Shopify and Wix stores.

From this information, we can optimize our products to ensure sales.

Competitor Research on Facebook Marketplace

:

Since Facebook Marketplace is a new platform, simply list bestsellers from the suppliers under your niche. Doing so generates free organic traffic and sales in our stores if the product is in demand.
AutoDS Product Research Tool
If you are looking for easy access to the best-selling products from AliExpress and Amazon, the AutoDS Product Research tool is your best option. It gives us access to tons of products. With built-in filters like price, suppliers, ratings, shipping times, and reviews, we can narrow our search to find winning products.
Furthermore, we can also use AutoDS Product Finder to find profitable products from different platforms with a few clicks. The Finder scans hot-selling products and finds the same products or similar ones from our supported suppliers.
With these two amazing research tools, we can optimize our store's products and secure high profits. Plus, these tools save us loads of time allowing us to focus on scaling our dropshipping store.
Once we use all these product-finding tools, we can easily find best-selling products. Then, we can further narrow down the high potential products with the Product Research Spreadsheet.
While the product-finding methods help us gather a list of popular and profitable products, the product research spreadsheet helps us narrow down this list to ensure we're only selling the best of the best. By doing so, we'll optimize our dropshipping store which will result in higher profit margins.
Step 2: Choose A Supplier That Ships Without MOQ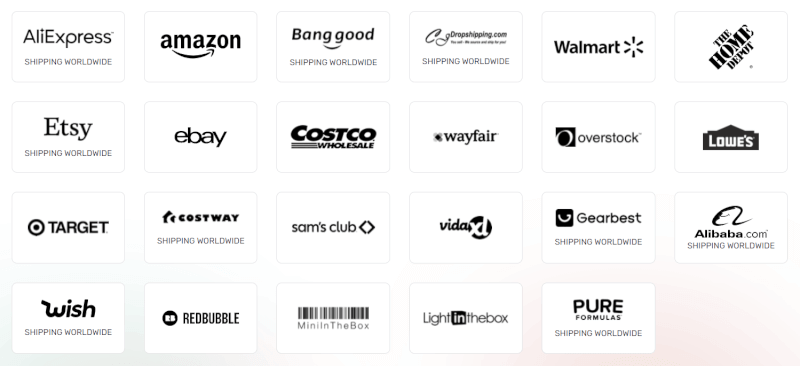 After narrowing down our winning products list, we need to find a dropshipping supplier with those products in stock. When looking for a dropshipping supplier, we should consider the following factors:
Minimum order quantity

(MOQ)- Does the supplier require a minimum order of products?

(If yes, it's best not to dropship from them).

Pricing

– Does the supplier offer discounts and affordable prices?

 

Product Niche

– What product category does the supplier cater to?

Dropshipping Fees

– Do we need to pay separately for dropshipping services?

Shipping and Delivery Times

– How much time does the supplier take to ship products?

Shipping Carriers

– Which company does the supplier use to deliver its products?

Payment Methods

– What payment methods does the supplier accept? 

Return Policy

– What is the policy related to product returns and refunds?
While all of the above factors are crucial for a successful dropshipping business, one of the most critical factors is a supplier's MOQ. If a supplier has an MOQ requirement, it's best not to work with them as it doesn't align with the dropshipping model.
When dropshipping, we purchase products from our suppliers on a per-order basis. Thus, if there's an MOQ and we don't have enough customer orders to fulfill the requirement, then we will have to hold inventory, which is not part of the dropshipping model.
With that said, ensure that the supplier checks off the boxes for other factors besides MOQ. If they fulfill other requirements such as fast shipping time and affordable pricing, then we can choose to work with them.
Working With Multiple Suppliers
Another key to our dropshipping success is working with multiple suppliers. When we work with various suppliers, we have a broader selection of products and healthier market competition. As a result, we can negotiate prices and receive discounts on our orders.
Plus, it's always better to have a backup if one supplier runs out of stock of our products or is delayed with shipping. But, how can we manage to work with multiple suppliers?
That's where AutoDS comes in. AutoDS is dropshipping automation software that allows us to work with multiple suppliers from a single platform. Additionally, AutoDS has the list of best dropshipping suppliers allowing us to get the best possible deals and reliable service.
For example, let's take a look at CJDropshipping. As one of the best dropshipping suppliers, CJDropshipping offers a massive selection of products from all categories. Along with the variety, it offers print-on-demand products (POD). Print-on-demand is a process where we work with suppliers to create custom-designed products under our brand name.
Similarly, Amazon is another excellent dropshipping supplier with a large selection of products. Additionally, it is a trustable supplier renowned globally. Besides that, Amazon has comparatively fast shipping times with its same-day delivery and two-day delivery options. With Amazon, we can dropship products from almost any category and be sure that they will reach our customers quickly.
Overall, choosing suitable suppliers for our business can help us immensely. Once we have suppliers in place, we can choose the proper selling channels. 
Step 3: Selling Channels: Where Should You Sell?

Now that we have suppliers in place, it's time to choose selling channels to list our products. Selling channels are where our customers come to see our products. In general, there are two types of selling channels: customizable eCommerce platforms and marketplaces.
Customizable eCommerce platforms enable us to create websites with our own domains. By doing so, we can brand our store which will help us increase brand awareness. As such, Shopify and Wix are two platforms where can create a custom dropshipping store. With a multitude of templates and easy-to-use design options, we can easily brand our store. As a result, we can personalize our dropshipping business and target a global audience to increase our sale potential.
On the other hand, marketplaces like eBay and Facebook Marketplace are trading channels with existing traffic. Since marketplaces have existing active users, there is a high chance that our store will be visible to the customers. While we can't brand our stores like with Wix and Shopify, we don't need to worry about bringing people to our website as there's already organic traffic on the marketplaces.
Ultimately, whether we choose an eCommerce platform or a marketplace, we can succeed with our dropshipping venture. With that said, here are the pros and cons of both types of selling channels to help us choose the perfect fit for our business:
Pros of Wix
Fully customizable platform

Easy to use interface 

Advanced integrated eCommerce tools
As a website builder, Wix allows us to customize our websites according to our preferences. With custom designs, templates and logos, we can make our store unique and beautiful. Most importantly, we can do so with Wix's easy-to-use interface. As it operates on a drag and drop system, we don't need to worry about coding or designing from scratch.
Moreover, the Wix platform allows integration with various apps and eCommerce tools from the Wix App Market. With a vast selection of apps and tools to help enhance our dropshipping business, we can easily scale our Wix dropshipping store.
Cons of Wix
No organic traffic 

High marketing costs
Although Wix offers us many benefits, there are also a couple of drawbacks. First, there is no organic traffic because Wix is not a marketplace with existing users. This means we have to invest in marketing to attract customers to our website. Since we have to constantly market our store to generate sales, we will incur higher marketing costs. Nonetheless, we can receive a profitable return on our investment using proper marketing resources. 
Pros of Shopify
Designer-made eCommerce templates

Shopify App Store 

24/7 customer support
Not only is Shopify an easy-to-use platform for dropshipping, but much like Wix, it offers various designer-made templates for our online store. With these templates, we can customize and brand our store to increase our website traffic and attract more customers.
Similar to the Wix App Market, Shopify has its own App Store. The only difference is that Shopify's app store is much bigger, with over 3000 apps and tools to take our dropshipping store to the next level.
Lastly, Shopify has excellent customer service that is second to none. That's because Shopify has 24/7 customer service available in all languages. So, if we're beginners, Shopify is an excellent option if we encounter any issues or need help.
Cons of Shopify
No organic traffic

High subscription fees
On the downside, Shopify has no organic traffic because it is a customizable eCommerce platform. Unlike trading platforms, it does not have existing users who visit our stores. And, without organic traffic, we will have to pay for marketing costs to attract new customers.
And, although Shopify has many features, it also has higher subscription costs than its competitors. For instance, the subscription costs start at $29 for the basic plan, $79 for the standard plan, and $299 for the advanced plan.
Thus, pricing is somewhat expensive if we compare it with Shopify's competitors, such as Wix. Nevertheless, it is essential to note that Shopify offers more advanced features than Wix, which justifies the pricing differences.
Pros of eBay
Easy-to-use interface

Low setup cost

Free organic traffic 

Easy promotions
As a trading marketplace connecting buyers and sellers, eBay is a very easy-to-use platform. All we need is to open an eBay account, set business policies, and start selling. Additionally, there is a low setup cost on eBay. We can start with zero investment upfront and continue to scale from there.
Even with the low setup costs, eBay gives us access to massive traffic. With over 150 million active users, our eBay stores can quickly generate organic traffic. To attract even more customers, we can promote our products on eBay.
There are two ways to promote our listings on eBay: Promoted Listings Standard and Promoted Listings Advanced PPC. These promotions help our products rank in the top spot on eBay search pages.
Cons of eBay
Selling limit

Additional fees
However, eBay imposes a selling limit on new sellers. If we are beginning to sell on eBay, it limits how many products we can list. For new eBay sellers, the selling limit begins at ten products per month and a total value of $500.
The next drawback of eBay is the selling fees. Selling fees like the final value fee refer to the amount eBay charges us when our product sells. While final value fees can differ according to category and the account type, they are usually around 10-15% of the selling price.
Similarly, eBay charges us a monthly subscription fee if we expand into an eBay store. Subscription plans for a 'Starter Store' start at $4.95/month, and 'Enterprise Store' costs $2999.95/month. So, we must pay subscription fees, even if we don't sell products.
Pros of Facebook Marketplace
Low competition 

Free organic traffic 

Low selling fees

No selling limits, unlike eBay
Facebook Marketplace (FBMP) is Facebook's eCommerce platform connecting buyers and sellers. Since it is a new platform, there is low competition among the sellers. In addition, like eBay, our stores on FBMP generate organic traffic because of the massive number of Facebook users.
Moreover, Facebook charges a selling fee of 5% per shipment or a flat fee of $0.40 for orders below $8. These are comparatively low selling fees, and we only have to pay the fees if we sell the product. Finally, there are no selling limits on FBMP. While marketplaces like eBay have selling limits, we can sell unlimited products from the first day using FBMP.
Cons of Facebook Marketplace
No dedicated page to show our brand image

Selling limitations for non-US citizens
Unlike customizable websites, FBMP doesn't offer us a dedicated page for our online store. Therefore, we are unable to establish our brand. The only way to show our brand is to include the brand name in the title.
Moreover, FBMP has many restrictions in place for non-US citizens. For example, non-US sellers can only list items in a single location, whereas US sellers can list them in multiple locations. Listing our items in multiple locations helps our store gain more visibility resulting in higher organic traffic and sales.
Considering the pros and cons of all the selling channels, choosing which one suits us better is up to us. To clarify, Wix and Shopify are better choices for dropshippers who want to offer a personalized experience for their customers. On the other hand, eBay and FBMP are perfect for those who want immediate organic traffic in their stores.
Step 4: Business Automation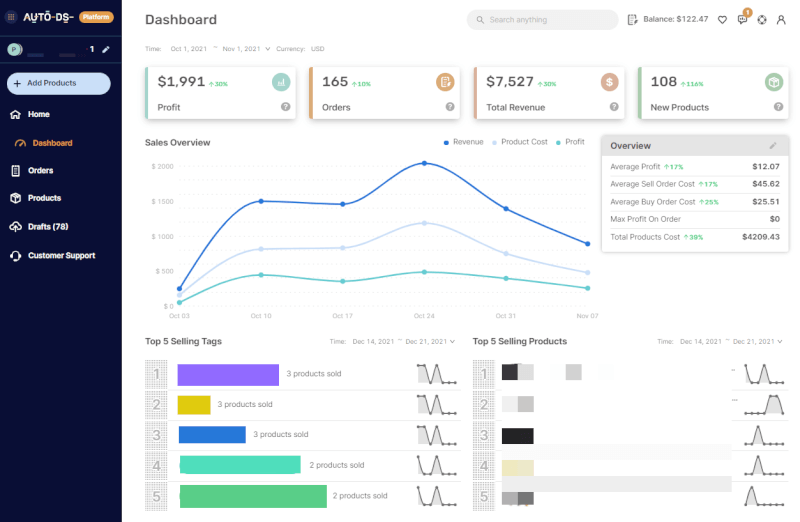 To successfully scale our online store, we need to automate our business processes with dropshipping automation software. Aside from choosing the right selling channel, dropshipping automation is the best way to achieve higher profit margins. Essentially, we can dropship products to our stores manually or automatically.
Let's talk about manual dropshipping. Manually operating a dropshipping store is tedious and time-consuming. For instance, to import a product manually, we must visit our supplier's website. Then, we have to copy the product title line by line. Additionally, we need to import images and variations of the products. Overall, it is a tiresome process that takes a lot of our time.
On the other hand, dropshipping automation eliminates the need to do things manually. With dropshipping business automation, we can focus on scaling our business to take it to the next level. Hence, the most significant difference between automation and manual dropshipping is that the automation software automatically operates our business processes while we sit back and relax.
Benefits of Dropshipping Automation
With this in mind, AutoDS is one of the best software for business automation. Here are the top features of AutoDS that makes it the best dropshipping automation software:
Product Research Tool
Product Importing
Price and Stock Monitoring
Complete Order Fulfillment Solution
Automatic Orders
Using these automatic features, we never have to worry about searching and listing products to sell. Similarly, it keeps us updated with market price changes and stock availability. To top it off, it fulfills our customers' orders efficiently and accurately, without us having to interact with the system.
Furthermore, the automatic tracking number updating feature automatically sends tracking information to our customers. It helps to keep them informed about their purchases.
With these excellent benefits, we can use the automation features using any of the 25+ dropshipping suppliers listed above. So, there's no need to stay glued to our screens and manually operate our dropshipping business. Let AutoDS do the work for you as you watch your sales roll in.
Step 5: Create Your Online Store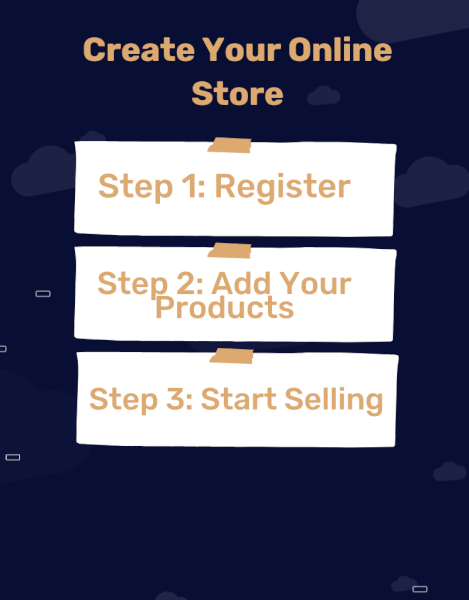 As we already know, we need to create an online store to list our products and start making sales. Hence, we can create our online store on selling channels like eBay, Facebook Marketplace, Shopify, and Wix. Here is how we can create our online store with different selling channels:
Creating A Store On eBay/Facebook Marketplace (FBMP)
Step 1: Register for a free eBay and FBMP account
Step 2: Import your product listings 
Step 3: Shoppers will begin to purchase our products
Creating A Store On Shopify/Wix
Step 1: Register for a Shopify/Wix account 
Step 2: Import products to your Shopify/Wix store
Step 3: Customize homepage, product pages, themes, logos, etc.
Step 4: Launch your business to the public
Step 6: Import Your Products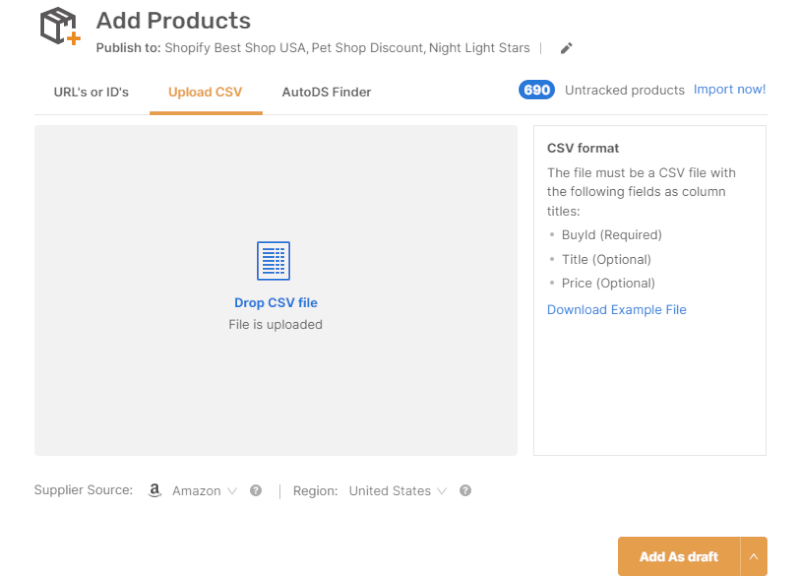 Now that our dropshipping store is ready, we need to add products. We can either add products manually or automatically. Manual product imports take a lot of time because we import products one at a time. In contrast, the automatic import process automatically imports the products to our store, without us having to copy the products one by one.
To list our products, we have to import products from our supplier's websites. With AutoDS, we can automate the product importing process to save time and effort. Using the AutoDS Product Importer, there are four quick and easy importing options to use:
One-click Importer

Single Product Importer

Multiple Product Importer

Bulk Upload with a CSV file
To demonstrate, let's import products using the bulk CSV importer. The bulk importer allows us to import tens of thousands of items in a few minutes. To begin importing, start by installing the AutoDS Helper Chrome extension. Then, head over to the supplier's website and search for products you want to add.
Once you get to an item search page you like, activate the extension by clicking on the logo in the bottom right corner.
With the Helper extension activated, click on 'Extract.' Next, click on 'Export as CSV.' This will create and download a CSV file, including all the items that you can see on your search page.
Once the CSV file is ready, head over to the AutoDS platform and click 'Add Products.' Then, click on "Upload CSV." Once the dialog opens, drag and drop the CSV file you recently downloaded.
After the CSV file is uploaded, we can choose to add products as drafts or directly publish them in our stores. Thus, bulk importing is the best method to import many products simultaneously, saving us time.
Step 7: Market Your Online Store
At this point, we already have an online store full of products. However, we need to market our dropshipping store to increase traffic and sales.
Since marketing products allows us to generate sales, we can achieve higher profit margins. Learning how to market our online store is crucial for dropshipping. Here are some ways to market an online store on the four most popular selling channels.
eBay Marketing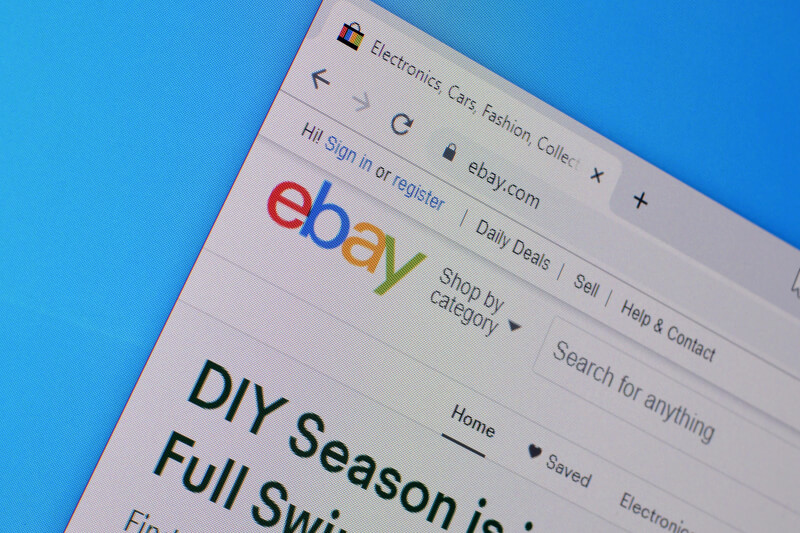 Promoted Listings Standard

Promoted Listings Advanced (eBay-PPC)
The first method to market our eBay store is Promoted listings. It enables us to market our store and feature our products on eBay. As a result, more customers will find our store in their search and buy from us. Moreover, we only pay a promotional fee if the product sells.
On the other hand, eBay Promoted Listings Advanced allows us to run ad campaigns on eBay. Ad campaigns allow us to push our products to the top spot on search results to boost sales. As this marketing method runs on a pay-per-click basis, eBay will charge us a certain fee each time a customer clicks on the ad.
Shopify/Wix Marketing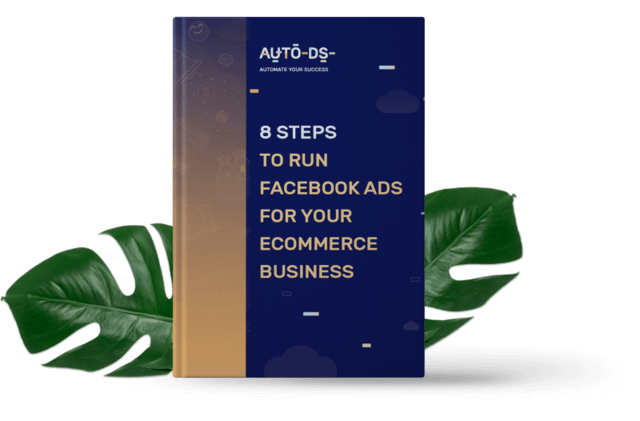 PPC Ads (Facebook, Google, Youtube)

Email Marketing 

Influencer Marketing
The first marketing tool for Shopify and Wix is pay-per-click (PPC) ads. With PPC Ads, we can advertise on various platforms like Facebook, Google, and Youtube. 
The more people click on our ads, the more views our store gets, which results in a higher profit potential. Like eBay's promoted listings advanced, we have to pay when someone clicks on the ad.
Another way to market our online store is through email marketing. An effective email campaign (tools like drip email campaigns can help you with that) generates sales while building customer loyalty and a positive brand image.
Therefore, we have to persuade viewers of our websites to give us their email addresses. Building a solid email list helps us to utilize email marketing to gain more leads. One way to do so is by providing discounts in exchange for customer email addresses.
At last, the third marketing method is influencer marketing. Influencers are individuals with huge followers on social media. With that in mind, influencer marketing is one of the most effective ways to promote our store. Since influencers have a huge following, dropshippers can pay influencers to review and promote products to increase our store's sales.
Facebook Marketplace Marketing
Facebook Promotions

SEO optimized titles

Sharing our listing in buy/sell groups
Since Facebook Marketplace has more than one billion active users, it is an excellent platform to promote our products at a low cost. And the first method to market our store is Facebook promotion.
Similar to eBay's promoted listings, promoting an item on the Facebook marketplace helps it rank on top when customers search for similar products. As a result, they are more likely to buy from us than others.
The second method is to use SEO-enhanced product titles. As shoppers like to look around and search for products, we need to optimize our product titles to attract them. Hence, SEO enhanced product titles help us rank well whenever a customer searches for them.
Finally, we need to share our listings in buy and sell groups. Here, the goal is to get our products to as many customers as possible. Ultimately, the strategy leads to more people finding out about our products and purchasing them. And the best part is that it's completely free.
Step 8: Order Fulfillment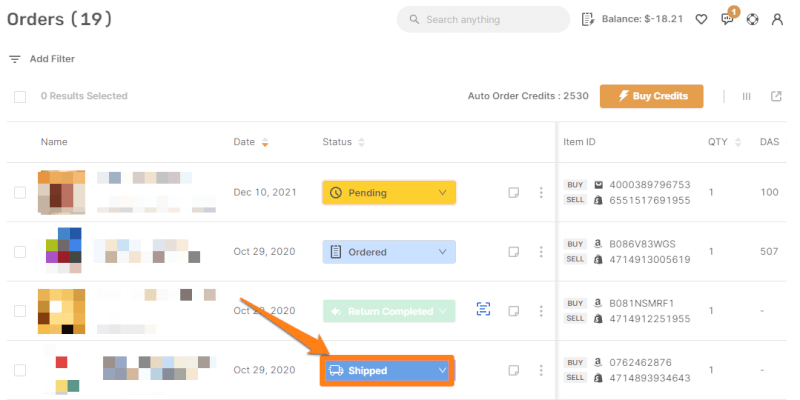 With the right marketing strategies, customers will undoubtedly visit our store to order from us. So, we have to fulfill their orders as soon as possible. Doing so increases customer satisfaction and helps build a long-lasting relationship with them.
To fulfill orders, we can use two different methods: manual and automatic. Manual fulfillment means going to the supplier's website for each order, filling in customer details, and placing the order. Since the fulfillment process is time-consuming and tedious, manually fulfilling orders is not the best route for dropshipping.
In contrast, automatic order fulfillment saves us time and effort by having software do it. Instead, we can dedicate our time to scaling our business. With that said, AutoDS offers us two types of automatic order fulfillment solutions:
Automatic Orders

Fulfilled By AutoDS
Let's dive right into how the two methods function. Then, we will be able to automate our customers' orders accordingly.
Automatic Orders
Automatic order fulfillment is the first solution for order fulfillment. With the help of automatic orders, the AutoDS platform will order the products from our suppliers directly. Then, our products are automatically shipped to our customers with accurate tracking information. As such, we don't need to worry about manually updating our customer orders.
Using this automatic order fulfillment method, our buyer accounts with our suppliers are automatically charged. Most importantly, these accounts are linked to our preferred payment options.
Fulfilled By AutoDS
On the other hand, the Fulfilled by AutoDS service provides a completely automatic solution for order fulfillment, tracking information updates, and one-click returns. Unlike Automatic Orders, it doesn't use our buyer accounts and payment information to fulfill orders.
Instead, once we load the balance on our AutoDS account, Fulfilled by AutoDS will automatically process all our customer's orders. Furthermore, it sends tracking information to our customers automatically when they order from our stores. So, customers can track their products easily.
All in all, Fulfilled by AutoDS is an efficient method for automatic order fulfillment. Plus, we can integrate this tool with AutoDS' supported U.S. suppliers.
Step 9: Customer Service
After we fulfill orders quickly and accurately, we need to care for our customers. Excellent customer service paves the way to a strong foundation for our business.
By providing optimal customer service, we increase our customer loyalty and, thus, positively impact the long-term survival of our eCommerce business. 
With this in mind, here are some tips on how to take care of our customers:
Answer customer messages and inquiries daily.

Look after the returns/replacements and send replacements/refunds on time

.

Make sure that no customer goes unanswered.

Offer promotions when your customers reach out. It will improve their chances of buying again.

For eBay, we can use a

customer support management system

on AutoDS where we can easily track, manage, and answer all of our customers' messages. The best part is that we can manage multiple stores under one dashboard.
Step 10: Scale & Multiply Your Profits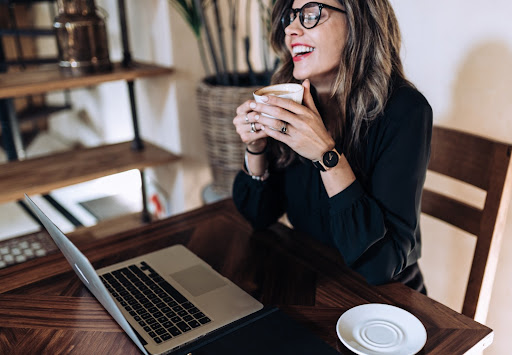 Last but not least, it's now time to scale our business and rake in substantial profits. But how do we start scaling our dropshipping business?
To start scaling, we can analyze our bestsellers and add more products that are selling with the help of rapid product importing. As such, we can use AutoDS to track our best-selling products, tags, and collections. In addition, we should replace slow movers and products with high return rates with new trending products.
Similarly, we can track Return On Ad Spend (ROAS) and find the sweet spot. Then, we should scale the ads that are converting well and turn off those that aren't performing well. Scaling ads also means raising the budget for marketing ads until we achieve our ROAS goal.
Next, we should add more trending products to our store because the more in-demand products we have, the more sales we generate. Finally, we can use pricing automation to optimize our products further. Pricing automation increases the price when a product is selling well. In contrast, it decreases prices on slow-movers, thus, ensuring continuous sales.
"Beginner's Tip: Add Virtual Assistants (VAs) to assist you in dropshipping. VAs can help take the load off of our daily tasks and allow us to focus on growing our business."
Frequently Asked Questions
Is It Possible To Run An Online Store Without Inventory?
Absolutely! With the dropshipping business model, we can run an online store without holding inventory.
How Much Does It Cost To Run An Online Store Without Inventory?
Next to nothing! With the dropshipping business model, we can start our online store with minimal investment. Some costs include selling channel subscriptions and marketing. Nevertheless, subscription fees and marketing costs won't affect our profits once our store generates sales.
Is Dropshipping Profitable In 2022?
Definitely! Dropshipping is profitable in 2022 and will continue to be profitable in the coming years. Plus, we can quickly scale our business and reap the rewards without holding inventory. According to Market Data Forecast, the global dropshipping industry will cross $500 billion by 2025, growing by 8% yearly.
Where Can I Find Suppliers Who Ship Without A Minimum Order Quantity?
Finding suppliers who ship without requiring a minimum order quantity (MOQ) is essential for the dropshipping business model. We can find suppliers who don't need MOQ from the list of AutoDS' 25+ suppliers. And, we can discover more under "Step 2: Choose A Supplier That Ships Without MOQ" in this article.
Conclusion
Pat yourself on the back. Now, you know how to start an online store with this step-by-step guide. With this information, we can establish a successful online store without holding inventory and optimizing the dropshipping business model.
Furthermore, you can save time and focus on scaling your business with business automation. Remember to keep learning as you proceed to build a long-lasting business.
With that said, if you want to start an online store without inventory, these articles will help you become a professional: