Thanksgiving Day is a federal holiday celebrated in the United States and a few other countries, including Canada, and occurs every fourth Thursday of November of every year. This year, 2022, it falls on Thursday, November 24.  A lot of entrepreneurs dropship during thanksgiving.
The history of Thanksgiving goes back to the Pilgrims celebrating with a three-day feast on account of their first harvest in the New World in 1621.
Thanksgiving dinner and turkey is the modern symbol of this holiday, which involves a great feast with family and friends. It is a holiday of giving thanks and showing gratitude.
In this article, we will share with you unique product ideas to dropship during the Thanksgiving holiday so you can make the most out of this holiday.
How Thanksgiving Can Amplify Your Sales
Like other major holidays, there is a rise in demand for related products before the holiday arrives. And every year, the numbers increase. According to Business Insider, US eCommerce sales passed the $4 billion mark on Thanksgiving 2019. That is a 14.5% growth compared to the year before (2018). 
Also, let us check out the rise of desktop retail eCommerce spending on Thanksgiving Day in the US from 2008 to 2019 (in millions of dollars), according to Statista: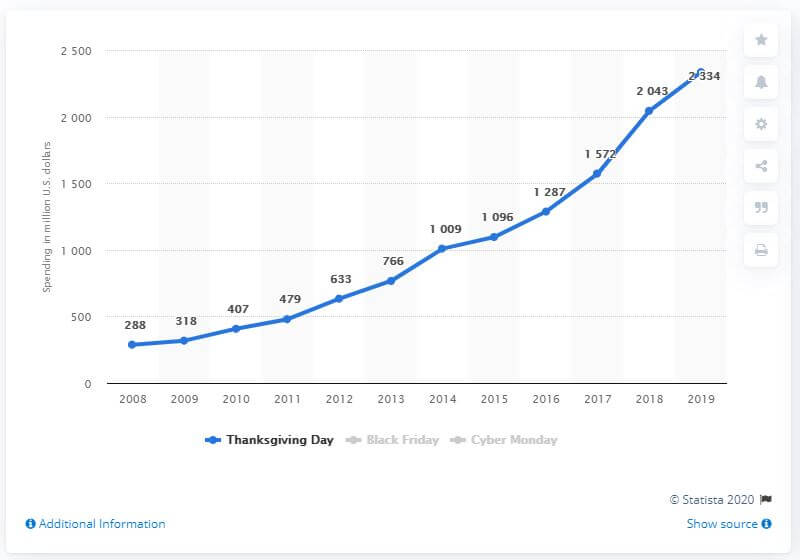 And like every year, the numbers are expected to continue to grow. Preparing your online dropshipping business for the coming holiday season is essential to reach the next level of growth, sales, profit, and success.
Should I Work With One Or Multiple Suppliers?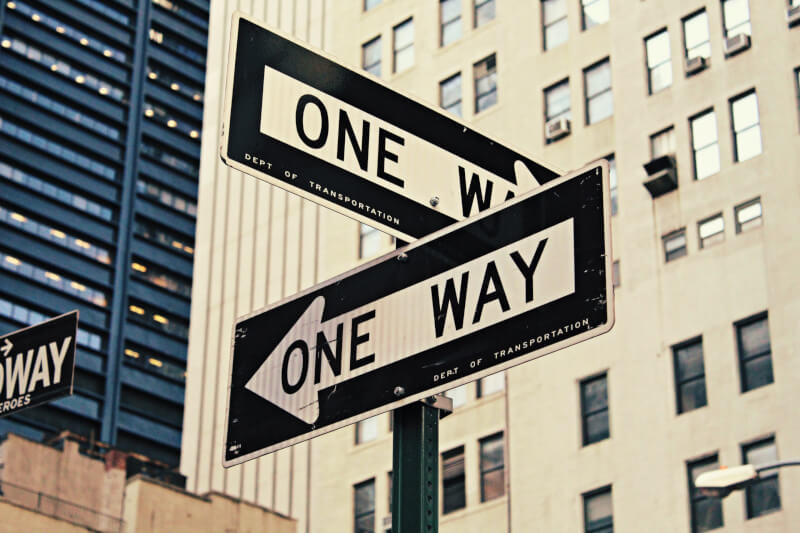 This is one of the most asked questions on the dropshipping scene. Based on our experience, working with only one supplier limits your reach to more products and niches. Especially when it comes to dropship during holidays like Thanksgiving.
It also limits your position in the competition. Therefore, If you're still working with only one supplier, we suggest you add another one or two. You will discover new worlds of trending products to sell.
Now is also a great time to start If you're at the beginning of your dropshipping journey. The holidays are a great time to get your first sales and start growing your business. Start with two suppliers. Some good examples are AliExpress, Costway, Walmart, Banggood, Amazon, Homedepot, Wayfair, Costco, Overstock, and Chinabrands. 
Whether you are experienced or just starting, make sure that you are working with more than one supplier. More flexibility will give you more space to grow. Three suppliers should be enough to take advantage of all of them without it being difficult or time-consuming. 
We encourage you to check our article about the top 5 dropshipping suppliers to use in 2020.
What To Dropship During Thanksgiving?
Product research is the key to finding items that you can sell and profit off. And in order to help get you to get on your feet, we've rounded a list of best selling Thanksgiving products to dropship during Thanksgiving. Use them also to generate more ideas, and start enjoying the long-awaited Q4 sales!
1. Thanksgiving Photo Booth Props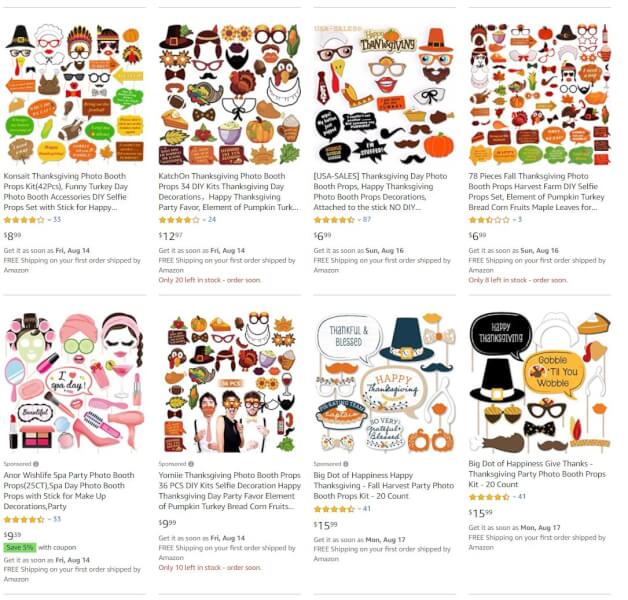 Photo booth props bring a lot of fun to the party. They are funny, and they make creative pictures. Everyone loves a good reason to take a selfie.
Since these photo props come cheap, raise the quantity of each listing for a higher chance of selling more, and making more profit.
2. Thanksgiving Table Runners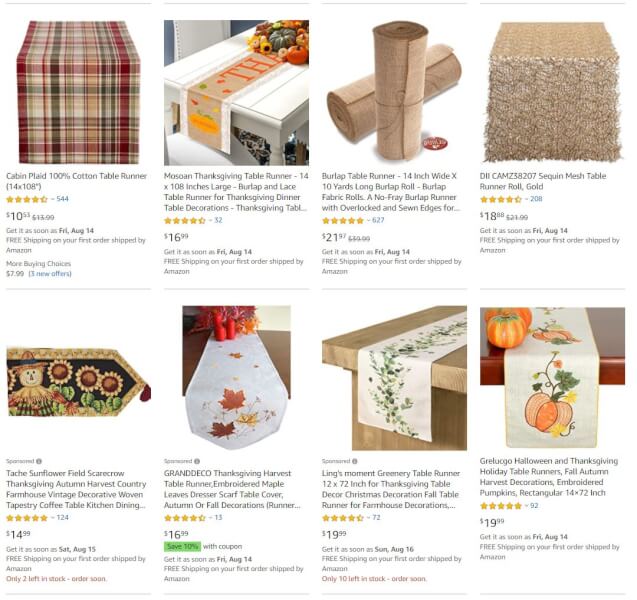 Thanksgiving dinner is the highlight of the holiday. Everyone is gathered around the festive and decorative dinner table. Table runners are a must-have for your store as they will be in every American home. Add table Get more variations by using multiple suppliers.
3. Thanksgiving Clothes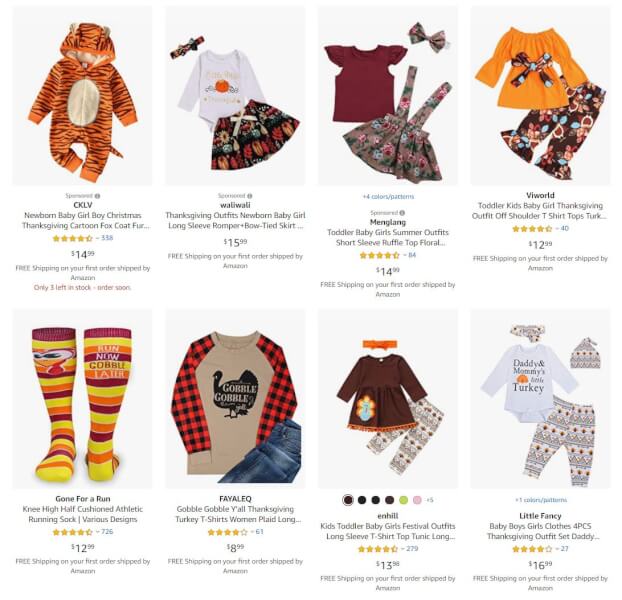 Thanksgiving t-shirts, socks, aprons, turkey hats, turkey ties, onesies, you name it, you can sell it. Thanksgiving clothes spike in sales before the holiday.
In all of their sizes and for all ages. Search all of your suppliers for them. Narrow them down to micro-niches to spot the hidden gems!
4. Thanksgiving Pet Products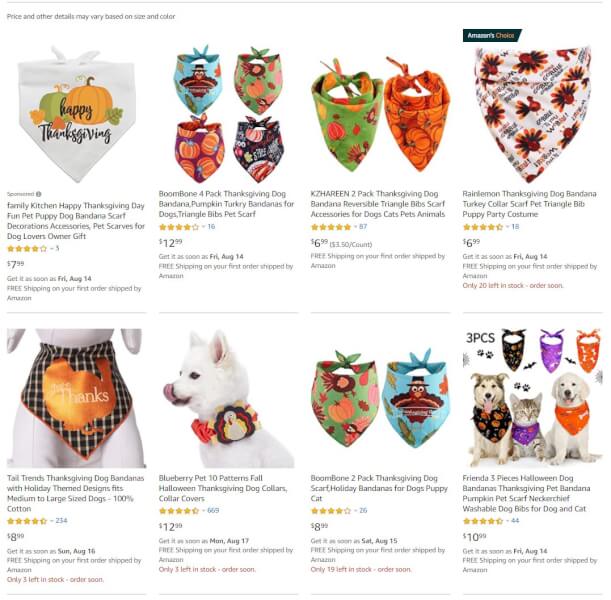 Thanksgiving pet products are super cute, and pet owners love to equip their dogs or cats with Thanksgiving-related merchandise.
For example, bandanas, collars, shirts, dog treats, and whatever else you can think of. Search your supplier's site to see the range that they have, and don't forget to search between at least two-three suppliers.
5. Thanksgiving Wine Bottle Labels / Bottle Stoppers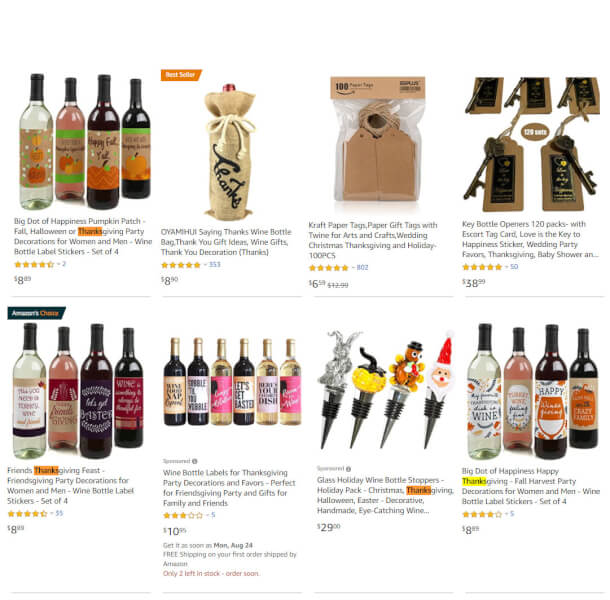 Another way to decorate the festive Thanksgiving dinner table. Thanksgiving wine bottle labels are a great addition to the feast. You can also sell Thanksgiving wine stoppers, which sit on top of the bottle in a turkey form.
Either way, wine bottles are on every Thanksgiving dinner table, and their accessories are a must for this holiday season.
6. Thanksgiving Kitchen Products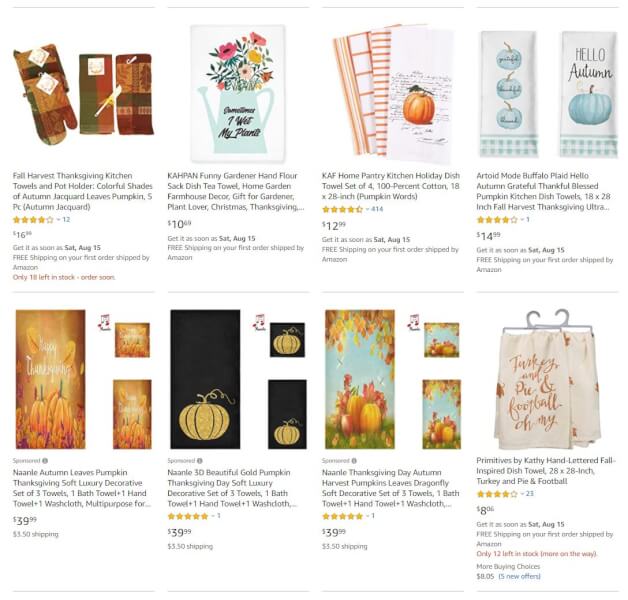 The kitchen is the place where the magic happens on Thanksgiving. Americans love to create Thanksgiving-themed kitchens to bring in the holiday spirit.
Hot selling kitchen products include Thanksgiving towels, aprons, serving bowls, instant cooking pots, toaster oven, roaster pan and accessories, instant-read thermometer, Thanksgiving festive serving tray, Thanksgiving salt and pepper shakers, and turkey basters. 
7. Thanksgiving Pillow Covers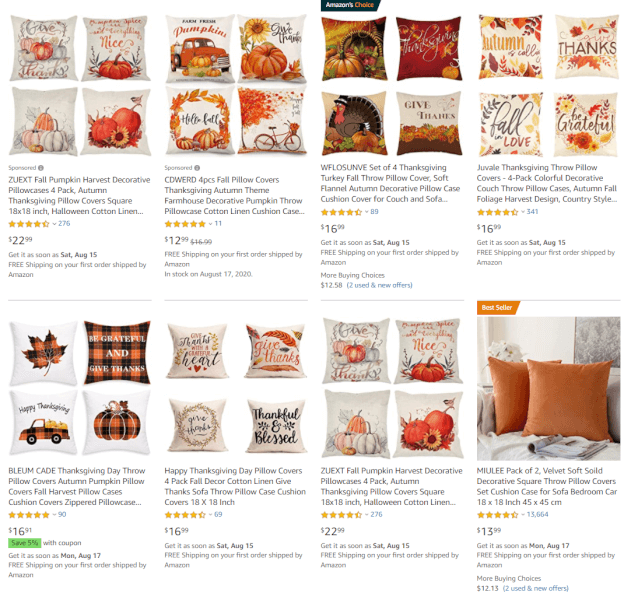 After Thanksgiving dinner, everyone gathers around the living room for a family fun time.
Thanksgiving pillow covers help create the holiday theme, and get into the holiday the spirit. They come in all sorts of variations, bundle packs, and sizes. Make sure to have a good selection in your store.
8. Thanksgiving Signs And Plaques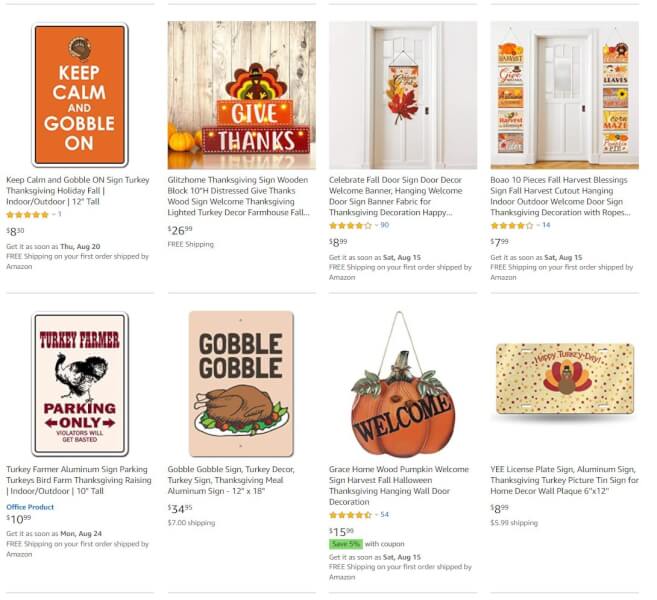 Signs and plaques for Thanksgiving are another great way to decorate the home with a Thanksgiving theme and to get into the holiday spirit.
Thanksgiving door/wall signs and plaques also come in various looks, shapes, and sizes. Remember to search and upload products from more than one supplier to have a larger variety and more sales than your competitors.
Turning Hours Of Work Into Minutes
To successfully dropship during the Thanksgiving holiday and the holiday season in general, you need to upload as many in-demand products as possible, and as soon as possible. Most dropshippers wait until the last minute, which decreases their success rate.
And, if you want to hit the big numbers, time won't be on your side. Even when using a dropshipping tool to automate the upload process. Your store will still sell, but much less than it could have if you had time to upload more listings. 
Thankfully, the AutoDS Helper chrome extension can help turn hours of work into minutes. You can use it to grab all of the products on the supplier page and upload them to your store. All at once, instead of uploading them one by one.
Grabbing Products Using The AutoDS Helper
In order to grab a list of products using the AutoDS helper, first, you need to download the AutoDS Helper extension. Then, open the supplier page with all of the products that you want to upload to your store. Click on the AutoDS icon on the bottom right, then click "Extract." The list of product ids should show up: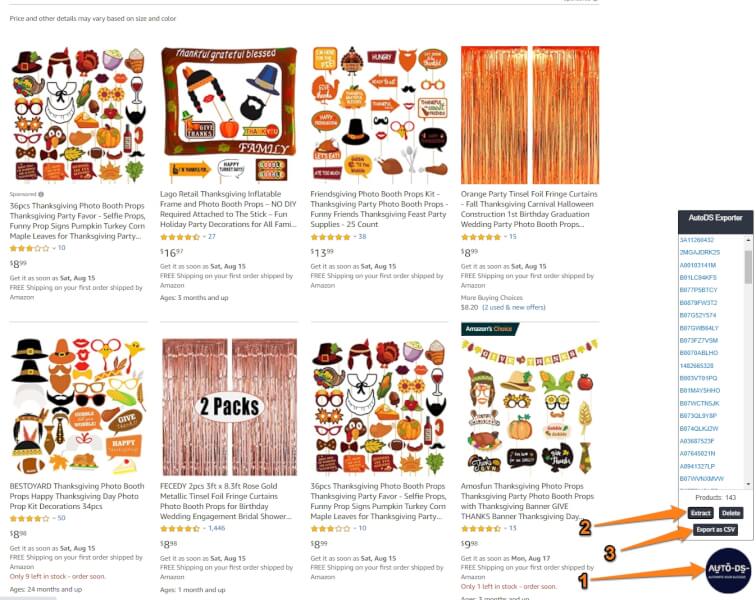 Click on "Export As CSV" and download the file onto your computer. Then, head over to the uploader section on AutoDS. On the bulk upload section, click "Upload Bulk From CSV." On the browser pop-up, upload the CSV file from the helper.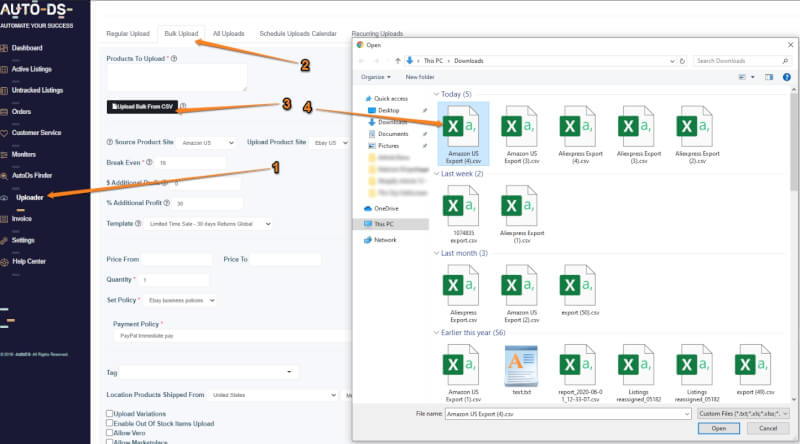 Configure your upload settings – break-even/profit, template, business policies, etc. Now, you can upload the listings or schedule the upload for a later date.
Tagging Your Products For Optimization
Use the tag feature to create a tag called "Thanksgiving" for the products that you are going to dropship during the Thanksgiving holiday.
Then, a few days before Thanksgiving, from the "Active Listings" section on AutoDS, filter the products based on the Thanksgiving tag to get a list of all the Thanksgivings Products on your store. After that, just add a note to all of the related product descriptions that the packages may arrive after the holiday.
When the holiday is over, bring up the Thanksgiving tag again and you will be able to see how each product performed. Keep the results to raise next year's success further!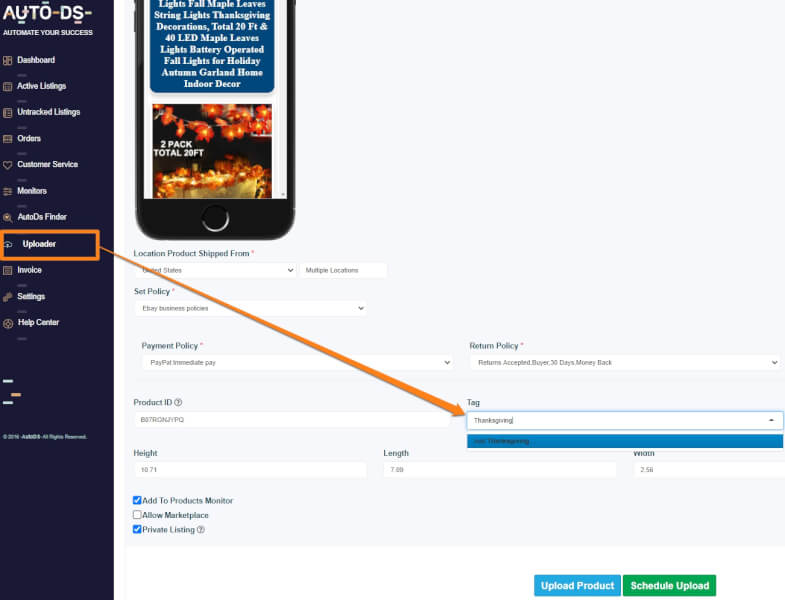 Happy Thanksgiving!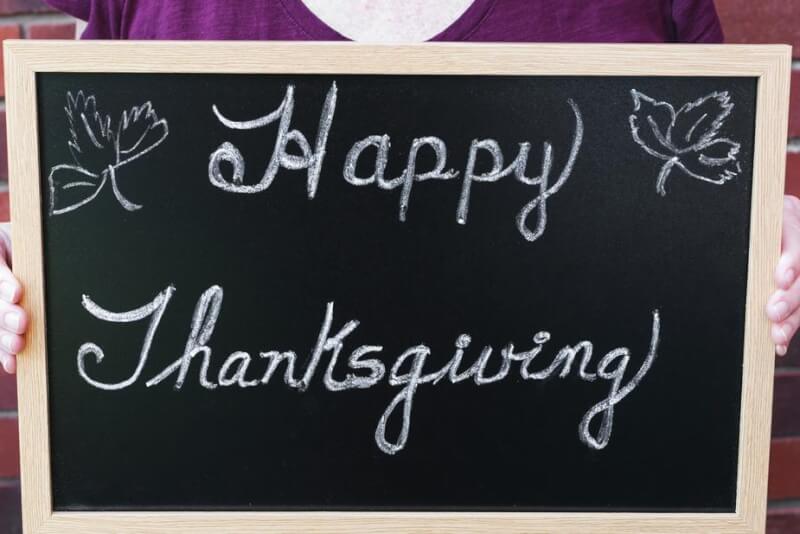 We hope that this article will help you prepare your dropshipping business for the upcoming Thanksgiving holiday. Now you know what products to dropship during Thanksgiving.
There's a lot of information to gobble up and help the Americans get into the holiday spirit. It's a win-win situation when you are making a profit while the other side is enjoying the holiday more, thanks to you.
Use the Bulk Uploader to upload as many listings as you can ahead of time, and kill this year's competition!