In their pursuit of higher profits, sellers often focus on finding more customers or getting more orders. However, while more orders lead to higher revenue, it comes at the cost of time and energy. 
The truth is that a much more effective and efficient way to increase revenue involves maximizing our Average Order Value or AOV. By simply increasing our per-order profit margin, we can net a higher monthly revenue. Surprisingly, we get this result with the same number of orders per month. 
One of the most effective ways of increasing the AOV is called upselling. In this article, we discuss how to maximize the benefits of upselling utilizing one-click upsell Shopify apps. 
What Are One-Click Upsells?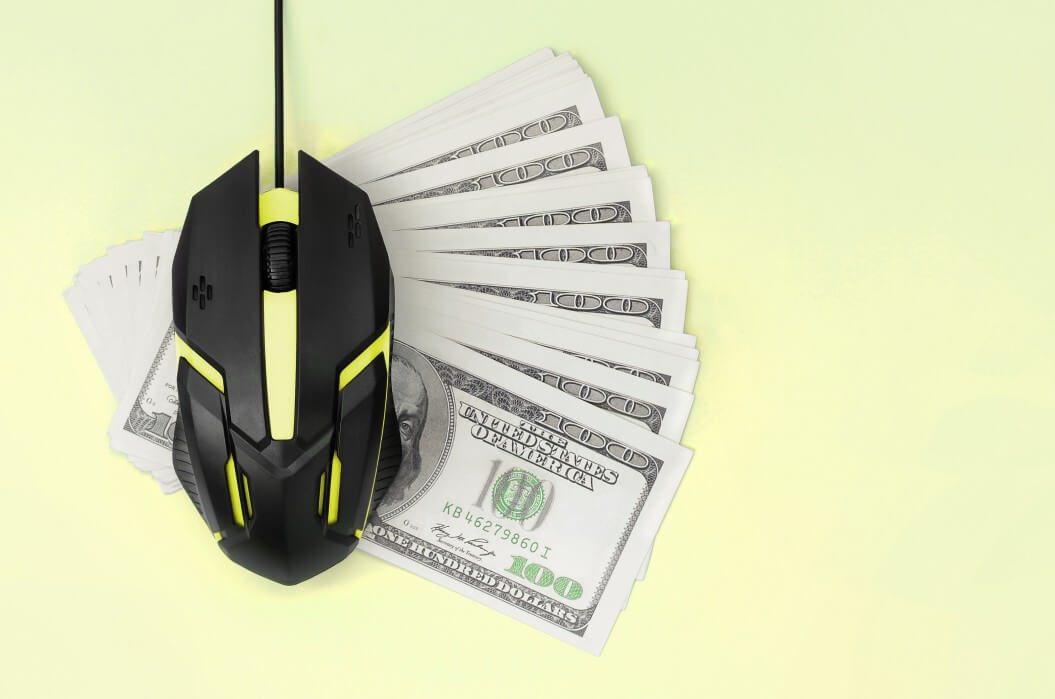 We've all encountered upselling before. At any purchase stage, a merchant offers us a better version of the product we want. We get a better product, and the seller makes a higher profit. Everybody wins.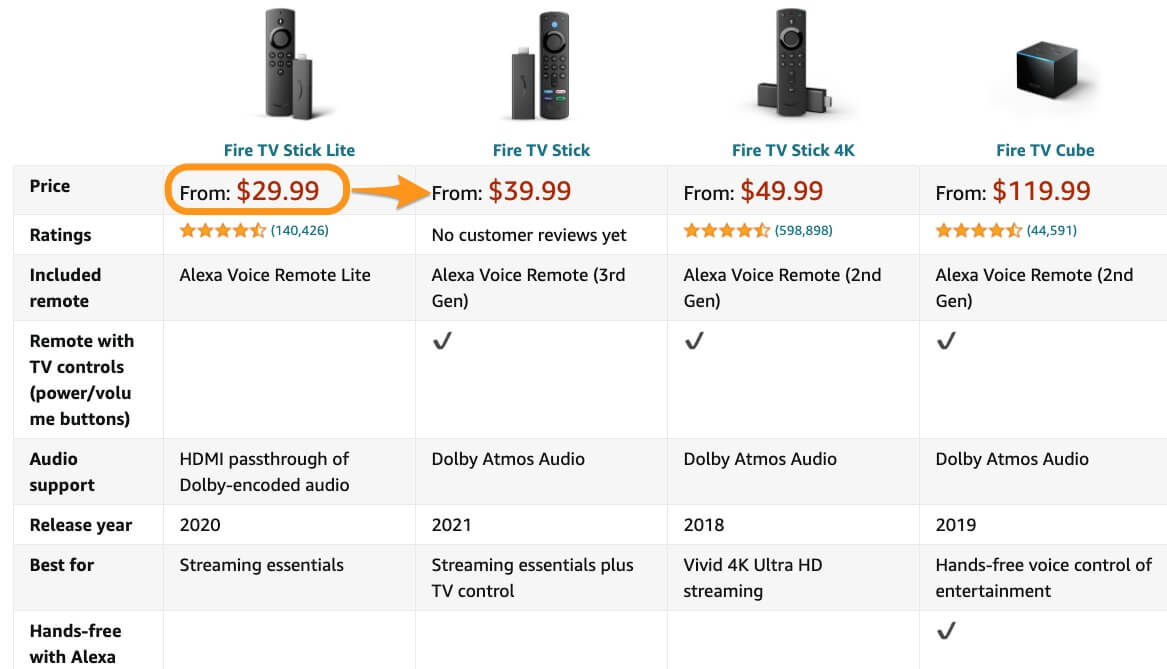 For example, you've decided to purchase an Amazon Fire TV on Amazon. As you scroll down the page, a chart appears comparing various versions of the product. The chart shows more expensive versions, each with its added benefits. Comparison charts are a classic example of an upsell strategy.
Let's not confuse upselling with cross-selling, which offers us the option to buy additional products. 
For example, Amazon suggests that we buy more items like accessories for our Fire TV.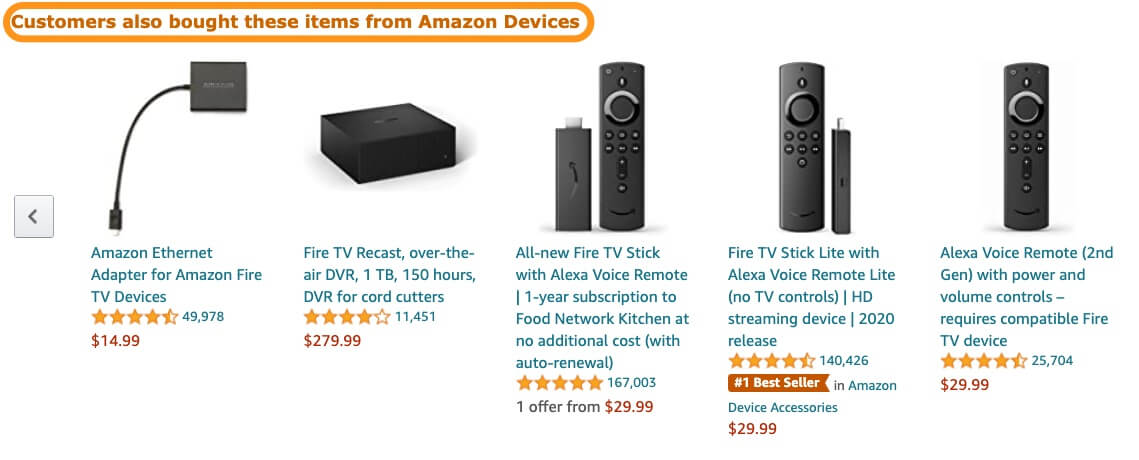 However, the magic of One Click Upsell Apps is that they provide the customer an option to upsell in one click.
These apps integrate seamlessly into our Shopify store and ensure that customers make it to our checkout page in as few clicks as possible.
The one-click option results in a much higher conversion rate of our upselling efforts. Therefore, one-click upsell apps dramatically increase our AOV and our total revenue. With the right tools, we can make abandoned carts a thing of the past.
The Best One-Click Upsell Shopify Apps
Now that we have a grasp on one click upselling and its benefits let's look at the hottest One Click Upsell Shopify Apps on the market and one awesome Cross-Selling App.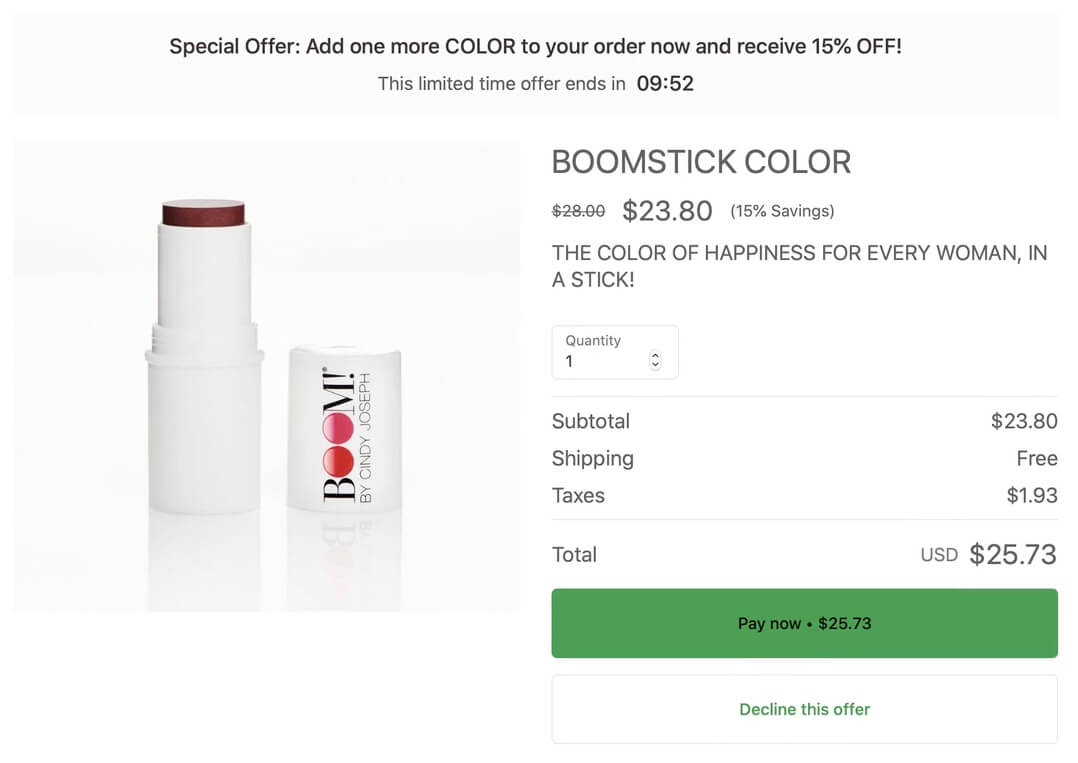 At the center stage of one-click upsell apps stands Zipify OCU. As a native Shopify app, it boasts full integration into the platform's mainframe. Thus, it gives sellers and clients a smoother experience.
Zipify offers both pre and post-purchase one-click upsells. In the pre-purchase stage, customers are given the option, with one click, to upsell by replacing their current item.
Zipify's essential feature is the impressive post-purchase one-click upsell pop-up offer. The pop-up has a proven conversion track record in high-volume Shopify stores. Nonetheless, dropshippers can always customize the pop-up to their preferred design.
Other than the post-purchase pop-up, Zipify outfits our stores with multiple post-purchase upsell funnels. The feature gives us another opportunity to increase the AOV with a one-click feature.
Finally, the app's split-test feature gives us the information we need to implement upsell offers with higher conversion rates.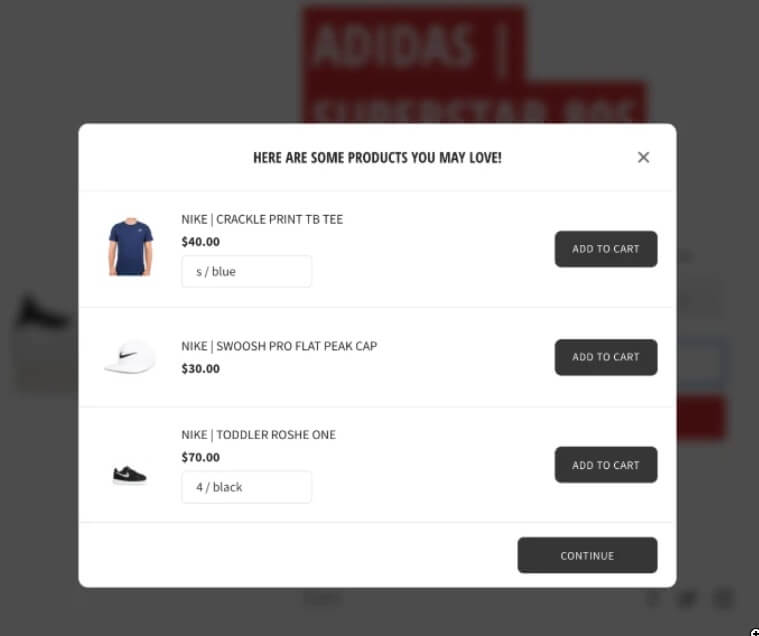 While the upselling technique is great, this app is a good example of how one-click cross-sells can also increase our AOV.
The Goody Baskey app gets its reputation from its pre-purchase cross-sell feature. Instead of a comprehensive, customizable system, Goodey Baskey utilizes Shopify's sophisticated algorithms to target customers with a particular cross-sell offer.
When buyers click on 'Add to Cart', a pop window suggests an item for a cross-sell. Shopify's algorithm gives dropshippers a solid chance that the pop-up will convert into a higher order total. 
Goody Baskey does not require any customizations. Its reliance on an automated algorithm saves us precious time for other activities while still gaining the benefits of one-click cross-sells.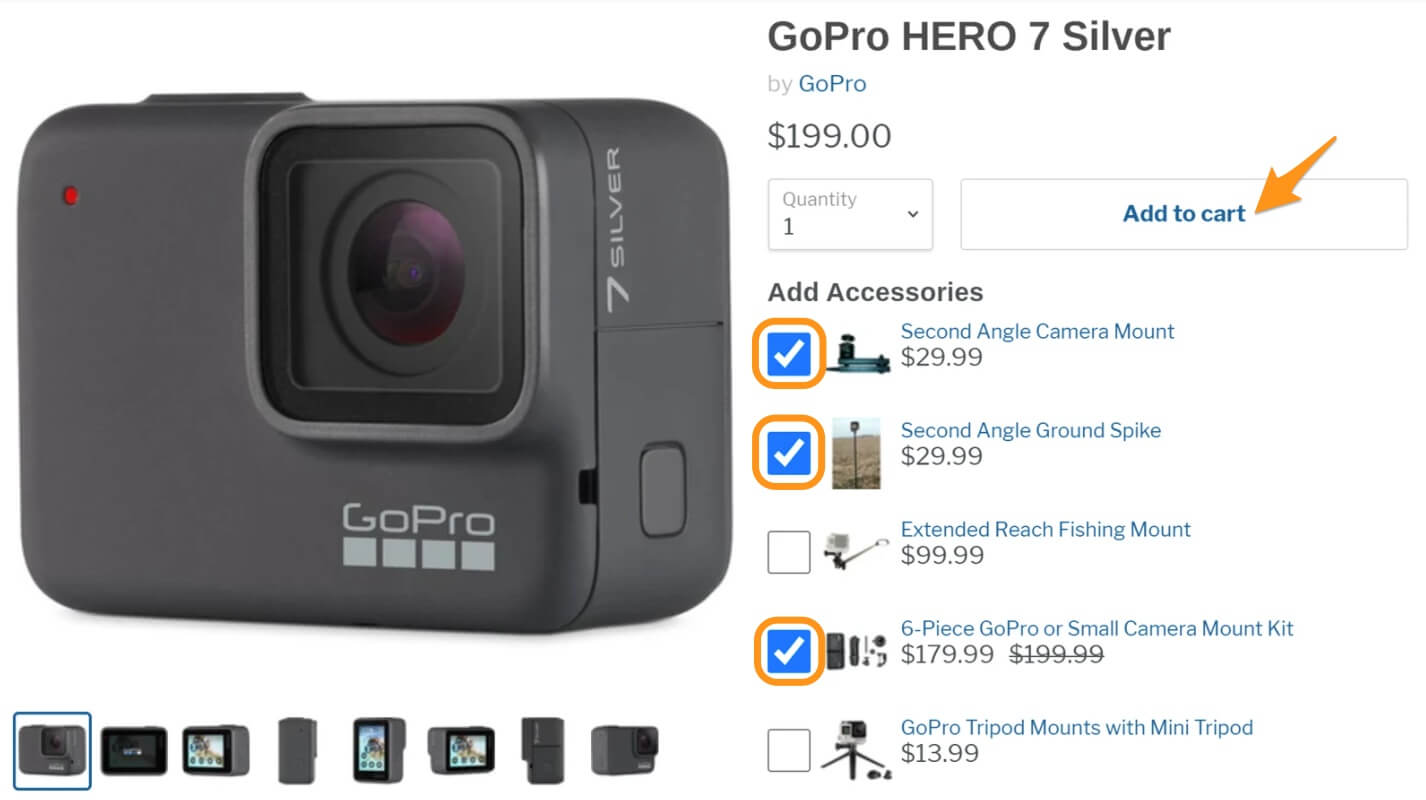 Product Accessories is another one-click cross-sell app, but in contrast to Goody Baskey, it specializes in adding accessories to a chosen product.  
When a customer chooses a product, a pop-up window appears with a list of accessories on a checklist. The buyer selects the accessories they wish to add and, in one click, adds them to their order.
This option increases the chances that a customer will add an accessory because all of the options are laid out in front of them without the need to open multiple browser tabs.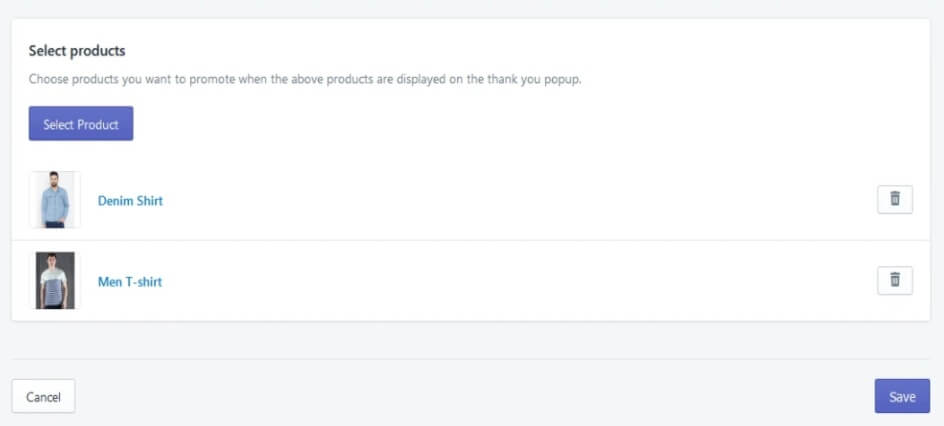 The drag n' drop function separates Ultra COD Pre Order + Upsell from the other one-click upsell apps. Dropshippers can fully customize the checkout process for each product by adding and replacing fields or links on the checkout page. 
For example, we can drag and drop one-click upsell links into the checkout page of an item the customer chooses.  
Thus, the customer will have the option to upsell their purchase with the one-click link we've dragged into the form. 
Finally, we can program an automatic redirect for a given product at the end of a purchase. Dropshippers can choose a redirect to a higher quality product for an upsell.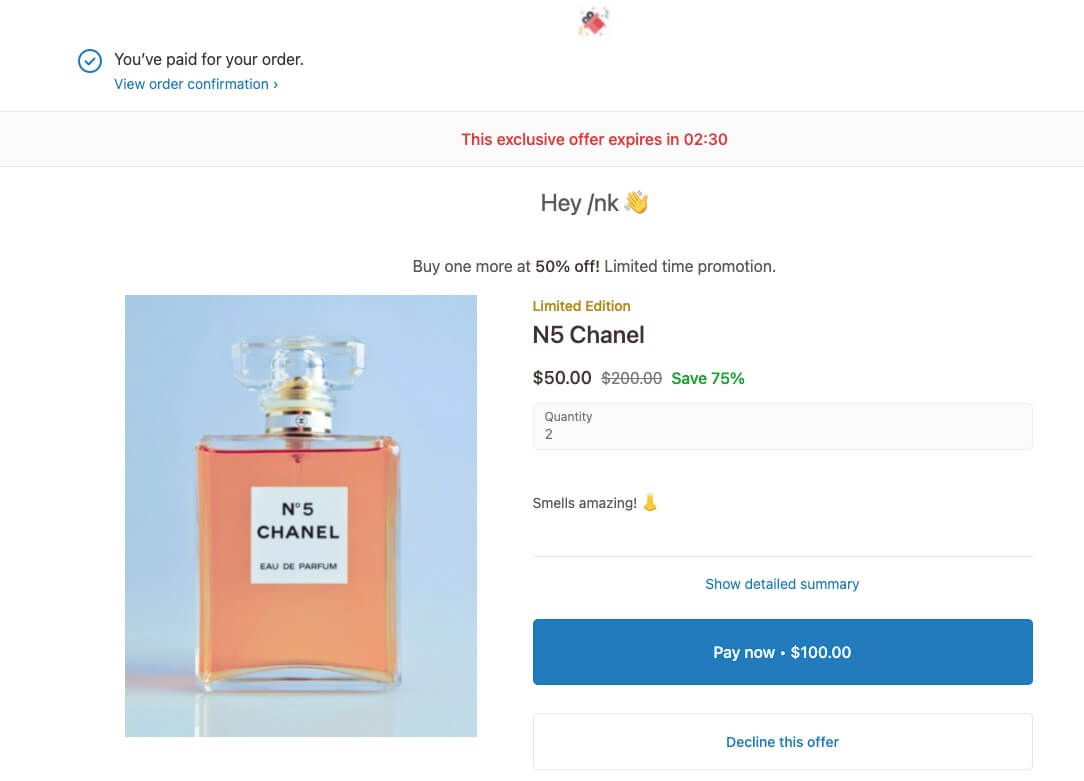 Unlike the other apps we discussed, Checkout Promotions and Upsells offer highly customizable post-purchase one-click upsells. A 'Flexible Rules Engine' allows dropshippers to set up a post-purchase one-click upsell based on any criteria they choose. 
For example, we can decide that a buyer from a given country spending over $100 receives a discounted upsell on a better product. On this app, all we need to do is use our imagination.  
The app pairs its flexible rules engine with in-depth analytics. Thus, we get a good idea of how well each of our upsell promotions worked and the conversion rates of each.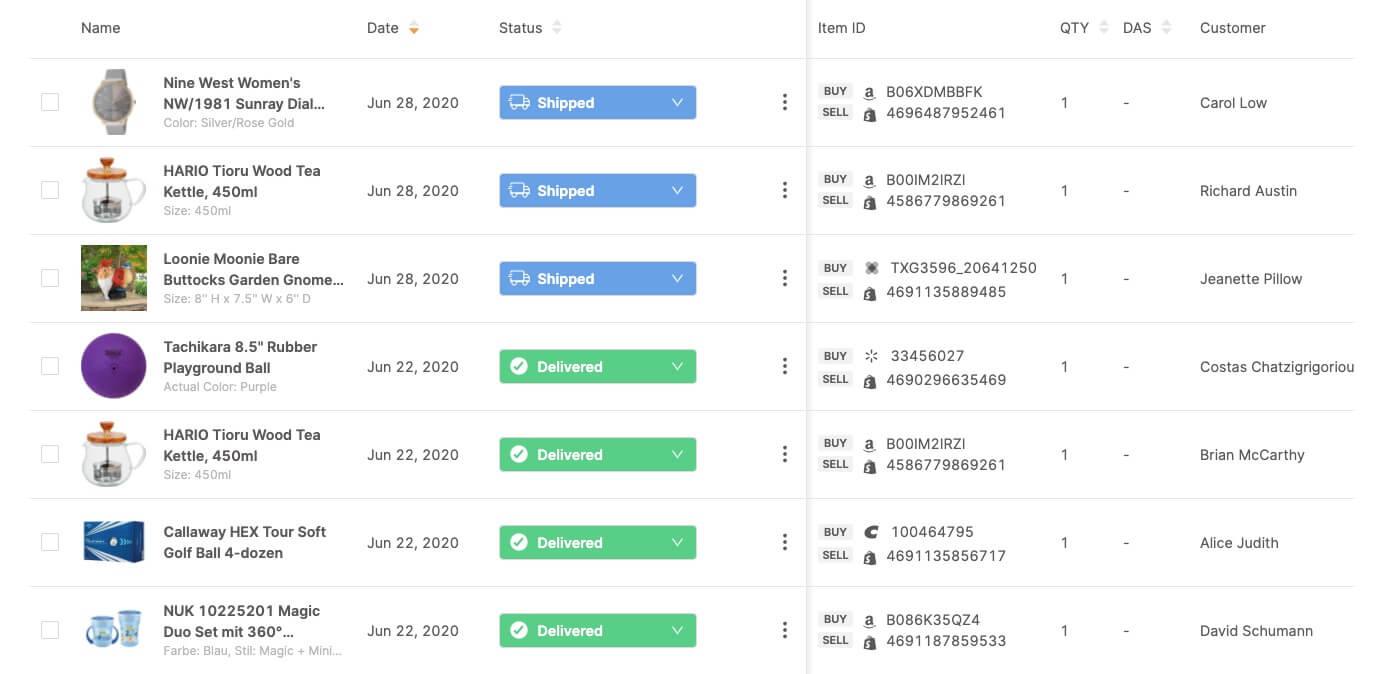 We've covered some amazing ways to capitalize on one-click upsell opportunities. They function as a sure way to increase our AOV and total store revenue. 
However, once the sales start coming in, it's only a matter of time until we find ourselves spending all day fulfilling our orders. This will limit us from expanding our Shopify dropshipping business.  
Thankfully, the AutoDS dropshipping platform can perform the tiresome work for us. 
This is especially true with Fulfilled by AutoDS. The system manages each one-click upsell by automating our orders and updating tracking information.
With the time saved, we can keep implementing profit-maximizing strategies. 
Thus, AutoDS's automation tools act as the missing link between one-click upsells and a winning dropshipping Shopify store. 
Wrapping Things Up
One-click upselling is a proven strategy to increase our AOV and Shopify store revenue. With Many one-click upsell apps on the market, we want to select the one that works best for our customer base. 
For example, if we already know which upsell best fits a specific product, we may want to go with Zipify's proven pop-up.   
Conversely, if we are not sure which upsell to offer, we may benefit from using the Goody Baskey app, which selects an upsell for us based on Shopify's highly targeted algorithms. 
Finally, if the items we sell tend to pair well with accessories, we could benefit from utilizing the product accessories app. 
Ultimately, whichever app we use, our reliance on third-party suppliers requires us to have a system to manage the added workload. 
Therefore, we should consider signing up for Fulfilled by AutoDS. This way, we can save time and watch AutoDS automate our Shopify store to big numbers and high profits. 
Continue empowering your Shopify dropshipping knowledge with these related articles: