Are your customers always asking, "when will my order arrive?" or "how much time will it take?" Answering your customer queries is crucial, but what if a tracking information software could answer all their queries regarding shipping?
Tracking Information like shipping time, live package statuses, delivery updates, and notifications provide customers with up-to-the-minute order status and peace of mind.
For that reason, many reliable suppliers provide tracking information from the moment products leave their warehouses. However, the supplier's tracking information isn't always readable on other platforms. So it's not always possible for our customers to track their product using the tracking information.
Moreover, platforms like eBay have an item location policy that requires sellers to ship products from the same zip code we provide in the listing. Without converting our tracking information, this simply isn't possible.

Therefore, this article will cover two tracking conversion methods that provide solutions for untrackable tracking numbers and the item location. By the end, you will know what tracking service to use and how to use it.

What Is Bluecare Express?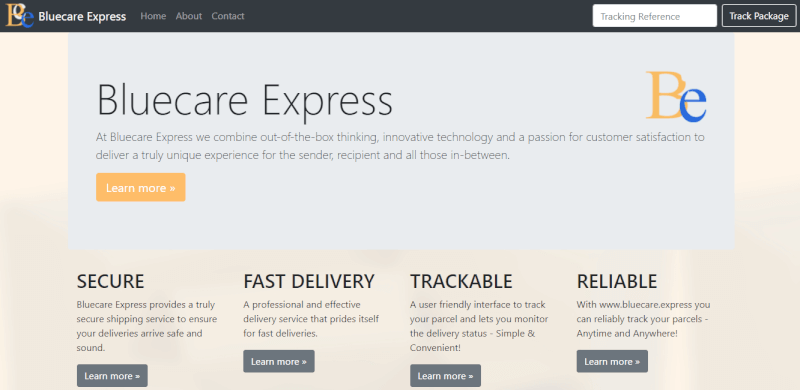 Bluecare Express is a software that converts Amazon Logistics (AMZL) tracking numbers to valid Bluecare Express tracking numbers. AMZL tracking numbers are not trackable or supported when used on selling platforms other than Amazon.
For example, if we add an AMZL tracking number on eBay, not only will eBay not support it – but the buyer won't be able to track their package.
An unreadable tracking number may frustrate customers and result in low ratings or negative reviews, even if we can ship their orders on time. Providing trackable tracking information helps increase our seller metrics by proving to the customer that we are trustworthy.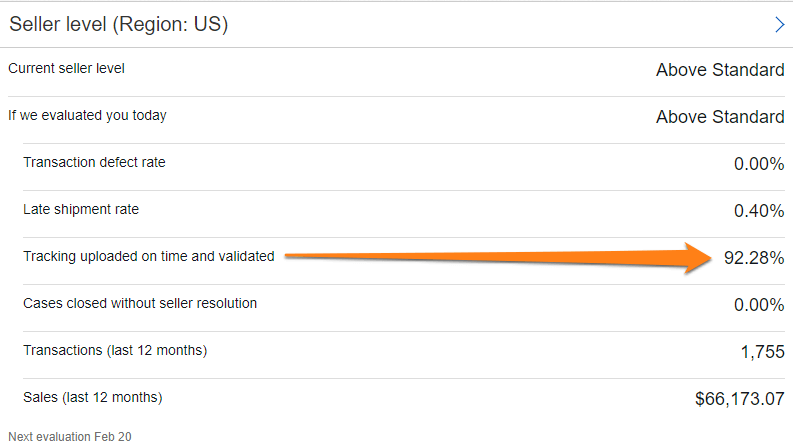 That's where Bluecare Express comes in handy and makes them readable. We must provide legit tracking numbers that work because our customers depend on them to get updates.
Similarly, if a customer claims they haven't received products with AMZL tracking numbers that we are fulfilling from Amazon, we will most likely lose the case and be compelled to refund our customers. Here, we can remain on the safe side by using Bluecare Express' tracking number.
With the help of Bluecare Express, we can convert AMZL tracking numbers or any tracking number provided by the carriers to a Bluecare Express tracking number. eBay supports and approves Bluecare Express tracking numbers. As a result, we can use Bluecare Express tracking numbers for our customers if we sell products from our Amazon supplier.
Additionally, Bluecare Express service works with Shopify and eBay, adding tracking information to sell on those platforms.
What Is Aquiline Tracking?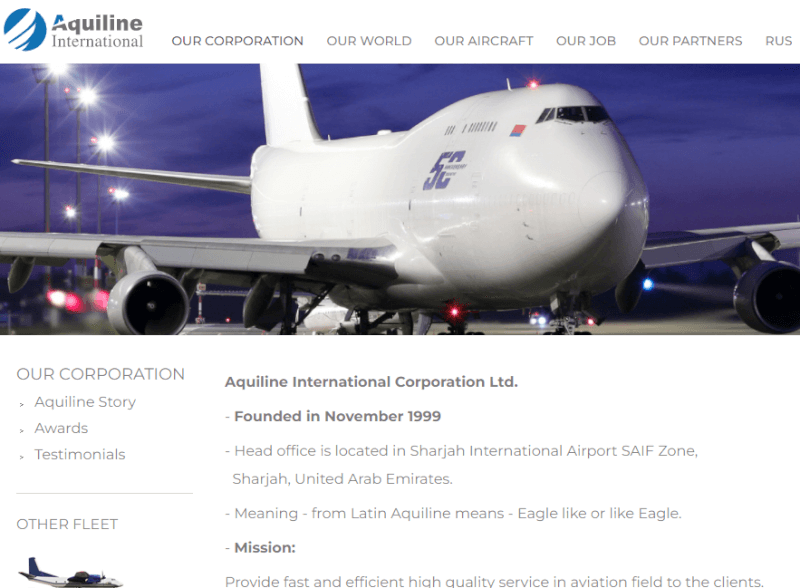 Another service similar to Bluecare Express is Aquiline which converts AMZL or all tracking numbers into Aquiline tracking numbers. With the help of Aquiline tracking, we can find out the exact location of your parcel or shipments in a few seconds.
Additionally, Aquiline provides zip code masquerade capability, which means that the tracking events show the same zip code that we have listed on eBay as the item's physical location.
Zip Code masquerade is a feature that eBay Sellers can use to avoid breaching eBay's item location policy, preventing sellers from providing one zip code and shipping from different locations. Since eBay is a strict platform that monitors these details, we can avoid getting our accounts flagged with reduced visibility with the help of this feature.
Moreover, eBay supports and approves Aquiline tracking numbers, so eBay dropshippers have no reason to worry. Like Bluecare Express, it works for both eBay and Shopify.
Similarly, Aquiline also supports tracking conversions from suppliers like AliExpress. This means the tracking information like 'AliExpress Standard Shipping' or 'AliExpress Premium Shipping,' which eBay does not support, will now work.
Bluecare Express vs. Aquiline – Which Is Better?
Now that we know about both Bluecare Express and Aquiline's services, let's compare how they fare against each other to analyze the better one for dropshippers.
We'll start with the similarities between Bluecare Express and Aquiline tracking:
Both offer tracking conversions for AMZL tracking numbers and/or all other tracking numbers.

eBay authorizes and supports both Bluecare Express and Aquiline. 

We can track the events on eBay, Bluecare Express/Aquiline's websites, or universal tracking websites like 17track.net

.

We can integrate both services with the AutoDS platform with automatic tracking updates and conversions.
Considering the similarities between the two services, let's look at the significant difference between the two tracking information software:
Aquiline provides a

zip code masquerade feature

, whereas Bluecare Express doesn't.
Which Tracking Information Software Is Better?
With the additional zip code masquerade feature, Aquiline tracking seems to be the clear winner among the two. And this difference is crucial as it helps us avoid our eBay account getting flagged because of item location policy violations when not using zip code masquerade.
Therefore, Aquiline is the better tracking information software for eBay dropshippers.  
How To Convert Tracking Information To Bluecare Express / Aquiline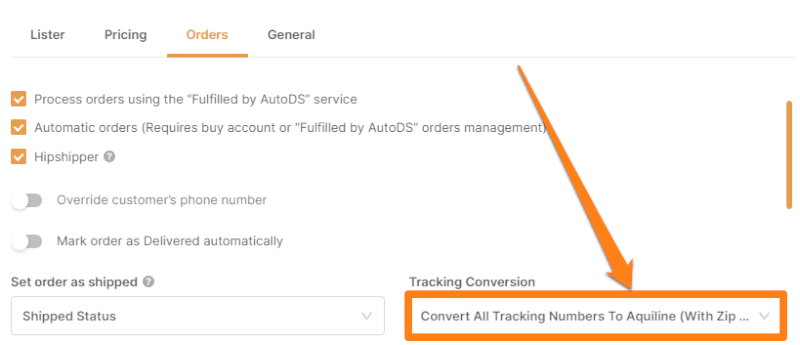 Looking at what we learned, Bluecare and Aquiline services help us with our eBay dropshipping orders. So how do we start converting tracking information?
Converting Tracking Information can be done in two ways: Manual and Automatic.
The manual method consists of creating an account on each tracking conversion provider's website and paying for each tracking conversion. This method consumes a lot of time and also eats away from our profits.
That's why it's essential to use automatic tracking updates and conversion.
With AutoDS's automatic orders service and Fulfilled by AutoDS, we can automatically convert the AMZL tracking numbers or other tracking numbers into Bluecare Express or Aquiline. Additionally, the tracking conversion service is free and included in our automatic orders subscription. Also, the tracking information updates on our stores and AutoDS automatically.
To automatically convert and update tracking information on every order, log in to the AutoDS platform, click on 'Settings' on the bottom left corner, then click on 'Orders.' There, we can see the tracking conversion menu. Finally, we can choose to convert tracking information to Bluecare Express or Aquiline from the dropdown menu.
Then, the AutoDS software automatically updates our orders' tracking information to Bluecare Express or Aquiline. With the advantage of automatic conversions, we can save time manually updating tracking information to invest in other business areas.
Conclusion
Tracking information is a factor that customers look up to after placing an order. Providing accurate tracking information is our responsibility, and services like Bluecare Express and Aquiline allow us to do so by converting them.
Moreover, it reduces the customer inquiries on the whereabouts of their packages, protects our seller accounts, and keeps them in good health.
Make sure you pick a compatible tracking information converting service to satisfy your customers. Using an automated tracking conversion from the AutoDS platform saves you a lot of time to invest in scaling.
In addition to updating tracking information, there are many elements to take care of when dropshipping. Here are some articles that'll help you increase your dropshipping knowledge.