Having an excellent website is a game-changer for any dropshipping business in the eCommerce world. And two of the best website builders for dropshippers are Wix and Shopify.
With a dropshipping business model, we can sell products without holding inventory. Instead, we source products from our suppliers or manufacturers. Then, we market and sell them through our selling channels.
As such, we need a suitable selling channel to list our products. With that said, Wix and Shopify are the top two selling channels that help run a dropshipping store. But what if we compare the two Wix vs. Shopify dropshipping platforms?
That is why, to find out, we will go over their functionalities, pros and cons, and pricing plans. In the end, we will be able to identify the better option for dropshipping.
What Is Wix?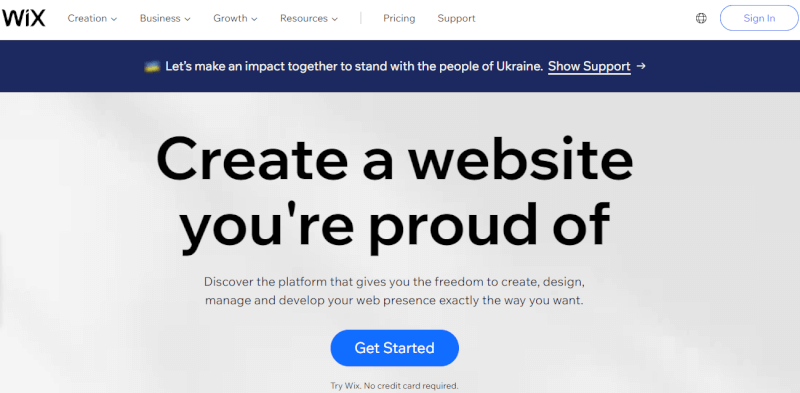 Wix is a website builder which allows us to create and host our eCommerce store. With more than 200 million users, it offers an affordable and easy-to-use platform with many features.
Although Wix is predominantly known as a classic website builder, today it's grown into a large eCommerce platform with the introduction of Wix eCommerce in 2020. Now, Wix offers a variety of dropshipping solutions such as customizable online store templates.
Similarly, another feature of the Wix platform is the drag and drop interface. With this feature, users can manage content on their website by dragging it anywhere on the page. Most importantly, we don't need technical or coding skills to create and build our website on Wix.
What Is Shopify?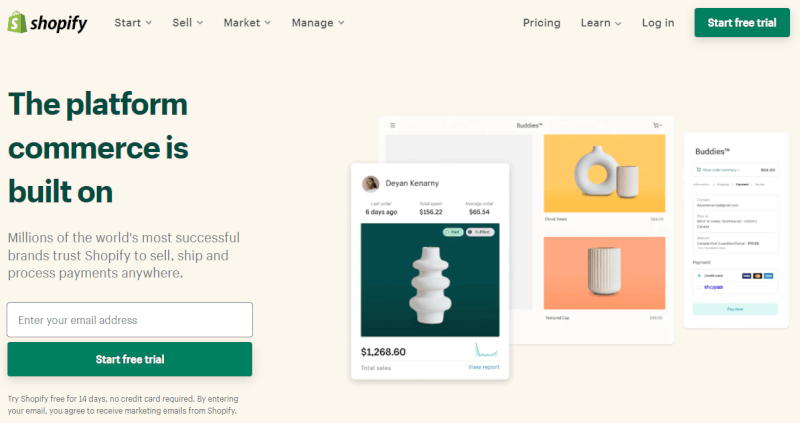 Shopify, a customizable eCommerce platform allows us to create and host online stores. Essentially, Shopify allows us to set up and design our online businesses. We can list products, process orders, handle payments, and manage several customers, all from one platform.
In fact, Shopify is mainly a SaaS which stands for Software as a Service. Since the start of its operation, Shopify has helped millions of people establish their businesses.
Similarly, Shopify also enables us to customize websites with themes and designs. Moreover, the Shopify platform is user-friendly, so we don't need to have any coding skills or design skills to build our dropshipping store.
Wix Dropshipping: Pros & Cons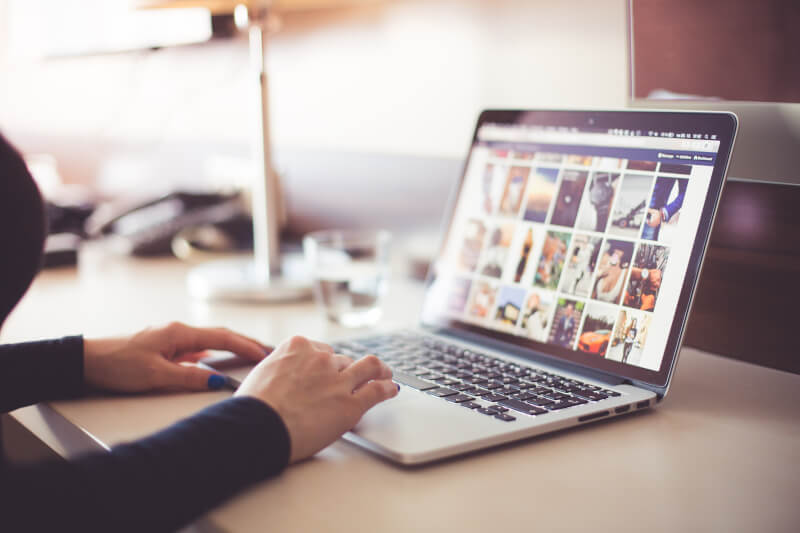 Now that we know about Wix and Shopify, let's talk about their pros and cons. This will be highly beneficial if you are in the initial stages of launching your dropshipping store.
First, let's look at some advantages of the Wix platform as a selling channel:
Pros:
Fully customizable platform

Easy to use interface and great for beginners

No seller limits

Global audience targeting 

Advanced eCommerce tools

Low startup investment
As Wix is a fully customizable platform, it enables us to build an appealing online store. Furthermore, we can select from over 80 online store templates. These templates are layouts that allow us to arrange content on our website.
Additionally, setting up the website is very easy with Wix, which makes it an excellent platform for beginners. It doesn't require any coding or designing skills to set up a dropshipping store. All we need to do is drag and drop the components we want onto our website.
Another great thing about Wix is that there are no limits on product listings. That means, we can sell hundreds and thousands of products from day one.
With Wix sites, we can offer our products to customers all over the world whereas other selling channels restrict us to only sell in one region. Moreover, Wix integrates with various eCommerce tools like Wix Multilingual. This app helps dropshippers translate their website to reach audiences all over the world. Besides that, the Wix App Market provides 250+ apps for our Wix sites.
Lastly, Wix dropshipping doesn't cost a lot, making it a low-risk business. Not only is the Wix account free, but the subscription charges only start when we are ready to launch our business entirely.
Cons
No organic traffic 

Marketing costs

A monthly subscription fee for full features 

Requires time and patience to learn
Although there are many benefits, there are some downsides to Wix. Since Wix is a customizable eCommerce platform, there is no organic traffic on our dropshipping stores. As Wix is not an open marketplace, we don't receive readily-available traffic. Therefore, we will have to invest in marketing to increase website traffic for our online store.
Furthermore, the free version of Wix has ads. As we market our store, we will have to publish content on our site. However, our website will show the content with the Wix logo if we are using the free version. Since we want our content to appear under our brand name, we have to pay a monthly fee to remove them and enjoy the full features.
Lastly, the Wix platform requires some time and patience to learn. That means it can take a while before we can smoothly run our dropshipping business. Nonetheless, with the use of the proper resources, we can manage our Wix store efficiently.
Shopify Dropshipping: Pros & Cons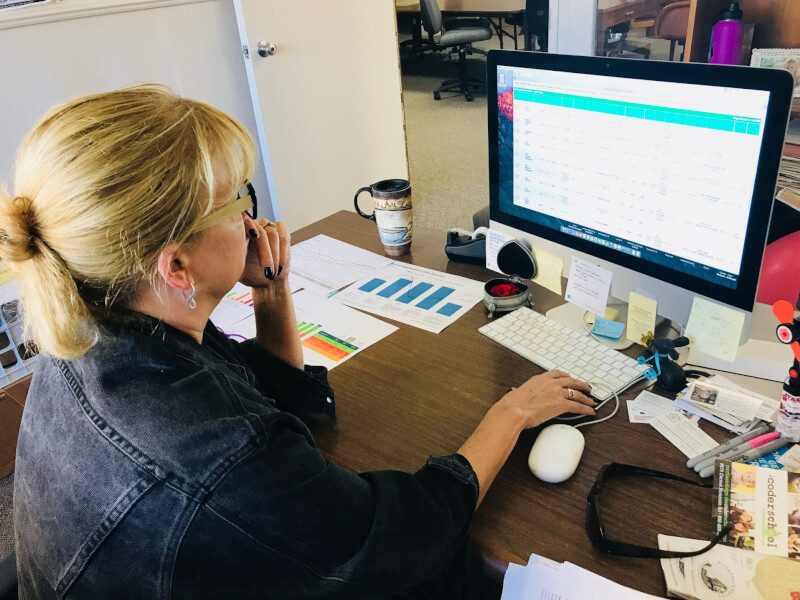 As a dropshipping platform, Shopify has many benefits, which is also why it is among the most popular selling channels. However, there are some cons to Shopify dropshipping as well. Here are some of the benefits and drawbacks:
Pros
Wide selection of eCommerce templates

Shopify app store 

24/7 support 

Built-in blogging feature
When creating an online business, we want our websites to look visually pleasing. With over 70 premium and free eCommerce templates, Shopify allows us to build attractive websites.
Another advantage of Shopify is its app store. Shopify has an entire ecosystem of apps allowing us to run our Shopify dropshipping business at the top level. For instance, let's take AutoDS, one of the apps supporting Shopify dropshipping.
AutoDS allows us to automate product imports, stock and price monitoring, order fulfillment, and more in our Shopify dropshipping store. While AutoDS takes care of our business operations, we can focus on marketing and customer service.
Moreover, customer support is crucial in all businesses. Fortunately, Shopify provides 24/7 customer support via email, phone, and live chat. This round-the-clock access to customer support is a big plus for Shopify, as other platforms only provide customer support during specific hours.
Additionally, one of the greatest benefits of Shopify is its built-in blogging feature. In general, we can write search engine optimized (SEO) blog posts to market our store. Thus, when customers search for keywords we use in our blog posts, our Shopify store will likely appear on the search results page. As a result, blog posts enhanced with SEO are a powerful marketing tool that drives traffic to our website.
Cons
No organic traffic

Requires a budget for marketing

Costs for a monthly subscription, selling fees and apps
Similar to Wix, Shopify is also a customizable platform. That means our Shopify store doesn't generate organic traffic by itself. Hence, we have to invest in marketing to generate traffic in our store.
Moreover, Shopify is comparatively expensive. More so if we want to use the paid apps from the Shopify Store.
However, as one of the largest eCommerce platforms, it's no surprise that the prices differ compared to Wix. With that said, let's look at the different pricing options from both dropshipping website builders.
Wix Pricing Plans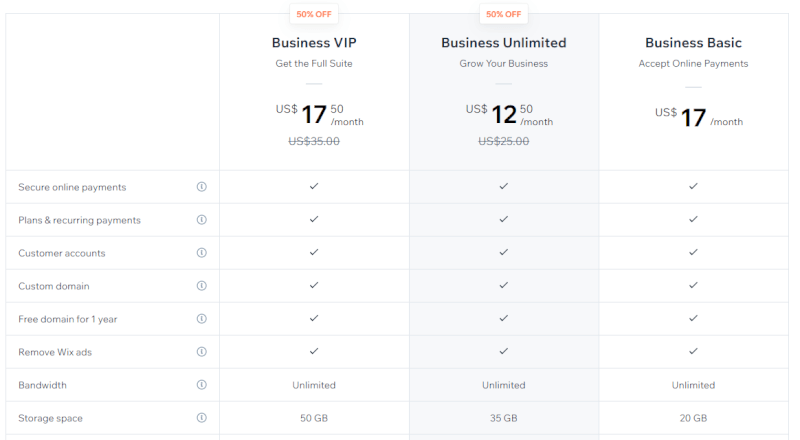 With all the features and functionality that the Wix platform offers, investing in a Wix subscription plan is undoubtedly a good decision. But which plan should you choose and what are their price ranges? Let's find out!
Wix has a different pricing plan for individual users and eCommerce businesses. However, we'll be looking at three different pricing plans for business and eCommerce companies:
First on the list is the 'Business Basic,' the most basic plan with limited functionality. Costing $27 per month, this plan provides unlimited bandwidth, 50GB storage space, five video hours, and SSL encryption.
The next plan on the list, 'Business Unlimited,' costs $32 per month. Wix offers 100GB of storage space, ten video hours, and automated sales tax for 100 transactions per month in this plan.
Finally, 'Business VIP,' the topmost Wix business pricing plan, costs $59 per month. It offers maximum benefits, including unlimited storage space and video hours. Also, they offer 24/7 priority customer support and automated sales tax for 500 transactions per month.
Overall, all three plans have unlimited product listings and the abandoned cart recovery service. Basically, abandoned cart recovery is a strategy that helps to re-attract the customers that abandoned their purchases. Thus, this ensures our viewers will convert into buyers.
Occasionally, discounts are applicable on the 'Business Unlimited' and 'Business VIP' pricing plans. The best part about Wix dropshipping is that the setup is completely free! So we can explore the platform and build our website without worrying about any initial fees.
Shopify Pricing Plans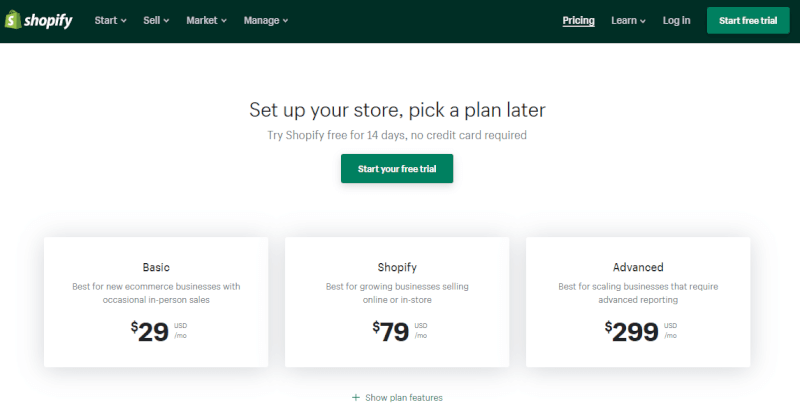 While Shopify has a free trial period of 14-days, we have to pay a fixed monthly subscription fee after the trial ends. Here's a quick breakdown of Shopify's subscription plans for dropshippers of every level:
Let's look at the 'Basic' plan,' starting with its pricing. Shopify's 'Basic' starts at $29 per month and comes with features like unlimited product listings, and two staff logins. As some businesses have staff, staff logins allow our employees to manage our dropshipping stores. Moreover, online purchases at the store come with a 2.9%+30 cents per transaction fee.
The second plan, 'Shopify,' costs $79 per month, a viable option for any store that needs more than entry-level functionality. Additionally, it offers features like gift card sales and support for up to five staff logins.
As for the transaction fees, this plan costs a fee of 2.6%+30 cents per transaction. Also, we get access to advanced reports that help us track which products sell and which don't.
Shopify's 'Advanced' plan costs $299 per month. It offers online business analysis and supports up to 15 staff logins. For that reason, it is best suited for large companies with many employees.
Although the monthly subscription fee is higher, the transaction fee for the 'Advanced' plan is 2.4%+30 cents per transaction. Thus, Shopify offers various pricing plans to ensure each dropshipper can choose the best option for their business.
All in all, Shopify offers a solution for both beginner and expert dropshippers. If we are starting, we can use the 14-day free trial. Once we have the better feel of the platform, we can use paid plans to expand our dropshipping business.
Wix Vs. Shopify Dropshipping – Which Is Better?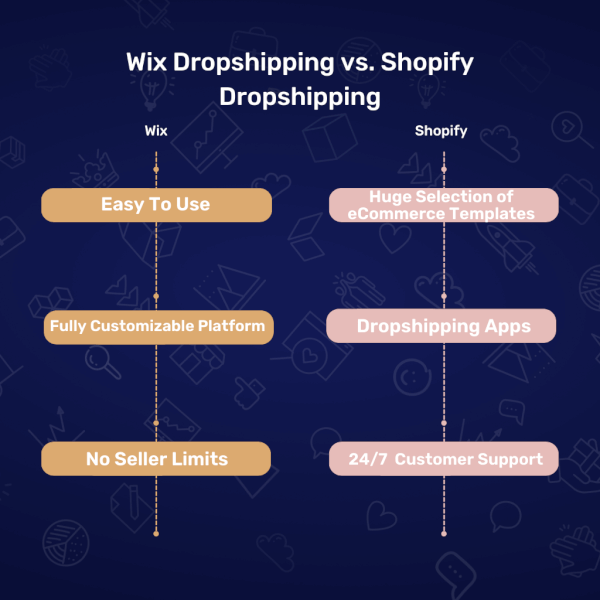 As two of the most popular eCommerce platforms, Wix and Shopify are neck-to-neck in competition. But which one is better than the other in terms of dropshipping? Before giving a verdict, let's further compare them according to their dropshipping features.
First of all, let's compare Wix and Shopify's ease of use. Generally, Shopify is built for businesses to create and build an eCommerce store. For that reason, entrepreneurs, medium-sized businesses, and dropshippers prefer it.
On the other hand, Wix started its journey as a website builder with content-based websites as its primary focus. That is why it is a good choice for small-scale businesses. While Wix can be easy for beginners, it may not suit medium-sized dropshipping stores.
As for pricing plans, the basic plan for Wix costs $23, which is less than that of Shopify's $29. Moreover, unlike Shopify, Wix doesn't have a separate fee per transaction. As a result, Wix is better if we compare their pricing.
Moreover, let's compare Wix and Shopify's integrated eCommerce apps that help scale our businesses quickly. While Wix has around 300 integrated apps, Shopify has a massive pool of around 5500 apps dedicated to eCommerce. Due to the variety and massive selection, Shopify's app store is better than the Wix app store.
Furthermore, if we are using new platforms as a beginner, we need support. In that case, Shopify's 24/7 support and live chat is a massive benefit for dropshippers requiring constant assistance.
Similarly, Wix's Help Center has many resourceful articles and videos to support us. Along with that, Wix's in-editor helps us edit our website pages. If English isn't our preferred language, Shopify CS is more suitable because of their support in all languages. Whereas Wix has a favorable in-editor that answers our queries and saves time from reaching out to the customer support department.
Wix vs. Shopify
The Verdict
Wix and Shopify are both great platforms that help dropshippers achieve their goals. However, both platforms cater to different types of dropshippers. 
If dropshipping automation is our concern, AutoDS supports dropshippers selling on both Wix and Shopify. With its automation features, AutoDS automates tedious tasks, allowing us to focus more on scaling our business.
All in all, if we are beginners who want to build a dropshipping store, Wix is better for us. In contrast, if we are an established dropshipper, Shopify's plethora of features and apps may suit us better.
FAQ
What Is Dropshipping?
Dropshipping is an order fulfillment method where we sell products without holding any inventory. When we receive an order, we instruct our suppliers to deliver the products to our customers. Then, we pay our suppliers after our customers pay us.
Is Shopify Better Than Wix For Dropshipping?
If you are an experienced dropshipper, then yes, Shopify is better. But if you're a beginner, then Wix is better. Check out this article for each platform's key features to have a more precise overview. 
How Much Does It Cost To Dropship On Wix?
Basic subscription plans for Wix start from $23 per month. Alternatively, we can choose a standard plan of $27 per month or an advanced plan of $49 per month. 
How Much Does It Cost To Dropship On Shopify?
There are three pricing plans for the Shopify platform. Subscription plans start at $29 per month for the basic plan, $79 per month for the standard, and $299 for the advanced plan.
Final Thoughts
Congratulations! You have all the information about Wix Vs. Shopify dropshipping. With this information, you are already miles ahead of your competition.
So, why wait? Venture into the world of dropshipping today and start your journey to success.
However, dropshipping success doesn't happen overnight. It comes through continuous learning and improvement. That is why we have these articles to widen your knowledge: