You're waiting in line at a gaming store. The kid in front of you is psyched over the fact that his dad is buying him a brand new PS4, and once his turn came, the store clerk made an offer to upgrade to the PS4 Pro, which supports 4K resolution, plus more features.
Since the price difference wasn't too high, the father accepted. This is a classic case of upselling – a creative method to effectively raise your store profits, which you are about to learn in this article – more specifically, eCommerce upselling techniques.
In this article, we will go over the best Shopify upselling apps that will help us profit more on each sale. In the end, we'll know exactly why we need to implement upselling techniques, which apps to use, how they will affect our sales, and stay one step ahead of our competition.
What Is Upselling and Why Is It So Important?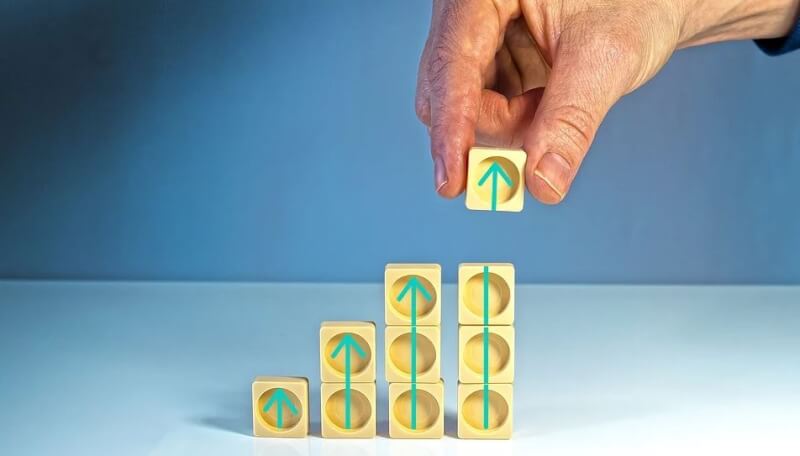 Upselling is a form of upgrading a sale to a more expensive product. Upselling aims to earn a higher revenue on every sale, thus raising the average order value (AOV), with higher profits.
On the other hand, the buyer gets to enjoy an upgradeable version of what he expects to buy. Therefore, it's a win-win situation.
However, upselling is not a secret strategy. Physical and online stores are using upsells for years now since it is a proven working sales technique. 
As of August 2019, just one year ago, almost 69% of all eCommerce stores were offering upsells as a part of the user interface functionalities on their websites. That's more than any other feature or functionality, which shows you just how useful it is.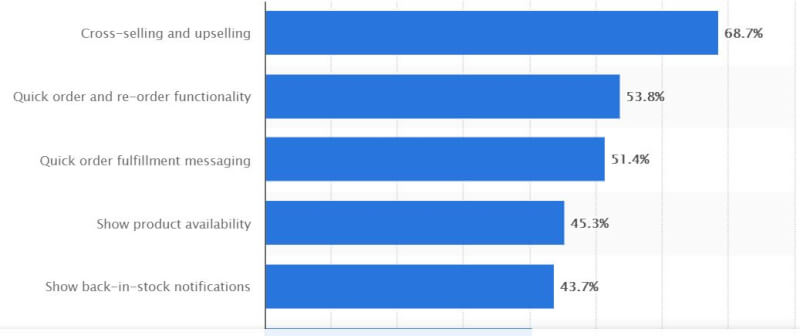 The importance of upselling is straightforward – instead of the customer buying a product that generates a profit of $10, you convince him to buy a similar, more advanced version of that product, which is a bit more expensive.
Hence making a profit of $15 from the same customer, using creative upselling techniques that you will learn further down in this article.
Cross-selling vs. Upselling Differences – Which Is Better?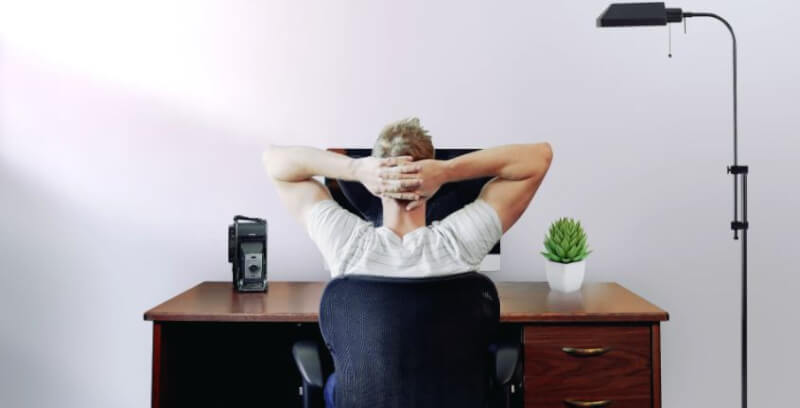 Another form of upgrading your sell during checkout is using cross-selling. Cross-selling consists of adding additional items to the customer's cart, instead of upgrading the main product itself (upselling). 
For example, a customer wishes to buy a vacuum cleaner. Upgrading the customer to a more advanced and expensive vacuum cleaner is upselling. On the other hand, adding relevant accessories to the vacuum cleaner – for example, vacuum bags, vacuum filters, floor mops, etc., is called cross-selling. 
A higher profit margin comes with upselling since it consists of selling a more expensive item instead of cross-selling, which is usually cheaper add-ons to go along with the main product.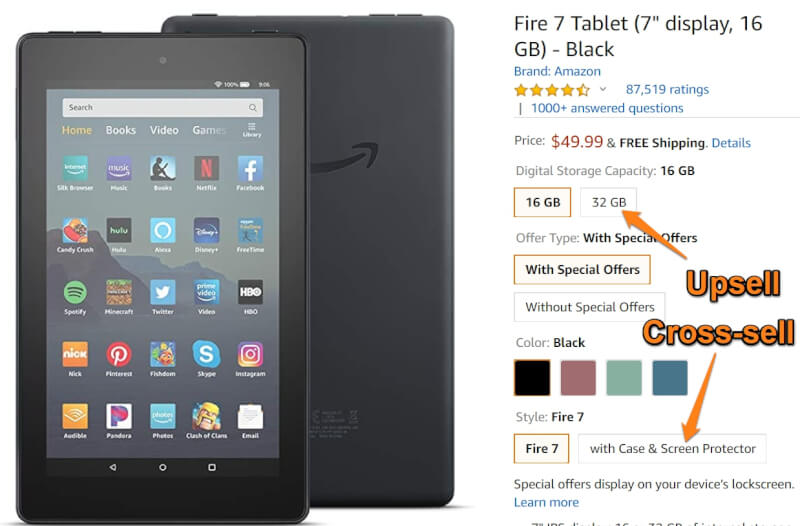 In the screenshot above, we are looking at a 7" tablet with 16GB internal memory. But, just before adding to the cart, you may already notice Amazon's attempts at upselling and cross-selling. 
Adding a case and screen protector to the tablet is cross-selling since the product remains the same, and we are just adding an accessory to it. This is different from upgrading to the 32GB model, in which case we are switching the original tablet (16GB) to an upgraded one instead (32GB). But if it was the same tablet with an external SD card to upgrade the capacity, that is back to cross-selling. Notice the difference?
Upselling Examples
To better understand the definition of upselling, let's take a look at some live examples.
Amazon Upselling Example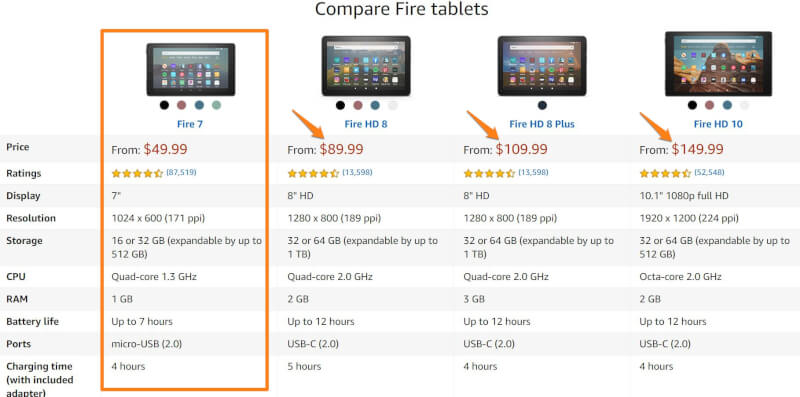 Using a comparison chart is an excellent way to successfully upsell your products because it is easy to see the differences between them and make a final decision. Each upsell is more expensive than the original product, hence making it more profitable. The screenshot above shows Amazon's upsell attempt when browsing for a basic Fire 7 tablet.
Amazon loves to use the eCommerce upselling technique, and they are doing so in a few different ways. Here's another example when viewing any product, like a coffee machine:
Overstock Upselling Example
Here's an additional upselling example from Overstock when browsing for products. In this example, a sofa for $492: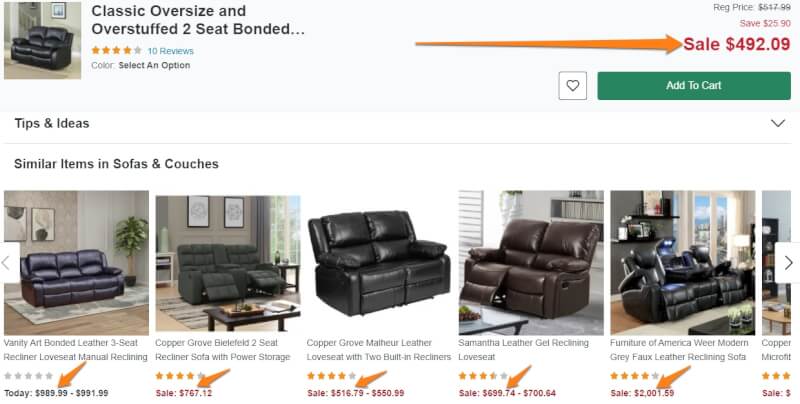 Adding a dedicated section for related products opens the buyers' eyes to better, upgraded versions of what they want to buy. Therefore, it is an upselling technique which gives the buyers a higher quality product, and the sellers enjoy a higher profit margin.
AliExpress Upselling Example
When browsing AliExpress, you will also find a great load of upsells. Here's an example though 'seller recommendations' when scrolling down on the page:

There are many ways to name the section so that the customer will have an idea of what you are trying to offer. For instance, 'Customers who viewed this product also viewed..', or 'Popular items inspired by this product,' or 'New / Similar items,' etc. Use your creative mind, see what others are doing, and come up with something catchy.
HomeDepot Upselling Example
Here's a final example from Home Depot, who is also using more than one method to implement the eCommerce upselling strategy: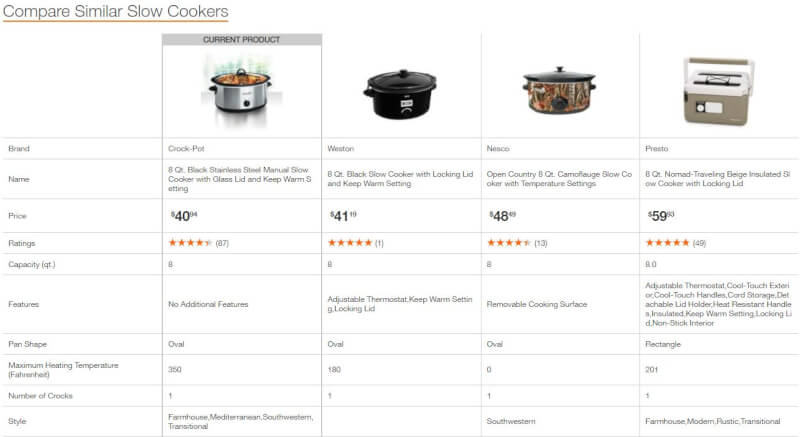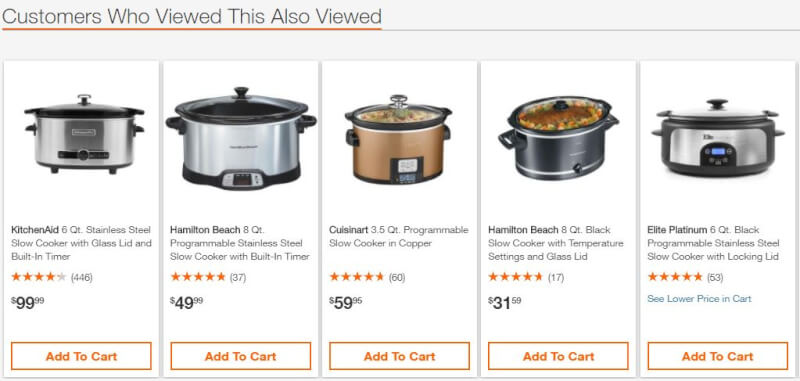 An additional form of upselling is offering volume discounts for buying more than one unit. 
For example, instead of buying one product for $10, buy three for $25. The AOV grows along with the profit.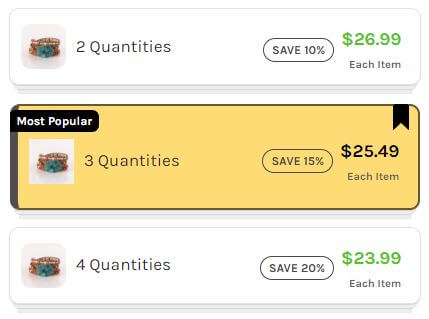 You will find upselling methods everywhere that you go. That's because they work. Small, medium and large businesses are all using their own upsell tactics. Your dropshipping business is no different, and upselling needs to be a part of your selling strategy if you want to grow and earn higher profits.
The Best Ecommerce Upselling Apps for Shopify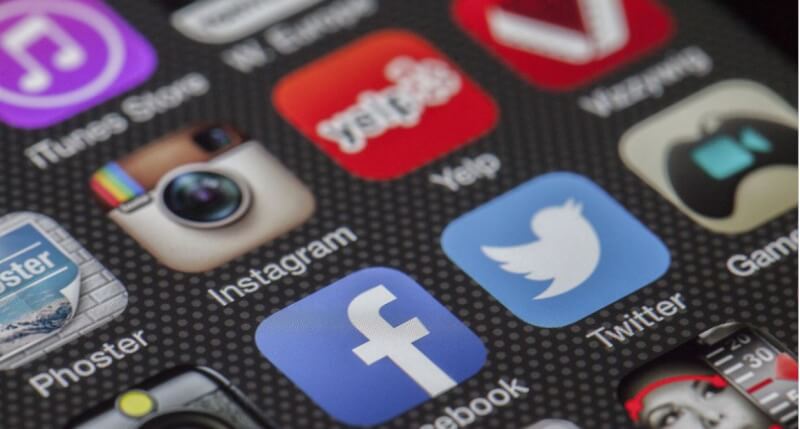 Ready to begin your upsells? To help you get quickly on your feet, we've arranged a list of recommended upsell apps from the Shopify App Store. Use them, and explore additional options for whatever best suits your store.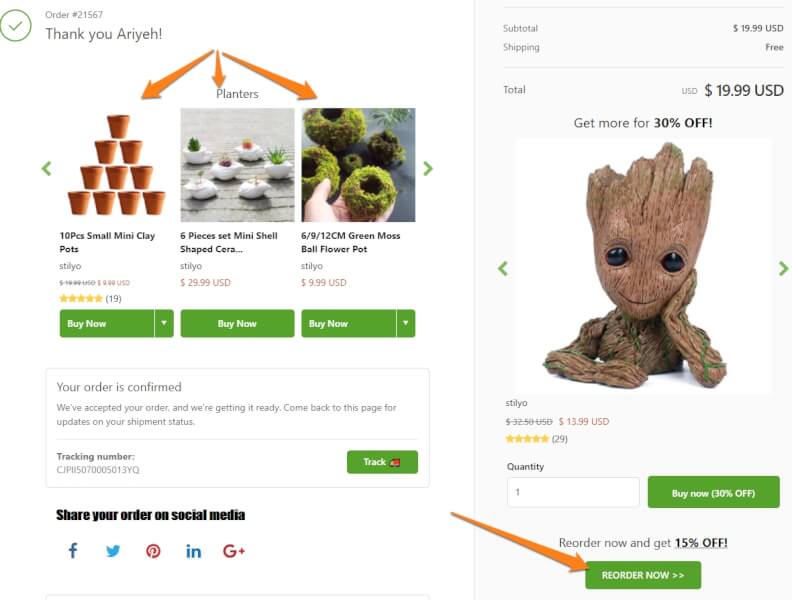 The ReConvert Upsell & Cross-Sell app helps upsell your products through special "Product Recommendations." However, they are mainly known for their post-purchase page optimization.
Customer retention is one of the most crucial aspects of this business to succeed long term. This app offers a few different ways to bring the customers back to purchase again, including unique re-ordering discounts, pop-up discounts, promo codes, etc.
Use this app to get a combination of upsells, cross-sells, and customer retention, all in one package.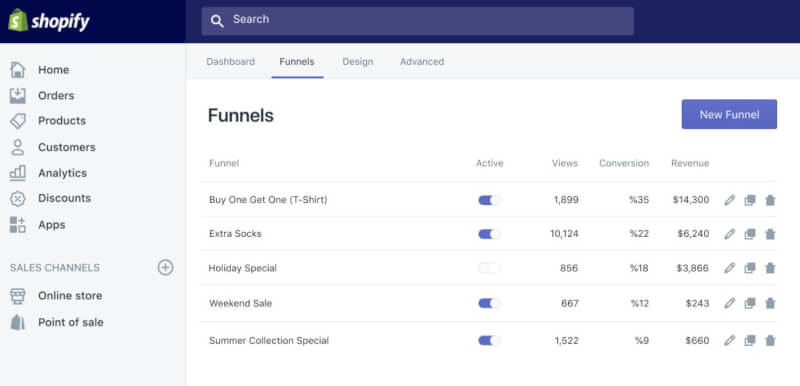 The Honeycomb Upsell Funnels app enables you to create upsell and cross-sell funnel offers on your cart page (while the customer is checking out) and on the thank you page (post-purchase). You can use their dashboard to analyze your upsell's ROI, AOV, CTR, and CVR to see which upsells perform well.
With Honeycomb, you can A/B test your funnels and fully analyze your work and results. Plus, they are mobile-friendly and can work on auto-pilot mode, saving you time and energy.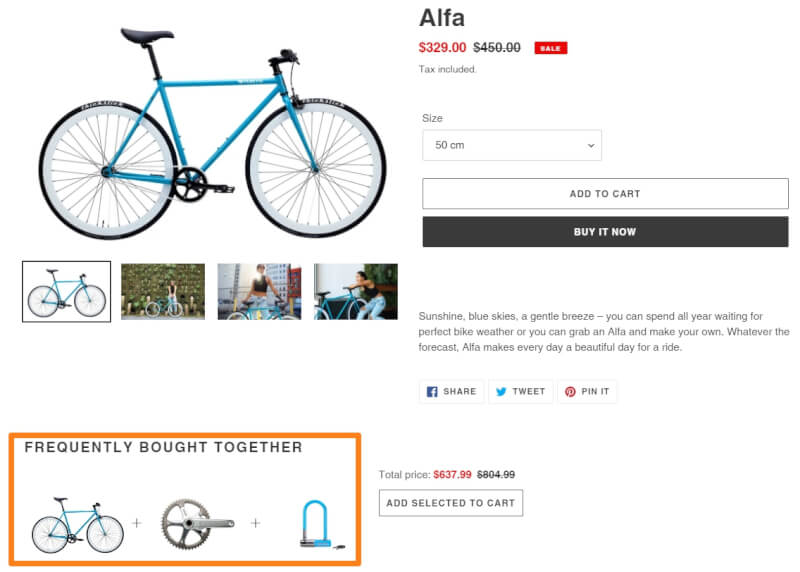 The Frequently Bought Together app is dedicated to cross-selling. Though this article emphasizes more on the power of upselling (because of higher profit margins), adding this app is still a must.
Anyone who browses Amazon is familiar with this cross-selling technique. Almost every item has related products that go with it, making it a great way to increase your average order value.  The Frequently Bought Together app makes the cross-sell look authentic, and the bottom line is, it works.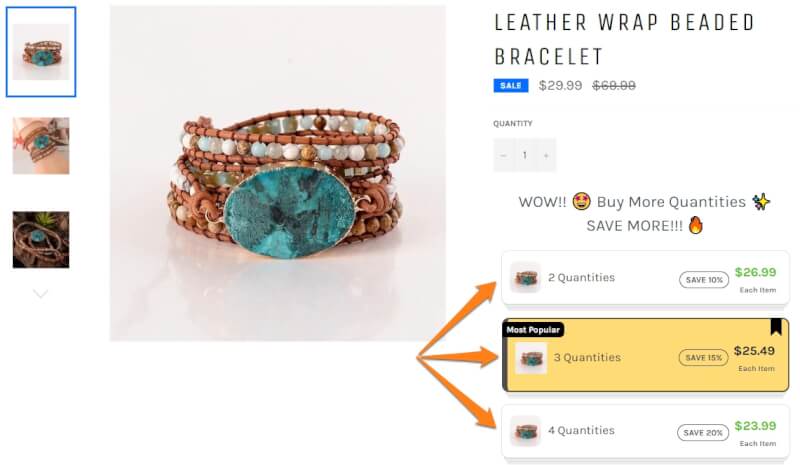 An all in one upsell funnel app to take care of your upselling techniques. This app is completely free to use, and has a lot to offer. Split test and analyze your upsell funnels, create discounted upsells, bundles, frequently bought together, volume discount offers, customized mini cart, etc.
You can't ask for more from a free app. Get this one without thinking twice and start optimizing your store.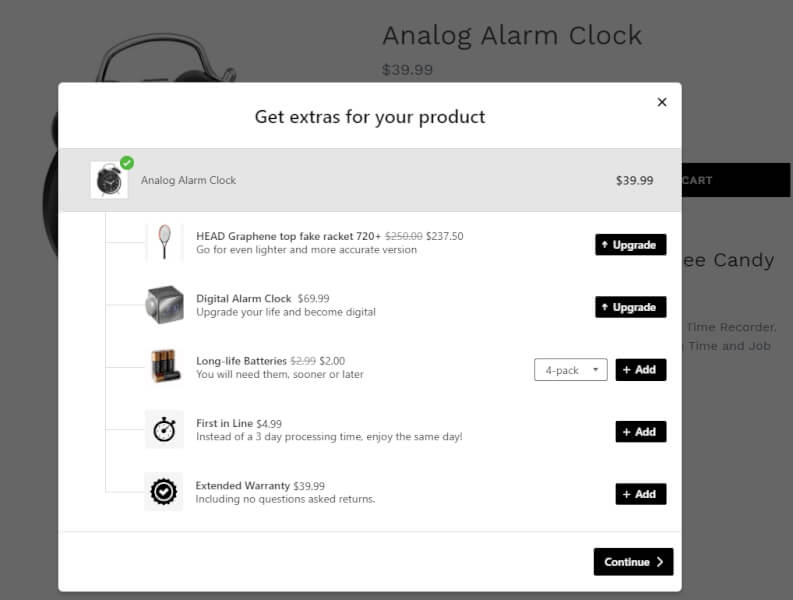 Candy Rack is a very creative app that adds an upsell/cross-sell pop-up once the customer clicks "Add to Cart" The chosen product will show a list of items that can replace (upsell) or be added to (cross-sell) the current product that the customer is buying.
Aside from add-to-cart pop-up, they also offer automatic upselling based on smart product recommendations, related product bundles, and help you generate new ideas on upsells. 
How To Upsell? The Do's and Don'ts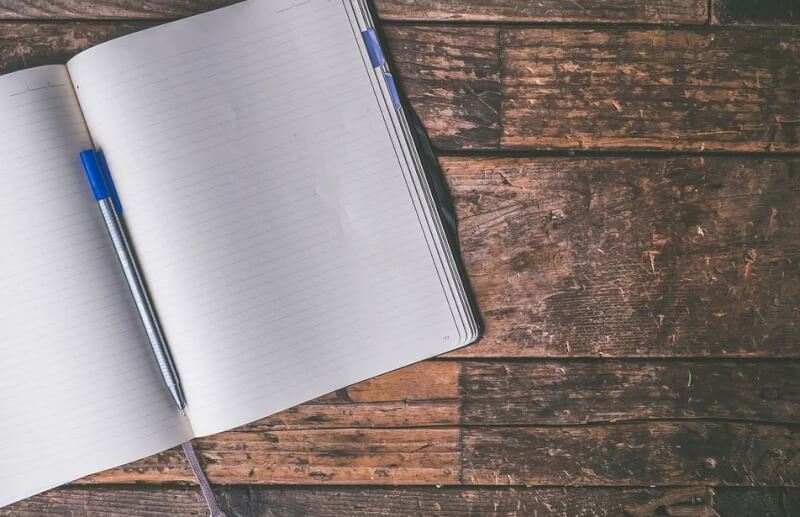 While upselling plays a positive role in the store's success and overall profitability, it needs to be implemented the right way to keep it effective. Here are some tips that will help you do so.
1. Upsell Pricing – Up To 25% More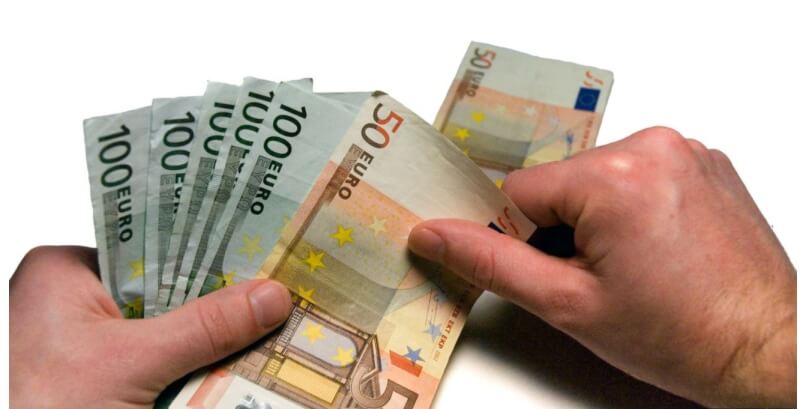 Don't be too cheap, but don't be too greedy, either. When upselling, the products that you are offering instead should be around 25% more expensive than the original product. So if the original product costs the customer $100, the upsell products should be around $125.
This is because once the customer is willing to pay a certain price for a product, they will most likely agree to pay 25% more for a better, upgraded product. However, if the upgraded item costs $160-$200, the chance that the upsell will work will be much lower. 
On the other hand, if the upsell's price is lower than 20% of the original product, the profit won't be as high, and the upsell will not be as worthwhile as it should be. Hence, you should stay around the 25% zone for optimal results.
2. Offer Product Comparisons / Similar Products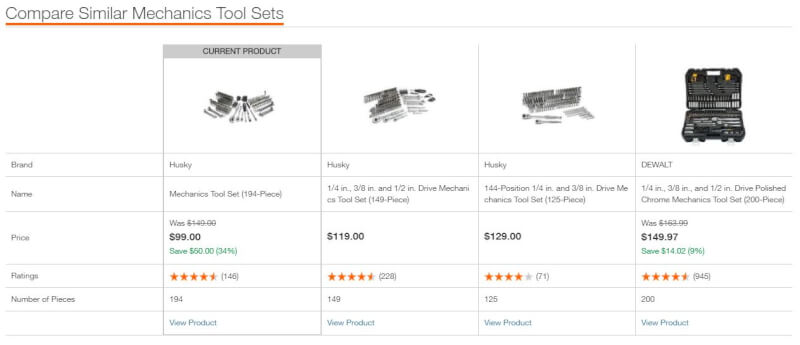 Just as the "Upselling Examples" above states, offering the customers a visualization of what they are looking at compared to upgraded models will help them upgrade their shopping cart in your eCommerce store. 
If you don't want it to be in a comparison chart with technical specifications, you can call it "Customers also viewed," "Similar Products," "Tips and Ideas," "Related Items," or anything else that your creative mind can think of. 
3. Upsell Your Best Sellers

The best products to offer upsells are your best sellers. That is because we know for a fact that the products are interesting and people want them. The chances of succeeding in upselling on such items are very high.
If your store is not generating enough sales to spot a bestseller, go with the products that have the most customer views. There is a reason that the product is getting only views and no sales. Offering better, upgraded products raises the chance to sell and see which product should replace the one that isn't selling.
4. Don't Overwhelm The Customers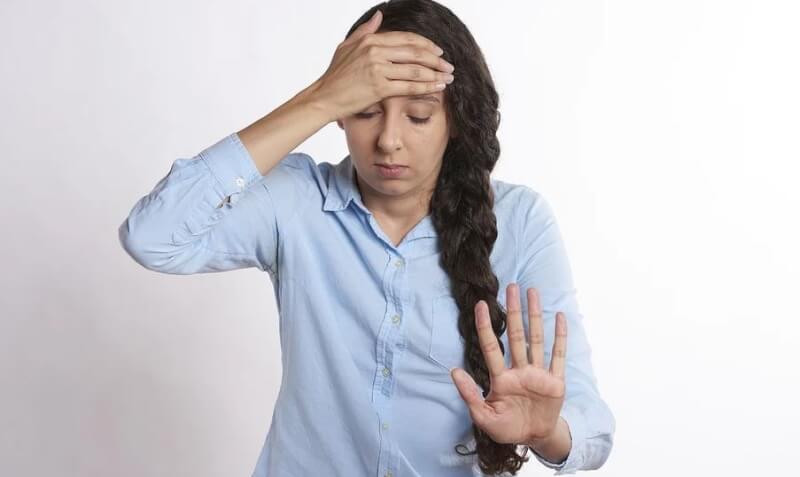 Don't offer too many products when upselling. When there are too many options, the viewer can get confused and search for your competitors instead. Offering up to 4-5 similar items is more than enough for the customer to make up his mind.
If you have more similar products to offer, use the 25% price increase method to choose the best matching ones. The rest of them can be standalone products with their own upselling techniques.
5. Listen To Your Customers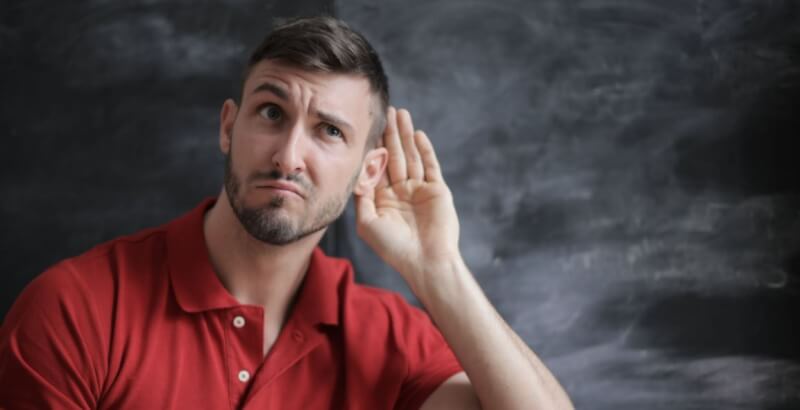 Many customers, or potential customers, tend to reach out to the seller when they have a question or suggestion. In many cases, they are looking for a product feature that may or may not be available at your store. Use this information to create upsell opportunities for the mentioned product.
For example, a customer reaches out to you, asking if the dog collars in your store have a quick-release function. Another asks if you have dog training collars (which in this case, you don't). 
Customer requests help give you an idea of what you need to do. Add upsells to the original dog collar accordingly. Then, answer the customer's messages, pointing them in the direction of the upsells. Listening to your buyers will give you the power to know what's in demand.
Automate Your Upselling Orders

Once your store starts selling a lot of products with the help of the eCommerce upselling techniques, sooner or later, you will find yourself spending too much time fulfilling the orders on supplier's sites – instead of adding more hot products similar to those that are selling and upselling them too.
Your mission is to grow your online business, spending your time only on the most crucial and urgent tasks to get there. Luckily, for this, we have the AutoDS for Shopify tool, which takes care of automating your Shopify dropshipping stores. 
From importing your products from your suppliers, price and stock monitoring, automatically fulfilling orders from your suppliers, adding tracking numbers, and much more, you won't know how you ever managed without it.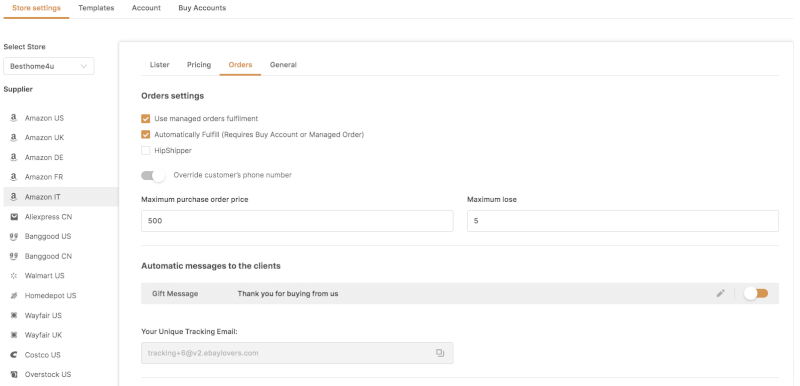 With plans starting at $0, you have to see how this tool can help skyrocket your eCommerce stores with business automation.
At The End
Now that you've learned about the advantages of eCommerce upselling techniques, the next step is to implement these strategies starting today. Start with adding upsells to your best sellers (or most-viewed items) and take it from there.
Use the suggested eCommerce upselling apps above, but explore some more to learn about more features and different pricing options. Remember not to suggest too many products not to confuse the buyer. Don't market it too hard, and don't overthink it. Practice makes perfect.
Upselling works for small, medium, and large businesses alike. And now, it will work in your stores, too. In case you are still new to dropshipping, we encourage you to read our article about the step by step guide to start your e-commerce store.