Dropshipping on eBay has never been more popular. The platform keeps growing from year to year, and more sellers are joining by the day. That's why it's so important to stand out from the crowd and learn how to increase your eBay sales and profits.
While getting more sales is a smart goal, it can seem difficult at first. Working on such a large platform in itself is daunting, let alone increasing sales. How can we get people to choose our products from the huge selection with so many sellers on the platform?
The good news is that several time-tested methods can help any dropshipper, beginner or veteran, increase their eBay sales.
In this article, we'll cover all the best ways to increase eBay sales. We'll learn to use Seller Hub promotions to encourage buying and focus on other key methods that make your store and products attractive to buyers. 
How To Increase eBay Sales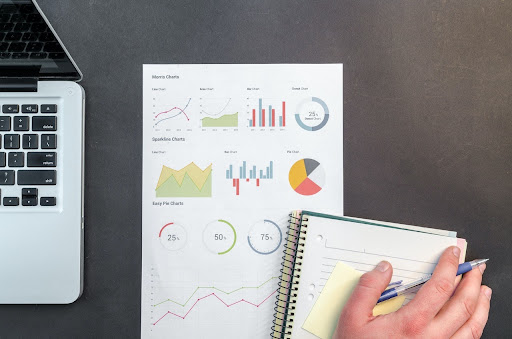 There is more than one way to skyrocket your sales on eBay.
To start, you can instruct eBay to promote your listing. For a relatively low cut of the sale, your product can gain much more visibility.
Additionally, eBay offers several types of promotions you can attach to listings. Like in the rest of the retail world, running promotions on eBay is a classic method proven to increase sales.
These awesome features can all be found on the eBay seller hub, the mission control room for all your selling needs. To reach this page, hover over 'My eBay' at the top right of the home page and click 'Selling.'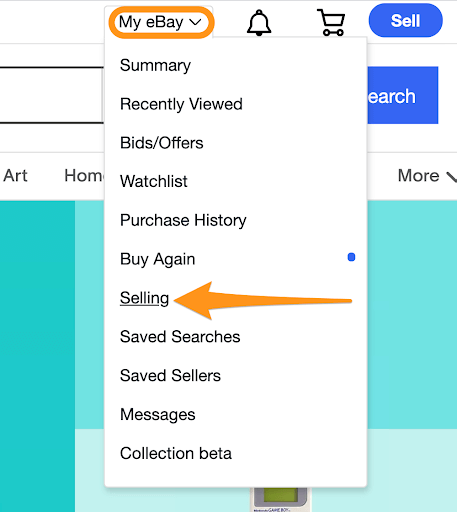 Now that we're in the right place let's take a closer look at each marketing tactic in our broader goal to increase eBay sales.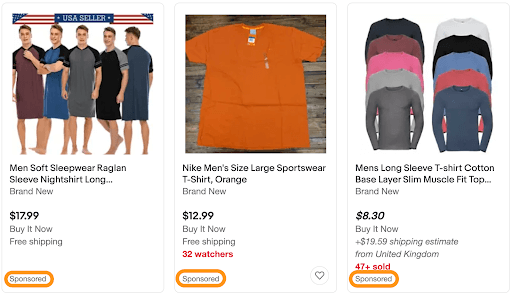 One of the best ways to improve eBay sales is to increase the visibility of your products. Since plenty of sellers are competing for the same audiences, eBay offers a way to shift the attention to your listings. Once implemented, listings appear higher on search results, and you'll notice an overall increase in views.
This marketing sweetness comes at a bargain price. You'll pay a small percentage of the total item price, and that's only if the item sells—a win-win situation.
To implement promoted listings, go to the 'Selling tools' box on the seller hub and click on 'Promoted Listings.'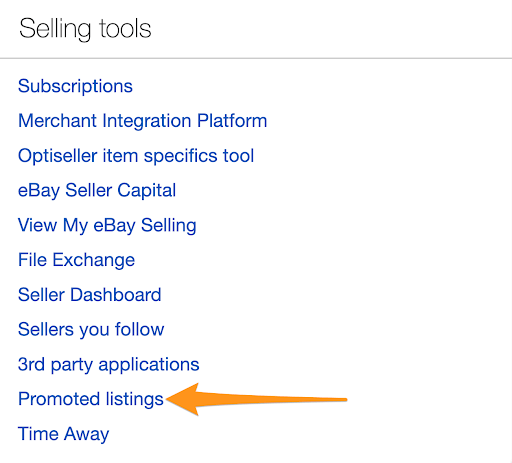 Assuming it's your first time using this feature, eBay prompts you to create your first campaign. Go ahead and select this option.
Then, you'll be able to choose whether to promote items individually, in bulk, or create rules for automatic promotions. As a first-timer, start by promoting a single listing.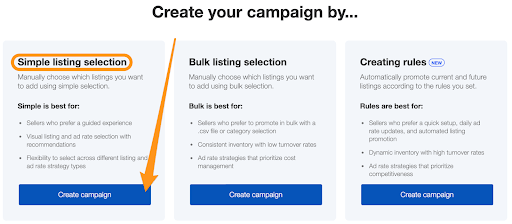 Next, select the items you want to promote and click 'Set ad rate.'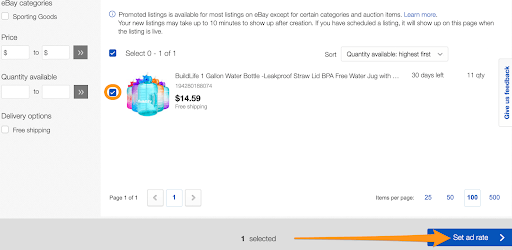 The ad rate tells eBay how strongly you want your listing promoted. The higher the ad rate, the better your listing will rank. However, a higher ad rate also means that eBay deducts a larger percentage of each sale.
Therefore, it is better as a beginner to try a low ad rate of %1-%5 and test things out on a weekly/monthly basis. After a few trials, you'll start to see what percentage gets you results but doesn't cut too much into your margins.
Alternatively, eBay provides its own suggestion for the ad rate most likely to increase views and sales.  However, their suggested ad rates are relatively high. Before heading in that direction, make sure your profit margin is high enough.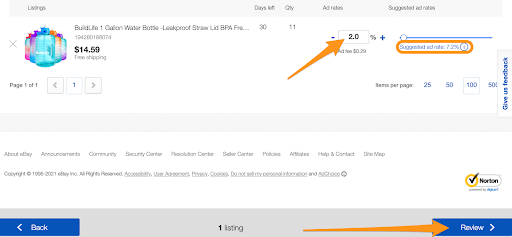 After deciding on an ad rate, click 'Review.' Finally, on the next page, name your campaign and click 'Launch.' From this point forward, it's in eBay's hands. Make sure to prepare for increased orders in advance.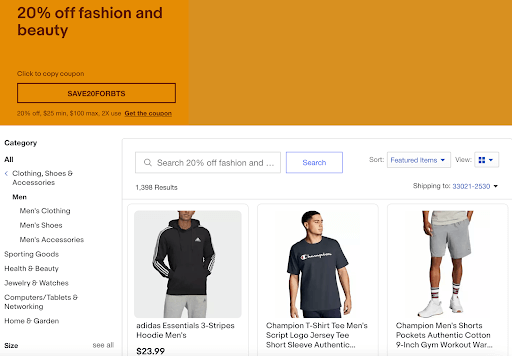 Creating coupons is the first in a series of ways to provide discounts and promotions to customers. It works basically like any other coupon where you choose a code and share it with customers to redeem an offer.
This is a fun and engaging way to increase eBay sales that has proven itself in almost every type of consumer-oriented business.
On eBay, coupon codes are created by the seller and are fully customizable. You can choose between public visibility or private (where only you know the code), enter an expiration date or maximum usage, and specify the discount amount, to name a few. 
Additionally, a coupon code can be shared anywhere you like, especially on social media, where many of your future customers might be lurking. 
How To Set Up Coupon Codes On eBay
Try this powerful tool by clicking on 'Marketing' in the Seller Hub and selecting 'Promotions' to the left.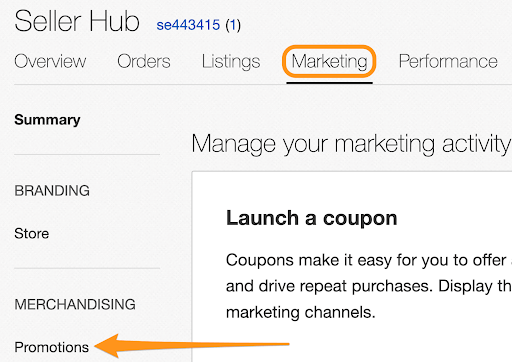 This leads us to the 'Manage Promotions' page, where we can view, track and create promotions.
From here, select 'Create a promotion' at the top right, and then pick 'Coupon' from the drop-down menu. For future reference, you can create and configure most promotion types for your store using this menu.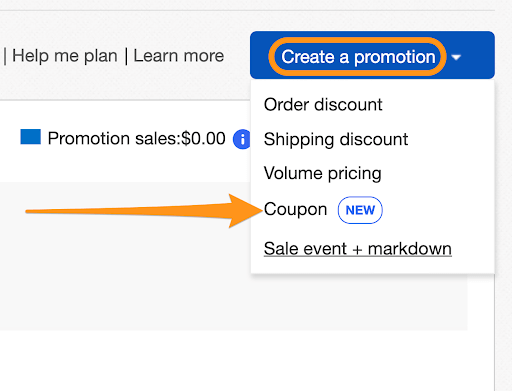 On the following screen, come up with a coupon code, give it a name so you can track it, and decide if to make it public or not.
Public coupons are posted on the listings for everyone to see and use. On the other hand, Private coupons are not visible to anyone except the seller, who can later send them to customers on eBay or an email marketing campaign.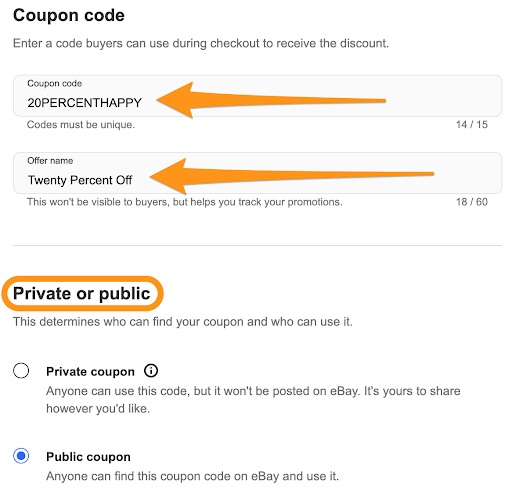 Next, configure the discounts and conditions of the coupon.
For example, you might want to offer %25 off all water bottles or 'buy 1 get one %40 off.' There are many discount types, but you can only choose one per coupon.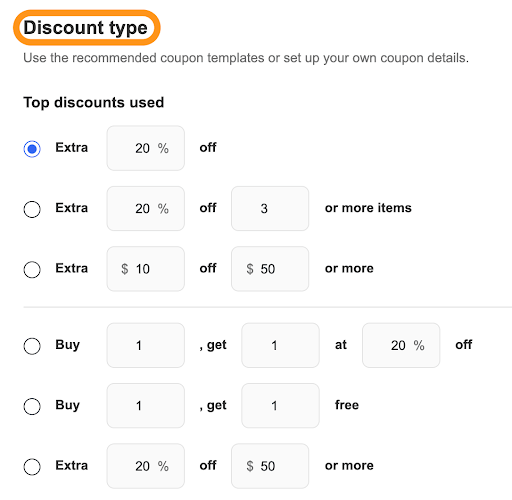 Next, decide whether there will be usage limits. In other words, you get to determine the maximum savings per person and the total amount of coupons available.
The most important part is Item eligibility. By default, eBay adds your coupon to all items, so be sure to select 'Specific Items' in the drop-down if that's what you intend.
Now, add pictures to the offer and a short description. Finally, schedule the start time, look over the details and click 'Launch Coupon.'
As we proceed to other promotions, note that the general steps you took to set up the coupon promotion are pretty much the same for all promotions.
Set the terms, assign to items, add images + descriptions, and launch.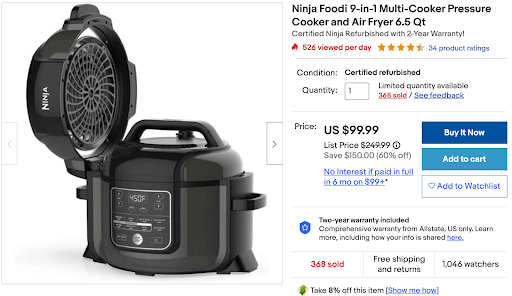 Not that different from coupons, Order Discounts are another popular way to increase eBay sales. This time, instead of applying a coupon, the customer automatically receives the discount if their order fulfills the conditions of the offer.
An order discount can be a percentage or dollar amount off. Additionally, you can offer 'buy one get free' and so on. To make things easier, eBay can automatically assign discounts based on the goal of your promotion.
Alternatively, you always have the option to customize order discounts from thousands of possible combinations. However, since there are so many combinations, try going with eBay's recommendation first and come back to customize later. Just make sure that your profit margin covers the discounts and leaves room for profiting. 
How To Create Order Discounts
To set up order discounts, go to the Promotions page in the Marketing tab of your seller hub. Then, click on 'Create a Promotion' and select 'Order Discounts.' This takes you to the configuration page.
Begin by setting the offer type. 
eBay asks you for the category you want to promote and the goal of the campaign. For instance, you may have just launched a new line of clothing. In that case, select 'fashion apparel' under 'category' and 'Introduce New Items' under 'objective.'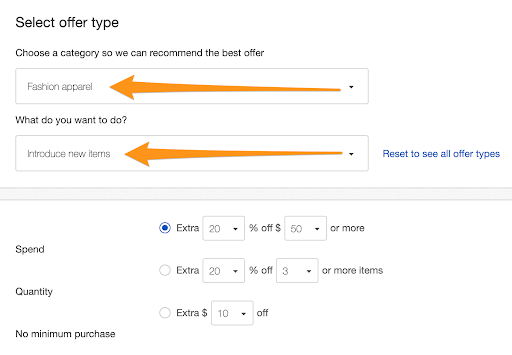 eBay then suggests the three best discount options, making this the quickest way to set up the promotion. However, you can always select your own discount type by not selecting a category and goal.
Once you've decided on a discount, click on 'Select Items' at the bottom right of the page. This leads you to the next page, where you can choose which items the discount will apply to. Choose individual items from your store, or select the 'Create Rules' option.
Creating rules is typically recommended to stores launching discounts on more than 500 items. For example, you can set discounts for all items between $50-$100.
Either way, when you're done selecting items, click 'Save and review.' 
In the 'Review and launch' section, choose a date range for the discount and give it a description (an internal name that allows you to track the promotion). Finally, add images and a title to display on the promotion, and click 'Launch.'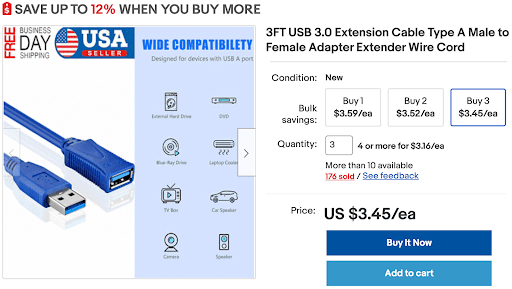 Unlike general discounts or coupons, Volume Pricing encourages buyers to purchase multiple units of the same product. This is done by offering them tiered pricing. The more units they buy, the better the savings.
Volume pricing is a fabulous choice if you are selling lower-priced items that customers typically buy in bulk. For example, USB-C cables are becoming the norm on many new devices, creating a higher chance customers want more than one. Therefore, volume pricing is a perfect promotion for the product.
Additionally, volume pricing gives an added advantage both for buyers and sellers. Customers save time and money on shipping while you save the time and costs of fulfilling multiple smaller orders individually.
Setting up volume pricing is fairly simple.
On the same page where we created other promotions, click again 'Create A Promotion,' but this time select 'Volume Pricing.'
The next page prompts you to set tiered pricing for the listing. In short, this means that the more units the customer orders, the higher the discount they receive.
It works as follows: the first unit sells at the listed price, with each additional unit offering a progressively increased discount. For example, 'buy 2 get 10% off,' 'buy 3 get 20% off,' and so on.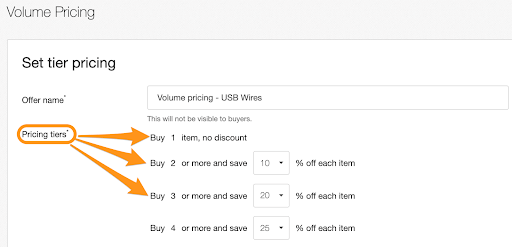 Next, choose which items the promotion will apply to by clicking on 'Add Inventory' and 'Select items' on the next page. Or create rules that will determine which listings to apply volume discounts on.
Before you launch the discount, you'll see a row that says 'Apply discount to single item only.' This determines whether customers can mix and match between different products on the promotion or not.

For example, if you're offering volume pricing on USB wires and HDMI cables, you can decide if the promotion applies to any combination of items or each product individually. To restrict the discount to one listing at a time, check the box.
Finally, choose the start and end date,  click 'Launch,' and you're set. 
Create A Sale Event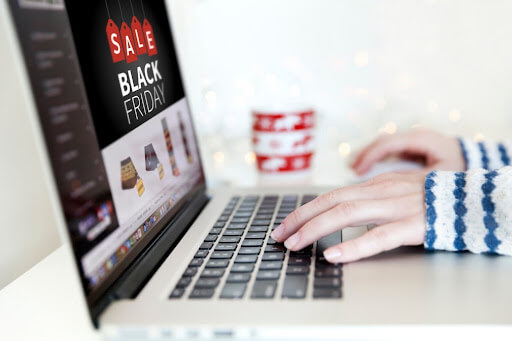 Creating a sale event is a sure-fire way to increase your eBay sales dramatically. This one is also the easiest of them all. When you create a sale event, all items in your store or those selected come with an automatic discount of a dollar or percentage amount.
Think of sales events as a great option for holiday sales like Black Friday or Boxing Day. This promotion can also be used to jump-start a low-performing store.
Like with other promotions, you can find the option to create a sale event in the seller hub under the Marketing tab. Click Promotions on the left, and in the 'Create a promotion' menu, choose 'Sale event + markdown.'
On the next page, decide whether the discount will go by percentage or dollar amount. Then, enter the desired number (e.g., %30 off).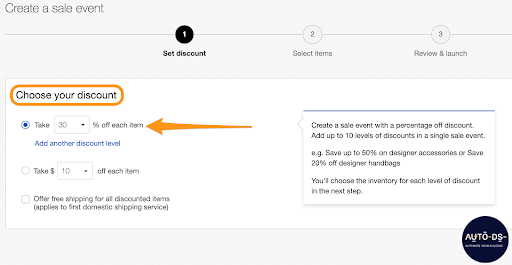 You may want to offer different levels of discount depending on the products you're selling. For example, a dropshipping clothing store can offer %30 of all dresses and %20 off T-Shirts.
In that case, click on 'Add another discount level' and enter a percentage or dollar value.
Once you're done setting the different discount levels, proceed to 'Select items' at the bottom of the page. You'll be prompted to choose if you want to assign the discounts to specific items or create rules.
Going with 'Select items,' simply check all items you want to be included in the sale.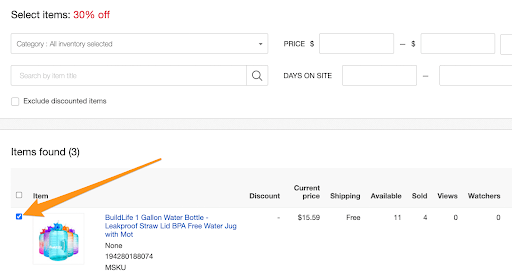 If you have more than one discount level, click on 'Save and select for next discount,' choose the discount level and repeat the process. 
When done, click 'Save and review' and set the sale date range on the following page.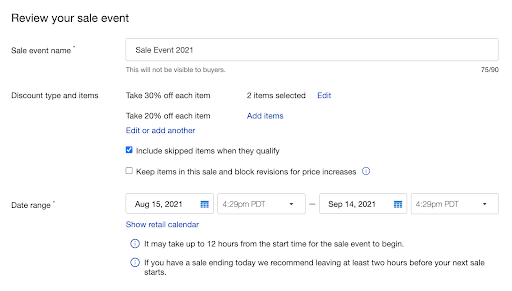 As usual, the last step allows you to add images and a description. Finally, launch the campaign.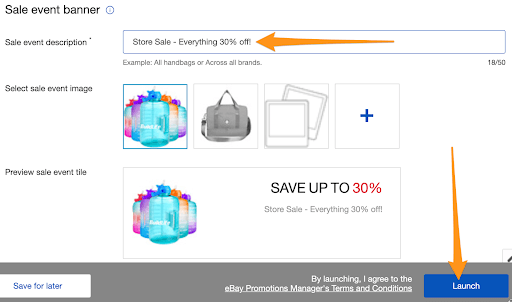 Make sure to review everything well, as it isn't possible to add items or change the discount level after the sale is launched.
On the other hand, you can change the sale event description or images even after the sale launches. More importantly, eBay gives you the option to remove items from the sale or change the sale end date.
To make any of these changes, head over to the 'Promotions' page and select 'Edit' from the drop-down menu near the sale event row.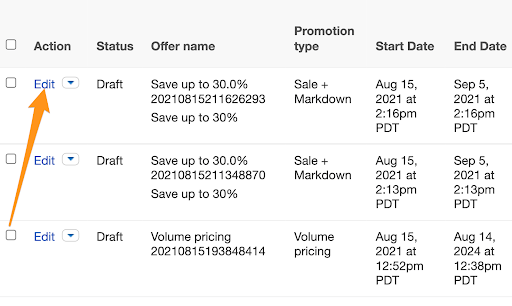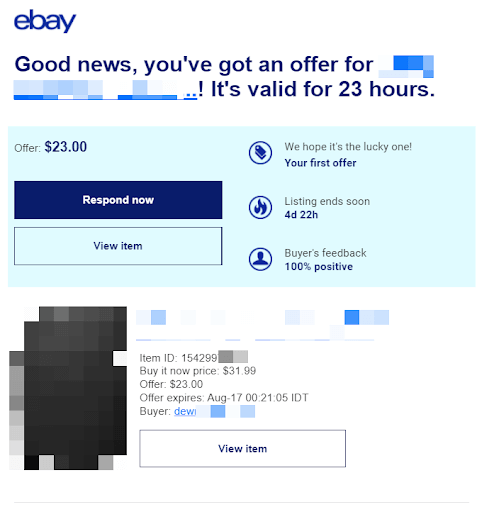 Not all promotions have to be at fixed percentages. The Best Offer feature can add flexibility by opening up some products for negotiation. After all, customers love negotiating for better prices, making it a fun and effective way to increase eBay sales.
Once you launch this promotion, buyers make offers that you can accept, decline, or respond with a counteroffer. Furthermore, you can configure thresholds for automatically accepting or declining an offer.
Here is how the negotiating process works:
When customers make an offer on an eligible listing, eBay notifies you via email and adds it to the active listings section in the seller hub.
Then, you have 48 hours to respond to the offer by accepting, declining, or sending a counteroffer. You can also let it expire by not responding at all. 
How To Set Up Best Offer On eBay
To enable Best Offer on listings, go to the 'Listings' tab on the seller hub, and select 'Active.'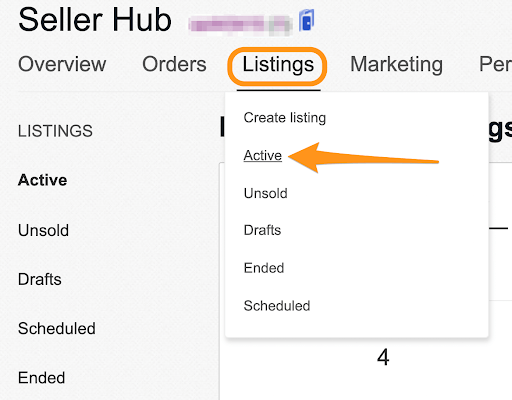 Next, check the items you want to allow Best Offers on, click the small arrow under the actions tab and select 'Add Best Offer.'
On the pop-up screen, review the details, and choose whether you want to accept or decline offers of given amounts or percentages automatically. When done, click 'Add Best Offer.'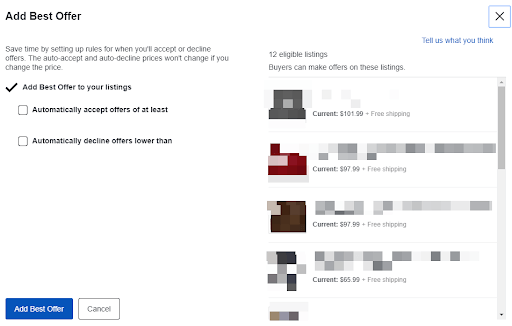 You can also enable Best Offers during the listing process. The instructions depend on what listing tool you use, which is why we recommend you read eBay's guide on the topic.
Once offers start coming in, you can reply directly to eBay's email. In the event of multiple offers from customers, eBay allows you to respond to all customers. In turn, buyers have 48 hours to accept. The first customer to accept the seller's counteroffer gets to buy the product.
Keep in mind that counteroffers should be lower than the listed price but higher than the buyer's offer.
How Best Offer Automation Works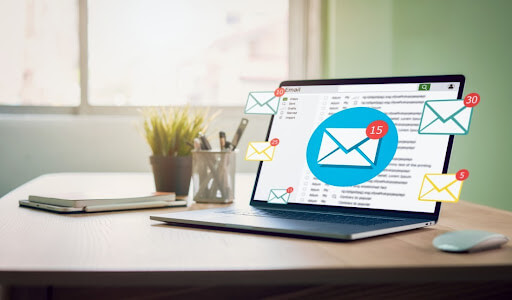 If you choose to automate the Best Offer process, eBay asks you to set an upper and a lower limit of what you'll accept. Customers are not aware of these in advance.
When buyers make an offer below your lowest limit, eBay automatically declines it. Offers above the higher limit are automatically accepted. Anything in between triggers an email to you so you can decide manually if to accept, decline or counter offer.
For example, say you're listing a pair of sunglasses for $29.99, and you allow an upper limit of $27 and a lower limit of $24. If the customer offers to pay $28, the pair is sold to them at that price. However, if they offer $23, the offer is declined.
Any offer between $24 and $27 goes to your inbox so you can decide. 
Send Offers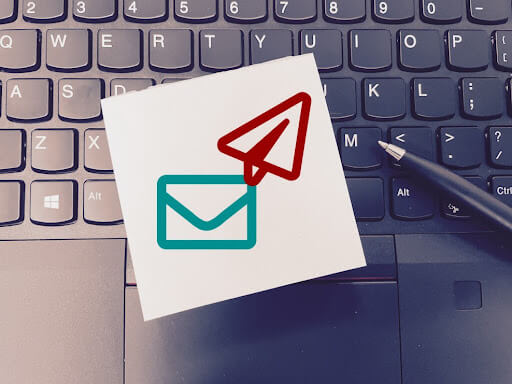 Sometimes you'll find that multiple customers are watching your product or adding it to their carts, but it isn't translating into sales. One of the best ways to convert these customers is by sending them an offer they can't refuse.
Sending offers creates a personal touch that can increase your overall eBay sales.
Here is how you can use this feature: First, go to your active listings and click on 'Send offers – eligible.' Typically, best offers are available on items actively watched by customers or items sitting in a customers' cart for more than five days. 
Next, select which listing you want to send offers on. Then, choose the new dollar amount and whether you want to allow counteroffers. Finally, click 'Send Offer.'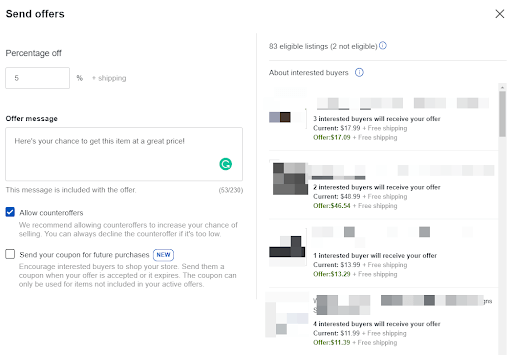 You can also elect to have eBay automatically send offers on the product to future customers.
After you send an offer, customers receive an email allowing them to accept the offer and complete the purchase in a few clicks. 
Additional Methods To Increase eBay Sales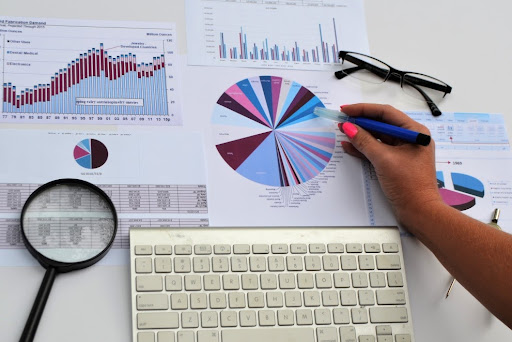 You've just learned five foolproof ways to increase eBay sales, which puts you ahead of the game.
However, sometimes basic adjustments to your store can make all the difference. So before you start running a sale or a discount, take a look at three proven methods to improve your eBay store performance.
Edit Your eBay Store Front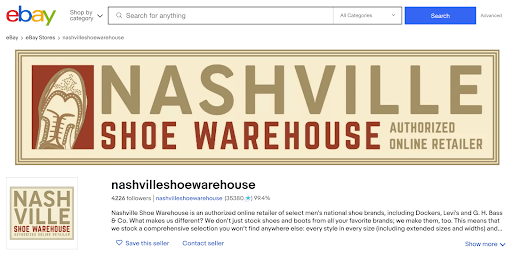 Since marketing is all about presentation, what better place to start than your storefront? Decorating your store can make it more attractive to buyers who will want to come in and see what it's all about.
That's why it's important to edit your eBay store by adding a billboard image and giving it a brief description. Additionally, give buyers a tease for what's inside by adding a few featured items.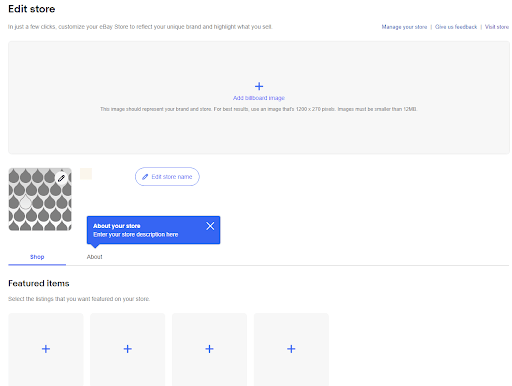 Create eBay Templates
Speaking of presentation, the way your product appears is just as important as your storefront. This is especially true on a marketplace like eBay, where millions of people browse through products every day. Most users land on your products from the search function and have little information about your store.
eBay templates transform the average eBay listing into a visually appealing page that tells the buyer who you are and why they should buy from you. You can add your store logo and featured products from your store and clearly state shipping and return policies. Additionally, some dropshippers add trust badges.
By implementing strong eBay templates on your listings, you offer buyers the information they need and gain their trust. It demonstrates that you are a professional store that sells high-quality products.
Read the following article to find out more about eBay templates and how to set them up:
The Importance of eBay Listings Templates When You Are Dropshipping on eBay
Product Research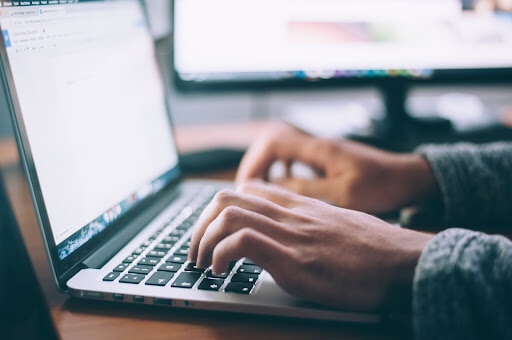 When all is said and done, no dropshipper became a winner without thorough product research. Finding the hottest trending and interesting products makes the difference between listings "collecting dust" and a store where products fly off the shelf.
Not to worry, we have plenty of great resources for you to get started! The AutoDS blog contains a wealth of information on how and where to find the best product. Similarly, watch our in-house master dropshipper show you step by step how to find the hottest selling products through Amazon's Best Sellers.
However, not everyone has the time for in-depth research. That is why AutoDS's dedicated staff prepared for us an eBook with the 100 best products to sell in 2021. You can start selling them today with immediate results!
Make Your eBay Store Count 
eBay is a dynamic marketplace where you get to use your creativity and style to run a profitable store. With so many ways to increase your eBay sales, there is no doubt that you will find the methods that work for you.
Some methods might sound complicated at first, but you can always refer to any section in this article to help you set up a promotion or sale.
Rest assured that you no longer have to worry about low sales. If you find your store struggling with sales or simply want to take things up a notch, now you know how.
Keep optimizing your eBay store for success with the following tips and strategies: