Whether you're new to dropshipping or you're an experienced dropshipper, you most likely know and have experienced the timely task of finding the right products to sell in your dropshipping store.
With hundreds of millions of products to choose from, it can be overwhelming, and many times even unsuccessful.
Although there are ways to simplify our product search by, for example, adding products in bulk to test since it is a numbers game, we do strive for perfection.
In this case, the ideal is to add proven products we know are hot and selling well. Luckily, there are many ways to filter products and narrow down the list of potential products.
We have many tips and tricks on how to find winning products. One of the easiest and fastest is by using Amazon's Most Wished For list.
In this article, we show why and how this method works for any dropshipping store. We even get into which products are best to sell and which to avoid to keep your dropshipping store safe and out of trouble.
Keep reading to learn a new and simple way to find your store's next best sellers!
Shopping lists are not a new concept. We all use them at some point in our lives. From the first gift wish list, we put together as children before our birthday or holidays, to the adult version being our usual grocery shopping list.
So, what do shopping lists have to do with finding the best dropshipping products for your dropshipping business? Well, in this case, a lot!
As we already mentioned, people create shopping lists or wish lists to simplify shopping. This is to help keep track of what they want or need to buy.
Since eCommerce is taking over, online stores and marketplaces have implemented the wish list option as a feature on their sites.
The difference between the classic shopping list and the online wish lists people create on their favorite eCommerce shops, is the online "in-store" wish list often remains full.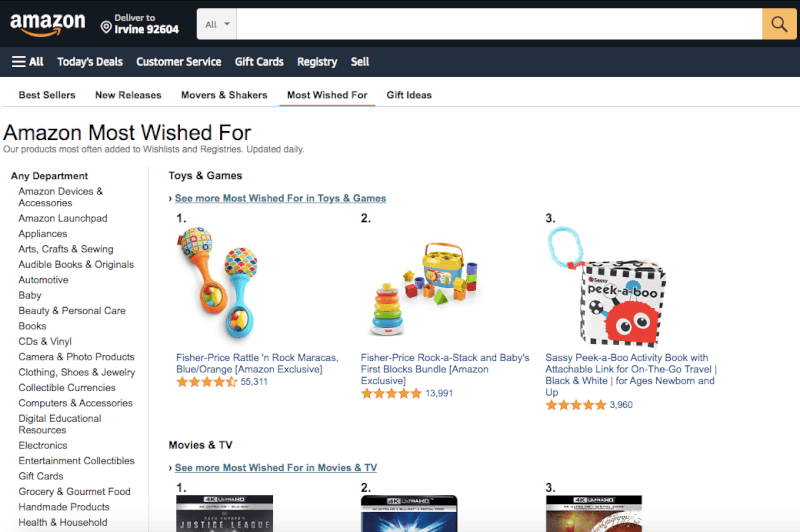 It is often used as a place for shoppers to save their desired products for future purchases and keep track of items they are interested in.
Imagine how easy it would be to select products to sell in our dropshipping store if we could take a peek into these lists and see what customers have been showing interest in.
Well, lucky for us, Amazon does exactly that. On their site, Amazon has a full section of products called "Amazon Most Wished For." 
This section is a huge list with over 10 product categories filled with tons of hot products, specifically made up of the most common products in Amazon customer's wishlists.
This provides a great indication of what product categories are hot, which products from within those categories are attracting buyers, and where the demand/supply is.
We highly recommend using this strategy to find products to dropship. We have tested this out before recommending it to you, and the results were very satisfying.
So, now that you know the what and why let's get to the how.
Most Wished For Top Dropshipping Categories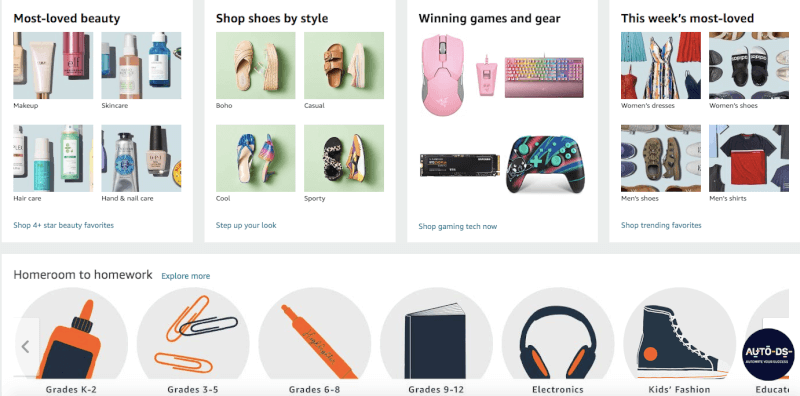 Even with such a wide selection of products that have already proven to be in high demand, we still need to narrow down our search.
The best tip we can share is to start filtering. As the first filter, let's focus on the categories we know are safe for dropship.
We gathered the top categories for you to search and choose from to save you time and headache. The best product categories to select products for your dropshipping store are as follows:
Arts, Crafts & Sewing

Automotive

Baby

Beauty & Personal Care

Clothing, Shoes & Jewelry

Computer Accessories

Electronics

Health & Household

Home & Kitchen

Kitchen & Dining

Musical Instruments

Office Products

Patio, Lawn & Garden

Pet Supplies

Sports & Outdoors

Tools & Home Improvement

Toys & Games
We chose these categories because they are evergreen niches. This means they are always in high demand. Additionally, they contain both evergreen and trendy products, so it will be easier to find hot-selling products.
Please note: there are some products within these categories that we should not sell. 
With that said, let's move on to which product categories and specific items are dangerous to dropship and why.
Dropshipping Products To Avoid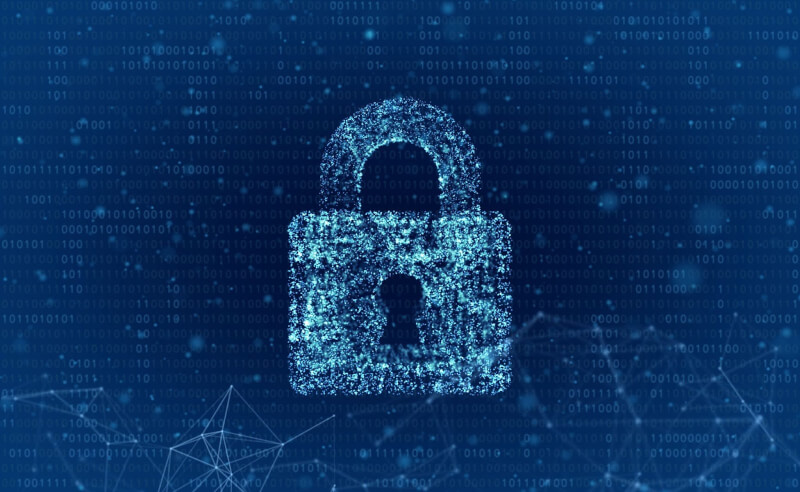 After giving you 15+ hot categories to choose products to dropship from, as mentioned, there are some niches and products that we need to avoid when dropshipping.
Some are forbidden and more obvious than others, and some are in a grey area. As you can see, we do not lack selection, so it is best to stay away from those that can be problematic, dangerous to our stores, or simply cause unwanted problems.
Here is the list of products to avoid selling in your dropshipping store:
Unregulated and regulated supplements

Adult products

Third-Party infringements

Counterfeit products

Health products: "Before-and-After."

Weapons, firearms

Tobacco products and other hazardous products

Drugs, alcohol, and drug-related products
For our AutoDS members, making sure that none of these products accidentally make their way into your store is even easier.
Our AutoDS platform offers a layer of protection with an extensive and updated list of any Vero products. If you are dropshipping on eBay, click to read our eBay VeRO guide to learn more about our safety features.
Finding Winning Products From Amazon's Most Wished For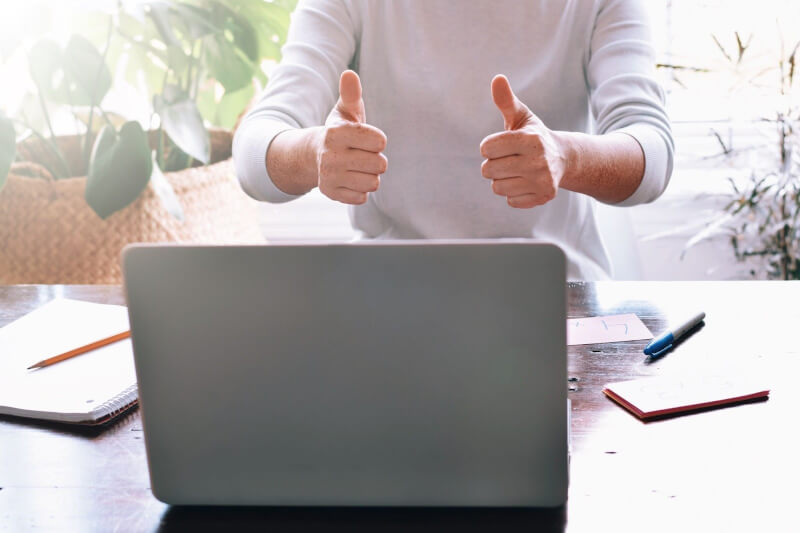 Alright, here comes the fun part. Now that you know which categories to dive into, let's give you a step-by-step of one of our favorite ways to finding great dropshipping products from Amazon's Most Wished For section.
Once you get to Amazon's Most Wished For section, you will see a whole long list of categories shown on the left-hand side.
As we mentioned, it is best to narrow it down to simplify our search. Let us go ahead and take one category and then go further into it.
For this article, we chose the Baby department. This is an evergreen niche with plenty of hot products to dropship.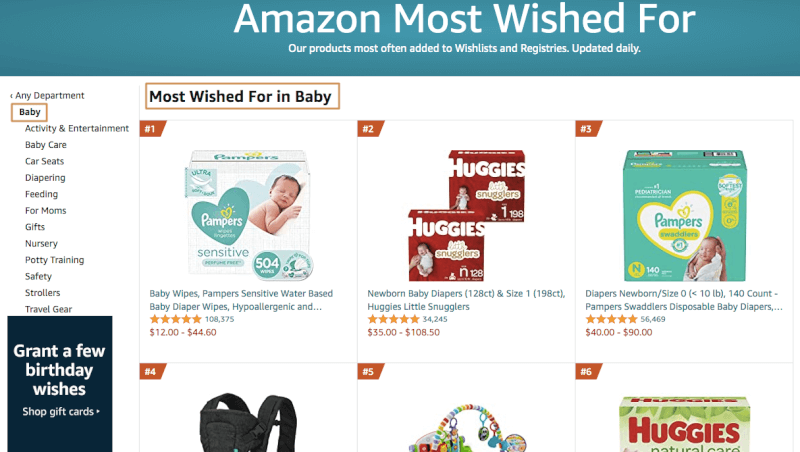 Since we chose the baby category, Amazon will now show us the top sub-categories of this niche, making it even easier for us dropshippers.
(At this stage, when you have chosen your niche, feel free to select whichever sub-category you want from the list on the left)
 For our example, we will go with car seats.
We chose car seats because this is a general product with high demand that is purchased all year round, and is not just a passing trend.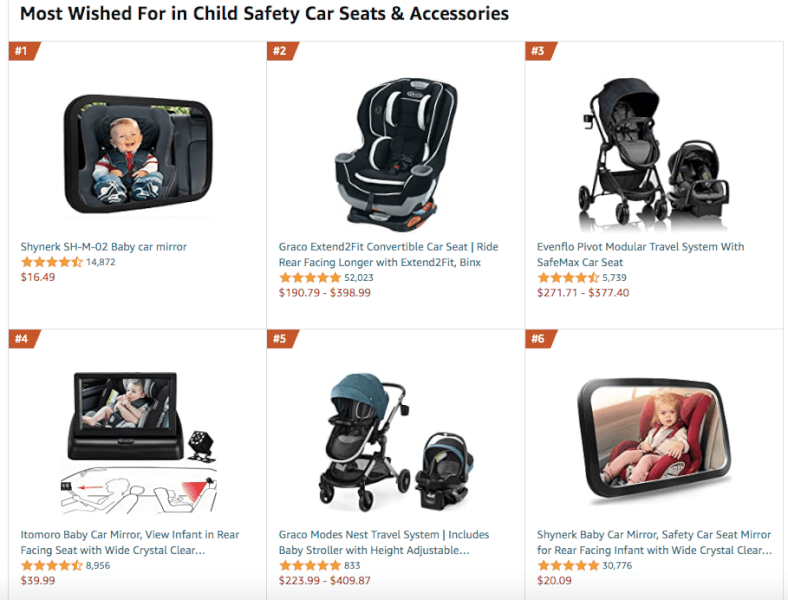 Now that we have clicked on car seats, Amazon presents us with a list of their most looked at and high selling car seats.
Although all of these could be potentially good for us to sell, take a minute to scroll through the page before selecting a particular item. Look at how many pieces have sold, the product rating, and even read some customer comments.
You want to make sure you choose a quality product that will not only sell but will leave your buyers satisfied and hopefully coming back to your store.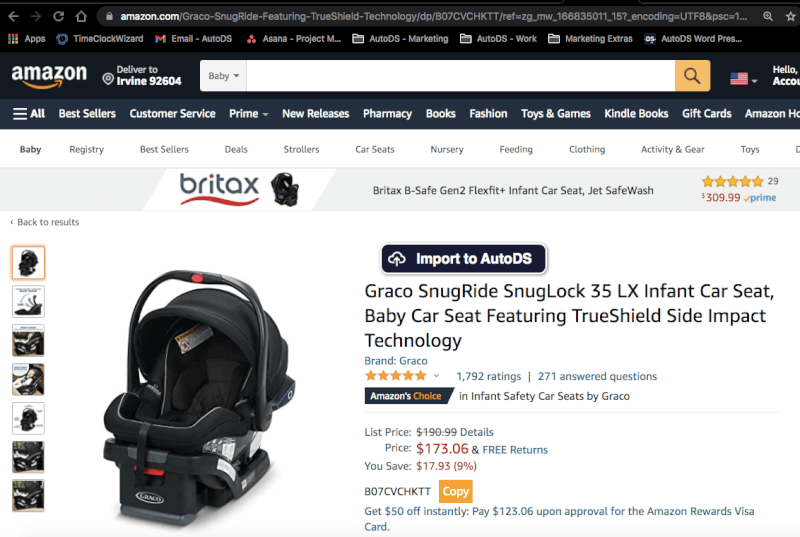 As you can see, the item we chose has a 5-star rating and many reviews. This definitely increases our confidence in the product and makes it an appealing choice.
The next step is adding our new product to our dropshipping store. For AutoDS members, this step is effortless.
Import Hot Products To Your Store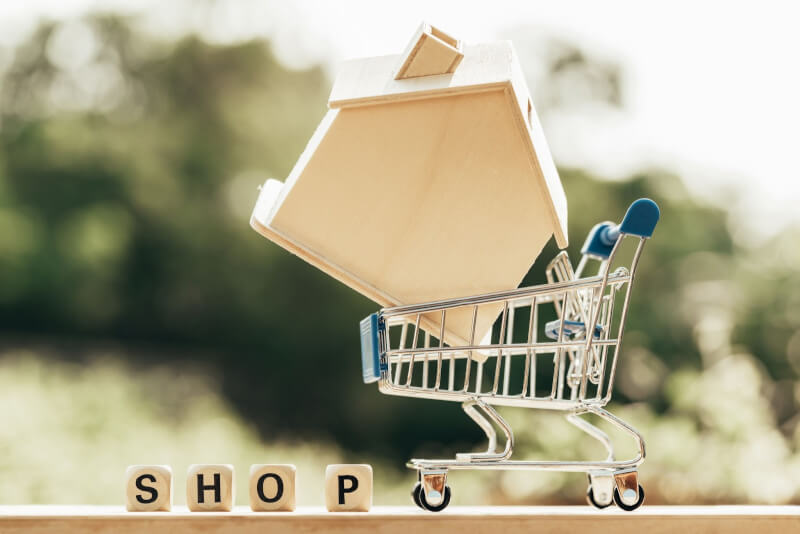 Using the AutoDS platform and its features, there are 3 different ways to import a single product to your store.
One way to do so is by taking the product URL or the product ID and simply copy-pasting it into our AutoDS product lister.
In the image below, we have marked the product URL, so you know what to look for.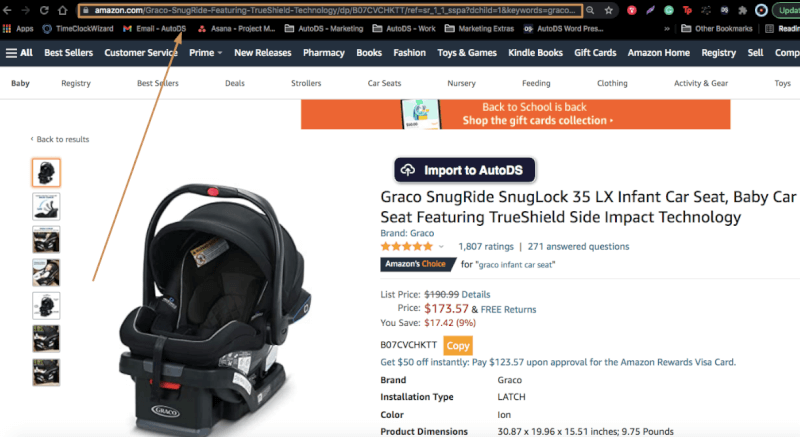 Once you copy the product URL or ID, head over to your AutoDS account and click "Add Products" on the top left menu.
As soon as you do so, our product lister will open.
The first default option is "URL's or ID's", and right underneath that tab is where you will paste the copied product ID or URL.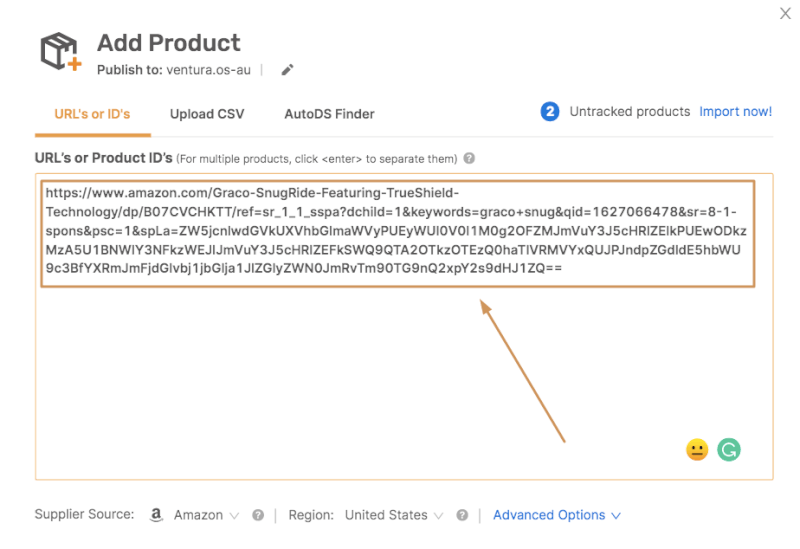 This method works for bulk product imports as well. If you have more than one product URL or ID, copy and paste them all in the same box.
Additionally, we have our super neat Chrome Helper extension with multiple time-saving features, including fast product importing.
Our Helper extension can be used on any supported supplier site and gives 2 product importing shortcuts.
For a super quick single import, use our one-click importer. Just click on your desired product and click "Import to AutoDS," as shown below.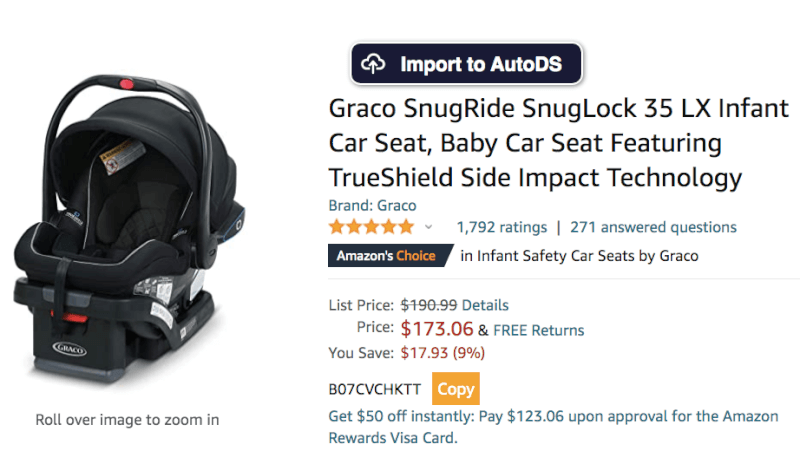 Furthermore, if you would like a speedy solution to bulk imports, you'll love our item grabber.
Click our AutoDS Helper extension on the bottom right corner of any products page, and instantly grab all of the products shown on the page by clicking on "Extract".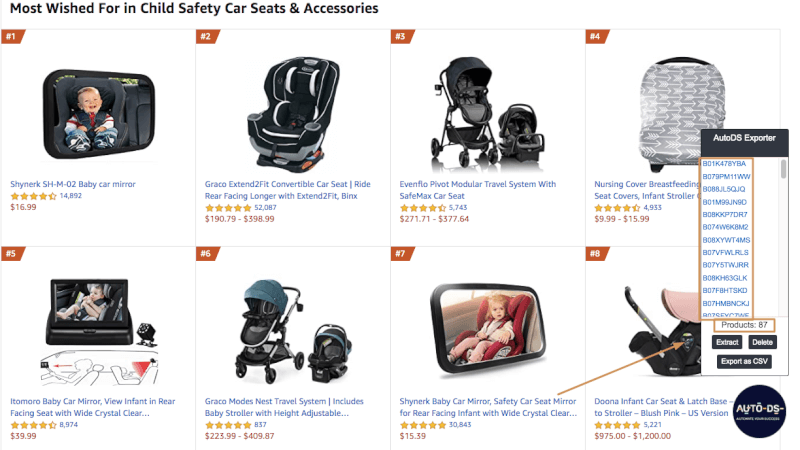 This will activate the Helper. Once it has extracted the product ID's for you, click on "Export as CSV". This will automatically create and download a CSV file for you to upload to AutoDS.
After that go to "Add Products", select the "Upload CSV" option, and add the file to import your new products.
Whichever method you use, be sure to take advantage of our "Drafts" part of the importing process. You can import directly to your store. However, it is crucial to edit and optimize your products.
If you use the "Add to Drafts" option, you will get advanced editing options to help your products get more attention and help rake in more sales. 
To Wrap It Up
There you have it. You've just learned a new way to find products for your store, and how to zero in on niches and products.
Product finding methods like this are helpful to all dropshippers, regardless of experience. You can never have too many strategies.
Besides product finding, we hope you take note of the products to avoid. With so many great product options, they are not worth the risk.
If you're looking for more info and guidance, our experts are here to help you succeed. 
Check out our full A-Z eBay course created by AutoDS' CEO Lior. Additionally, we have a FREE Shopify course by our very own content manager Liran who has years of dropshipping experience.
Furthermore, for those looking for a more 1-to-1 learning approach, we have a mentorship program to help you become a dropshipping pro!
Lastly, don't forget to comment below if you'd like to share your current product finding method, or let us know how this one works for you!
Happy dropshipping everyone, and as always, we hope you enjoyed and found value in the article.