Whether you're just getting your eBay dropshipping business off the ground or you've already established one, you surely know one thing: knowing what to sell is the key to being successful.
Therefore, staying on top of your research and knowing about the best selling products is perhaps the most critical element of running an eBay store.
However, we all know that doing so takes far too much time. Finding such items can consume hours at a time. As such, you need to invest in market research or product finding tool.
But what exactly is a market research tool, and how does it work?
A market research tool is software that automatically finds hot items for you. It scans the sellers on eBay, finds products that have been sold the most within a certain time range (usually up to a month), and extracts these results for you. By using this tool, you will save A LOT of time. All that's left for you to do is upload these products.
We have found the best tools in the market and will review their pros and cons.
AutoDS Finder is a product finding tool. It scans a lot of sellers automatically and finds the best-selling products on eBay.
The tool doesn't exist on a standalone platform; it is integrated into the AutoDS drophipping tool.
It functions on a credit system as opposed to a monthly fee – which makes it affordable –  and the credits never expire.
Pros
Incredibly time-saving

: It can find and upload more than 100 items in only a few minutes and with just one click!

Integration into AutoDS

offers the option to schedule your items to upload at a future time or date

It scans over 40K eBay sellers

, which means it can provide A LOT of high quality and best selling items.

It supports many suppliers: 

Amazon – US, UK, DE, IT, FR – AliExpress, HomeDepot, Walmart

Recurring uploads: Uploads every day, automatically at your chosen time, the hottest items from the Finder category you select. A real time saver!
AutoDS Coupons Finder: Special coupons product category

 that seeks out products with coupon discounts. Who doesn't want to earn extra profits?
Here is a video that explains how the AutoDS Coupons Finder works:
Cons
There isn't an option to select a specific category (niche) from which to upload

No price range of the products can be set.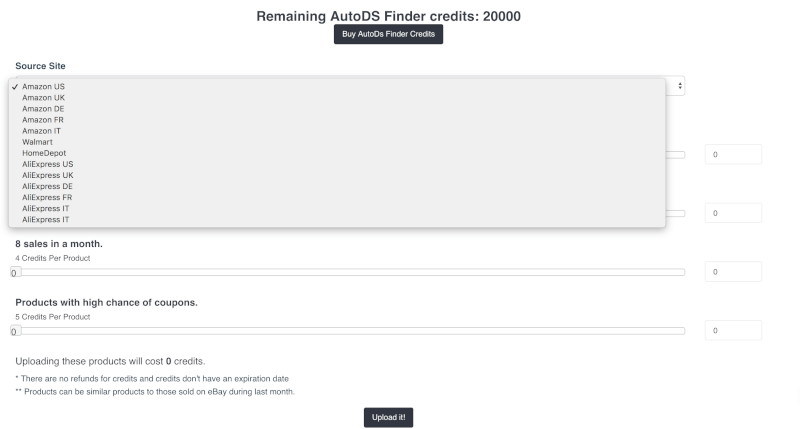 Zik Analytics is one of the best-known market research tools in the market. A lot of eBay sellers trust it for their research. It provides useful information for its users and consists of features such as product research, category research, competitor research, etc. It comes with a monthly, 6-month, or annual fee.
Pros
Product research

: You can search the name of a product and decide whether or not its worth selling based on the results.

Competitor research

: Scan eBay sellers, check their performance, find their bestsellers, and come up with new ideas for product uploading.

Bulk Scanner

: This tool helps you grab all the products from one seller based on your own predetermined criteria.

Category research

: With results taken from Google Analytics, you can see which niche (or sub-niche) is performing best at the moment.

Title analytics tool

: Discover long-tailed and generic keywords that will garner traffic based on the sales they bring.

Zik Academy

: Subscribers get free access to an array of educational content.

Has a

free trial

(14 days)
Cons
 The bulk scanner comes with an additional extra cost.
Terapeak
Terapeak is one of the first market research tools in its category and has been fully acquired by eBay. This means that if someone wants to subscribe to it, the process must be done entirely through eBay. Terapeak promises to provide a great experience in product research, as well as access to historical data of these items' sales over time. This helps a seller define when the best time is to upload a product.
Pros
Product research

: Finds hot items to sell on eBay.

Access to historical sales data

: Find out what niches are most likely to see an uptick in sales within the coming months.

Competitor Analysis Data:

 The tool shows who sells what and with a profit approximation for each item.

Price trends:  See how the prices fluctuate and change over time.
Cons
Doesn't have auto-match for dropshipping suppliers, as other tools have

The SEO Pro extension (which offers the best selling keyword research, term searching data, etc.) comes with an additional monthly cost, which makes the tool a bit pricey.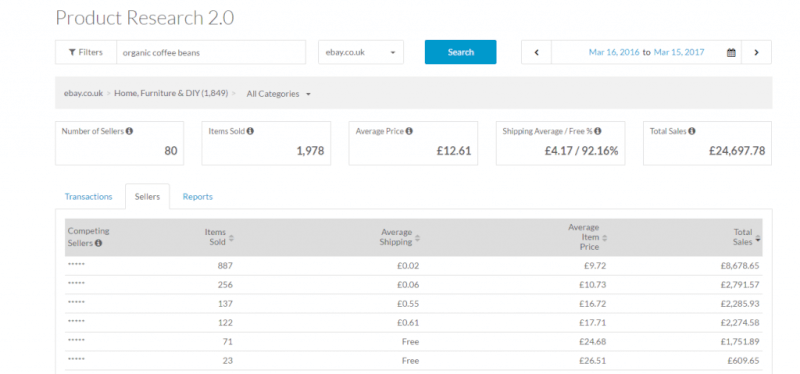 Chili-Hunter is both a market research and product finding tool. Combining these two is really helpful for the subscriber, who would have everything in one place. It promises to provide the eBay seller with many useful tools, like finding hot niches, profitable products with one click, advanced Vero protection, best selling keywords, and much more.
Pros
Hot niches research:

 Find which eBay category/subcategory sells the best.

Profitable products finding:

Automatically finds the products and uploads them to your

dropshipping tool

with 1-click (also supported by

AutoDS

)

Competition research

: See what other sellers are doing

Vero/Duplicate protection:

The tool scans your eBay store and alerts you of Vero or duplicate listings.

Hot Keywords Research:

This can show you exactly what buyers are looking for and what specific keywords buyers have used for their search.

Bad products reminder

: Scans your eBay store and reminds you which products don't sell anymore.

Pricing

: There are 2 pricing options, either a monthly or annual subscription, which is quite reasonable (or even cheap if you select the annual payment)

10-day free trial: Option for a 10-day trial by using this coupon (code: freechili)
Cons
Slow customer support: Usually they don't answer immediately, and can take a few hours or more.

The UI is rather plain

The free trial is not accessible from the main site, and if you don't have the coupon (which is not provided on the website), then it's completely inaccessible.
Ship Dropper is a tool for market research. Like most of these tools, it provides information about the best selling items on eBay by scanning sellers and filtering the results. It offers store protection which means that your connected store can't be found by other market research tools, and has great pricing options.
Pros
Store Protection:

Your store goes incognito and can't be scanned by others' tools.

Vero Detector

: Automatically detects Vero products in your store.

Scanner

: Define the products you want to find using quick filters like profit, sales, Amazon Prime, etc.

Pricing: With plans starting at just $11.99 per month, it can be a good option for dropshippers who are just getting started.
Cons
No option for categorical/niche research.

Also no option for keyword research.

No title optimization available.
Products sniper is actually a chrome extension and full platform that scans and finds profitable products on AliExpress.
It is very cheap and easy to use. You can export the items quickly and upload them directly to the AutoDS dropshipping tool with 1-click.
The best thing about this tool is that the product finding process is super fast and easy, as it can be done directly from one's dashboard by using the chrome extension.
It's a great solution for those who work with Chinese suppliers in general, and it works great when integrated with the features of AutoDS for dropshipping from AliExpress.
Pros
It finds profitable products on AliExpress, filters by sales, e-packet option, shows if there are other dropshippers who sell this product, and more.

Bulk searches full pages of results.

Good pricing and ease of use

Can export results on to an Excel file or into AutoDS for immediate bulk upload

You can find tons of products with their chrome extension, then save it to their dashboard and export everything together.
Cons
The browser tab must stay open to complete scans

The video tutorials on the main site are not in English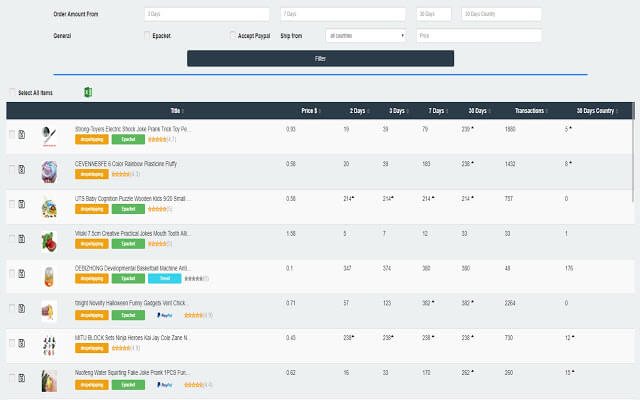 MegaSaleBoot is a market research tool that scans only sellers who dropship the product that we want from Amazon and Walmart. It has features like unlimited scans of dropshippers to find their best selling items, ability to copy their products, store protection and more.
Pros
Unlimited scans of sellers per day

Niche and keywords research

Hot items are found based on recent sales

Products can be found via seller ID

Store protection

keeps your account private from other sellers

Has a 14 day trial
Cons
No title optimization available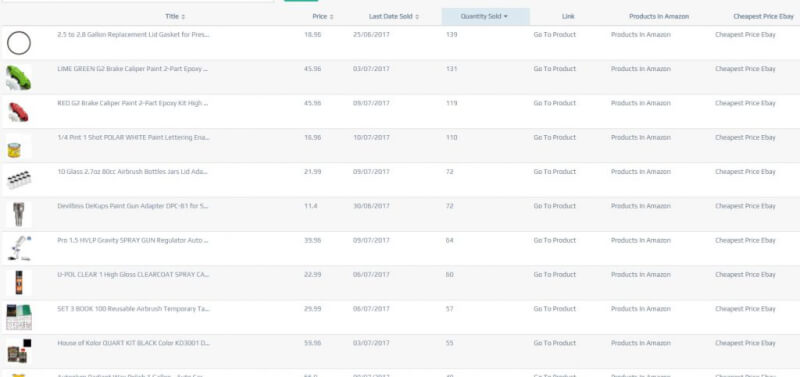 Google Trends is a remarkable (and completely free) online tool that can help you find trending and profitable niches. Either you are checking if the niche you have chosen is successful, or you are looking for a new potential market, Google Trends will provide all the useful information you need to make a decision.
Pros
It provides information on what people mostly search for in Google, and which niche/term is mostly trending at the specified time range.
Presents related categories/topics that people are looking for
Keyword research:  Find keywords depending on people's searches, to add on your current listings to optimize them
Marketplace selection: You can select the target country you are selling your items to, to get more accurate results.
You can compare up to 5 different topics/ niches and get statistics on all of them in the same graph, and see which one is mostly searched
Totally free
Cons
It's a generic tool, that provides general information that you can use on your eBay dropshipping business, however, it is not specified for selling online.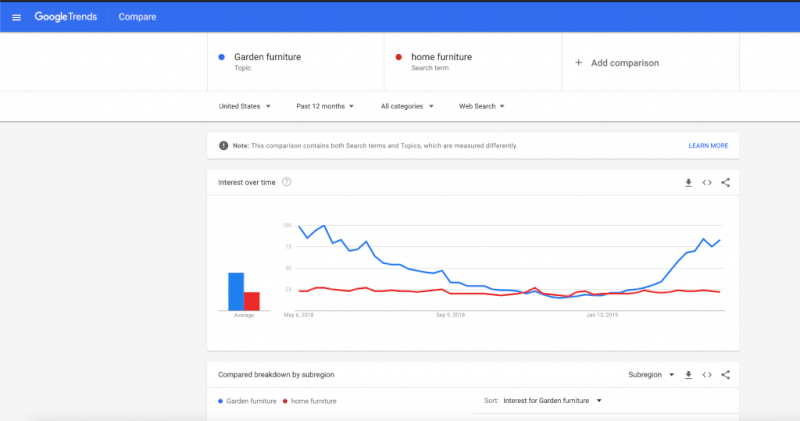 Conclusion
There are many different market research and product finding tools that you can choose from. Using such tools help you work more effectively and sell items across all eBay marketplaces. However, we all know that the best way to work with eBay and run a successful eBay dropshipping business is by uploading in bulk. The AutoDS Finder offers the best solution for automatic product uploading since it's also integrated into AutoDS dropshipping monitor. This makes your work, and life, easier since you don't have to use a multitude of sites to find hot products.
How do you work with market research tools, and in what way do they help you with your eBay dropshipping business?  Comment down below to let us know! Also, if there are any topics that you'd like us to write about, be sure to post it here! 🙂