Buckle up, as the last quarter of the year is fast approaching, we are ready to welcome Black Friday!  As the most anticipated year-end eCommerce sale, Black Friday is happening on the 25th of November 2022. With that said, let's get our dropshipping product listings ready for the grandest online shopping event to top off the year.
Essentially, Black Friday is a shopping event that lets sellers offer high-profit products before the year ends. Likewise, it's not only an opportunity for sellers to gain profits but also to discount high-ticket products.
During this time of the year, we can offer great deals and discounts, leading to record-breaking sales. In fact, Adobe Analytics reported about nine billion USD in eCommerce shopping sales during Black Friday 2021.
With this season's market profitability, we need to put our best foot forward and gain huge profits. To achieve that, we'll explore the top 20 Black Friday trending products to dropship. As a bonus, this article will provide tips and tricks on how to optimize our dropshipping sales during this season.
20 Best Black Friday Dropshipping Products To Sell
As the most extensive shopping sale of the year, we must ensure that our stores are jam-packed with trending items. Notably, most sought-after Black Friday finds belong to high-ticket product categories.
With these valuable product listings, offering them at discounted prices will attract a pool of interested buyers. Thus, these deals will help bring substantial traffic to our stores. As a result, we'll end the year with skyrocketing sales.
Likewise, most Black Friday must-haves are under the best-selling electronics niche. By selling products from this high-profit category, we can gain insurmountable profits from flexible prices.
So, are you ready to explore the highly-demanded items this season? Wait no more, as we uncover the top 20 trending Black Friday products to dropship:
Let's kick off the Black Friday rush as we discover the features of our in-demand products.
1. Heated Hand Massager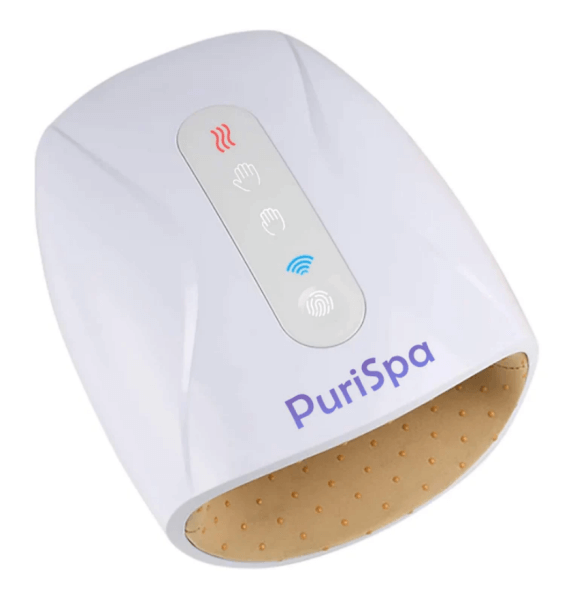 Kicking off the Black Friday madness is the heated hand massager. This wireless pain relief solution is perfect for customers with strained hands from working all day or aging hands that need therapy. Thus, buyers will surely take advantage of buying this functional item on Black Friday.
Now, here's an overview of the profitability of selling this product on our online stores:
Selling price:

$89.99

Source price:

$53.05

Potential profit:

$36.94
And, we can easily take a look at the seller's Facebook ad, the seller's product page, and the source:
Next up, we'll uncover how dropshipping the heated hand massager works for other sellers. In this way, we can adopt good business practices and improve other aspects of selling this product.
Seller's Facebook Ad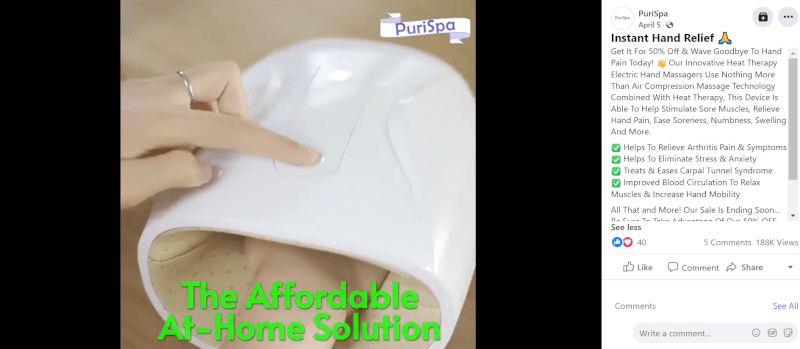 In general, PuriSpa markets the hand massager by showcasing the item's benefits and features. Advertised to be an 'Instant Hand Relief' for hand pain, the product's Facebook Ad gains 40+ reactions, 5+ comments, and a whopping 180k+ views. Essentially, these figures present a substantial amount of interested audiences in the product.
However, the seller can further improve the video advertisement by utilizing more professional texts and colors that fit the nature of the item. Remember that high-quality marketing materials are crucial for establishing our product's credibility in the market.
Nonetheless, it's worth noting that the ad has a direct link that brings the viewers to the seller's product page. Thus, the chances of sales conversions increase.
Seller's Website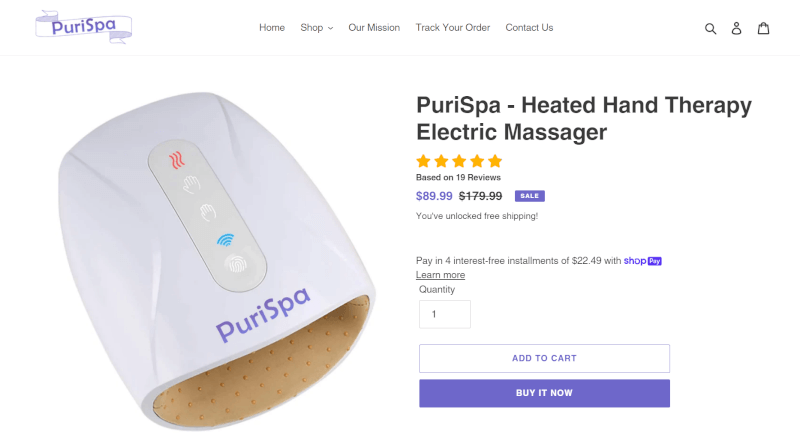 Entering the seller's website, we'll find PuriSpa's Heated Hand Therapy Electric Massager at $89.99, including shipping fees. As a first impression, the website exudes a minimalist and clean environment, complementing the product it offers. Plus, the product features and descriptions are comprehensively presented.
Meanwhile, the original product cost is crossed out, making way for the sale price of the massager. By presenting the item this way, we can entice customers to purchase the product immediately while it's at a discounted rate. Besides that, the seller offers an installment payment method that buyers will appreciate.
When we dropship this item on Black Friday, we should add more promotions and discounts to the product. By doing so, we'll attract more customers and maximize our sales.
Supplier's Website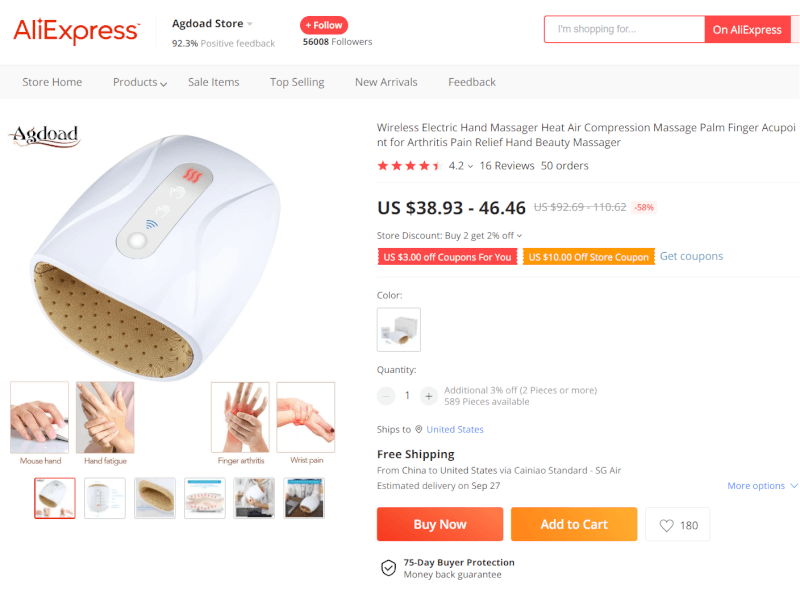 Let's proceed to the source of the same item on AliExpress. Here, we'll find the wireless electric hand massager at $53.05, including shipping. Notably, the supplier provides store coupons up to $10 off and an additional 3% discount for purchasing at least two quantities.
While the features are well-discussed, we can enhance the presentation by fixing some text formatting in the description section if we wish to dropship from this source. Also, an optimized product title is essential for a product to become distinct from the competition.
Nevertheless, the seller on AliExpress obtains a 92.4% positive feedback rating and 56K+ followers. Plus, the item gains an average of 4.2/5 customer rating. Essentially, these figures help us verify that we're sourcing a high-quality product from a legitimate dropshipping supplier.
2. Water Resistant Smartwatch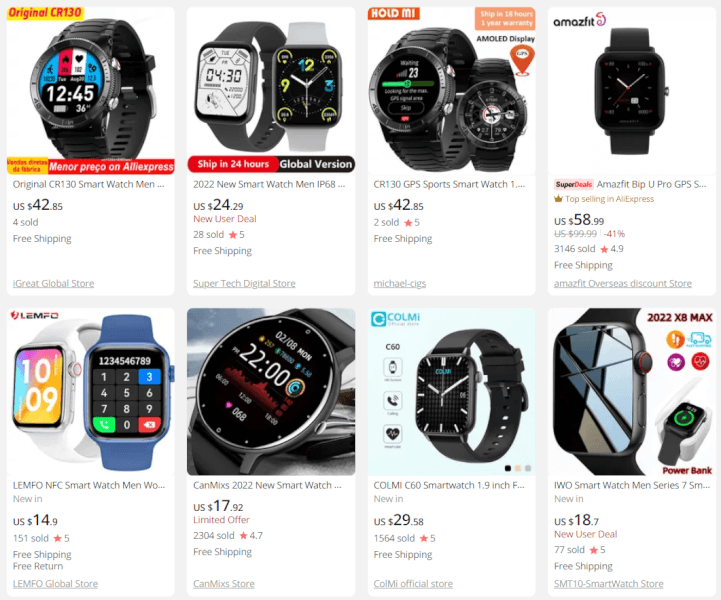 Whether one is walking through a downpour or diving into a pool, a water-resistant smartwatch has us covered. This high-tech watch is perfect for water sports enthusiasts or athletes like swimmers. Thus, selling this valuable item at a discounted rate on Black Friday will attract massive audiences.
Primarily, we should consider the water resistance depth of a watch, as some types are waterproof up to 50-meters deep. Other features to look out for in smartwatches are their capacities to track heart rates, travel distances, surrounding temperatures, and more.
Moreover, other options include Bluetooth connectivity and file storage, making them compatible with mobile phones. As such, customers can maximize the functionality of these products in return for their high value.
3. Wireless Outdoor Security Camera
Another great find during the biggest sale of this season is a wireless outdoor security camera. This wireless solution allows users to set up security cameras anywhere without worrying about limited cable connections. With its versatility, selling this high-ticket product will surely bring considerable profit margins to our business.
When dropshipping this security camera, ensure that they're waterproof and dust-proof, especially when exposed to the environment. Additionally, this product comes in several colors and styles that fit every exterior design. Furthermore, we must sell high-quality cameras with zooming and recording capabilities, maximizing the full potential of this item.
Beginner's Tip: For more secured surveillance, we can add wireless outdoor security cameras with voice-capturing features.
4. Dog Sports Ball Launcher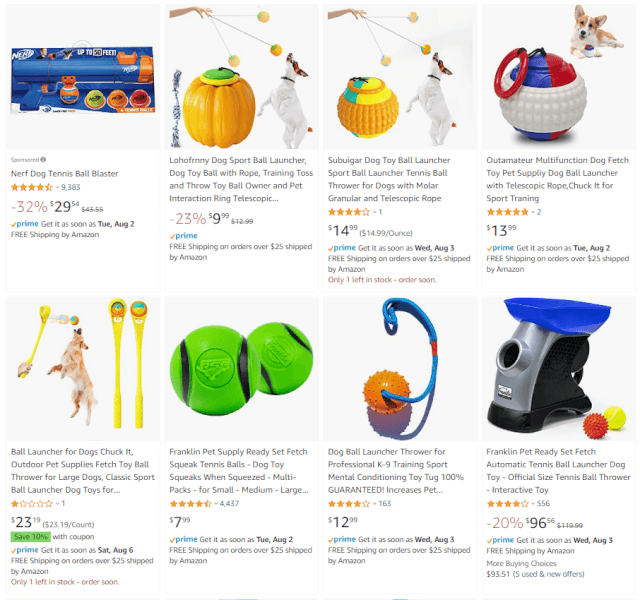 Shopping isn't only for humans but also for fur babies. That's why we have the dog sports ball launcher that pets will fall in love with. Essentially, this dropshipping product is for pet owners who want to take playing catch to the next level with their best buddies.
In general, there are manual and automatic ball launchers that we can dropship. Remember to include different colors and designs when selling this item. Lastly, ensure that the ball launchers we offer are made of pet-friendly and non-toxic materials so that pets can enjoy playtime worry-free.
Beginner's Tip: Several balls will never be too many for fur buddies. Therefore, cross-sell these launchers with a set of sports balls for a greater average order value.
5. LED Gaming Keyboard & Mouse Set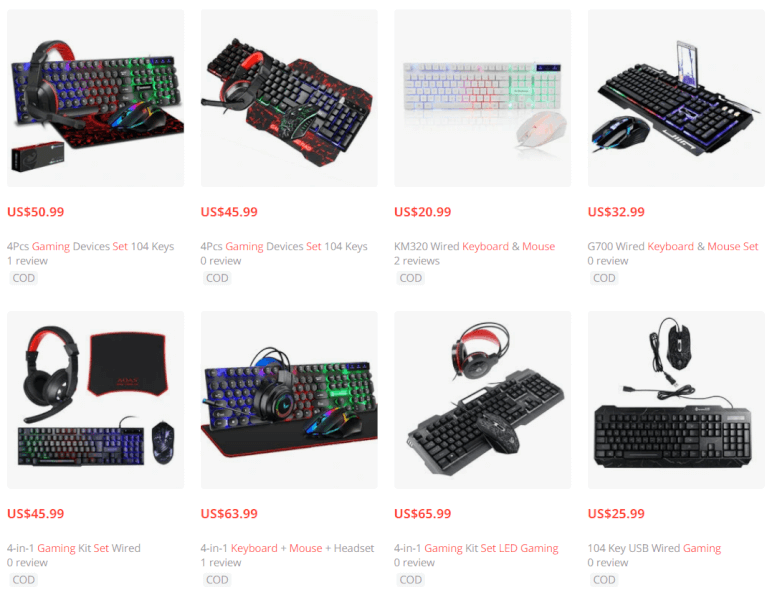 From an array of in-demand Black Friday dropshipping finds, the LED gaming keyboard and mouse set is a must-have. This best-selling duo is highly-recommended for online gamers, live streamers, and computer enthusiasts. By selling these items in a set, our customers will score a great deal while we obtain substantial revenues.
This computer accessory set comes in many variations, such as those with RGB LED lights. Most commonly, we have mechanical keyboards and a Bluetooth-connected mouse. Don't forget to add different colors and styles to this computer hardware.
Beginner's Tip: As an exclusive Black Friday perk, you can offer a wide gaming pad along with the keyboard and mouse set.
6. Ice Maker Machine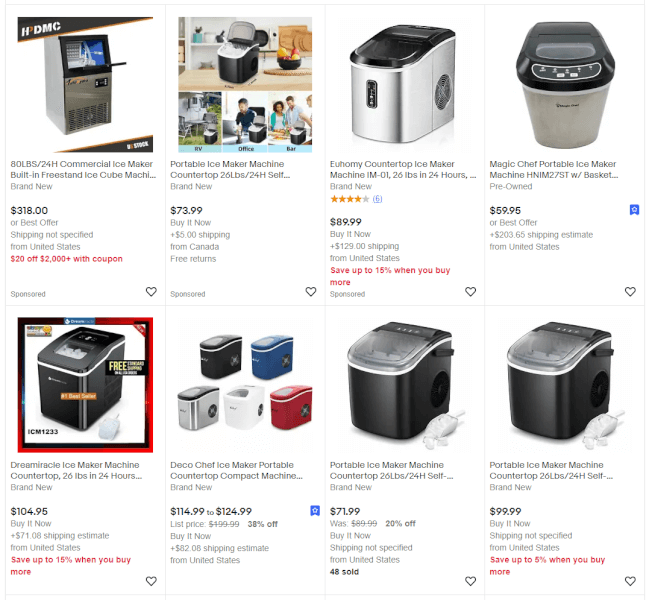 Since the holiday season is here, food and drinks are essentials for every party. Thus, keeping our drinks fresh and cold is possible using an ice maker machine. We can achieve significant sales with this trending Black Friday product in our dropshipping stores.
Subsequently, ice maker machines come in different sizes, styles, and capacities. In fact, we have portable options so customers can carry this product anywhere. We can also include self-cleaning and BPA-free machines, ensuring our products are hygienic and safe.
7. Gold Knuckle Rings Set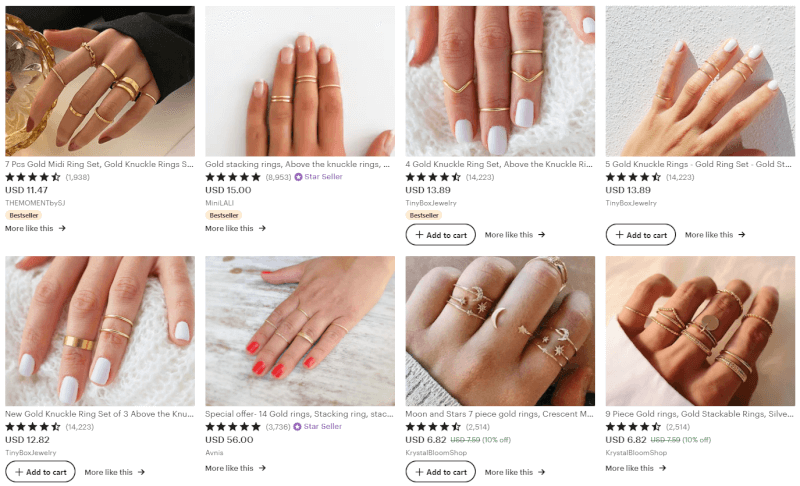 Proceeding to our next Black Friday dropshipping must-have, we have the Gold knuckle rings set. This valuable ring set is a perfect accessory for the holidays. Thus, offering this item will attract ladies who love stylish jewelry pieces for the next family reunion or friend get-togethers.
With that said, we should sell a wide selection of ring sets, ranging from vintage styles to modern aesthetics. When selling this product, include different sizes and numbers of rings. Finally, we can add rings with stones or crystals for added product value.
8. Bluetooth Car Receiver
Next on our list of the most sought-after Black Friday products is the Bluetooth car receiver. This electronic accessory connects gadgets to the car's system, such as when calling or listening to music. Due to its functionality, this car receiver gets substantial demands from the global market.
So, when dropshipping the Bluetooth car receiver this Black Friday, add variations suitable for any car model. Moreover, this accessory comes in several designs and colors that we can offer. Overall, this item is portable yet powerful, making it one of the top product choices this holiday season.
9. Two-Way Walkie-Talkies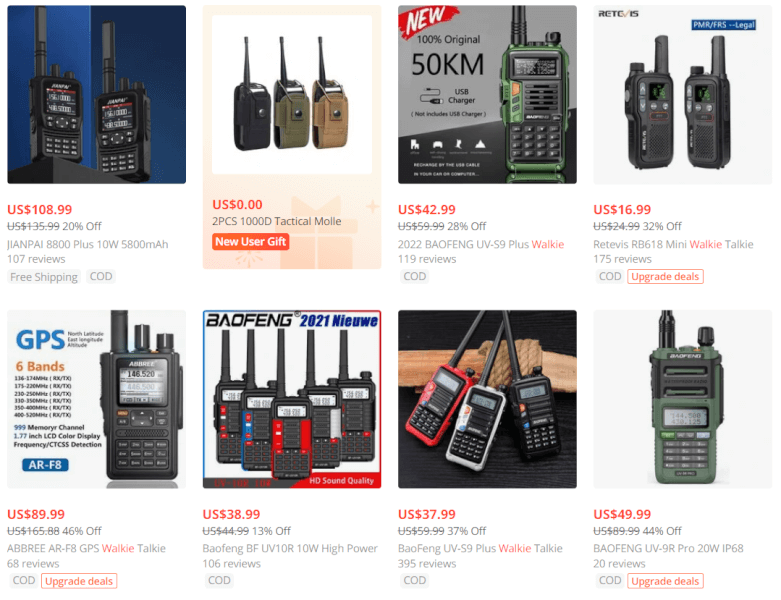 After Stranger Things broke down Netflix the night of the new season release, it's no surprise that two-way walkie-talkies are trending items. As walkie-talkies were used in the show, adults and children are searching to buy some for themselves. Therefore, dropshipping these products will attract massive sales.
Remember that when selling these items, consider the radio's range of the signal. We also have rechargeable or battery-operated options. Moreover, the portability and design of walkie-talkies are other features that customers appreciate in these products.
10. Rustic Wall Sconces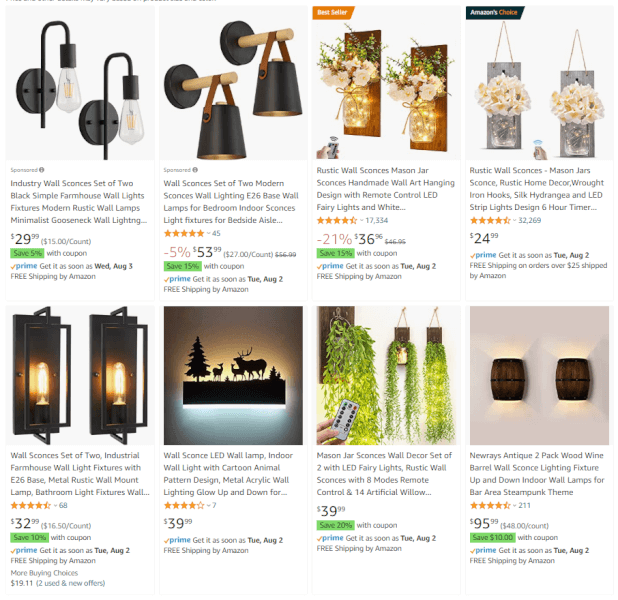 Are you searching for a vintage lamp to dropship this Black Friday? Well, the rustic wall sconces are perfect for your online stores. As such, these wall scones offer additional light sources while remaining aesthetically pleasing.
With that in mind, we can sell scones made of wood, metal, glass, rope, and other top-quality materials. In addition, these scones can have LED lights or be electrically powered. Lastly, the wall lamps come in different sizes, styles, and colors that make these items one-of-a-kind.
11. Neck & Back Massager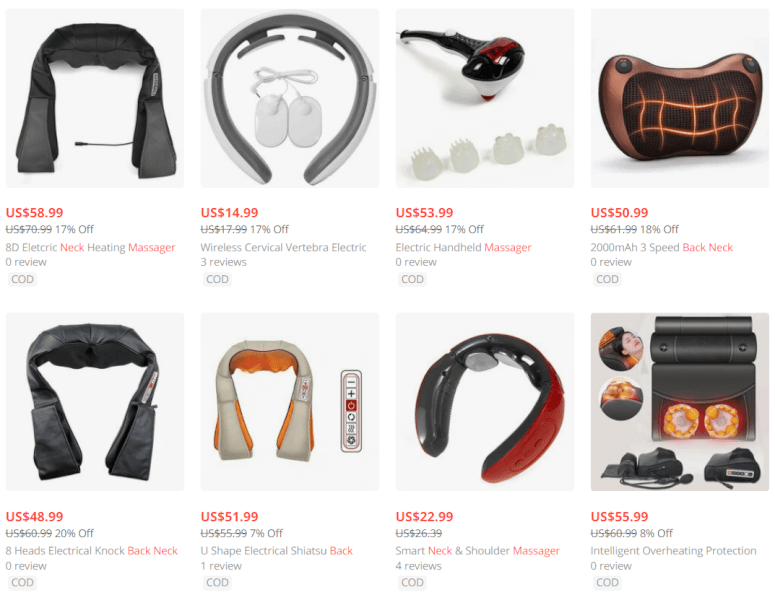 Now, we can help customers relieve stress and manage body strains. With that said, the neck and back massager is a store essential during the Black Friday sale. In general, this item is a relaxing home remedy after a day's work or an outdoor adventure.
Remarkably, this massager comes in different styles and sizes we can sell. Plus, options like rechargeable or battery-operated ones are available. Finally, dropship massagers with adjustable kneading intensities for an optimized customer experience.
12. Waterproof Action Camera
Undoubtedly, dropshipping waterproof action cameras can lead to amazing profits this Black Friday. This action camera is for adventure seekers and outdoor enthusiasts. Since this item is a high-ticket one, customers will love finding it at a discounted price.
Some important things to consider when selling this item is its resistance depth, full-color LCD, and stabilization capacity. Besides that, the video quality and storage options are features customers look for. Overall, we should offer lightweight and long-lasting action cameras so that users can capture every special moment.
Beginner's Tip: Suggest accessories like an acrylic protector and selfie stick to maximize the camera's use.
13. Video Game Head Strap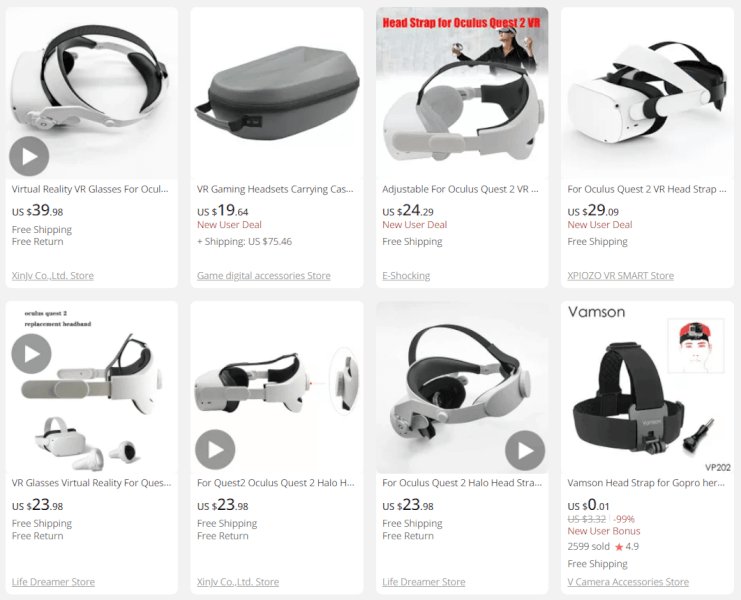 Notably, virtual reality (VR) games are becoming more popular nowadays. As such, a reliable video game head strap is an essential accessory for VR gamers. Its functionality allows an intense and immersive play experience for users.
Hence, select options with adjustable straps, enabling a snug fit. This product must also be durable and high-quality for long-lasting use. Besides that, we can add unique designs and colors for a more stylish game experience.
14. Car Bluetooth Aux Adapter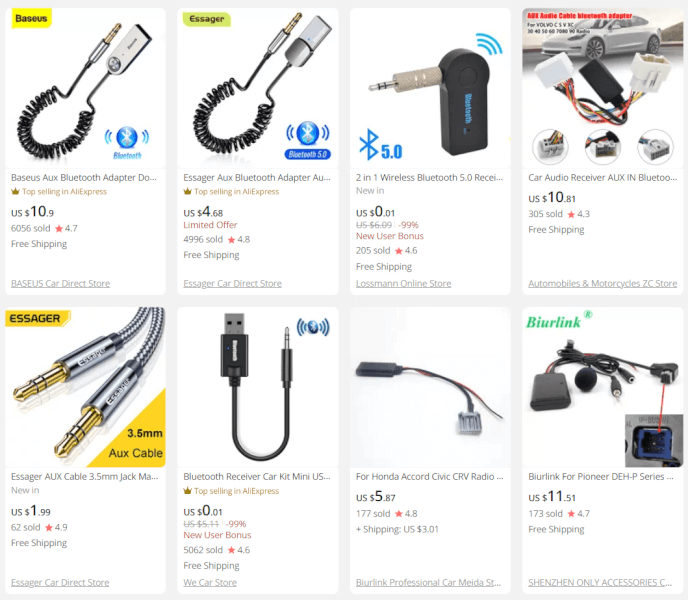 Following the list of Black Friday's trending must-haves is a car Bluetooth aux adapter. With this top-selling Black Friday product, users can enjoy hands-free calls or music jamming while on the road. Hence, offering this item will pull a vast market to our dropshipping stores.
For this item, ensure to offer several varieties for different cars. Moreover, Bluetooth reach is also significant to consider when selling this product. Besides the Bluetooth connectivity, some adapters come with USB ports for added functionality. Remember, the more value we add to the product, the higher our chance of sales.
15. Wifi Smart Home Remote Control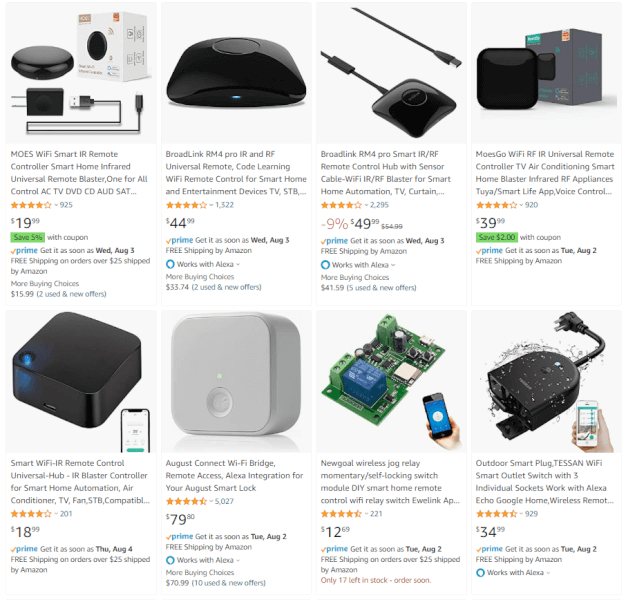 As electronic items become more advanced, people like to invest in wireless and portable options. Thus, a WiFi smart home remote control is another dropshipping product to look out for. With this Black Friday must-have, users can control devices even in the comfort of their beds.
To dropship this product, we should select options compatible with a wide range of electronics. For instance, we have remote controls that can operate temperature control, lighting adjustments, security details, and more. Plus, this item comes in sleek styles that will add a touch of elegance to the plain remote control.
16. Selfie Ring Light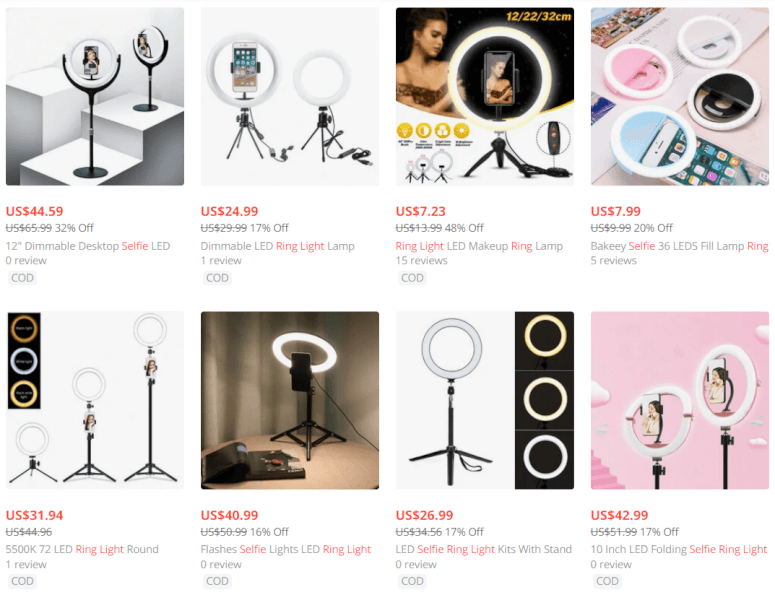 Probably one of the most common yet functional items, selfie ring lights are always trending. As an essential accessory during virtual conferences or studio shoots, this item is sure to be a best-seller. Thus, adding this item to your Black Friday offerings will help generate substantial dropshipping sales.
With a vast array of choices, we can sell different sizes and styles of ring lights. In fact, some variations allow users to set different light colors and intensities. Moreover, varieties of this item come with clips, tripods, and phone holders for multiple-use purposes.
17. LED Video Light Camera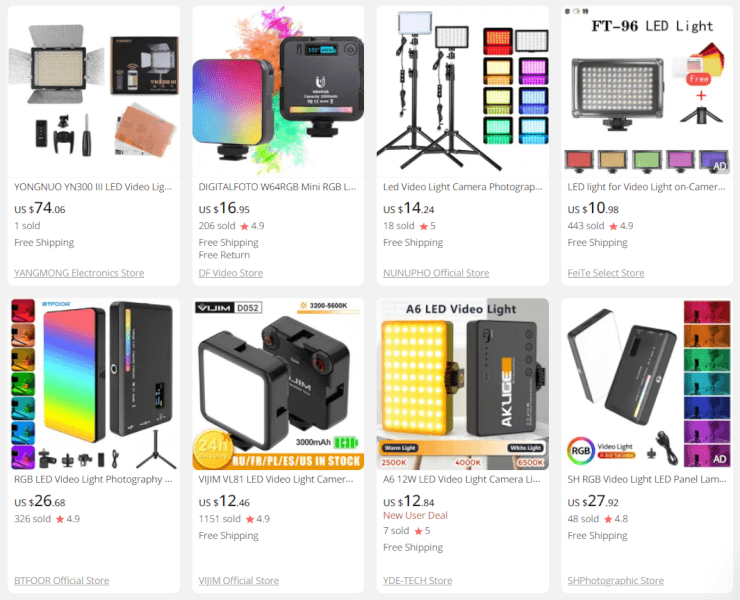 Next up, we have the LED video light camera. As another trending electronic product, consumer demands are high for this item. So, it's a perfect addition to our dropshipping product listings come Black Friday.
Essentially, this is a colored LED light add-on for cameras for creative video and photography effects. Moreover, it comes in plenty of design and size options. Remember, selling top-notch quality electronics can help us establish incredible profits, as these items are valuable to users.
18. Gaming Controller Finger Covers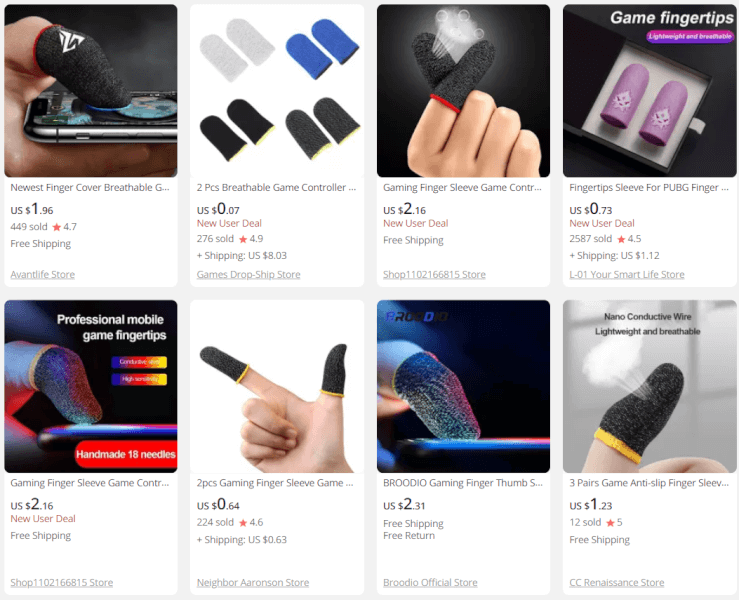 Moving forward, gaming controller finger covers are essential accessories for mobile gamers. Therefore, dropshipping them on Black Friday will entice customers to bulk purchase these items. As a result, we'll achieve high income from these sales.
That's why we must sell high-quality, non-scratch, breathable, and sweat-proof finger covers. Plus, we can sell durable finger covers made of nylon, spandex, cotton, and other lightweight materials. On top of that, these items can come in sets at a bundled price, attracting people to buy more from our stores.
19. Rotating Wifi Pet Camera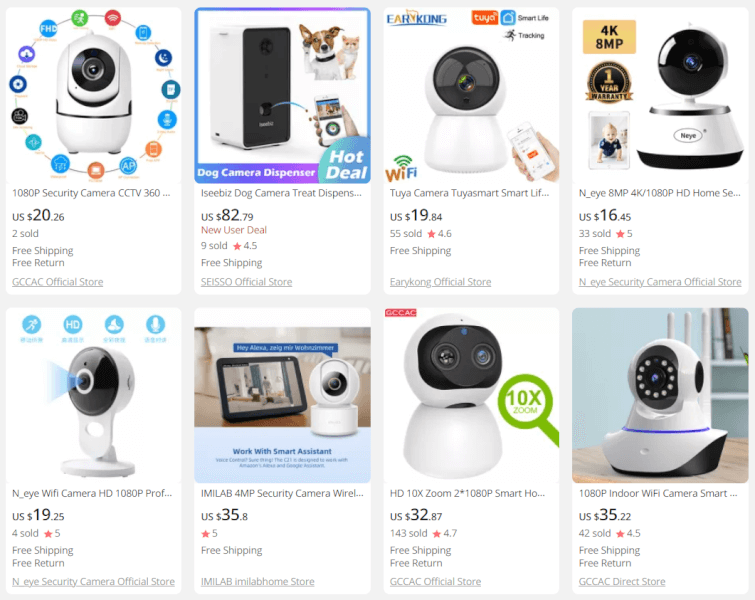 Yay, we're almost done! Another top-notch item that we should dropship is the rotating WiFi pet camera. With this product, pet owners won't worry about leaving their pets at home. Since this camera connects to gadgets like phones, it can monitor real-time happenings with pets.
Therefore, the pet camera is a wireless solution that can lead to customers' shopping satisfaction. So, when adding this product, ensure to select options with a 360-degree rotating view. Also, high-definition and night vision features are necessary for clearer monitoring.
20. Mini-Fridge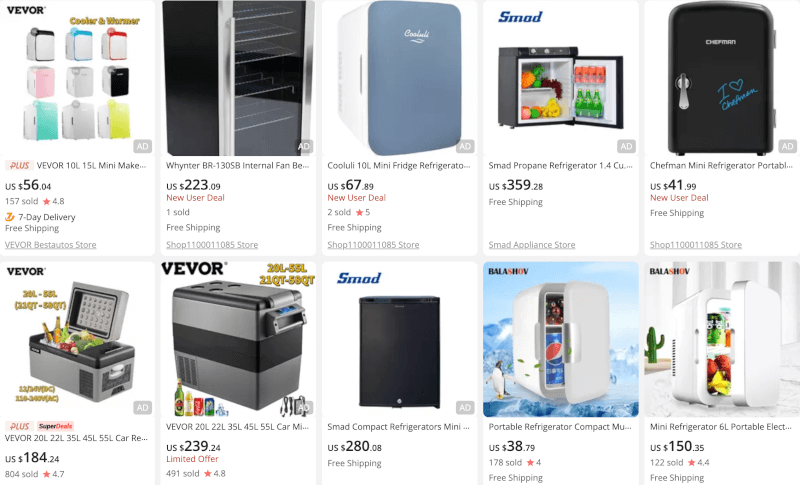 And, we're down to our last top Black Friday product to dropship this year. Without a doubt, the mini-fridge has made it to our Black Friday dropshipping best-sellers list. This portable solution allows users to preserve the freshness of food, skincare products, or even medicine.
As an on-the-go item, this fridge can be rechargeable, battery-operated, or wire connected. Aside from that, we can offer different sizes, colors, and fridge designs. Meanwhile, other variations come with several compartments, making them chic and versatile.
Fantastic! With all these trending products to dropship on Black Friday, we'll definitely shine amid the competition. But besides our product listings, what are other essential factors to consider to maximize our sales? Stay tuned as we discuss some tips next.
Tips & Tricks For Black Friday Dropshipping
Alright! We now have a selection of exceptional Black Friday products to dropship. However, our dropshipping success lies beyond just having a fantastic array of items.
With that said, we must incorporate strategies that will optimize our sales during this seasonal event of the last quarter of the year. So, here are proven tips and tricks to prepare our dropshipping stores for the Black Friday shopping rush:
Let's jump into action, beginning with our first tip.
1. Custom Black Friday Store Theme

During special occasions like Black Friday, customers expect to see banners like 'Black Friday Sale.' By customizing our storefront, we can clearly relay the essence of the event. For instance, customers automatically relate Black Friday themes with discounts, flash deals, marked-down prices, and more.
Now, the question is: how do we customize our storefront in preparation for Black Friday? Don't worry, as we have several ways to do this:
In addition, aligning our brands with the holiday will likely lead to more outstanding sales. Buyers also see Black Friday-themed stores as those that offer legitimate deals.
Moreover, an optimized dropshipping website creates an excellent customer shopping experience. Plus, a professional layout improves our business' credibility, especially when competing with eCommerce giants like Amazon.
Overall, setting up our stores with a Black Friday theme aims to grab the viewers' attention. Then, when more people become interested in our products, we can achieve higher conversion rates.
2. Online Marketing Techniques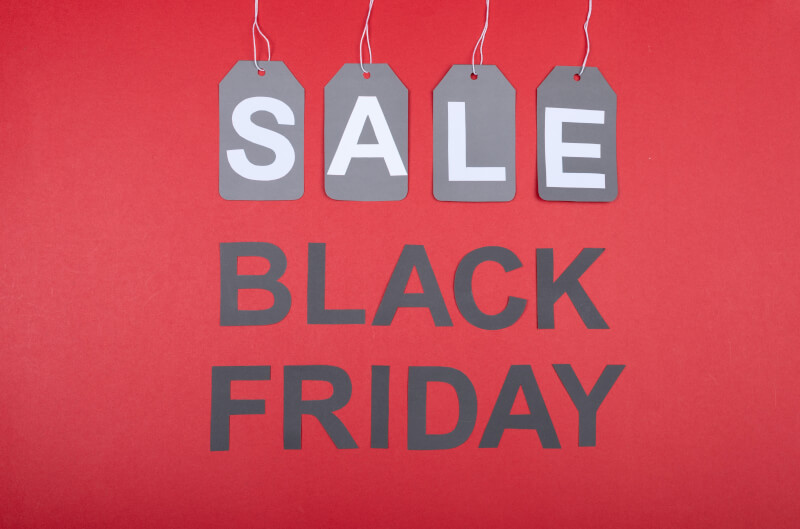 Undoubtedly, utilizing online marketing techniques is a tested way to attract our target market. Among the marketing methods available, we've curated the best ones for the Black Friday sale:
Countdown timer

Deal of the hour

Hashtags on social media

Sneak peek of the event

Pay-per-click campaigns
By integrating a countdown timer into our websites, we're creating a sense of scarcity and urgency. With these features, customers tend to purchase immediately because of the limited time. As a result, we can increase our sales.
On the other hand, we must offer a 'deal of the hour' on Black Friday. This deal showcases different sale products per every timeslot. Doing so will attract customers to take advantage of the offer while it lasts.
Meanwhile, using hashtags on social media platforms is a sure way to reach the worldwide market. Similarly, customers can easily find our products when we include relevant hashtags in their descriptions.
Moreover, an enticing teaser leads to heightened anticipation. Thus, offering a sneak peek of our Black Friday deals will excite customers days or hours before the sale. In this way, many buyers will rush into our stores to get fresh offerings once available.
Furthermore, pay-per-click (PPC) campaigns enable our products to appear on online customer searches. When customers click these advertisements, they land on our product pages. Hence, they can easily purchase our marked-down Black Friday items.
All in all, the first four marketing techniques are suitable for customizable websites, such as Shopify and Wix. Strategies like PPC are also applicable to both customizable websites and marketplaces like eBay.
Finally, we must utilize suitable marketing methods for our selling channels. Remember that marketing our products will lead to substantial sales.
3. Competitive Discounts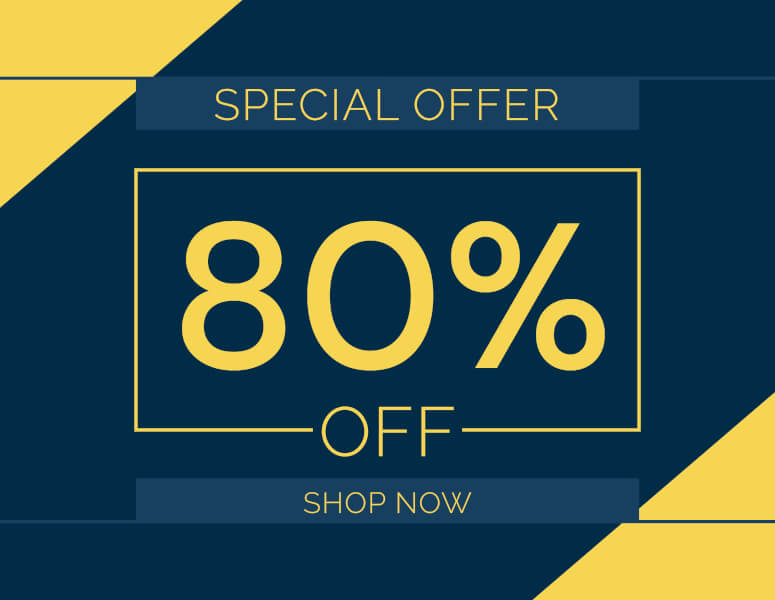 Essentially, competitive discounts are a must during Black Friday. As such, numerous sellers offer great deals, so we must ensure that we step ahead of the competition.
To attain this, we should provide email marketing deals, coupon codes, marked-down prices, and more. For instance, we can offer 50%-70% discounts or extend affordable prices for bundled items.
Remember that buyers will choose stores that offer the best deals and huge discounts. That's why we must provide flexible perks while gaining significant profits.
4. Extend The Sale To Cyber Monday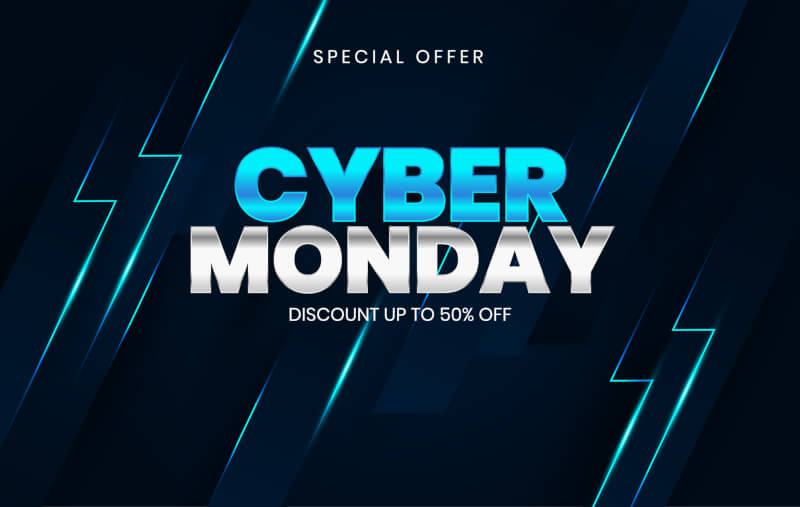 Another proven way to maximize our dropshipping sales is to extend the Black Friday deals up to Cyber Monday. As such, Cyber Monday is the Monday that follows Black Friday. Likewise, extending the sale over the weekend gives customers more time for early holiday shopping.
Thus, this is another opportunity for eCommerce sellers to offer an extensive selection of promotions. By extending the sale period, we can bargain the remaining items. Hence, it will give us more time to achieve higher sales.
5. Optimize Product Listings

Unquestionably, we need optimized product listings this Black Friday. As such, our dropshipping stores become distinct from the rest of the competition. From relevant alt tags of product images to trending products, we must ensure that our business stays on top.
In addition, we have to ensure our product listings are search engine optimized (SEO). To do so, we can assign optimal product titles, descriptions, images, and other information. Remember that an SEO-relevant product is likely to rank higher on Google searches.
Furthermore, we must offer not only discounted goods but also best-sellers. As a result, customers get the latest trends at affordable prices. In return, we can significantly increase our dropshipping sales.
6. Work With Multiple Dropshipping Suppliers
Since Black Friday is a sought-after eCommerce event, we expect an influx of customer orders. Therefore, we must prepare enough stocks to serve enormous demands.
In order to attain this, we need to source products from multiple dropshipping suppliers. Also, it ensures that we have a wide variety of items to sell. Additionally, working with several platforms ensures fair market competition, making prices more flexible.
In times when the supply of one company depletes, we can have alternative sources of similar items. Overall, sourcing from different suppliers gives us peace of mind that we can serve every customer on Black Friday.
Automate Import Process & Multiply Your Profits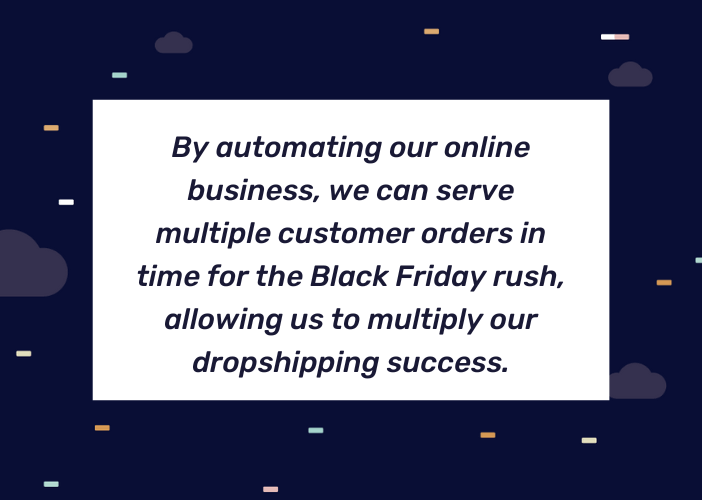 On top of all the Black Friday dropshipping tips and tricks, business automation is one of the best ways to multiply our profits. With a long list of dropshipping softwares in the industry, AutoDS takes the lead as one of the most efficient platforms.
In general, manually running our business is a tedious task. As such, we need to individually copy and transfer product information from the supplier to our selling channel. Similarly, order fulfillment takes time and effort as we need to purchase products manually from the supplier.
Now, imagine having to manage your dropshipping store manually during peak seasons like Black Friday. Remember that the number of sales multiplies during this season. Additionally, we need to act quickly concerning product replacements, last-minute changes in trends, price fluctuations, and more.
So, it's almost impossible to efficiently carry out these processes one by one with customer demands at their maximum. To save us from this laborious and time-consuming task, automating our business is necessary to achieve business success.
With business automation, our day-to-day operations are managed by dropshipping software. So, we don't need to sit in front of our computers all day long. Instead, we can dedicate our time and effort to expanding our business.
With that said, let's explore the exceptional automation features that AutoDS can offer our online stores.
AutoDS Price Optimization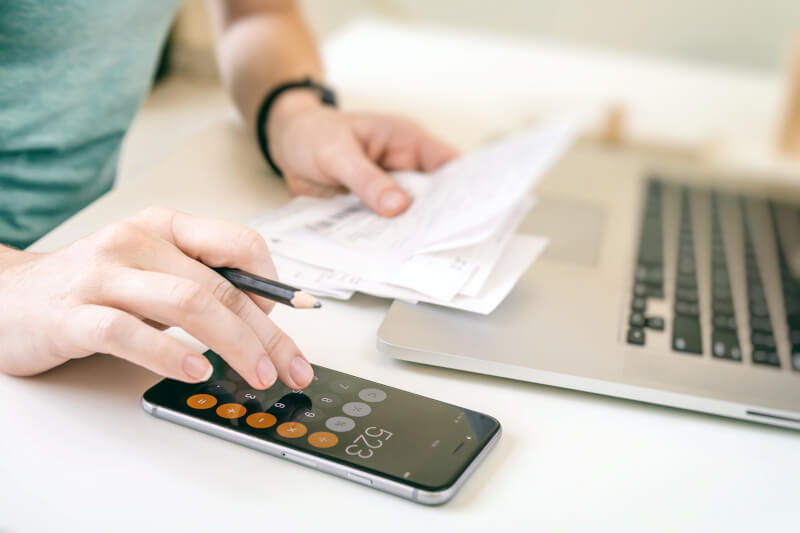 Since Black Friday dropshipping is all about perks and discounts; we must be aware of product prices and their sudden changes. Hence, AutoDS' price automation feature is here to help us automatically manage price fluctuations.
With the price optimization feature, we can enjoy the following benefits, especially during the Black Friday shopping rush:
Increases prices on products that are selling to increase our profits

Decreases prices on slow movers to increase their chances of selling

Both increases/decreases are set to a specific limit by us beforehand
Apart from price optimization, ensuring that we have enough stocks and controlled prices is crucial in dropshipping during Black Friday. Thus, AutoDS offers the price/stock monitoring feature that we can utilize.
AutoDS Price/Stock Monitoring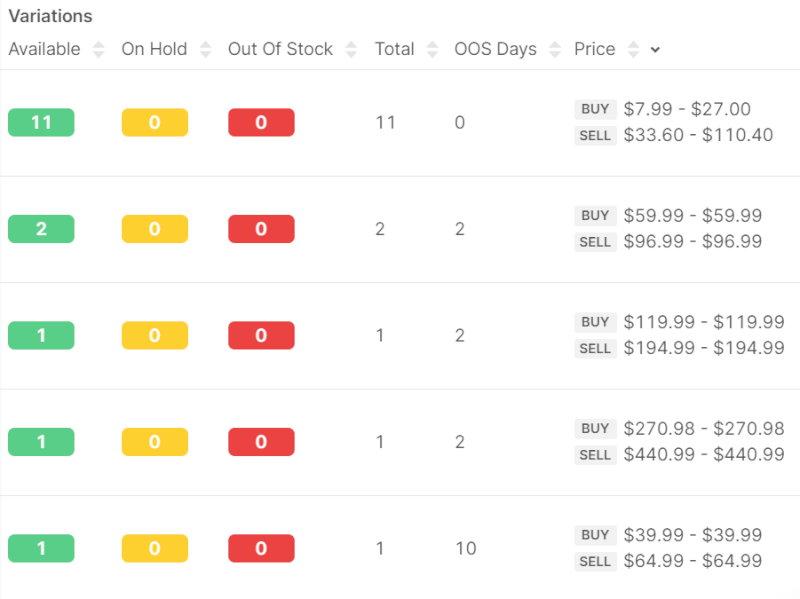 Once again, it's crucial that we can efficiently monitor real-time inventories from our suppliers since our stores reflect the same quantities. Thus, utilizing the price/stock monitoring feature allows us to enjoy many advantages.
For one, our suppliers will create discounts, and we may not know it. So, we can't offer the same deal to our customers. In other instances, some suppliers also run out of stock from the crazy amount of sales during Black Friday.
That's why it's crucial that we keep our prices and stocks synced with our suppliers. With the price/stock monitoring tool, we don't have to manually adjust prices and stocks, whenever they change.
In that way, any price and stock change on the suppliers' side will automatically reflect in our dropshipping stores. Thus, there's no need to constantly check these fluctuations manually on our suppliers' websites.
As a result, we can save significant time and effort. However, business automation is not limited to these features.
We can continue scaling our dropshipping business for more efficient processes in time for Black Friday. Here are other aspects of our online venture that we can automate:
Ultimately, dropshipping business automation lets us manage our online stores wherever we are. With these worthwhile features, we can gain massive profits with ease this Black Friday.
Frequently Asked Questions
How Can I Prepare My Dropshipping Store For Black Friday?
We must get our dropshipping stores ready in time for Black Friday. To do this, we can customize our store theme, adopt effective marketing techniques, offer competitive discounts, and more. Above all, we can automate our business to optimize our dropshipping sales on Black Friday.
Does Black Friday Really Affect Online Shopping? 
As the present worldwide conditions limit consumers' mobility, online shopping is a great way to score deals on Black Friday. Plus, physical stores are swarmed with shoppers and many consumers want to avoid this. Thus, they shop online for the latest trends at lower costs, since it's a faster and more convenient option.
What Are The Best Products To Sell For Black Friday?
There's a wide array of products to dropship on Black Friday. Some of the top choices include Heated Hand Massager, Water Resistant Smartwatch, and Wireless Outdoor Security Camera. These products can offer a huge sales potential, as they are in demand in the market.
Conclusion
What a blast! The holiday season is here, and so our stores are ready to welcome remarkable sales. With the right tips and tricks on dropshipping exceptional Black Friday products, we'll surely end the year with a profitable online venture.
But, it must not end here. We need to continue optimizing our dropshipping stores by adding more top-selling items. Plus, automating our business processes will surely pave the way to success.
Aside from the best-sellers on Black Friday, we have more top-caliber niches to explore. As such, continue expanding your business by checking out the most spectacular dropshipping products: