In 2021, there were a reported 1.3 million violent crimes in the US according to Statista. So, it's no surprise that more people turn to security products to keep themselves and their families safe.
With that in mind, we can dropship security products that keep our customers out of harm's way. However, with the rapid growth of technology and the enormous selection of security products, choosing the right ones for your dropshipping business can be challenging.
But don't worry! In this article, we will go over the 14 best security products for our dropshipping stores. Also, we'll cover the best dropshipping suppliers and selling channels in order to scale your business.
Is It Worth It To Dropship Security Products?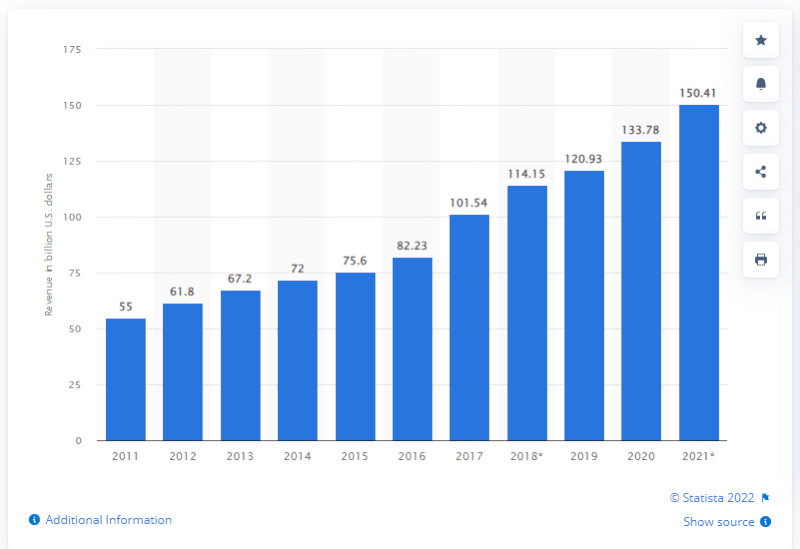 According to the market demand and current trends, dropshipping security products is definitely worth it. To understand it further, let's begin by going over the dropshipping model. As such, dropshipping allows us to sell products without holding inventory.
When we receive an order, we buy the products from our suppliers and instruct them to deliver them to our customers' addresses. With the dropshipping model, we don't have to invest upfront to keep products in stock. That also means there is a very low risk even if we cannot sell products.
As dropshippers, we earn a profit based on the difference between the price we source from our suppliers against the price we sell to our customers. In a nutshell, we gain our profits as a middleman.
On the other hand, there is a growing market for security products worldwide. Statista estimates that the revenue of the security technology and services market will reach approximately 150 billion U.S. dollars in 2021. Considering the massive demand in the market and low-risk business model, this is the best time to dropship security products.
Beginner's Tip: While dropshipping security products is legal, some self-defense products may be subject to legal specifications. So, we must avoid dropshipping products that are copyrighted or trademarked and those that are deemed illegal. For more information, check out AutoDS' eBay VeRO protection feature.
14 Best Security Products For Your Dropshipping Store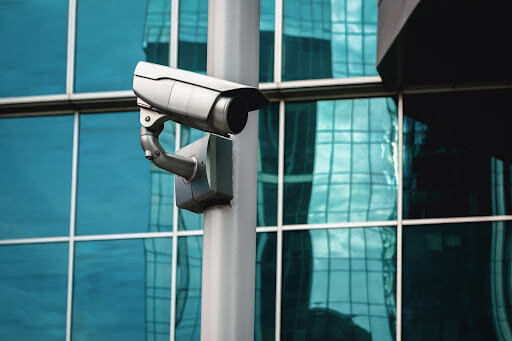 Now that we know about the profit potential, let's look at the 14 best security products for your dropshipping store. Here is the list of cutting-edge security products that have a high potential to sell:
According to our research, the listed products are some of the best security products. Below, we'll learn why these products are some of the best in the security product niche.
1. Wireless Security Camera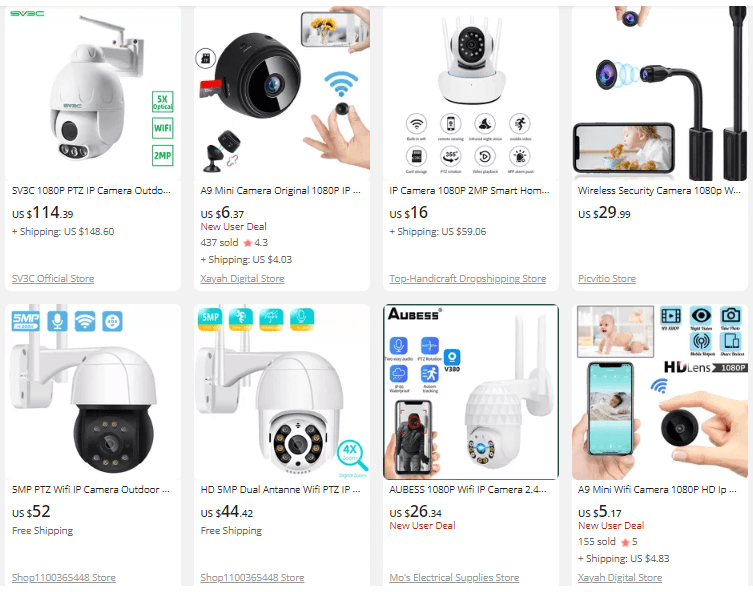 Home security cameras are at the top of our most popular house monitoring products list. Wireless Security Cameras are perfect for homeowners and businesses looking to keep an eye on their businesses and homes while they are away. 
Key Features
High-quality video and audio

Two-way communication

Wireless

Cloud storage and internet access

Monitor from anywhere
Recently, security cameras have been an effective tool in preventing theft and other crimes. Today's surveillance cameras feature high-quality audio and video that can capture even the most minor details of an incident, such as a license plate number.
On top of that, some of the cameras are designed for low-light viewing. Therefore, it records videos both day and night. Additionally, some wireless cameras have built-in microphones to enable two-way communication so homeowners can interact with the person in front of the camera.
Furthermore, wireless cameras allow us to monitor our property from anywhere in the world with an internet connection. That means we can view the footage from our phones or tablets since the video is transmitted through a cloud platform. So, not only can we be assured that our homes or businesses are secure, but we can regularly monitor them even while on vacation!
2. Outdoor Motion Sensor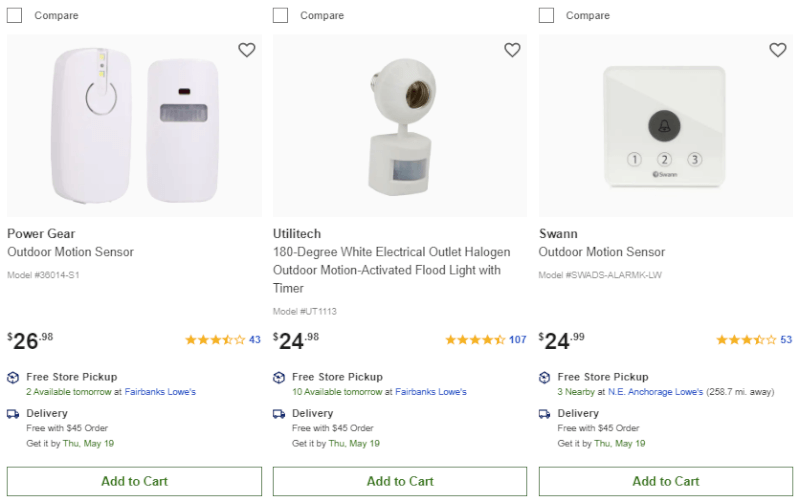 A motion sensor, or motion detector, is an electronic device that uses a sensor to detect nearby people or objects. Outdoor Motion Sensors sense movement within their range based on the same mechanism. As such, they can scare away unwanted intruders by triggering a siren or a strobe light. 
Key Features
Adjustable sensor system

Instant alarm or notifications

Energy savings

Security camera integration
Outdoor motion sensors are ideal for protecting a house or business by detecting movement. Once motion is detected, several different options can be triggered, such as a siren, an alarm system, or the lights in your home.
However, we can adjust the motion sensor settings according to distance covered, height, weight, etc. Doing so allows the motion sensor system to trigger an alarm if it detects unfamiliar movement.
In addition, motion sensors save on energy costs. For example, those who don't have an outdoor motion sensor rely on the brightness of their lights at night to keep intruders away. Conversely, the outdoor motion sensor turns the light on only when it detects unwanted movement.
Moreover, some motion sensors can be integrated with security cameras to enable instant recording when the sensors detect unnecessary movement. With these features, the outdoor motion sensor is an excellent security product to dropship.
3. Sliding Security Window Locks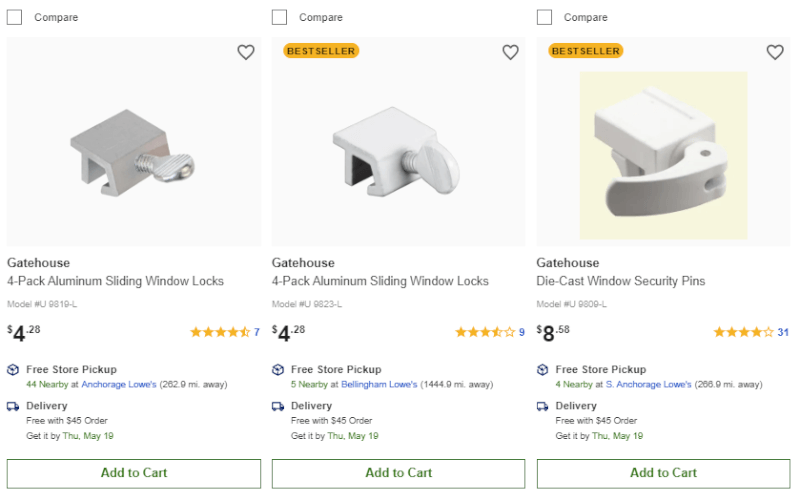 Another popular product to dropship is the Sliding Security Window Lock, which provides extra security for windows, sliding glass doors, and patio enclosure doors. This simple tool can be installed in strategic locations and locked in place, so it's almost impossible to remove.
Key Features
Self-installation

Easy to use

Secure locking system

Long-lasting

Cost-effective product
Unlike other security products, customers don't need to read a manual or learn how to use Sliding Security Window Locks. That's because the mechanism is very simple.
Additionally, we can rest assured that our home is protected because Sliding Security Window Locks provide a secure locking system. Plus, the product lasts longer as there is a low chance of wear and tear.
Besides their durability, sliding window locks are cost-effective solutions compared to other products. On top of that, they can be installed in seconds without calling an expert installer. Therefore, this product is easy to sell since it is a highly functional security product yet is easy to use and highly functional.
4. Smart Video Doorbell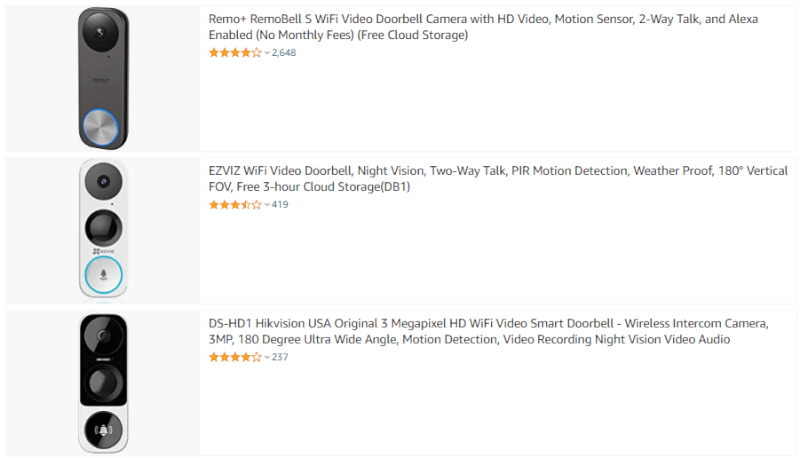 If you are looking for a trending yet sophisticated product, a Smart Video Doorbell is one of the best options. With the Smart Video Doorbell, users can open and close their doors remotely while also seeing their visitors and communicating with them.
Key Features
Mobile phone integration

Two-way communication

Weatherproof
The Smart Video Doorbell adds a whole new level of security to homes. The Smart Video Doorbell enables us to see visitors through our smartphones. As such, the device sends notifications or alerts when someone presses the doorbell. Also, it has two-way audio so its users can hear and speak to visitors.
Plus, some Smart Video Doorbells are weather-proof and water-resistant, making them durable in any weather condition. As this product is trending in the market, we can easily generate sales.
Beginners Tip: Optimize your sales by listing Smart Video Doorbells with an embedded wide-angle camera lens. The wide-angle camera covers a large field of view and gives an unobstructed vision.
5. Indoor Smart Security Camera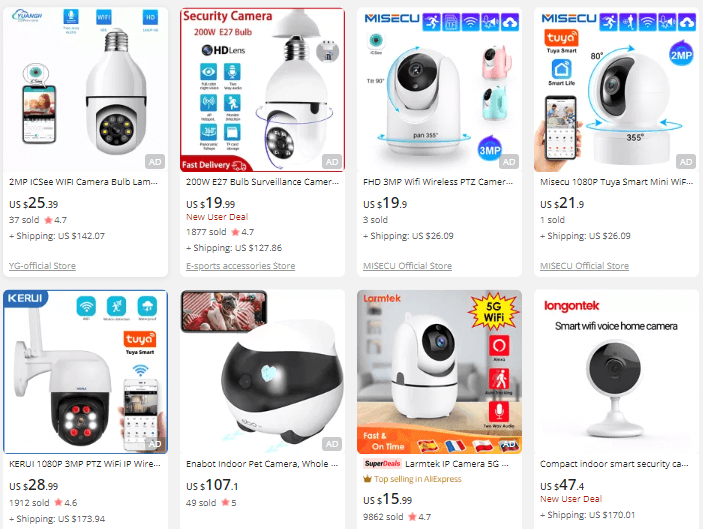 While outdoor security cameras help people monitor activities outside their homes, we need to dropship a security product that monitors activities inside homes. As such, The Indoor Smart Security Camera allows our customers to monitor inside their home or business anytime and anywhere.
Key Features
Night vision

Pan/Tilt/Zoom capability

Mobile app connection

Great for monitoring indoor activities
Typically, security cameras in indoor areas have less visibility due to a lack of sunlight. Nevertheless, Indoor Smart Security Cameras have built-in night vision allowing users to see at night or in low-light conditions.
Also, customers can pan and zoom on video streams using the remote control or mobile devices. While the pan feature allows customers to view specific areas of their house, the zoom feature allows them to view the video stream in detail.
Plus, our customers can get all the videos and updates integrated with mobile app setup, live streaming, and multiple viewing options. And, indoor smart security cameras are great for detecting intruders and monitoring children and pets who may have been left home alone. With all these features, it is an ideal home security solution to dropship that will increase our profits.
6. Smart Door Lock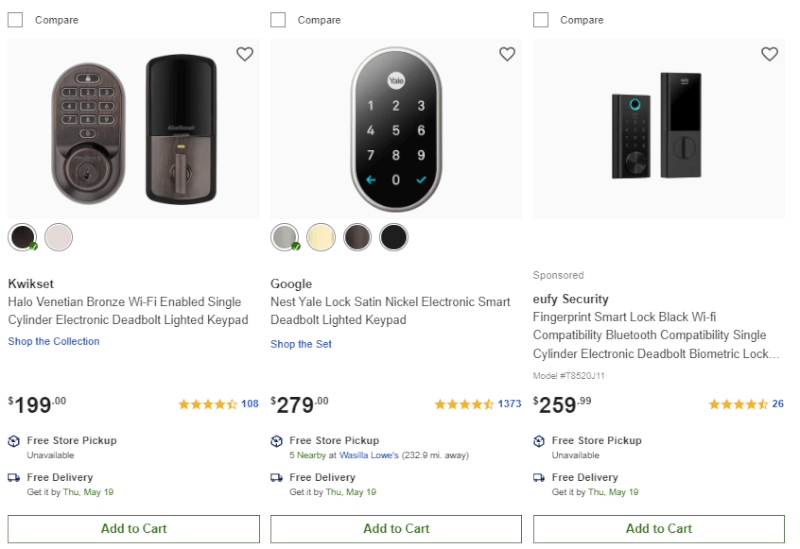 Another popular product among security products is the Smart Door Lock. Providing a convenient way to keep homes or offices safe, the Smart Door Lock allows its users to lock or unlock doors with the help of their smartphone. 
Key Features
Built-in camera, speakers, and microphone

Video streaming and storage

Mobile phone integration

Multi-User functionality 

Fingerprint options
Like most products on this list, the Smart Door Lock has a built-in camera and speakers that allows us to record, view, and interact with people outside. Also, most smart door locks integrate with our phones enabling us to get alerts and notifications whenever someone tries to access our doors.
In addition, smart door locks also come with multi-user functionality. Meaning that more than one person can access the device to control who goes in and out of their homes. That means it's ideal for families who have different schedules throughout the day.
Plus, the device has fingerprint security as an alternate option to unlock the doors if users do not want to unlock them through their smartphones. Overall, these key features make the Smart Door Lock a worthwhile product to dropship. 
7. Smart Padlock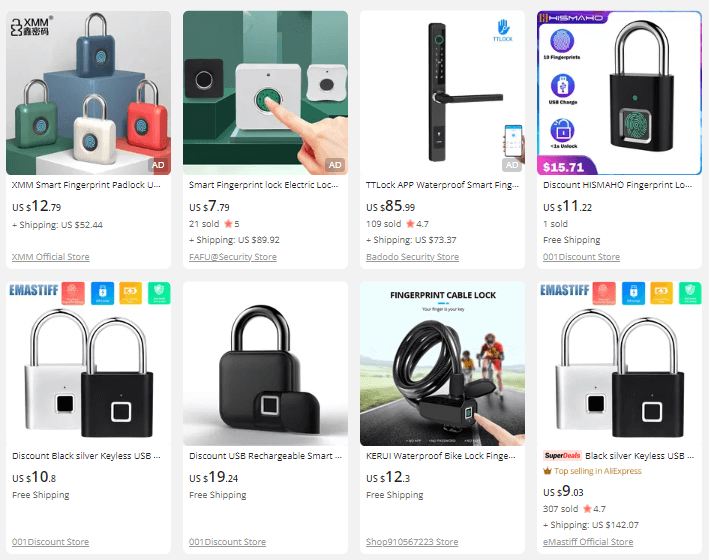 Next on our list is a smart padlock, an electromechanical device designed to lock and unlock doors. As the name suggests, the Smart Padlock helps secure our property with the help of advanced locking mechanisms. While the smart padlocks are great for any homeowner, they're especially ideal for Airbnb hosts.
Key Features
Fingerprint unlocking feature

Portable

Easy to use
The major perk of the smart padlock is that it consists of a fingerprint unlocking feature. Meaning, that we are safe from the common disadvantages of traditional locks, such as lock picking, breakage, and more. The smart padlock ensures our customers will be able to have a completely secure home as it's challenging to deceive the fingerprint system.
Additionally, the smart padlocks are portable and handy as they can be carried anywhere. Hence, these padlocks can also be unlocked and reused in a different place.
Another prominent feature of this padlock is that it is easy to use as it follows the same manual as traditional simple vital locks. Even more so, it is easier to access the smart padlocks as there is no need to carry extra keys.
Beginner's Tip: Make sure to add different padlocks with various features to your dropshipping store. For instance, list a padlock that integrates with phones, holds many fingerprints, or has long battery life.
8. WiFi Door Alarm System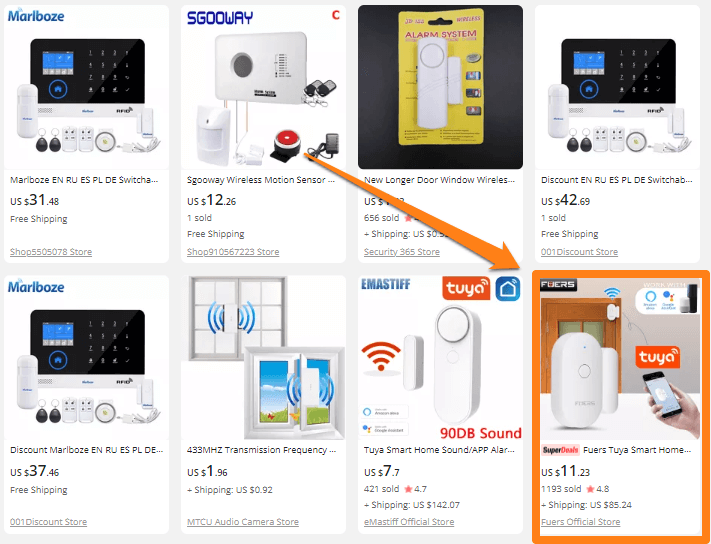 The next profitable dropshipping product on our list is the Wifi Door Alarm System, a straightforward yet effective dropshipping security product. When guests ring a doorbell, the door alarm system notifies the homeowner through the notifications on their phone to alert them. 
Key Features
Emergency siren 

Security cameras

Wifi setup
The Wifi Door Alarm System keeps the home protected and alerts its homeowner. If someone tries to break into the house, the homeowner can simply play the emergency siren with a simple click, or it can simply alert itself as the system is automated.
When the notification is sent to the homeowner, whether in-home or out of home, monitoring through the security cameras attached to the device is simple. Moreover, we can access the device through our phones since it has wifi integration. Therefore, the combination of these features makes the Wifi Door Alarm System an essential product that helps us generate higher sales. 
9. Night Vision Baby Monitor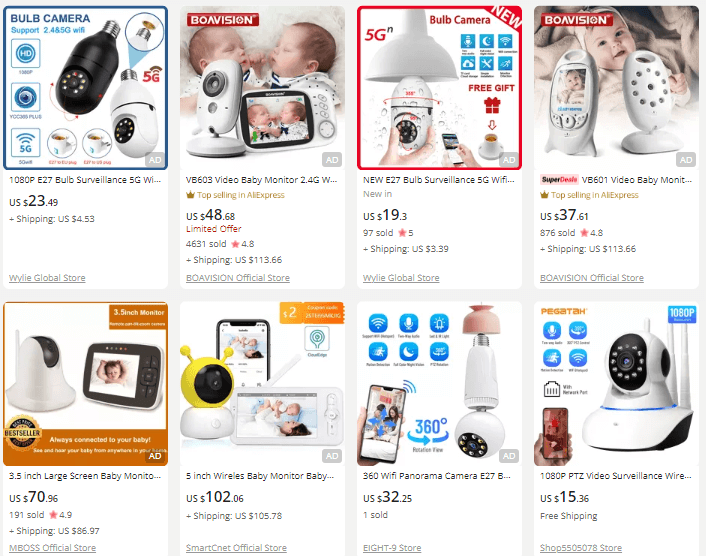 There's no doubt that parents will do whatever they can to ensure their children are safe and sound. As such, a great security product for parents is the Night Vision Baby Monitor. With the help of this device, our customers can now monitor their babies from anywhere, anytime.
Key Features
Adaptive dimmable night light

Colorful night vision

Soothing sounds and lullabies

Temperature monitoring system

High-quality camera
Since bright light can disturb or wake the babies at night, the night vision baby monitor comes with an adaptive dimmable night light, which parents can control remotely. Even with the dim lights, the device has colorful night vision technology, allowing parents to monitor them easily, even in low light.
Furthermore, baby monitors are also equipped with a temperature monitoring system, which shows the temperature and humidity of the room. Thus, it helps to keep babies at an optimal temperature.
Plus, the device has built-in speakers which can play soothing sounds or lullabies to comfort the baby. With these additional features, we can generate plenty of sales, as most parents are looking for this security product.
10. Surveillance DVR Kits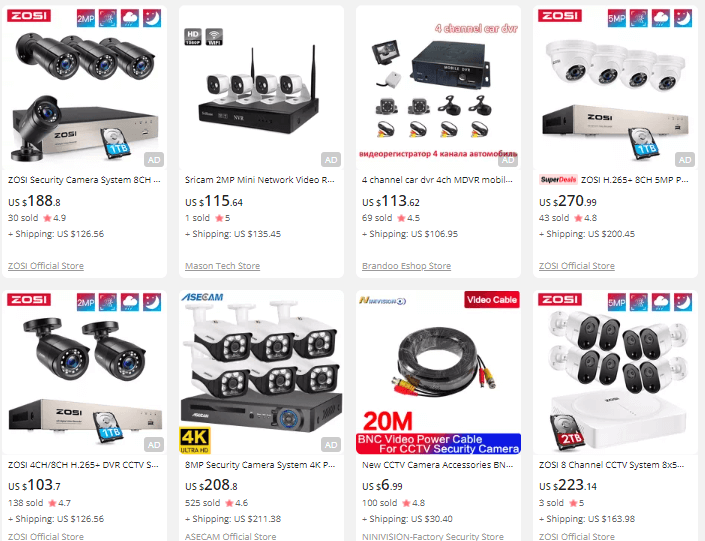 Up next on our profitable product list, we have Surveillance DVR Kits. DVR stands for Digital Video Recorders. They allow you to record security footage that your CCTV security camera captures, allowing you to watch it back whenever you want.
Key Features
Easy to adjust

Good resolution

Long recording times

Night vision
Surveillance DVR Kits have high-quality audio and video with flexible installation. With small adjustments like different holders and adaptors, we can get the best view of our home, office, or garden.
Plus, some surveillance DVR Kits offer features like longer recording times, night vision, and good resolution videos. Therefore, it is a complete solution for people wanting to monitor their homes and surroundings.
Beginner's Tip: Ensure that the surveillance DVR Kits you are listing have a motion detection feature. It is an additional feature that allows our product to stand out from the rest.
11. Door Security Bar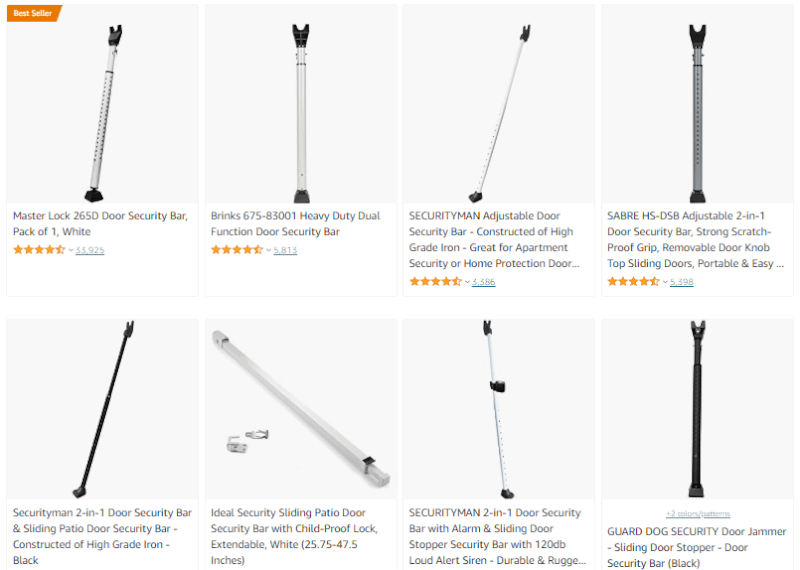 As burglars are now experts in picking traditional locks that give them easy access to homes, we need to offer our customers a better security solution. That's why we need Door Security Bars, a high-quality steel bar that stretches across the width of a door providing additional protection to the property from inside. 
Key Features
Enhanced security

Built-in alarm system

Excellent deterrents
Doors and windows are the most vulnerable part of our homes. That's why door security bars are an excellent solution to resist forced entry from the outside. Thus, with the heavy steel inside our homes, we can restrict any intruder from breaking in. While other locks are also needed, the door security bar provides enhanced security to the property.
What's more, some security bars have a built-in alarm system that alerts the homeowner if the door experiences disturbances from outside. Hence, they act as an excellent deterrent against unwanted intruders and are great for dropshipping.
12. Reinforcement Locks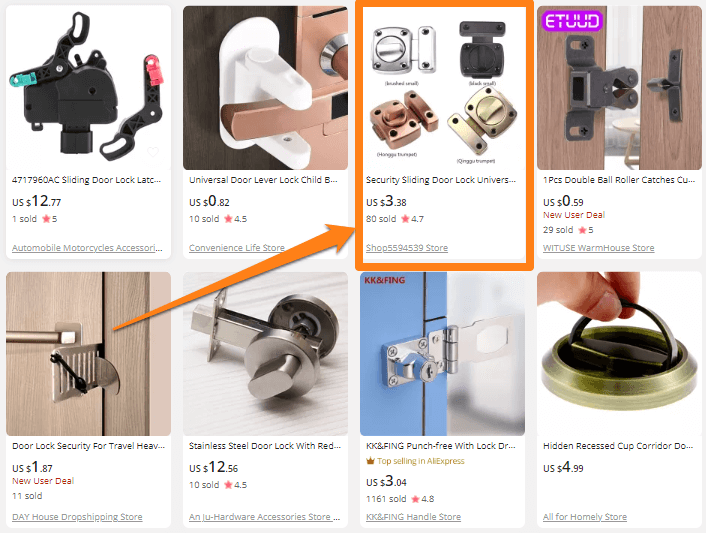 Up next, we have Reinforcement Locks, a product to secure doors. It is a solid steel or nickel-made lock installed inside the door, which needs to be pre-drilled onto the wall and the door with hardened screws.
Key Features
Easy to install

Low installation cost

Durability

Additional security
As the reinforcement locks do not require technical expertise, they are easy to install. So, they only need to be pre-drilled onto the door and won't require hiring a professional for the job.
As a result, it doesn't require our customers to pay much for the installation cost. Additionally, it does not wear out quickly because it's made from heavy metal. Thus, it ensures additional security as it will be hard to break in with the lock inside. Overall, it is one of the affordable and easy-to-install security products that customers will love getting their hands on.
13. Security Safe Box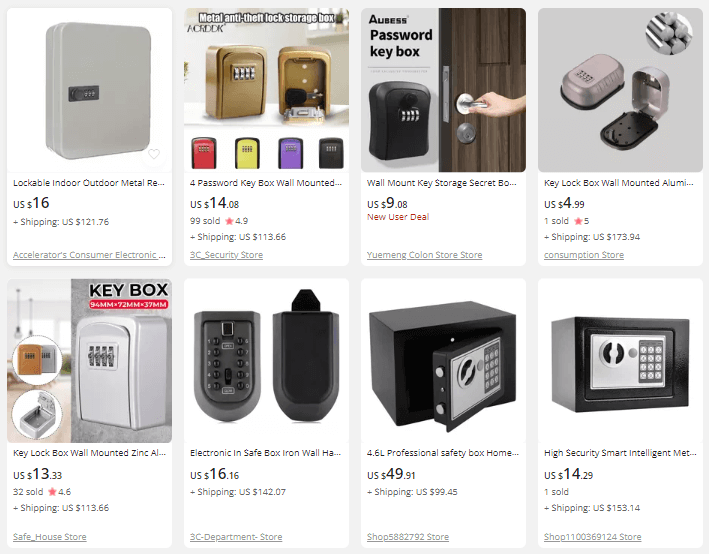 When it comes to protecting our cash or important documents, we usually look for an old-fashioned safe with lots of locks. However, Security Safe Boxes provide much better protection with innovative locking mechanisms. It maintains the security of valuables and important documents, including money, primarily designed for businesses, homes, and financial institutions. 
Key Features
Portable

Sound alarm function

Different types of unlocking mechanisms
One of the most significant benefits of a security safe box is its portability. Unlike traditional safe boxes, the security safe box is lightweight, allowing us to quickly move it from place to place.
On top of that, most safe boxes have a sound alarm system. As alarm sounds deter intruders, our belongings can remain safe.
Additionally, the safe box can be unlocked using multiple features such as fingerprints, passwords, a one-time password, Bluetooth, keys, and double verification. All in all, with this multitude of characteristics, dropshipping Security Safe Boxes will help us gain higher profit margins.
14. Multi-Piece Home Security System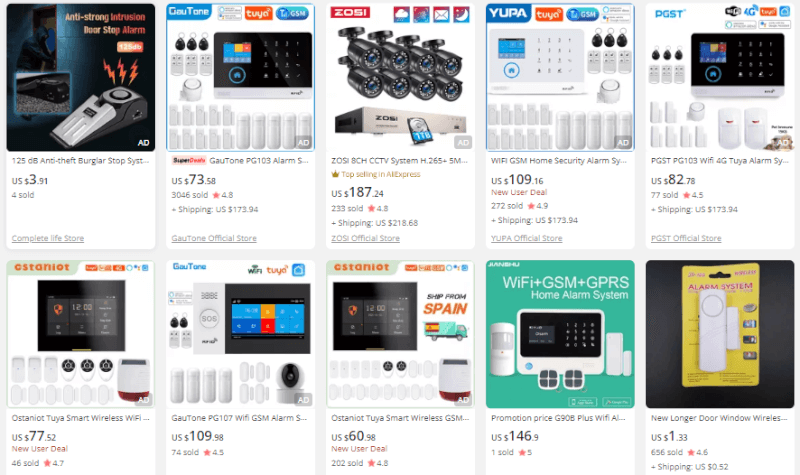 Last but not least, we have a Multi-Piece Home Security System. It is a mix of many security devices with different features. Such systems can include sensor alarms, video doorbells, security cameras, and more. 
Key Features
Customized security system

Built-in camera 

Motion sensors 

Two-way communication

Night Vision

Easy to use

Mobile integration
Considering the overall protection we need for our homes, the multi-piece home security system offers various gadgets all in one. As such, the system includes security cameras that provide video surveillance and video streaming features.
Additionally, the kit consists of motion sensors that detect movement and raise an alarm to keep intruders away. Plus, customers can choose to add other security products like door locks or door alarm systems that provide video recording and two-way communication.
Besides that, this security product can also be embedded with night vision cameras that enable us to record videos in low lighting. Moreover, the device is easy to use because it integrates with our mobile phones. So, we will be able to access it from a single device, providing us with peace of mind.
Furthermore, customers can get a single personalized security system for their home security needs instead of buying several security devices. Therefore, as we are getting so many products in a single system, the Multi-Piece Home Security System helps us scale our dropshipping store.
Beginner's Tip: Multi-Piece Home Security Systems generally cost around $150-$500, making it a high ticket dropshipping product.
Overall, these 14 products are amazing security products that keep people's home safe from the customers. While all the products are trending and in demand, some of them are included in the list of 100+ best products to sell in 2022.
Where Can I Find Security Products For My Dropshipping Store?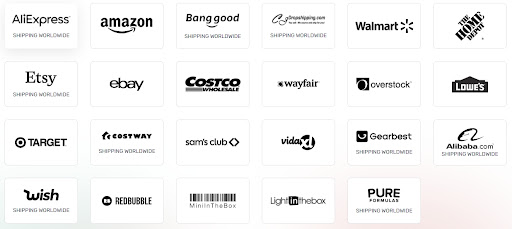 Now that we have the list of best dropshipping security products, we need a reliable supplier who holds the product inventory. With this in mind, let's learn about some of the suppliers that allow us to dropship security products:
Let's find out more about the suppliers in detail. Learning more about the suppliers helps us differentiate them from one another, allowing us to find the perfect supplier for our dropshipping venture.
1. AliExpress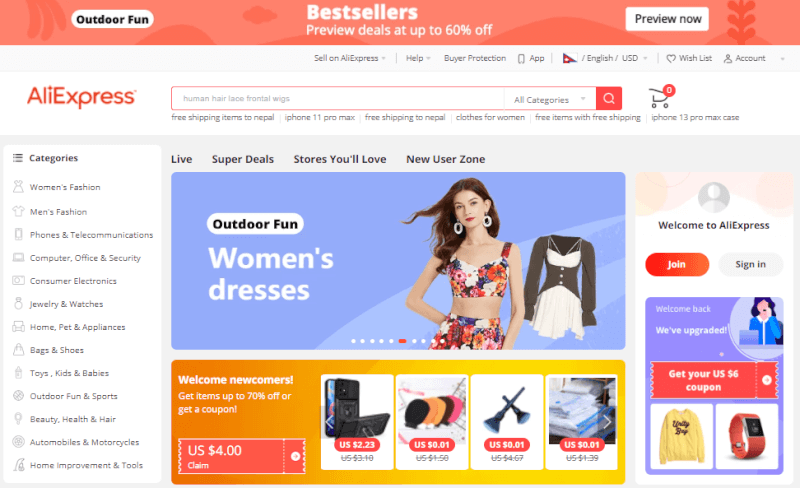 The first dropshipping supplier for security products is AliExpress. It is a retail platform based in China that connects dropshippers with Chinese suppliers.
Features
Large selection of products 

Affordable

US and European warehouses

Dropship center
As one of the biggest retail platforms, AliExpress has a massive product catalog with more than 100 million products. Most products are affordable because they all come from Chinese manufacturers and suppliers. Hence, they have a large selection of security products to choose from.
Although AliExpress products mainly come from Chinese suppliers, they have warehouses in major regions like the US, Europe, and the UK, enabling faster shipping. Moreover, AliExpress has a product research tool called AliExpress Dropship Center. With its help, we can find dropshipping products that are selling well and in demand.
2. Wayfair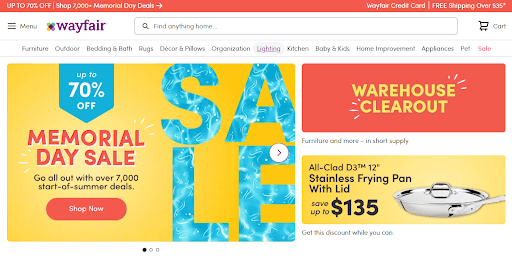 Another great dropshipping supplier for security products is Wayfair, an American supplier specializing in home improvement tools.
Features 
Specializes in home improvement tools

Free shipping for orders above $49

2-day delivery

Special programs, deals, and discounts

MYWAY Program
Specializing in home improvement tools, Wayfair offers many security products to dropship. Plus, they offer free shipping for orders over $49, which we can extend to our customers to ensure customer satisfaction. And, thanks to Wayfair's shipping policy, we can offer free shipping and deliver faster with 2-day shipping.
On top of that, Wayfair is a dropshipping-friendly supplier that provides many deals and discounts that dropshippers can take advantage of. One of their programs is "MYWAY." The MYWAY program offers free shipping for most online products within a day. Plus, it gives us access to thousands of exclusive items, enabling us to provide a wide variety to our customers.
3. CJDropshipping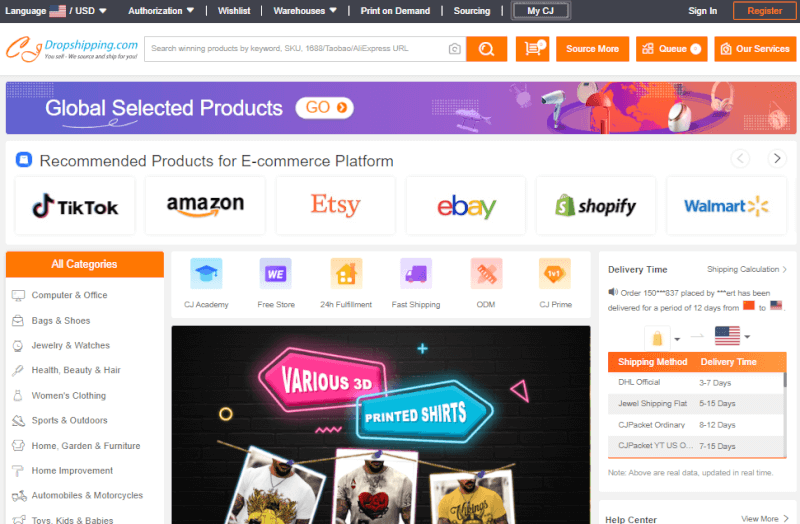 CJDropshipping is one of the dropshipping friendly suppliers of security products. Founded by dropshippers, CJDropshipping is a general supplier with unique features that allow our business to thrive. 
Features
Product sourcing

Quality checks

Print-on-demand products

White label branding
One of the unique features of CJDropshipping is that it offers product sourcing. It allows us to request products, and afterward, CJDropshipping makes the product available to us. With this special feature, we can source products that are not readily available in the market. By doing so, we can stay ahead of the competition.
Additionally, they perform quality analysis before shipping products to ensure our customers get the highest quality products. As dropshippers, this is a massive benefit for us because we aren't handling the products and can't test the product quality.
Besides that, CJDropshipping offers print-on-demand (POD) dropshipping. POD is an order fulfillment process that allows us to design and customize products like t-shirts, mugs, and pillowcases.
Similarly, it also provides white-label branding options. With their white-label service, we can package products under our brand, helping us build our brand awareness.
4. Gearbest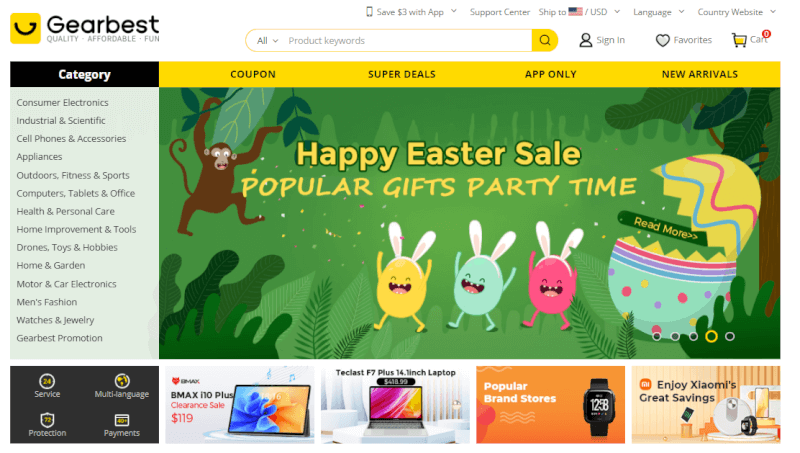 If you want to get good deals on electronic tools and gadgets, you can't go wrong with Gearbest. This supplier specializes in electronics, gadgets, and home improvement products and has some of the best rates in the market.
Features
Specialization in electronic products

46 warehouses worldwide

3-day price protection
Gearbest specializes in supplying electronic products and gadgets. As such, it has a wide range of security products. Additionally, with 46 warehouses worldwide, Gearbest ships products within 1-2 business days. As we extend this offer to our customers, it will increase our sales and allow us to obtain customer loyalty.
Another feature of Gearbest is that it offers 3-day price protection on all its products. With the price protection policy, we can request a refund if we find the exact products for a lower price elsewhere.
Plus, the price protection policy ensures that we get the lowest and most affordable rates for our products. Thus, not only can we source great security products for our store, but we can scale our business to new heights!
5. Amazon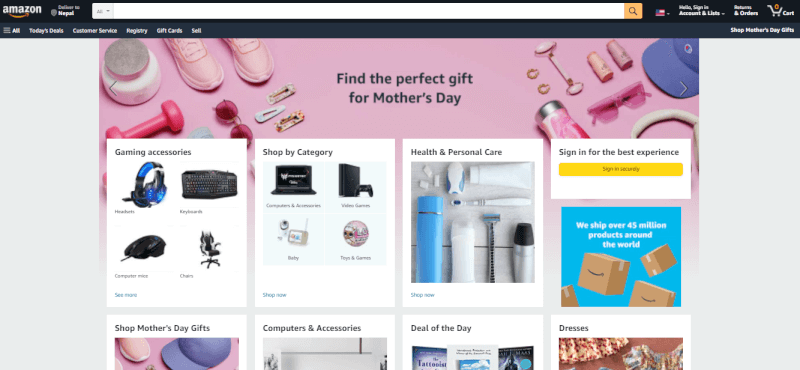 Almost everyone working within the eCommerce space knows Amazon. As one of the biggest suppliers, Amazon has products from almost all categories. So, naturally, they also have a large selection of security products.
Features
Massive selection of products 

Reliable supplier

Global warehouses

Fast shipping 

Excellent customer service 

Easy returns
As one of the eCommerce giants, Amazon has a vast product catalog from every niche. With that being said, they have an extensive security product catalog.
Besides that, they are a reliable supplier. So, we can expect them to offer quality products and ship our products on time.
Furthermore, Amazon has many warehouses and fulfillment centers worldwide, which allows them to ship products very quickly. We can dropship using Amazon Prime, which offers same-day and two-day delivery. Therefore, it gives us a competitive advantage if we ship our products more quickly than other sellers.
Additionally, Amazon has excellent customer support ready to assist 24/7 via phone or email. Thus, if you have any queries about your order, refund, or payment, you can directly contact them through phone or email at any time.
However, despite being the largest supplier with many benefits, Amazon eventually locks our buyer accounts after several dropshipping orders. As they lock our account for several reasons, such as high order volume, refunds, or suspicious activity, we need a dropshipping solution.
But, worry not! That's why we can use AutoDS' order fulfillment automation tool. Fulfilled by AutoDS doesn't require us to use our buyer accounts to fulfill orders.
Plus, everything is automated for us, along with tracking and one-click returns. Despite this, Amazon is definitely still one of the best dropshipping suppliers to source from.
6. Lowe's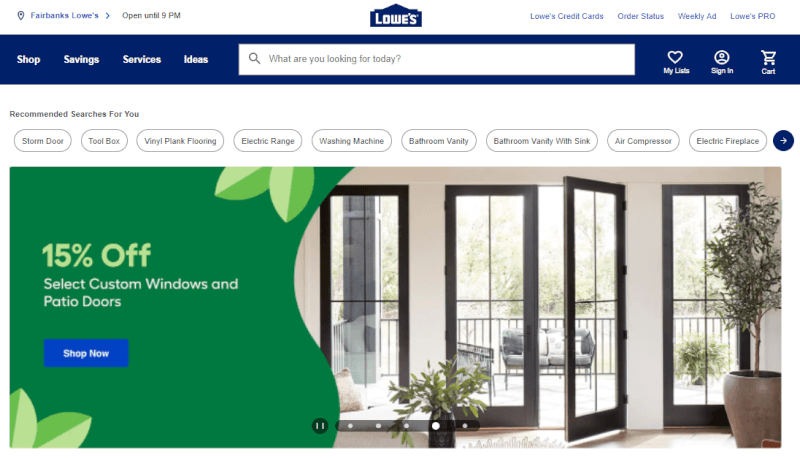 Next up, we have Lowe's. It is one of the oldest suppliers that has grown from a small-town hardware store to the second-largest home improvement retailer in the world.
Features
Fast and efficient shipping 

Business credit cards

Pro loyalty program

Protection plan
Lowe's is another niche supplier with various security products and fast shipping. While standard shipping delivers products within 1-3 business days, they also have same-day and 2-day shipping.
Additionally, Lowe's business credit cards allow us to enjoy daily 5% discounts, discounted deliveries, and special deals. Similarly, Lowe's has a "Pro Loyalty" program that offers personalized offers, expenses tracking, and specialized tools to manage our dropshipping business. Also, it has a protection plan that ensures a product warranty and takes no additional fees.
7. Walmart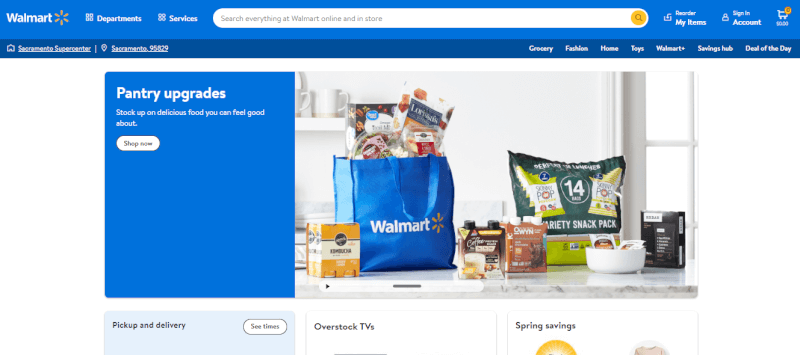 Aside from being the largest retailer with physical stores, Walmart has an online platform offering various security products. It is an American multinational company operating the world's largest retail store chain.
Features
Large product selection

Tax exemption program

Free 2-day delivery

Price match guarantee policy
Walmart is a retail giant with no shortage of security products to dropship. Therefore, we'll never run out of product ideas for our business, and our customers will be satisfied with the product selection.
As Walmart is a retail giant, it's no surprise that it offers dropshippers a wide range of products. With 160 million products to choose from, we'll never run out of trending items for our dropshipping business. Plus, we can even offer our US customers next-day delivery when dropshipping security products from Walmart.
Last but not least, Walmart offers a price match policy for purchases made on its website. If we find the products on another platform for a lower selling price, Walmart matches the products' price. Therefore, we can easily increase our profit margin.
8. Banggood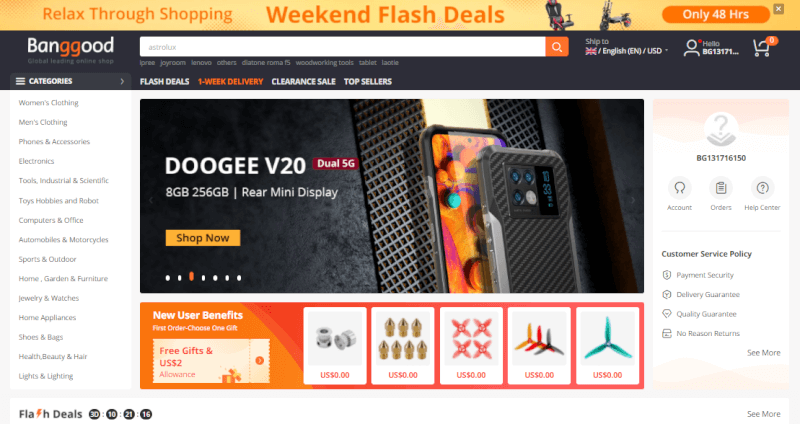 Last but not least, we have Banggood, another dropshipping-friendly supplier based in China. Bangood is a dropshipping platform that connects us with more than 100,000 reliable suppliers from China.
Features
Massive product selection

Low-cost products

Cashback, promotions & exclusive deals

Faster shipping with global warehouses
With thousands of suppliers and products, we can't go with choosing Banggood as our dropshipping supplier. They offer a wide range of products in every category, and they have an equally impressive catalog of security products that will surely meet our needs.
As Bangood is a dropshipping-friendly supplier, dropshippers can enjoy special offers such as cashback, promotions, and exclusive deals. These special deals help us save on costs and, as a result, increase our earning potential.
Most importantly, Bangood offers security products at affordable prices, which means there is plenty of room for profit. In addition to that, they have warehouses in major regions like China, the USA, and Europe. The global warehouses enable them to offer faster shipping, which is excellent since customers want their products quickly.
The suppliers mentioned above are some of the best in the industry. While you may have found a perfect dropshipping supplier for your security products from the list, working with multiple suppliers is the best strategy. By working with multiple suppliers, we get a more extensive product selection, which allows us to evaluate the best quality and price.
Also, having several suppliers can come in handy if one has an issue in supplying. Generally, having a backup in place is a great way to eliminate the risk of loss and customer dissatisfaction.
With that in mind, AutoDS gives dropshippers access to over 25 global suppliers. Thus, we can rest assured that we're dropshipping the best security products for our store. 
Where Can I Dropship Security Products?

Now that you know what security products are best for dropshipping and where to find them, all that is left for you is to find a proper selling channel. As such, we can use two different types of selling channels: customizable eCommerce platforms and eCommerce marketplaces.
Marketplaces like eBay and Facebook Marketplace are trading platforms with existing traffic. With existing active users, our store will be visible to customers right away.
In contrast, customizable eCommerce platforms allow us to create websites with our own domains. As a result, we can brand our store, helping us increase brand awareness. With this in mind, Wix and Shopify are two platforms for creating a custom dropshipping store.
Whether we choose an eCommerce platform or a marketplace, both can be suitable according to the strategy we adopt. With that in mind, here are some features of both types of selling channels to help us choose the perfect fit for our business:
Features of Wix
Fully customizable platform

Drag and drop features

Easy to use interface 

Integrated Wix dropshipping apps
As one of the customizable platforms, Wix allows us to personalize our websites according to our preferences. With custom templates and designs, we can differentiate ourselves from the competition.
Additionally, Wix has an easy-to-use interface that uses a drag and drop system. As we can build our store simply by dragging and dropping, we don't have to worry about coding or designing our store.
Furthermore, the Wix platform allows integration with different apps and eCommerce tools from the Wix App Market. As such, we can scale our Wix dropshipping store with ease with a vast selection of apps and tools to help enhance our dropshipping business.
Features of Shopify
Professionally designed eCommerce templates

Built-in blogging feature

24/7 customer service

Shopify App Store
Shopify is one of the most popular selling channels. Also, it is an easy-to-use platform for dropshippers that offers many professionally designed templates for our online stores. With these templates, we can customize our store and create a brand to optimize our website traffic and attract more customers.
Additionally, Shopify has a built-in blogging tool. With this tool, we can build content like blogs, articles, and images to keep the customers engaged when they visit our website. Plus, they also help our website rank higher on search engines if we incorporate Search Engine Optimization(SEO) in our blogs. Thus, we can manage our blogs and articles in an organized way to increase traffic and engagement.
Furthermore, Shopify has excellent customer support with 24/7 customer service available in all languages. Therefore, Shopify is an excellent option for beginners if they encounter any problems or need help.
Finally, Shopify has its App Store, similar to the Wix App Market. While the Wix App Market has many dropshipping apps, Shopify's app store is much larger, with over 3000 apps and tools to enhance dropshipping stores.
Features of eBay
Easy-to-use interface

Affordable setup cost

Free organic traffic 

Easy promotions for our listings
eBay is a relatively user-friendly trading platform that connects buyers and sellers. We can start selling security products as soon as we create an eBay account, write our business policies and launch our store. On top of that, eBay has an affordable setup fee with no upfront investment.
Along with modest setup costs, eBay provides us with free organic traffic. This means we have plenty of visitors that land on our website.
As such, having organic traffic means more sales and more profit in our pockets. With eBay, we have a competitive advantage because the platform has more than 150 million active users, and most importantly, we don't have to pay for them.
Additionally, we can advertise our products on eBay to attract more clients. Promoted Listings Standard and Promoted Listings Advanced PPC are two options for promoting our eBay listings. These promotions help our products appear at the top of eBay search results pages and help us gain more visibility on the platform.
Features of Facebook Marketplace
Low level of competition 

Free organic traffic 

Low selling fees

No selling limits
Facebook Marketplace (FBMP) is a trading platform connecting buyers and sellers on Facebook. Because it is relatively new, dropshippers face little competition on FBMP.
Furthermore, much like eBay, FBMP enables us to receive immediate organic traffic due to its massive active user base. Thus, we can easily sell and promote our security products.
Additionally, Facebook charges a 5% selling fee for sales under $8 or just a $0.40 flat fee for each order. Comparatively, that is a reasonable selling fee, and the bonus is that we only have to pay if the product is sold.
Plus, there are no selling restrictions on the FBMP platform. While some marketplaces, such as eBay, have selling limits, FBMP allows us to sell an unlimited number of products from day one.
How Can I Increase Sales When Dropshipping Security Products?
Undoubtedly, you will start to generate sales once you start a dropshipping business. With best-selling products, reliable suppliers, and optimized selling channels, we can start earning high profits. As business owners, we all want our sales to grow exponentially, right? Who doesn't?
Well, dropshipping automation can take us one step further, helping us ease our business processes. But what exactly is dropshipping automation?
When it comes to dropshipping business operations, we can perform them manually or automatically. With manual dropshipping, operating our dropshipping store is tedious and time-consuming.
For example, we must visit our supplier's website and copy the product title line by line in order to import a product manually. Moreover, we need to import product images and variations. In a nutshell, it is a tiring process that takes a lot of our time and energy.
In contrast, dropshipping automation reduces the need to do things manually. With dropshipping automation, we can focus on scaling our business and take it to the next level.
With that in mind, there is no dropshipping automation software better than the AutoDS platform. The software helps with every dropshipping operation from A-Z. With that said, here are the features that make it a top dropshipping automation software:
Create Product Drafts 
…and more!
To illustrate, let's go over how we can import products with AutoDS' Product Importing tool. Here are four product importing methods in total:
One-click Importer

Single Product Uploader

Adding Multiple Product URLs/IDs

Bulk Importer
To clarify, all of the importing methods are equally helpful for automating imports. For instance, let's focus on how the "one-click product importing" feature works.
One-Click Product Importing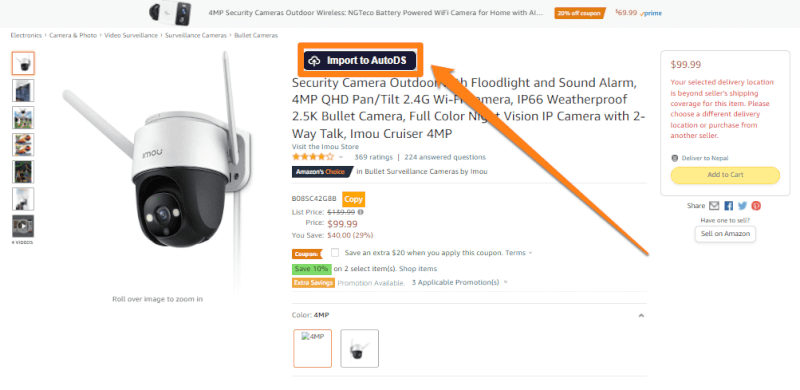 The one-click product importing feature allows us to import trending security products with just one click. In addition, we can choose from a large selection of products to import from one of our AutoDS suppliers.
Before we begin the importing process, we should install the AutoDS Dropshipping Helper Extension. Now, we can begin importing a product into the AutoDS platform. First, head over to the product page on our suppliers' website. Then, click on the 'Import to AutoDS' button placed right above the preferred security product's title.
When we click on it, the AutoDS extension gathers titles, images, product descriptions, and all the product variants. Next, the tool imports all the information directly to the drafts page in the AutoDS platform.
Then, we can optimize the product's titles, descriptions, and images to ensure we're creating an optimal product page. By doing so, we are differentiating ourselves from the rest of the competition.
Product Research Tool
Similarly, another amazing feature of the AutoDS software is its Product Research Tool. Generally, the first and most essential step to perform when starting a dropshipping business is product research. Finding good products paves the way to making healthy profits.
Talking about product research, finding products manually is a time-consuming task that requires a lot of effort. In contrast, we can automate our product research and find trending products in a few minutes, helping us save a lot of time.
As such, AutoDS' Product Research Tool allows us to find high-potential products from our suppliers. Additionally, we can filter the products by price, suppliers, rating, shipping time, and other factors. Therefore, we can add the most in-demand and trending products to build a large customer base.
Furthermore, AutoDS' Product Finder is a solution for those who don't have time to conduct product research. Just input your requirements like the product category, suppliers you want to import from, and profit expectations. Based on your specifications, the tool will show you the best products.
All in all, the AutoDS dropshipping tool helps us save time which we can instead dedicate to marketing and customer service. Once we integrate AutoDS into our dropshipping business, we can further scale our dropshipping businesses. Most importantly, we can keep running our business at the highest level with maximum freedom.
Frequently Asked Questions 
Is It Legal To Dropship Security Products? 
Yes! It is legal to dropship security products. However, some self-defense products may be subject to legal specifications. Therefore, it is best to avoid anything like that at all. To stay safe from legal trouble, check AutoDS' VeRO protection system.
Is Dropshipping Security Products Profitable? 
Absolutely. The security product market is continuously expanding and is becoming more and more in demand among consumers. Plus, dropshipping is a low-risk, high-reward business model.
Who Is The Best Supplier For Dropshipping Security Products? 
There are plenty of dropshipping suppliers for security products like AliExpress, Bangood, and Amazon. However, the best one depends upon our needs, such as delivery speeds, product cost, etc. As a general rule of thumb, it is better to work with multiple suppliers.
What Are The Best Security Products For Dropshipping?
Security products like Wireless security cameras, outdoor motion sensors, and smart door locks are some of the best products for dropshipping. If you want to learn more about security products, we can always discover how to research products from our product-finding blogs.
Conclusion
Congrats! You deserve a learner's medal for making it to the end. Looking back, we read about the best dropshipping security products and which suppliers to get the products from. In addition, we also know which selling channels we can use to list our products. With this knowledge, we are well-equipped to dropship security products.
So why wait when we can take advantage of this growing security products market? We can start our dropshipping business immediately and further scale it with dropshipping automation.
In essence, if you are a beginner dropshipper, try to learn as much as you can since learning increases your understanding of the market. With this in mind, here are some product-finding articles to increase your horizons even more: