The winter holiday season is well on its way, which means we are in the #1 spending time of the year. Starting with Halloween and ending with Christmas and New Year's, each holiday has special festivities that heavily rely on many different products and presents. This means that dropshipping Christmas products for Christmas 2021 is a must!
Christmas is arguably the most important Christian holiday. Falling on December 25th, it is an annual festival commemorating the birth of Jesus Christ.
It is one of the biggest and most widely celebrated holidays in the world, and it's right around the corner. Since more than 2 billion people in over 150 countries celebrate Christmas, it's become an extremely lucrative time to dropship.
As a dropshipper, it is essential to be ready for every big event or holiday throughout the year to maximize sales and scale your dropshipping business. This is why dropshipping Christmas products is a significant sales opportunity you don't want to miss.
So, let's help you profit big this Q4 and set your store up for success. Keep reading to get hot dropshipping Christmas products to dropship.  With our list full of Christmas favorites your dropshipping store will be ready to achieve the most sales and profits during Q4 2021. 
Top 10 Christmas Products To Dropship In 2021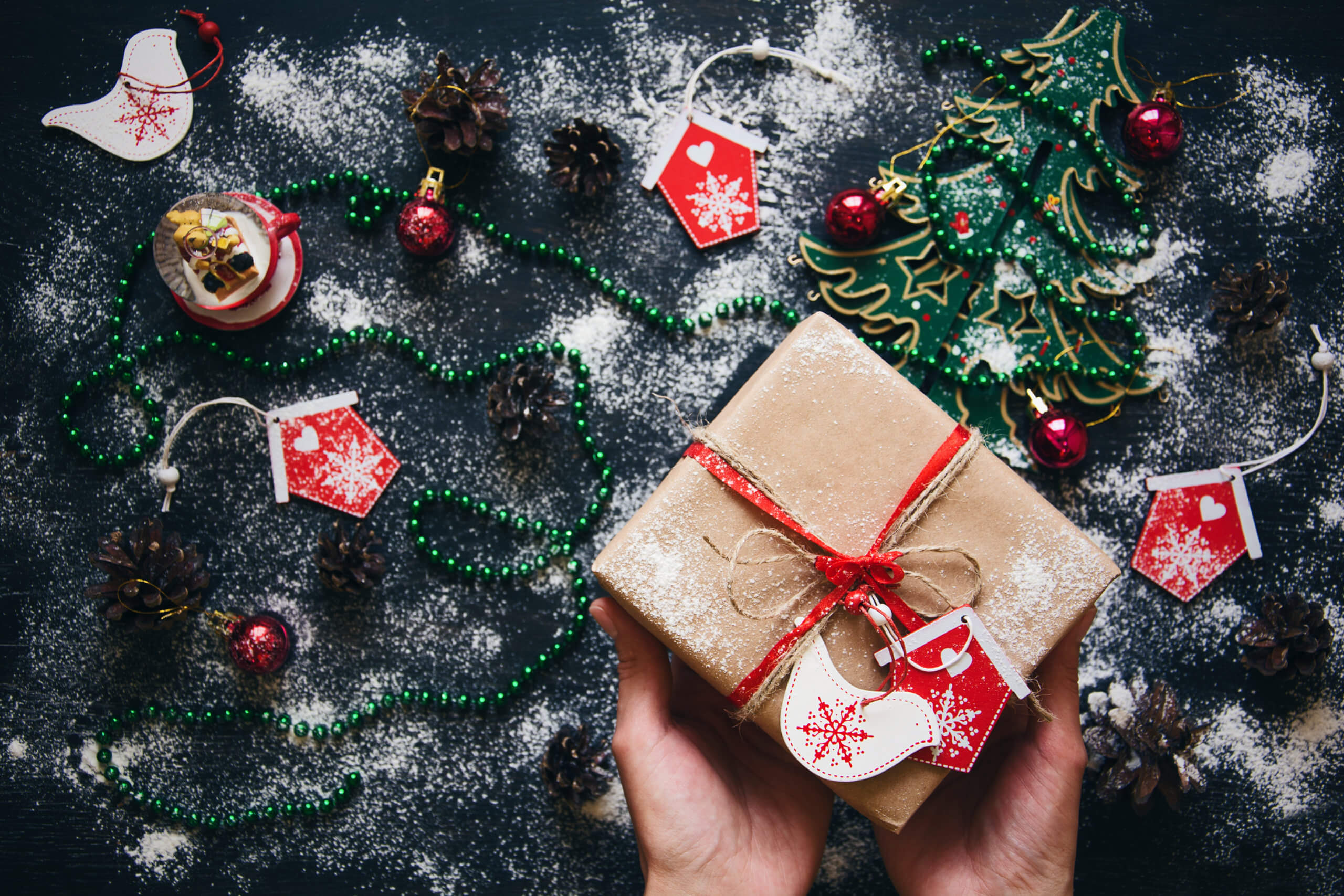 Although you can sell hot items from any niche around this time as people purchase presents for their loved ones, there are specific items to get everyone in the holiday spirit.
As mentioned, each holiday has its traditions and celebrations. Some popular Christmas customs include sharing meals with family, Christmas trees, light shows, and of course, exchanging gifts!
Due to the importance of the holiday, many of those who celebrate invest lots of time and money putting together big parties and decking out their homes for the special occasion.
So without further ado, here are 10 of the top-selling dropshipping Christmas items that will help you score serious sales this Q4!
1. Christmas Trees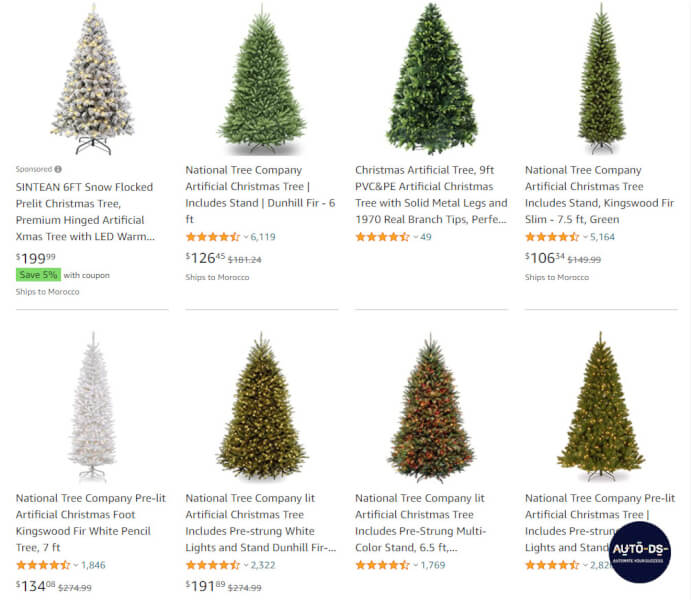 First up, we have one of Christmas' most important symbols, the Christmas tree. In Christianity, the Christmas tree is symbolic of the birth and resurrection of Jesus Christ.
The tree's branches and shrubs are viewed as an emblem of immortality and are said to symbolize the crown of thorns worn by Christ on the cross.
Dropshipping Christmas trees come in many different sizes, colors, and designs, so be sure to have a well-rounded mix in your dropshipping store this year to increase profits.
There are also many price points, so have a few options for each price point to appeal to a broader audience.
2. Christmas Lights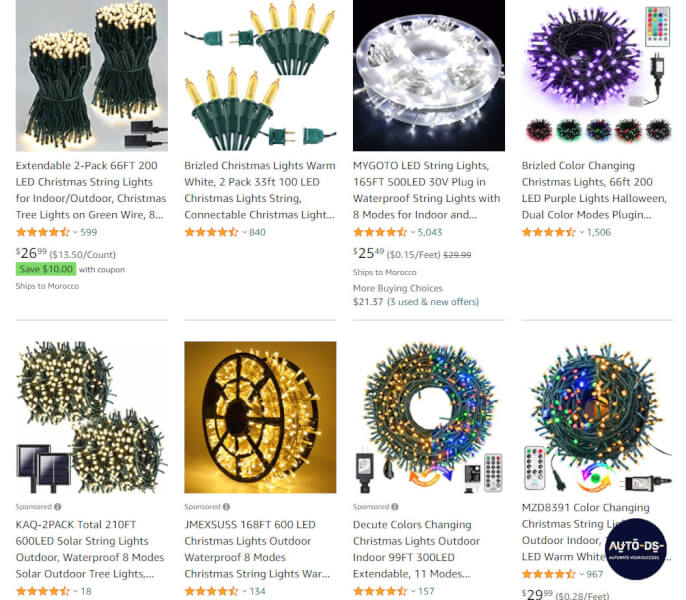 Next up, we have Christmas lights. Although it is not sure why lights have become such a big part of the Christmas celebrations, they have been one of Christmas' best-selling dropshipping items for decades.
String lights (as shown in the image above) are the most common and are used to decorate the inside and outside of homes and Christmas trees.
When adding Christmas string lights to your store, make sure to add variations. There are monochrome lights, color-changing lights, different lengthen sets, sets with remotes.
Offer your buyers a variety to choose from to maximize sales on this hot Chritsmas dropshipping product.
3. Christmas Ornaments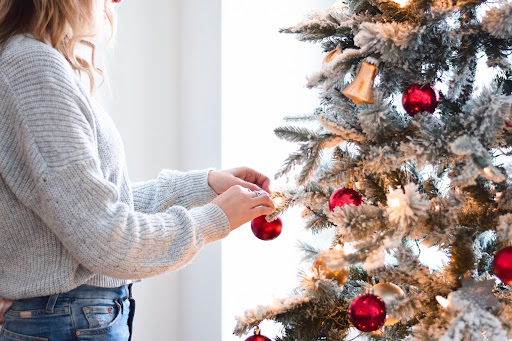 Third on our list, we have the infamous Christmas tree ornaments! These are a classic type of Christmas tree decorations that have been a consumer favorite year after year, therefore making them a great choice for your dropshipping store this Christmas.
Keep in mind that Christmas tree ornaments come in all shapes, sizes, colors, and designs. Be on the lookout for multiple variations to offer your buyers a wide selection.
To save you time and give you a head start, we searched for two high-demand ornament types.
Ball Ornaments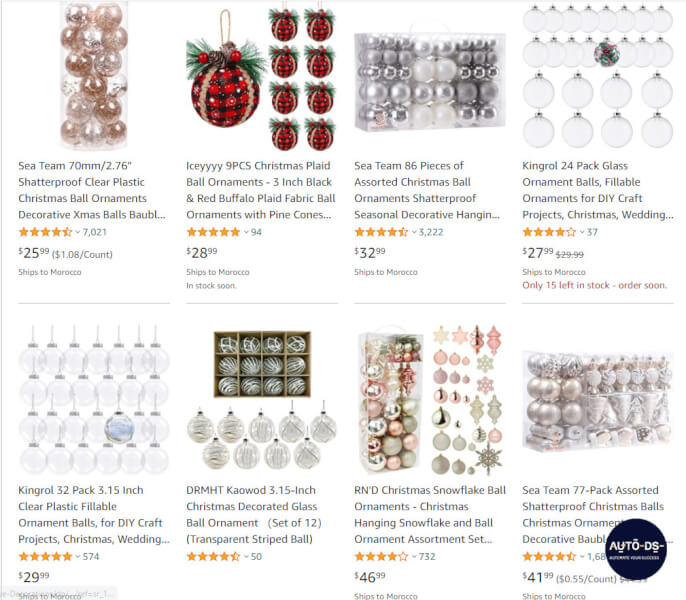 The first Christmas tree ornament type is timeless and never goes out of style. These beautiful bubble-looking ornaments originated in Germany back in 1550 and have been a favorite ever since.
Coming in various colors and sizes, it is crucial to have an assortment in your store. Additionally, there are differently sized packs. Offer multiple variations to sell more and rake in profits.
Gnome Ornaments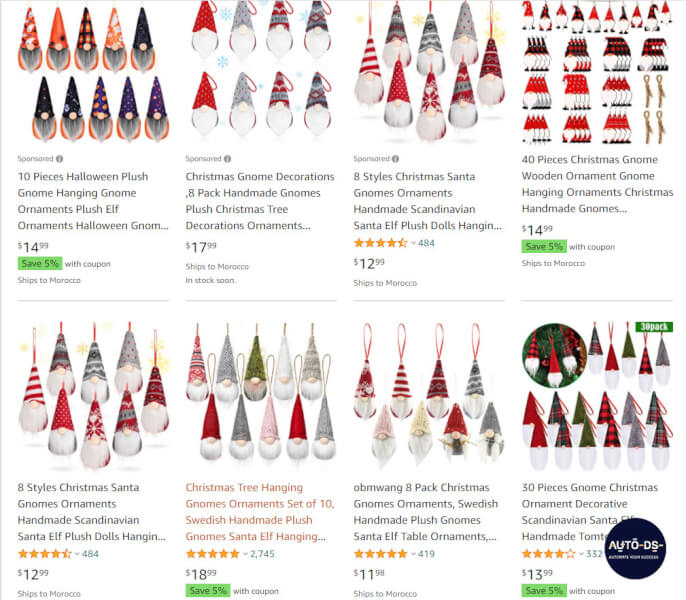 As for the second Christmas decorations, we have one of the most popular tree ornament options for this year. There seems to be a significant fascination with gnomes. These cute mini plush ornaments are making waves, so jump on the trend.
Although there aren't as many variations to these as the ball ornaments, still be on the lookout for the different styles.
There are full-body gnome ornaments, some just little gnome heads with beards, gnomes with candy canes, and many more.
4. Christmas Embroidery Kits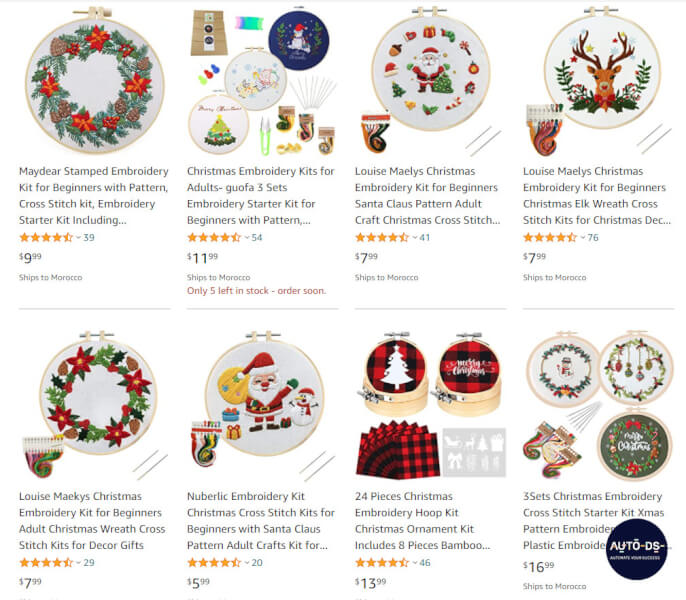 Fourth on our list, we have another popular choice of decoration. Embroidery is the craft of decorating fabric or other materials using a needle to apply thread or yarn. Frequently embroidery also incorporates other materials such as pearls, beads, quills, and sequins.
Once embroidery projects are completed, they can be displayed on a wall, in an easel, on a desk or countertop, or as an ornament.
Christmas embroidery kits are popular at family Christmas parties, are given as gifts, used to decorate homes, and can even double as a DIY ornament-making kit.
Furthermore, there are countless winter and Christmas-themed designs. To get a good amount of sales and profit from this Christmas dropshipping product, variations are not just recommended but crucial.
Not only will different people look for different designs, but many will purchase multiple designs.
5. Christmas Inflatables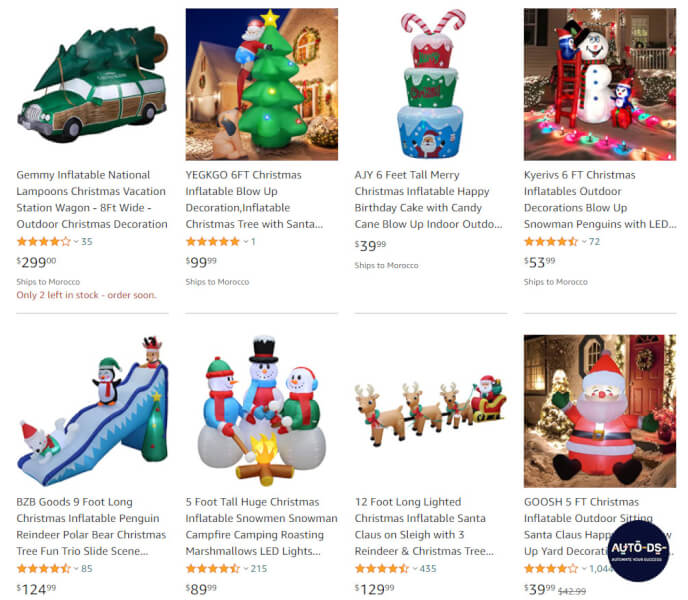 Next, we have a Christmas decoration for those that like to go big. Christmas inflatables are a terrific addition to any Christmas display. They are eye-catching, entertaining, and just simply fun.
Additionally, this is a medium to high ticket price range item, which means higher profit margins for dropshippers.
Furthermore, similar to the previous decorations, these too come in a wide variety of sizes and designs. Dropshipping this Christmas dropshipping item will get eyes on your store. 
6. Christmas Tree Toppers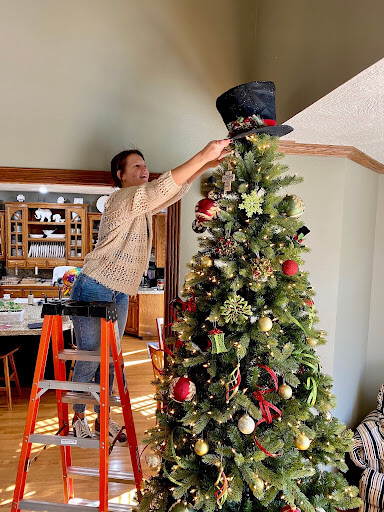 As the last Christmas tree-related drop shippers second, we couldn't leave out Christmas tree toppers. The history of tree toppers goes back to the Victorian era in the mid-1800s.
Queen Victoria and her husband, Prince Albert, were credited with bringing the first Christmas tree to Windsor Castle − decorating the tree with angels, tinsels, silver wire ornaments, candles, and tiny beads.
Besides being a tradition, a tree topper is a holiday ornament that can add beauty and shine. It brings all of the decorations together and completes the look of your tree.
As for modern-day tree toppers, there are many options to choose from. As always, we are here to give you the inside scoop and provide you with the hottest selling choices.
Star Christmas Tree Topper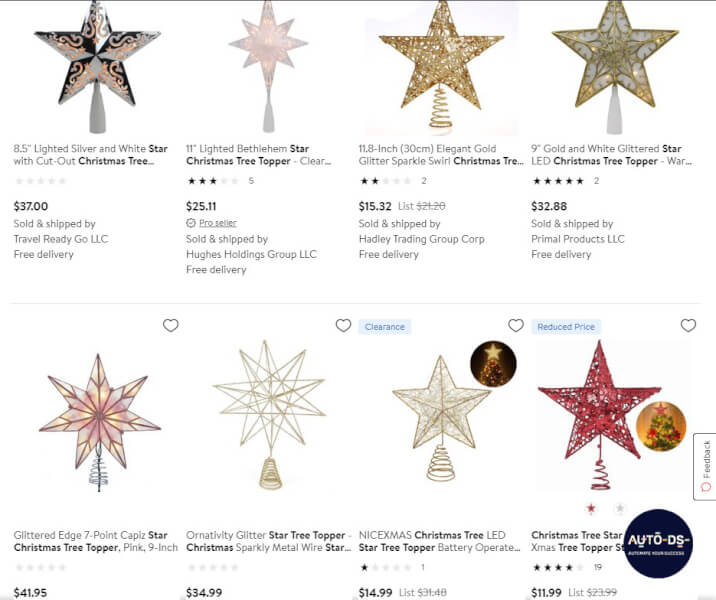 The first best-selling Christmas tree topper you should have in your dropshipping store this Q4 is the star Christmas tree topper.
In the Christian tradition, the most popular tree toppers reflect images from the Nativity story. A star on top of the tree symbolizes the Star of Bethlehem, also called the Christmas Star.
This is known to be the start that led the wise men, known as the Magi, to Bethlehem and revealed the birth of Jesus.
Besides the historical significance, it is a beautiful addition to any tree. Star toppers come in many sizes, as well as plenty of different colors and designs.
Use multiple suppliers to get a diverse selection of hot Christmas dropshipping stars and stay ahead of the competition. 
Angel Christmas Tree Topper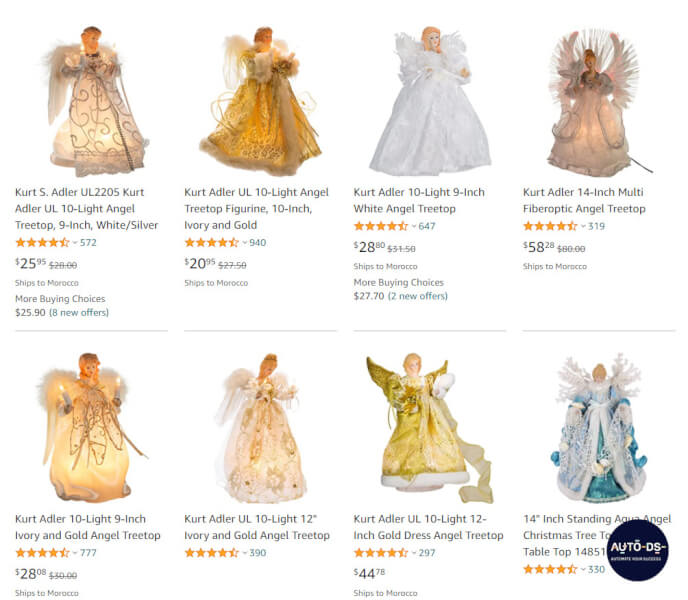 The second most popular tree topper to sell for Christmas is the angel tree topper. Similarly, as with the star tree topper, the angel tree topper has its meaning as well.
The use of a Christmas angel as a tree-topper represents to some the angel Gabriel from the Nativity of Jesus.
It has been and continues to be a Christmas bestseller, so be sure to add it to your store for this Q4. Additionally, make sure to add at least a few types to offer a big selection.
7. Christmas Stockings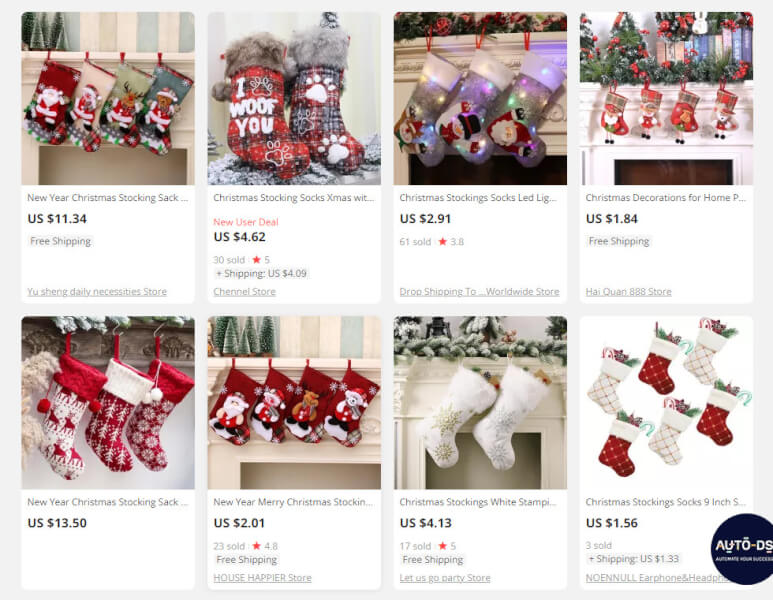 Moving on to our next best-selling product, we have Christmas stockings. The origin of the Christmas stocking is thought to originate in the life of Saint Nicholas.
While there are no written records of the origin of the Christmas Stocking, famous legends attempt to tell the history of this Christmas tradition.
All the numerous tales mention the generosity and help of Saint Nicholas to people. This led to the custom of children hanging stockings or putting out shoes, eagerly awaiting gifts from Saint Nicholas.
Additionally, this is a custom practiced in many homes until today. Christmas stockings are hung either by a door or over a chimney to leave small presents in.
Furthermore, just like most products, they come in all sizes, colors, designs, patterns, prints, and more.
Be sure to offer an array of stockings to your buyers. Mix and match different suppliers and stand out to your customers.
8. Christmas Wreaths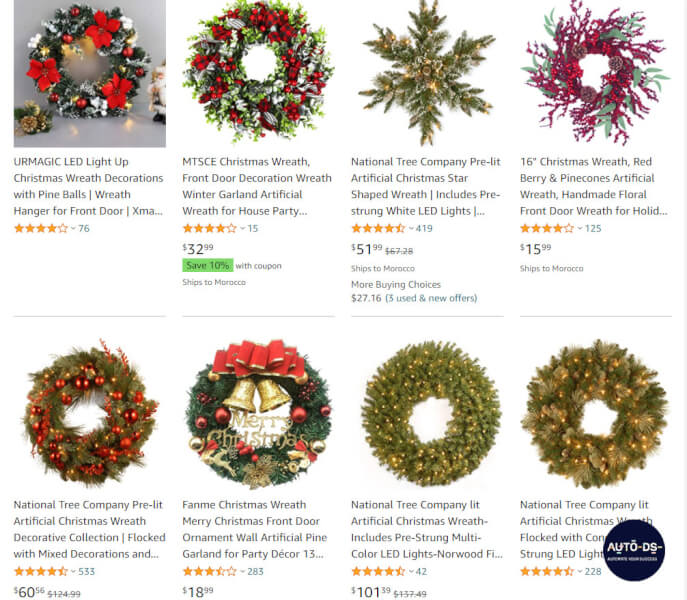 Our eighth Christmas product is the beautiful and meaningful Christmas wreath. Together, the circular shape and the evergreen material make the wreath a representation of eternal life.
 It is also a representation of faith, as Christians in Europe often placed a candle on the wreath during Advent to symbolize the light that Jesus brought into the world.
Additionally, wreaths were once handmade of natural materials found, but nowadays are mass-produced and easily bought during the holiday season. 
Furthermore, despite their simplistic round shape, they can be in all sorts of colors and styles. Some are plain, and others are mass-produced seconded with glitter, frost, bells, ornaments, snowflakes, or another significant don't the winter/Christmas-themed objects.
Make the most of the product by adding different styles to appeal to as many consumers as possible for this year's Christmas shopping. 
9. Christmas Gift Wrapping Paper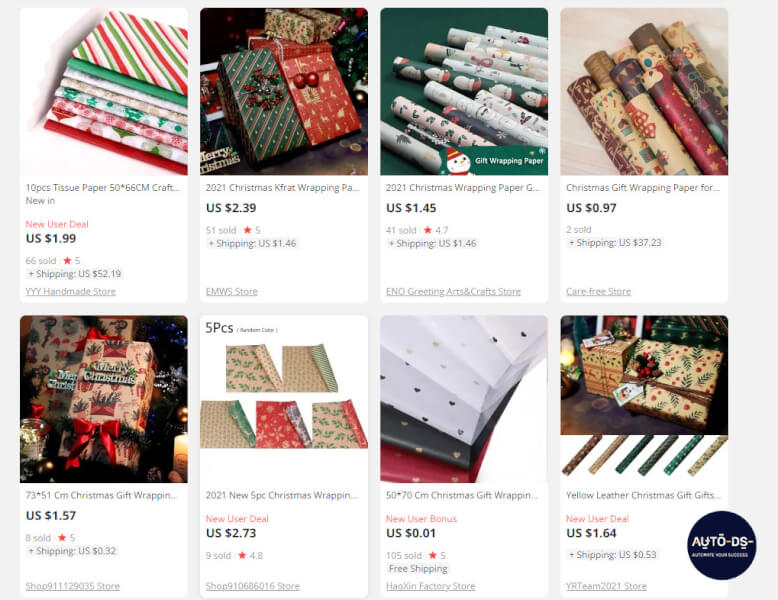 The second to the final product is Christmas gift wrapping paper. Since Christmas is the time of giving, exchanging gifts is a big part of the celebration.
Gift wrapping is typical for any present given occasion, and Christmas is no exception. Additionally, festive Christmas gift wrap adds sparkle and flair to your Christmas presents.
Furthermore, there are so many charming and delightful wrapping paper prints; it's become part of the holiday fun.
Look for classic designs with a Santa Claus print, reindeer, gingerbread men, Santa hats, and so many more.
10. Flameless Candle Sets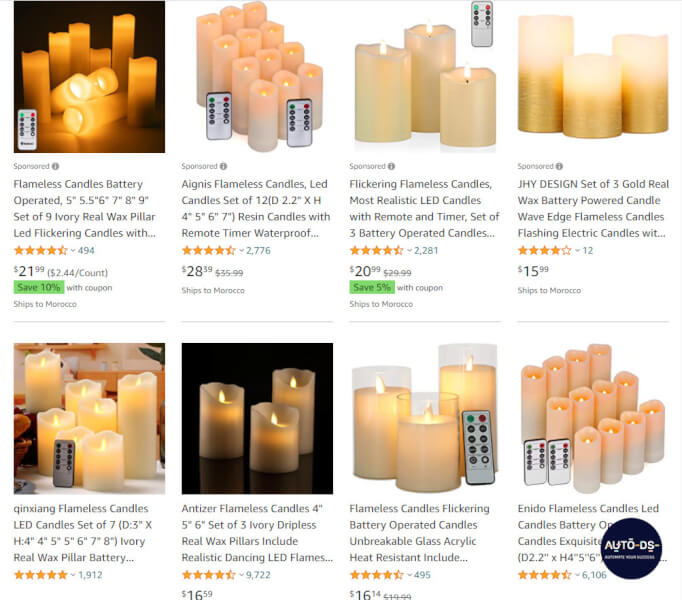 Last but not least, we finish off our best-selling Christmas products list with these adorable flameless candle sets.
Candle lighting symbolizes different religious traditions for various faiths. For Christians, a candle is lit on Christmas to represent the Star of Bethlehem, guiding the Magi to the stable where Jesus was born.
For those of Jewish faith, a menorah in the window is a Jewish custom symbolizing the miracle of Chanukah (when a single jug of oil burned for eight days). 
Due to their popularity, the invention of flameless candles came to be. They give a realistic flame without real fire.
This makes them a much safer choice since they minimize fire-related accidents. Additionally, they are much safer around children and pets which eliminates any worry.
Furthermore, they are reusable, which helps save people money on regular candles. These sets are similar but come in different sizes, so offer various sizes of packaged sets in your store.
[post-banner]
Import Christmas Products Quickly & Save Time
Now that you know which Christmas products to sell for the 2021 Q4, here are the quickest and easiest ways to import them to your dropshipping store. These can be used to import to one store or multiple stores at a time.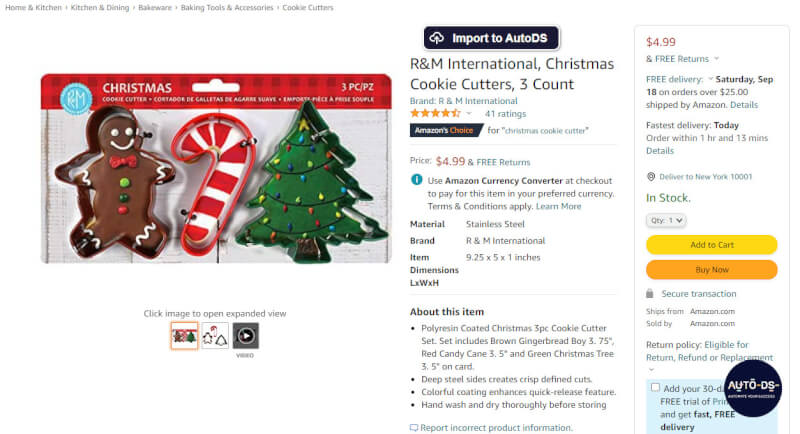 To use this first method, you will first need to download our AutoDS Helper Chrome extension. Our Helper extension is packed with time-saving features.
With the help of our Helper, you can automate product importing, semi-automate orders, and much more.
 Once you download and add our Helper extension to your browser, go to the item you'd like to import to your dropshipping store.
Once you click on the item, you will see our "Import to AutoDS" button appear. By clicking on the 'Import to AutoDS' button, you will activate the Helper extension and automatically start the product import.
Once the import is complete, head over to your AutoDS account and go to the drafts page, you will see your newly imported product, and that's where you can edit and optimize the item before publishing it in your store.
Import Using the Product URL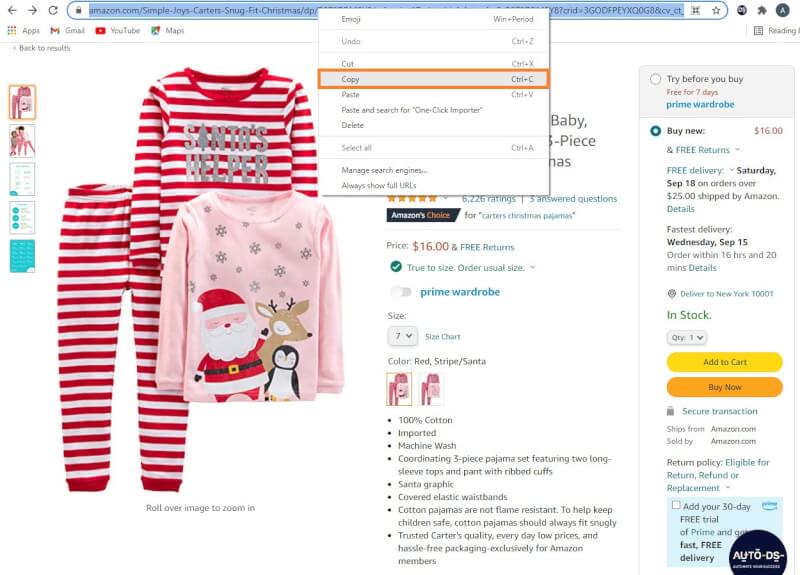 The second importing option our AutoDS platform provides is by using the product URL. 
Go to your selected item, copy the product URL, then go to your AutoDS account. From there, click "Add Product" and paste the product URL.
This method can be used for single or multiple product imports.
Import via CSV File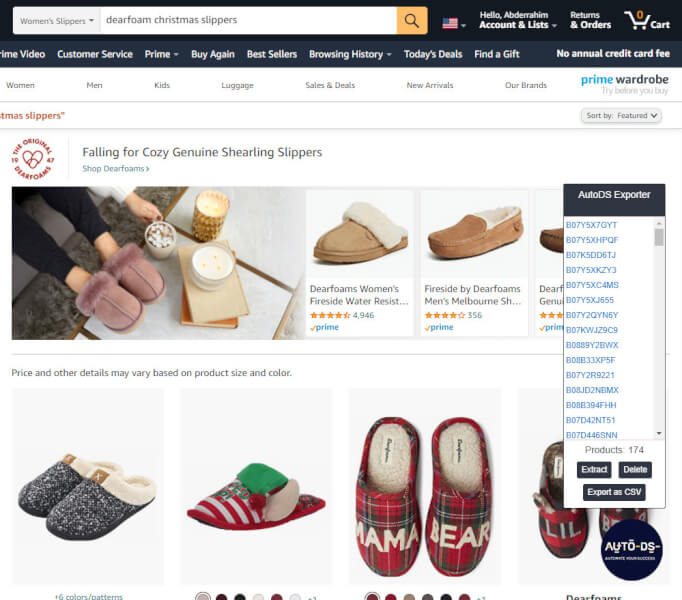 Last but certainly not least, we have another importing method to help you import hot Christmas dropshipping items. This too is using our AutoDS Helper extension. Start your search by going to your preferred supplier. When you get to a search page of products you want to import, activate our Helper extension by clicking the logo.
Click "Extract" and then "Export as CSV." Once the CSV file has been downloaded, go to "Add Products" and upload the CSV file.
Final Jolly Thoughts
Timing is everything! Start by adding the Christmas dropshipping products in this article. If you act now, you can stay ahead of your competitors, take advantage of the shopping sprees, and profit big to scale your business.
Remember to work with multiple suppliers. This will not only keep your store safe but will help you find more unique items and stand out against the competition with a broader selection of items.
Let us know in the comments below how this year's Q4 is coming along to you. If you need any help or have tips to give, use our vast online community of thousands of dropshippers from all over the world.
Good luck, happy dropshipping, and if you need more product recommendations, check out more of our product research articles.