Ho, ho, ho! Behold, the most wondrous time of the year is coming to town. Do you know what this means? Christmas shopping spree! Once again, it's the most anticipated time of the year for dropshipping Christmas must-haves.
Essentially, we celebrate Christmas on the 25th of December. However, the festivities start from the coming of 'ber' months, extending until the first month of the new year. Known as the time of gift-giving, consumers spend the most money on holiday shopping.

For dropshippers, this season is a crucial time to sell the most in-demand eCommerce products. Since over 150 countries celebrate Christmas, this is the best opportunity to expand our market reach worldwide. To illustrate, holiday eCommerce sales in the United States achieved over 186 billion USD in 2021, making it one of the most profitable seasons of the year.
So, top off the last quarter of 2022 with a blast by selling the 25+ trending Christmas products. Plus, we'll uncover worthwhile tips on how to optimize our dropshipping business this season. So, let's begin our holiday rush adventure.
25+ Top Dropshipping Christmas Products To Sell 2022
As the longest season of the year, many celebrations happen during the Yuletide period. From family reunions to Christmas parties, we must offer the best-suited products for every occasion.
Traditionally, some Christmas dropshipping products come from general niches, such as home and party needs. However, to add essence and significance to the birth of Jesus Christ, we're making Christmas products extra special.
Thus, we need to select items that are perfect for Christmas. As such, these products must be trending, giftable, decorative, and unique. Likewise, the functionality and versatility of these Christmas items make them stand out from a vast array of products we can find online.
With that said, we have curated the top Christmas dropshipping products that will bring huge profits to our stores this season of giving. Now, let's discover the 25+ trending items to sell this Christmas 2022:
Christmas Tree Accessories

10.1 Pre-Lit Artificial Christmas Tree
10.2 LED Snowflake Tree Topper
10.3 Red & White Christmas Ball Ornaments
10.4 Christmas Tree Lights
10.5 Elf Christmas Tree Skirt
10.6 Christmas Tree Storage Bag
Let's begin bringing the magic of Christmas to our dropshipping stores, starting with our top product choice.
1. Artificial Christmas Wreath
Welcoming the Yuletide season is never complete without an artificial Christmas wreath. As a traditional Christmas must-have, this dropshipping item is put on walls, doors, or tables. More than just a decoration, wreaths symbolize eternal life and Christ's unending love.
Popularly, a Christmas wreath is circular and made of Evergreen-like leaves. Today, we can sell wreaths that come with ribbons, candles, poinsettias, pines, and more. Additionally, wreaths are available in several sizes that fit every customer's needs.
2. Christmas Window Clings/Stickers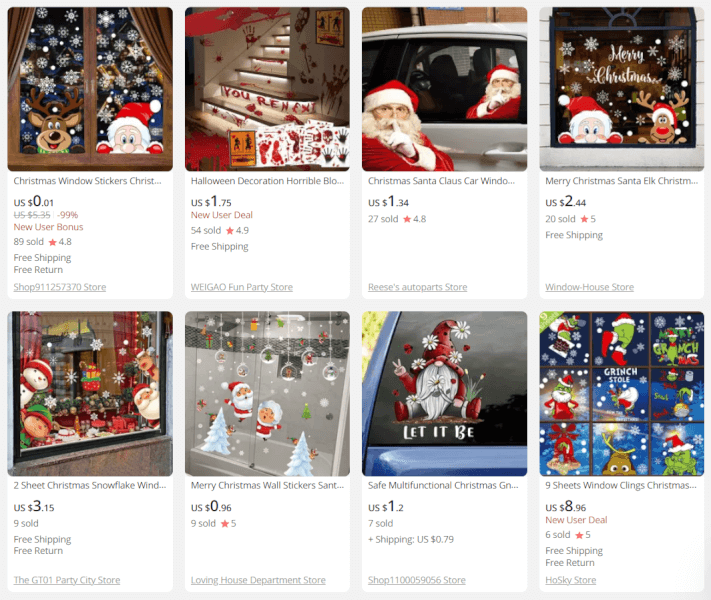 Following at the second spot are Christmas window clings/stickers. These excellent dropshipping products will definitely bring a joyous vibe to any place. Thus, offering these unique decals can help us attain huge sales this Christmas.
For Christmas window clings/stickers, we can add designs ranging from reindeer to candy canes and more. Moreover, we should offer waterproof, removable, and reusable stickers. By offering durable and high-quality materials, we can ensure that these stickers can last through the holiday season.
Beginner's Tip: Offer Christmas window clings/stickers in multiple pieces and different sizes so that we can maximize the sales potential of these items.
3. Christmas Snow Globe Lantern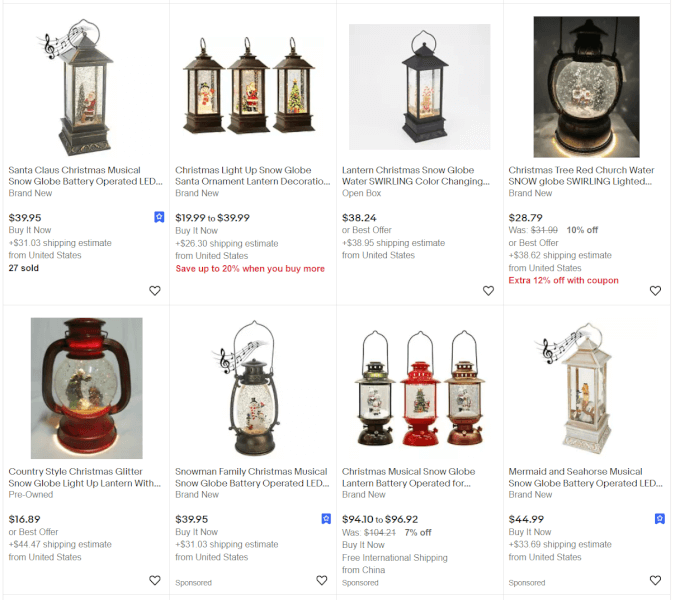 Another way to add a touch of festivity to homes is by displaying a Christmas snow globe lantern. This exquisite decor brings warmth and light to any room, especially this Christmas. Hence, the Christmas snow globe lantern is a trending product to dropship this season.
Remember to add lantern variations that depict on-theme settings, such as the Nativity scene or the Santa Claus workshop. In addition, some lantern options come with rotating centerpieces or swirling glitter water. Besides that, we can also dropship choices with music and LED lights for a more elegant appearance.
Beginner's Tip: Christmas snow globe lanterns are perfect as gifts. Thus, we can put them in decorative boxes for a more personalized experience.
4. Christmas Floor Runner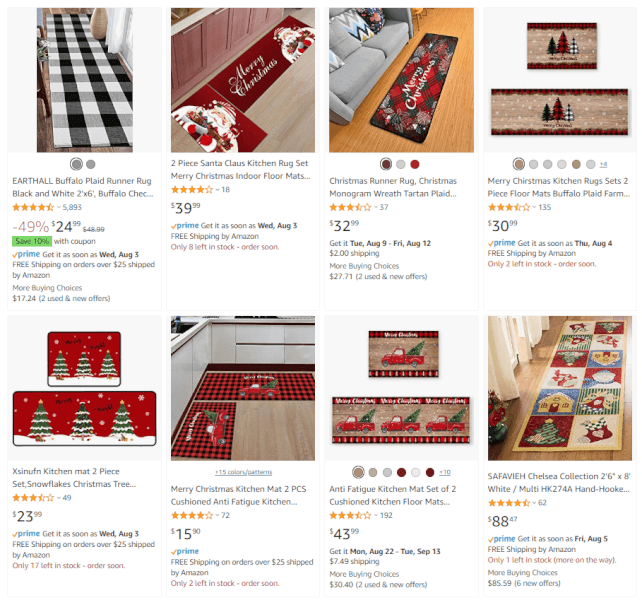 Are you looking for a rug to sell that exudes holiday cheer? Search no more, as the Christmas floor runner is an exceptional item for your dropshipping store. This excellent product idea is perfect for bathrooms, kitchens, doorways, and everywhere else.
When dropshipping this item, ensure to add non-slip and stain-proof options. Plus, floor runners come in wool, flannel, vinyl, and other long-lasting materials. On top of that, we can add runners in different sizes, styles, and colors that fit every interior or exterior design.
5. Christmas Pillow Covers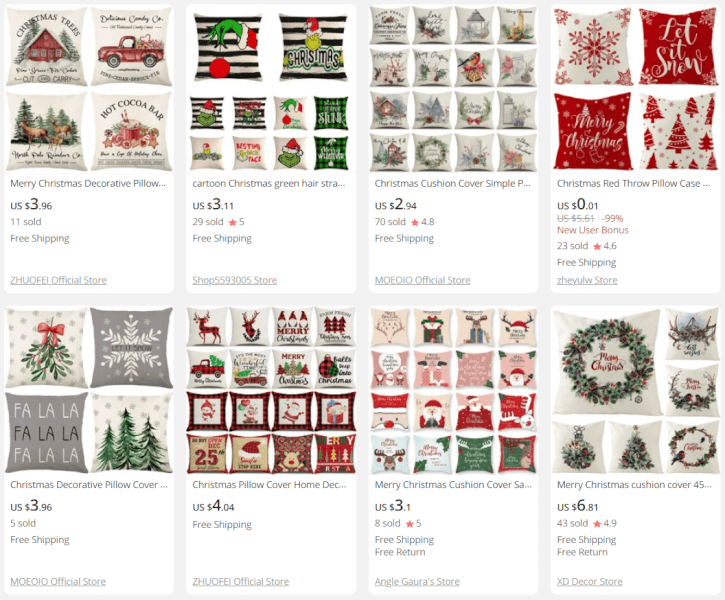 Next up, Christmas pillow covers add an extra touch to plain interiors. With uniquely-crafted pillow covers, get-togethers become cozier and fancier. Thus, pillow covers are among the top-selling products to dropship this season of festivities.
With that said, we must sell various pillow cover sizes, shapes, styles, and designs that are Christmas-themed. As such, there are covers that come with embellishments like furs, sequins, embroideries, and more. Moreover, pillow covers are available in materials, such as satin, cotton, linen, and nylon, that are comfortable and stylish.
6. Christmas Throw Blankets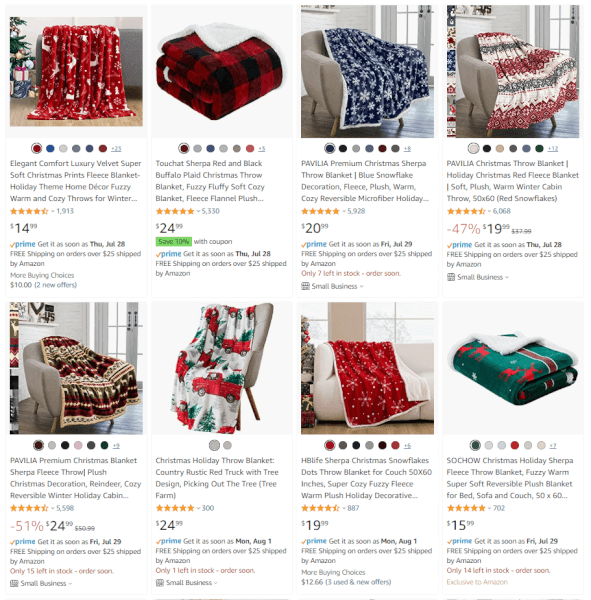 Bring warmth during the cold breeze by dropshipping Christmas throw blankets. With these blankets, customers can enjoy curling up during movie nights or sleeping soundly in style. That's why offering these products will surely attract customers who love comfortable and chic blankets.
Primarily, throw blankets come in several sizes and designs that will embrace the Yuletide season. To add comfy choices, we can sell wool, microfiber, cotton, and other top-quality fabrics. Finally, some Christmas blankets come with decorative add-ons, such as tassels and fur, adding aesthetics to the products.
Beginner's Tip: Cross-sell a matching Christmas throw blanket to a set of pillow covers, and increase your average order value (AOV).
7. Christmas Party Decorations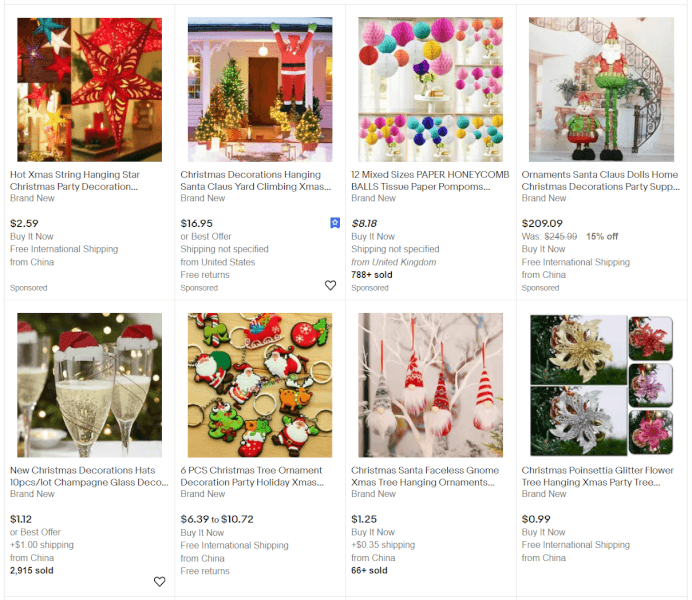 As the merriest time of the year, Christmas is a perfect time for parties. With this in mind, celebrations and gatherings won't be complete without Christmas party decorations. These ornaments bring life and fun to every party, making them profitable products to dropship.
From a wide array of Christmas decors, we can dropship creative designs that will entice every customer to purchase. For instance, we have Christmas banners, garlands, honeycomb balls, paper fans, and more exciting options. Likewise, it's crucial that we add decorations showcasing different party themes, providing customers with endless choices.
Beginner's Tip: Offer Christmas party decorations in sets, so customers can purchase all-in-one party solutions from our store, increasing our profits.
8. Santa Claus Christmas Figurine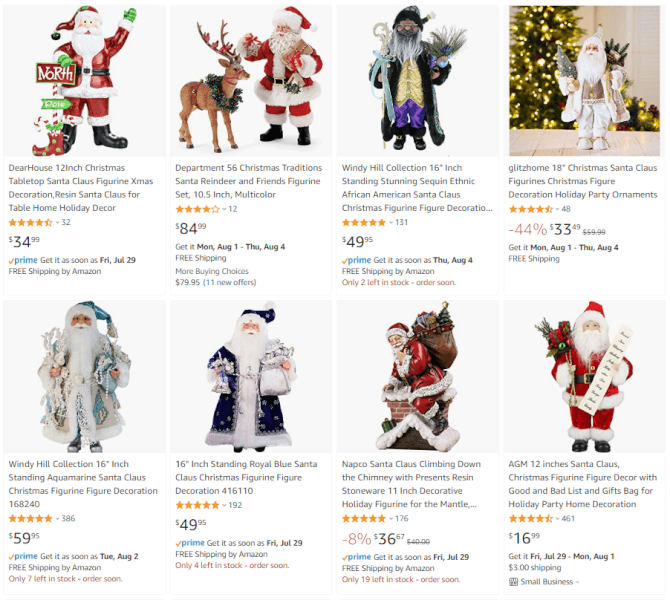 Popularly, Santa Claus is known as the sleigh-riding and gift-giving representation of the Christmas season. So, Santa Claus Christmas figurines are excellent additions to this joyous occasion. These dropshipping products are available in quirky options, making them best-sellers during Christmas.
In line with that, we should sell figurines depicting different Santa Claus scenes and costumes. For example, we can sell Santa Claus wearing native outfits or doing different activities. Apart from that, these figurines come in different sizes and hardwearing materials, which customers can use for multiple Christmas seasons to come!
9. Christmas Trees
Undoubtedly, a Christmas tree is a staple product during the most anticipated time of the year. As such, this item symbolizes the eternal life of Christ and radiates hope in any place. On another note, these items are medium to high-ticket products, so selling them can lead to substantial profit margins.
So, remember to dropship Christmas trees that range from small ones to gigantic options. As such, Christmas trees can be utilized as table centerpieces or can be an attraction that occupies a whole room.
Additionally, there are many choices of Christmas trees like those that mimic fir, pine, and spruce. Although evergreen is the most popular type, we can also add other color variations that will bring more uniqueness this holiday season.
10. Christmas Tree Accessories
Of course, we don't want our customers' Christmas trees to become bare. Therefore, we should dropship Christmas tree accessories to bring life to every tree. Since there are tons of enticing accessories in the market, we've carefully selected the best-selling ones for dropshipping.
10.1 Pre-Lit Artificial Christmas Tree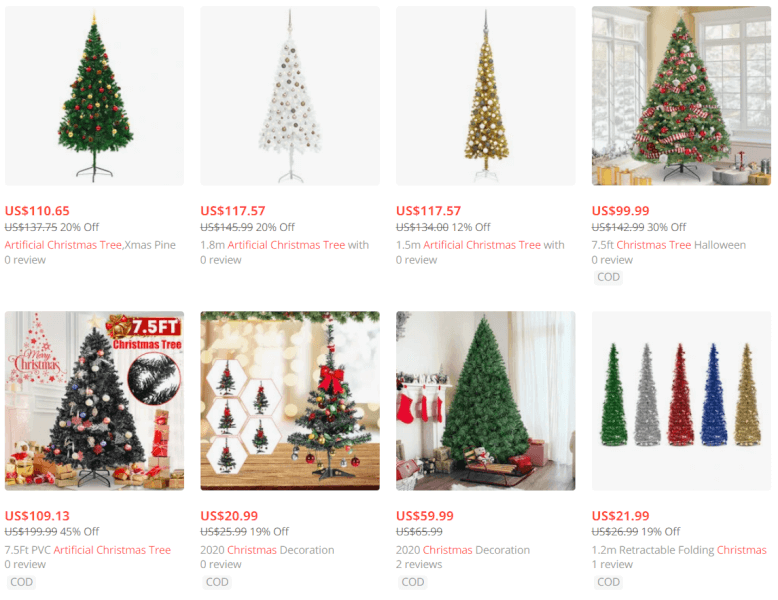 Starting off our accessories list is a pre-lit artificial Christmas tree. Due to its all-in-one design, this item is a profitable dropshipping product this holiday season.
With that said, the top-selling Christmas dropshipping product is equipped with LED lights and produces an enticing play of colors. In addition, we can add different color combinations, blinker settings, and light intensities to increase our chances of sales.
10.2 LED Snowflake Tree Topper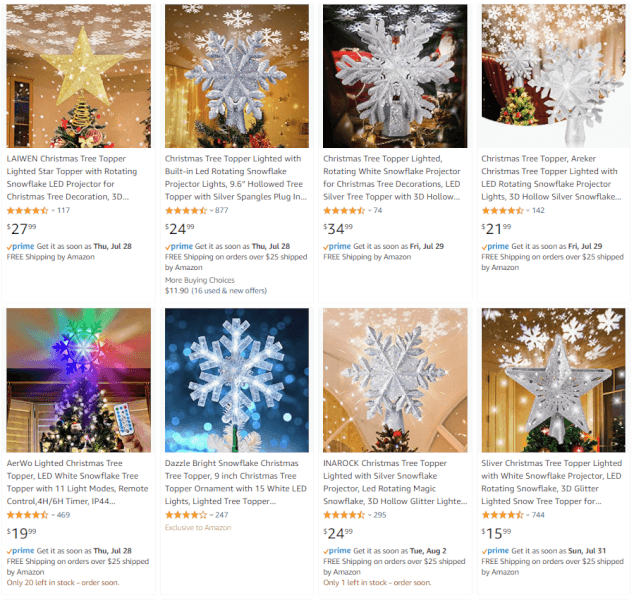 What better way to top off a Christmas tree than a LED snowflake tree topper? A Christmas tree topper adds style and significance to customers' centerpieces.
Additionally, this aesthetic tree crown comes in different topper sizes, snowflake designs, and LED light variations. By offering a wide selection of this product, customers will find the perfect match for their Christmas trees.
10.3 Red & White Christmas Ball Ornaments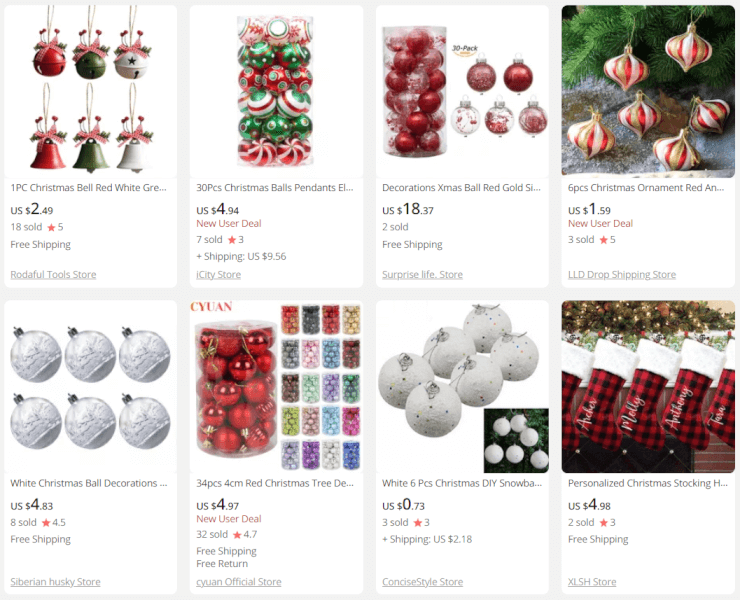 In general, red and white are some of the most popular colors during Christmas. As these two colors are part of Santa Claus's classic look, they've become a representation of this season. That's why dropshipping red and white Christmas ball ornaments are not only attractive but also meaningful.
Subsequently, these ball ornaments are available in many designs, such as patterned, plain, and more. Don't forget to add different sizes and quantities when selling this Christmas essential.
10.4 Christmas Tree Lights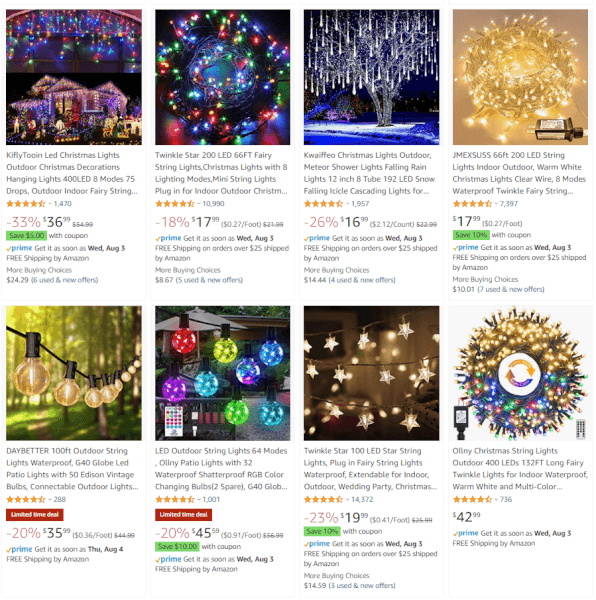 Now, one of the most standard but essential accessories to dropship this season are colorful Christmas tree lights. As these products flicker festive illumination, they represent hope and benevolence.
Generally, these lights come in endless selections, ranging from LED options to incandescent choices. Moreover, we should sell color-changing and intensity adjustable tree lights. Lastly, these lights come in different bulb shapes and string varieties that customers will love.
10.5 Elf Christmas Tree Skirt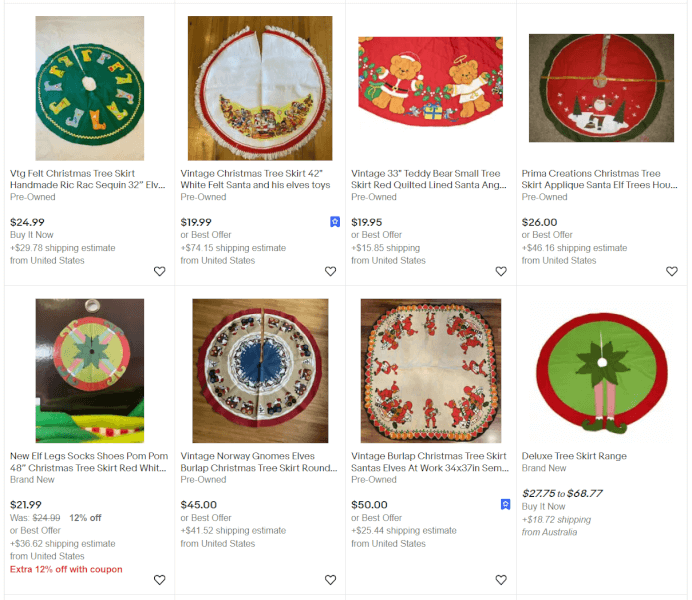 As Christmas trees hold holiday gifts, we need an accessory that helps protect treasures underneath the tree. That's why the Elf Christmas tree skirt is a superb add-on to finish off a tree's aesthetic look.
Interestingly, the tree skirt is available in endless design ideas. As such, we can sell different sizes, colors, and materials. To mention, some tree skirts are embroidered and padded, creating more personalized details.
10.6 Christmas Tree Storage Bag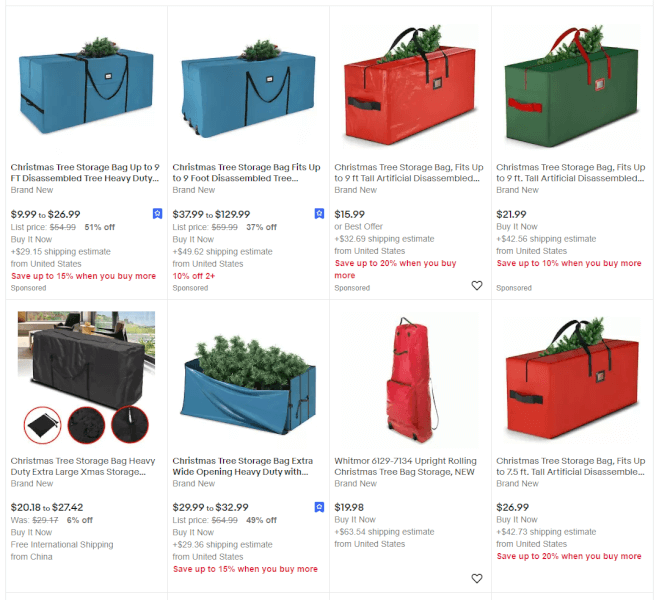 When the festivities come to an end, Christmas trees also need to go. But with a reliable Christmas tree storage bag, we can preserve Christmas trees for the following years.
So, selling durable storage bags that will keep Christmas trees intact, dustless, and portable is a must. Thus, we can offer different sizes, shapes, and colors of these storage bags.
Now, that's all for our Christmas tree accessories. Next, we'll proceed with other worthwhile Christmas products to dropship this season.
11. Christmas Tree Earrings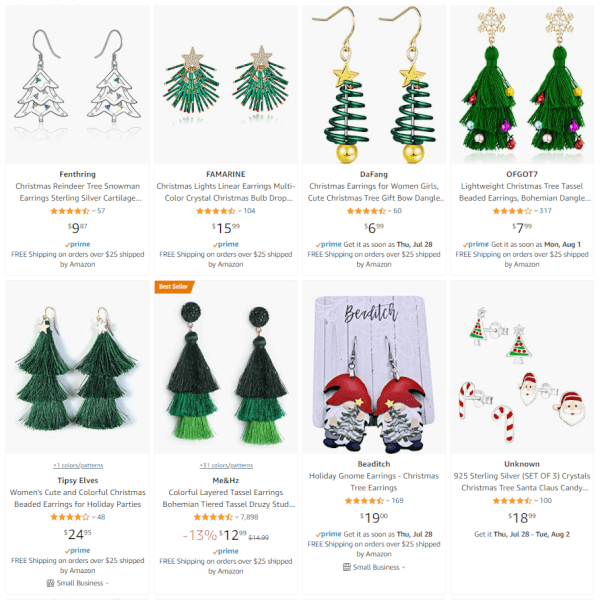 Essentially, holidays are made more fun with quirky accessories like Christmas tree earrings. These miniature products are fit for parties, making them in-demand commodities this time of the year.
When dropshipping this Christmas accessory, we can offer different styles. For instance, we have Christmas tree earrings that come with embellishments like crystals. All-in-all, we should offer several earrings designs, so every customer will find the right accessory for them.
12. Christmas Tree Rhinestone Brooch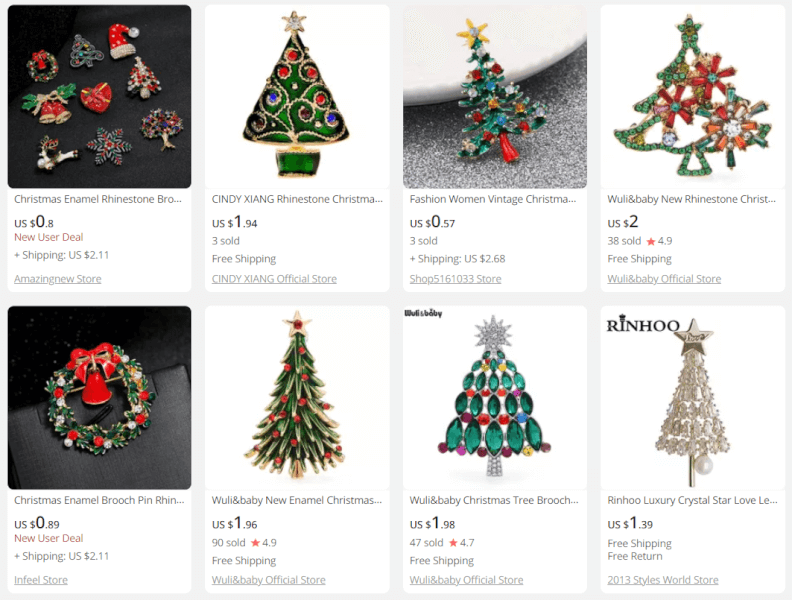 Moving forward, a Christmas tree Rhinestone brooch is an elegant way to wear the essence of this festive season. The wearing of this decorative jewelry can be traced back to the Victorian era. Today, this tradition continues as a stylish way to incorporate fashion with Christmas.
With that in mind, these brooches are available in many designs. We can dropship colorful brooches with stones, crystals, and other vintage materials. Furthermore, these valuable items can be gifted, so we must ensure that they're packaged elegantly.
13. Outdoor Color Changing Christmas Lights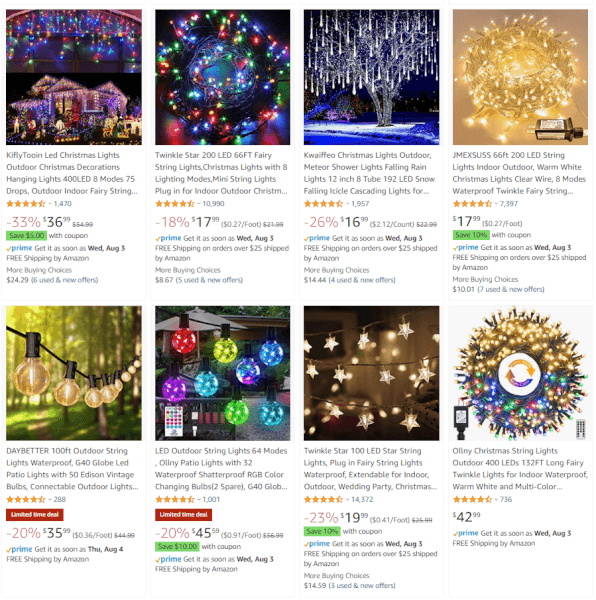 How lovely it is to see a fully decorated garden and well-lighted house from afar this Christmas? For customers who love sharing the spirit of hope with others, the outdoor color-changing Christmas lights are heaven-sent. These lights are designed to withstand outdoor conditions, making them suitable for gardens, house exteriors, and more.
Thus, we should dropship long-lasting and weatherproof outdoor Christmas lights. In addition, we can add LED variations with adjustable blinkers. Lastly, include different bulb sizes and wire lengths that complement any outdoor setting.
14. Inflatable Santa Claus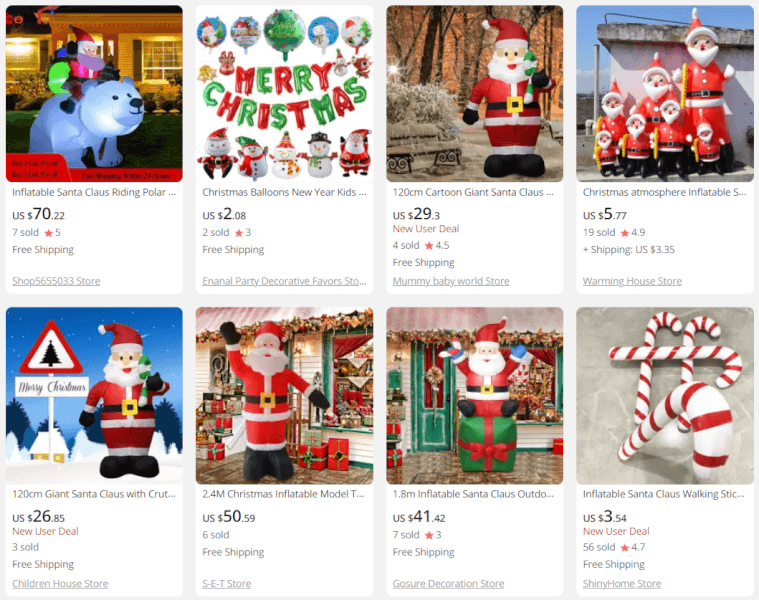 From miniature table toppers to massive ones that sit on rooftops, the inflatable Santa Claus is a trending product this Christmas. This dropshipping product adds holiday cheer to homes and public places. Hence, selling this item can lead to substantial sales this time of the year.
As mentioned, these inflatables come in several sizes that we can sell. Also, offering different styles, like sitting or standing Santa Claus, will attract more buyers to our stores. Since most of these inflatables are put outdoors, ensure to offer only durable and weatherproof materials that will last long.
Beginner's Tip: Adding an inflatable Santa Claus with LED lights to our stores will add more value to the product, increasing our profits.
15. Candy Cane Balloons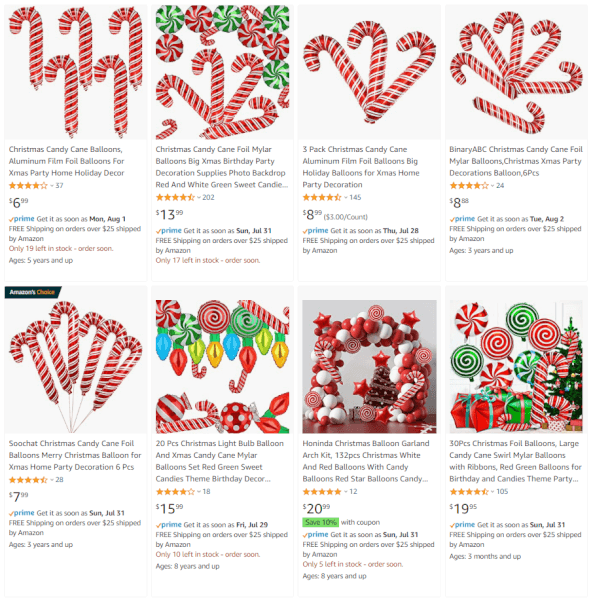 You know what excites people during the most festive time of the year? Well, Christmas parties of course! And, no Christmas party would be complete without candy cane balloons.
As in-demand products to dropship this Christmas, candy cane balloons are available in different sizes, colors, and designs. These merry party must-haves come in metallic foil, latex, nylon fabric, and other heavy-duty materials. Hence, we must include a vast selection of candy cane balloons to complete customers' parties.
Beginner's Tip: Since balloons are small and low-cost products, we can offer them in sets to increase our sales.
16. Christmas Garland With Lights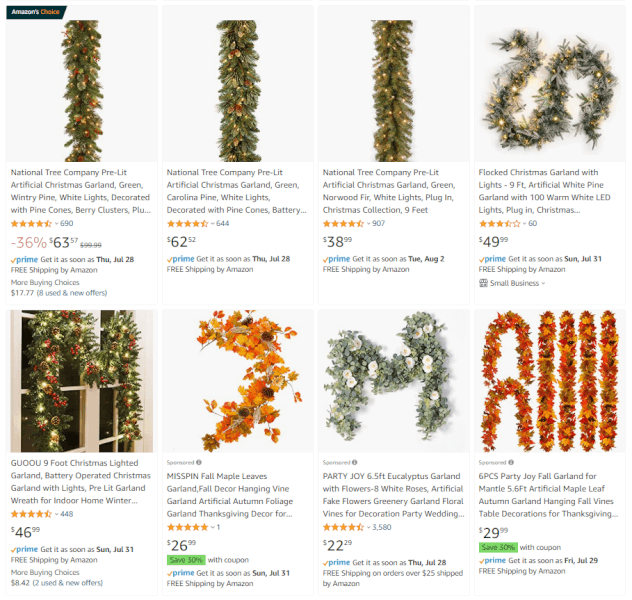 Alright! On to our next Christmas essential, we have the Christmas garland with lights. This item is suitable for decorating walls, staircases, doors, and other strategic locations. Thus, selling one-of-a-kind garlands with lights will entice a substantial market to our online stores.
When dropshipping this item, ensure to include different sizes and lengths to fit any area. Moreover, consider options that come with ribbons, balls, pinecones, and other attractive accessories. Remember to add lights with varying colors and remote-controlled intensities to give our customers a diverse set of choices.
17. Christmas Wrapping Paper Rolls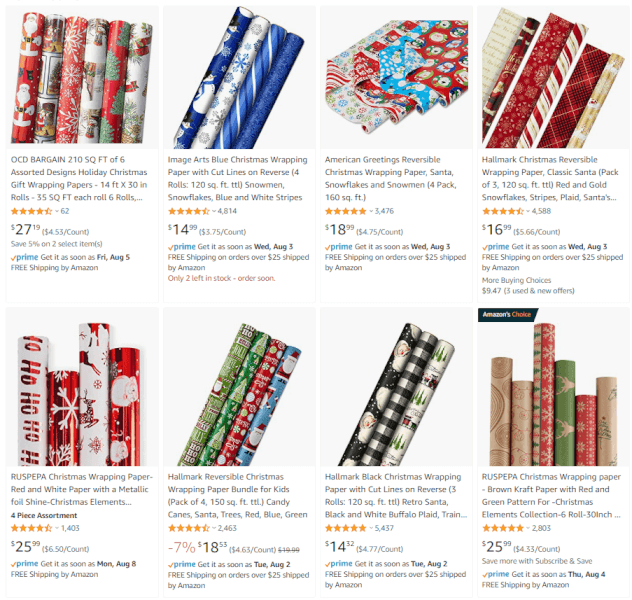 Popularly known as a season of giving, Christmas is associated with gift giving. Therefore, high-quality Christmas wrapping paper rolls have high market demands this season. These products add an element of surprise and artistry to gifts, whether small or big.
For Christmas wrapping paper rolls, we can consider different prints and patterns, like those that say "Happy Holidays" messages. In addition, we have waxed, kraft, laminated, and other paper materials to sell. As variations, we can sell a variety of paper roll lengths, depending on the buyers' needs.
18. Knitted Christmas Stockings Set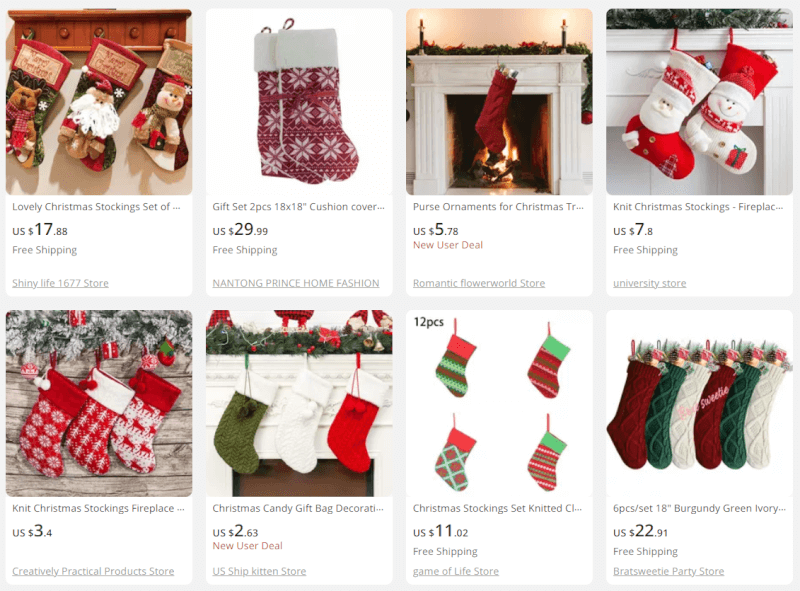 For kids, hanging a knitted Christmas stockings set means receiving a gift from Santa Claus. Besides that, these stockings sets are great decors for walls, windows, doors, and chimneys. Due to their versatility, these stockings are among our top dropshipping product ideas for Christmas.
So, when selling the stockings set, consider an array of unique designs, such as patterned and animal-printed ones. To add a personalized touch, some stockings have embroideries or accessories like ribbons.  Furthermore, we can sell miniature to oversized stockings that will fit any gift from Santa Claus!
19. Ugly Christmas Sweaters

Unquestionably, Christmas wouldn't be complete without ugly Christmas sweater competitions! These are notorious during Holiday-themed parties or events at work or school. Thus, dropshipping ugly Christmas sweaters are a profitable venture this joyous season.
Subsequently, ugly Christmas sweaters have over-the-top designs that step up from the rest. Therefore, we should offer unique and stylish sweaters that are worth the prices and prizes. Don't forget to add different sizes and colors, so everyone will get to have their ugly sweaters at parties.
Beginner's Tip: Include a size chart when selling sweaters, so buyers are well-guided about the right fit for them.
20. Matching Family Christmas Pajamas Set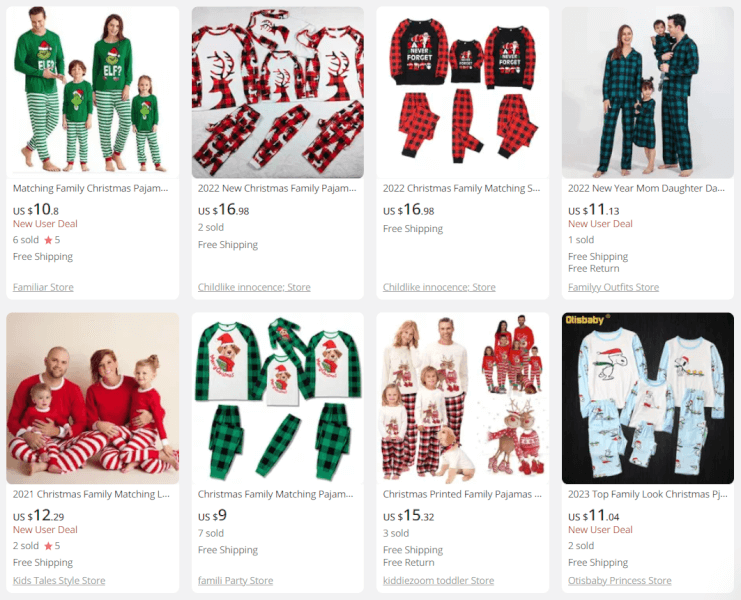 In essence, Christmas is an excellent time to spend time with family. Thus, a matching family Christmas pajamas set is a perfect way to bond over late-night movies or midnight snacks. Dropshipping trendy Christmas outfits will undoubtedly increase our profit portfolio.
Generally, pajamas come in enticing designs, such as striped, patterned, and other attractive prints. Also, add sizes that will fit adults and kids. Moreover, pajama sets are available in satin, cotton, microfiber, and other comfy fabrics.
Woo, that's a wrap! We now have the most trending Christmas products to dropship. But wait, is selling these products enough for us to gain significant profits? Well, continue further to discover how to optimize your dropshipping business this holiday season.
How To Optimize Dropshipping Sales This Christmas Season 
Once again, selling profitable Christmas products is one aspect that we must take a look into when dropshipping during the holiday season. However, dropshipping success goes beyond the quality of products we sell. Hence, we'll explore some helpful tips for optimizing our dropshipping sales this Christmas:
Buckle up, as we begin our journey toward Christmas dropshipping success.
1. Enhance Store Visuals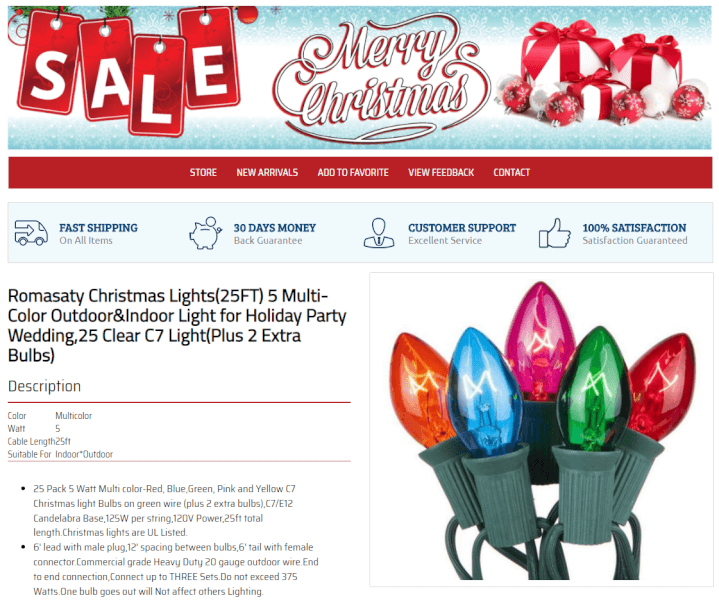 To begin, enhancing our stores' visuals will attract customers to check out our products. We can achieve this by setting up a Christmas-themed storefront.
But, where can we get enticing layouts for our stores? Worry no more, as AutoDS offers free templates for our dropshipping stores, including Christmas-themed ones. Fortunately, these templates are relevant and suitable for all selling channels.
Another way to design our stores is by creating a free Christmas logo on Hatchful. Likewise, we can create and include logos in our stores, regardless of the selling platform we utilize. Remember that a professional logo improves branding, making our business distinct in the market, especially during the holiday's tight competition.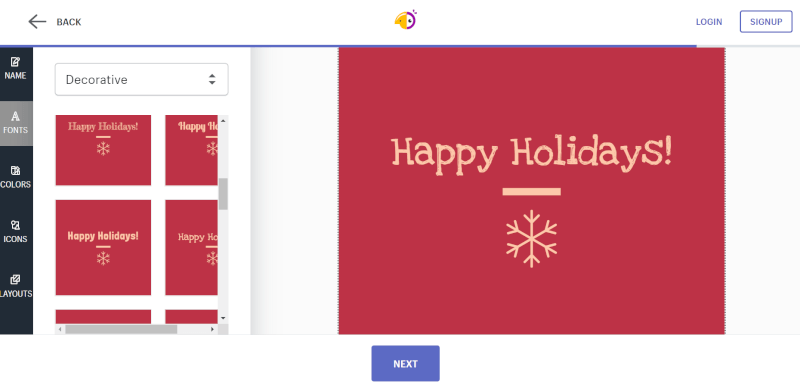 Meanwhile, Shopify and Wix allow us to add custom themes to our dropshipping websites. We can also decorate our online stores with banners and colors relevant to Christmas.
Additionally, hiring freelancers to design Christmas-specific themes can significantly improve our websites' aesthetics. As a result, customers can enjoy a great visual shopping experience. With that said, hiring freelancers from Fiverr or Upwork costs about $10 to $30.
Overall, establishing a dropshipping store that exudes the spirit of Christmas will help entice customers. And, when customers become interested in our stores, they will likely buy our Christmas products. By then, we'll gain huge holiday sales, helping our business grow.
2. Utilize Effective Marketing Strategies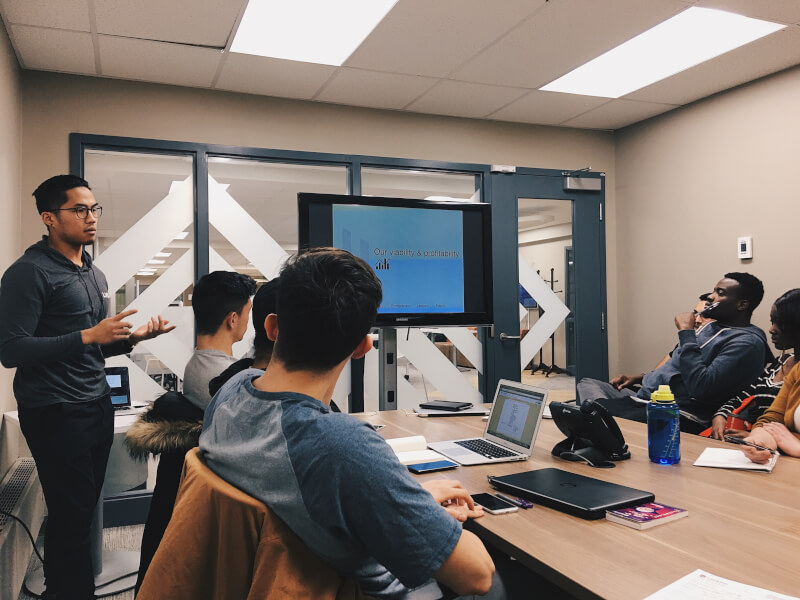 Perhaps, marketing is one of the most crucial aspects of dropshipping. As such, we must utilize effective marketing techniques to expand our market reach.
In addition, proper marketing strategies make our stores distinct from other competitors. Particularly, there are several marketing methods we can utilize, depending on our selling channels.
For instance, eBay is a vast marketplace needing efficient techniques that will make our stores stand out. Now, here are ways to market our Christmas dropshipping products on eBay:
On the other hand, customizable websites like Shopify and Wix require more powerful marketing techniques. So, these are the efficient ways to drive traffic to these selling platforms:
With the best-suited marketing strategies, we'll surely reach a broader market scope. Thus, customers will easily stumble upon our Christmas dropshipping products. As a result, we'll increase our audience reach and maximize our sales.
3. Provide Excellent Customer Service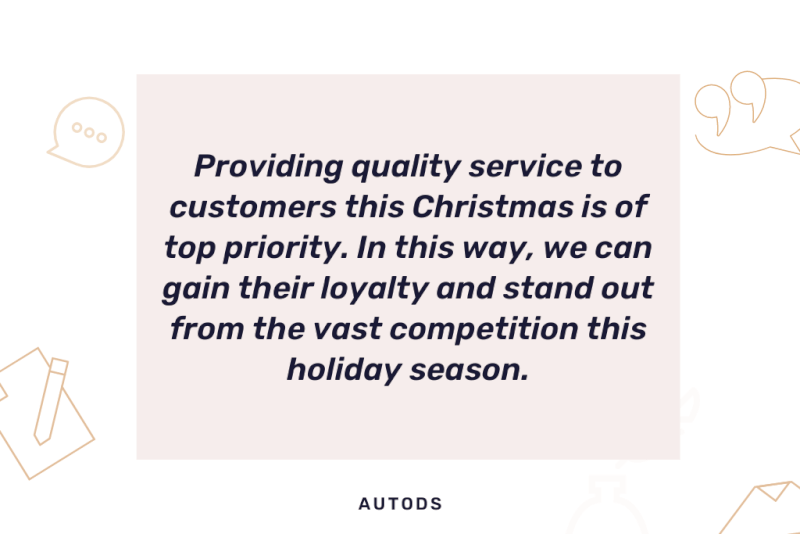 Another way to optimize our Christmas dropshipping sales is by providing excellent customer service. For a hectic season like Christmas, we must put double efforts into extending great support to our buyers.
Remember that the quality of business we provide our customers can help us gain their loyalty towards our online venture. Likewise, a superb shopping experience will likely lead to repurchases and high customer ratings.
So, how can we extend outstanding service to customers? There are several ways to establish a sound customer support system. For example, we can open live chats or provide our email address, so customers can easily reach us. In return, we can address customer concerns efficiently.
4. Automate Your Store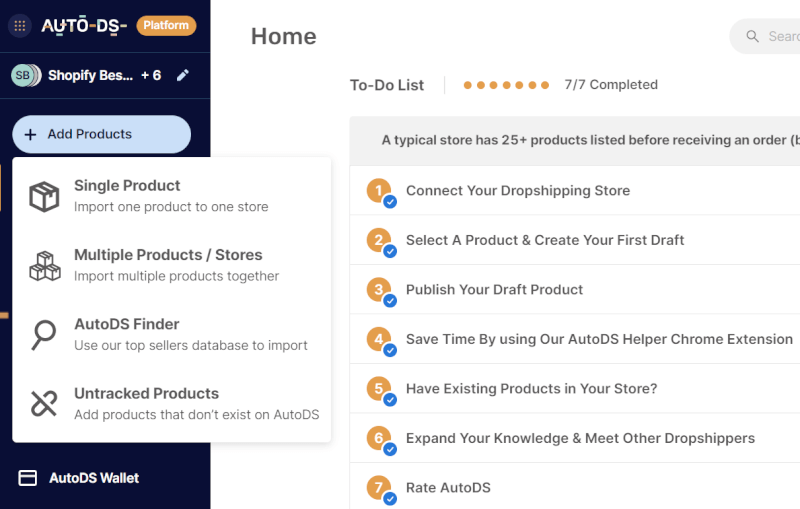 On top of everything, automating our dropshipping store is the ultimate way of optimizing our sales. Before we go further, let's first discuss two ways of running our dropshipping business: manual and automatic.
When manually managing our online stores, we must monitor all business operations regularly. Likewise, we must carry out processes one by one. 
For instance, manually importing products requires us to purchase the item from the supplier's website and input the customer's shipping details. Unfortunately, doing this is prone to errors like making mistakes while inputting the buyer's address. As a result, we'll experience more returns, leading to customer dissatisfaction.
Besides that, managing our everyday operations is an uphill task. Come Christmas, when sales are at their all-time high, we need a more efficient way to run our business. Thus, this is where the importance of automating our online venture comes in.
Essentially, dropshipping automation manages different aspects of our business on our behalf. So, we won't have to worry about missed orders or incorrect information, as automation does these tasks for us. As such, we need reliable automation software to carry out the day-to-day processes of our business.
With that said, AutoDS is a leading dropshipping automation software that can help us scale our business to greater heights. Here are the key features that AutoDS offers our dropshipping ventures:
Among these excellent features, let's go deeper into the automated product importing methods. Here are the four straightforward means of importing products through AutoDS:
One-Click Importer

Single Product Uploader

Multiple Product IDs/URLs

Bulk Importer
At this point, we'll illustrate importing swiftly one Christmas product at a time by utilizing the Single Product Uploader. 
Single Product Uploader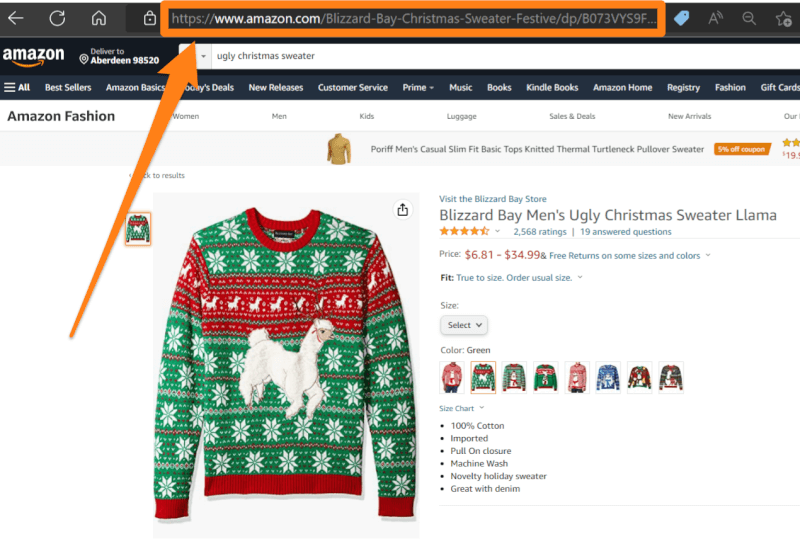 The Single Product Uploader enables us to import products individually with just a few clicks. Here, we'll learn how this importing method works.
To start, search for a Christmas best-seller on your supplier's website. After doing so, enter the product page and copy the item's URL or ID.
Next,  go to the AutoDS platform and click 'Add Products' on the left sidebar. Then, select the 'Single Product' from the given choices.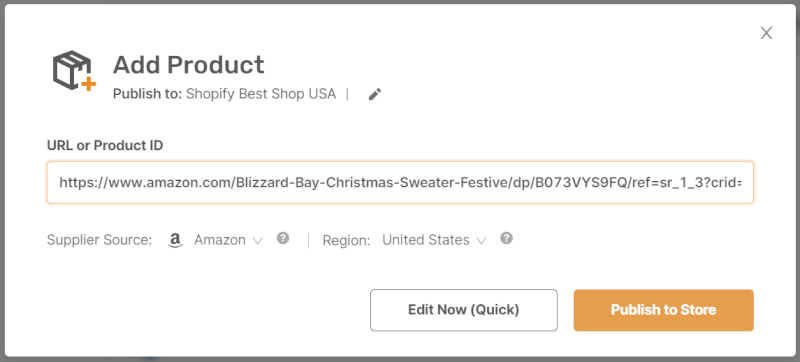 In the dialog box that appears, paste the product URL or ID. Then, if you want to optimize your item, click the 'Edit Now (Quick)' button. Otherwise, choose 'Publish To Store,' allowing you to add the product as it is directly.
Remember that optimizing our products is crucial before we publish them to our online stores. This way, we can set relevant search engine optimization (SEO) information to help customers find our products online. Doing so helps our products rank higher in search results online.
To continue, wait until the system is done copying the product details from the supplier's website to AutoDS' drafts section. Once done, a dialog box will appear on the top portion of the page.
At this point, the item is available as a draft and is ready for optimization. When optimizing, you can set the product's title, description, tags, images, and other related information. Once again, optimizing the product is crucial for it to become relevant in customer searches.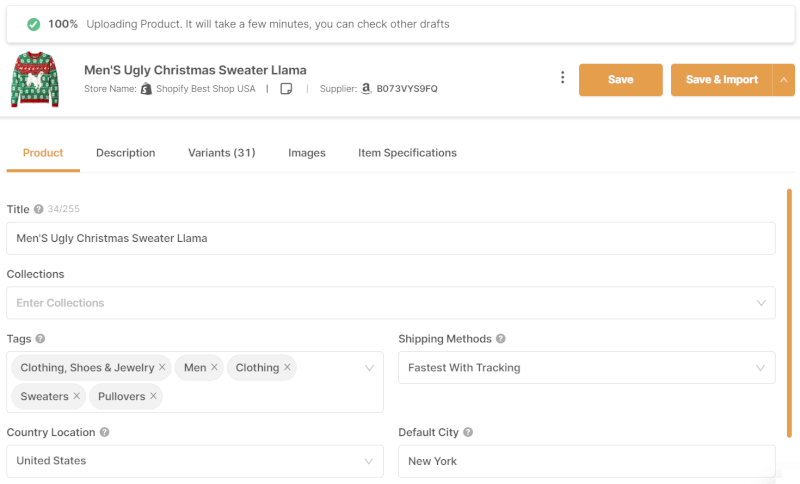 To apply changes made in the product, click 'Save.' When you're done setting the product and it's ready to be added to your selling channel, choose the 'Save and Import' button.
Afterward, the item moves to the 'Products' section of the AutoDS page, signifying the successful import process. At last, the item is live on your dropshipping store. Once customers start purchasing the product, you will begin attaining profits from every sale.
Frequently Asked Questions
Is It Legal To Dropship Branded Products For Christmas?
Dropshipping branded Christmas products can be legal if an agreement exists between you and the supplier/manufacturer. However, obtaining this agreement can be difficult. Overall, it's best to avoid branded items when dropshipping to ensure that our business continues to gain profits and stays safe from legal sanctions.
What Are The Best Dropshipping Christmas Products?
Among the vast selection of Christmas dropshipping products, we have picked the top-selling ones. Some of these trending items include Artificial Christmas Wreaths, Christmas Window Clings/Stickers, and Christmas Snow Globe Lanterns.
How To Stay Ahead Of The Dropshipping Christmas Competition? 
Stay ahead of the tight Christmas dropshipping competition by extending excellent customer service and utilizing effective marketing techniques. Besides that, you can also apply store enhancements to attract greater audiences. Lastly, business automation will get your store to the top of the competition with the help of efficient automated processes.
Conclusion
Are you ready to join in the Christmas cheer this holiday season? We definitely are! Thus, it's also time to get our dropshipping stores equipped with the most trending products this Christmas.
As Christmas is a season-long festivity, continue adding best-sellers that can lead to huge dropshipping profits. Plus, don't forget to expand your market reach and scale your eCommerce business regardless of the time of the year.
So, what's in store for you after Christmas? Don't worry; we got you covered! Here are other top-selling niches to explore year-round: