Dropshipping is one of the most lucrative eCommerce models that allows us to sell products online. However, this venture entails substantial product research for us to offer the right products to customers worldwide. With that said, dropshipping knives is an eCommerce niche that is rapidly growing in popularity and profitability.
As a low-risk business venture, dropshipping knives allows us to make money online with no start-up investments and physical stocks. All we need to do is find a reliable supplier that offers top-quality knives at reasonable prices.
But, how do we achieve that? Worry no more, as this article will guide us in establishing our dropshipping knives business. Plus, we'll explore top product ideas and where to source them. So, are you ready to take your dropshipping business to the next level? Let's go!
Am I Allowed To Dropship Knives?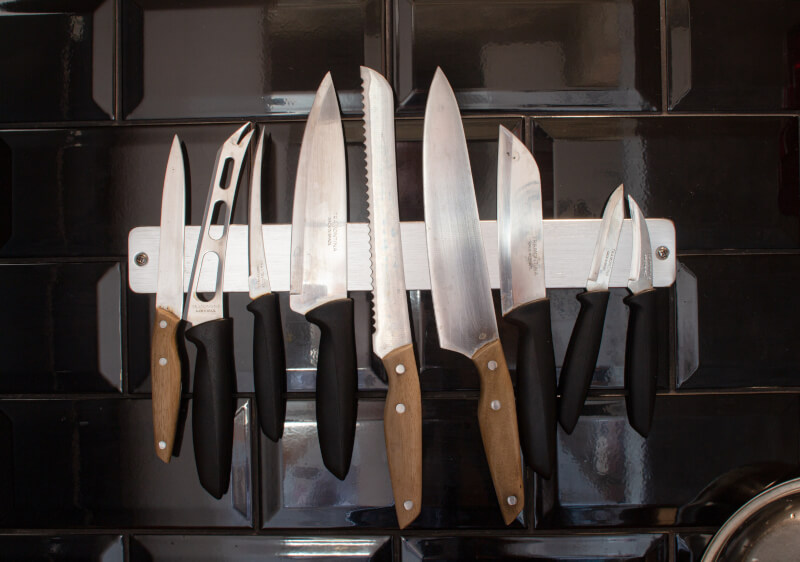 Dropshipping knives is legal. However, we must remember to be cautious when selling knives in our online stores.
Generally, knives are considered potentially dangerous. Therefore, we need to abide by rules and regulations when offering them in our stores.
Primarily, we cannot allow the sale of knives to customers under 18 years of age. Additionally, certain places ban the selling of knives online. For instance, the United Kingdom bans the online sale of knives that are at least three inches long, especially for minors.
On another note, suppliers must professionally showcase knives, so we can ensure that we're sourcing from legitimate platforms. Thus, the supplier should provide high-quality photos and descriptive captions for the knife products.
Besides that, we must ensure that our suppliers provide standard packaging to avoid issues. For instance, the packaging must be safe so that customers don't risk hurting themselves when opening the product.
Overall, legally dropshipping knives requires suppliers and sellers to adhere to crucial guidelines. In this way, we can maintain our online reputation and do away with legal sanctions.
Is Dropshipping Knives Going To Increase My Profits?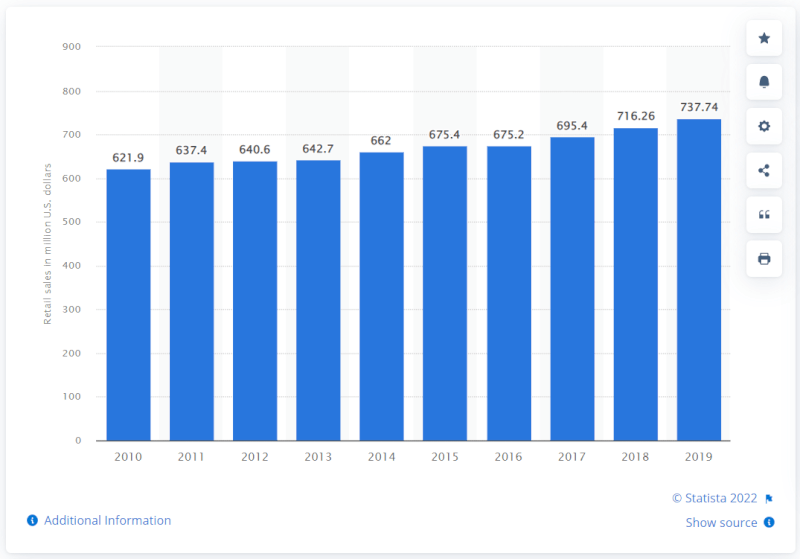 Undoubtedly, dropshipping knives can significantly increase our profits. As everyday must-haves, knives have a high potential for sales conversions.
To illustrate, the US recorded about 737.74 million USD for cutlery retail sales in 2019, including knives. With this value, we can conclude that this niche is a high-value market to enter.
Apart from being a growing market, dropshipping knives gives us access to a vast array of high-quality products to sell. Likewise, high-quality products are valuable items that customers are willing to spend more money on. Thus, their worth paves the way for huge profit potential.
In addition, this venture requires low startup capital to begin. Moreover, sourcing knives at lower costs and setting flexible selling prices for them results in higher profit margins.
On top of that, knives belong to the evergreen kitchen niche with enormous demands all year round. Thus, we don't need to have special occasions to profit from dropshipping knives.
Now that we know about the legality and profitability of dropshipping knives, it's time to uncover the best products under this product category.
14 Best Knives To Dropship In Your Store
On to the most exciting part, we'll discover the best dropshipping knives products. These top-selling knives will surely bring massive sales to our online stores. Among the wide selection of knives in the market, here are the top 14 most in-demand options:
Get ready to jump into action, beginning with our top product idea.
1. Folding Knives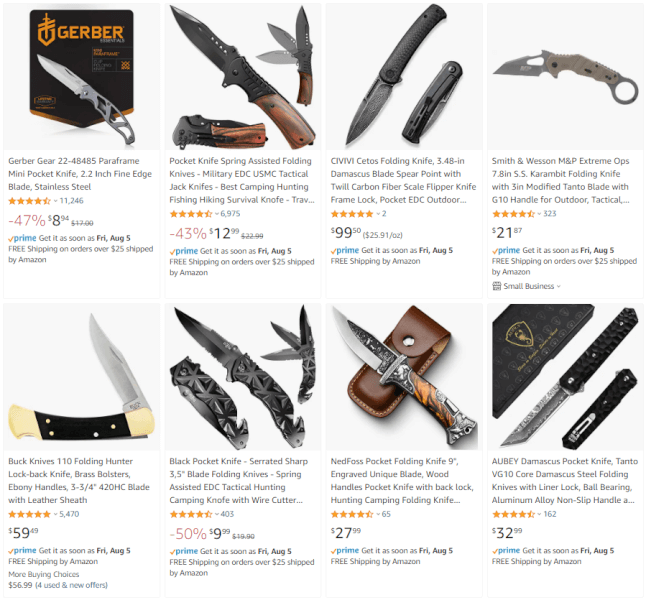 As on-the-go tools, folding knives are sought-after dropshipping products. Generally, these knives have metal sheets that lock the blades in place when opened. Due to the portability and versatility of these knives, they are profitable products to sell.
With that said, there are numerous types of folding knives that we can dropship. Some examples include tactical, traditional, primitive, custom, and more. Additionally, folding knives have different lock options, such as liner, block, and frames, that secure blades, making them safe and durable.
Target Audience
Folding knives are best-suited for travelers, outdoor enthusiasts, and tactical operations personnel.
2. Hunting Knives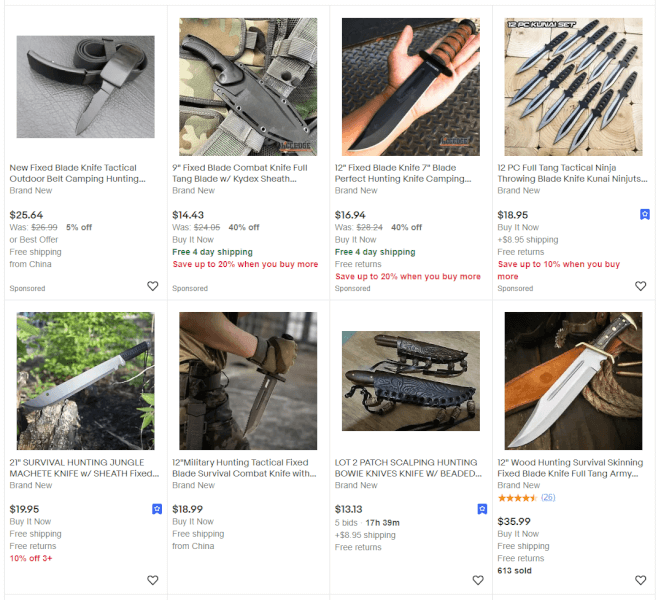 Following at the second spot are hunting knives. Primarily, hunting knives have one-sided sharpened design uses for cutting. These knives are perfect for gutting, butchering, skinning, or boning, especially when outdoors.
Subsequently, there are several styles of hunting knives to sell, such as those with straight edges or curved portions. Also, these knives come with different handles, such as leather, metal, acrylic, and more. Besides that, we have several sizes and colors of hunting knives, giving customers the right fit for their needs.
Target Audience
Hunting knives are perfect for campers and mountaineers.
3. Pocket Knives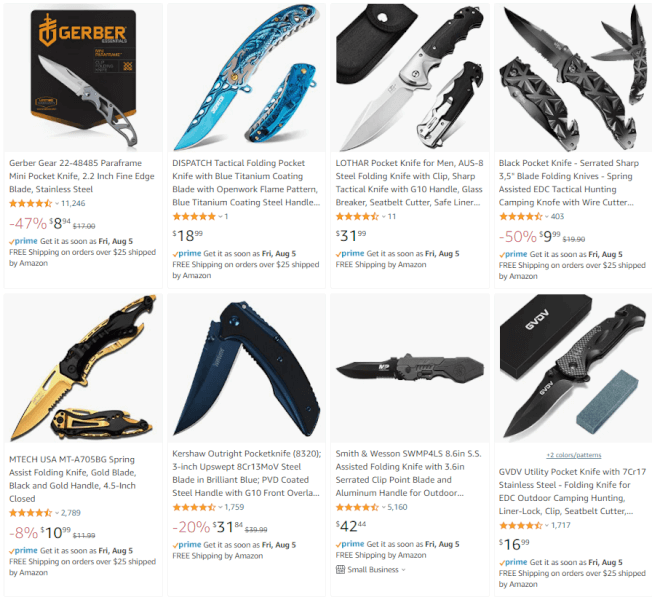 As widely-used accessories, pocket knives are best-sellers in the market. These knives fold into their handles when not used, making them convenient to carry. Fundamentally, these knives are designed for outdoor use, such as during camping trips or picnics.
In particular, pocket knives can have a single sharpened side or multiple blades in one. Typically, pocket knives have blades that range from about two to six inches in length. Thus, we should dropship a wide variety of pocket knives to attract more customers to our dropshipping stores.
Target Audience
Pocket knives are essential for people who are legally allowed to carry them for self-defense. Similarly, these knives are must-haves for avid campers.
Beginner's Tip: To safely carry pocket knives, we can offer leather or rubber pouches to hold these tools securely.
4. Bread Knives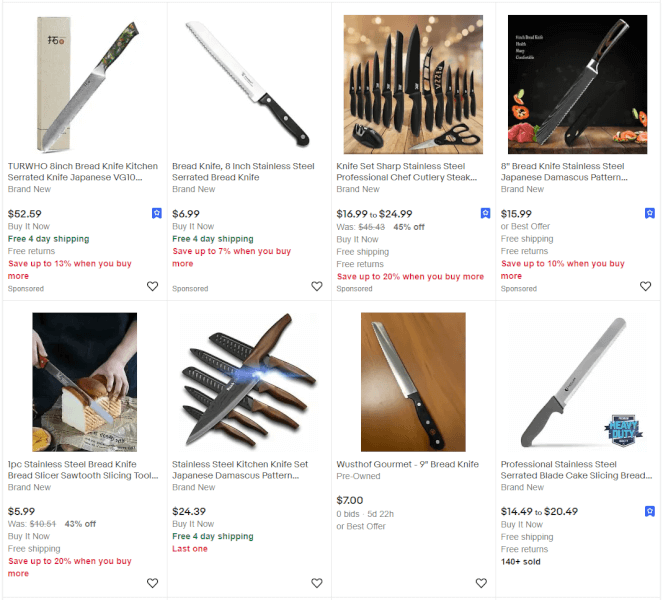 By definition, bread knives have long blades with saw-like notches or serrated edges. These blade textures are designed explicitly so slices of bread don't crush or produce too many crumbles when cut. As a home must-have for cutting loaves of bread, dropshipping these knives can bring promising sales to our business.
When selling bread knives, we can add blades made of high-carbon, stainless, or ceramic materials. Additionally, we have left-handed and right-handed knives, depending on which side has serrations. On top of that, we can sell bread knives of different lengths and sharpness, giving our customers various options depending on the loaf of bread.
Target Audience
Bread knives are perfect for frequent home cooks and chefs.
5. Tomato Knives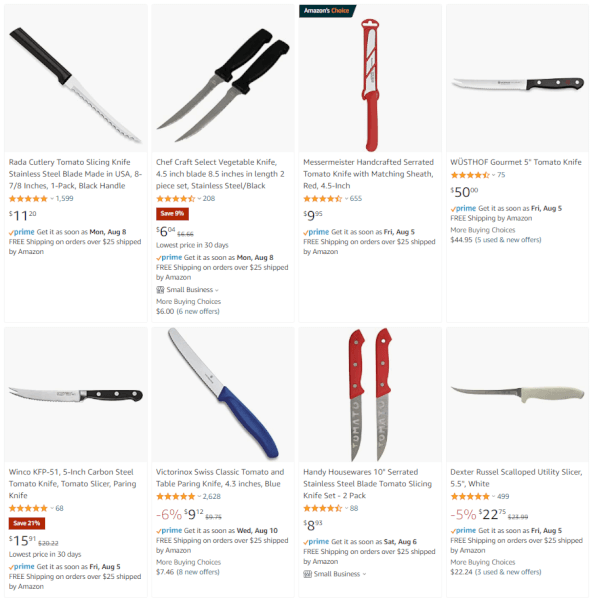 Next up, we have specialized tomato knives. Most commonly, these dropshipping knives have small structures with serrated edges. As such, these knives can easily penetrate tomatoes without severing the skin and while preserving the juices.
For tomato knives, we can sell lengths that vary from 12 to 15 centimeters. In addition, these knives have different sharp yet delicate edge designs that we should add. Overall, tomato knives are kitchen must-haves, so we can gain significant sales from selling them.
Target Audience
Tomato knives are fit for every kitchen cook, whether at home or in a professional setting.
6. Carving Sets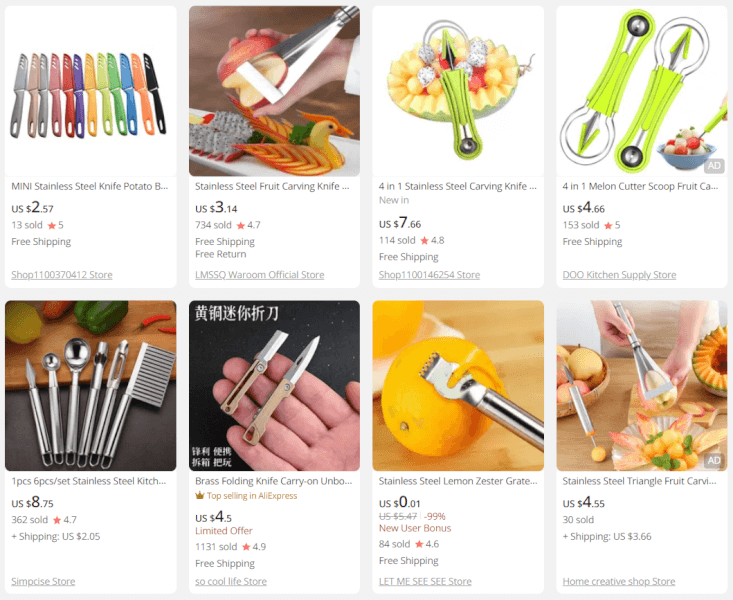 Another set of best-sellers on our list is carving knives. Specifically, these knives are long and large enough to cut through meat or fish. Then, their sharp edges and tips allow boning or fileting.
Usually, these knives have thicker ridged edges that enable meat carving. Moreover, we have sets of carving tools that include a carving fork, boning knife, and slicing knife. With a great selection of carving knives and accessories, we'll surely achieve substantial sales in our online stores.
Target Audience
Carving knives are must-haves for chefs and parents who like to bring fun into the kitchen.
Beginner's Tip: Cross-sell knife blocks so that users can organize different kitchen tools hygienically and stylishly.
7. Asian Knives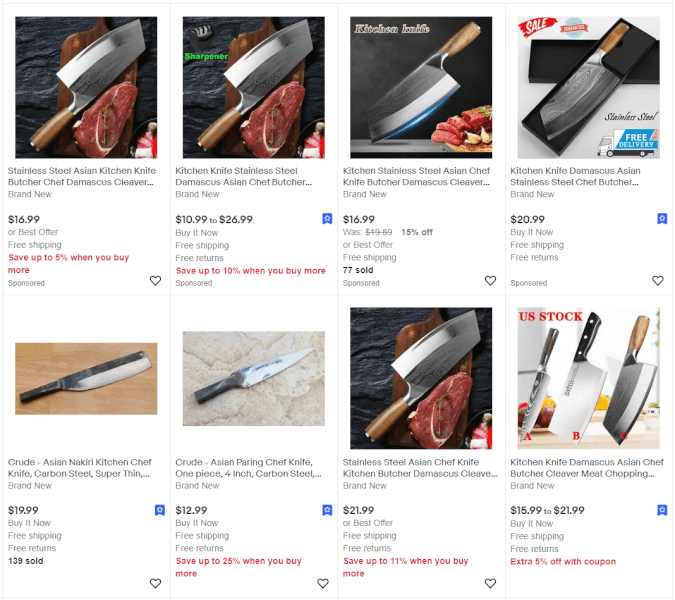 Due to their diverse food cultures, Asian countries have originated particular types of knives. While these knives have Asian roots, their uses have extended to all parts of the world today. So, with authentic Asian knives to dropship, our buyers can score high-quality tools for every type of food.
According to the broad range of uses, Asian knives include Deba, Sashimi, Gyutou, Usuba, and Nakiri varieties. Likewise, these knives come in different sizes and lengths, depending on the general use. That's why we should add an endless selection of Asian knives to multiply our dropshipping profits.
Target Audience
Asian knives are essential tools for chefs, especially those who specialize in traditional Asian food like sashimis, sushis, and more.
Beginner's Tip: Since Asian knives have different options depending on the purpose, we can offer various types in a set, increasing our average order value.
8. Garnishing Knives
Who doesn't love beautifully-garnished dishes? With the use of garnishing knives, customers can enjoy lovely and palatable food daily. In general, these knives are similar to kitchen paring tools that can cut food into various shapes.
Now, garnishing knives include multi-blade cutters, fruit ballers, butter curlers, and similar tools. In addition, these knives come in several types, sizes, styles, blades, and materials that we can dropship. All in all, these dropshipping knives have small and delicate blades that allow precision while cutting or peeling.
Target Audience
Garnishing knives are not only for chefs but also for people who love experimenting with food presentations.
9. Filet Knives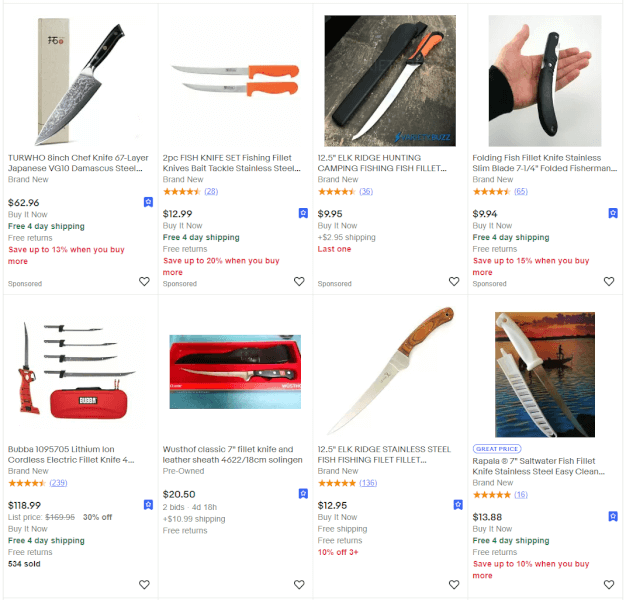 Joining our list of top dropshipping items are filet knives. Interestingly, these knives belong to the family of boning tools specially designed to prepare and filet fish. Additionally, these knives are more flexible, ensuring a precise fileting experience.
Generally, there are two types of fileting knives, Scandinavian and Japanese, which differ in the blade types and curved edges. Moreover, filet knives have several handle types, such as wood, rubber, metal, and plastic. Finally, we should add different lengths and blade types so that buyers can pick suitable knives for their filleting adventures.
Target Audience
Filet knives are valuable tools for fish vendors and customers who love cooking different fish dishes.
10. Cleavers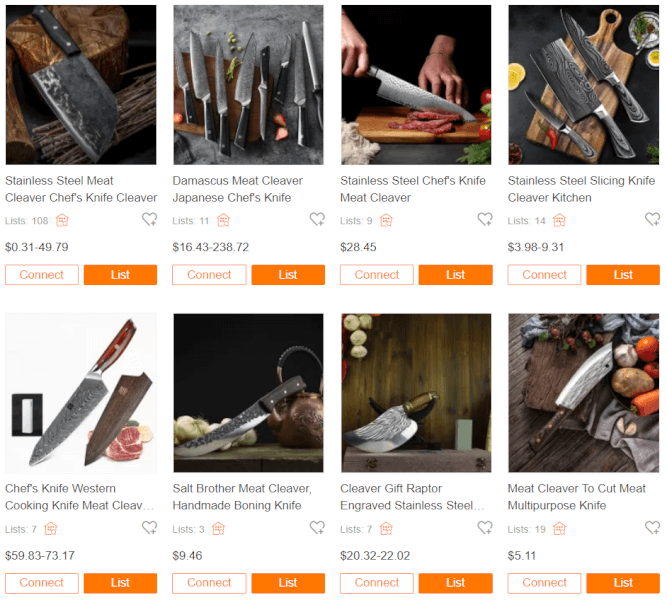 Probably one of the most valued knives of all time is a set of cleavers. Also known as chefs' knives, cleavers have large and rectangular designs that allow butchering. This heavy-duty kitchen tool is an essential tool that has a wide range of functions, making it a top seller.
Aside from the popular meat cleavers, we can also sell vegetable cleavers. However, meat cleavers are thicker and more durable variations that have an iconic hole in their blades. Ultimately, we must dropship different styles and sizes of cleavers that serve different cutting or butchering purposes.
Target Audience
Cleavers are butchers' best friends, and these items are also for chefs who prepare meat dishes.
Beginner's Tip: Suggest a durable cutting board for safe and convenient butchering without damaging kitchen tops.
11. Fruit Knives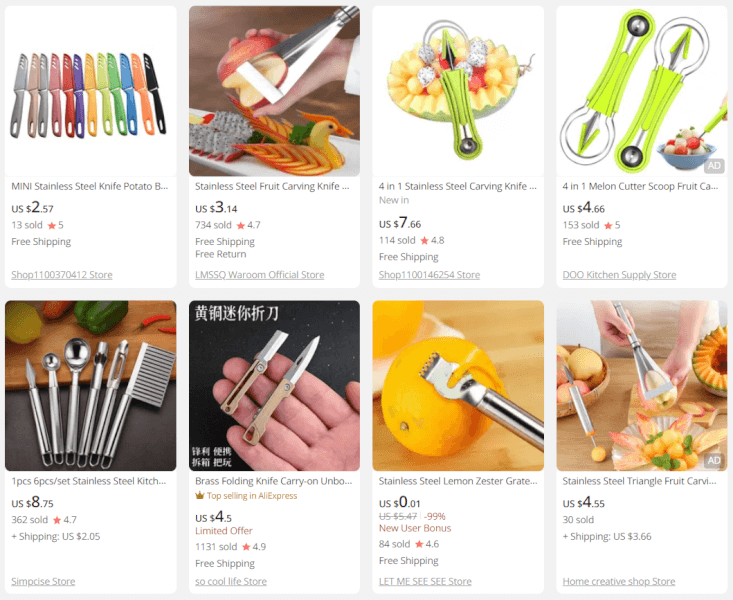 From huge knives, let's move to small and fancy ones. With that said, fruit knives are small but sharp tools for paring and cutting fruits. Their narrow and serrated edges preserve fruits' freshness and juices while being cut.
Thus, we should sell different types of fruit knives, such as those with fancy handles. Also, these knives are commonly made of stainless steel or silver. Nevertheless, dropshipping fruit knives will surely attract substantial audiences due to their specific use.
Target Audience
Fruit knives are staples in the kitchen for parents who prepare enticing fruit snacks for kids. Likewise, these knives are essential for chefs for their fruit garnishes.
Beginner's Tip: Since fruit knives are small and lightweight, customers can showcase their stylish designs by using magnetic knife strips.
12. Boning Knives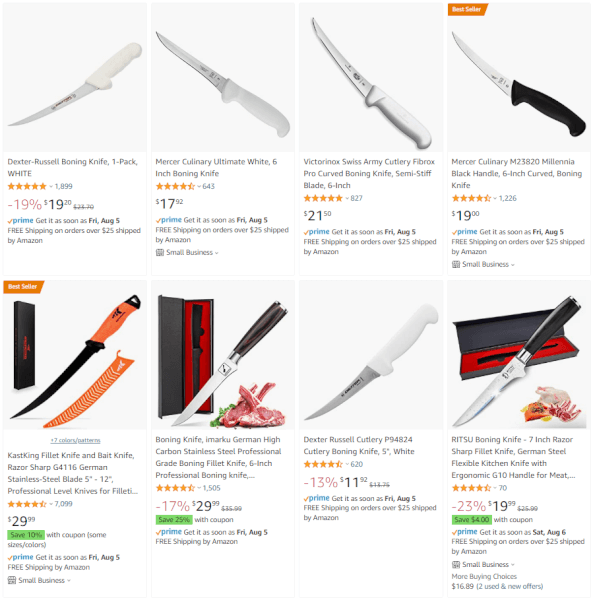 Proceeding to the next trending product on our list, we have boning knives. These tools have semi-flexible and long blades, allowing the boning of meat, fish, and more. Additionally, the combination of sharp and thin blades enables precise piercing of the meat and smooth maneuvering around the bones.
Moreover, boning knives have many shapes and sizes we can sell. Apart from that, we can sell boning knives in different lengths, ranging from around five to nine inches. Additionally, we must consider the curvature, stiffness, and thickness when selling boning knives in our dropshipping stores.
Target Audience
Boning knives are part of every chef's collection. Also, these tools are essential for sellers of meat, poultry, fish, and similar products.
13. Mincing Knives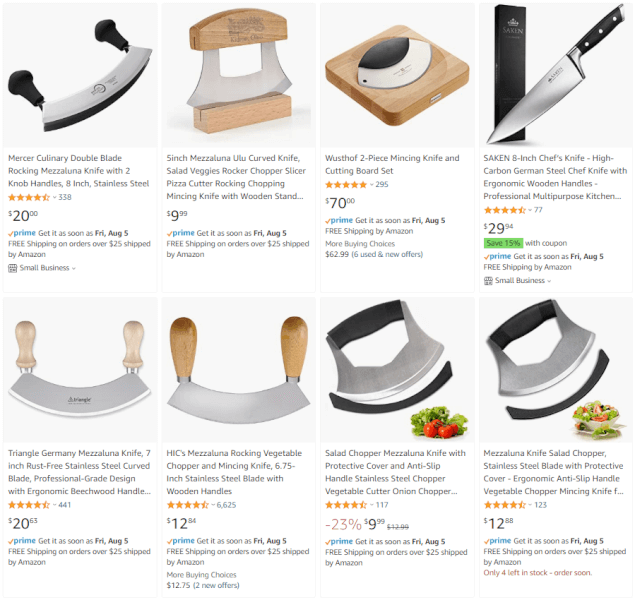 Another interesting knife to dropship is designed for mincing. Notably, mincing knives are used to cut ingredients into smaller pieces. This handy and helpful tool is an excellent addition to customers' kitchen must-haves.
If you wish to dropship mincing knives, consider different sizes, styles, and lengths. Aside from the straight variations, other options include rolling or rotary mincers. We can also dropship choices that come with easy handles to enable more accurate, faster, and safer slicing of food.
Target Audience
Mincing knives are perfect not only for restaurant chefs but also for at-home cooks.
14. Cake Knives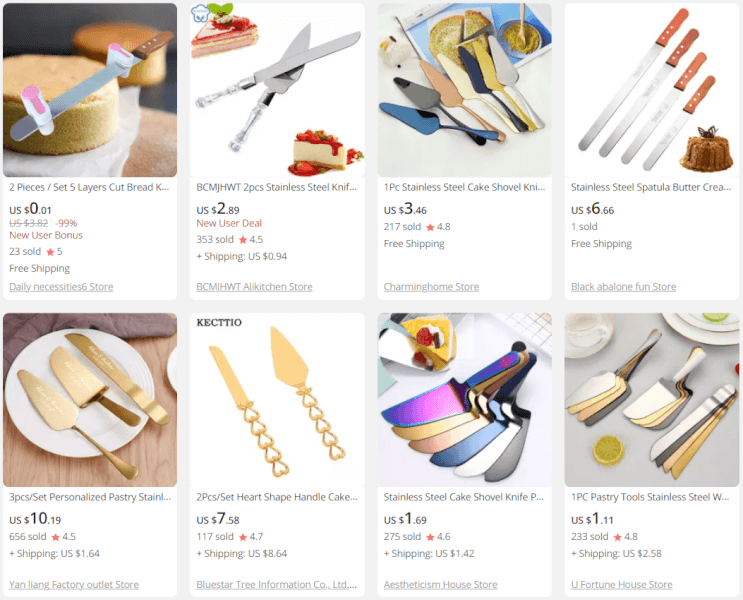 Last but not least, cake knives are popular cutting tools, especially during parties. These elegant knives are lightweight and flexible, allowing them to cut through frostings and cakes. Hence, this item is perfect for an afternoon cake snack at home or during celebrations like birthdays.
As they are commonly used at parties, we can sell cake knives in stylish designs and colors. For instance, we can offer gold or silver options for the ceremonial cutting of wedding cakes. Furthermore, these knives are available in different lengths and size options, depending on the intended purpose.
Target Audience
Cake knives are perfect for pastry chefs and hoteliers, especially during parties and events.
Beginner's Tip: Pair up cake knives with triangular serving utensils so serving cakes will be messy-free and convenient.
The Top 11 Dropshipping Knives Suppliers
Now, we're ready to source our top trending knives from the best suppliers. Without further ado, here are the 11 leading reliable suppliers for our knives dropshipping business:
Let's take a look into what these suppliers can offer our business in the following sections.
1. AliExpress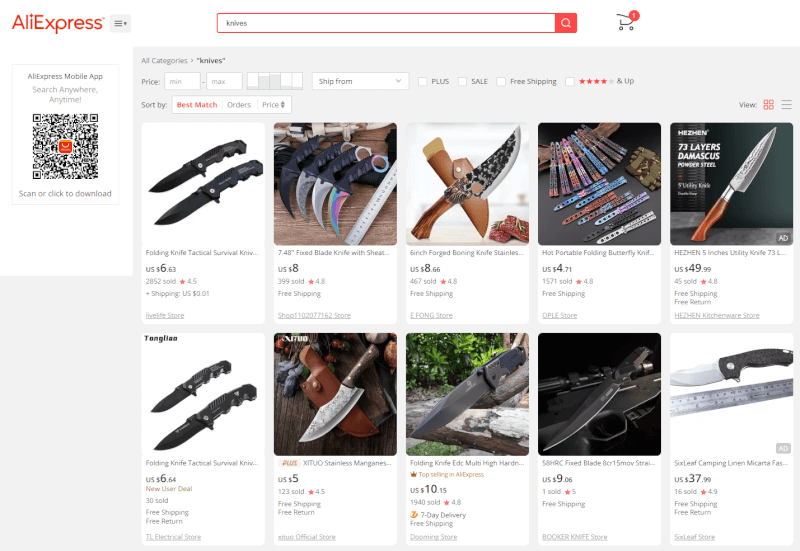 At the top of our dropshipping knives suppliers list is AliExpress. This China-based marketplace offers a vast selection of knives to dropship. Aside from that, here are key advantages when working with AliExpress:
Low-cost products

Domestic warehouses

AliExpress Dropship Center
Primarily, sourcing from AliExpress lets us enjoy low-cost knives. Plus, there are plenty of coupons and discounts on AliExpress that can help entice more customers. Additionally, we can set flexible selling prices for our products, allowing us to gain high-profit margins.
Besides that, AliExpress houses several domestic warehouses worldwide. By having these distribution centers, we can ensure faster delivery of customer orders.
On top of that, we can utilize the AliExpress Dropship Center to find the latest and best-selling knife products to dropship. Through this platform, we can filter different types of knives according to their price ranges, delivery times, and more. Not only that, this feature allows us to analyze the sales potential of knives, so we'll know which ones are best suited for dropshipping.
Knife Product Range
AliExpress offers a broad selection of knife products. Overall, the range includes pocket, Asian, folding, carving, and more interesting knife products.
2. CJDropshipping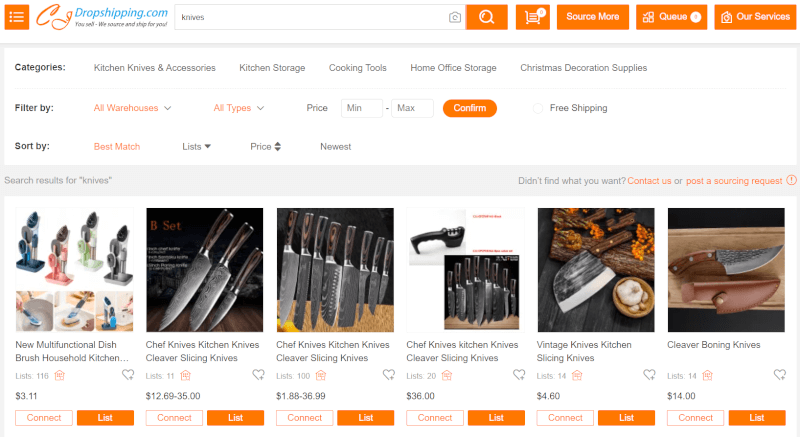 Another Chinese supplier where we can source best-selling knives is CJDropshipping. Established by dropshippers themselves, this platform is a dropshipping-friendly supplier. As such, here are the benefits we can get from working with CJDropshipping:
Wide array of knife items

Quality assurance of products

White label branding
As a famous dropshipping supplier, CJDropshipping extends a wide array of knife products. Hence, we can offer trending knives that customers can only find in our stores. Through our unique product listings, we can be steps ahead of the competition.
In addition, the company has a quality assurance procedure, where it performs analysis before shipping orders. Through this, we can ensure that only the best-quality items reach our buyers. Consequently, it helps us build a reputable name in the dropshipping scene.
Another benefit we can get from CJDropshipping is its white label branding. By utilizing this feature, we can use our logos and brands in product packages. Thus, helping our business establish a distinct identity in the market.
Knife Product Range
CJDropshipping has a vast variety of knives for dropshipping. For instance, we can find cleavers, boning knives, folding knives, bread knives, and even sets of different knives.
3. Amazon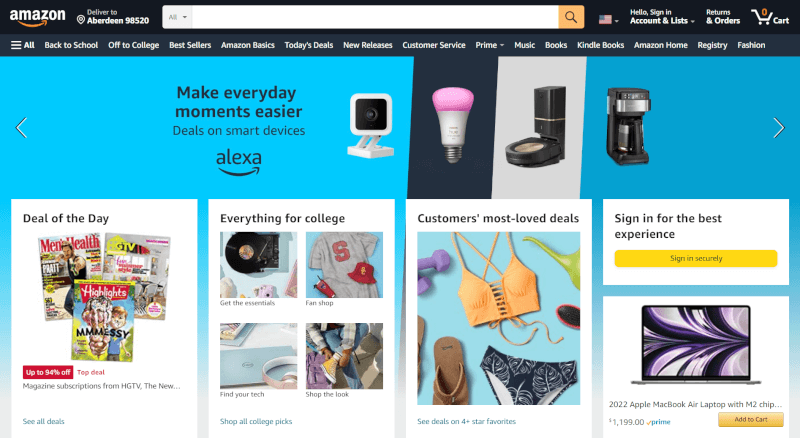 Among the endless choices of suppliers in the market, Amazon is one of the most diverse platforms we can work with. As an established eCommerce marketplace, this company offers excellent product categories, such as knives. With that said, here are the features that Amazon can offer our knives dropshipping business:
Exceptional choice of knives

Swift shipping arrangements

Superb customer service
Remarkably, we can source exceptional knife choices from Amazon. Likewise, high-quality knives under different categories are available on the supplier's website. Therefore, sourcing from Amazon lets us offer a wide range of knife items to customers.
Moreover, the platform provides swift shipping arrangements. For instance, Amazon Prime delivers select customer orders in the US in just one to three days. Remember that delivering customer packages on time leads to higher satisfaction ratings.
On top of that, Amazon vows to extend superb customer service to its clients. In fact, the supplier's customer support lines are open 24/7. All we need to do is contact them through email or phone so that customer concerns will be addressed accordingly.
Knife Product Range
Amazon provides great options of knives that we can sell. On this supplier's website, we can source knives suitable for fruits, meat, vegetables, bread, and everyday use options.
4. The Home Depot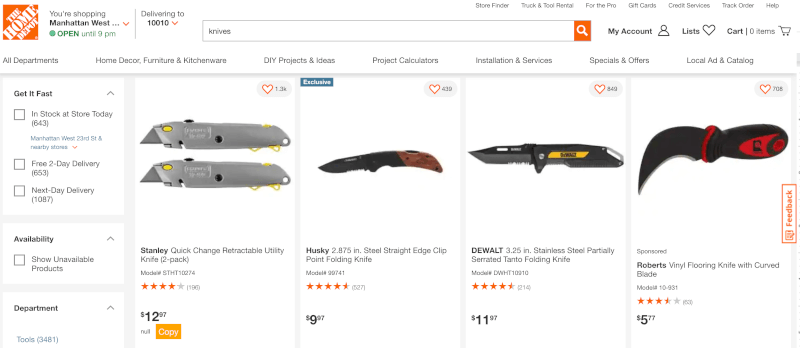 As a top-notch company in terms of home needs, The Home Depot is a reliable supplier we need to check out. Since the company focuses on home supplies and improvement, we're sure to find extensive choices of knives online. Besides that, The Home Depot provides the following key benefits:
Price match guarantee

Flexible shipping options

Tax exemption feature
One of the worthwhile benefits of working with this supplier is its price match guarantee. With this policy, clients can request a price difference refund if they find the same purchased product at a cheaper price elsewhere. This offer is applicable within 30 to 60 days upon delivery of the order.
Moreover, The Home Depot offers a two-day shipping arrangement for most products online. Also, buyers can enjoy free shipping for purchases of $45 and above.
On the other hand, the company's tax exemption feature entitles eligible clients to a 5% discount on their purchases. All we need to do is register for the program and file our tax-exempt ID number. With this benefit, we can attain higher profits when dropshipping knives.
Knife Product Range
The Home Depot offers high-quality knives for dropshipping. For example, we can source bread knives, fruit knives, cake knives, mincing knives, and other excellent knife items. 
5. eBay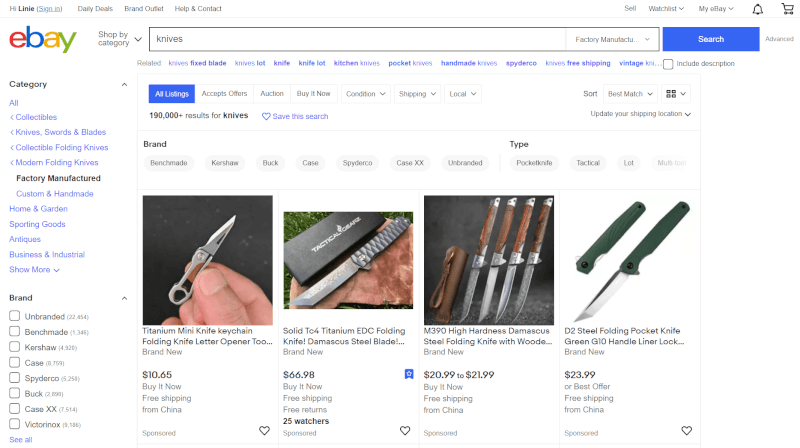 Among the billions of products available on eBay, we'll indeed find the best knives to dropship. Besides the massive choices of different knives, eBay has the following main features:
Global warehouses

Buyer/seller protection program

Exceptional customer support
With over billions of products, including knives, eBay extends its market reach worldwide. In this regard, the company has multiple global warehouses that serve customers wherever they are. These distribution centers also allow fast shipping arrangements in the locality.
Another benefit of dropshipping on eBay is its buyer/seller protection program. With this program, both parties are protected and valued. For example, this feature includes money-back guarantees, secured online payments, scam prevention, and conflict resolutions.
Essentially, eBay has high competition, which leads to sellers fighting to be in the top spot. That's why, sellers provide excellent customer service to stand out from the competition and become the preferred choice of dropshippers. And, this is highly beneficial for us because we extend the same exceptional service to our customers.
Knife Product Range
eBay has endless choices of top-selling knives to sell. To mention some superb ideas, we have folding, pocket, tomato, filet, mincing, and the list continues.
6. Costco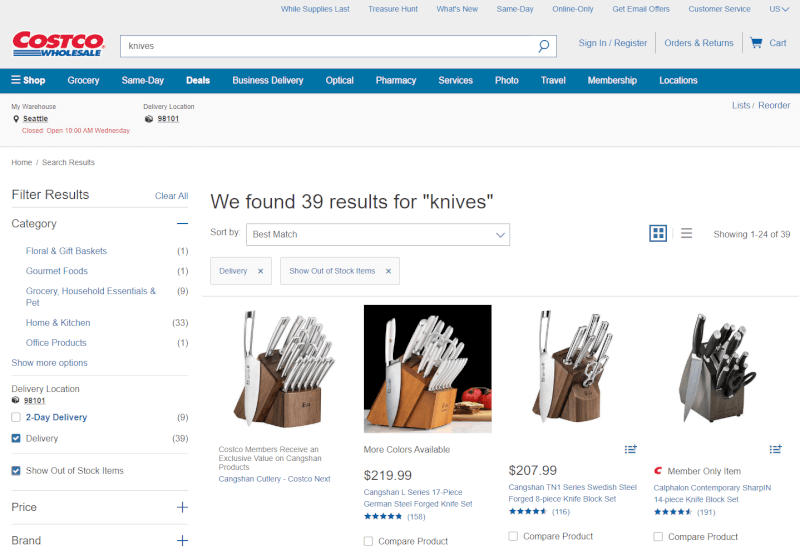 Proceeding to the United State's biggest wholesale company, Costco offers exceptional deals for dropshippers. One of which is a wide catalog of knives for our dropshipping stores. Now, here are other reasons to choose Costco as one of our next eCommerce suppliers:
Membership discounts and perks

90-day return policy

Fast shipping times
As a popular membership shop, Costco offers many deals and discounts online. By purchasing knife items on Costco at lower prices, we can assign higher profit margins to our product listings.
Then, Costco's practical 90-day return period ensures customer satisfaction and trust. With the convenience of this feature, buyers can return unsatisfactory or incorrect items in a greater time frame.
Finally, Costco has fast shipping times. Interestingly, US customers can enjoy a same-day delivery option for eligible knife products. Also, most products are shipped within three to five days of the regular delivery arrangement.
Knife Product Range
Costco has a diverse knife product range online. Some of their products include Asian, hunting, folding, cleaver, and more.
7. Wayfair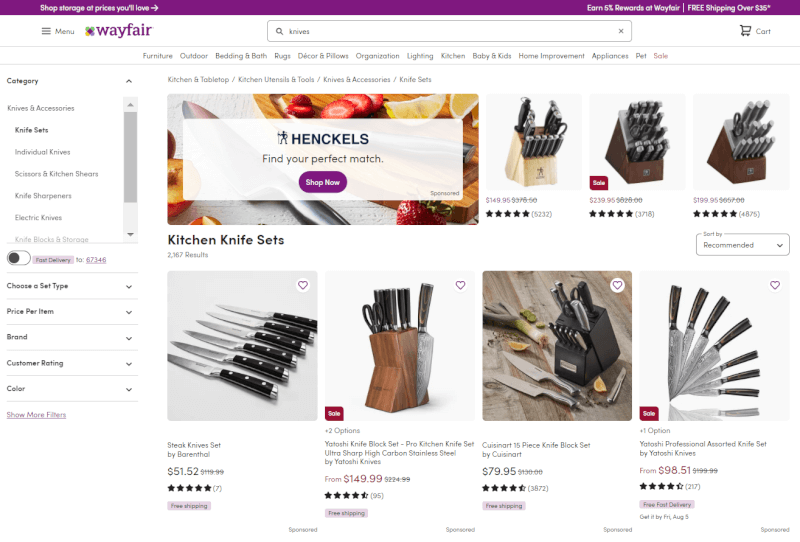 On to another American supplier, Wayfair showcases products under the furniture and home niche. As such, we can find an endless selection of knives from this supplier. In addition, here are essential factors that make Wayfair a great dropshipping knife supplier:
Practical shipping arrangements

MYWAY Program

Flexible payment options
To begin, Wayfair extends free shipping in the US for orders beyond $49. Otherwise, buyers need to pay a flat shipping rate of $4.99. Moreover, America-based customers can receive their orders in as fast as two days.
Aside from this, Wayfair has the MYWAY Program that entitles members to free shipping and same-day delivery perks. Plus, the program allows exclusive access to thousands of items, including top-quality knives.
To top it off, Wayfair provides flexible online payment options. It accepts credit cards, Apple Pay, Wire Transfer, Paypal, debit cards, and other secured payment options. With all these choices, we can quickly source trending knives from Wayfair with hassle-free transactions.
Knife Product Range
Wayfair has a huge range of knives that we can dropship. For instance, we can find high-quality fruit knives, boning knives, cleavers, and sets of different knives. 
8. Overstock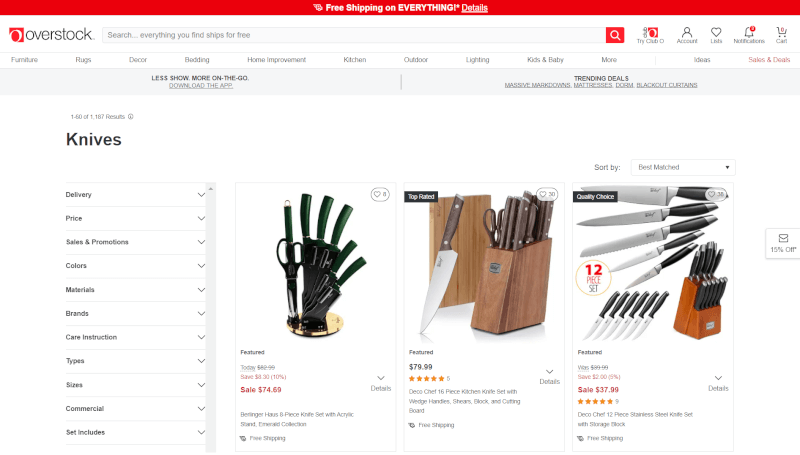 Entering our list of reliable knife dropshipping suppliers is Overstock. This long-established company is an American retail platform that offers items under the home and furniture niche. With that said, we can source top knife products from Overstock while enjoying these perks:
Club 0 Program

Price match guarantee

Quick shipping times
Notably, Overstock has the Club 0 Program that provides free shipping and cashback up to 5% on every purchase. While this costs $19.95/year, this membership is a good investment when sourcing from Overstock. In fact, members get to access diverse products, including high-quality knives.
Moreover, clients can take advantage of the price match guarantee on Overstock. Through this program, the supplier offers a price difference refund when we find the same product at a lower cost from other platforms.
Lastly, Overstock provides quick shipping times to domestic regions. In as fast as one to three days, customers can receive their packages. Remember that we can easily gain customers' loyalty when they are satisfied with the benefits from our stores.
Knife Product Range
Overstock supplies high-quality knives, such as cake knives, bread knives, carving knives, and more.
9. Walmart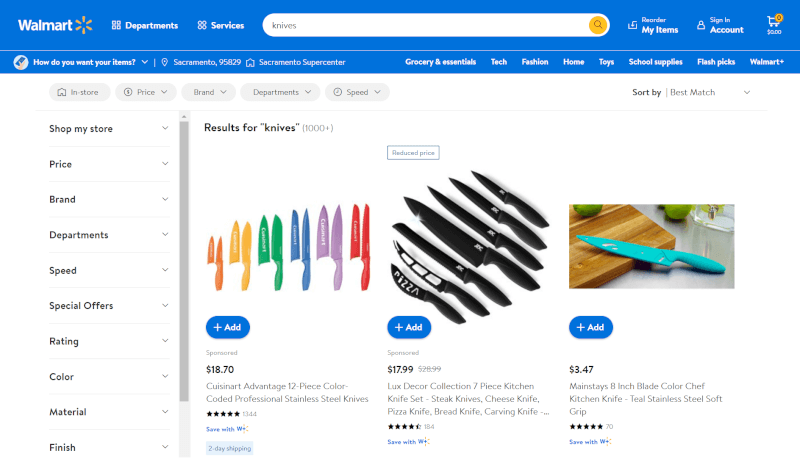 Popularly known as the world's biggest retail chain, Walmart can surely provide us with vast knife product lines. Besides that, here are essential reasons to work with this supplier:
Free next-day delivery

Price match policy

Outstanding client support
With its broad product offerings, Walmart receives countless orders regularly. Regardless of the volume, it extends a next-day delivery option to US customers. In addition, buyers can enjoy free shipping for orders $35 and over.
Interestingly, Walmart has a unique price match policy online. For eligible items, this supplier matches the prices of other major online retailers. In this regard, we can enjoy lower source prices from Walmart, allowing us to receive higher dropshipping profits.
On top of everything, this platform holds a high degree of customer service. Thus, Walmart's outstanding customer support enables our knives dropshipping business to extend the same quality service to our customers. By doing so, customers become satisfied with our business, leading to repurchases.
Knife Product Range
Walmart offers a wide array of knives, including bread knives, hunting knives, carving knives, folding knives, and other great choices.
10. Lowe's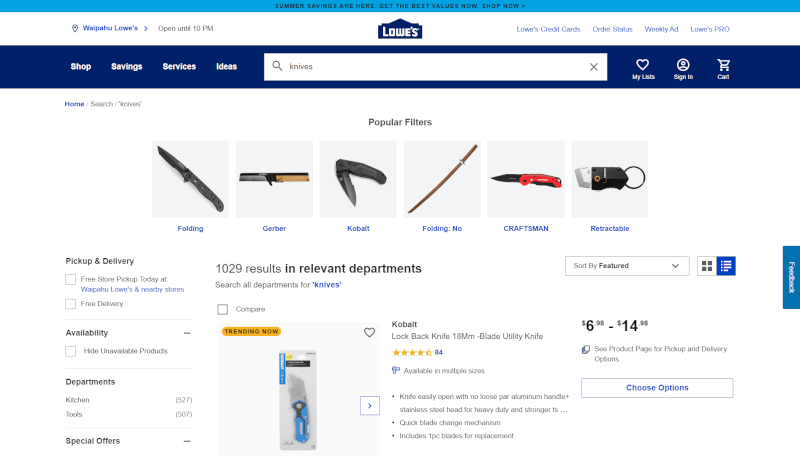 As one of the oldest US-grown companies, Lowe's is home to the most extensive product selections in the market. Literally, this supplier focuses on home needs and improvements, giving us access to top-notch knives. So, let's explore the leading factors that make Lowe's an exceptional supplier:
Efficient shipping options

Pro loyalty program

Product protection plan
Notably, Lowe's offers efficient shipping options to clients. For the standard shipping method, the supplier ships orders in one to three business days. On the other hand, some purchases are entitled to same-day shipping, allowing faster delivery of knife products.
Furthermore, the platform's Pro loyalty program suggests personalized offers, tracks spending, and gives access to dropshipping tools. With this feature, members can maximize sourcing products from Lowe's.
Above all, this supplier has an excellent product protection program. As such, warranties are available for specific periods, depending on the nature of the item. Through this program, clients become more confident with the legitimacy of knife products from Lowe's.
Knife Product Range
Lowe's offers pocket knives, hunting knives, folding knives, and other all-around use knives.
11. DHGate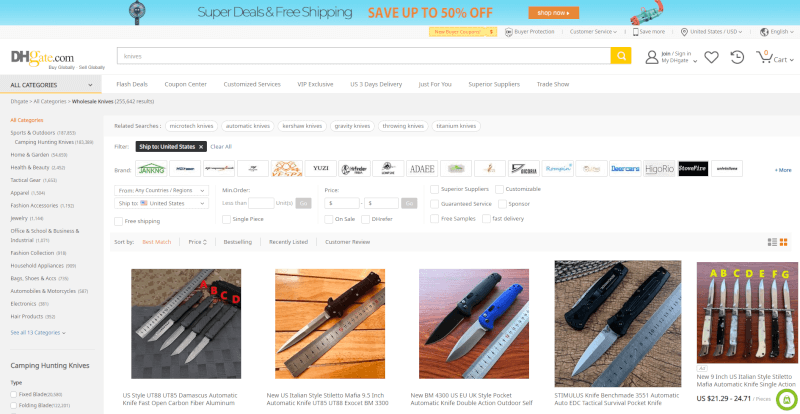 Finally, we have DHGate, which provides access to many wholesale products online. When working with this supplier, we'll gain access to the following benefits:
Vast product lines

Low-cost items

Multiple warehouses worldwide
This China-based supplier has vast product lines, including different knives to dropship. With a wide range of items, we can import substantial product listings for our customers to purchase.
In general, DHGate provides low-cost pricing for its products. With this feature, we can maximize our dropshipping profits by selling more expensive knives.
Aside from that, this platform has multiple warehouses in strategic locations worldwide. With the presence of these centers, we can quickly expand our connections with the global market.
Knife Product Range
DHGate has a wide line of knives to dropship. To mention some categories, we have folding knives, carving knives, fruit knives, and cake knives, and the selection goes on.
Whoa! That's a diverse list of knives for our dropshipping business. Speaking of our dropshipping business, let's discover how to establish a profitable online venture in the following section.
How To Start A Dropshipping Knives Business
With a selection of top products and reliable suppliers, we're ready to start our dropshipping knives business. Well, we're excited as you are! Therefore, let's begin discussing the seven steps toward dropshipping success:
Let's get down to business, starting off with product research.
Step 1: Research Best-Selling Knives
To begin, we know that our niche is knives. However, what kind of knives will best suit our target market? We can answer that by conducting comprehensive product research.
In essence, product research allows us to determine the latest customer needs and preferences. Although we've provided top knives to dropship in this article, remember that these trends constantly change. Also, we must not limit ourselves to various product ideas, so we need to explore new variations in the market.
That's why we need to utilize efficient product-finding methods to help us find constant best-sellers. With that said, here are some of the proven product research methods that we can utilize: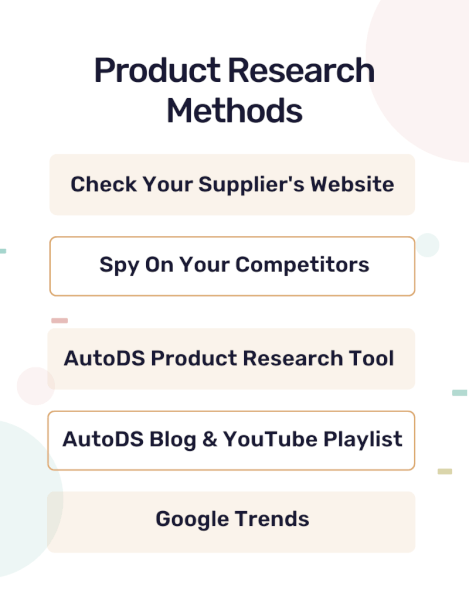 Check Your Supplier's Website
One of the best ways to find top-selling knives is by checking our suppliers' websites. On these platforms, we'll find the hottest trends and best-selling products. For example, we can explore Amazon's Best Sellers or CJDropshipping's Trending Products.
By knowing what knives get massive and recent purchases, we'll know that these items have high sales potential. Therefore, we can add these items to our stores and see if they work for us.
Spy On Your Competitors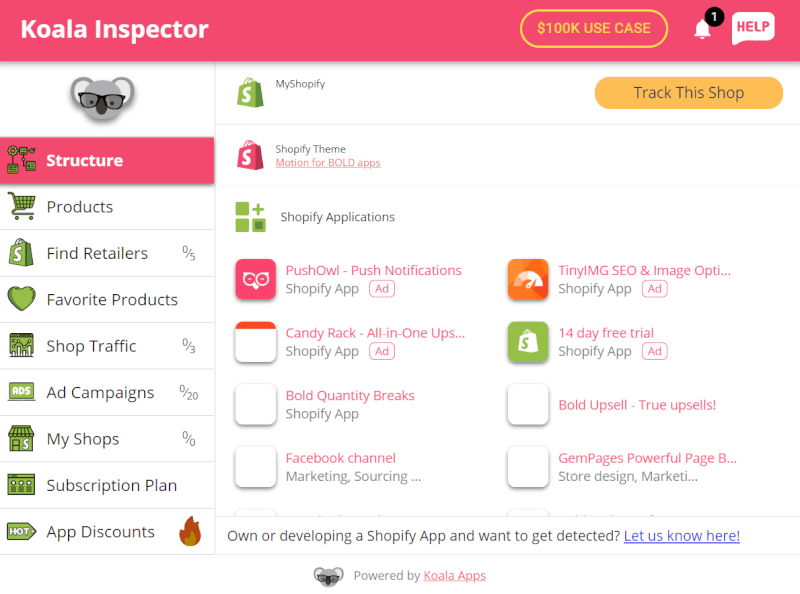 Another tested way to discover best-selling knives is spying on our competitors. By doing so, we'll uncover what items get them substantial sales and the techniques they're utilizing to maximize their sales. Then, we can adopt these good practices in our stores and improve other aspects that can optimize our processes.
When spying on our competitors, we can utilize software like the Koala Inspector. This program can unleash the secrets behind Shopify stores. This gives us access to sales analytics and crucial information about other sellers.
On the other hand, we can manually search competitors on eBay. All we need to do is find sellers with the same niche and see the products that sell best for them.
In that way, we'll gain insights into which product ideas are in-demand on eBay. Some examples of seller metrics we can access on eBay include the number of sales and positive feedback ratings.
AutoDS Product Research Tool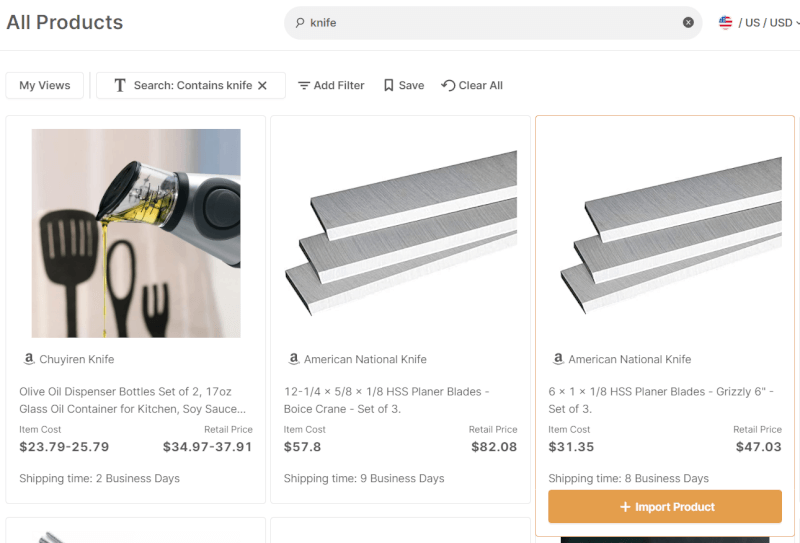 Next up, the AutoDS Product Research Tool is an outstanding way to find profitable knives from supported suppliers. By utilizing this tool, we can filter search results for more accurate product choices. Some examples of filters include price ranges, warehouses, categories, ratings, and more.
To illustrate, we need to search 'knives' or relevant keywords on the AutoDS Product Research platform. Then, we'll select among the search results the item we want to add. After such, we can click 'Import Product' to automatically transfer the product to the 'Drafts,' and the rest will follow.
Thanks to the AutoDS Product Research Tool, we now have top-caliber products to dropship.
AutoDS Blog & Youtube Playlist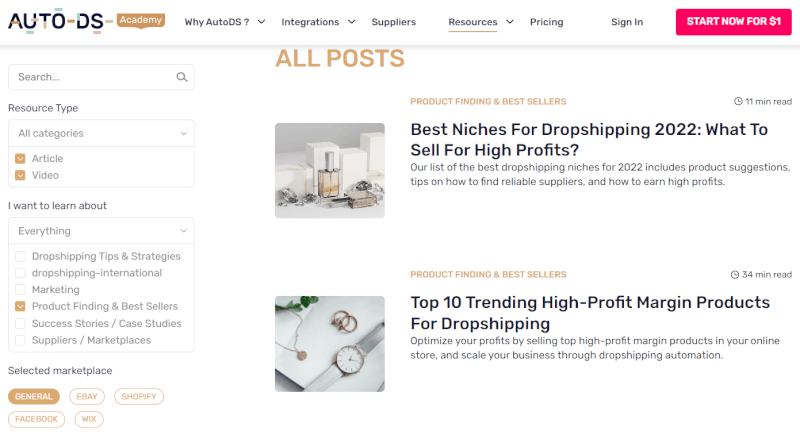 Joining the list of effective product-finding techniques are the AutoDS blog and YouTube playlist. By checking out the latest articles and videos, we'll discover the latest trends and dropshipping must-haves. Plus, these worthwhile materials are constantly updated, so we're confident that we're getting fresh product ideas.
Google Trends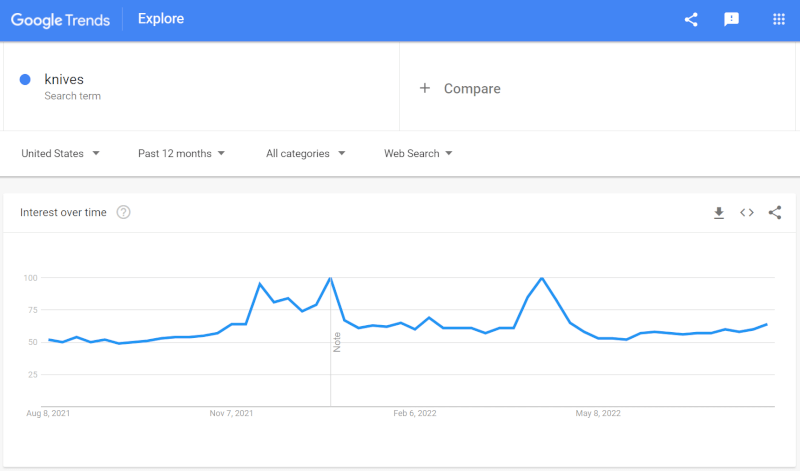 Lastly, Google Trends allows us access to trending customer searches. Knowing the general market search on the internet, we'll gain insights into their needs and preferences. Hence, through this data, we'll know the best-suited products to sell.
Step 2: Work With The Most Reliable Knives Suppliers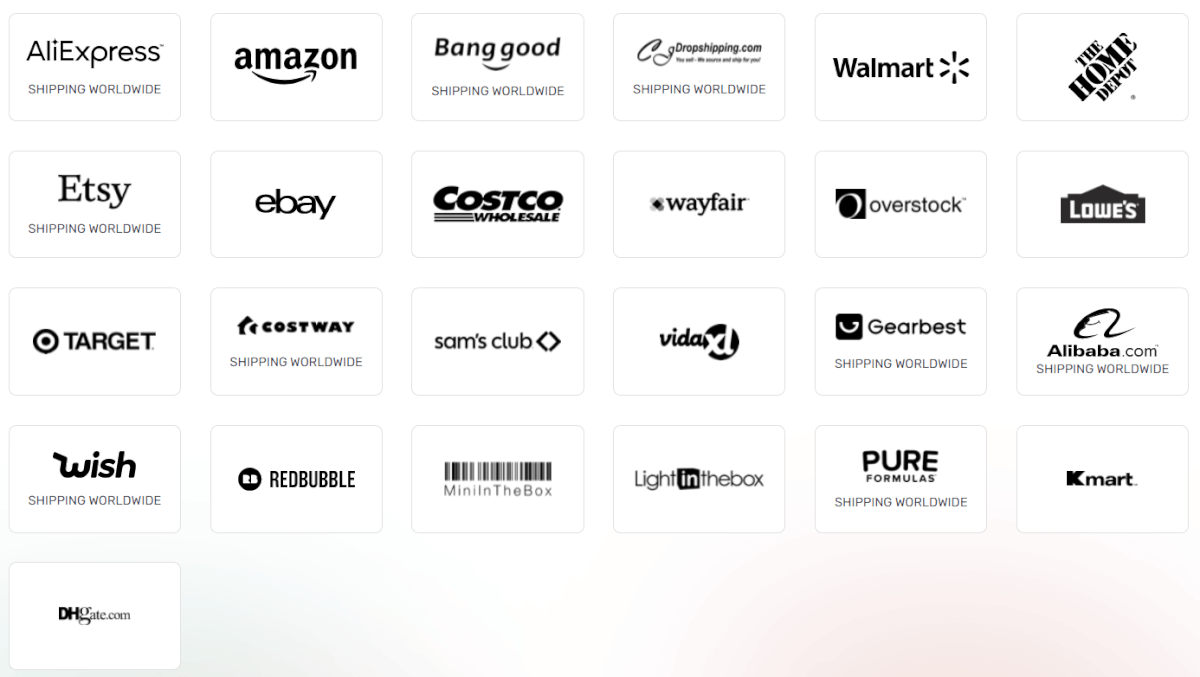 After determining the best products to sell, it's time to source items from our dropshipping knives suppliers. However, it's crucial that we have several sources of our knife products.
For one, the diversity of product choices is essential. Then, the lack of supply when working with only one supplier can hinder our business processes.
Moreover, prices become more competitive when many suppliers are involved. Consequently, when prices are competitive, we can source knives at lower prices and assign higher selling costs. By doing so, we can gain higher dropshipping profits.
Thus, working with multiple dropshipping knife suppliers can save us from these distresses and help us save on costs. Apart from that, what are the factors we need to consider when choosing a reliable supplier? Here's our list to guide you:
Top-quality knife products

Reasonable prices

Flexible payment options

Fast shipping times

Worldwide shipping

On-point tracking updates

Positive product reviews

Excellent customer service

Practical return/refund policies
On top of that, working with AutoDS makes these processes even more reliable. As the platform integrates with the most credible suppliers in the market, we won't have to worry about searching for trustworthy and quality dropshipping suppliers.
Remember that it's crucial to work with suppliers who can offer significant benefits to our business. For instance, sourcing top-quality knife products can help us attain customer satisfaction with what we offer. Also, worldwide shipping allows us to reach a broader market, increasing dropshipping sales.
Step 3: Create Your Dropshipping Knives Website
Once we have products and suppliers in mind, the next step is to establish our dropshipping knives website. To do so, we need to select a dependable selling channel where we can sell our products. In general, we have two types of selling channels: Marketplaces and eCommerce websites. 
Essentially, marketplaces are existing platforms where we can sign up and create our dropshipping stores. In these selling channels, we can enjoy massive organic traffic, allowing customers to easily find our products. However, as with most selling channels, dropshipping on these platforms comes with fees.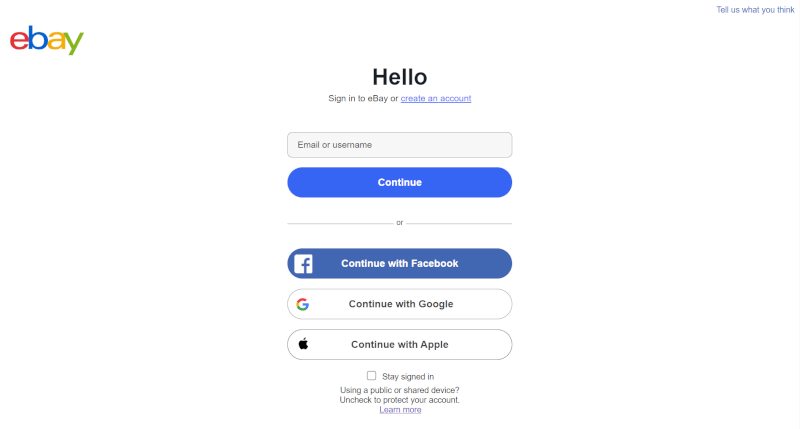 Nevertheless, we can customize our storefronts to make our business distinct from the rest of the competition. In that way, we can entice more purchases in our dropshipping stores. One of the most popular online marketplaces is eBay.
Another popular selling channel where we can dropship knives is Facebook Marketplace. However, this platform doesn't allow us to create a storefront. But soon, AutoDS will integrate with the channel's new feature – Facebook Shops.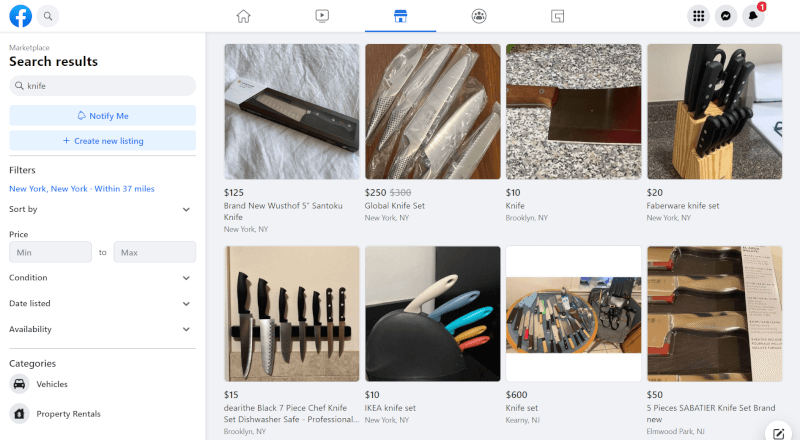 Through this feature, we can optimize and automate our dropshipping business. Likewise, we can soon customize our storefront, helping us build our brands on Facebook.
Meanwhile, eCommerce websites enable us to create our dropshipping knives stores from scratch. As such, we are free to customize our websites, from banners to navigation links and more.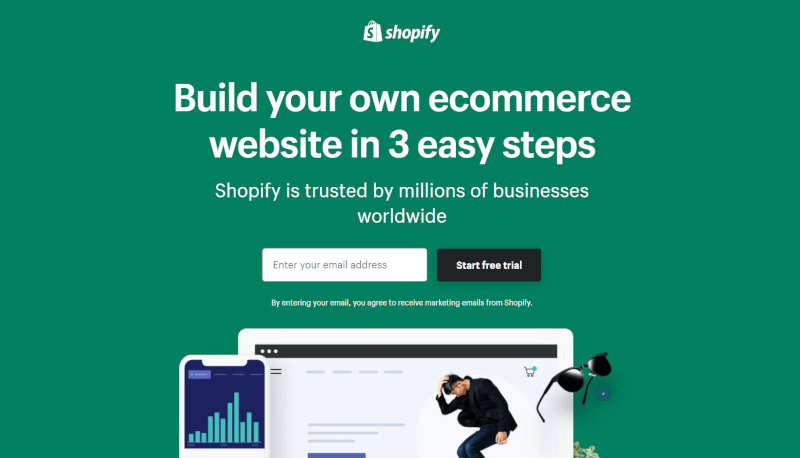 For customizable websites, Shopify and Wix are some of the sought-after choices. On the downside, these customizable selling channels have no organic traffic. So, we need to effectively market our business in order to gain a vast audience.
Moreover, dropshipping on Shopify and Wix gives us the freedom to list as many knife products as we want since there are no selling limits. With all these customization options and other benefits, we can easily build our business brand. As a result, our online venture is optimized, leading to massive profits.
Step 4: Add Knives To Your Dropshipping Store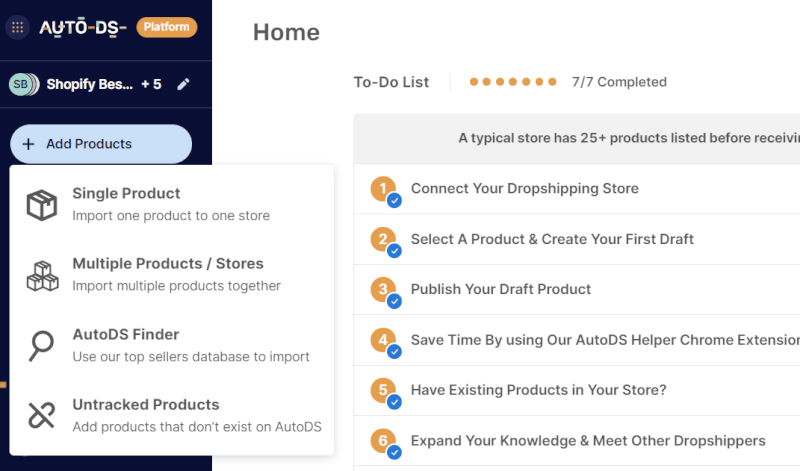 Now that we have a selling channel, we can begin importing knives to our dropshipping stores. Generally, we can manually or automatically add products to our dropshipping stores.
However, manually importing knives requires a lot of time and effort. To illustrate, when a customer places an order in our store, we need to go to our supplier's website. Then, we need to purchase the product and input the customer's shipping details individually.
After doing so, the supplier will ship the package directly to our provided address. While this seems easy, manual product imports can lead to some issues. For one, there might be mistakes in the information we're inputting, especially if we're bombarded with many orders.
Unfortunately, these issues can lead to customer dissatisfaction. To eliminate these problems, we can utilize automation software to do the import process on our behalf.
By automating the import process, the software is responsible for processing customer orders as they come. Thus, saving us more time that we can dedicate to other aspects of our business.
As a leading dropshipping automation software in the eCommerce scene, AutoDS offers four easy-to-learn and time-saving importing methods:
One-Click Importer

Single Product Uploader

Multiple Product IDs/URLs

Bulk Importer
At this point, let's discover how to import multiple knives at once by adding multiple product IDs/URLs.
Multiple Products Importer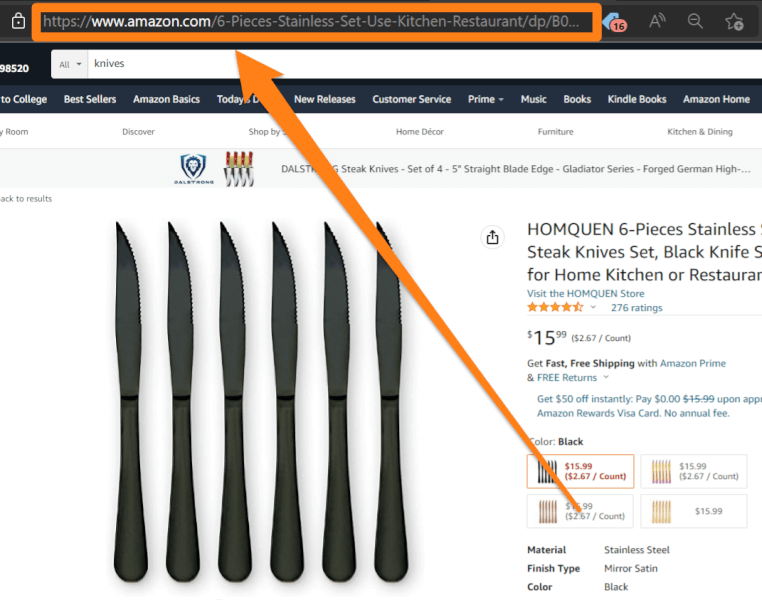 The multiple products importer enables us to add several knives using their product URLs/IDS. With this tool, we can conveniently import multiple products without the need to spend hours of our day doing so.
So, let's begin the import process by going to our supplier's website. Then, we'll search 'knives' or related keywords to find the perfect product for us.
Among the search results, click on the knife we want to add. On the product's page, we need to copy the item's URL/ID. Repeat the process until you've copied several product URLs/IDs that you want to import.
After doing so, go to the AutoDS platform and click 'Add Products' on the left sidebar. Next, choose 'Multiple Products/Stores,' and a dialog box will appear. 
On the dialog box, paste the product URLs/IDs, separated by line breaks. Then, click 'Add As Draft,' and the products will be saved as drafts.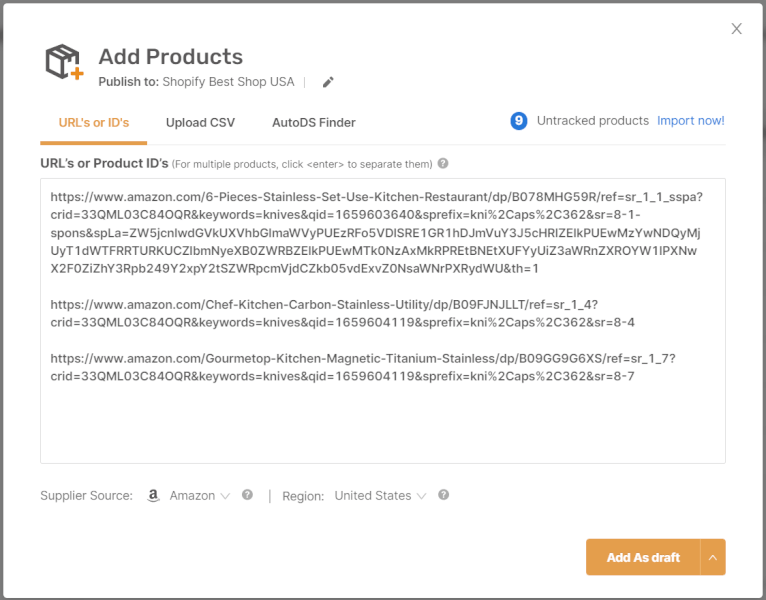 Now that the products are in the 'Drafts' section, we can begin optimizing them. Essentially, product optimization allows us to assign relevant titles, descriptions, tags, and other crucial details to our product listings.
Thus, this helps our products to become search engine optimization (SEO) relevant. When we say SEO-relevant, our products rank higher on customer keyword searches. As a result, we can attain higher traffic to our stores and gain substantial sales.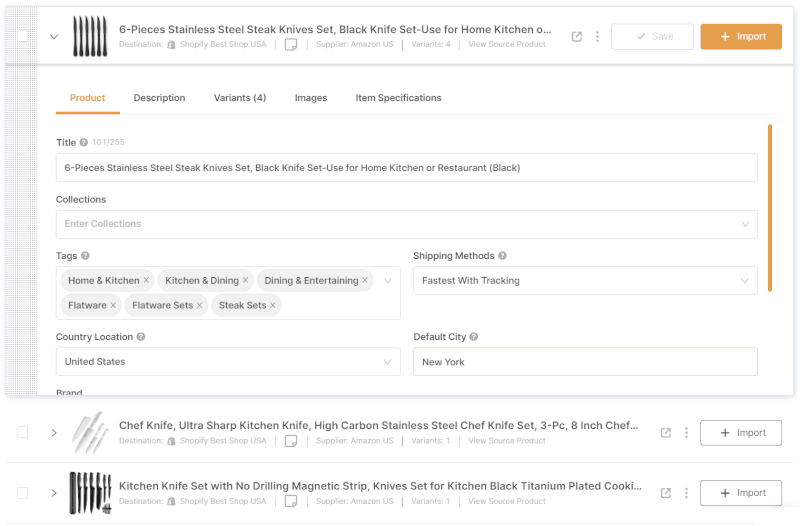 After optimizing our items, we can select the knives we want to publish and click 'Import All.' Before the platform transfers the products to our store, we need to confirm the importing first.
And finally, our knife items move from 'Drafts' to 'Products,' which signifies the successful import process. At this point, our knife products are live in our dropshipping stores, and customers can start purchasing them. Likewise, we'll begin getting orders and gaining significant profits.
Step 5: Optimize Your Sales With Online Marketing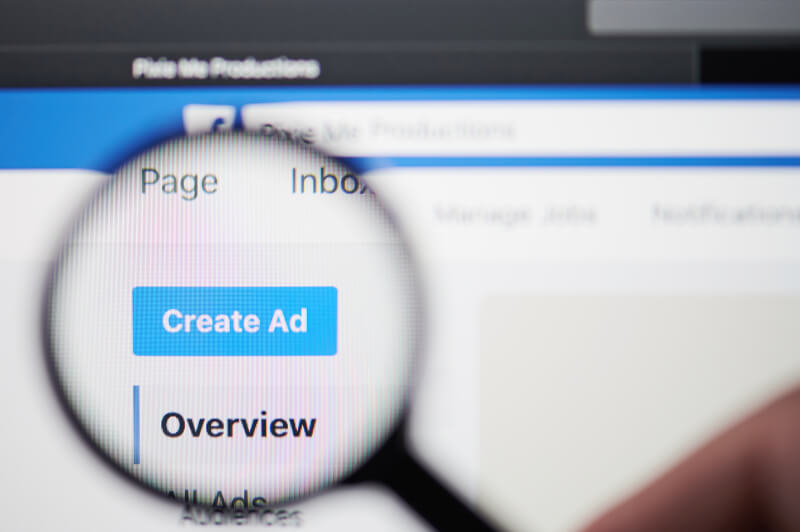 Once we've established our dropshipping knives business, we need to start optimizing our sales. To achieve this, we need adequate online marketing techniques.
Notably, marketing is an integral part of our dropshipping knives business. With the proper promotional materials, we can reach broader audiences worldwide. And, when we have more markets to offer our products, we'll likely achieve massive sales.
In the following sections, we'll check out the different marketing strategies fit for every selling channel.
Shopify and Wix
Once again, Wix and Shopify don't have organic traffic. Therefore, we need tested marketing tools to increase our stores' traffic. Hence, here are suggested marketing techniques we can adopt for our Wix and Shopify stores:
eBay
On the other hand, eBay welcomes substantial organic traffic. But then, the tight dropshipping competition in this marketplace should be addressed. Thus, we need to utilize proven marketing strategies for our eBay stores to rise above the competition:
Overall, marketing improves our business' market presence. When more people stumble upon our products, our sales conversions increase. As a result, we'll gain enormous dropshipping profits.
Step 6: Dropshipping Order Fulfillment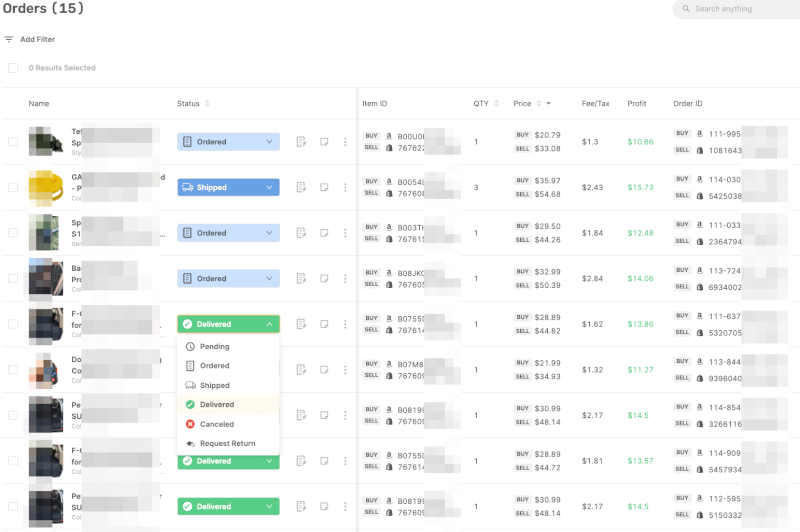 On to one of the most crucial steps when dropshipping: order fulfillment. Just like the importing process, order fulfillment can be done manually or automatically.
When manually fulfilling orders, we must purchase the customer order from our supplier's website. Then, input the customer shipping details. Afterward, the supplier ships the package directly to the customer.
Unfortunately, this process can be tedious, especially when fulfilling several orders at once. Remember that we need to fulfill orders fast, as the shipping time is an essential factor in attaining customer satisfaction.
Hence, we need a better and quicker way to fulfill orders. That's why the automatic means of fulfilling orders are here to help us ease our business processes.
By utilizing order fulfillment software, we can sit back and relax as we watch the program process each order efficiently. As a top choice in business automation, AutoDS offers two automatic fulfillment methods:
AutoDS Automatic Fulfillment 

Fulfilled By AutoDS
Now, let's go over the features of these automatic order fulfillment techniques.
AutoDS Automatic Order Fulfillment 
With the AutoDS automatic order fulfillment method, we can save significant time since customer orders are processed by software. In addition, it provides real-time updates of the whereabouts of packages under one dashboard.
With this order fulfillment method, we're using our buyer accounts when purchasing from suppliers. For instance, we need to connect our credit cards to our accounts on supplier websites to make transactions. Then, we can optimize this tool to automate each customer order from our website.
Fulfilled By AutoDS
A more efficient way to fulfill orders automatically is by utilizing the Fulfilled by AutoDS feature. This all-in-one order fulfillment solution allows 100% automation of the process.
Remarkably, this feature eliminates purchase limits since it uses our auto-order credits instead of our buyer accounts. We can get auto-order credits from loading a balance on the AutoDS platform.
Additionally, the Fulfilled by AutoDS service updates the order status for each step. For example, it gives us information about pending, shipped, and delivered orders. Then, automatic tracking updates are sent to our customers.
Apart from that, Fulfilled by AutoDS addresses return requests with just one click. Then, the system processes the return labels for us. 
By utilizing these outstanding automatic order fulfillment methods, we can do away with the laborious tasks of managing multiple orders manually. Thus, we can enjoy massive profits because we can successfully serve multiple customer orders.
Step 7: Provide Top-Grade Customer Service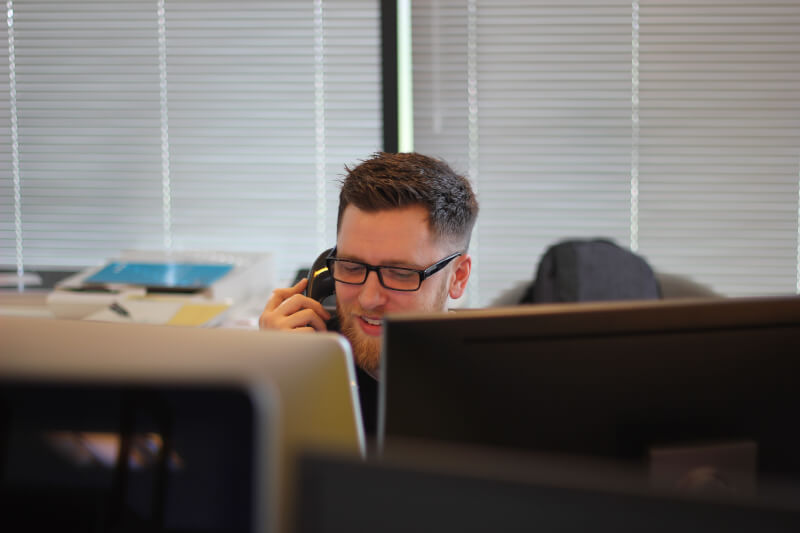 Our commitment to serving customers doesn't end after we deliver their orders. As such, we need to extend top-grade customer support even after sales.
In line with that, providing over-the-top customer service helps our business to thrive amid the tight eCommerce competition. Therefore, we need to connect with our customers in any way we can consistently. For example, we can publish a FAQ page, open live chats, provide an email address, and more.
Additionally, answering customer queries on time makes our clients feel that they're valued. Likewise, customers will appreciate our dedication to offering a top-quality business for them.
When customers are satisfied with our services, they'll likely leave positive remarks regarding their experiences. By getting positive feedback, we can entice other buyers to purchase from us too.
When working with AutoDS, we can expect that our clients are of top priority. Even while managing different stores simultaneously, extending superb customer service is made easy.
For instance, AutoDS has an eBay Customer Support Management System. By utilizing this feature, we can monitor, reply to, and manage our customers' messages under one dashboard.
Ultimately, establishing an undisputed reputation in the dropshipping scene can help us expand our business to greater heights. So, we must always go above and beyond to provide the best shopping experience to our customers. As a result, we can achieve customer loyalty and gain repeat purchases.
Scale Your Dropshipping Knives Business With Automation Tools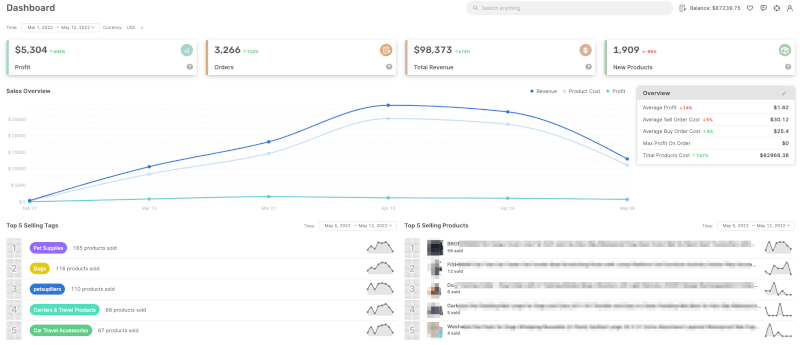 Remarkably, scaling our dropshipping knives business is essential. By doing so, we won't fall behind the market competition. As such, we can scale our online venture by utilizing top-caliber business automation tools.
And when we speak about business automation, AutoDS is a top software choice among dropshippers. In the previous sections, we've discovered the benefits of some of AutoDS' tools. But, the perks don't end there.
Aside from the above-mentioned tools, here are other automated features that can help increase our business efficiency:
Price/stock monitoring 

Easy inventory management

Automatic price optimization

Automatic tracking updates 

Business policy templates
Next, we'll briefly discuss these tools to understand how they help our business scale and attain long-term success.
Price/Stock Monitoring 
For one, price/stock monitoring allows the automatic updating of available product quantities with their corresponding prices. With this feature, we won't have to check on the supplier's website, as the stocks/prices are being updated in real-time by the automation software for us.
Easy Inventory Management
Moreover, the easy inventory management system allows us to monitor sold and remaining products in our stores. With this feature, every process is done on one screen. Thus, managing multiple stores becomes easy and convenient.
Automatic Price Optimization
Meanwhile, the automatic price optimization tool applies fluctuations in the costs of our products. For instance, prices of best-sellers are increased to optimize our profits. Then, for poor performers, their prices are marked-down to attract more sales.
Remember that it's us, dropshippers, who set the profit margins for our products. Meaning, we can adjust how much the price should increase or decrease so that we can ensure optimal profit margins.
Automatic Tracking Updates 
Another feature is the automatic tracking updates. Through this tool, we can monitor the whereabouts of customer orders under one screen. Also, this feature helps us address concerns pertaining to delayed deliveries or lost packages.
Business Policy Templates
Finally, AutoDS offers free business policy templates. To begin, here are essential templates that we must adopt for our dropshipping knives business:
These templates are essential for us to establish the legitimacy and credibility of our business. With the help of these policies, our customers will be well aware of our guidelines and processes.
All in all, these automated features help our business get ahead of the competition. Likewise, we can manage our dropshipping knives' venture efficiently and professionally with the help of these tools.
Frequently Asked Questions
Can I Dropship Knives Legally? 
Yes, dropshipping knives is legal. However, we must abide by certain standards to maintain the legality of our business. For instance, we must not sell knives to customers ages 18 and below.
How Can I Find Best-Selling Knives For My Dropshipping Business?
There are several ways to find best-selling knives to dropship. For example, we can utilize the AutoDS Product Research Tool, check out AutoDS' blog/YouTube Playlist, spy on competitors, and more. By using these tools, we'll access the latest and top-selling knives according to customer demands.
What Are The Best Products For Dropshipping Knives? 
With a vast selection of knife products available, it's crucial that we find the best ones for our dropshipping stores. As such, folding, hunting, and pocket knives are among the top product variations, we must sell.
Where Can I Source Knives For My Dropshipping Store?
You can source high-quality and long-lasting knives from a selection of reliable dropshipping suppliers. To mention some of the best choices, we have AliExpress, CJDropshipping, and Amazon.
Conclusion
Way to go! After exploring the best knives to dropship, we're ready to take our eCommerce venture to the next level. By working with top-notch suppliers, we'll get quality products and outstanding services. In return, we can extend the same to our customers.
Then, what's next for our business? Simple, we need to gain a competitive advantage by automating our dropshipping knives business. Not only that, we must continuously explore fresh product ideas, so customers will have something new to find in our stores.
On top of that, we have to expand our dropshipping reach by venturing into profitable markets. With that said, here are more excellent ideas that will diversify our product listings: