Venturing into the dropshipping industry requires us to establish either a general or niche-specific store. Although both are great options, starting with a niche store can help us build our brand, since we're focusing on a specific category. As an in-demand niche, dropshipping medical supplies can help us scale our business easily.
However, we need to be cautious when selling medical supplies, as some products are regulated. Also, we have to make sure that we're getting genuine items from well-founded sources.
Therefore, to help us get started with our dropshipping business, we'll uncover the best medical supplies that can help us attain substantial profits. Plus, we'll learn about the suppliers that can provide us with high-quality products.
Why Is Dropshipping Medical Supplies A Good Idea?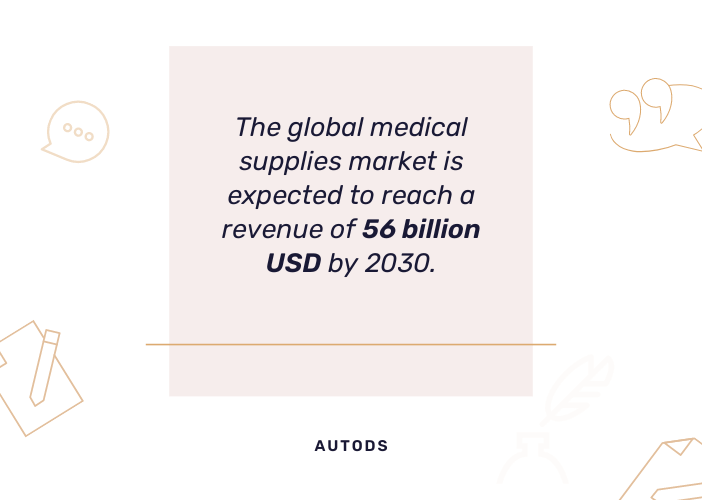 Before looking at the top products, let's first discuss what makes dropshipping medical supplies a good idea. Generally, dropshipping is a profitable eCommerce venture because it requires little to no investment. Similarly, this low-risk business model doesn't require us to maintain physical stocks.
Thus, when we combine this business endeavor with a popular niche like medical supplies, we can drive more sales. According to a market research company NMSC, the disposable medical supplies worldwide market can reach a revenue of around 56 billion USD come 2030.
Moreover, this figure presents a stable existence of the medical supplies industry. Therefore, dropshipping medical suppliers will help us build a lucrative business in the long run.
Target Audience
Meanwhile, selling medical supplies can reach a broad market globally. However, we can maximize the profitability of our business by targeting specific audiences for medical supplies. With that said, common end-users of these dropshipping products include:
Hospitals

Medical Clinics

Diagnostic laboratories

Nursing homes

Public health institutions

Disaster risk management offices

Evacuation centers
Once again, these clients would likely have repeat purchases of medical supply products. As a result, they help us attain long-term success for our dropshipping business.
What Products Not To Sell When Dropshipping Medical Supplies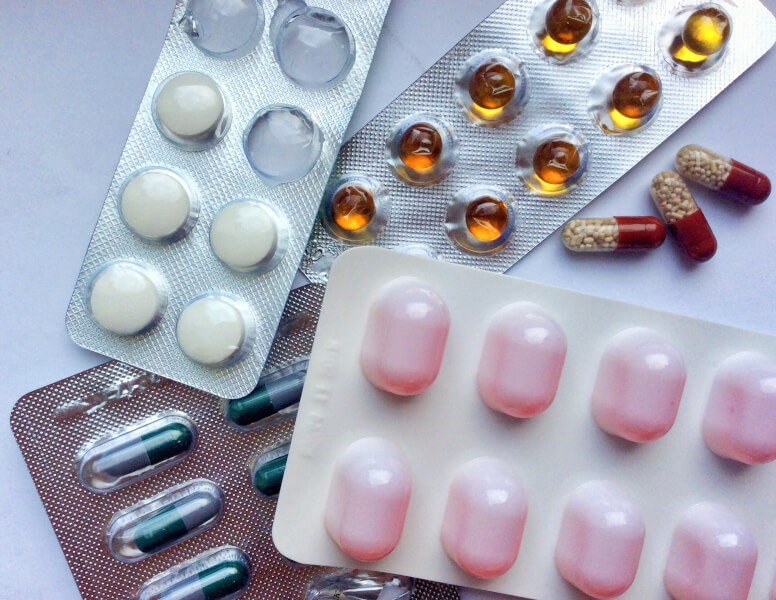 Another critical factor we need to keep in mind is the products we should avoid dropshipping. Consequently, we need to avoid reselling regulated and life-threatening medical supplies, such as the following:
Vitamins

Pills

Diabetic test strips not authorized for sale in the US

FDA-determined high-risk products like ear candles and zappers
Primarily, prohibitions on selling medical supplies are not limited to this list. To give us more details on the what not to dropship, check out Amazon's Medical devices and accessories guidelines. Here, we'll discover the restrictions, compliances, and other crucial aspects of dropshipping medical-related items.
Take note that these policies are applicable especially when dropshipping in the US, regardless of our suppliers and selling channels. In addition, going against the policies when dropshipping medical supplies can lead to consequences.
For example, our online stores can get suspended indefinitely for selling prohibited medical goods. Likewise, we'll be required to settle financial penalties as sanctions.
What's worse, we can face lawsuits for illegally dropshipping regulated medical products. When this happens, our eCommerce business can ultimately fail.
On the other hand, one way of successfully scaling our business is through effective marketing, such as Facebook (FB) ads. However, FB ads policies state that we're not allowed to advertise items with specific health claims. For instance, showing the before and after photos of the medical products and their effects is not allowed. 
Since we're not professionals in the medical field, we can't promise our customers definite results in the healthcare sense. So, we should be well aware of the medical supplies we sell and advertise in order to comply with standards in dropshipping.
10 Best Medical Supplies For Dropshipping
Exciting! We've come to the main part, our list of the best medical supplies for dropshipping. So, here are the top ten medical supplies for our online stores:

 Let's begin discovering what makes each product suitable for our dropshipping business.
1. Emergency Survival Kit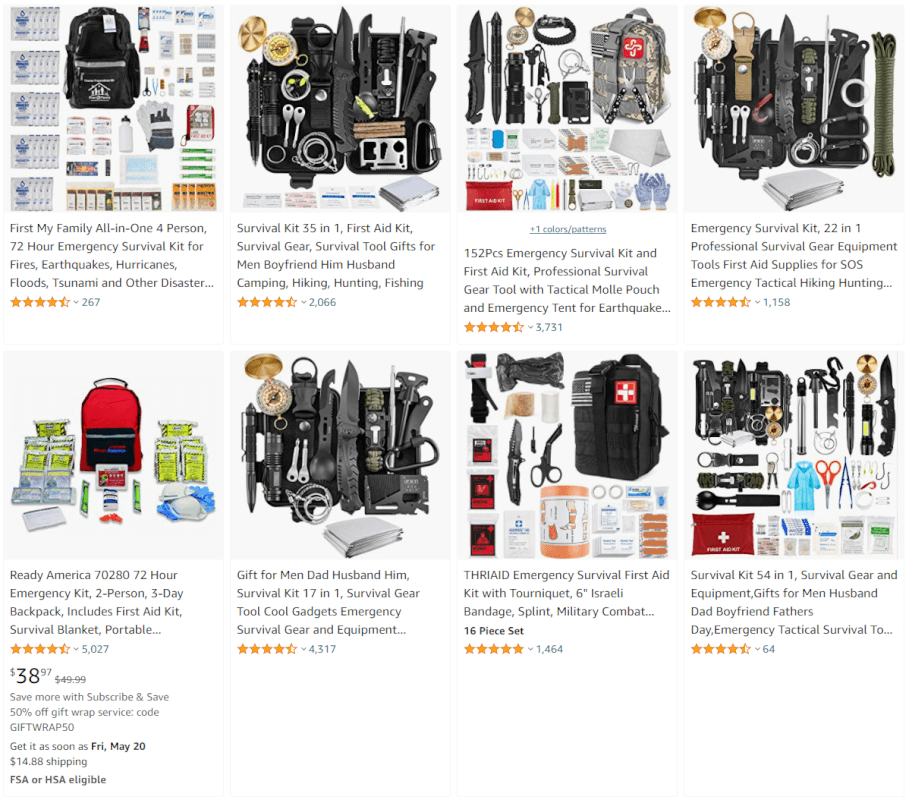 Emergencies can happen unexpectedly, so nothing can defeat being equipped with proper supplies when the need for them arises. Keeping essentials in a portable emergency survival kit at home is convenient, as it is readily available when a situation calls for it. Therefore, dropshipping emergency survival kits will be beneficial to our audiences, especially with the rise of catastrophes and emergencies.
Essentially, emergency survival kits include various medical supplies, depending on a user's needs. For instance, some kits have compartments for food, water, personal hygiene, prescriptions, documents, and other essentials. So, we should dropship small options with basic supplies and big ones with more product variety.
Moreover, we should consider the portability of our emergency kits like bags with handles, which can help users carry around the kit easily. Then, waterproof and heat resistant options are a must. Finally, to secure the content of kits, we can sell closure types like zippers, clasps, and snaps.
2. Adhesive Bandages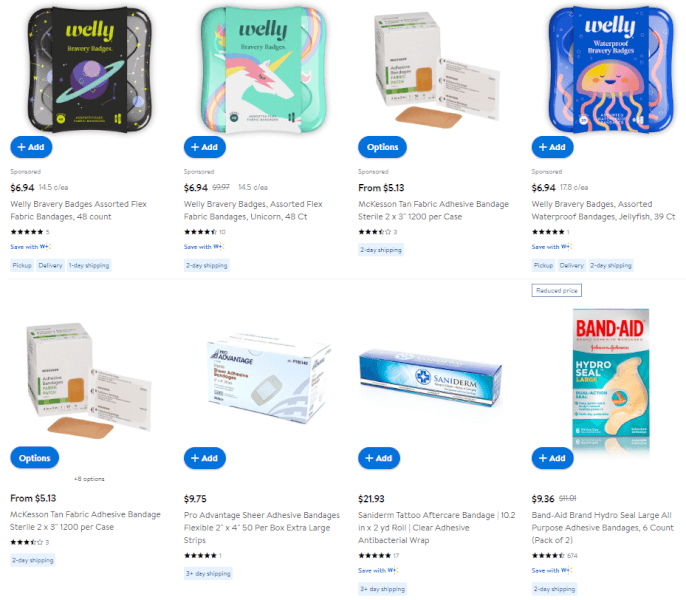 When we speak about top medical supplies, adhesive bandages are a no-brainer. Generally, adhesive bandages have several purposes, from simple injuries at home to surgical procedures at hospitals. Thus, the high demand for adhesive bandages will definitely help us gain substantial profits.
Primarily, durability, breathability, adhesion, and waterproofing are the important features we should ensure that are included when selling adhesive bandages. Additionally, we have plastic, sheer, and clear variations. Meanwhile, bandage substrates include plastic, fabric, foam, and tricot options.
Furthermore, there are island pads and full pads, depending on the wound protection coverage and absorption capabilities. Also, adhesive bandages come in various sizes, shapes, and designs, so provide a diverse selection in your online store.
Beginner's Tip: Since adhesive bandages are small and low-cost items, we can offer them in packs containing different variations.
3. Crutches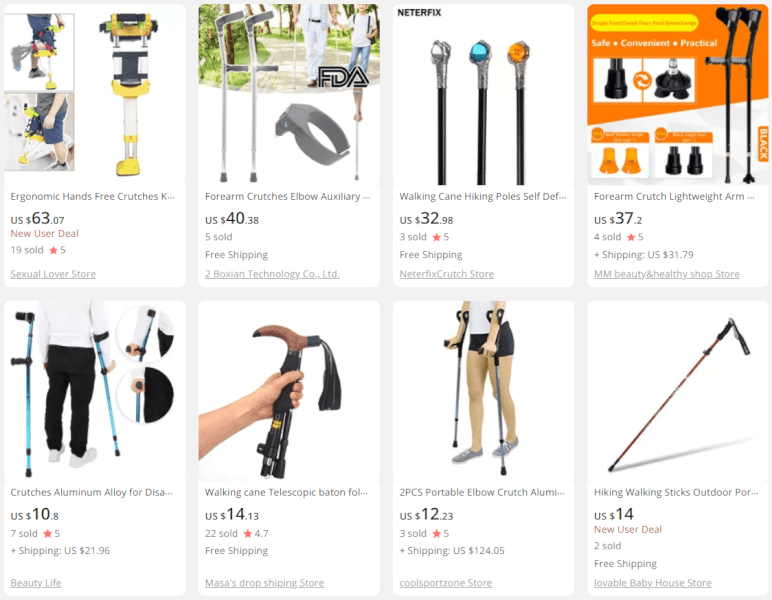 Our next trending dropshipping medical supplies product are crutches. These functional supplies serve as walking aids for those who have mobility limitations and physical dysfunctions. Thus, dropshipping medical supplies like crutches will help us attain competitive advantages, due to their market values.
Generally, crutches come in different types. Some of the widely-used ones that we can dropship are underarm, forearm, and gutter.
Next, we must make sure that crutches lengths are adjustable to cater to different heights. Also, selling different colors and styles of crutches will give buyers more choices.
For crutch tips, some examples are made of latex and ice materials. Meanwhile, pad and cover materials include gel, non-latex, cushy gel, and fleece. Finally, the grips must be sturdy and durable enough for the safety of our customers.
Beginner's Tip: Be sure to let your customers know they should check with their general practitioner before purchasing crutches. 
4. Weekly Pill Organizer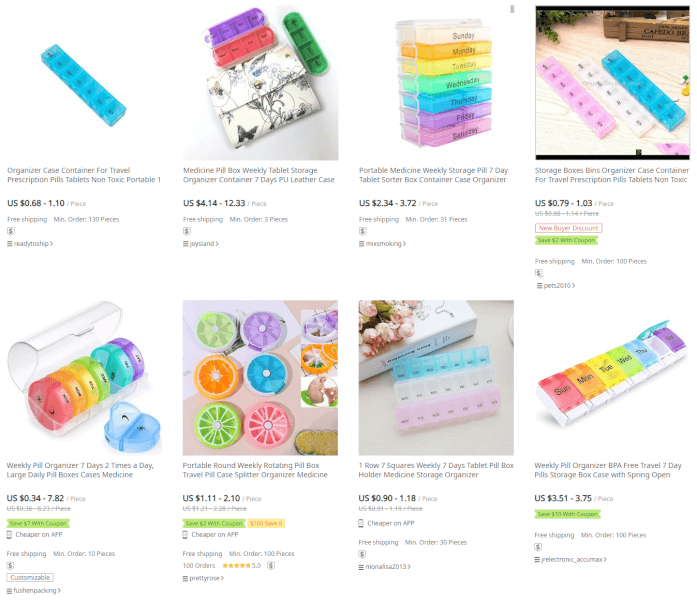 For those who take several vitamins or medicines regularly, having everything in one container is convenient. That's why we have the weekly pill organizer to help customers easily take their supplements on time. Moreover, the simple yet functional features of weekly pill organizers can help us attract more sales for our stores.
When dropshipping weekly pill organizers, we can choose from color codes, printed days of the week, or graphic designs. While the most common material for pill organizers is plastic, we can also sell options made of glass. Regardless of the type, we must ensure to offer food-grade and BPA-free containers.
In addition, weekly pill organizers have a single set of seven or multiple compartments per day. For multiple compartments, we can include a container, case, or box for holding individual slots in one place. Of course, to add some fun to customers' everyday supplementation, we can include different colors, shapes, and sizes of these containers.
Beginner's Tip: There are weekly pill organizers that come with specialized flashing lights and beeping alarms, which help remind users of their scheduled intake.
5. First Aid Kit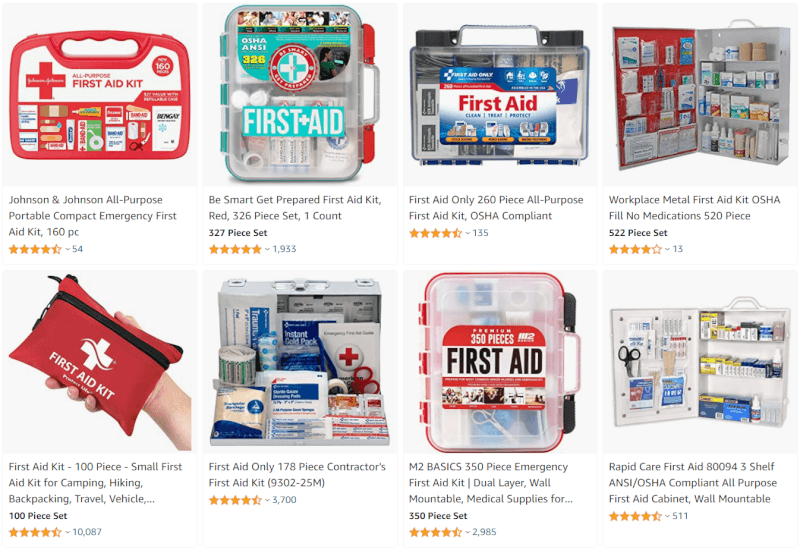 Undoubtedly, having a ready-to-use first aid kit for injuries and emergency situations is a must. Essentially, first aid kits consist of basic emergency needs like bandages, antiseptics, medicines, and other tools. Since first aid kits are basic necessities at home, offices, and other facilities, dropshipping these medical supplies will surely attract many customers.
Now, the first thing that every seller needs to understand when dropshipping first aid kits is the different classifications that address diverse needs. In particular, we have Class A and Class B types, depending on the injuries that the kit can cater to. Likewise, these kits are also available in many types according to portability and mounting requirements.
Furthermore, we can add first aid variations for burns, emergencies, travel, and more. In addition, offering several sizes and designs of bags or containers will give our customers more options.
Correspondingly, first aid kits that we sell must be secured, long-lasting, temperature-resistant, and weatherproof. These features are important when dropshipping this product, so we can ensure that customers can rely on a safe and reliable first aid kit, especially during emergency events. 
6. Blood Collection Tubes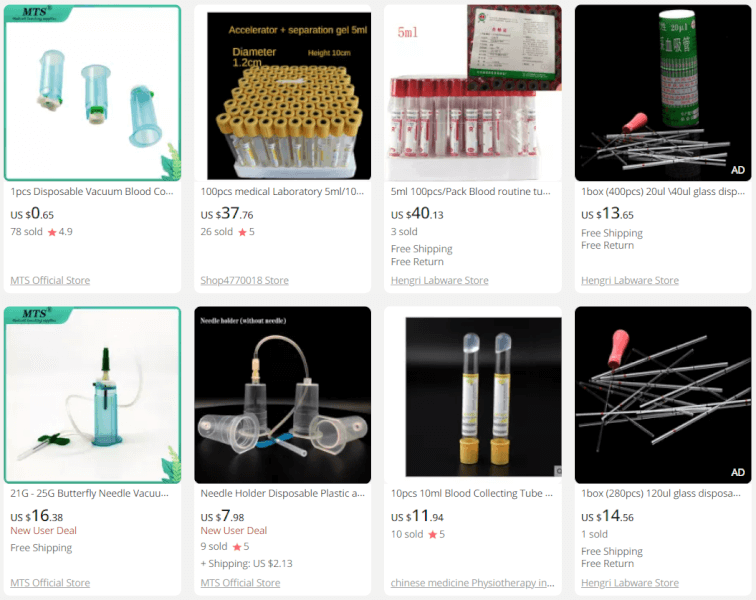 Our sixth dropshipping medical supplies product are blood collection tubes. These in-demand items are disposable supplies that medical laboratories and hospitals constantly require. Hence, it is an evergreen product as the product is demanded throughout the entire year.
Here, we can sell blood collection tubes according to their purposes. For instance, the widely used classifications are colored light blue, red, gold, green, gray, lavender, and pink.
Besides that, tube caps also vary, such as push on and screw. Subsequently, we should offer different volume capacities of blood collection tubes. Usually, tube materials are made of glass and PET, so remember to add these choices in our stores.
Beginner's Tip: Most of the time, several blood samples are collected, so we can offer a tube rack or organizer for multiple tubes.
7. Dialysis Catheter Shower Cover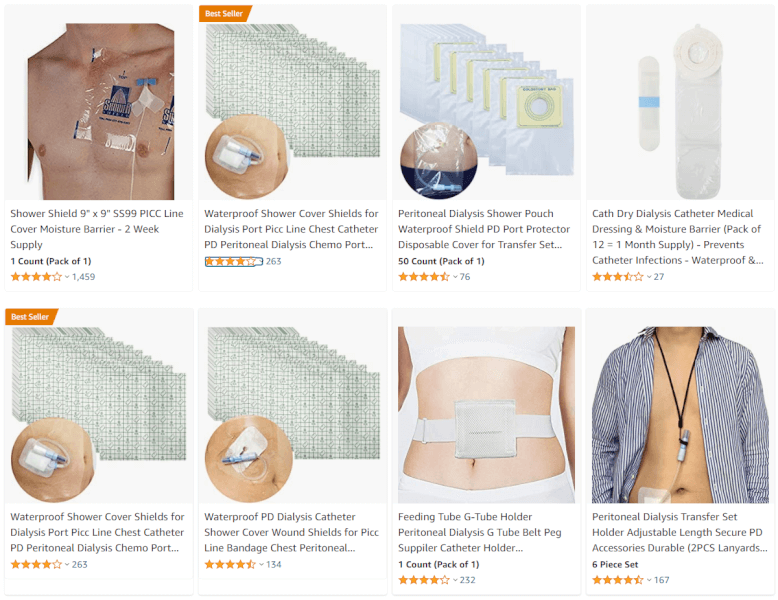 Most people suffering from medical conditions have to undergo regular medical procedures, such as dialysis for kidney disease patients. So, to lessen the everyday struggles of these patients, selling dialysis catheter shower covers is practical. To clarify, dialysis catheter shower covers ensure the safety and protection of users from waterborne bacteria that lead to infections and complications.

Before selling dialysis catheter shower covers, you need to verify that you're getting clinically-proven and medical-grade materials. Also add variations, such as a waterproof peripheral circle, sterile internal circle, moisture-free container, and latex-free material in your dropshipping store.

When dropshipping these shower covers, ensure that you list various sizes and volume capacities. Finally selling an easy-to-install dialysis catheter shower cover will provide convenience and comfort to users.
Beginner's Tip: Due to the disposable nature of dialysis catheter shower covers, we can sell them in bundles, like a pack for one week or one month.
8. Surgical Drapes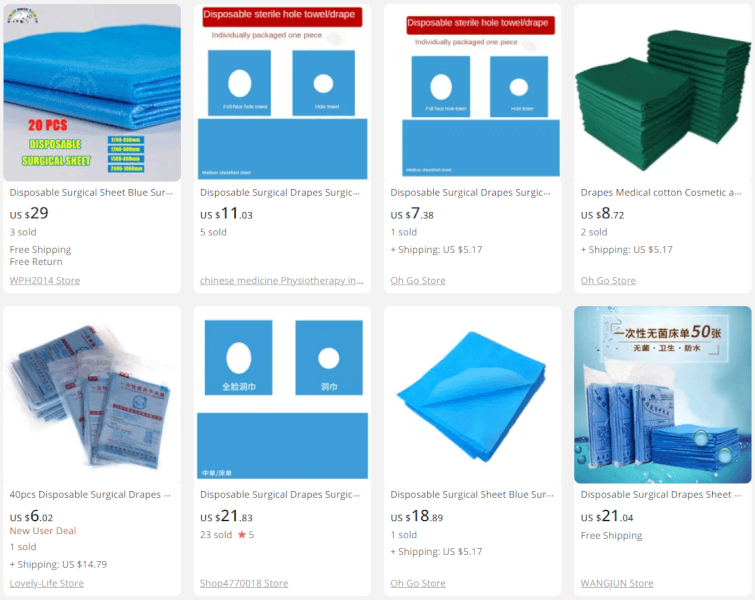 Following the list of the best-selling dropshipping medical supplies, we have surgical drapes. These serve to protect patients, practitioners, and equipment during surgical operations or medical procedures. Because of their popular use in hospitals and clinics, selling surgical drapes will help us gain high-profit margins.

With that said, we should sell different types of surgical drapes, such as those made of plastic, paper, or cloth. Also, these medical supplies have reusable and disposable options. Moreover, other drape types include plain, ophthalmic, c-section, laparotomy, laparoscopy, and more.

Above all, we have to curate the quality of surgical drapes before offering them to our customers. Some of the features we need to consider are barrier effectiveness, resistance to ignition, and longevity.

Beginner's Tip: Since surgical drapes are not enough to cover clinicians' bodies, suggesting customers add surgical gloves and caps can help us increase our average order value.
9. Digital Temperature Gun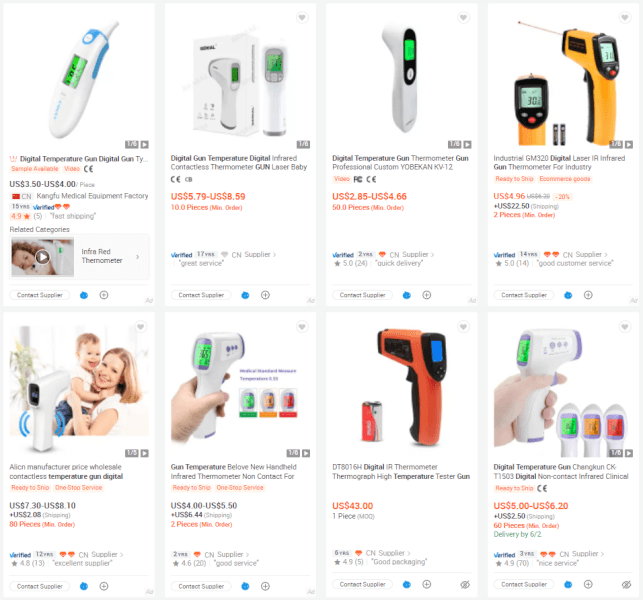 Today, with the rise of health concerns, regular monitoring of temperature has become a routine. The utilization of digital temperature guns helps us lessen physical contact with other people while taking their temperatures. Thus, dropshipping these medical supplies caters to the demands of the worldwide market, especially during a pandemic.
Predominantly, digital temperature gun types that we can sell are infrared and laser. When listing these medical supplies, remember to consider features like portability, build quality, and power capacity. In particular, these digital supplies can be battery-operated or rechargeable, so ensure to add these choices.
Plus, the ease of use of digital temperature guns is another valuable aspect that customers love. Therefore, we can dropship variations that are ready-to-use, meaning they don't need further setup before being usable. And, we can offer various color and style options to increase customer satisfaction.
10. Pulse Oximeter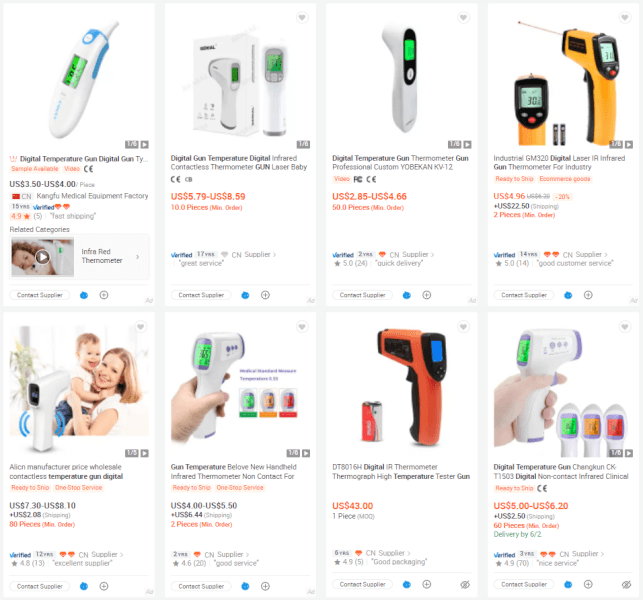 To end our list of the trending dropshipping medical supplies, we have the pulse oximeters. Basically, a pulse oximeter is a medical device that users utilize to estimate the oxygen saturation of the blood and the pulse rate. With people being more health-conscious, dropshipping pulse oximeters will surely be a profitable item for our business.

In general, pulse oximeters come in different colors, styles, and sizes that we can offer in our online stores. Additionally, they come in different power inputs, like battery-operated, rechargeable, and electrical-connected.

For more convenient vital signs monitoring, we can sell pulse oximeters that connect to gadgets and keep a record of readings. Other options include a touch screen and sound warning features.

To top it off, we must ensure to sell medical-grade and accurate pulse oximeters. Since these medical supplies measure vital signs, it's crucial that they produce correct readings to ensure safety and peace of mind among users.

Beginner's Tip: To improve the portability of pulse oximeters, we can sell them with keychains, cords, or pouches. 
Where Can I Source Medical Supplies For My Dropshipping Store?
After identifying the best medical supplies for our dropshipping business, the next step is to source them. That's why, here, we'll learn about the top suppliers for our dropshipping stores:
In the following sections, we'll explore the benefits that each supplier offers to our dropshipping venture.
1. Amazon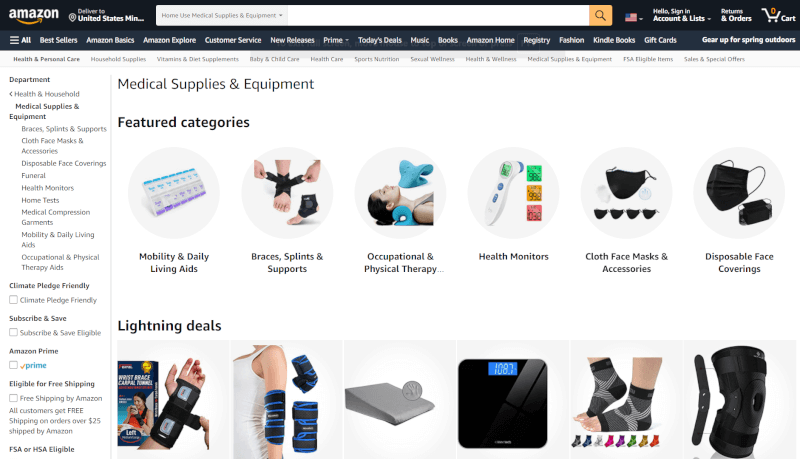 Our first dropshipping supplier is Amazon, a sought-after online retailer. When sourcing products from this eCommerce supplier, here are the perks that dropshippers can enjoy:
High-quality medical supplies

Global warehouses

Practical return policies

Excellent customer support
As a renowned Dropshipping supplier, Amazon offers a vast selection of high-quality medical supplies. Additionally, we can source top-rated products that ensure client satisfaction with the items.
Moreover, Amazon is home to various warehouses that serve the global market. With the presence of these distribution centers, delivery times are efficient. For instance, the US audience can benefit from the two-day shipping option.
Furthermore, the organization has a 30-day return policy. Generally, this free return period is for items with defects or the change of mind of buyers.
Another reason to work with Amazon is its excellent customer support. Aside from returns and refunds, this dropshipping supplier promptly caters to delivery and tracking issues.
2. DHGate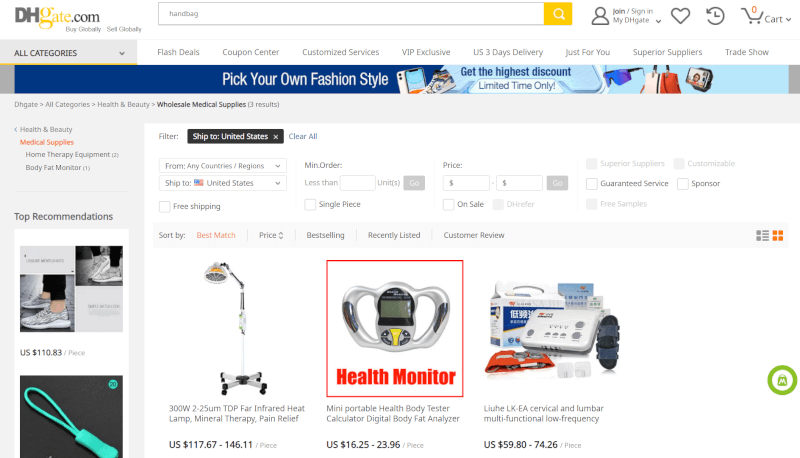 Next on our list of exceptional medical supplies dropshipping suppliers is DHGate. As a popular China-based supplier, our dropshipping business will greatly benefit from the following features:
A wide array of medical supplies

Reasonable prices

Swift shipping times

Buyer protection
With millions of items available on DHGate, we'll definitely find the medical supplies that customers need. When entering the Health and Beauty section of DHGate's website, we can search for best-selling supplies for our dropshipping business.
On the other hand, there are millions of sellers on DHGate, so we can expect that product prices are fairly competitive. Through this, we can gain substantial profits by setting competitive prices for medical supplies.
Moreover, DHGate is based in China, but it extends its services to the US and the UK. Due to the location of these warehouses, shipping to different regions is convenient.
Above all, DHGate commits to extending the best shopping experience to customers. Therefore, it implements buyer protection programs. For instance, its clients are confident with guaranteed returns and secured payment methods, among other aspects.
3. AliExpress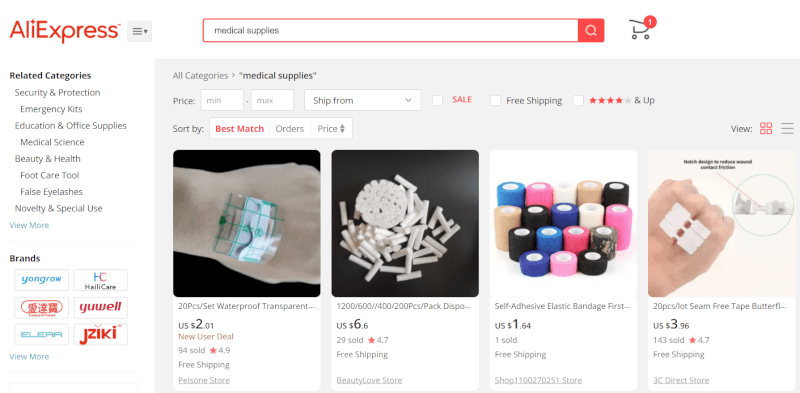 Our third medical supplies dropshipping supplier is an established name in the eCommerce industry, AliExpress. As one of the big players in dropshipping, this supplier extends the following advantages to our online ventures:
Dropship center

Comprehensive medical supply options

Exceptional customer support

Dropshipping-friendly perks
Essentially, the AliExpress Dropship Center is a practical way of searching for our next winning medical supplies. Through this feature, we'll learn about product analytics, which can guide us in establishing profitable product listings.
In line with that, AliExpress offers millions of products online, including trending medical suppliers. So, we'll likely find almost any medical product fit for dropshipping from the supplier's website.
Additionally, providing exceptional customer service to its clients is AliExpress' goal. With its 24/7 help centers, this dropshipping supplier quickly resolves concerns. As a result of addressing these issues efficiently, we gain customers' loyalty.
Ultimately, AliExpress fully supports dropshipping. For instance, its dropshipping-friendly programs include low taxes, reasonable currency exchanges, and fair duties. With these benefits, dropshippers will be able to manage financial obligations effectively.
4. Walmart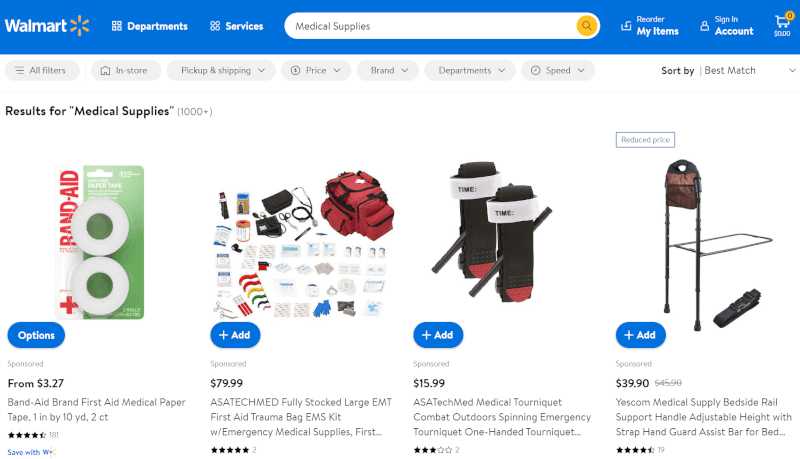 Another noteworthy dropshipping supplier is Walmart. This multinational retail company provides our dropshipping stores with these great features:
High-profit margins

Verified suppliers

Flexible delivery options

Price-match guarantee
Here at Walmart, we'll find top trending medical supplies for our dropshipping venture. With the operation of supply chains, we can score competitive prices for medical items, enabling high-profit margins for our stores.
Likewise, we won't have to worry about the quality of medical supplies that we're sourcing from Walmart. Since it filters suppliers before they can sell on-site, we can be confident of the legitimacy of our sources and the products they offer.
In addition, Walmart provides flexible delivery options, locally and internationally. For example, it offers next-day delivery for most products in the US. Thus, fulfilling customer demands quickly will help us establish a good business reputation.
Furthermore, the price match guarantee is another superb reason to choose Walmart as our dropshipping supplier. This service works whenever the price of an item decreases over a certain time frame. So, Walmart allows the refund of price differences for dropshipping products.
5. Costco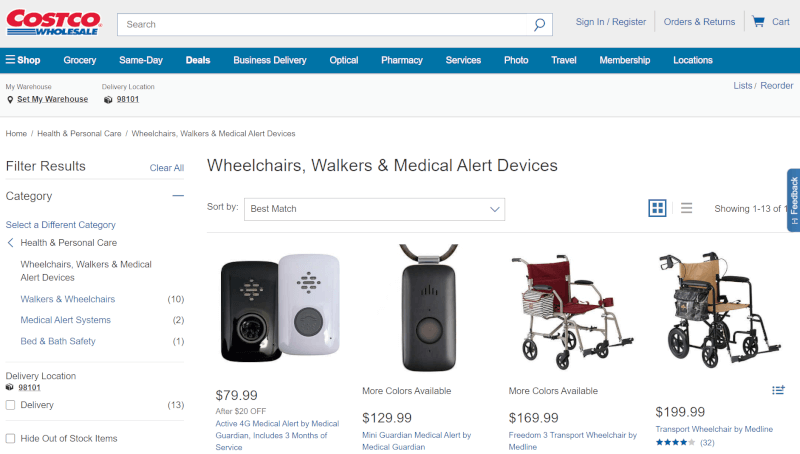 Our fifth medical supplies dropshipping supplier is Costco, an American multinational company. As one of the largest wholesale suppliers, Costco extends the following top-notch features to dropshippers:
Unique membership club

Discounts and perks

Reliable shipping arrangements

Practical return policy
To begin, Costco is popular for having a unique membership club. In contrast with other suppliers, Costco gains a substantial portion of its revenue from monthly membership fees instead of product sales.
As such, we can enjoy tons of discounts and perks when sourcing from Costco. Plus, the platform offers reasonable prices for its medical supplies.
In addition, Costco offers fast and reliable shipping arrangements to customers worldwide. As an example, it provides three to five-day delivery times, which helps satisfy customers' expectations of a quality business.
Finally, this dropshipping supplier extends a practical return policy to clients. For instance, the free return period of products (with defects) can reach up to 90 days. By extending this service, customers will feel valued because their concerns, like returns, are addressed accordingly.
6. Sam's Club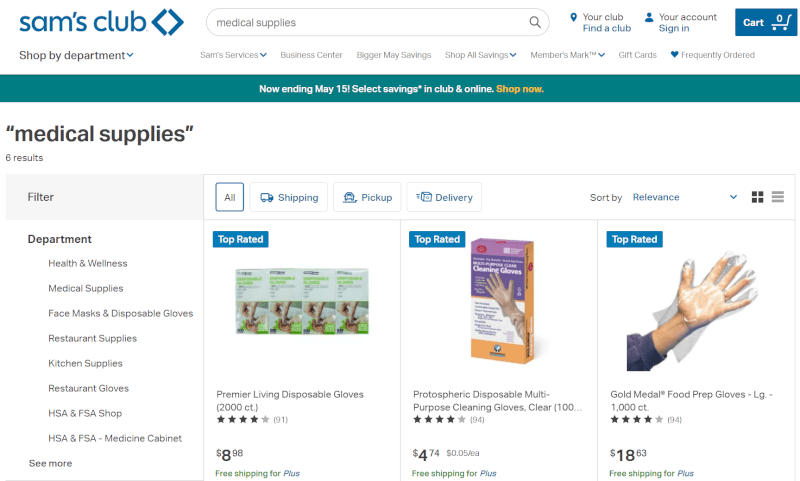 Sam's Club is yet another outstanding medical supplies dropshipping supplier. This American chain of exclusive membership warehouse clubs offers the following advantages:
Wide product range

Free shipping

Rewards and perks

Complimentary prescriptions
Essentially, Sam's Club is operated by Walmart, working on a membership-based model. But as a separate platform, Sam's Club is one of the top warehouses according to sales volume. Therefore, we can ensure that the medical supplies we're sourcing from this supplier belong to a wide product range.
Subsequently, Sam's Club offers free shipping on most products without minimum purchase requirements. As such, customers don't have to worry about purchasing low-cost supplies.
Aside from that, clients can enjoy a 2% cash reward on specific items and up to $500 accumulated rewards annually. As members, we also have access to instant savings, with items at much lower costs compared to regular pricing.
In relation to medical supplies, Sam's Club provides five free prescriptions and over 600 generic medications for only $10 and below. However, as dropshippers, we must be mindful of this feature. Remember to analyze the products before listing them so we don't go against the regulations with medical prescriptions.
7. Alibaba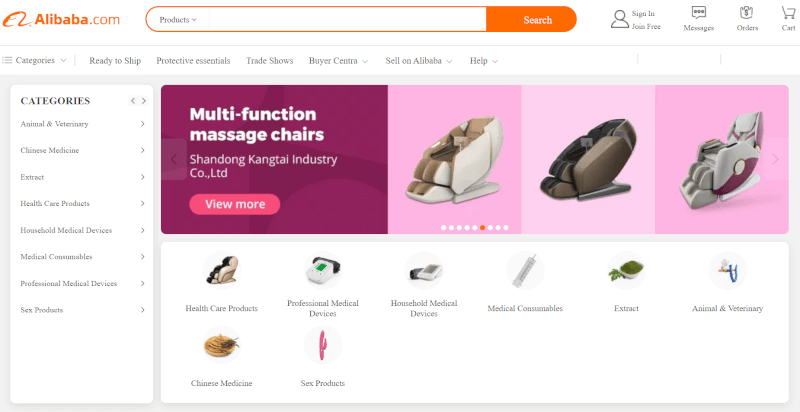 For the top medical supplies dropshipping suppliers, Alibaba definitely claims a spot on our list. As a multinational company specializing in eCommerce, this dropshipping platform gives our business the following head start:
An extensive variety of medical supplies

Low-cost products

Dependable customer service

Branding solutions
This Chinese dropshipping supplier offers an extensive stretch of products, including medical supplies. With millions of trending items available on its website, we'll absolutely find almost any product that we want to sell.
Plus, Alibaba offers low-cost products. As such, we can set flexible prices for the items we dropship from this supplier, resulting in higher profit margins.
Moreover, dependable customer service is one feature that makes Alibaba an excellent dropshipping supplier. To ensure safe and legitimate transactions with suppliers on-site, it implements a verification program. Through this program, clients are confident that the website protects their payment details.
Lastly, Alibaba enables the customization of logos and packaging. With this service, we can build our business branding. Likewise, branding is essential, so we can rise from the competition by having a distinguishable brand in the industry.
8. TresMonet Technologies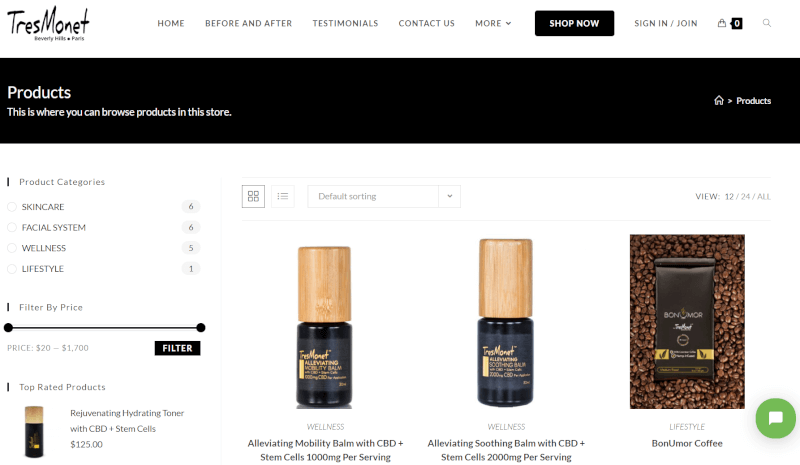 TresMonet Technologies is a rising star in terms of skincare and related products. However, this dropshipping supplier is not supported by AutoDS for business automation. Still, here are the main features TresMonet Technologies offers in our dropshipping business:
Wellness and health-focused products

Ambassador program

Ships to 50 US states

Clear return policies
Focusing on the health and beauty category, TresMonet Technologies offers a variety of skincare products. Primarily, its items consist of compounds, Phytocannabinoids, found in hemp plants. As the website claims, these potent ingredients support health and wellness.
In addition, this eCommerce platform offers an ambassador program. Essentially, this feature allows collaboration with its clients while analyzing their health and beauty goals.
Subsequently, TresMonet Technologies serve market demands in 50 US states. Also, it delivers customer orders in about seven days from the confirmation of the purchase.
Correspondingly, the return policies of this dropshipping supplier allow the return of products for free, as long as they're in new or good conditions. Consequently, the company processes returns about two weeks from the request.
Finally, TresMonet Technologies reserves the right to decline return requests, as deemed necessary according to their policies. Doing so ensures the credibility of returns, since the products they offer are consumables.
As a final note, all suppliers included in this section, except TresMonet Technologies, are supported by AutoDS. Therefore, we can maximize sourcing trending products from these suppliers, while enjoying the perks of automation (more on this later).
How To Start A Medical Supplies Dropshipping Business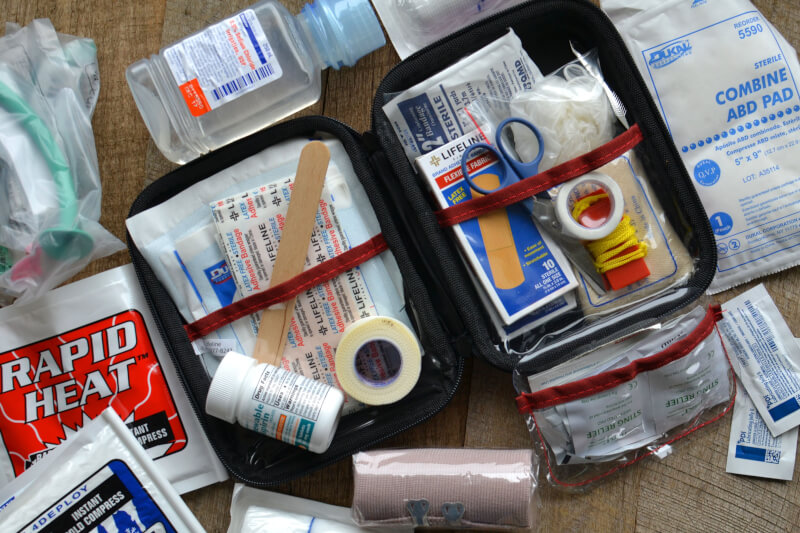 Once we have top-selling products and their sources, it's time to establish our online stores. To do this, we'll follow these next steps to start our medical supplies dropshipping business:
Next, we'll discuss how each step works towards dropshipping success.
Step 1: Create An Online Store

After knowing the best medical supplies to sell, we need to import these products from the suppliers. But before we can do that, we need to create our dropshipping stores first.
When establishing our online stores, we need to pick an excellent selling channel. Our selling channels are venues where we offer medical supplies to our customers. Among the vast selection of selling platforms, here are the top picks:
Moreover, to better understand how to create stores on these selling channels, here are some articles to guide us:
With these step-by-step guides, we'll be able to successfully establish our dropshipping medical supplies venture. Thus, we can efficiently manage our business.
Step 2: Import Medical Supplies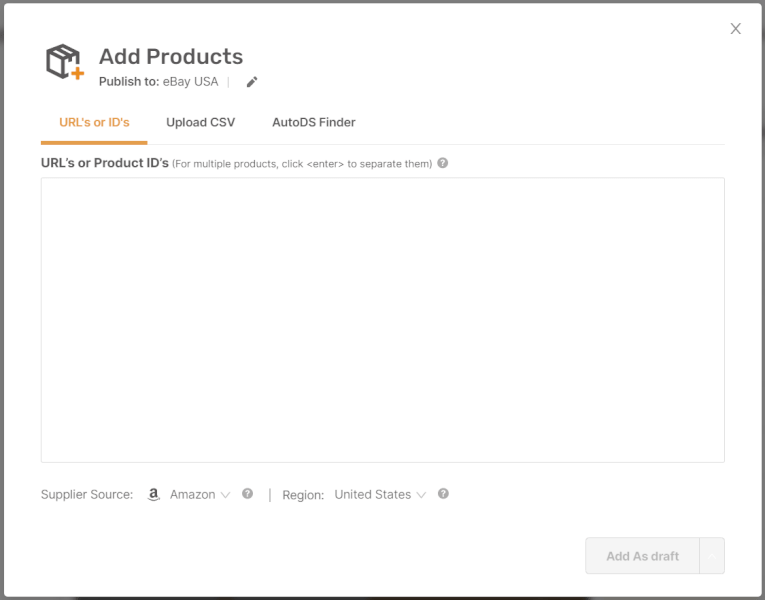 As mentioned, we need to import top-selling and high-quality products after establishing our dropshipping stores. We can achieve this by sourcing medical supplies from exceptional suppliers. So, before we proceed to the importing process, let's first discuss the benefits of importing products from multiple suppliers.
Working With Multiple Suppliers
Once again, our choice of suppliers can significantly affect our dropshipping medical supplies' success. Not only do we need to choose dependable partners, but we must integrate with several suppliers. To give us an overview, here are the prime benefits of working with multiple suppliers:
Vast range of medical supplies

Flexible pricing

Lesser delays in shipping

More business connections

Competitive advantage
On the one hand, working with multiple suppliers gives us a variety of medical supplies to dropship. Likewise, more competition can lead to reasonable prices. As a result, we can set flexible prices on our products and gain high-profit margins.
Additionally, the more suppliers we have, the fewer delays in shipping. When one supplier can't provide a specific product, we can always source from another platform.
Essentially, connecting with several suppliers allows us to establish more business relations. So, with these advantages, we can expand our business more efficiently. Thus, we gain a competitive advantage over other suppliers who are too reliant on one supplier.
Manual Versus Automatic Importing
Now, let's proceed to the importing process. In general, there are two ways to import medical supplies from our dropshipping suppliers: manual and automatic.
In the manual importing method, we're copying all product details from the supplier's product page and inputting them into our selling channels. On the downside, manual importing requires a substantial amount of time and effort, especially when we're adding multiple items to our stores.
On the contrary, import automation can help us save significant time and resources. By utilizing automated importing methods, a dropshipping tool carries out the import process on our behalf. Another benefit of automation is the optimization of our product listings, such as setting titles, descriptions, tags, and other SEO-relevant information.
With this in mind, AutoDS is a leading dropshipping automation software in the eCommerce scene. Moreover, it has four straightforward import automation methods we can adopt:
One-click Importer

Multiple Product URLs/IDs

Single Product Uploader

Bulk Importer
Now, let's explore the bulk importer as an efficient way of adding multiple products at once.
AutoDS Bulk Importer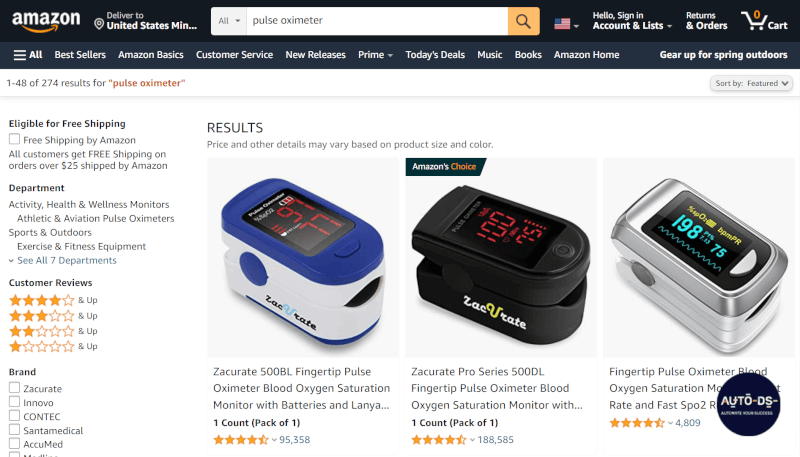 Once again, the bulk importer method allows you to import multiple medical supplies at once, using a CSV file.
To jumpstart the importing process, go over to your supplier's website. Then, search for medical supplies products that you want to add to your selling channel.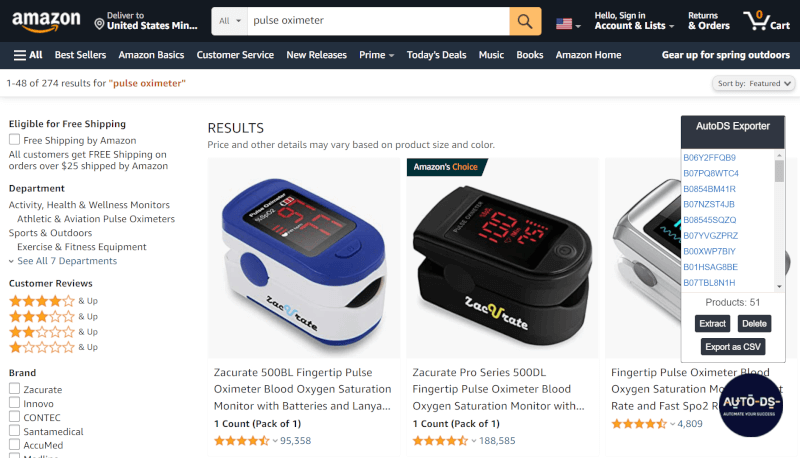 Before we can utilize the bulk importer feature, we need to download the AutoDS Helper Chrome Extension. Then, proceed with the importing process by clicking the extension icon, located in the lower-left corner of the screen. Afterward, a dialog box will appear, and proceed by clicking 'Extract.'
Upon extracting, all IDs of the medical supplies present on the product page will appear in the dialog box. Continue with the import process by clicking 'Export as CSV,' and a CSV file will automatically download onto your computer.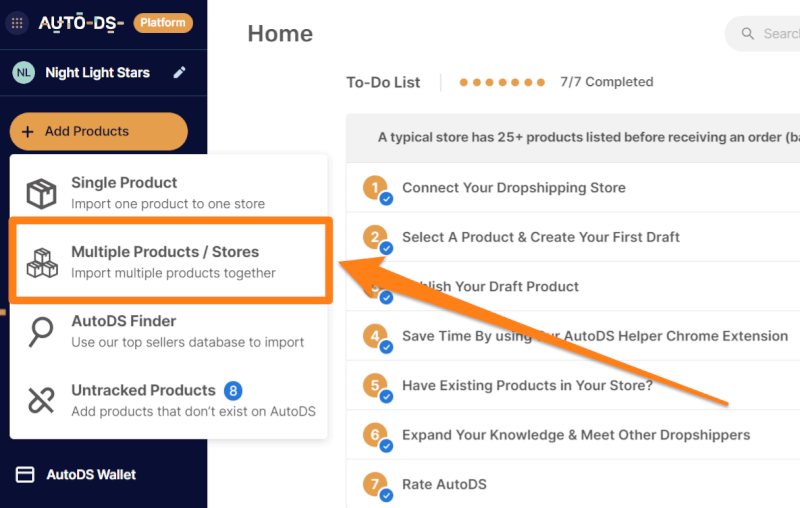 Next up, open the AutoDS platform, and click 'Add Products.' Afterward, click 'Multiple Products / Stores.' Then, in the dialog box that will appear, choose 'Upload CSV.' Alternatively, you can drag and drop the file in the dialog box.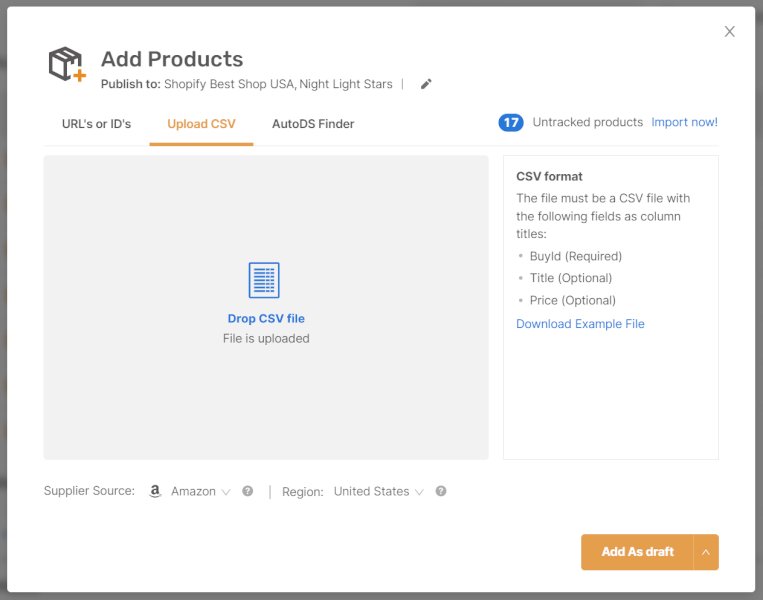 Now, all product IDs inside the CSV file will move to the 'Drafts' section of the AutoDS page. At this point, you can optimize the products by assigning relevant titles, descriptions, locations, images, tags, and other information.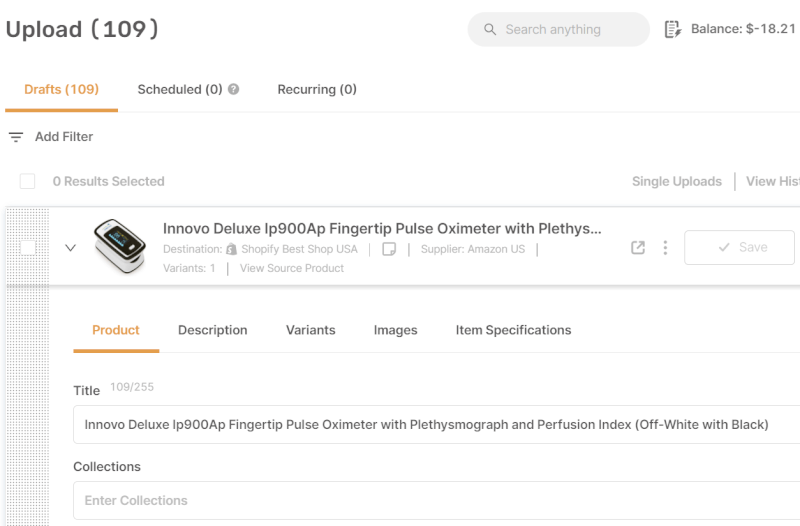 After optimizing the products, click the 'Import' button. Doing so will move all products from 'Drafts' to 'Products' on the platform. When the items become available on the 'Products' page, it means that they're available in your selling channel.
Finally, customers can start purchasing the medical supplies you've imported to your dropshipping store. Thus, you will start getting sales and gaining profits.
Step 3: Automate And Scale Our Business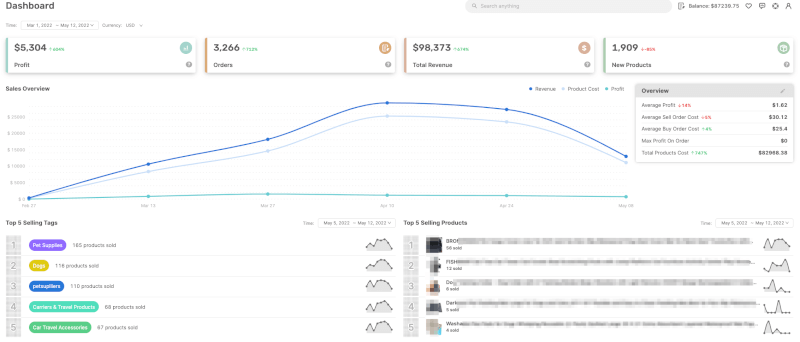 Yay! We now have medical supplies in our dropshipping stores. After the import process, we need to automate the rest of our business processes. Here are some of the most important aspects of our dropshipping medical supplies business that we can automate:
By automating these dropshipping features, we can save ample time and instead focus on customer service and marketing. Likewise, the dropshipping business automation tools can help us scale our business and gain massive profits.
Step 4: Launch Our Dropshipping Store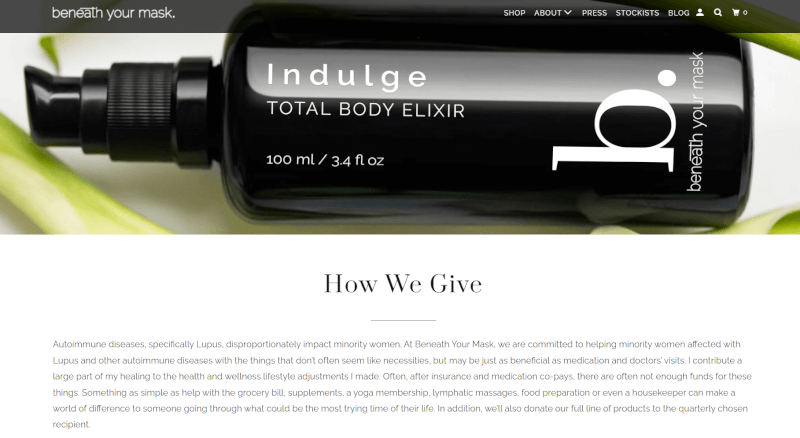 Once everything is in its place, we can launch our medical supplies dropshipping stores to the public. By this time, we can begin selling our products and start establishing a worldwide customer base.
Subsequently, our dropshipping tasks are well-taken care of by AutoDS' automated features. As a result, we can just sit back and relax while watching our business grow. 
Conclusion
A round of applause! This article has equipped us with in-demand dropshipping medical supplies and where to source them. With our newly-acquired knowledge, we're now ready to pursue our eCommerce career

While operating our online stores, keep in mind to continuously try more product ideas. Similarly, when our medical supplies store is already thriving, we can begin venturing into other dropshipping niches.

Ultimately, our eCommerce success greatly relies on our knowledge of how to effectively dropship. With this in mind, here are articles about lucrative niches and reliable suppliers to explore: