With summer right around the corner, dropshippers are now looking to update their inventory to make the most out of the sunny season. But with hundreds of millions of products on the market from countless suppliers, we want to save you the time on product search and testing.
Here's a quick breakdown of how dropshipping works before showing you one of the most profitable dropshipping products and the most outstanding suppliers to dropship from.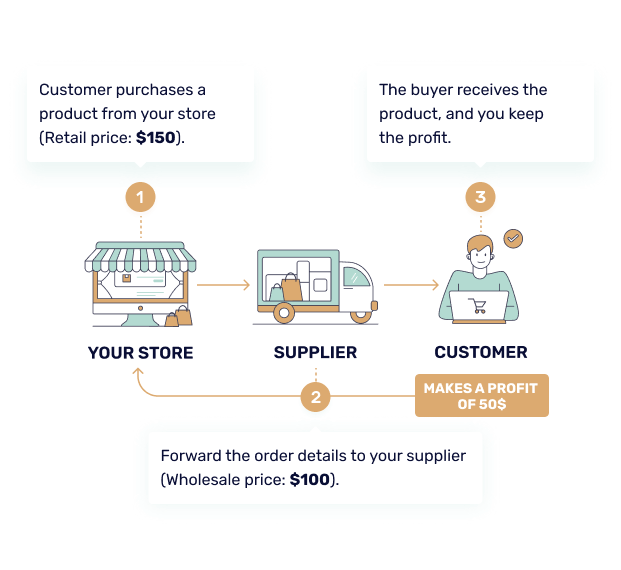 Dropshipping is an order fulfillment method where an online store doesn't hold stock of the products it sells. Instead, the seller (dropshipper) purchases products from a supplier to fulfill orders.
 While standard eCommerce requires you to invest in inventory, store your stock, and deal with the packing and shipping of orders, dropshipping is simpler and more accessible. And now that you know how the most profitable online business model works let's get into today's topic, sunglasses.
A great pair of sunglasses will keep your eyes safe and help express your style effortlessly. Therefore, sunglasses have been and will continue to be a must-have accessory. So, without further ado, here is how and why you should sell sunglasses in your dropshipping store.
Is Dropshipping Sunglasses Profitable?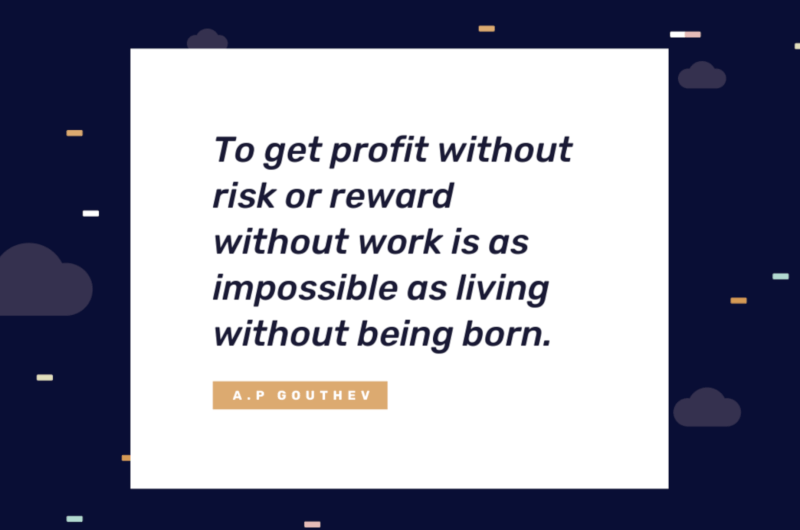 With sunglasses now being a fashion statement, it shouldn't be a surprise that the sunglasses industry is worth billions. Tons of styles are available on the market, which means, this niche is full of products to profit from.
Additionally, according to Statista's estimation, there will be 120 million sunglasses sold in 2023 in the US alone. Considering that sunglasses are often thought to be a seasonal product, that is impressive.
Furthermore, it's always sunny somewhere, making sunglasses an evergreen product. Evergreen products are items that sell year-round, making them extremely worth capitalizing on.
Plus, sunglasses are used by just about anyone. Men and women of all ages, children, and even pets!
Thus, if you aren't selling sunglasses yet, now is the time to start adding sunglasses to your dropshipping store to rake in more profits.
Six Best Dropshipping Suppliers For Sunglasses
Now that we know just how vast the potential gain is here, let's talk suppliers. The first step to adding products once we choose a niche is to find satisfactory suppliers to use.
Since there are countless suppliers to choose from, let's start with our top six favorite suppliers for dropshipping sunglasses:
1. Amazon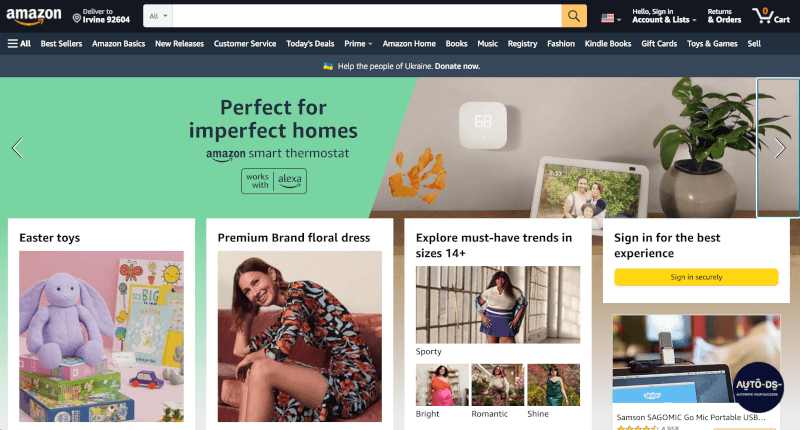 First up, we have Amazon. As the eCommerce giant of the world, Amazon offers a massive selection of products, fast shipping, and reliable customer service. These three crucial factors make Amazon the perfect choice when sourcing sunglasses to sell in your dropshipping store.
Pricing

– With about 2 million Amazon sellers and 200 million visitors a month, the pricing is competitive. Additionally, there is a vast selection of products from each niche/category and price range.

Shipping Time

– With over 100 fulfillment centers in the US, you can offer fast and efficient shipping to American buyers. Quickly find thousands of products with 1-2 day delivery thanks to Amazon's 'Prime' shipping or between 3-5 day shipping with regular delivery.

Warehouses

– Amazon has over 175 fulfillment centers worldwide. When dropshipping from Amazon, you can source products from warehouses in the US, Europe, Asia, and more.

Customer Support

– American suppliers are known for excellent customer service. Amazon is an empire, and its service is spot-on. Whether regarding shipping, tracking, cancelations, or returns, you can rely on Amazon to help resolve any issue.
2. AliExpress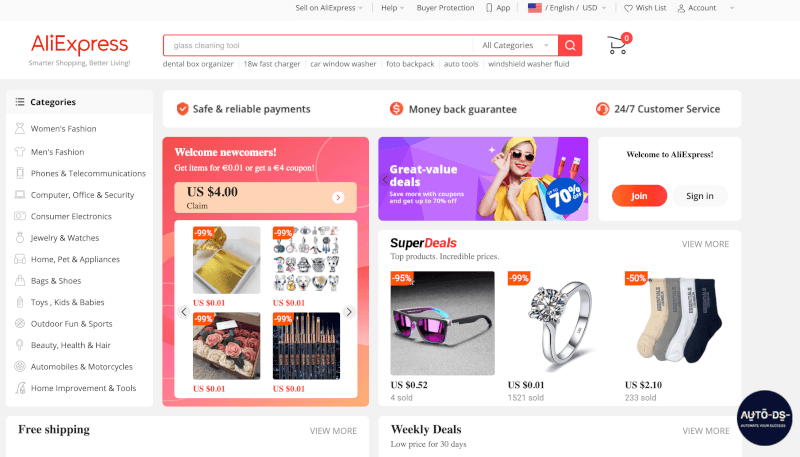 Next up is another big name in the game, AliExpress. When it comes to dropshipping, this Chinese supplier is extremely dropshipping friendly, and that is just one of many reasons it gained popularity among dropshippers.
With exceedingly competitive prices, a massive catalog of products, and many dropshipping perks, AliExpress is an excellent choice for any dropshipping business.
Pricing

– Chinese suppliers offer the most competitive prices. This allows you to stay competitive and increase profit margins.

Shipping – AliExpress has both free and paid shipping along with shipping with and without tracking. Shipping times will depend on the method you choose, as will pricing.


Besides the AliExpress standard or premium shipping from China, AliExpress offers deliveries with couriers such as DHL, EMS, and FedEx.

Warehouses

– One of the best ways to convert sales is by guaranteeing faster shipping. You can do this by sourcing sunglasses from AliExpress' local warehouses.

Customer Service

– AliExpress does a great job of providing a safe purchasing environment, but keep in mind, that you are buying from a private seller on the AliExpress marketplace.
If a problem occurs, first reach out to your seller. If you have trouble resolving the issue, contact AliExpress' support team through their 24/7 chat directly on the site.
Bonus: A nice perk AliExpress provides is a dropshipping agreement.
3. CJ Dropshipping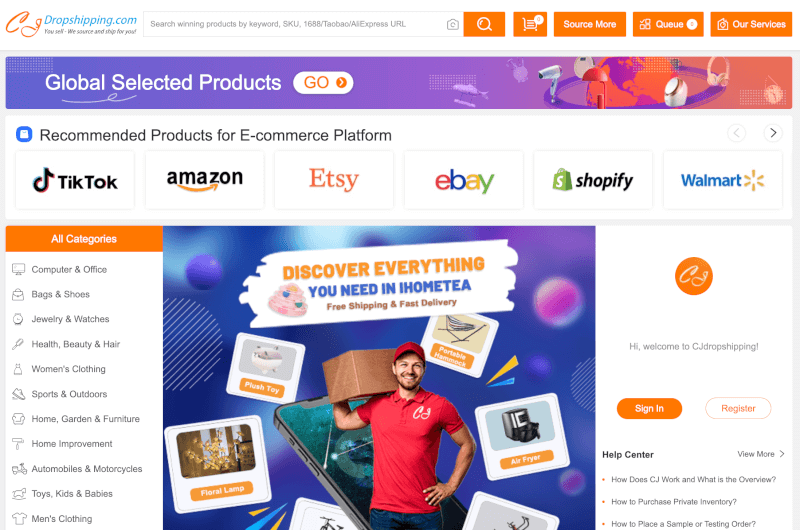 Third on our list is another top Chinese supplier. Similar to AliExpress, CJ Dropshipping has almost any product you can think of, competitive pricing, and is exceptionally dropshipping friendly.
Bonus: If you have a buyer that purchases multiple products, don't worry. CJ Dropshipping will ship and deliver all their products together in one package.
Pricing

– As another Chinese supplier, you can expect lower prices than Amazon or other American suppliers.

Shipping

–

For most products, we recommend using the CJPacket shipping method. Delivery time is between 7 to 12 days. Another shipping option is CJPacket YDS US or USPS, USPS which can take between 10 to 20 days.

Warehouses

– As mentioned, CJ Dropshipping is super supportive of dropshipping. CJ Dropshipping has US warehouse fulfillment centers to help dropshippers provide faster delivery.
Using US warehouses, you can expect same-day processing and shipping between 2-5 days via USPS.
4. Target
As the 8th-largest retailer in the United States, Target is another supplier to consider when dropshipping sunglasses.
Target 'Red' Card

– If you decide to dropship using Target as a supplier, get familiar with their 'Red Card' program. RedCard holders get free 2-day shipping without any minimum purchase.
          In addition, the RedCard gives you a 5% discount at checkout on most purchases. Lastly, when it comes to product returns, program              members get an extra 30 days to the 90-day return policy if they pay with the RedCard.
Pricing

– While Target is not the cheapest supplier on the market, they continuously offer great deals for dropshippers. Plus, with an American supplier, you can expect higher-quality sunglasses to ensure customer satisfaction.

Shipping

– When dropshipping from Target, offer your buyers free 2-day shipping on orders above $35. If you get many Target dropshipping orders, consider being a member and enjoy upgraded shipping options.
          By opting in, get access to same-day delivery free for 4 weeks and then pay an annual fee of $99.
Returns

– Target's return policy is very convenient. If a customer wants to return a product, Target will be happy to accept and provide a full refund for up to 90 days.
5. Etsy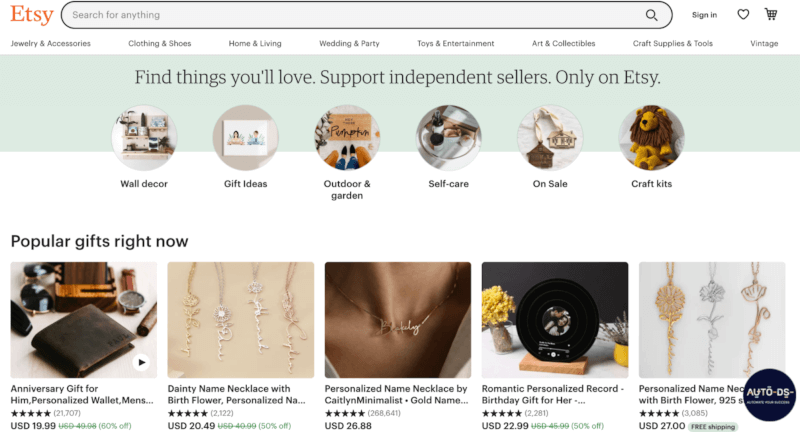 Our fifth sunglasses dropshipping supplier is the American eCommerce site, Etsy. Etsy is an online selling channel with a focus on handmade, vintage, and crafted products.
Due to most products being created by designers, artists, craft makers, and other small businesses, you can find unique products and outshine competitors.
Pricing

– Generally, prices on Etsy tend to be higher than some other generic suppliers. That is only because many items are hand-made or vintage. This shouldn't discourage you from dropshipping from Etsy though. If anything, you can find some golden nugs and stand out among your competitors.

Shipping Time

– Since most products on Etsy aren't mass-produced, shipping times vary and can sometimes be longer than the average 2-5 days. Each seller determines its own shipping policy, so be sure to check each product's shipping times to avoid any unwanted problems down the line. On the plus side, many sellers offer free shipping.

Returns

– Similar to the shipping policy, return policies are set by the seller, and not the platform. Some sellers don't accept returns, or only on select items. Since returns may occur, it is crucial to select products from sellers that accept returns.

Global Audience Targeting

– By using Etsy for your dropshipping business, you can dropship products from sellers worldwide. That'll easily allow you to sell to multiple markets simultaneously.
6. Miami Sunglasses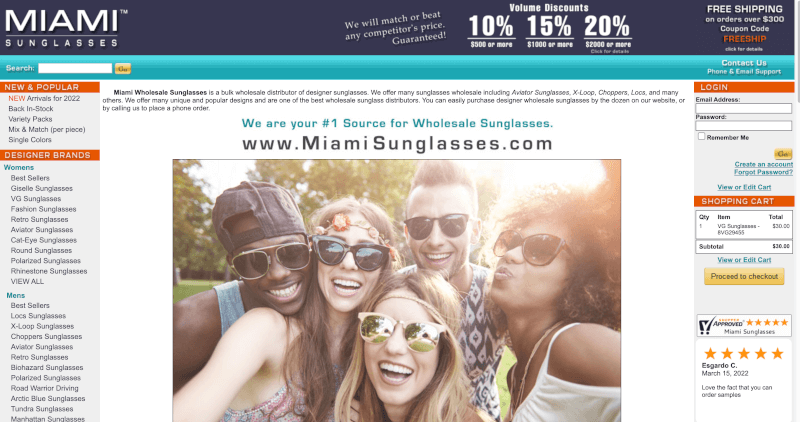 Last but not least, we have a popular wholesale supplier, Miami Sunglasses. As a reseller of premium sunglasses, Miami Sunglasses is a great choice for dropshippers looking to order large quantities.
For dropshippers who are ready to order in bulk, Miami Sunglasses is one of the best wholesale sunglasses suppliers.
They offer dropshipping services of high-quality sunglasses at really affordable prices. However, keep in mind that you can't order a single pair of sunglasses as they have a minimum order quantity (MOQ) requirement.
Orders

– Miami Sunglasses have an MOQ of 12 sunglasses per order (per box). With that said, prices are usually between $26-$32 per box. So if a box is $26, you're paying roughly $2 a piece.

Shipping

– Miami Sunglasses offer both domestic and international shipping.
          Domestic (within the US) – Shipping from Miami Sunglasses depends on location and shipping method. Generally, orders are                      processed within 1-2 business days and shipping usually takes between 2-5 business days.
          International – International shipping is by UPS Worldwide Expedited. The supported countries are Canada, Australia, New                            Zealand, Central America, South America, The Caribbean, and most countries within Europe.
Policies

– Besides their 30-day return policy, Miami Sunglasses also offers a price match policy. If you find a better deal on the same product elsewhere, they promise to match or beat the offer.
What Are the Best Sunglasses to Sell?
After hearing about the top six dropshipping suppliers to source sunglasses from, we can continue our search with AutoDS' supported dropshipping suppliers to automate our dropshipping processes.
By using AutoDS together with its support suppliers, you can upgrade your dropshipping business by implementing AutoDS' automation tools and features.
Over and above that, let's fill you in on the most profitable and in-demand sunglasses styles.
Our list of the best sunglasses to dropship is made up of these four trendiest sunglasses:
1. Aviator Sunglasses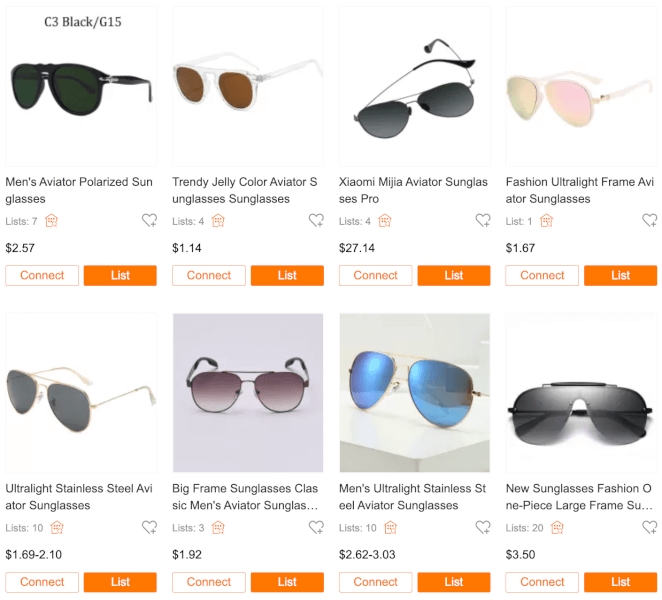 The first hot sunglasses style on our list is Aviators. This lightweight and reflective style has been around since the 1950s. Their popularity spiked in the 70s and 80s once figures like Freddie Mercury and Robert DeNiro wore them, and they've stayed trendy ever since.
Beginner's Tip: Since there is an array of colors, be sure to offer variations in your dropshipping store to engage more buyers. By adding variations, you can appeal to a wider audience, thus increasing your potential profit.
2. Cat Eye Sunglasses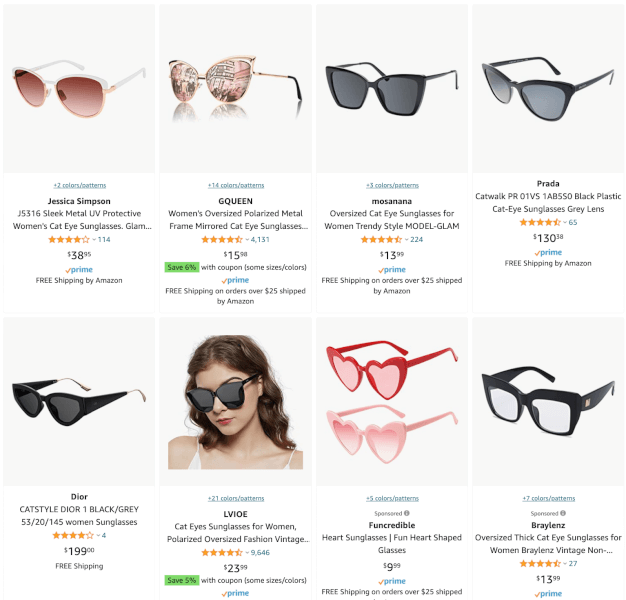 The next best sunglasses style is the infamous cat-eye shape. Associated with the beehive hairdo of the 1950s and 60s and made popular by figures such as Audrey Hepburn and Elizabeth Taylor, it's no surprise that cat-eye sunglasses are still modern fashion statements.
When selling cat-eye sunglasses, be on the lookout for different colors and more importantly, designs. Although the main style is the cat-eye lens shape, there are classic and simple cat-eye sunglasses along with more modern takes too.
3. Round Sunglasses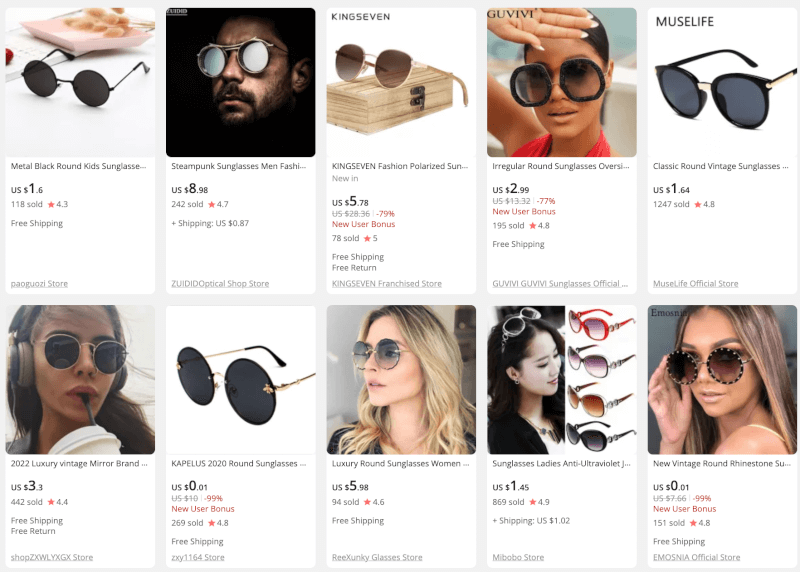 Third on our list, we have round sunglasses. These bold round-framed sunglasses arose in the 1920s and were made from a variety of metals and materials.
Fast forward to the 2000s, round glasses are still selling like hotcakes and are widely available from all the suppliers above in an abundance of colors and designs.
4. Retro Rectangle Sunglasses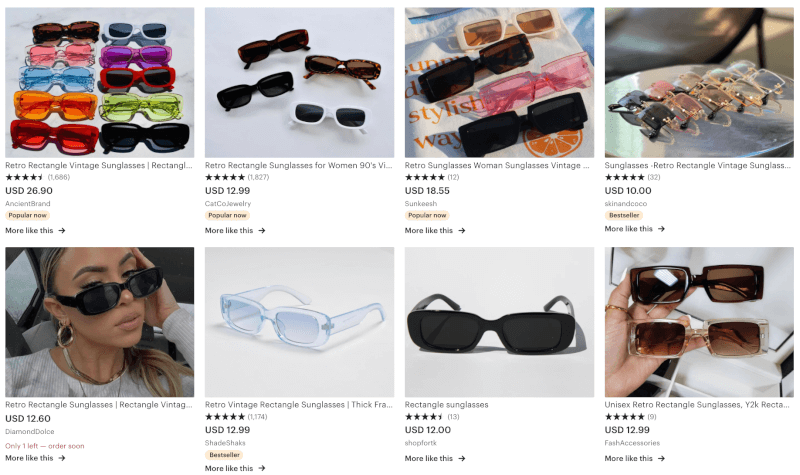 Lastly, we have retro rectangle sunglasses. Just like the last 3 styles, these rectangular lenses are far from being a new trend. However, the previously mentioned sunglasses have all been around for years as a steady trend.
As for these retro showstoppers, they made a comeback recently and since then have taken over social media. Also known now as Y2K sunglasses, this blast from the past is a must-have in our dropshipping store.
5. Butterfly Sunglasses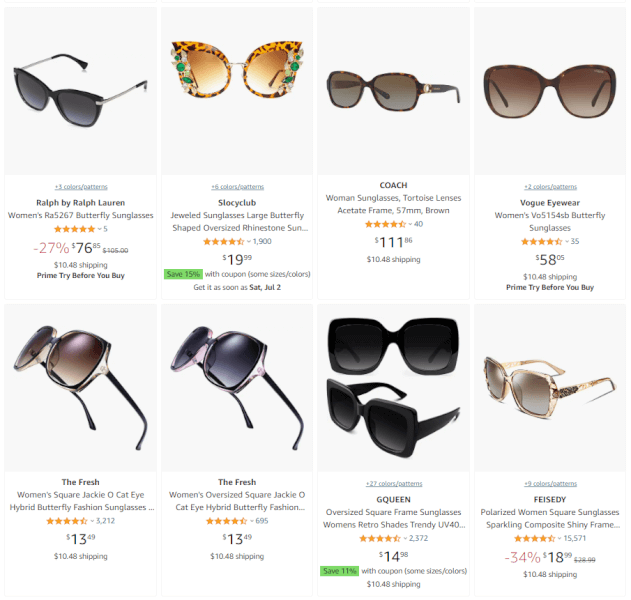 Another trendy eyewear that fits any outfit is the butterfly sunglasses. As a must-have when being outdoors, these sunglasses are fashionable and durable. These tailor-made eye accessories can bring the goddess out of every woman.
Aside from their stylish designs, butterfly sunglasses guarantee protection from UV rays. Plus, its mirrored lenses will definitely result in an edgy look.
6. Wayfarer Sunglasses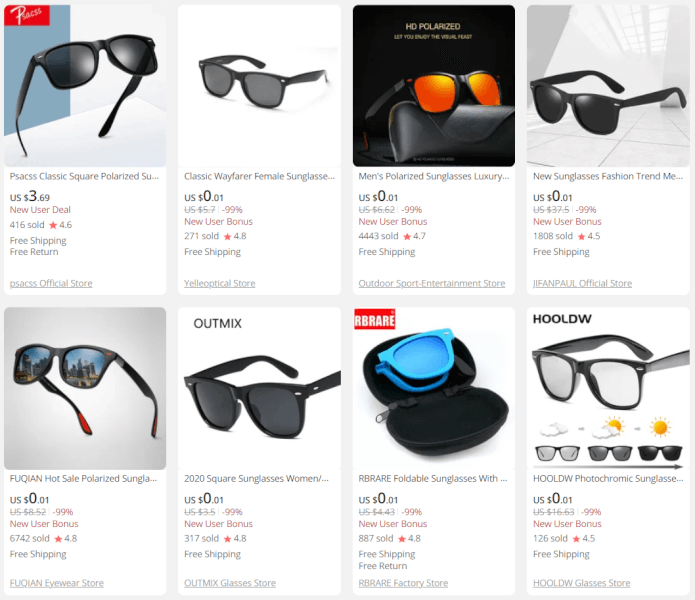 Next up, the wayfarer sunglasses are often worn by a mysterious man driving a Cadillac in 1950s movies. Through the years, the popularity of these sunglasses has increased as they have become an epitome of style and elegance.
Today, we can find modern variations with tilt angles, protecting the eyes from direct sun rays. In addition, wayfarer sunglasses come in a two-tone look that suits feminine and masculine looks all the same.
7. Browline Sunglasses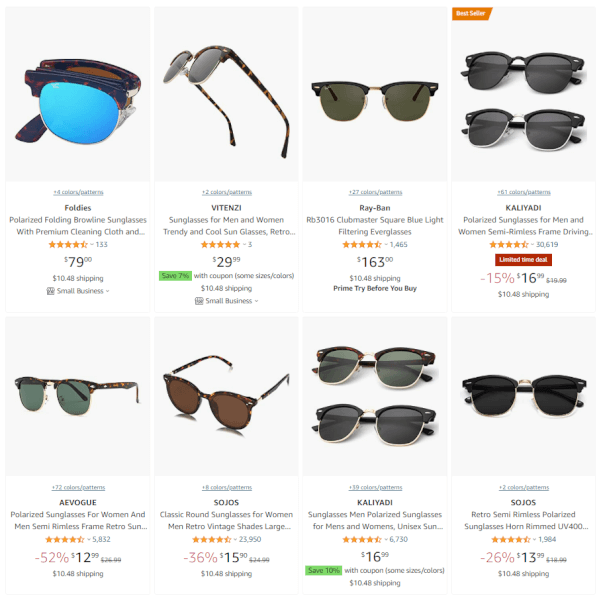 Our seventh trending eyewear is browline sunglasses. These sunglasses have a thicker upper portion of the frame. Thus, this structure defines the wearer's natural browline.
In the 1960s, browline sunglasses were popularly made of aluminum. However, when the trend came back in the 2000s, these sunglasses were mostly made of metal, with less emphasis on the browline. Nonetheless, this item is a must-have if you're looking to have your eyebrows on fleek.
8. Oval Sunglasses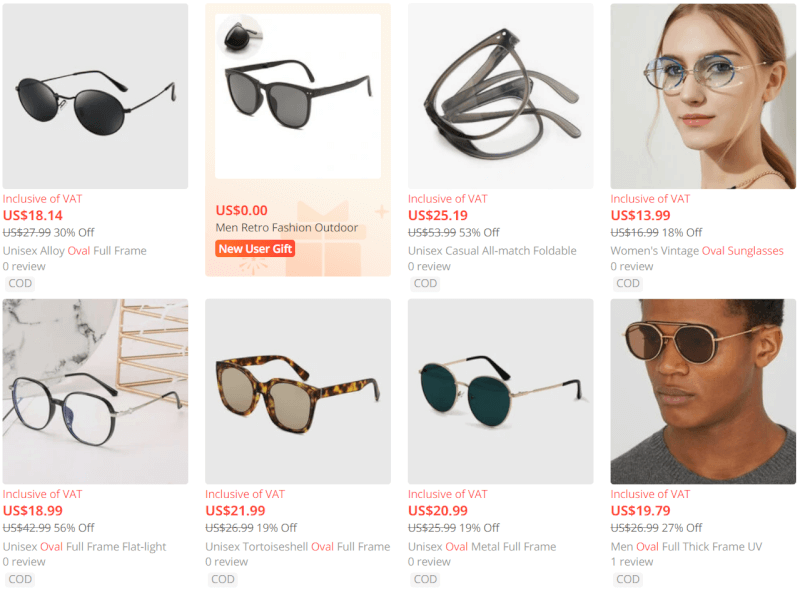 Who doesn't love an accessory that balances the face shape? Our customers surely do! Therefore, we have the oval sunglasses, greatly popularized by fashion icons in the past, like Kurt Cobain.
Additionally, these trendy glasses are stylish and functional. In fact, most oval sunglasses are made of acetate and resin that protects the eyes from harmful rays.
9. Wrap-around Sunglasses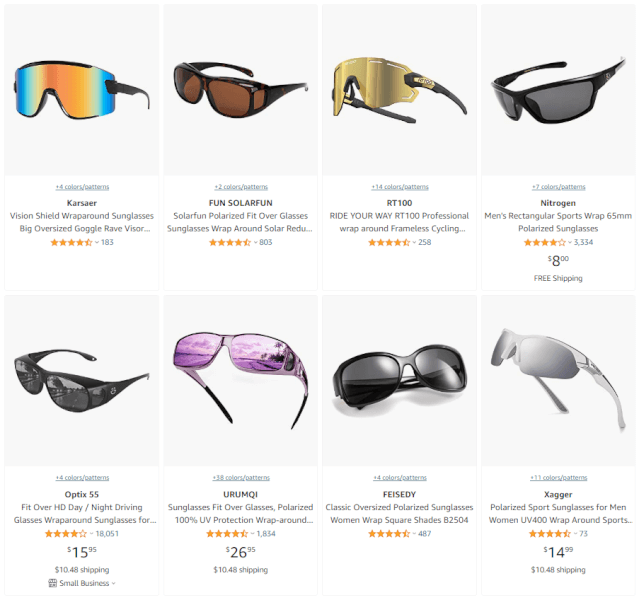 Joining the trend are wrap-around sunglasses. These excellent eye accessories embrace the wearer's facial features, minimizing the entry of particles and sun rays. As an alternative to fashion sunglasses, wrap-around variations are cool and edgy.
Furthermore, wrap-around sunglasses are available in chic styles and colors. So, one can never go wrong with this eyewear, especially while doing some outdoor adventures.
10. Flipper Shades Sunglasses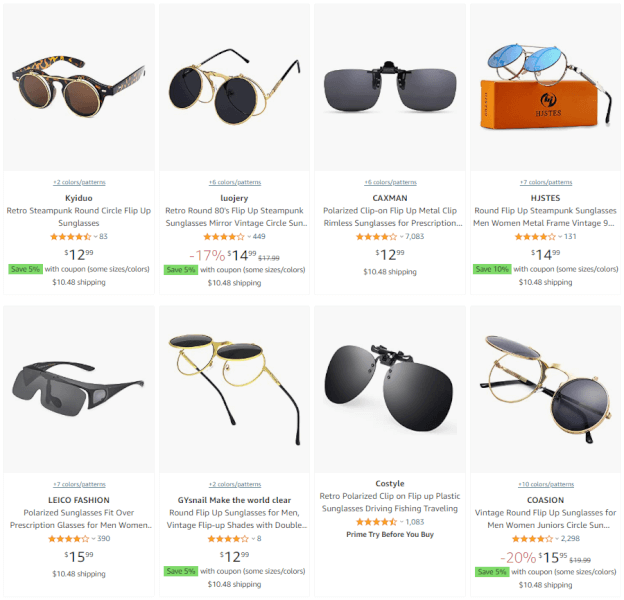 Sealing the list of the best sunglasses, we have the classic flipper shades sunglasses. These vintage eye accessories allow the user to change lens colors as preferred. So, whether one is bathing under the sun or taking a walk, this eyewear is perfect for every customer!
Interestingly, people with prescribed lenses don't have to worry about wearing polarized sunglasses anymore. As such, the flipper shades sunglasses offer the best of both worlds.
How to Start a Sunglasses Dropshipping Business?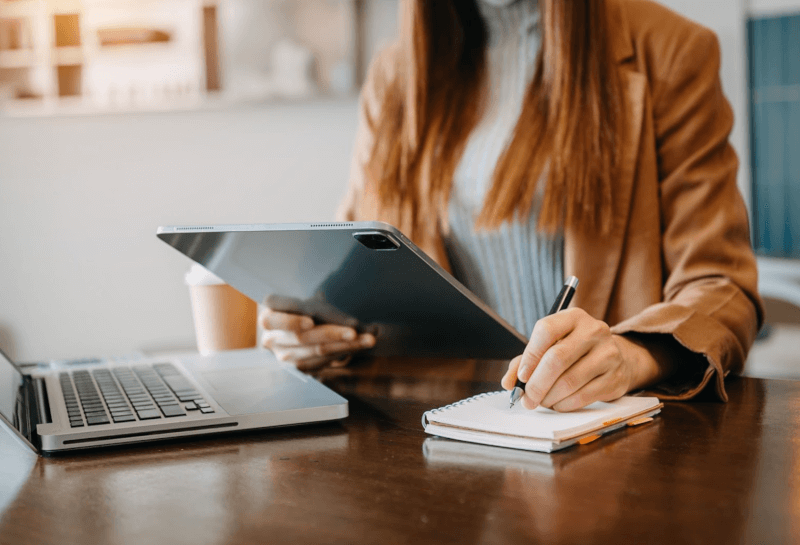 Now that we have our desired products and reputable suppliers, it's time to start selling! To get your first dropshipping order and turn these sunglasses styles into profit, follow these four steps.
1. Create An Online Store
When creating your dropshipping store, there are a few factors to keep in mind. Besides what to sell and where to source products from, you need to decide where you want to dropship products.
To start selling sunglasses from one of the suppliers mentioned above, we need to select a dropshipping platform. AutoDS supports four profitable selling channels where you can dropship sunglasses.
Let's introduce you to them:
The main difference between them is that eBay and Facebook Marketplace are platforms with organic traffic resulting in less need for marketing from your end. While dropshipping on Shopify or Wix means creating your own website, thus needing to market your store.
Nonetheless, all four options have proven to be profitable choices for dropshippers. 
2. Select Sunglasses Suppliers
There are many suppliers on the market besides the ones mentioned here in our article. If you find yourself contemplating using one, here are some key tips for finding the diamonds in the rough:
Read Reviews

– Always check customer reviews to see what people are saying about their products and service. Doing so can provide insight and either encourage you to use them or help you avoid them.

Review Policies

– Since you're dropshipping, your business policies need to line up with those of your suppliers. You'll need to understand how they handle broken products, missing packages, returns, and more.

Understand Fees

– Before adding products to your store, you want a firm understanding of the different shipping rates. That means monthly subscription costs and any other fees that can impact your profit margins.
Beginner's Tip: The ideal number of suppliers to use is 2-3 suppliers at once. Working with more can get confusing while working with less can put your store and its profits at risk.
3. Import Products To Your Store
Once you choose a selling channel and suppliers to work with, it's time to start adding sunglasses to your store. Whether you choose to sell aviator sunglasses, cat-eye sunglasses, or all of the above, you have two product importing methods:
Manual Product Importing
Automated Product Importing
Manual product imports are done directly on your selling channel while automatic orders are utilize a dropshipping tool. To import products manually, take the product's details and copy-paste them to your listing. Once you have everything ready, finalize the listing.
Automatic importing on the other hand is one of the many time-saving features AutoDS provides to help save hours of tedious work. By using our product importer, you can instantly grab all the product details in just a few clicks. It will save you hours of time and effort.
Additionally, the AutoDS automatic importing tools let you import multiple products at a time instead of importing each product one by one.
Beginner's Tip: To find more trendy and hot-selling sunglass styles to dropship, check out the AutoDS product research tool. It will save you time when searching for best-sellers to add to your dropshipping store.
4. Scale Your Business
After importing products, orders will start flowing in. This is the time to put dropshipping automation tools to work to help manage and grow your business. There are several tools and features that are useful, but there are two in particular that are crucial to your success.
Price & Stock Monitoring 

Order Automation
Price/Stock Monitoring
First and foremost, we have the price and stock monitoring tool. As dropshippers, we sell products from suppliers and don't hold stock ourselves, we must monitor price and stock changes that occur on our supplier's site.
Instead of sitting in front of our computers all day to keep watch for any changes, AutoDS provides an automatic price and stock monitoring system.
AutoDS scans your products around the clock and automatically updates your store when changes are detected.
Therefore, this saves you unnecessary hassle and stress while allowing you to focus on finding more products to sell and rake in more profits.
Automated Orders 
The second game-changing dropshipping automation feature is automatic order fulfillment. This is another significant time-saver. You might not feel overwhelmed when fulfilling your dropshipping orders right off the bat, but the more products you add, the more orders you'll get.
By opting into automatic order fulfillment, you abolish the time and effort of fulfilling your dropshipping orders. The order automation system handles all of your store's orders as soon as they come in.
As a result, you can rest assured your buyers are getting their orders taken care of even while you sleep.
Additionally, AutoDS provides the Fulfilled by AutoDS service. This feature eliminates the need for your own personal buyer accounts for the supported suppliers and payment information. Instead, our software will use your loaded balance, saving your lines of credit for other things.
Besides saving you hours of tedious work, other benefits include:
Keeping customers happy and coming back 

Additional features such as automatic tracking updates to customers

Easy one-click returns and order cancellations
FAQs
Is Dropshipping Sunglasses Profitable?
Yes, dropshipping sunglasses is highly profitable. In fact, Statista projects that about 120 million sunglasses will be sold in the US by 2023. So, start dropshipping sunglasses today, and earn high profits!
Which Supplier Is Best For Dropshipping Sunglasses?
There is a vast selection of suppliers suitable for dropshipping sunglasses. That's why we've trimmed down some of the best sources of sunglasses, such as Amazon, AliExpress, and CJDropshipping.
What Is The Trendiest Pair Of Sunglasses To Sell?
Sunglasses are evergreen products, which means they remain trendy regardless of the season or occasion. As such, the Aviator, Cat Eye, and Round Sunglasses are the most popular among the wide variety of sunglasses available.
Conclusion
And that's a wrap! Now you have everything you need to know to start dropshipping sunglasses. You can start listing these top-selling items to your desired selling channel and reap the benefits.
Remember to monitor how each product performs and optimize your store accordingly. If a product sells well, increase the price. Then continue by adding similar products to multiply your profits.
For more dropshipping knowledge and guides, be sure to check out the following articles: